This article may contain affiliate links; if you click on a shopping link and make a purchase I may receive a commission. As an Amazon Associate, I earn from qualifying purchases. 
Fashion blogging success comes from you wanting what I've got. That sweater, those booties, that weekend staycation at a hotel. The more I offer, the newer the selections, the more you want it, and therefore, the more money I make. But to constantly offer things that are new, I lose my sense of style. Anyone would. Go up to the five most stylish women in any room and ask them how long they've had the things they are wearing. I'm guessing one item will be their newest acquisition, and one will be one of their oldest. A new dress with a pair of boots that have many years of wear, at least one of those wears owns an amazing story.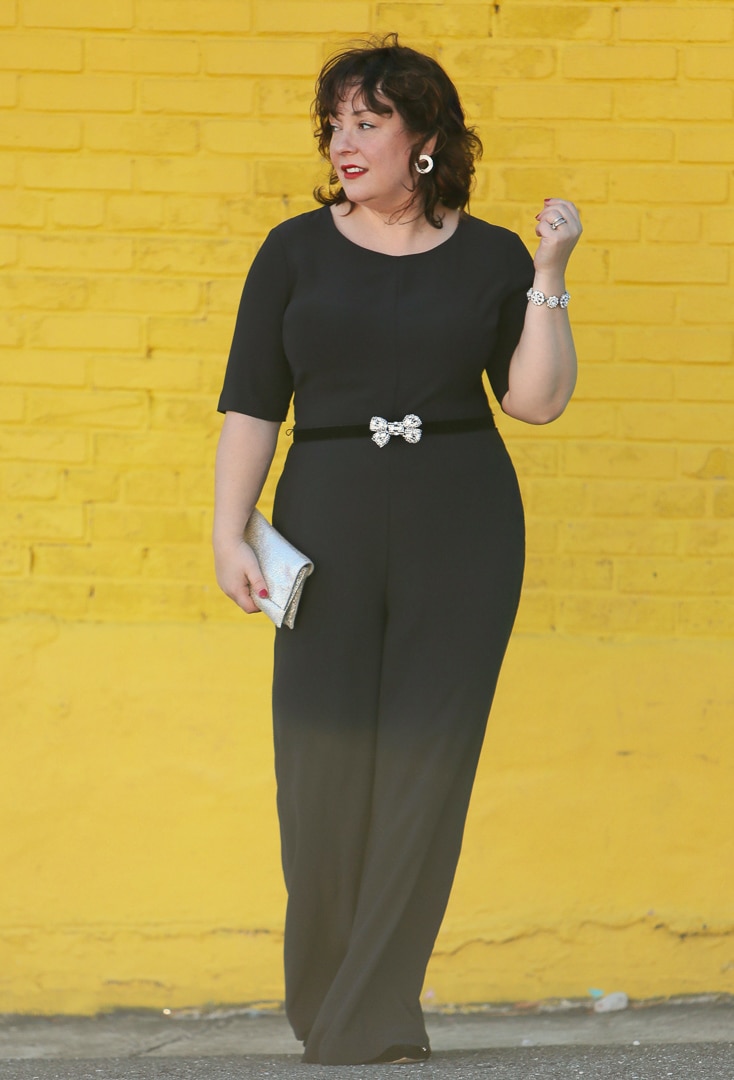 Jumpsuit is over a year ago from Kohl's, originally seen in this post. I wore it again to a blogger event, you can see it in this Instagram post. I also wore it this past October to a charity gala. It shows the versatility and power of a very simple, classically designed piece that transforms with the use of accessories.
If I constantly get new, I either go into debt or I sacrifice my personal style. This past year I took this as a style challenge. I examined my analytics and my closet and saw some brands that consistently performed well in conversion (read more about that in this post) and also I enjoyed wearing. I reached out to these brands for free merchandise of my choosing, then I styled it in as Allie of a manner I could as a sort of personal style challenge. I loved when you would comment that my styling of a brand made you change your mind about them, it felt great, it pushed my sartorial boundaries.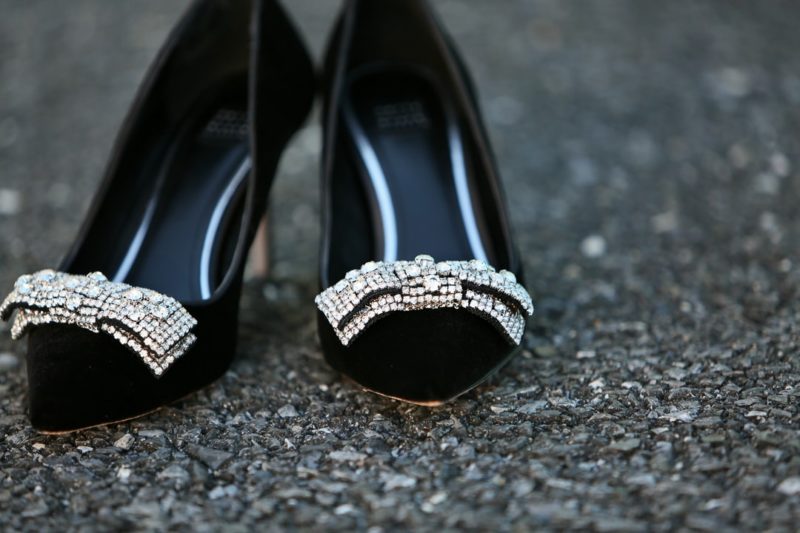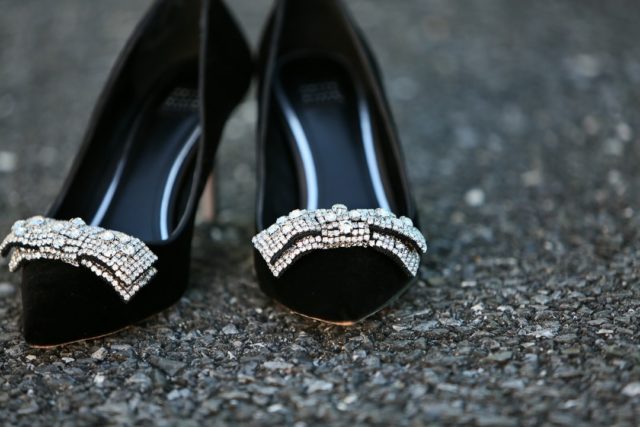 These velvet pumps were a gift from White House Black Market that were also worn in this outfit post and the night I wore a black Le Smoking to an evening with friends. I got these shoe clips to attach to these and other shoes in my closet to update the look. Shoe clips never go out of style, take up little space, and you can often find them on Amazon for less than $20.
I speak so much about having a curated closet, a capsule wardrobe, a wardrobe that works as hard as you do… yet I don't have that kind of wardrobe. Well, not completely. There're two wardrobes in my closet. One side is brand new stuff, stuff still in stock at online stores, stuff that just got unpacked from partners, steamed and ready to wear. These pieces I look at in my closet to get inspiration on how to style them with my existing wardrobe and my aesthetic. Some never get worn because while I had grand ideas when I saw it on the website or Instagram, once actually in my closet it wasn't a good fit. I wear them, share them, and then I have to decide whether to keep them or let them go. Because some of them just have to go. The bigger your closet, the grander it may look on Pinterest but the less style and more frustration you have when dressing every day.
The other side of my closet is the items that made the cut. And with regular additions to the closet, cuts also happen on this side to keep it a reasonable size. Okay, do I really need three black midi dresses? That one has a great hemline but it digs in the upper arms. Bye-bye. Some of these pieces are one season old, and some are older than my daughter. Some were passed down, and many of them own an amazing story.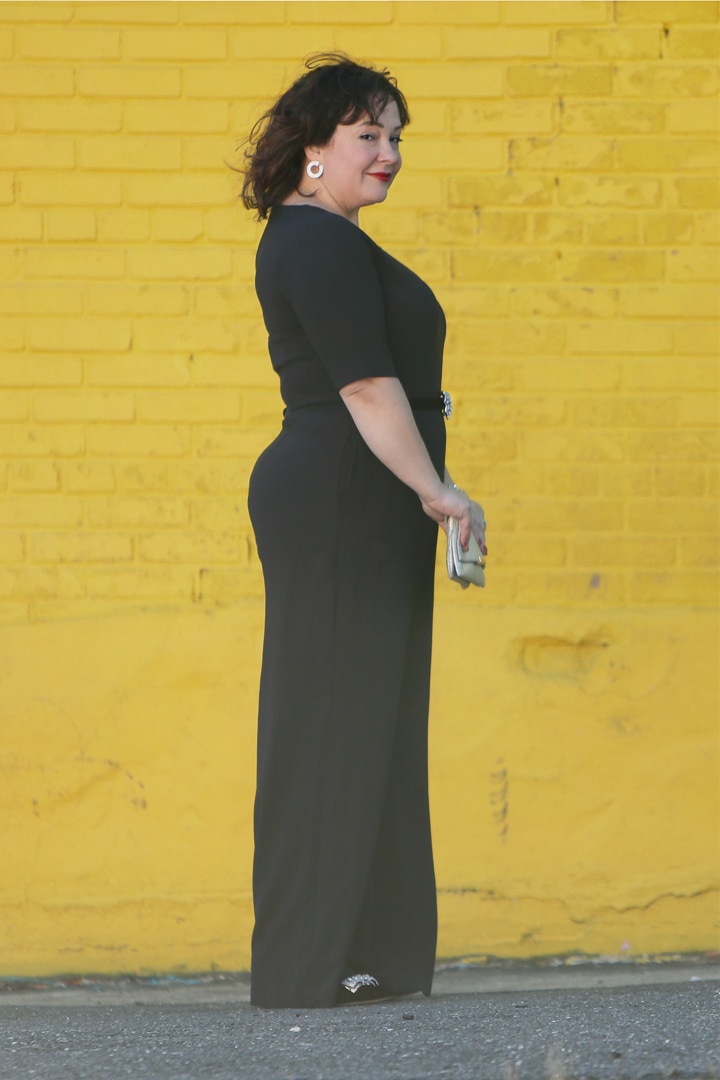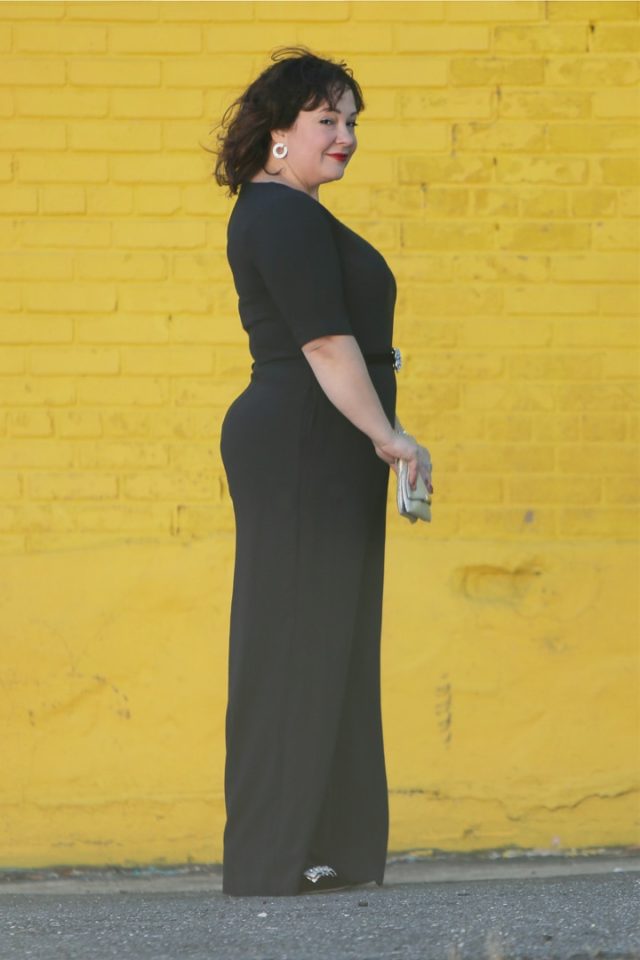 I have a large wardrobe of belts because they are so transformative, and you can often find some amazing ones at low prices or on clearance. Go through my archives and you'll see quite a mix of belts; some of my belts originally belonged to my mom and are decades old yet still stylish. This belt is also from White House Black Market; it's velvet with elastic and snaps in back and a rhinestone buckle to match the shoe clips. It's thin and dressy and is the type of thing that can be added to so many different dresses, jumpsuits, or even over a cardigan to add femininity and a dressy element. The elastic makes it comfortable even after a fabulous dinner.
I will be 44 this month, and your girl Allie has no time for items in her closet that frustrate, disappoint, demean, or deride. I know my life, what kind of things I need and the potential things I could need in the future. And I know what I like.
I like jumpsuits. I know wah wah how do you go to the bathroom? Well I take my Zipper Genie with me and I get it done half naked, shoving as much fabric as possible in my fist so nothing drags on the ground. And I do it so often, I find it far easier and quicker than other things I have dealt with in my style past such as bodysuits, rigid button-fly jeans, and Spanx. Because we all know we can't pee through that opening without ending up wearing some of it. But I like jumpsuits, they make me feel sexy and confident and strong and current without being too try hard. I like that a jumpsuit can be worn all four seasons with just a change of accessories. Oh, I also like that you can sometimes find a $30 jumpsuit that looks like a million bucks.
I like overalls. I feel artsy and boho with a touch of the wild girl I was in my early 20s when I wore them last. I like them classic and slouchy but a bit crisp, or I like them tailored and cuffed short. I like them with ribbed tank tops and cashmere turtlenecks. I thought I'd like them with Breton tees, but I feel too juvenile. I've done it, and I likely will do it again but the combination needs to be juuuust right to not look like Fisher Price or Chucky.
I like striped shirts. They're a way to be comfortable while looking polished. Not sure what to wear with that cardigan, that blazer, those chino shorts, that floral skirt, those green pants? Try a striped knit top, I bet it's just what you needed to complete the look. Striped shirts make pattern mixing easy, they look expensive even if they came off the clearance rack, they add interest without making any strong statements, they don't go out of style and work with anything from a rocker aesthetic to the most preppy of closets.
I like pantsuits. I like them with legs that taper to my ankle bone, have pockets, a jacket that has one button so it gives me an hourglass shape. I feel strong and fierce in them, they're sexy and successful and eternally chic. They can be demure with a silk blouse or sexy with just a bra. I love a pantsuit with a clutch purse, and a purse that owns an amazing story or is ready to earn one.
I love off the shoulder sweaters. No, not the one with the wide cuff and not the one with the straps over the shoulder so you can wear a traditional bra. No, I want a devil-may-care one shoulder exposed in cashmere, in a soft sweatshirt material, in a heavyweight jersey. I feel sexy, feminine, bold, in my element. And I wear this bra, which gives me a good six comfortable hours of support and shape.
I like slouchy drapey silk button-down shirts but have yet to find The One. If they drape nicely at the bust the sleeves are a mile long and the shoulders are at my biceps. I like them tucked into things – ankle pants, slim high-waist jeans, silk pajama pants, wide-leg drapey trousers that evoke Katharine Hepburn.
I like a classic shirtdress that nips in at the waist and has a full skirt that hits just below the knees. The sleeves are cuffed, or there aren't sleeves. No chest pockets, but definitely skirt pockets.
I also love maxi dresses, especially in fabulous prints, fabrics, and colors. I would be happy as a clam with a closet full of Pucci-printed silk wrap maxi dresses with a variety of sleeves, a full skirt, and of course, pockets.
I'm drawn to sequins, but I only wear them once. However, a Le Smoking or a silk dress with a skirt that loves a dance floor will reside in my closet as long as it fits. I'm always on the hunt for the perfect black leather Moto jacket and the perfect vintage Levi's denim jacket that fits my bust, my arms, and my shoulders.
Sometimes I feel completely at home in a blazer and jeans; other times that sounds like the most uncomfortable and awkward thing to wear. Sometimes I like to pretend I am a classic prep, regularly I like to pretend I am in a rock & roll band.
I like slim heels and an almond toe. I used to prefer silver to gold but now I like and wear both. I like lush lashes, a thin line of black-brown liquid liner, and a matte warm red lip. I like bangs, sometimes they like me and sometimes they don't. I like the way a molded cup bra makes my bust look in clothes. My jewelry of choice is a statement earring and I wear Ray-Ban's 62mm aviator.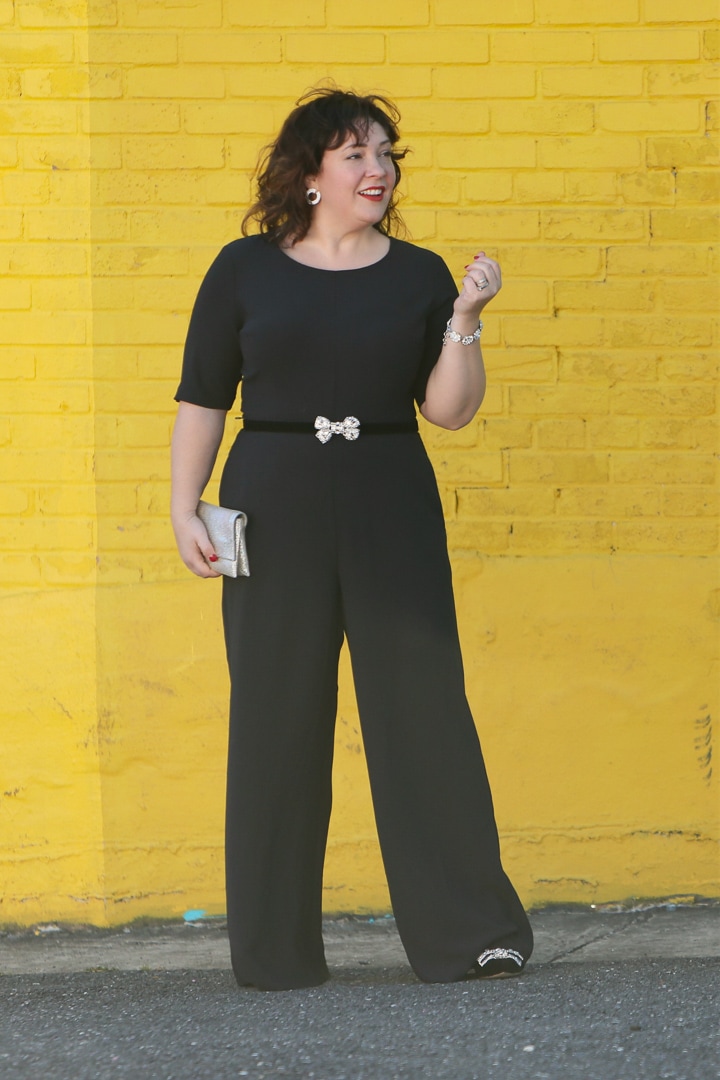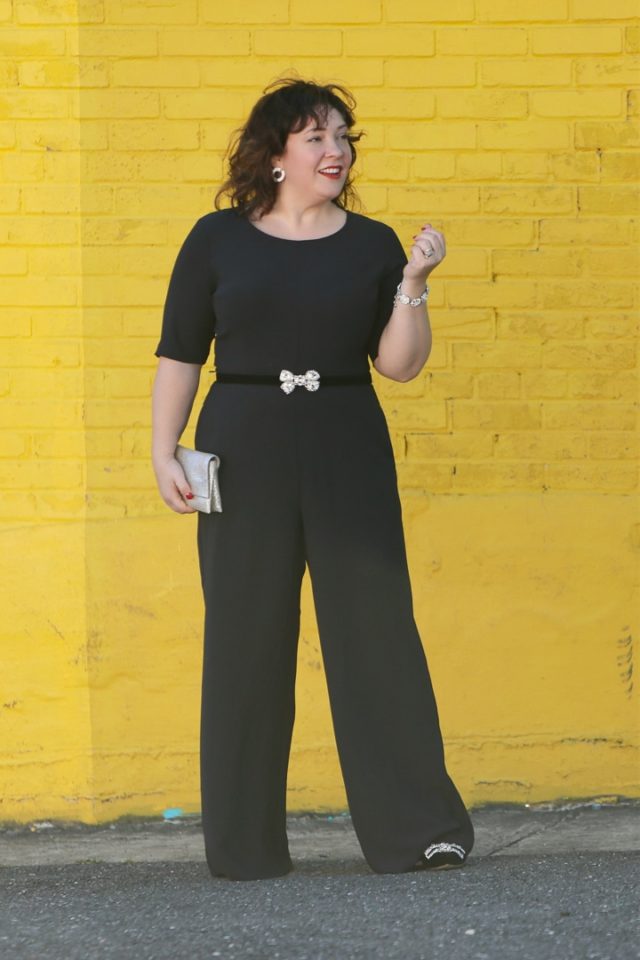 These earrings were maybe $25 from Cristabelle; I have many pieces of jewelry from this brand and find them a great price and great quality. I even added these earrings to my dressy capsule wardrobe. The bracelet is from Banana Republic and is a few years old. Banana Republic is a great place to stalk for jewelry; the quality is good, it's often unique and fun, and the quality is excellent. I like collecting silver and rhinestone jewelry, they easily mix and match and add sparkle to simple looks. If you're needing to get dressed in a jiffy, a simple black dress has instant drama with a rhinestone bracelet and earrings.
Sparkly Costume Jewelry From Brands I Own:

It's a new year, and I am going to wear what I like. I am going to be better about walking the talk. And maybe you won't be able to buy my outfit from head to toe, but this will be my new challenge – offering items that I think provide a similar effect. No, not the look for less or any old whatever in the same color, but pieces that accomplish similar and explaining why. Sure, I'll still have new because who doesn't love to update their wardrobe and have fun with fashion? And one of the best things about blogging is introducing you to new brands and collections. But my outfit posts will go beyond shopping the look to explaining the why behind it. And I look forward to hearing what you think.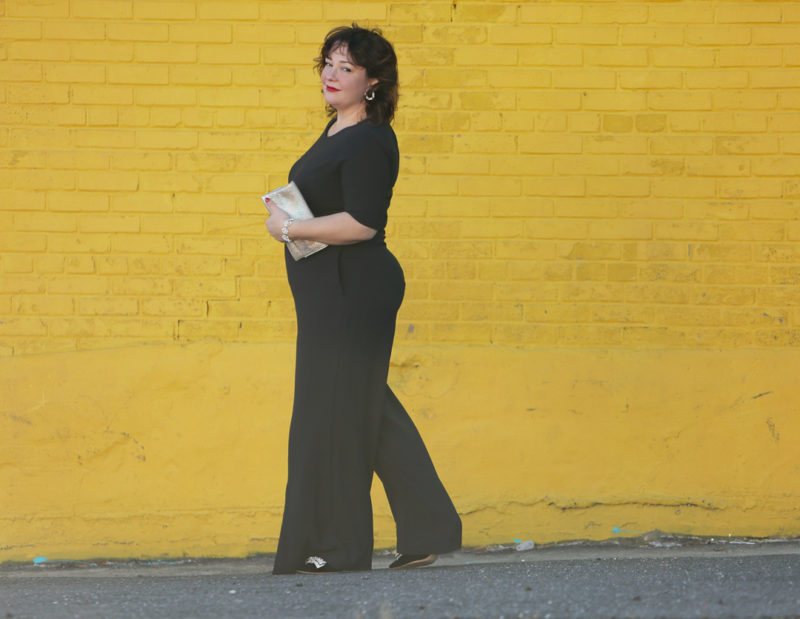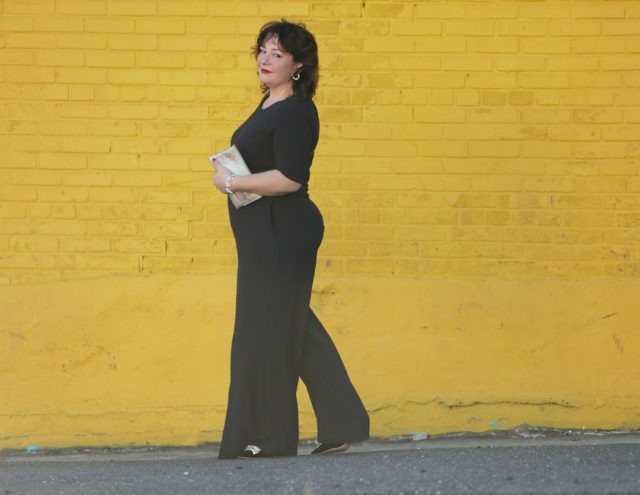 The bag is from Loeffler Randall. I did a campaign with eBay a couple years ago and with it came a gift card. I had some left over after buying what was needed for the campaign and looked at dressy clutches. I loved that this one was not silver, not gold, not sequined, just shimmery and pretty and seasonless. I've loaned it out more than I've used it myself because it's that perfect size and amount of sparkle for so many dressy occasions (and because mi armario es su armario if we're friends IRL).
My Picks for Dressy Clutches that Will Provide Years of Style: