This article may contain affiliate links; if you click on a shopping link and make a purchase I may receive a commission. As an Amazon Associate, I earn from qualifying purchases.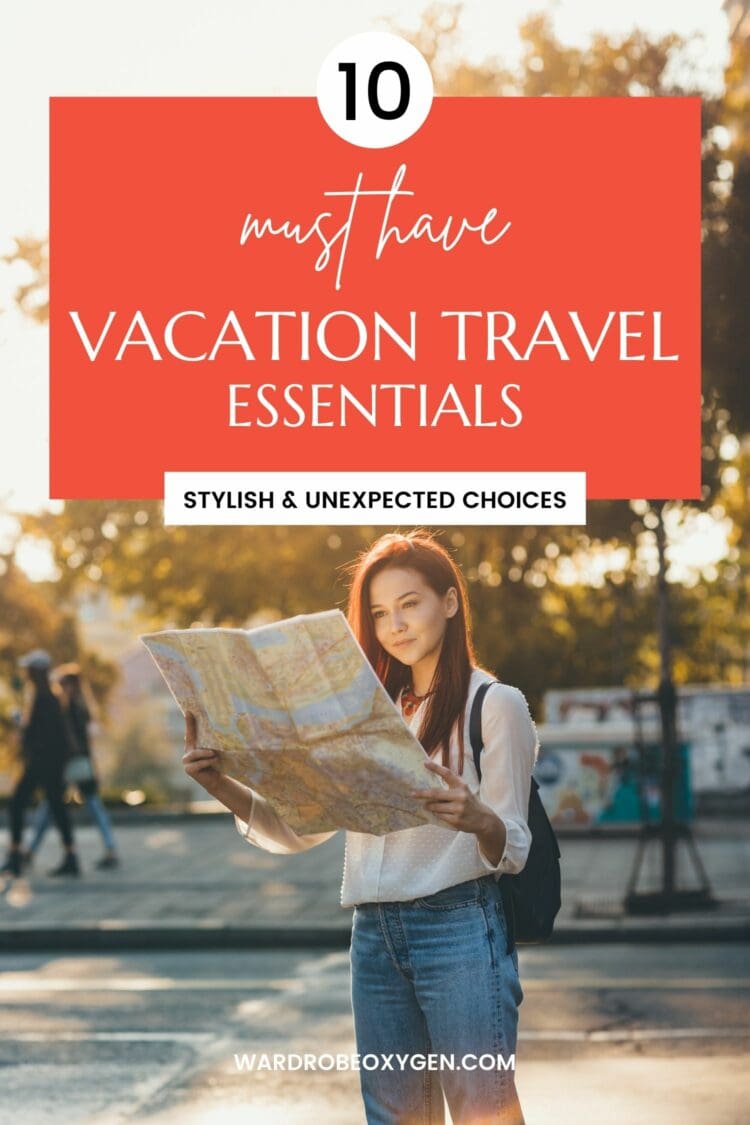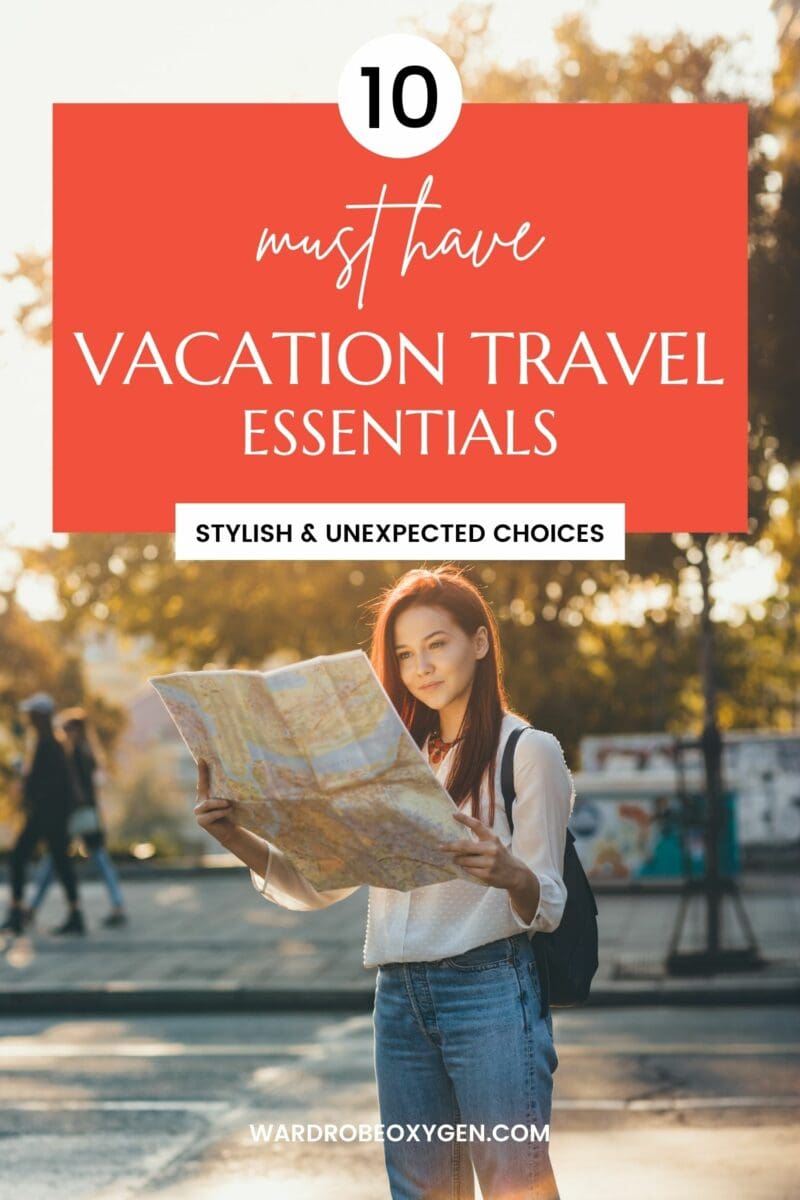 There is nothing better than being able to get away on vacation. Whether you're flying to a destination or packing up the car for a road trip, a quick Amtrak ride to a local city or an hours-long trip to a distant destination, your vacation will be better if you pack well. Below I share my vacation packing essentials that work regardless of my kind of travel.
When I worked in Corporate America, I had a job that had me on business travel at least once a month. I had perfected my packing essentials to save space, be ready for most anything, and look polished and professional even if I was just hopping off a cross-country red eye flight. As a blogger, I have also traveled a lot for work, but with the different expectations once at my destination, packing became more similar to vacation travel and it perfected my vacation packing essentials.
Some of my vacation packing essentials are a given, some are a bit more unexpected. I would love to find out what essentials you pack; let me know in the comments. Many of my essentials are items I wouldn't have otherwise known of if it weren't for those of you in the Wardrobe Oxygen Community who have shared yours in comments here and on social!
First, let's start with what everything I pack goes in…
My Favorite Luggage: Tom Bihn Aeronaut 45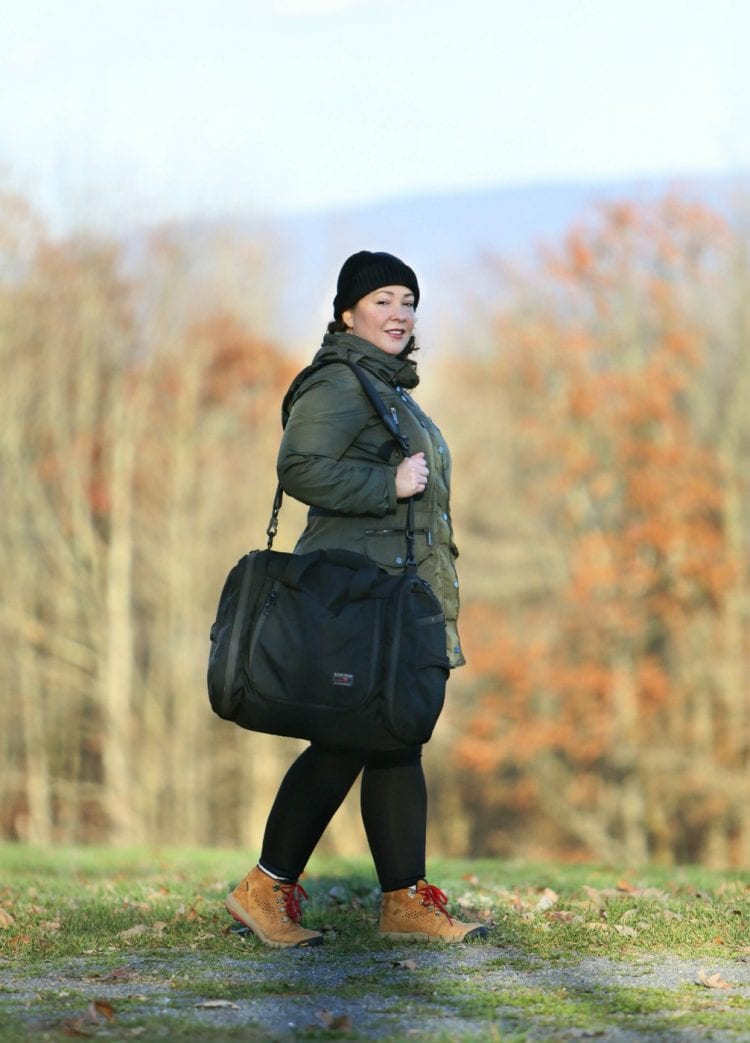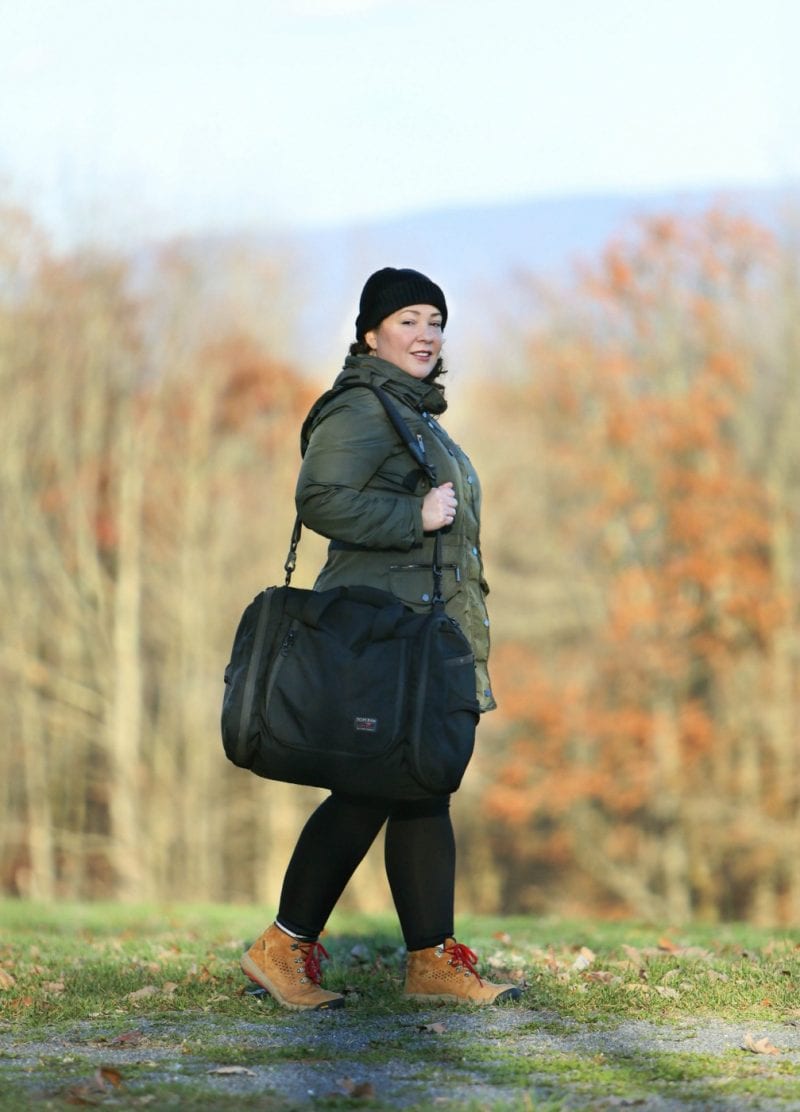 It was 2014, and a reader contacted me asking for a two-week business casual capsule wardrobe that would fit in the Tom Bihn Aeronaut. I had never heard of Tom Bihn or this luggage, and went to the site to know the dimensions to properly assist the reader and fell in love with this company. Here you can read more about Tom Bihn and why it is such a great company.
Tom Bihn saw that 2014 capsule wardrobe and sent me and my husband our own Aeronaut 45s and those bags have been our go-to for almost any trip. In 2016, I packed a two-week cross-country road trip capsule wardrobe in my Tom Bihn Aeronaut. Just last month, I used the Aeronaut to pack my summer getaway capsule wardrobe. I've even loaned out my Tom Bihn Aeronaut to friends and it has been perfect for their vacations and adventures.
This bag can be carried in the hand, on the shoulder, across the body, or comfortably as a backpack. It is designed that you can open it on a luggage rack and work straight from it, not needing to pull everything out or have it unbalanced and spill. It's soft enough to squish into an overhead compartment or that weirdly shaped corner of your car's trunk, but shaped enough that items can stack on it without toppling. This bag is seven years old, has been on dozens of trips and still looks and performs like new.
My Favorite Toiletries Bag: Bagsmart Large Toiletries Bag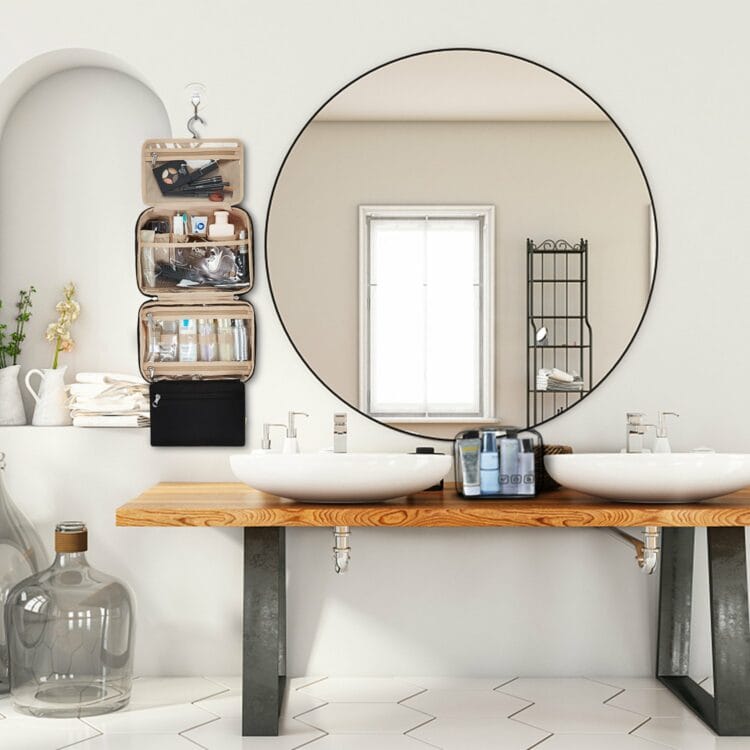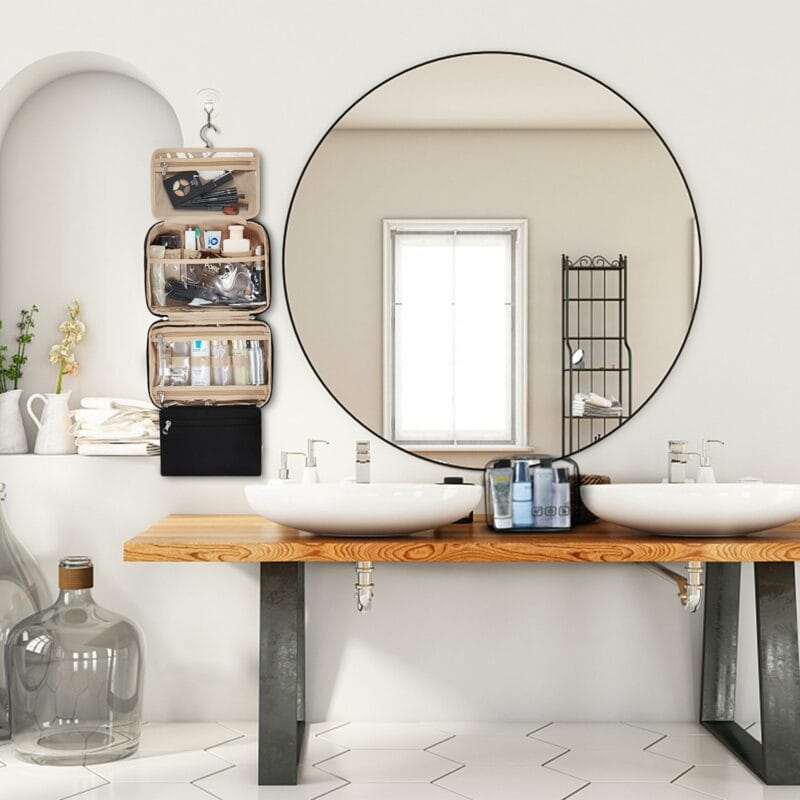 I had a great water-resistant two-sided zipper bag that did me well for many years. I'd put my travel-sized products on one side, my makeup on the other, it would be the size of a packing cube and would tuck into any carryon bag without issue. The zippers eventually failed, the plastic got cloudy, and the skincare brand Pixi sent me a PR gift in a bag that was almost the same but better. This bag had a hook so I could hang it up in my hotel bathroom and still see and access all my stuff.
But as I began more vacation-like travel, I needed more room for my toiletries. On a business trip I was fine with very simple yet effective products to achieve the same look day after day. But on travel, there are bugs and sun and thigh chafing and digestive issues. There are days when you won't put on a stitch of makeup, others when you want that no-makeup makeup look, and others where a bold lip or even a glittery eyeliner is a great choice. Plus, vacations are often longer than business trips. I needed more space.
Essentially the same concept as my beloved two-sided toiletries case but bigger, I got a bag from Bagsmart. It's the same concept – water-resistant (great when a bottle opens up on a flight; keeps the rest of your luggage dry), able to hang up on a hook, clear compartments to see everything, and enough compartments to separate and organize your essentials. The shape is still similar to a packing cube, making it easy to stack it with other items or just tuck into your bag with rolled clothes around it.
The Bagsmart bag comes in two sizes; if you're concerned with fitting your entire trip into a single carry-on bag, you may wish to go with the medium. If you're heading out for more than a week, the large may be more your scene. I know some have two: one for makeup and one for toiletries. I have the striped one, though Bagsmart also has solid quilted ones and even a clear one as well as matching pouches and standing cases.
Save Space and Increase Organization with Packing Cubes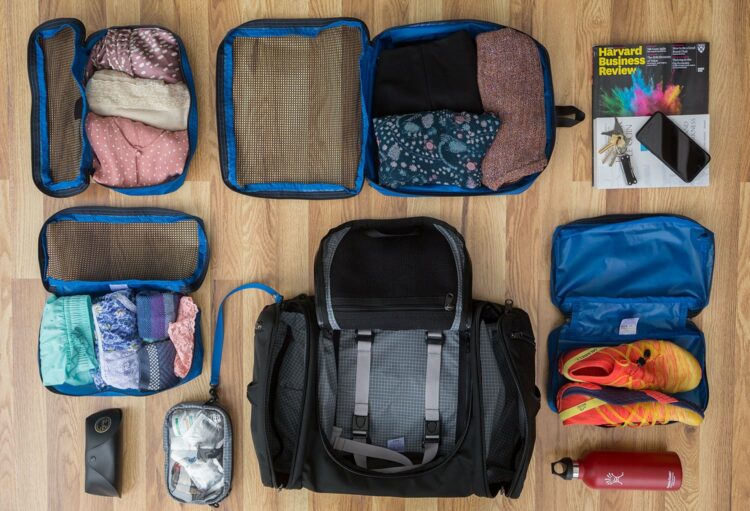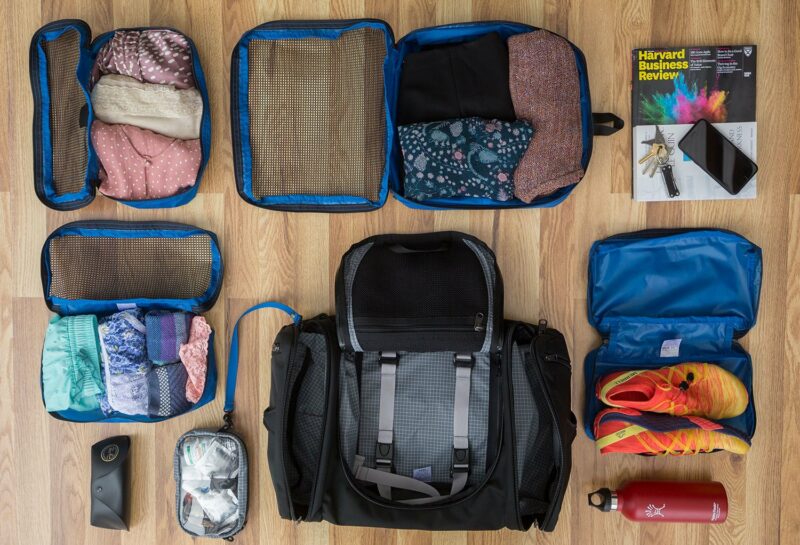 Likely, you've heard of packing cubes. And possibly, you have seen them as too complicated, a waste of money, etc. I was there. I never used packing cubes until 2014 when Tom Bihn sent me a couple with my Aeronaut. Even then, I resisted them. But once I started using them I was hooked.
If you've mastered rolling and folding and have plenty of space in your luggage, you may not see a difference when using packing cubes. Those who are sort on space have seen that by zipping clothes into these cubes, usually made from a mix of tech fabric and mesh, will compress items to provide more space.
But another benefit of packing cubes is when you are visiting multiple destinations or will have a variety of activities and situations on your vacation. For example, our family took a road trip to Vermont a few years ago, with stops on the way in Philadelphia, NYC, and Boston. I used packing cubes to separate the clothes I needed for the cities from when we would be staying in a cabin. I wouldn't need a fleece or hiking shoes in NYC, and I wouldn't need a nice dress and clutch purse while in Vermont. This way, I could just pull out the cubes for my destination.
Also, packing cubes help you separate dirty from clean. Great for your return trip, but also great for a long vacation when some things have been worn too much and need to be separated until you get home or to a laundry.
I own packing cubes from Tom Bihn, but our family also owns packing cubes from eBags' brand and they're also quite durable and come in different colors so you can color-coordinate based on leg of your trip or family member.
Okay, and on to my favorite vacation packing essentials to go in said luggage!
My 10 Must-Have Vacation Packing Essentials
I have several vacation packing essentials I tuck into my toiltries bag (cuticle or embroidery scissors, a small sewing kit, In Case Of meds, a couple shelf-stable snacks and protein bars for when your next meal is a while away) but decided to share my 10 more unexpected essentials below.
Photo Credit: Lindsay Albanese
Love to wear hats but hate having to carry them in your hand? You need a TOPTOTE. This looks like a larger, more solidly built keychain and you clip it carabiner-style to your bag. The fob hides a powerful set of magnets. Pull the fob apart and clamp on the brim of your hat so your hat is safe and secure and your hands free!
This is great when you're heading indoors for a meal or an exhibit, but it's also great for trains and planes and getting from your method of travel to your final destination. And when there isn't a hat in your TOPTOTE it just looks like an elegant accent hanging from your bag.
TOPTOTE was invented by Lindsay Albanese, a California-based fashion stylist and online personality. You may have seen her great style tips on TikTok, Instagram, or YouTube. I've seen copies of this elsewhere, but after owning the original, seeing and feeling the quality and strength of the magnets, I see no benefit to shopping elsewhere for such a genius gadget for travel and everyday.
It doesn't need to be Printfresh (though I love their ethics, sustainability, size inclusivity, and prints), but I highly recommend bringing your own robe with you on travel. A cotton one like this won't take as much space in your luggage, and you'll find that once you've brought your own robe on travel you can never go back.
Some hotels offer robes, but they're often one size fits all (which means it doesn't fit at least 67% of Americans that identify as female as well as a good percentage of those who identify as male. Bringing your own robe ensures you can truly relax and enjoy padding around your hotel room after a shower or even enjoying spa services. You'll also appreciate it if you order room service.
But a robe like this can also be a swim coverup, and if you're short on space it makes more sense to take a multitasking robe than a one-act garment. Be sure your robe has loops for the tie (less likely to forget it at your destination) and deep pockets (because we all deserve deep pockets on all garments!).
If you choose to shop Printfresh, you can read my Printfresh pajamas review here, and use WARDROBE_OXYGEN at checkout to save 10% on your entire purchase.
Again, there's no need to shop ROKA, but after decades of wearing trendy brands of aviators which we found classic and cool, we tried ROKA and wish we had sooner. ROKA's Phantom aviators are the same shape and aesthetic of other popular aviator brands, but are created for comfort and performance.
I am not a bit athletic person, but I appreciate ROKA because they are incredibly lightweight. This increases comfort while also reducing that annoying sunglass feature of sliding down your nose with the slightest bit of sweat or shine. Seriously, I can wear these for hours at the garden, canoeing down a river on the hottest day of the summer, ride a bike with a helmet on, and they don't move or annoy me.
I say polarized, because polarization makes such an impact, especially when on travel. From driving with the sun right in your eyes to being on the water in the middle of the day, polarized lenses reduce glare but also make everything appear larger and crisper, ensuring you have utmost comfort and clarity.
This seems minor, but I have had many a vacation where I was grateful to have sunglasses not only make me look great and have UV filtration, but also improve my vision. And it's even better when it's a classic style that still looks chic with your street style and is lightweight enough that it's not an annoyance.
For reference, I am all about the ROKA Phantom Alloy, which is super lightweight and under $200. The greatest selection and the ability to create your own custom pair are only available at the ROKA site (I went the customized route and purchased gold frames and gold lenses and received my sunglasses within a week).
I have kept at least two of these packets (they come in a three-pack) in my toiletries bag for years and have always been grateful. From accidental spills to reviving clothes to be worn again on a long trip, these packets are easy to use, effective, and rinse easily even in a little hotel sink.
While Tide isn't my usual home laundry detergent, I haven't found another product that takes up so little space, still works after a year (or longer) of not being touched, and rinses as well as these packets. If you have found an equally effective and small alternative, do share in the comments!
There are many products on the market that will prevent thigh chafing, AKA chub rub. No matter the one I choose for my vacation, I still pack this mini tube of Megababe Thigh Rescue in my bag.
Shorts ride up, you think you're just going to dinner but end up taking a long walk down the boardwalk or beach, your slipshorts are in the laundry, your shoes are giving you a blister, your arms rub against your shirt while kayaking... there are so many reasons why you will be glad you have this little container in your arsenal.
Similar to Bodyglide and other chafe-preventing products, Megababe was founded by Katie Sturino, an influencer and online personality. Megababe products are clean, vegan, and never tested on animals.
I recommend shopping directly from a brand's website or store whenever possible, but Megababe can also be found at Target, Ulta, Amazon, QVC, and Athleta.
It's just smart to bring your own water bottle on travel. Buying disposable water bottles is a waste of money and not great for our environment. But water bottles can take up a lot of space. I have tried a lot of collapsible water bottles and find this one from Nomader to be the most durable and easiest to drink from.
Most hotels have water filtration machines in their gyms; airports also have them. I will have the rolled up bottle in my carry-on luggage and fill it once I get through TSA. I will refill it each morning before my vacation adventures and once it is empty, I can roll it up and tuck it in my bag. This bottle fits in most cupholders in cars, on bikes, etc. It is also freezer safe which is a great option for long car trips!
This bottle also has plenty of place to hook on a carabiner so you can attach the bottle to your bag to have your hands free as you sightsee (also fab for concerts and music festivals!). It is leakproof, dishwasher safe, and free of BPA, BPS, PVC, phthalates, lead, and latex. Nomader also offers a lifetime warranty.
Photo Credit: Birkenstock
I have been raving about these sandals for years. While I am partial to the Arizona style of sandals from Birkenstock, the brand offers their waterproof EVA material sandals in other styles as well. I think these are so great because they are waterproof but also offer arch support.
Wear them as shower shoes in the locker room, have them as your beach or pool flip flops, they make for slippers in your hotel room. And if by chance your regular shoes give you blisters or get wet/damaged on your trip, these can be your backup street shoes!
Do note, they can get a bit slippery with sweat or if they get wet, so they're not good for long walks, but will get you to your destination in a pinch! These sandals come in neutrals like white and black, but also gorgeous statement colors like the blue seen here. They can be washed with soap and water (some have washed them on the top rack of their dishwasher) and the white ones I have cleaned with a Magic Eraser.
A packable tote is a smart choice for so many reasons. If you go shopping you can use it for your purchases. If you have no room in your luggage for said purchases it can be a carry-on bag. When you head to the beach or pool, you can use it to carry towels and sunscreen. When it's small and packable it takes up little space, but once you have it you will find so many reasons for it.
While many have those tiny reusable totes that can fit in a purse or clip to your bag, I find a larger packable tote like this one from Samsonite to be more versatile for the reasons above. Sometimes you need to carry more than what could fit in a reusable grocery bag, and this one is under $30 yet made with Samsonite quality. If orange isn't your scene, it also comes in navy!
There are hats for fashion, there are hats for function, and there are hats that were born for travel. I saw a popular brand offer a pop-up sunhat that looked genius for travel (I even shared it in a shopping post) but it sold out everywhere. And then when perusing Etsy, I found this shop that only sells sunhats, offering what looks to be the same exact hat for a third of the price. A reader did a little digging and shared in the comments of this post that this may in fact be the same exact hat from the popular brand, just for less, and in stock.
Anyway, this is a hat that was born for travel. It packs up into its own bag flat but will op up to offer true sun protection and even a neck strap for security. Hats are always difficult to pack, even "crushable" hats can get dented and weird after being in luggage. This hat, which comes in a variety of colors and gets stellar customer reviews, is the kind you can tuck in the bottom of your suitcase and have at the ready.
I do not own this hat... yet. But it is in my Etsy cart and several of you readers have shared you bought this hat and love it for sunny days and travel!
I have a feeling the majority of you who are reading this list are women. And I bet the majority of you are the photographer on vacations, capturing your partner, your friends, your family having a blast. Maybe you choose to be the photographer because you don't feel confident in photos. The thing is, you are one of the reasons these folks are having so much fun and storing up wonderful memories. It will be so sad to have them look back on the trip and not see any proof of you being there.
I bought this little Bluetooth phone remote a few years ago for my job, so I could get outfit photos when I was on work travel and alone. But honestly this remote is used far more for family and friend getaways so we can ALL be in the photo together!
The remote is so small, you can fit it into a change purse. It comes with a cord and a little plug to tuck into your headphone jack so it's always at the ready. If your phone doesn't have a headphone jack, I removed the little plug and used the cord to hang the remote off my keyring.
The little stand that comes with it may look like a joke, but it is a genius little piece of plastic. Vertical or horizontal, it will hold your phone up not just to take a photo, but to watch a movie on a plane or train, to hold your phone when FaceTiming, or to watch a tutorial while working on a project.
I have now bought this remote three times (not because they stopped working but because I JUST realized with the third one to hang it on my keyring and kept losing them) and I have also given it as a gift. It's under $10, super easy to use, and a great way to get in the picture and the memories of your loved one!
Now I'd love to hear from you! What are your vacation packing essentials? Anything I need to add to my arsenal for my next getaway?