This article may contain affiliate links; if you click on a shopping link and make a purchase I may receive a commission. As an Amazon Associate, I earn from qualifying purchases. 
When you're soft and curvy, it's harder to find flattering sleepwear and loungewear. Add kids or roommates into the equation, and you want some modesty with your comfort. These are my favorite loungewear and sleepwear pieces that let me be comfy after a long day at work, have me covered when Emerson comes running in our room in the middle of the night after a nightmare, and other than the crazy bedhead, I won't be embarrassed answering the door to a neighbor at 8am on a Saturday.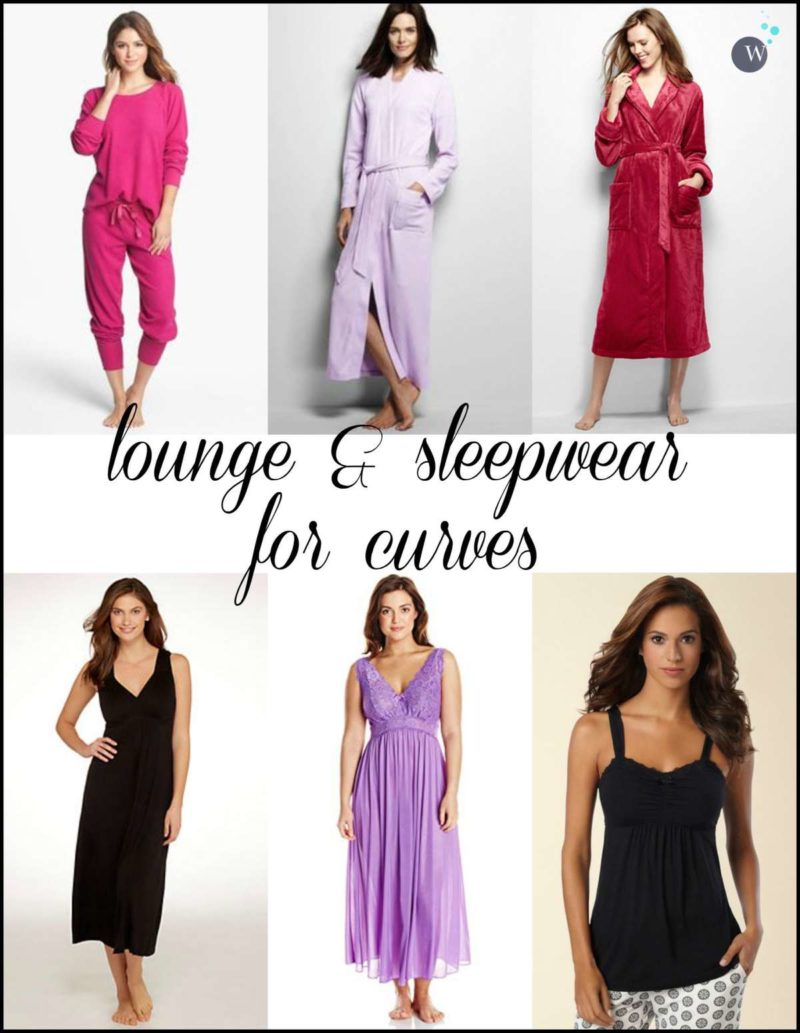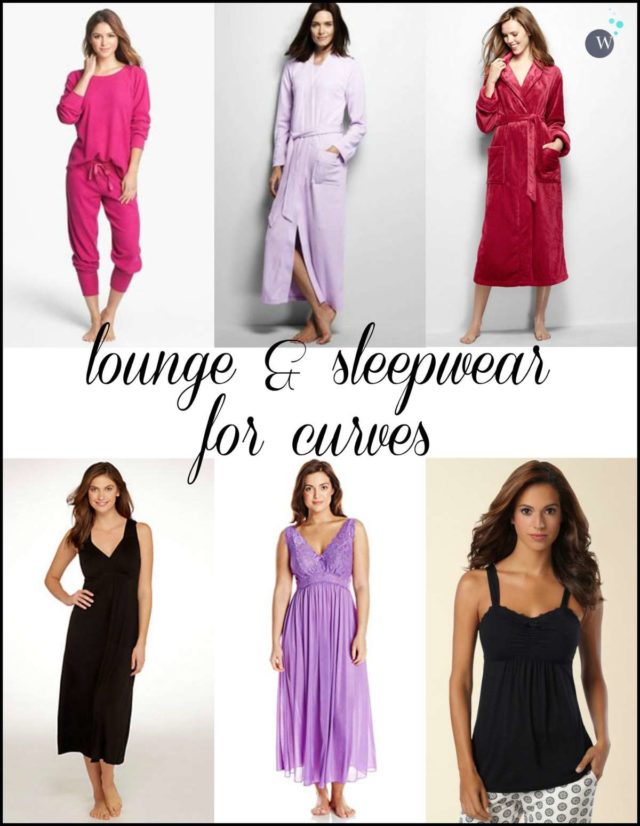 These pajamas are my JAM. You may recognize them from my gift guide.  I have them in black, they've been washed a dozen times and are still a rich hue and the same size and shape. The sleeves aren't too long, and with the banded hems the pants don't drag on the ground. They're that perfect mix between roomy and tailored where you don't look like you're wearing your dad's long johns but you're comfortable. They're a nice thick thermal but soft. It may seem crazy to spend this much when you can get thermal long johns at a big box retailer for a third of the price, but the fit and quality is pretty stellar.
I bought the shorter version of this knit robe when I was pregnant to have in my hospital bag. I JUST got rid of the robe this spring, not because it was worn out but because I got hair dye all over it. Six years of hard wear, weekly washing (and when Emerson was a newborn, often daily washing) and it stayed strong and rich in color. I replaced it with this longer version for a bit more warmth and it's just as awesome.  I find this robe runs large, if you're unsure especially if you're petite, go with the smaller size so the neck stays closed nicely. Available in Regular, Petite, and Plus sizes, and even some prints too.  If you don't like the color selection, check next season as they regularly switch up the available colors.
It's super cozy, doesn't shed or pill, holds up great… did I mention how cozy it is? Nothing better to slip on at 5am when Cindy whines to go outside. Get it monogrammed and feel tres chi chi even though you still have sleep in your eyes! I have a Petite Large and it's comfortable and not too short (yet no fear of tripping over it when climbing up the stairs half-asleep).  It comes in Petite, Regular, and Plus sizes.
Why don't they make more sleepwear with bust support? Especially after having and nursing Emerson, I don't have the perkiest of breasts and not only is it goofy looking to have my breasts hanging down in sleepwear, it's not terribly comfortable. This gown has gathering and a seam under the bust that doesn't lift the bustline but it at least separates them from my stomach, giving me a bit of shape. It's a soft silky knit fabric, a style that isn't too lingerie-like, and it has held up nicely through multiple washes and tumble dries.  Also available in plus size.
Remember when you used to watch soap operas as a kid and the glamorous ladies had elegant nightgowns with matching silky robes? Feel like you're right from DOOL or Y&R with this gown. It comes in other lengths; I was nervous to get the long 53" length but it hits above my feet. It also comes in plus size.
Again, hooray for brands that offer a bit of support for breasts when it comes to sleepwear! While I don't want to go to bed in underwires, it's nice to have some definition for comfort and style, especially when I'm puttering around the house.  Soma's Cool Nights collection is breathable (great for those like me who sleep hot, or those who are dealing with hot flashes), silky, and holds up great after many washings.  And three cheers for adjustable straps! They have coordinating pants and shorts but I haven't tried them yet.  I often wear this cami with a long cardigan and yoga pants. I recommend the dark colors for more modesty.
Now I'd love to hear from you… what are your favorite pieces of loungewear or sleepwear? Any tips where to find great loungewear for those who have large busts and soft curves?