This article may contain affiliate links; if you click on a shopping link and make a purchase I may receive a commission. As an Amazon Associate, I earn from qualifying purchases.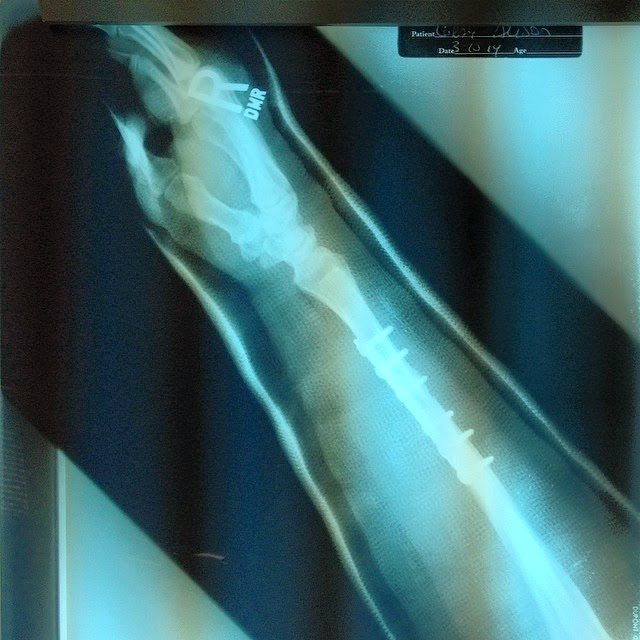 Hi everyone, quick update. Saw the ortho this week, the arm is healing nicely. They x-rayed and he sees fuzziness which means bone is growing, fusing my radius back together. I go back to the doctor in two weeks and if all goes well, I may graduate to a short cast! While I'm getting better with my left hand, it's exciting to see my right fingers move and work again without pain. This Wednesday I realized I can touch my index finger to my thumb and even play the world's smallest violin!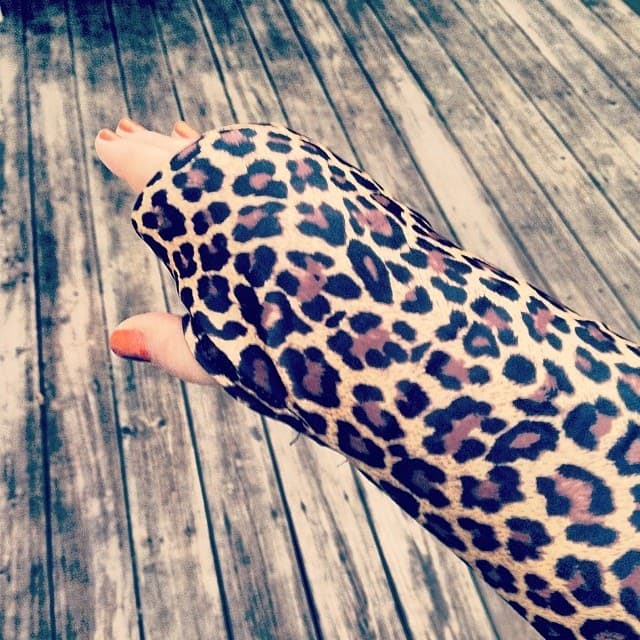 With the strength comes style and some more comfort. My sister told me about CastCoverZ! and I ordered myself two. They're so much fun and especially nice now that my cast is at the dingy grody stage. They're stretchy bathing suit material and come in a ton of different prints and fabrics, sizes for all ages and types of arm, hand, and leg casts. CastCoverZ! also sells items to make your healing process more comfortable, crutch accessories, mitts and boots for snow and cold weather, waterproof covers, and this genius item called a CastCooler. Wrap the CastCooler around your cast and connect it to your vacuum cleaner; it cools and dries your cast and feels aaaahhhh-mazing! Best thing about CastCoverz! is the service – quick shipping and each order comes with a sweet personalized handwritten note (I know they're different because my mom bought the CastCooler for me as a belated birthday present).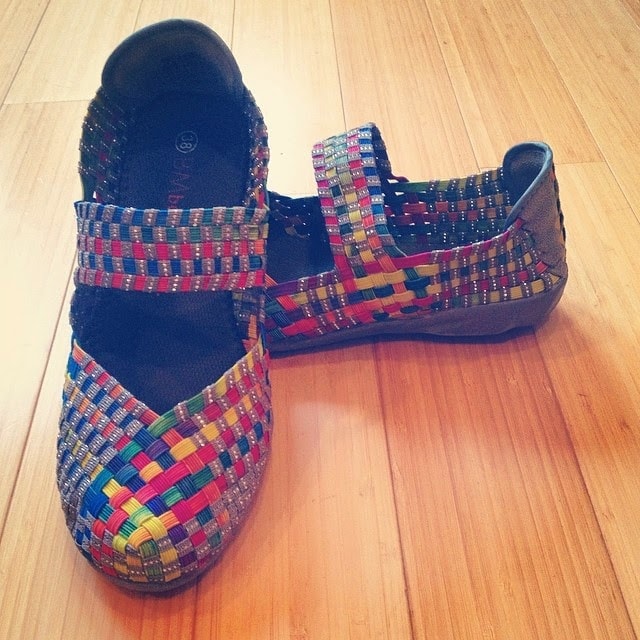 As for fashion, there isn't much excitement going on. Every day I am in NYDJ's ponte pants or jeans (love how their pieces are stretchy enough for me to button one-handed and comfy yet polished and stylish and available in petites) with a tee shirt. Shocker, the tee is often an Old Navy Vintage V-neck, though I have some elbow-length boatneck tees from Ann Taylor that I prefer because they're pretty colors, more structured, and don't ride up above the cast into my armpit. I'm using scarves to add variety and like how they don't make the sling the focal point. Since my life is at home or going somewhere thrilling like the doctor, drugstore, or maybe a restaurant when Karl's sick of doing dishes, I've been wearing casual flat shoes that stay securely on my feet and don't have to be laced up. My DUO riding boots are my regular go-to, but I just bought the above shoes by bernie mev. so I'd have something lighter weight. These shoes are not something I'd typically buy, but they're fun, funky, and insanely comfortable. Flexible sole, decent cushioning, and the shoe is elastic straps woven together so the shoe moves with you and is breathable. These are the "Cuddly" but there's a bunch of styles of these shoes – open toe, wedge, pump, ballet flat, and in neutral solids as well as this crazy silver and rainbow mix. I got them from Nordstrom since they have free shipping and returns and tons of customer reviews; also with Ebates I get cash back!
Sleeping is still hard, staying in a sling is annoying, and I miss my job and coworkers, but each day gets better and I see a light at the end of the tunnel. Thanks everyone for your support!
Love,
Alison
Follow Me | Twitter | Facebook | Instagram