This article may contain affiliate links; if you click on a shopping link and make a purchase I may receive a commission. As an Amazon Associate, I earn from qualifying purchases.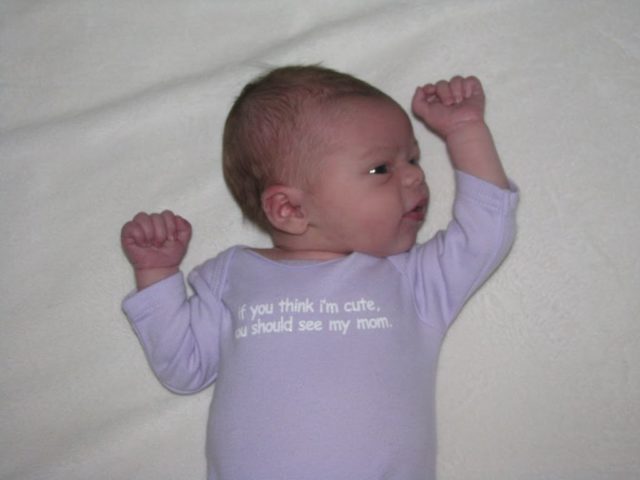 Sorry I have been gone so long… it's near impossible to blog and care for a newborn. She doesn't sleep through the night, she eats a lot and only I can provide that (though my husband the SuperDad wishes he could lactate so he could bond with her on all levels), and when we do have quiet time, it's about sleeping or just chilling out. But I will be going back to work in… sigh…four weeks and can resume daily lunchtime posts at that time.
But Emerson is doing great – she went to her two-week pediatrician appointment today; she had gained an inch and a pound at her one-week appointment and today we found out she gained an additional 13 ounces. Doc says she's healthy as an ox and looking great. She is gaining strength and personality every day!
No pics of me with her because… well I seem to always be the photographer! Also with the renovation, the full length mirror has been removed from the back of Emerson's nursery door and is currently propped against a wall in my bedroom closet so it's hard to take pictures of my fashion. I am still in maternity clothing (natch) but shrinking by the day. Last week I put on the Old Navy jeans (the last pair of maternity jeans I fit into when expecting) and they were so tight I was miserable when sitting in the car and took them off as soon as I got home. Today I put them on and they slid on easily and actually were sliding down because I didn't hav enough belly to hold them up. But to go to the pediatrician (and an exciting visit to CVS) I wore the black Motherhood turtleneck sweater, those jeans, my Chucks (feet are still very swollen), silver hoops and cuff. My bangs were straightened, the rest of the hair was wavy. L'Oreal True Match foundation in C3, Bare Escentuals Buxom Lip Gloss in Dolly, and Cover Girl LashBlast mascara in Rich Black.
When at home, I usually try to clean up and look nice – no PJ's all day. Yesterday I did bum and felt like crap. At least brushing the hair, putting on the one minute makeup and comfy street clothes makes a world of difference. I am still loving those ponte pants from Old Navy because they are as comfy as sweats. The faux wrap tees from Old Navy were flattering maternity tops and are awesome nursing tops. I also got this cardigan in black and it's great over tees and tanks for warmth, bit of style but still nursing ease.
As for nursing bras, I have two that are great and very different. The Bravado "Body Silk" nursing bra is pretty decent for a no-wire option. The bra has removable molded foam cups to add shape and support. The bra looks a bit like a skinny strapped sports bra, so if it peeks out of a top's neckline it isn't bad. I take the cups out and it's a good sleep bra; with the cups it's great for going out (and the cups help hide any nursing pads).
I also have the Anita International '5041' Nursing Bra which is pretty fabulous for an underwire bra. It fits great, is comfortable, gives good shape, is easy to open and close with one hand, and looks like a normal bra. I have it in nude and am tempted to get a second one in black.
Desperate need of a hair cut and color, but figure that will happen closer to when I have to go back to work (sigh). I also need a pedi – may go next week as my birthday treat (since the place is down the street I think I can fit it in between feedings and have Daddy watch over E).