This article may contain affiliate links; if you click on a shopping link and make a purchase I may receive a commission. As an Amazon Associate, I earn from qualifying purchases.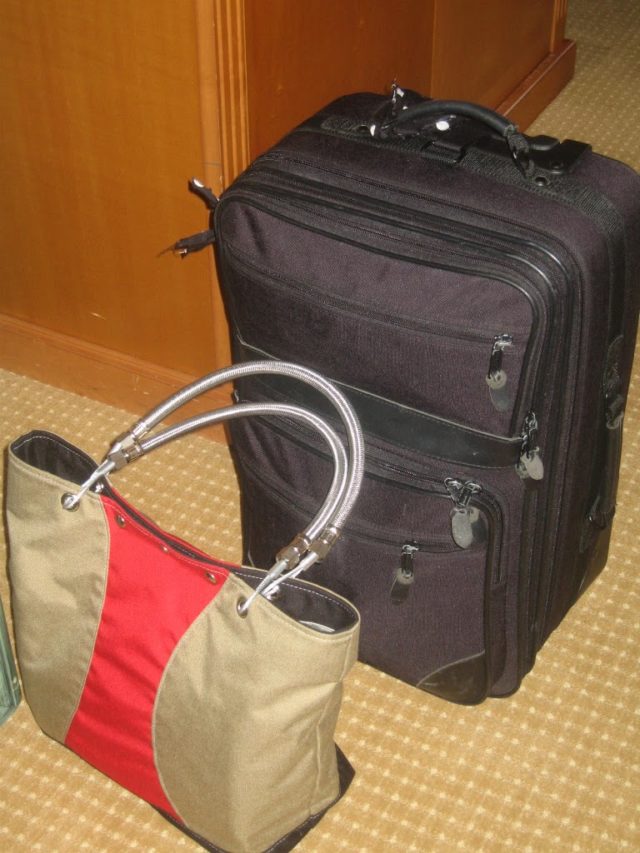 Hello all! I am back from Miami. Due to the weather I am not sporting much of a sunkissed glow (it rained, it was cloudy, it was horrifically windy and never over 70 degrees or so) but we had fun.
For those who don't know, I won this trip from Budget Travel magazine. I have been to Florida many times, but not to Miami. As that the reason I won the contest involved my sister and our vacation traditions I took her as my guest. We also planned it so that this trip fell on her birthday weekend!
Saturday morning, I took the Metro to Regan airport. I took a black pullman to check, and my HARDWARE Handbags and purse for carry-on.
I wore my black merino crewneck, orange crinkled scarf/shawl from Banana Republic, my dark denim skirt from Gap, my tan "bern" boots from Duo, silver cuff. Hair was washed and conditioned but left to air dry except for the bangs. Makeup was simple – L'Oreal True Match concealer in W1-3, Cargo Matte BeachBlush in Tenerife, Revlon Shiny Sheers in Sheer Cocoa Glaze and Cover Girl Lash Blast in Black on curled lashes.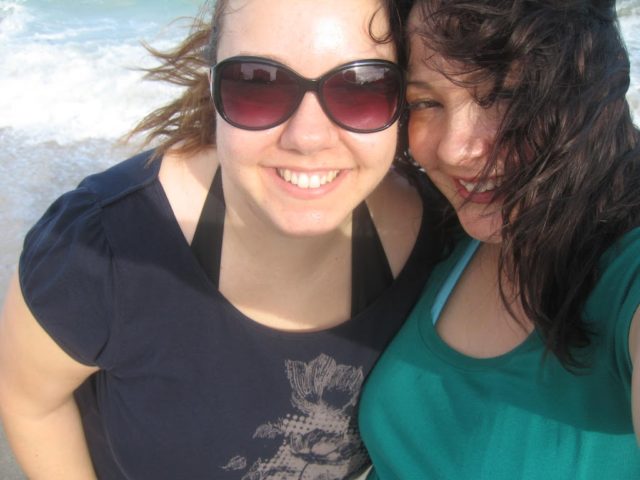 We arrived at the hotel (located in Bal Harbour) around 3pm, got ourselves settled and switched into bathing suits and semi-streetwear to investigate the pool and beach. I wore my aqua halter-neck one-piece from J. Crew, my dark denim skirt and a jade green scoop tee from Gap with black flops from J. Crew. We walked to the beach, but it was so late in the day the highrises were blocking most of the sun. We dipped our feet in the Atlantic, and then spent a bit at the pool deck near the bar just people watching.
We then took a nap to prepare for our evening out. I showered and decided to wear my hair wavy, but the water in Miami was different from at home and I forgot my shampoo and used the hotel one so my hair was very limp. I ended up curling almost the whole thing, doing some backcombing and creative techniques to make it decent.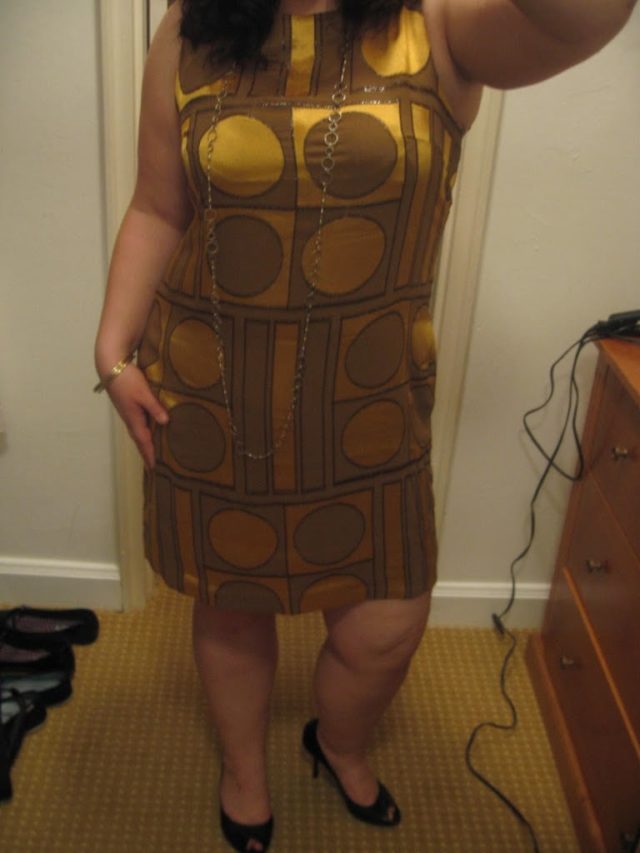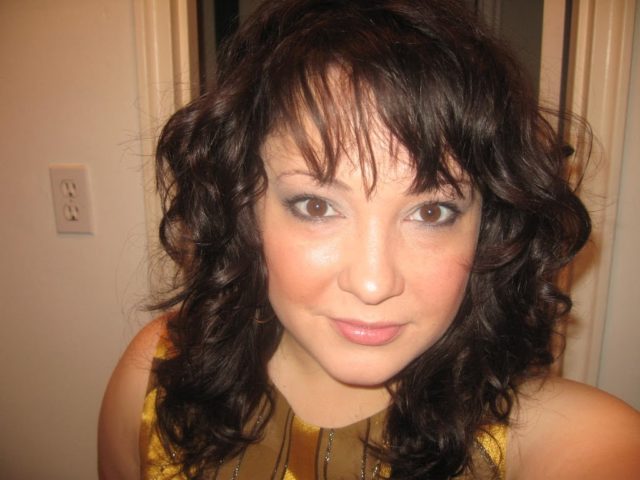 Gold and olive silk dress with pockets from Banana Republic (but purchased for far less on eBay), black croco peeptoes from BCBGirls, long gold necklace from Express, gold bangles from Ralph Lauren, gold hoops.
Makeup was Smashbox Photo Finish primer, L'Oreal True Match concealer in W1-3, philosophy The Supernatural in Beige, Cargo Matte BeachBlush in Tenerife, Body Shop eyecolor in Slate over lid and the black shade from the Pop Beauty for Brown Eyes set in crease and along lash lines. Lashes curled, two coats of Cover Girl Lash Blast in black with two coats of Imju Fiberwig over it. Bit of Sephora eye pencil in grey along lash lines. On lips was Revlon Super Lustrous Lip Gloss in Glossy Rose.
We walked across the street from our hotel to the Bal Harbour Shops where the restaurant was located. We had a nice meal, did a lot of people watching and had a lovely bottle of champagne. After dinner, we caught a cab down to the nightclub which was closer to South Beach. We had VIP seating, which meant we had a seat in the center of the club where there was a section of white vinyl couches. They brought us a bottle of champagne and strawberries and again we had an awesome time people watching, and then dancing a bit. We're not used to partying until 6am, so we headed out around 2:00.
The next morning it was raining, the wind was INSANE and it was the actual day of my sister's birthday so we ordered Room Service for breakfast. We sat in front of the balcony overlooking the ocean, ate yummy food (felt very Sex in the City… you ladies know which episode) and watched that TLC reality show about Miss America.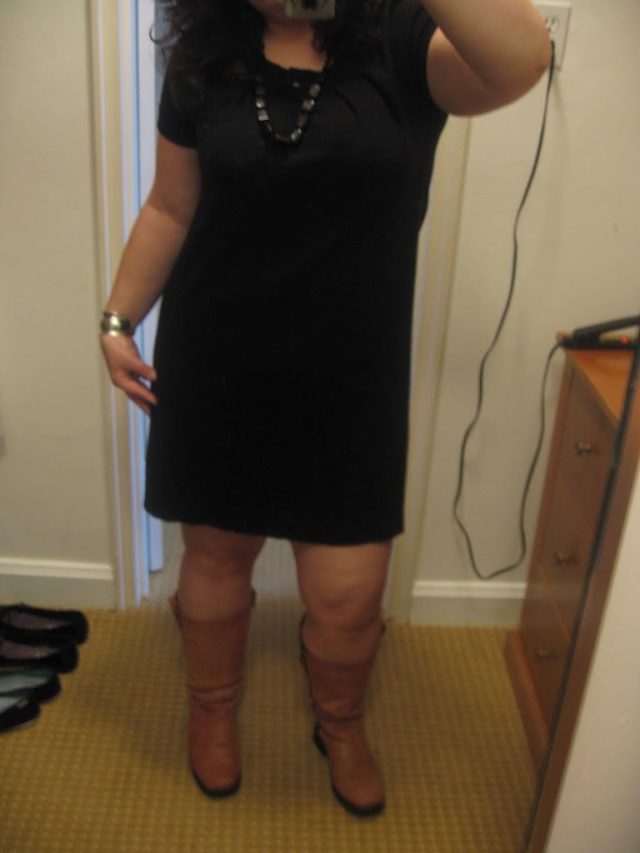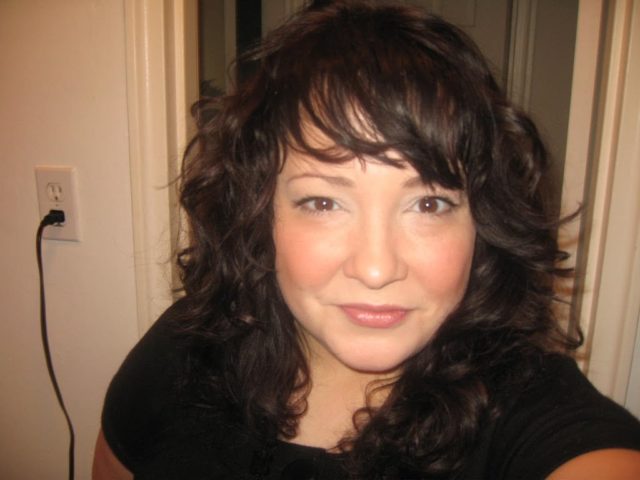 The rain let up and we had some mandatory shopping to do so we got dressed. I didn't do my hair from the night before because it was acting so strange; I just brushed out any tangles.
As for outfit, my trusty black merino shift from Banana Republic, my tan "Bern" boots from Duo, silver hoops and cuff bracelet.
Makeup was L'Oreal True Match concealer in W1-3, philosophy The Supernatural in Beige, Cargo Matte BeachBlush in Tenerife, Revlon ColorStay shadow quad in Neutral Khakis – ivory in inner corners, khaki on lid, chocolate in crease and along lash lines. Lashes curled and two coats of Cover Girl Lash Blast in black. On lips was Revlon Shiny Sheers in Sheer Cocoa Glaze.
The mall was ridiculous; honestly I had a hard time spending the gift card. We first went to Tiffany because my sister received a gift she wanted to exchange. She got a gorgeous enamel necklace and I used some of the gift card to cover the difference. We then walked the two flights seeing it more like a museum than an actual shopping mall. Chanel, Versace, Dior, Oscar, Fendi, Hermes, Prada… the gift card could maybe buy me a keychain in these places…
They had a Banana Republic and ya'll KNOW how much I love that store! I thought wow, for almost $500 I could totally buy everything I hearted in the place, or maybe a new purse! Notsomuch; the store was kinda messy, very few items in my size and a lot of the new clothing looks prettier on the hanger than on my bod. I ended up leaving with a $9 clearance sweater and an $18 black cami. I know, boring.
I decided my best bet was either a sale purse (because these stores had purses around $1,500, not $500) or sunglasses and then spend the rest on cosmetics. I tried on sunglasses in every boutique and all looked stupid. This is probably why in the past five years the only sunglasses I have worn are crappy cheap ones from the kiosk in the mall or Target – sunglasses are usually too big, too small, or too rounded for my large and not round head.
Until Celine.
We went into Celine and I tried on THE SUNGLASSES. Not super flashy with logos, not overly trendy and obviously passe by next summer, not too round, too big, too small, too manly, too girly, too trendy. Just right. To add to it, the salesperson was one of the first who treated us nicely, and not like street urchins. I bought them!
We had shopped until we almost dropped so we headed out to our next destination – massages! My sister's friends bought her a gift certificate to a day spa near our hotel for her birthday gift and so I asked my mom if my birthday gift could be a gift certificate towards the price of a massage so we could get them at the same time. The spa didn't look too impressive, but my sister and I agree we received some of the best massages ever.
After our massages, the weather had gotten far colder. We caught a cab back to our hotel and changed for dinner.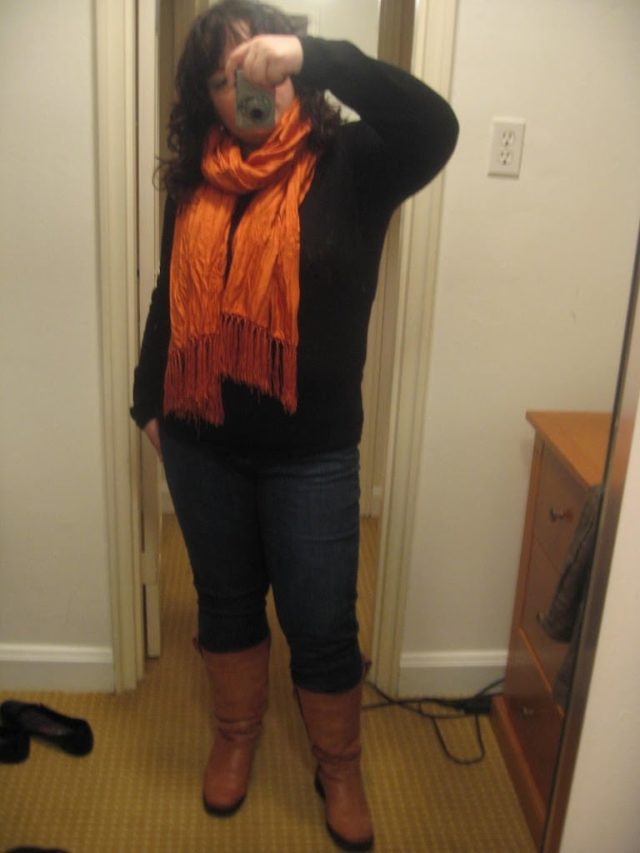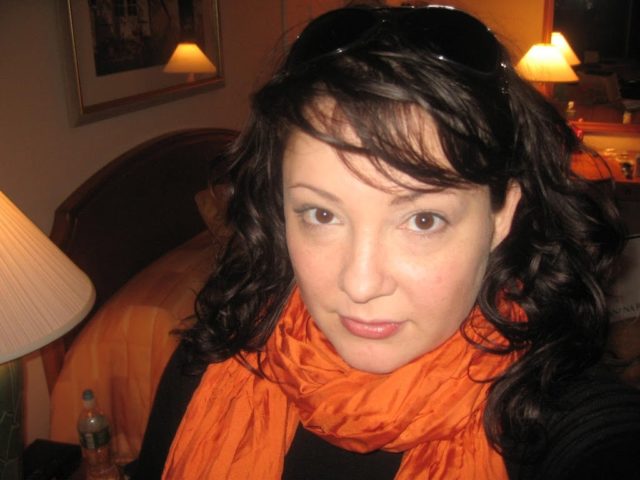 Black cami from Banana Republic, black merino crewneck from Banana Republic, dark "The Flirt" bootcut jeans from Old Navy tucked into my tan "Bern" boots from Duo, orange silk crinkle scarf from Banana Republic, hair held back with my new Celine sunglasses. Makeup the same except for touchups, hair the same (and now kinda greasy from the massage).
We walked to Surfside and ate at an adorable sushi place that was full of friendly staff, happy locals and good food at a good price. We shared a variety of sushi and sashima and each had a nice glass of Pinot Noir to warm us up. After, we ran across the street to CVS for bottled water at non-hotel prices and were psyched to see they sold champagne there! We grabbed a bottle of Freixenet and headed back to the hotel.
The wind was INSANE at this point and we often walked backwards so we didn't get sand in our eyes. Once back, we each settled in our beds (the beds at the hotel were sooo comfy!) with glasses of bubbly and watched Extreme Home Makeover. Glamorous, no? Didn't matter, we had a great time, gabbed and giggled.
Monday we got up and were both sore from the massages so did a bit of yoga and then got ready for our day. It was still rainy and windy so we couldn't go to the beach. Anyway, I still had money to spend on the gift card so we had to return to the mall.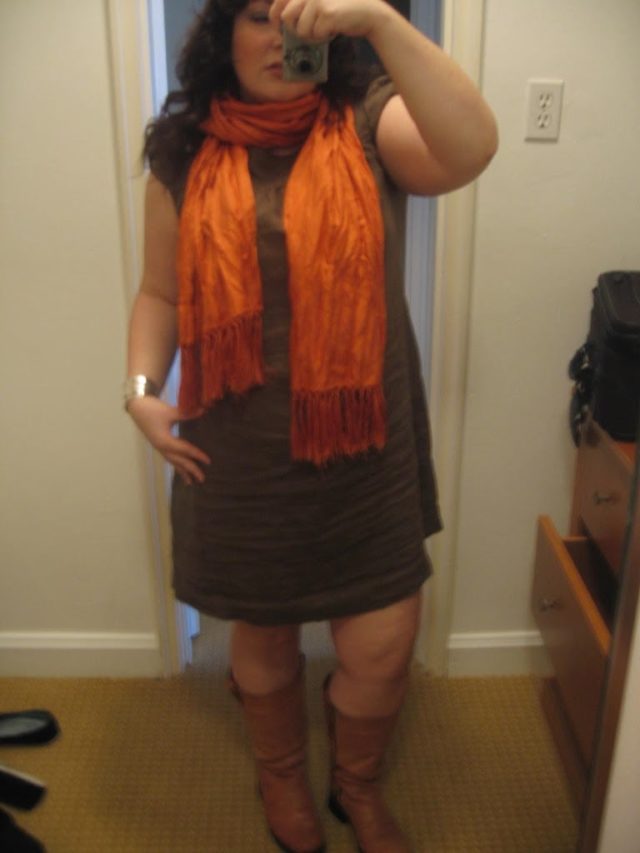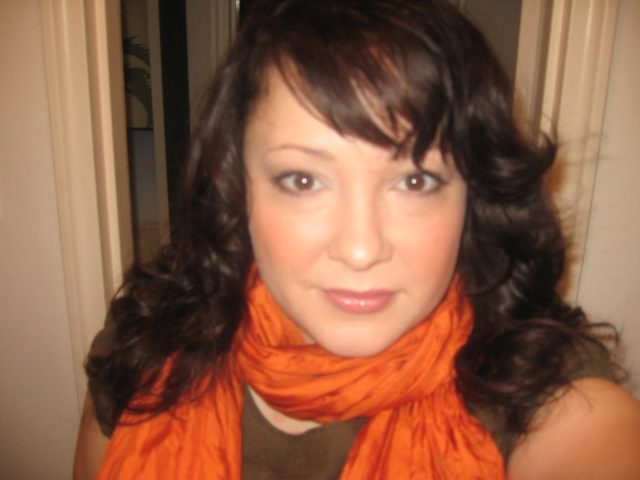 I had showered the night before and let my hair air dry. As for makeup, it was exactly the same as the day prior.
For clothing, I wore my olive linen shift from Old Navy, my Duo boots, my orange crinkle scarf, silver cuff and hoops.
Then I went out on the balcony.
Oh
My
Goodness!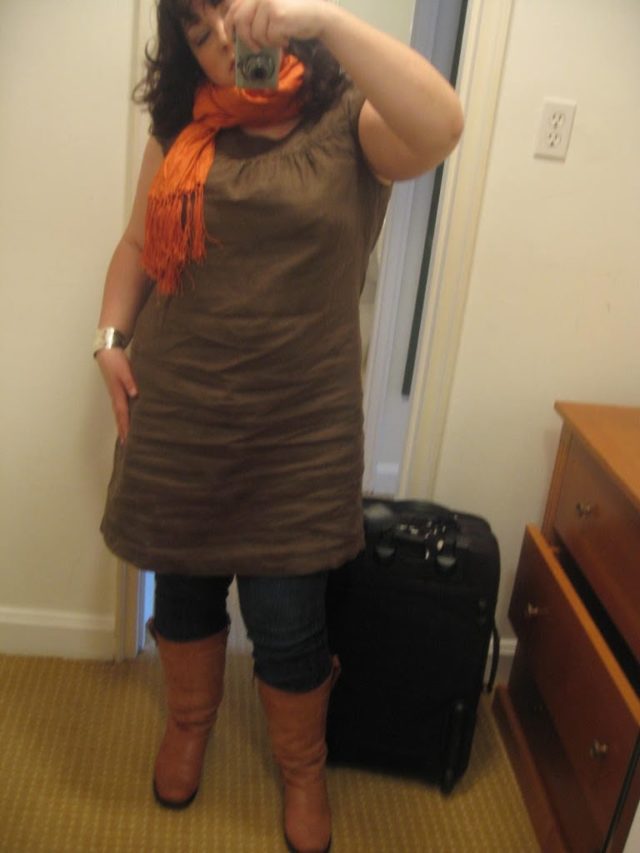 The wind was INSANE! I decided to put my Old Navy jeans on under the dress and boots so if my skirt flew up in the wind, I would be covered. This was also a good idea as that this is what I would be wearing on my flight home and it was about 20 degrees back in DC.
I decided to spend the bulk of the rest on a perfume. I have been wearing Burberry London for a very long time and love it, but was ready for a change. I already know what I wanted – Narciso Rodriguez for Her. I had received a sample at Sephora and had been coveting it ever since. We went to Saks and bought it up. We them went to a cafe for late breakfast/early lunch. I decided to sport my new sunglasses perrched on top of my head.
Sitting at the table (it is in a sheltered outdoor part of the mall) I felt something fall on then off my head. I look down and see a piece of metal. Pick it up and it says, "Celine." It was part of my sunglasses! I grab the pair and realize the plastic part was cracked and the metal fell off and couldn't be reattached. What the heck!?!? Glad that this happened while still in Miami, we headed back to the store after lunch.
OMG, I am so glad this happened in Miami and not back home. The DRAMA it took to exchange out these darn sunglasses for a replacement pair (and can I say the saleswoman remembered me from the previous day as well?) was horrific and left the worst taste in my and my sister's mouths. I have worked retail and KNOW that it didn't have to be so difficult. This plus drama I didn't even mention the day prior when trying to use the gift card in their store… I won't go into details, just letting you know I have received better service at Express, at Forever 21, at H&M and even The Gap in the same mall on the same day than I did at Celine and someone at their corporate office will receive my complaint, whether or not it will do any good.
So after what felt more like work than play at Bal Harbour Shops, we walked back to the hotel to have a pre-flight cocktail and then catch a cab to the airport. No time for the drinky-poo which was probably good because we were both grumpy and tired by this point.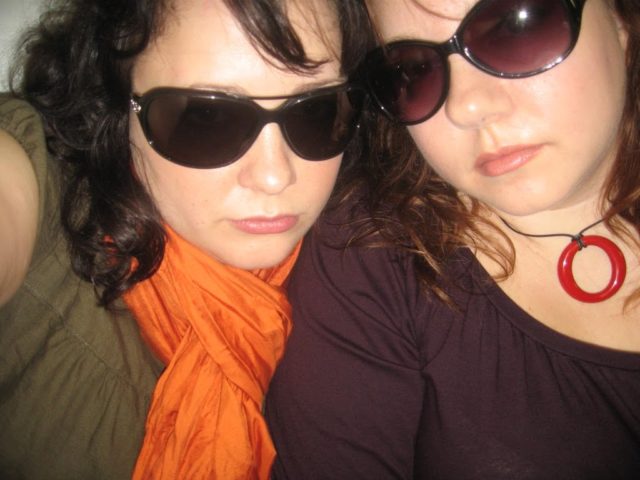 We got to the airport, which is one of the most confusing and smelly airports I have visited; checked our luggage and headed to our gate where there weren't enough seats so we ended up sitting on the floor in a busy thoroughfare. Oh, and it was like 80 degrees and humid in the airport and smelled like manure. This picture sums up our feelings by this point, and also shows off my new sunglasses and my sister's new Tiffany necklace.
Got home (yay!) to find out they lost my luggage (boo!) but they found it this morning (pending yay; haven't seen its condition yet… to be delivered to my house and I'll check it out this evening). Looking forward to the luggage coming back – thinking about it on the Metro home I wasn't tooo sad because really everything is replaceable or expendable that was in there except my black merino shift from Banana Republic – I do love that thing. And I wanted to wear my new perfume and give my husband the shirt I bought him. Also made getting ready today SUCK because in the suitcase was almost all my makeup, my shoes, my curling iron, both my brushes, my Jonathan Silky Dirt, my best nude bra, my deodorant, my toothbrush… I could go on but you get the idea!