This article may contain affiliate links; if you click on a shopping link and make a purchase I may receive a commission. As an Amazon Associate, I earn from qualifying purchases. 
I know I haven't posted a lot. It's because… I hate my wardrobe.
Yes, Alison Gary, author of Wardrobe Oxygen has a closet full of stupid stuff. No staples, no go-to pieces. A bunch of things that don't fit, don't flatter, or don't work with her lifestyle.
Today I am wearing one of my few go-to work outfits – black pencil skirt, white ribbed tank, green cardigan, scarf tied to make a necklace. But the shoes are my black patent t-straps which don't go as well as the peeptoe pumps but my feet are still hurting from Bonnaroo and those high heels aren't going to cut it. And the tank has been worn a lot and is a bit stretched out and meh looking. And my hair is a mess because my husband gave me a head massage last night while watching something on the History Channel about real pirates of the Caribbean and I didn't have time to shower this morning.
Yesterday I wore my Muse knot-front dress.
The day before I wore my blue print Ann Taylor wrap dress.
Last week was a bunch of dresses too, because that's what I have a lot of. And that's what fits. I have even tried to figure out ways to make my Bonnaroo sundresses work-appropriate. No luck.
Yesterday I decided, so what if all I wear are dresses. But if all I am going to wear are dresses, I need to get a few more. I don't have enough clothes to get through the work week without… well without wearing a stretched out white wifebeater with a pencil skirt. I went to my go-to sites – Ann Taylor, LOFT, Nordstrom, Gap. No inspiration. Dresses I liked were not in my size or price range. So I Googled brands I love – Calvin Klein, Maggy London, London Times, Muse. I also hit the other department stores online – JCP, Macy's, Dillard's, Lord & Talor, even Saks. Not much luck. So I thought… what store online has a great return policy if I hate these things, doesn't cost a lot to ship, and will have 14 and 16 but not plus size?
Overstock is where I got our living room rug, storage bins for the shelf on Emerson's changing table, the velvet quilt on our bed. I have never bought clothes there before, but I know they carry great designers. And even better, they have great reviews by customers.
And even better, Overstock.com is partnered with Ebates. And you KNOW I love Ebates. Seriously, I have made over $500 with Ebates just this year alone. Why shop online if you don't first hit up Ebates.com? With Ebates, I would get 4% cash back on my entire purchase at Overstock.com. So I went to Ebates, searched Overstock.com, and went to their site.
I ended up getting a pair of yellow espadrille wedges and three dresses. My fingers are crossed, and I will let you know how they work out. I feel good about it based upon reviews and the silhouettes of the dresses.
I have done something else which I know will help my wardrobe situation. I hate to post it, but figure I should because posting it, making it public puts me accountable.
I have signed up for Weight Watchers.
I have been meaning to do this for MONTHS. I did Weight Watchers in the past and had some success. Two readers of this blog that have become virtual friends have had recent great success with Weight Watchers. I was going to start last week but my husband had to sub last-minute for a fellow yoga teacher that evening and with letting him get ready and get Emerson settled and all, I couldn't get there in time. And I wanted my first meeting to be at the location I plan on going to on a regular basis.
Okay, I just realized that if you sign up for Weight Watchers online through Ebates you get $10.00 cash back. How cool is that? LOVE you Ebates!
To encourage me further, I asked my mom if she would like to join me. We did WW together in the past and it was fun to do it together. We would often go to dinner together after, having a nice low-point meal, celebrate losses, discuss plans and menus for the upcoming week.
Today I brought my lunch – brown rice and a fantastic stew-like thing my husband made last night with fresh veggies and beans and lots of spices and no fat. And then I found out we would have lunch at the office – Pizza Hut pizza and salad from Cosi full of gorgonzola and pistachios and sweet dried cranberries. I was thinking… I could keep the brown bag lunch for tomorrow and enjoy my last chance at Pizza Hut lunch today. I went into a conference room to help a member of upper management set up her laptop for a Webmeeting. This is a woman I find very cool and inspiring – we used to take lunchtime yoga together, she recently had a baby, and has been so influential at this company and in her field. Well she opened up her Internet browser and guess what her home page is – Weight Watchers. Yeah, pizza wasn't going to happen for lunch today after that sign!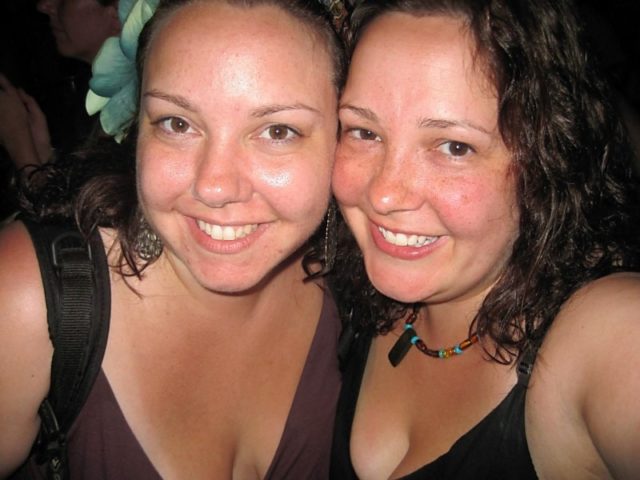 Me and my sister at Dave Matthews Band at Bonnaroo – the only picture of me that I liked from the entire trip.
So anyway, I am trying to make some great strides in loving myself. This body is a great one – it is beautiful – it created and nourishes my child, it carried me miles in the Tennessee heat at Bonnaroo, it loves my husband and treats me well. Well I need to respect it, and treat it well in return by clothing it in pieces that flatter it and match my personal style, and by losing excess weight that it is carrying.
Oh, and Sunday I spent an entire hour tweezing my brows and other random facial hair. Something I took for granted two years ago, but now see as decadent as a weekend at a spa. And it feels good to look in the mirror and see groomed brows. I recently got a haircut and color, and plan to have it be a more regular occurrence. I am making baby steps to bring style and self-love into my daily practice. And with it, my full personal style WILL return!