This article may contain affiliate links; if you click on a shopping link and make a purchase I may receive a commission. As an Amazon Associate, I earn from qualifying purchases. 
A few questions I have recently received from readers:
Deborah asks, "You and I have similar hair and back in 2006 you were loving the Suave Professional Curly line (which I think is gone). I'm wondering what are you loving now? What's working for your hair when worn curly and what's working for your hair when it's worn straight?"
Right now, I am using Biolage shampoo
and conditioner for volume
and I hate it. It smells good, but it has really stripped my hair. I am finishing off the bottles and then returning to PureOlogy (the purple bottles). Also once the Biolage is finished I will go back to get my hair colored since right now it is the color (as well as texture) of straw.
When I do my hair curly, I like Frederic Fekkai's Luscious Curls Cream
. I have used many many curling products over the years, but this one really gives nice soft curls that aren't greasy or crunchy. It works best when I air dry, so I add, scrunch to death, sometimes scrunch and hold in place with a claw clip, and then when it's mostly dry, will shape curls with my fingers. Once dry I will hit non-curly places with a curling iron. I use the Vidal Sassoon curling iron for fine hair, it does a really great job.
When I do my hair straight, I don't go poker-straight. I will use Suave's Root Lifter
, Tresseme's heat-protecting spray
, and sometimes a touch of Jonathan Product Create Motion
or bumble & bumble styling crème
for shape. Then I dry with a very big round boar-bristle brush.
Lately I have been doing waves and for that I pretty much do the same thing I do for straight, but dry with my fingers instead of a brush. I then put large sections around the curling iron, curling away from the face. I flip my hair upside-down, hit with some Elnett
, and then separate the curls with my fingers so it looks more relaxed.
To keep my hair looking decent between washings, I am a huge fan of Salon Grafix Dry Shampoo for Brunettes
. It doesn't smell too strong, it's aerosol so I can get it where I need it, it doesn't look ashy, and the price is very nice.
Celeste asks, "Just bought a khaki Land's End raincoat. It is such a bland color, I need to jazz it up. Scarf? What color? Knit? Silk? And how? Just drape it? Thanks."
I wear my raincoat with a pashmina – I love pashminas because they are multi-tasking wardrobe workhorses. It can be a scarf around the throat, a wrap once at the office, can be a shawl for a night out, and come winter is great wrapped around the head to protect the ears from the chilly winds. On a plane, it's a great travel blanket and they come in such fantastic colors. Khaki is a great base color and looks great with brights like candy pink, blood orange, apple green, French blue, orchid, and classics such a red and Kelly green. I either will put around the neck so it hangs straight down and tuck inside the edges of the coat so it peeks out along the edge, or loop once around the throat so it fills the collar of the coat.
For a very classic look, a large square or oblong silk scarf at the throat can look so elegant.   For a large square, you can just tie to the side with one knot so that it fills the collar; with an oblong scarf, fold in half, put around neck and take the ends and slip through the loop.
Also consider your accessories – an umbrella in a great hue can make a big difference with an allover look on a rainy day!
Michelle asks, "For a person who actually does wear business formal daily and can't get away with just anything, what do you think is key to insist on, quality/fabric-wise? It's so hard to avoid polyester and not spend $400+ on a suit."
I really recommend that you find a brand that fits 99% of the time, and stalk it. For me, it's Ann Taylor and I regular visit their sale racks, outlet stores, and online sale department. This way I have been able to collect pieces of their suiting line at great discounts. A suit that would cost over $400 full price I have gotten for under $100. If it's a brand sold in a department store, check online for deals at places like Shoebuy.com (they don't just carry shoes!) and Overstock.com. Don't rule out eBay – I love eBay when I know the brand, style and size I desire. You can even set up a watch and eBay will notify you when something with that description is up for bid. As always, hit Ebates first, even with eBay and get cash back on your online purchases!
As for fabrics, it depends on what you need. For suits, it's hard to say because some synthetics (I think of Ann Taylor's triacetate and scuba lines) can be quite professional looking. Does the fabric look shiny? Shiny is hard to make professional. Is the lining well-formed? A cheap suit will often have a lining that bunches or pulls. How do the pieces hang? Sometimes an $80 blazer will have a better line on you than a $380 one. Black, charcoal, and gray suiting fabric are great choices when buying lower-end but want a higher-end look. Pinstripes, tweeds, and plaids can easily look cheap and should be left to higher end brands (or companies that are known for being more subtle and polished – they will have more subtle of prints and colors).
For separates, I love wool mélange, merino wool for knits, ponte knit for comfortable separates that look great in the office. Wool knits have the comfort level but the heft and refined finish that are great for the office. Be wary of blends, especially cashmere and silk blends. These two fabrics are highly coveted, and a blend makes the price more friendly to your wallet. However blends are often known to pill and wear away very easily. One day at the office and you may end up with giant fuzz balls from armpit to waistband. I like merino wool for knits because it's budget-friendly, can wash well (gentle cycle and air dry), and rarely gets fuzz balls with wear.
Alyssa asks, "My question is regarding boots. For winter, I have 1 pair of jeans that I love and 2 ankle length skirts. I have tried on both ankle and knee length boots by Clarks, and I like both heights. I want more warmth in winter than leather Mary Janes + wool socks, but I want to be sensible and not buy more pairs of boots than I need. Your shoe staples tend to focus on the ankle or city boot, which I assume is because you wear pants more frequently. Given that I wear skirts more than pants, and long skirts in winter, what would height of boot you recommend for me?"
This is the season for the tall boot, and it is a great choice for one's budget as well as one's wardrobe. A tall boot will keep your warm in winter, but will also be wearable in the spring and fall. A tall boot can also be paired with leggings or narrow jeans, and can even be worn under trousers to give the same effect as a pair of ankle or city boot. Tall boots are en vogue right now, but they haven't been out of fashion recently and won't go out of style any time soon. If you find a pair of tall boots that fit and flatter, you will be amazed at how versatile they will be and how often you will reach for them to wear with any sort of outfit.
Joy asks, "I love hats. LOVE them. Unfortunately, most hats don't fit my dome unless they're stretchy and/or adjustable. Usually the largest size is 1/2 inch to 1 inch too tight. I would love to rock a cloche hat this winter. Do you know of any retailers that make fashion hats for large heads? Or can a tailor help?"
I didn't know the answer to this so I did a bit of research for you. As a fellow large-headed woman, I was curious to know the answer!
When I worked retail, I once worked in a boutique that was right near a Hats in the Belfry. Hats in the Belfry is a Maryland and Pennsylvania-based chain of shops, but they also have an online store.  From the Hats in the Belfry site:
Most women's hats are available only in One Size Fits Most. Actual sizing varies from designer to designer, but in general they will fit a head with a circumference of 21 1/2″- 22 1/4″. Using a tape measurer or a string and ruler, measure from the back of your head bringing the ends together at the center of your forehead right above your eyebrows. Use the chart below to determine your size, rounding to the nearest 1/8″ as necessary.
This is a size chart from the Hats in the Belfry site: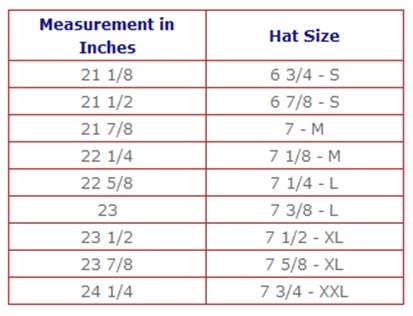 And yes, Hats in the Belfry have sized women's hats. they have a section completely dedicated to it, but I have found in other parts of their site (such as the page showcasing cloche hats) that some other hats are sized Small, Medium, and Large. Hats in the Belfry encourages customers to call them directly for advice on what hat is best for them.
The Village Hat Shop is another online site that offers many sized hats. They also offer a nifty tool called the Hat Jack Hat Stretcher. It seems the original purpose is to keep your chapeau in proper shape between wears, but if you read the online reviews, it seems many use it to enlarge a hat they bought – sometimes up to a whole size and a half.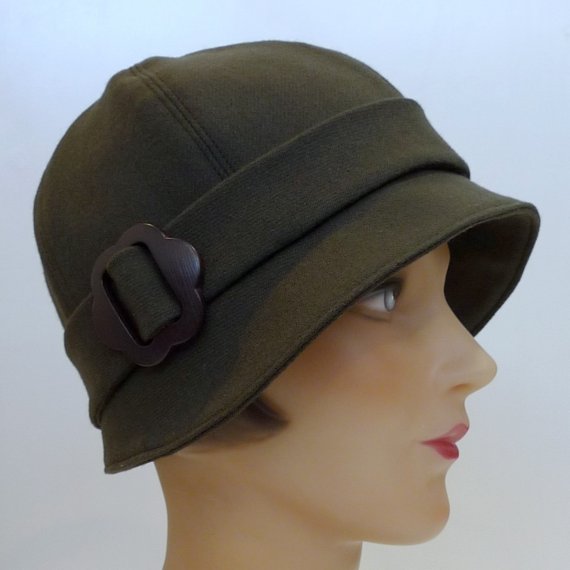 Finally, I checked out my favorite online shopping site – Etsy. Wouldn't you know, there are tons of hat stores on there, and most will make a hat to your custom size. Just searching "cloche hat" in Etsy, I found this seller, and this seller, both who offer hats in any size you desire.