This article may contain affiliate links; if you click on a shopping link and make a purchase I may receive a commission. As an Amazon Associate, I earn from qualifying purchases.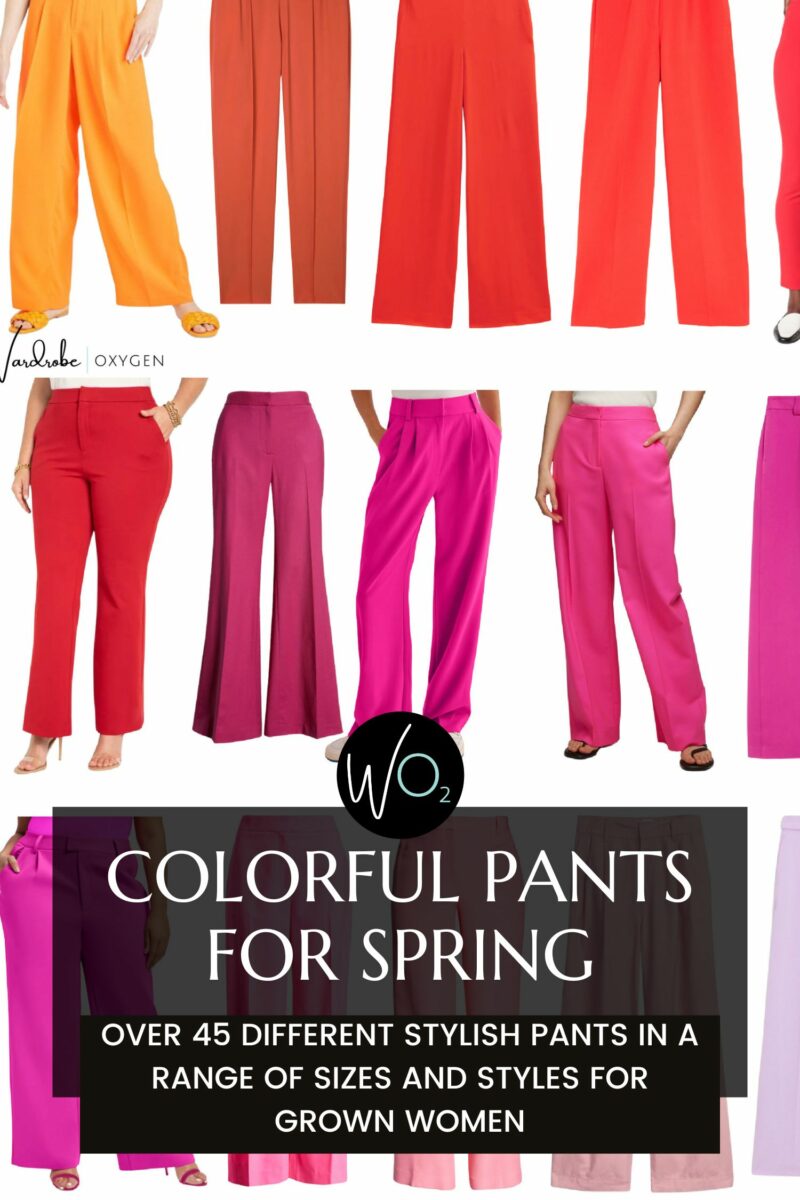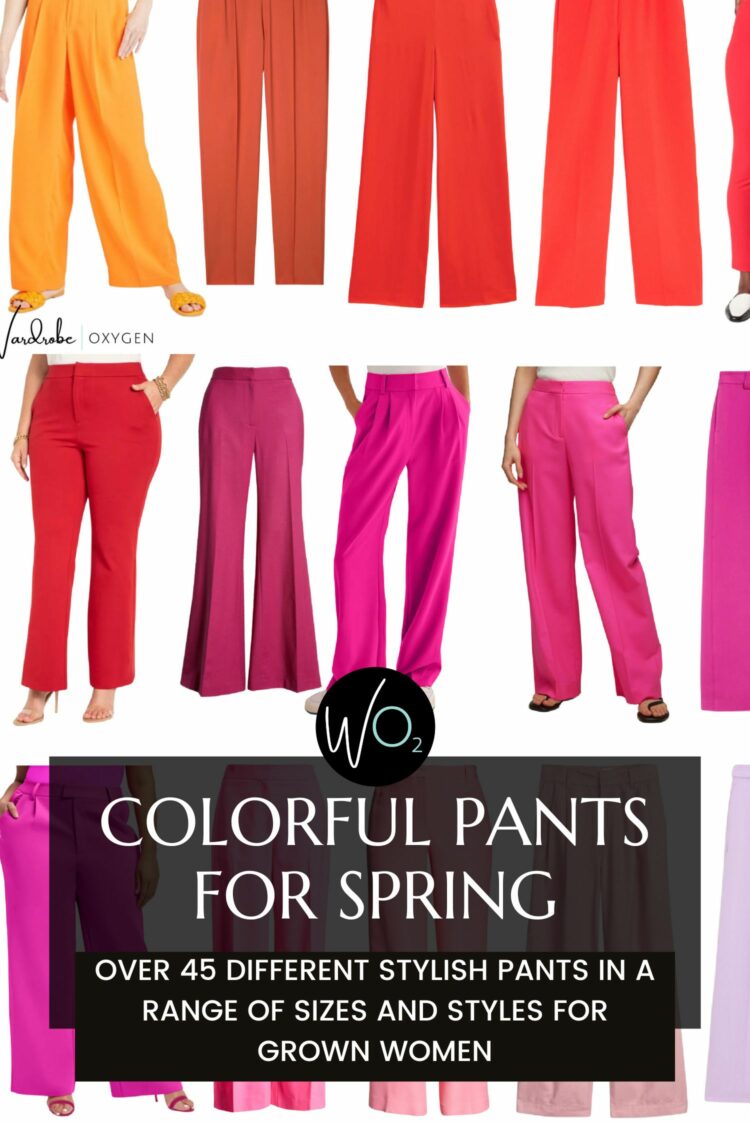 I've shared many times that the theme of 2023 fashion is Take Up the Space You Deserve. Every trend is about taking up space, from looser fits of jeans to bold hues, slouchy pantsuits to cargo pockets. And unlike previous years where such oversized and bold fashion statements seemed reserved for the young and the slim, fashion in 2023 is much more inclusive. You have permission to take up the space you deserve, be comfortable, and have fun with what you wear.
And I can't think of an easier way to embrace this fashion trend than with a pair of colorful pants for spring. Whatever the silhouette, a bold-colored trouser can really update an existing wardrobe. Bold colors are a fun accent to neutrals, colorblocking with contrast colors makes a stylish statement, but don't be afraid of tone on tone, pairing similar colors together.
Bold-colored pants look great with a Breton-striped top or your favorite graphic t-shirt and denim jacket. Somehow a t-shirt and tan pants looks like a uniform but that same t-shirt with a pair of pants in a color like hot pink or Kelly green looks like you achieved on-trend style.
Often, folks aren't sure what shoes to wear with brightly-colored pants. There are a lot of options. A neutral shoe in black, tan, or even white is always acceptable. So are a pair of your favorite sneakers or tennis shoes. You can also colorblock with your shoes, pairing your pants with boots, sandals, or flats in a complementary color. A popular trend in the past couple of years is to have your shoes match your pants: pink shoes with pink pants, red boots with red trousers, and so on.
Below I share some of the prettiest colorful pants I've seen available at online boutiques and department stores. I made sure to not just share a range of colors, but cuts and sizes as well. I hope this inspires you to break from the neutrals and try something new and colorful this spring!
Colorful Pants for Spring: My Picks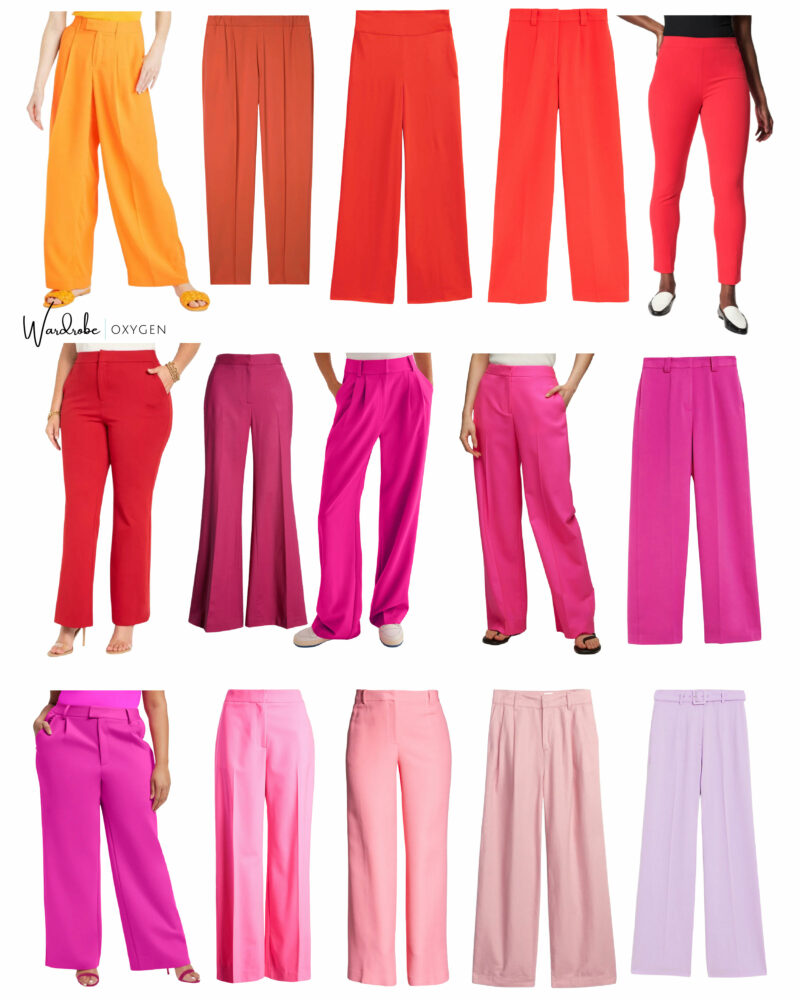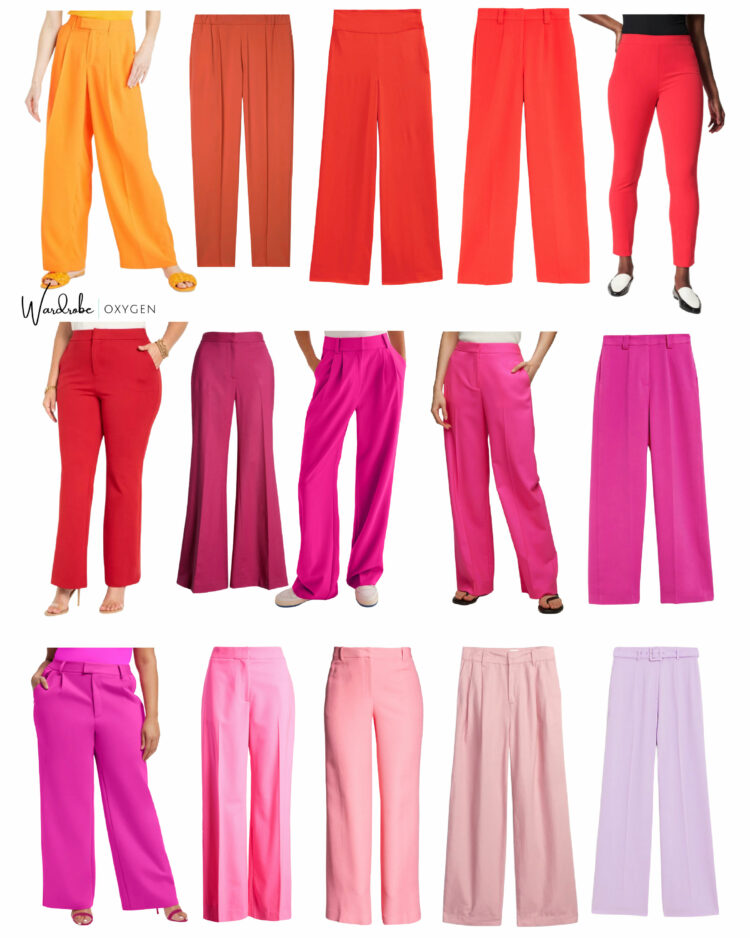 Top Row: sunshine (sizes 0-26 w/ short & long) | burnt orange (0-18) | vermillion pull-on (sizes 2-20/22) | flame red (sizes 2-20 w/ short & long) | red ankle pant (sizes XS-3X w/ petite & tall)
Middle Row: red flare (sizes 14-28) | magenta flare (sizes 0-14) | electric pink (sizes 0-18) | Barbie pink (sizes 0-14) | blue-pink (sizes 2-20 w/ long & short)
Bottom row: hot pink (sizes 00-28) | candy pink (sizes 2-12) | petal pink (sizes 16-24) | blush pink (sizes 00-20 w/ petite & tall) | pale lilac (sizes 2-20 w/ long & short)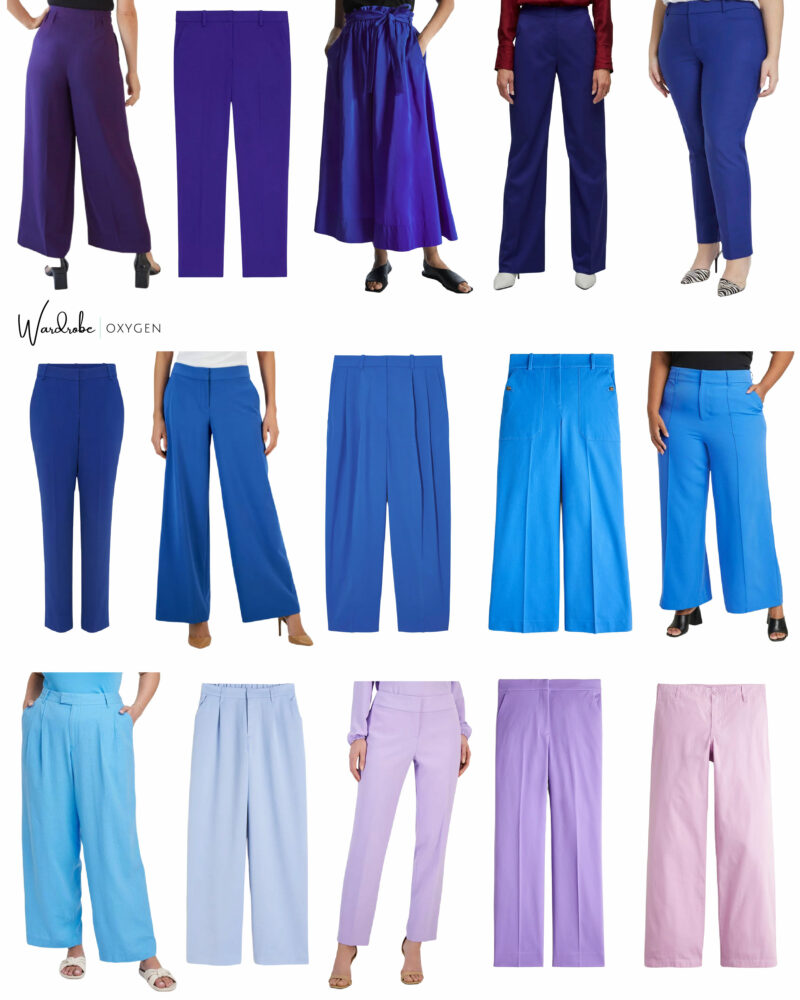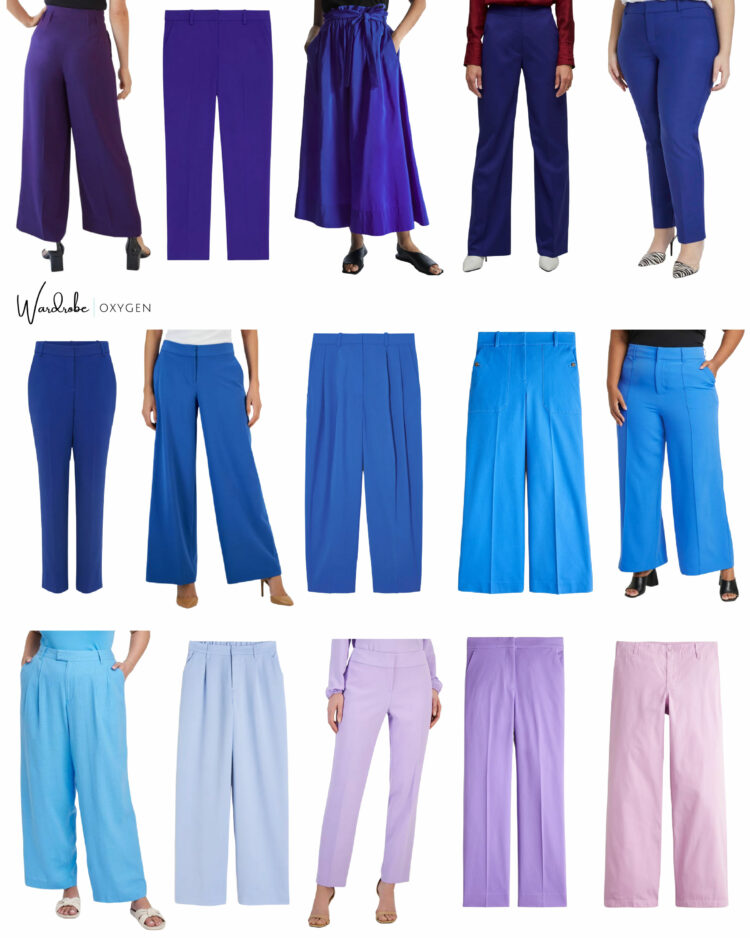 Top Row: dark purple wide-leg (sizes 0-18) | purple cropped (sizes 00-18) | ultraviolet paper bag culottes (sizes 2-14) | dark purple wide-leg (sizes 0-20) | cobalt ankle pants (sizes 14-28 w/ short & long)
Middle Row: cobalt slim leg (sizes 2-16) | blue pleated (sizes 2-12) | azure wide-leg (sizes 2-16) | | cerulean poplin wide-leg (sizes 00-24 w/ petite & tall) | cerulean seam front (sizes 16-30)
Bottom Row: pale cerulean wide leg (sizes 0-26) | baby blue (XXS-XXL) | pale lilac (sizes 4-18) | violet (sizes 00-24 w/ petite & tall) | pale lavender (sizes 23-37)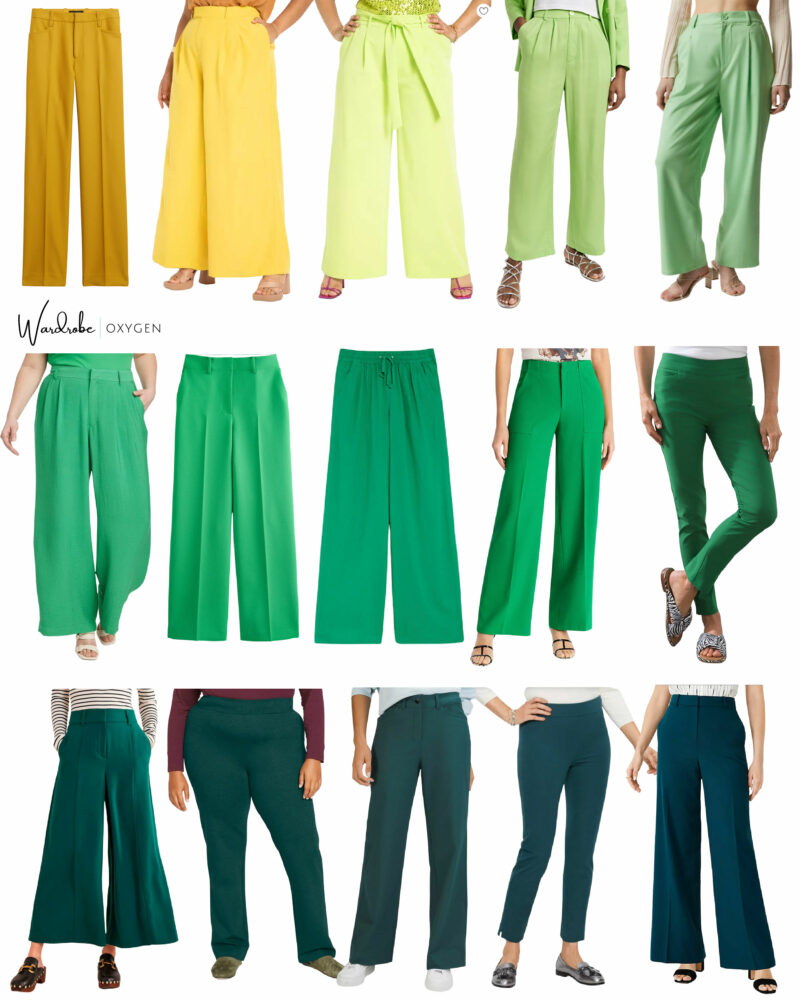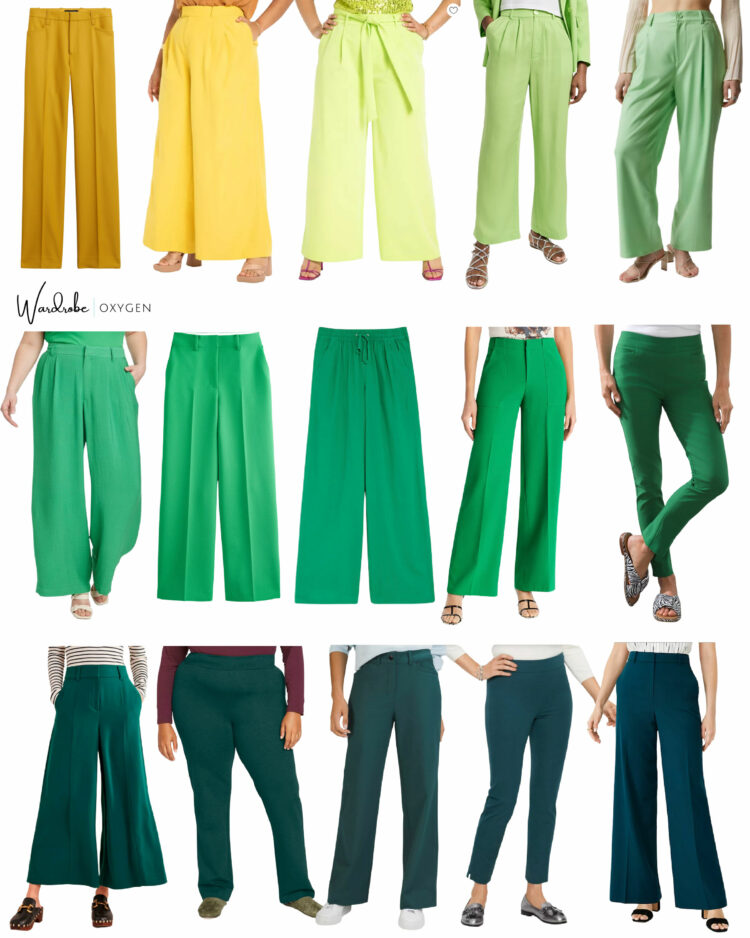 Top Row: mustard straight leg (sizes 0-20 w/ petite & tall) | yellow wide-leg (sizes 14-28) | light yellow green (sizes 14-32) | apple green (sizes 6-16) | celery green (sizes XXS-XXL)
Middle Row: green crinkle fabric (sizes 0-30) | clean front Kelly green (0-20/22 w/ petite) | green drawstring (sizes 2-20 w/ short & long) | green patch pocket (sizes XS-XL) | green slim leg (sizes 0-20 w/ tall)
Bottom Row: emerald wide leg (sizes 2-16/18 w/ long) | evergreen ponte pants (sizes 00-40 w/ long) | evergreen wide legs (sizes 24-33) | teal slim ankle (sizes 2-18 w/ petite) | teal wide leg (sizes 00-18 w/ curvy, petite, & tall)