This article may contain affiliate links; if you click on a shopping link and make a purchase I may receive a commission. As an Amazon Associate, I earn from qualifying purchases. 
Birkenstock sandals are back again how can I style them to look cool this time around?
I wrote a post answering your question and after a few weeks I went back and deleted the whole thing. I went on about how Birkenstocks are a difficult shoe to carry off, if you're asking how to make them cool again you probably shouldn't wear them, listen to yourself and if you doubt them don't do them.  I was really grumpy about this trend and it showed in my writing.  So I decided to try on a pair and write from 2014 experience instead of 1998 experience.
In the '90s I wore Birks pretty regularly. In college, I prepped them up with chino shorts, oxford shirts, and sometimes a sweater tied across my shoulders. After college I rocked them with tank tops, overalls, and a bandanna tied over my two pigtails. I remember the day I finally got rid of my purple suede Arizonas, I literally shed a tear, giving up a comfortable shoe with so many memories.
Then this winter suddenly everyone is going gaga over fur-lined Celine sandals that look like a glammed up version of Adidas shower sandals and Birkenstocks. Other brands started coming out with similar styles, very utilitarian, very stark, a style I knew Stephanie from Odyssey Home could rock with her Rick Owens collection, but would be tricky for many women to style and not look frumpy.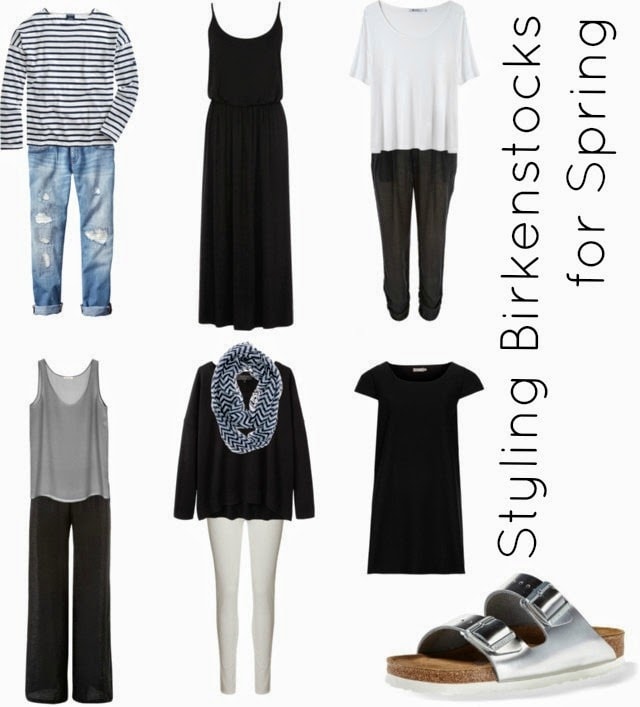 Shop Similar:
While the white and black patent Birkenstocks seem to be the most popular right now, I decided to try a pair of shiny silver Birkenstock Arizonas with white soles… and I fell in love just as hard as I did for my purple suede pair 15 years ago. And I must say it's darn patootin' nice to have trends show up this season that are comfortable. So instead of saying to steer clear of wearing something you wore before possibly while listening to The Spin Doctors, here's some real life suggestions on how to make Birkenstocks work if you really want to wear them this summer.
The New Style. Birkenstocks were always associated with the crunchy, hippie set and were previously styled with peasant skirts, vintage denim, and a splash of tie dye. 2014's version of the Birk trend is clean, modern, utilitarian. Consider a pair in patent or smooth leather or metallic to make it clear you aren't revisiting the past and have two comfortable feet planted firmly in the fashionable present.
Keep it Clean. Looking at street fashion and the runways, this year's Birkenstocks look best with clothing free of adornments, focusing on drape and silhouette. Be it crisp wide leg trousers and a shift shirt or an asymmetrical tank and harem pants, the pieces are usually neutrals so the shoes take focus and don't look accidental or orthopedic. This is not an opportunity to relive your boho days (unless that's your everyday personal style and if so, stock up!). For ideas, check out my Pinterest board featuring Birkenstocks.
Balance the Bulk. Birkenstocks will make the most petite foot look like a cinderblock. Consider proportions when styling them. A slim pant will balance them out; cropped pants of any width will showcase your ankles to counteract the heaviness of your shoe. Though Birks are shown with slouchy clothing, the pieces are actually tailored and fit to show some of the figure, be it the waist, the shape of your shoulders, your collarbone, or your lower legs. This is important, when wearing such shoes you need to be conscious of how they work with the whole outfit so you look slouchy, not schlubby.
Minimize Accessories. After seasons of arm parties and statement necklaces, this season is a refreshing change. Let your shoes be your statement accessory, and keep jewelry to a minimum. To add interst, consider interesting textiles in your outfit; metallics, slub knits, leather, perforated fabrics, and silk take your ensemble to the next level.
I'll be wearing my new silver Birkenstocks with outfits similar to what I shared above; I won't change my personal style or buy more clothing to accommodate this trend, I think they will add comfort and a fresh look to wardrobe staples I already own (and will look great with my big silver cuff!).
Of course, don't just listen to me, listen to your soul and follow your personal style. If you want to wear Birkenstocks, do them on your terms.  You may make Birks look utterly chic with a floral frock or chiffon palazzo pants and for that I bow down to you! When it comes to trends, trust your gut. A woman doesn't have to adopt a single fashion trend to be stylish!
Follow Me | Twitter | Facebook | Instagram