This article may contain affiliate links; if you click on a shopping link and make a purchase I may receive a commission. As an Amazon Associate, I earn from qualifying purchases. 
I recently accepted a position at a manufacturing plant. I'll be in an office, where the dress code is business casual. I was told that I'll need steel toe shoes while on the manufacturing floor, but a site-wide steel toe shoe mandate will be policy soon. Do you have any advice for keeping it feminine above the ankle while sporting steel toes below?
While there's a decent selection of steel toe boots online, the style is not varied, or too feminine. However, gone are the days where your only options were black Doc Martens and tan Red Wings. Now retailers like Ariat, Reebok, Sketchers, Justin, Caterpillar, and yes Dr. Marten have styles that can blend pretty well into business casual attire.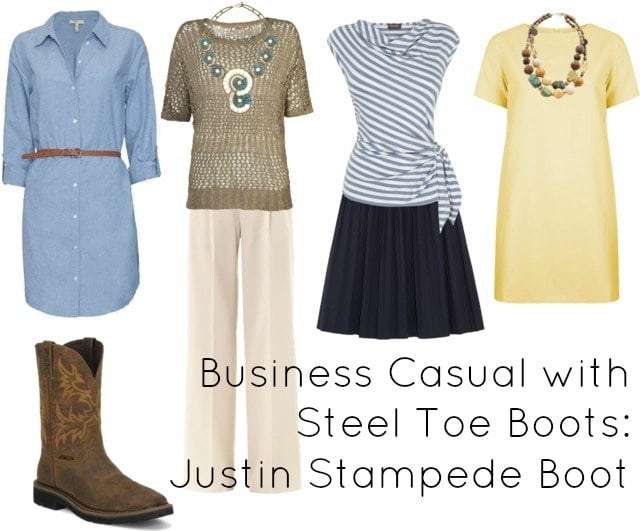 Shop Similar: dress | boots | sweater | necklace | pants | striped top | skirt | yellow dress | bead necklace
Just as with a traditional office setting wardrobe, decide on the color palette before purchasing shoes. Steel toe boots and shoes mainly come in brown or black, so your first pair should match the majority of your existing wardrobe. While lace up construction-style boots are the norm, a cowboy boot with a steel toe may be a good first purchase since it has a slimmer toebox and profile to work with trousers, but also look adorable pulled over jeggings and paired with more casual dresses and skirts. Justin is famous for cowboy boots and has a good selection of steel toe styles with style; I'm partial to the Stampede which has a very slim profile and a classic cowboy look that will be cool even after the work day is through. For these looks I worked with the distressed brown leather, choosing soft colors, natural fabrics and accessories, and fuller bottoms to balance the heavier shoe.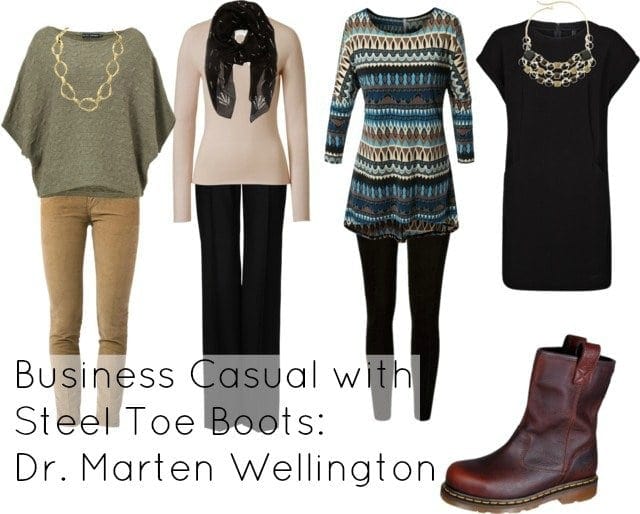 Shop similar: sweater | gold necklace | pants | scarf | cream sweater | trousers | tunic | leggings | dress | necklace | boots
Dr. Martens are back en vogue, and not only does this mean your work boots are considered "cool," but it means there's a greater selection for you to choose from. I love their Wellington Boot, which is a pull-on style that can slip under trousers, or be worn over tights or skinny jeans. With this collection, I used the boot as an accent color, pairing with neutrals for a more traditional business casual look.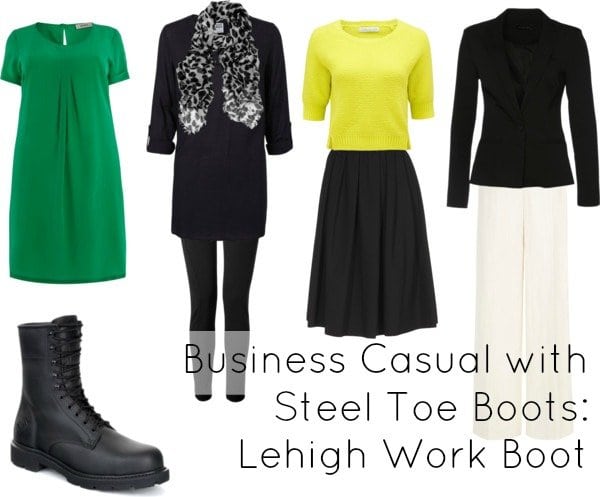 Shop similar: dress | boots | tunic | scarf | leggings | top | skirt | blazer | trousers
When it comes to lace-up steel toe boots, they don't all look like hiking or construction boots. If you prefer a black shoe, this boot from Lehigh is taller than most, giving a grunge rocker vibe that would look great with black tights or leggings and appear as a standard shoe under trousers. For this look, I was channeling the '90s by mixing feminine dresses and skirts with the masculine boot, but also a bit of grunge with the black tunic and leggings with a drapey scarf. Your workplace expects sturdy shoes, so don't be afraid to pair a well-polished boot with a suit for business meetings.
As a rule, skinny pants that can tuck in or wider legs that flow easily over the boot are best; for skirts and dresses have some volume (looser shift style or a fuller skirt) to balance the look. Play up the industrial feel of the boots and take advantage of the return of grunge and '90s trends when Doc Martens played a pivotal role.
The important thing to remember is everyone will be wearing such footwear; no one will be able to pair it seamlessly every single time and your colleagues will end up not even noticing your shoes because they're part of a uniform, just like a lab coat or hard hat. Don't worry about making them disappear or look like regular footwear, they're a smart and important part of your industry and something that should be worn with pride!