This article may contain affiliate links; if you click on a shopping link and make a purchase I may receive a commission. As an Amazon Associate, I earn from qualifying purchases. 
This weekend I went to LOFT to return this: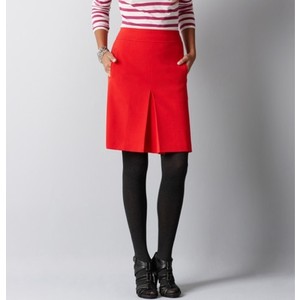 Great color, but not a good silhouette for me. I decided upon entering the store that I didn't need anything, I wouldn't try anything on, I wouldn't even skim the displays, I would just return the skirt and leave. And then I saw this: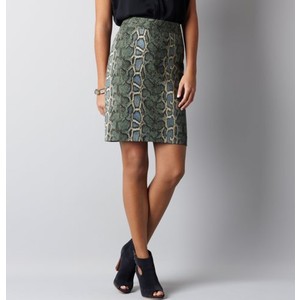 Great print, great shape, that nice wide waistband that is so kind to my midsection. Fully lined, a year-round fabric… I headed to the Petite department to find it in a 12P. Went up to the register to do an exchange instead of a return.
I imagined the skirt with my chambray shirt and a funky necklace. My sister said it would look great with a hot pink sweater. I was thinking of getting wacky and pairing it with stripes or some other print. The possibilities were endless!
I got home, tried on the skirt, it fit great, just as I expected. I stood at the door of my closet in my bra and pencil skirt, and tried to figure out what to pair with it. I tried my chambray shirt and it looked cheap. Tried it with my bright aqua silk shirt, but the aqua was a bit too electric for the skirt's print. Hot pink was too intense, a pumpkin orange was too ruddy. Green made the print look muddy, black was too severe. I started contemplating brown or gray… a heather gray cashmere turtleneck would look so chic with it…
And then I realized what I was doing – I was justifying an inappropriate purchase. Yes, the skirt is awesome, but it's just not awesome for me and my wardrobe.
Sometimes, you come across a garment that defines you. That piece that has been missing from your closet, that pieces that makes all those garments on hangers a cohesive unit, and spotlights all those pieces you own that are just plain wrong for you. That garment that makes you do a wardrobe overhaul, and start fresh in the right direction.
And sometimes, more often than not, you come across a garment that you think fits the you that you want to be. You saw a celeb wear something similar, it fits a must-have list you found in a book, or maybe you just think it's the right thing to spice up your wardrobe. But it's not. That piece, no matter the sale price, is costing you time, patience, and money.
What if I did buy a gray cashmere turtleneck for the snakeskin skirt? What shoes would I wear? It's winter, what hosiery would I pair with it? Would I then be stuck wearing that skirt with that same sweater every single time? What would I wear the gray sweater with when the skirt is at the cleaners? What lipstick would I choose to make me not look like death in light gray – I would probably go purchase a new rosy plum shade, and that wouldn't work with my peachy-pink blush. I could wear the skirt with a crisp white shirt (which I don't own – have to go buy one now), and a few strands of pearls and nude heels come spring. Yes, I am not really the type to wear a crisp white shirt with pearls and nude heels, but it could look nice… though would look better if I made my hair a lighter shade – the current dark brown would be too severe for such a look.
This snakeskin skirt within six months could end up costing me hundreds, and could have me lose sight of my personal style. Or, it could collect dust in my closet, occasionally seeing the light of day as I desperately attempt to make it work with anything I own, eventually losing the $50 I paid for it.
It's okay to have buyer's remorse; such a feeling means you are that closer to knowing your personal style. Admitting a sartorial mistake is a sign of growth, a lesson on what not to do or purchase in the future.
Do you have an item in your closet that is the equivalent to this snakeskin skirt? A piece you love, but just may not love you or your current wardrobe in return? Why are you holding on to it? Is there a way to make it work, and is it worth the investment to do so?
Follow Me | Twitter | Facebook