This article may contain affiliate links; if you click on a shopping link and make a purchase I may receive a commission. As an Amazon Associate, I earn from qualifying purchases. 
Dear Allie,

I was going through some pre-pregnancy clothes that now fit and found a bunch of cropped dress pants. Would they still be stylish?? They are nice brands, but that could be an over trend for all I know. One pair has a wide leg that falls a bit below the knee; the others are about mid calf length. None are "slim" or fitted.

Thanks!

Megan
For those types of pants… it really depends.
The cropped pant is very on-trend for this spring and summer, but it's slimmer. Some styles are pleated, some are tapered, some are skinny straight from the zipper, but all have a pretty narrow silhouette and end at the bottom of the shin to the top of the ankle bone.
However, right now fashion is pretty forgiving. Most any trend is in if you wear it with confidence and purpose.
For such pants, you need a fitted top – a shrunken blazer, very slim boatneck sweater or tee, something that is very classic in style but quite trim. This will balance the wider leg and make it seem more purposeful and a bit more preppy or nautical, which are popular trends this year.
As for a shoe, I would do something slim and feminine to again make the fuller leg seem purposeful – a kitten heel would be a good choice. For the shorter ones, you may want to consider a flat or almost-flat so the amount of skin between pant hem and shoe is minimized. While chunkier shoes are being seen with crops this year, pairing a chunky shoe with a wider legged crop will look unbalanced and frumpy.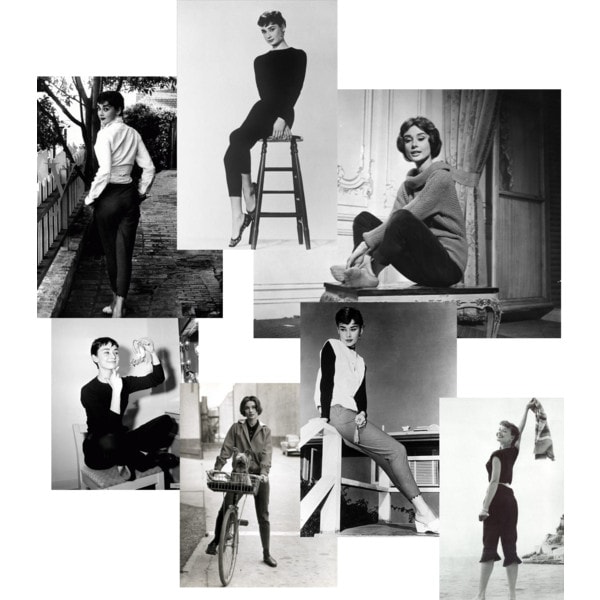 With such pants, think classic, like Audrey Hepburn. How would Audrey wear such pants and make them look chic, polished, and feminine? Channel Audrey with a Breton-striped boatneck and driving mocs or a kitten heel. You could also create a modern take on Audrey with a fitted neon top with tan cropped wide pants and a printed heel and big cuff bracelet. By incorporating hot trends in such a manner with these pants, it will as though you are so knowledgeable about fashion you can rock the old trend.
I don't recommend a loose or flowing top – this may look attractive, but it will look very dated or frumpy against 2012 trends. While flowing tops may be on trend this season and also are seen with flowing pants, these pants are not flowing or slim so the current trend effect will be completely lost. Also be careful with the shoe – again, a chunky shoe will look unbalanced, and wearing any shoe that is very clearly trendy from a couple years ago will make the entire look dated. If unsure, stick to a classic shoe (pointed-toe flat or slim heel, driving moc, etc.) to make the ensemble look classic.
Finally, such pants can be altered by a tailor or seamstress to make them more on-trend. A little tapering or narrowing of the legs could completely transform them and make them look as though they were purchased just this year from a trendy boutique!
Follow Me | Twitter | Facebook