This article may contain affiliate links; if you click on a shopping link and make a purchase I may receive a commission. As an Amazon Associate, I earn from qualifying purchases.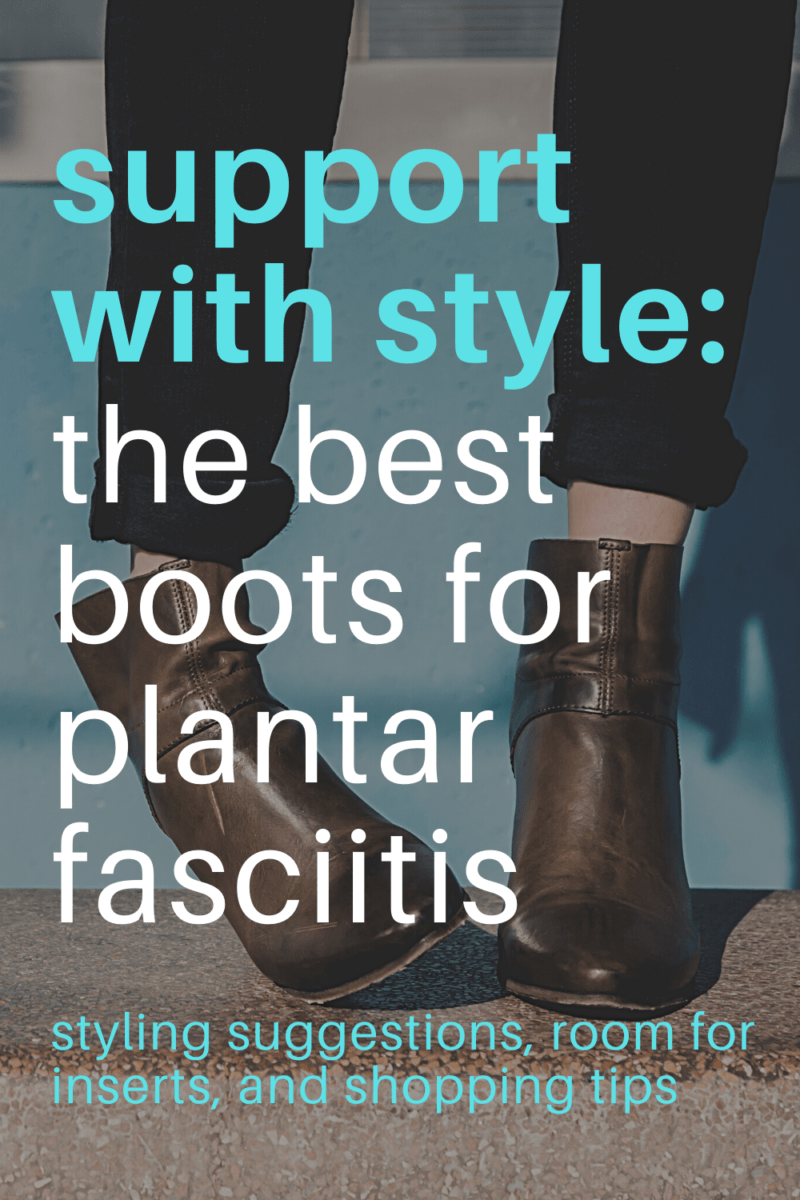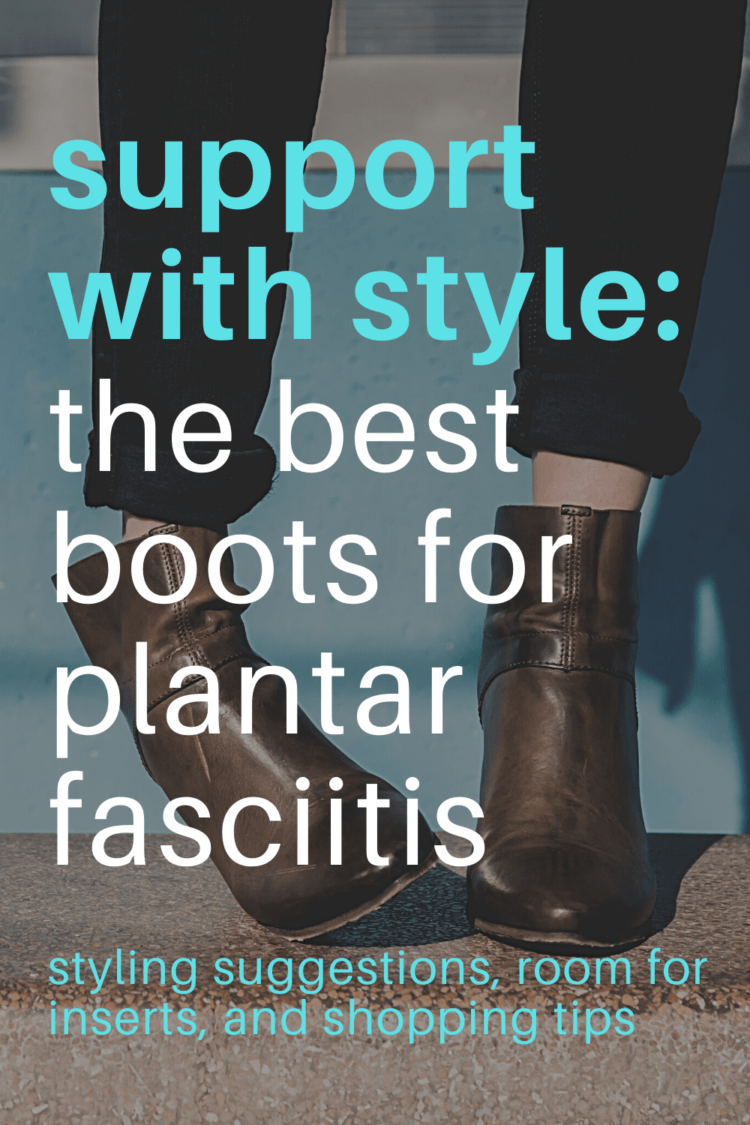 After being pregnant I developed plantar fasciitis, which was pain in the heels and bottom of my feet. Plantar fasciitis can also present itself as pain on the top of the feet when your feet are compensating for the inflamed plantar fascia. I also experienced it again while working from home and not wearing supportive footwear. While you may not have experienced foot pain before, you may be experiencing it now after several months of wearing slippers, socks, or bare feet while at home. Like me, you may be looking for boots for plantar fasciitis so you can keep your feet comfortable, warm, and stylish for fall and winter.
What is Plantar Fasciitis?
The plantar fascia is a thick ligament that connects your heel to the front of your foot. If you experience too much pressure on your feet, it can cause the plantar fascia ligaments to be torn or inflamed which results in heel pain and stiffness, especially just as you wake or after sitting for long periods of time. Pressure can come from lack of arch support while standing, increased weight from pregnancy or other life changes, age, change in activity, and wearing old shoes that have lost their support and cushioning. I recommend visiting a podiatrist if you are experiencing foot pain to ensure you know the cause and therefore, the right solution. If you are diagnosed with plantar fasciitis, your doctor will likely prescribe The Three S's: Stretching, Strengthening, and Support. There are many treatments and exercises for stretching and strengthing to deal with plantar fasciitis, but finding footwear with good support is a great way to prevent plantar fasciitis and reduce current plantar fasciitis pain. The types of boots that are good for plantar fasciitis are often the same kind that will help with other types of foot pain caused by lack of proper foot support. Below I will share the best boots I have found to help with my plantar fasciitis.
What To Look for in a Boot When You Have Plantar Fasciitis?
If you have plantar fasciitis, you want to find a boot with good arch support, plenty of cushioning, and a shock-absorbing heel. This can be achieved with a shoe brand and style that provides this, or a shoe that has room for an orthotic or insole to achieve these goals.
What Boot Brands Offer the Best Support?
Brands like Aravon, Alegria, Dansko, Vionic, ECCO, Naot, and Orthaheel are highly rated by those with plantar fasciitis, while brands like David Tate, BØRN, KURU, Merrell, Munro, and Cobb Hill are known for being orthotic-friendly and are more likely to have a roomy toebox for your toes. These shoe brands are easy to find at a variety of online footwear retailers; I have a list of such retailers later in this article. Searching online, these are boots I found that are stylish, from a well-rated brand, and would be good for those dealing with plantar fasciitis.
Stylish and Supportive Boots for Plantar Fasciitis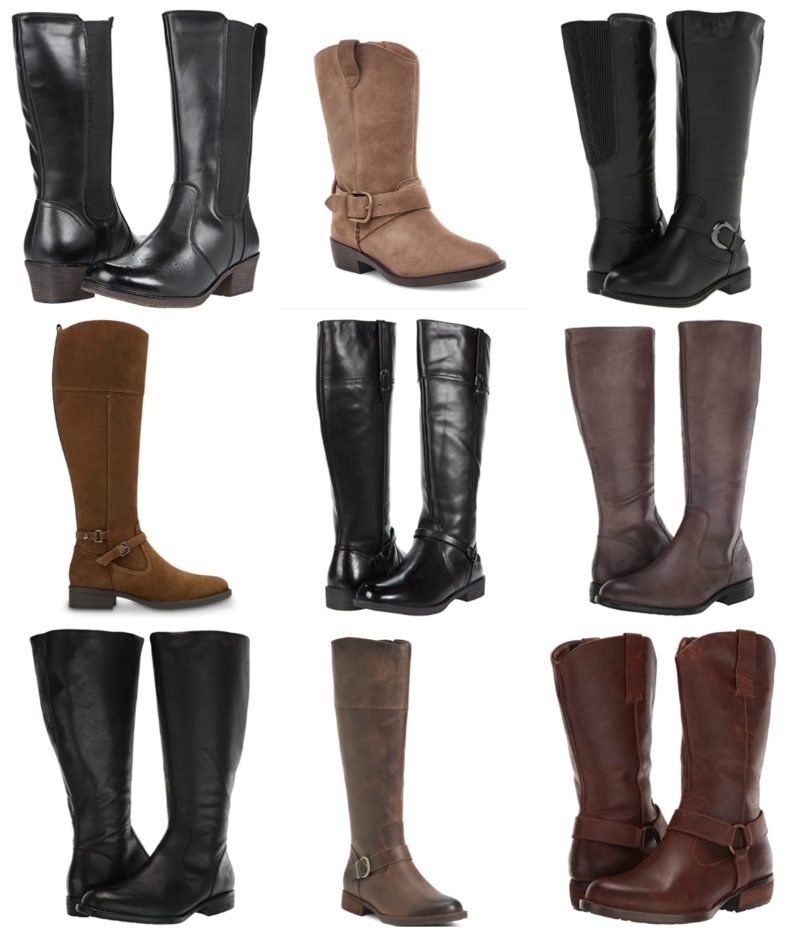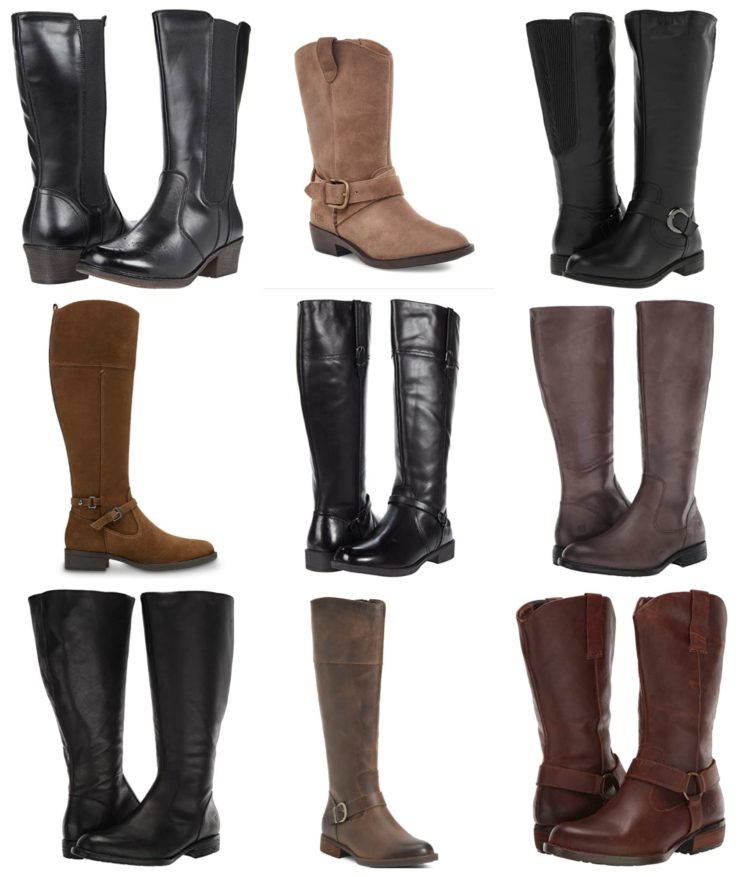 Tall Boots That Can Work with Plantar Fasciitis:
Row 1: Propet 'Rumor' | UGG 'Reeza' | David Tate 'Branson'
Row 2: Easy Spirit 'Leigh' | Propet 'Tasha' | BØRN 'North'
Row 3: BØRN 'North' in wide calf | BØRN 'Braydon' | BØRN 'Tangel'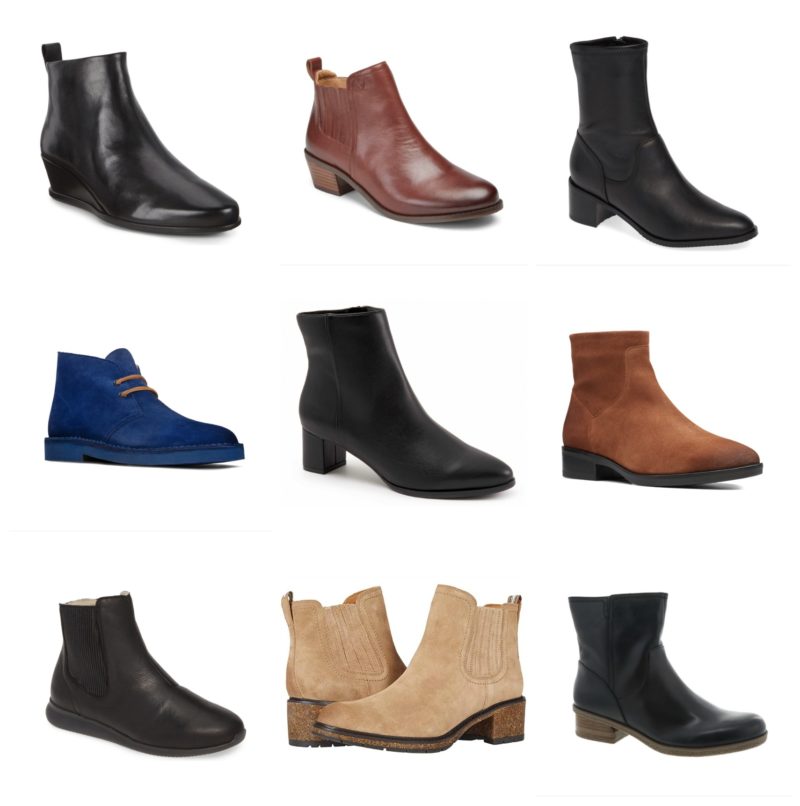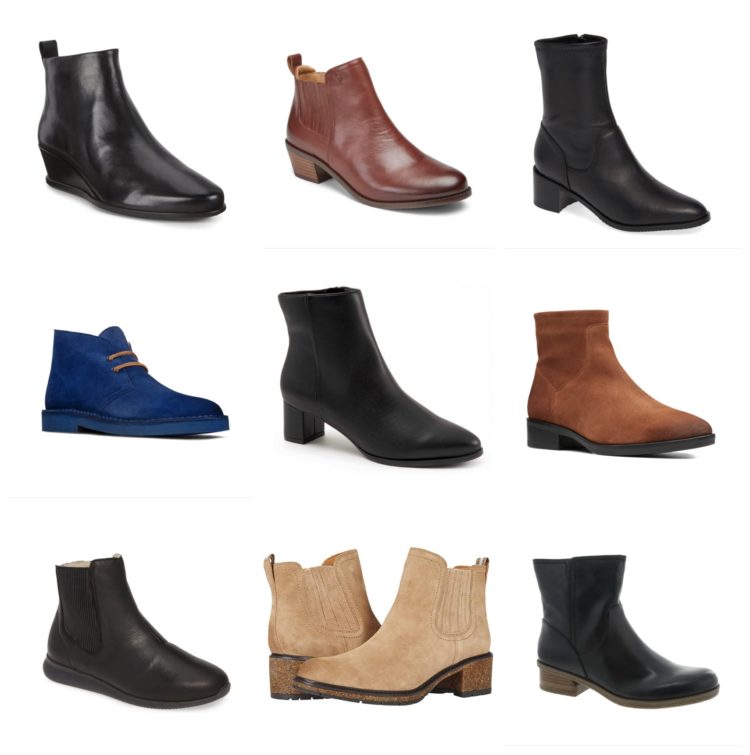 Booties for Plantar Fasciitis:
Row 1: ECCO 'Shape 45' | Vionic 'Bethany' | Clarks 'Poise'
Row 2: Clarks 'Desert Boot' | Trotters 'Kim' | Clarks 'Pure Rosa'
Row 3: Cloud 'Raisa' | Aetrex 'Willow' | Dansko 'Bethanie'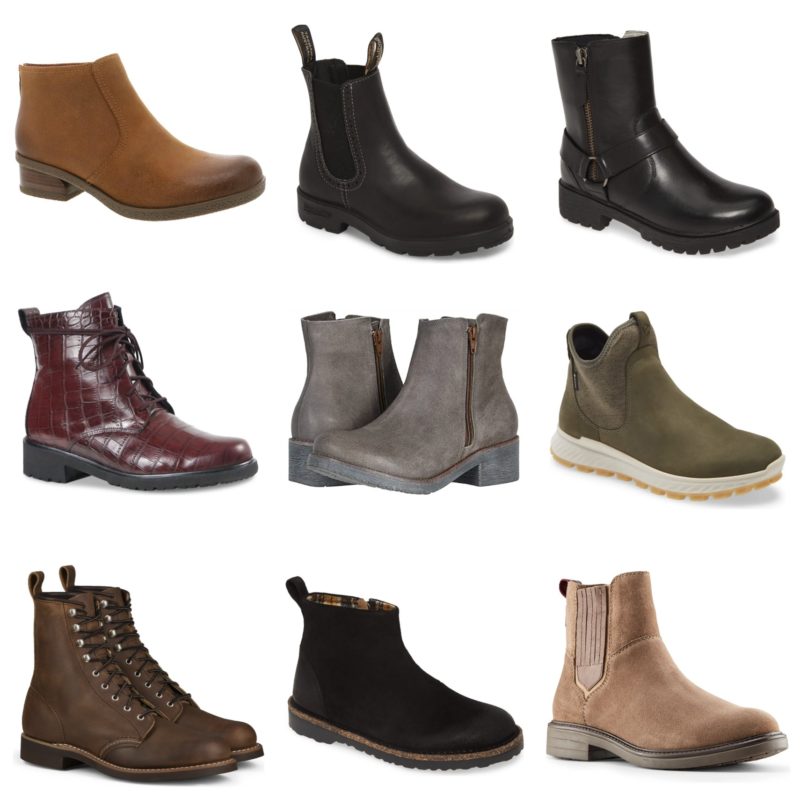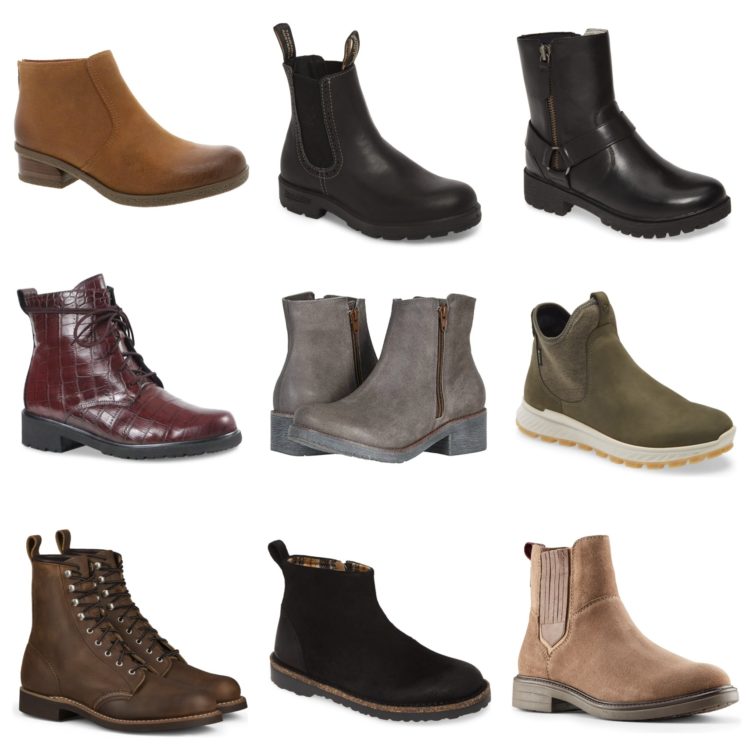 Casual Booties for Plantar Fasciitis:
Row 1: Dansko 'Becki' | Blundstone Chelsea | Alegria Boot
Row 2: Munro 'Finley' | Naot 'Wander' | ECCO 'Exostrike'
Row 3: Red Wing 'Silversmith' | Birkenstock 'Melrose' | Cougar 'Helena'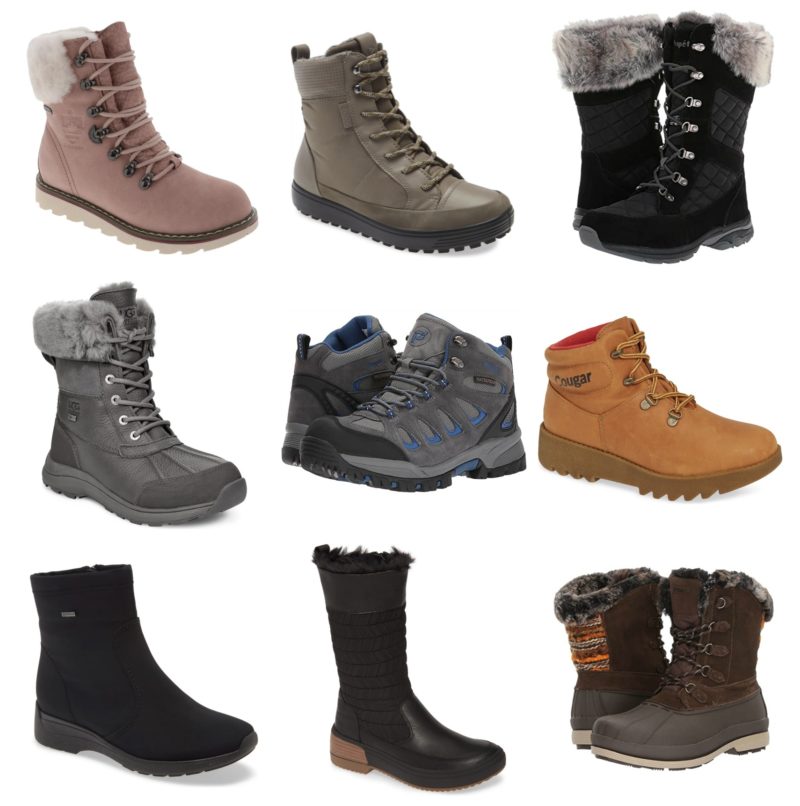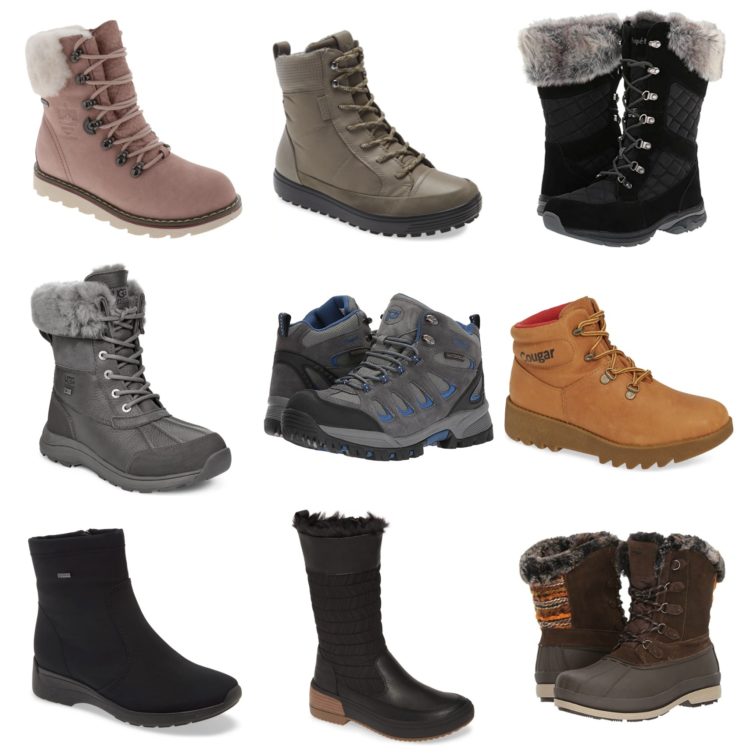 Winter Boots for Plantar Fasciitis:
Row 1: Royal Canadian 'Cambridge' | ECCO 'Soft 7 Tred' | Propet 'Peri'
Row 2: UGG 'Adirondak III' | Propet 'Ridge Walker' | Cougar 'Paige'
Row 3: ara 'Piera' | Merrell 'Haven' | Propet 'Lumi'
Insoles for Plantar Fasciitis
If you find a boot that has all the style you desire but maybe lacking the arch support, an insole may be the solution. Insoles can provide arch support, remedy over-pronation, offer shock absorption, and more cushioning for boots, sneakers, and many other styles of shoes. Many shoes have removable insoles creating more room for a specialty insert, orthotic, or insole. Some of the insoles I have purchased for plantar fasciitis as well as general arch support and comfort are:
Superfeet Green Insoles: Superfeet are some of the most popular insoles on the market and for good reason. With a deep heel cup, cushioning, and strong arch support, these insoles are surprisingly slim and may fit into your current loafers, brogues, and other slim-profile shoes. While these insoles can be found at REI, Dick's, and Amazon, the only place I found them in wide widths at the time of writing this was Zappos.
WALK-HERO Insoles: I love these things. I have purchased these insoles multiple times and now have them in my sneakers, boots, and even my Peloton spinning shoes. My husband now has them in several pairs of his shoes and even in his slippers. For winter they even have a shearling version.
How to Shop for Boots Online When You're Unsure of Fit or Size
When shopping online it's hard to know what will work before it arrives on your doorstop. When you factor in a foot issue such as plantar fasciitis or the need for fitting insoles, it can prove even harder to shop online. My preference is to shop online retailers that offer a variety of brands and have free shipping and liberal return policies. These are my favorite places to shop for shoes online when I am searching for a style or brand that is new to me:
Online Shoe Stores that Focus on Plantar Fasciitis:
While above I have featured boots that help with plantar fasciitis, there are many more online shoe stores that focus on plantar fasciitis and offer styles beyond boots. Below is a list of some of the highest rated online retailers for shoes for plantar fasciitis:
This post was originally published in 2014 but revisited offering new brands, boot styles, and online shopping tips. If you have any suggestions on brands, styles, and insoles for those with plantar fasciitis, do share in the comments to help others! We all thank you for your advice!