This article may contain affiliate links; if you click on a shopping link and make a purchase I may receive a commission. As an Amazon Associate, I earn from qualifying purchases. 
I don't usually post on the weekend, but felt I had to catch up after being relatively absent during my illness this week. While I may have been silent on the blog, that didn't mean I wasn't wrapped up in fashion. If anything, this week finally gave me a chance to catch up on my September Issues of fashion magazines – huge tomes from Vogue
, Bazaar
, Real Simple
, Allure
, Lucky
, and Marie Claire
(yep, I get all of these plus Spin
, National Geographic
, Bust
, Bitch, Living, Whole Living
, Washingtonian
, and Redbook
. Disclosure – some are free subscriptions that just arrived in my blog's name, Spin was free with my Bonnaroo ticket, and some I have gotten free from different online promotions. All get recycled or passed to friends and family after reading). These magazines practically broke the back of my mail woman, but brought me hours of delight as I lay in bed recovering.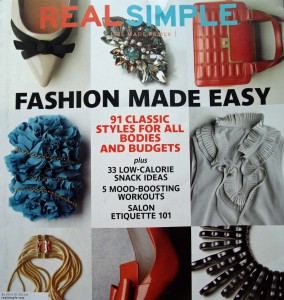 I bet you're wondering why I included Real Simple with all the other fashion magazines. Every month, Real Simple does exactly what it states on their month's cover – it offers Fashion Made Easy. It breaks down trends, showing them in wearable combinations from easily-accessible and usually reasonably priced mass retailers. While Real Simple does rock for its quick and delish recipes, great cleaning tips, and personal stories and opinions from fellow readers and great writers; it is also one of my favorite fashion magazines for the everyday woman. If you haven't ever read Real Simple or haven't picked up a copy in a long while, I suggest you give it a try with this month's issue. I think you'll be pleasantly surprised.
As always, Harper's Bazaar was my favorite of all these September Issues. While Vogue may be considered The Bible to many fashionistas, I find Bazaar to be a more useful tool for women who love fashion, but aren't part of the fashion world. Harper's Bazaar provides so much inspiration, no matter a woman's age or income. They break down current trends by age, offer entertaining reads from celebs like Rita Wilson (though have to say Ashton Kutcher's article this month was stupid), and interesting articles not always about fashion or beauty. This month's issue had recollections of strong women like Margaret Thatcher and Diana Vreeland that were insightful and enjoyable to read. Speaking of the amazing Vreeland, this quote from the article really resonated with me:
"Style: All who have it share one thing – originality."
– Diana Vreeland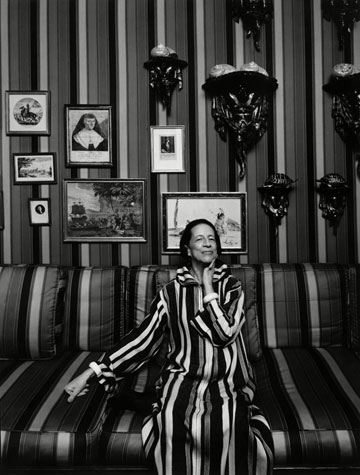 I think of a recent post I wrote that ruffled the feathers of a few of you readers (and a blogger or two). I think Vreeland's quote states exactly what I was attempting to convey. While using another's style as inspiration is understandable, and even copying the style of another is a natural way to find what works for you personally, there is a difference between being fashionable and possessing style. And that difference is originality.
While you don't have to wear crazy get-ups, traffic-stopping looks and one-of-a-kind garments to be stylish – hell you don't even have to wear a different entire ensemble from another to be stylish… you DO need your spin on it to be so.
Style is taking fashion and making it your own.
It's wearing clothes and not letting the clothes wear you. Go ahead and wear your version of Olivia Palermo's red carpet look or try to replicate the outfit of a blogger. There's nothing wrong with that, I do it myself. But before you leave your home take a good look in the mirror. Do you still look like you? Do you FEEL like you? You may feel a bit strange in those heels or a new styling of a belt, but it shouldn't feel like a costume, it shouldn't feel emotionally awkward. That's the difference between fashion and style.
 

I know I have gone on a bit of a tangent, but good magazines can do that – excite, stimulate, inspire. Do you read (or do you still read) fashion magazines? What are your favorites and why?
Follow Me | Twitter | Facebook