This article may contain affiliate links; if you click on a shopping link and make a purchase I may receive a commission. As an Amazon Associate, I earn from qualifying purchases. 
What are you looking at, Mommy? I just woke up and haven't had my morning coffee. Jeez.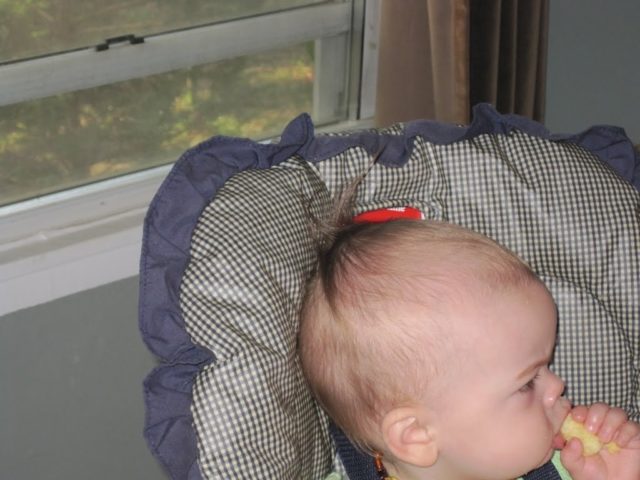 When she moved her head from the high chair, her hair stayed like that… a little girl Alfalfa.
So no pics of me… but by seeing these pics you can see I am now again a woman with a camera! I had two dead Canons. Canon will refurbish your camera, but for the models I had it would cost $99 each. I decided to return the more expensive of the two, and then spend around $100 on a new little point and shoot.
I got the
Canon PowerShot SD1200 IS
and with my Amazon gift cards from
Swagbucks
, I only paid $100 for it. Not too shabby. This camera doesn't have a bunch of bells and whistles, but it has the basics that I want – fits into a pocket, uses a standard USB, has video. Since we are a Canon family (and I actually had the equivalent to this camera like 8 years ago), I already have an extra battery charger, higher gig memory cards and batteries. I think I can still find the case for the old camera I had that was this size.
This weekend I am officiating another wedding – this one is for a friend of a friend and I am very excited. I plan on wearing my bracelet-sleeve black matte jersey wrap dress from Old Navy – very simple, won't stand out in pictures, won't clash with the wedding colors.
Sunday there are no plans so I hope to be able to FINALLY get up into the attic and pull down my warm weather clothes. I am hoping to find some things that fit and to organize that which is up there.
Recently I have ordered a couple pairs of shoes – a
pair of black peeptoes from Franco Sarto
and some sandals from Sofft. Though my Sofft shoes from last spring still fit great, these recently acquired shoes (and the cuties from
Franco Sarto
) are too narrow. Seriously, my foot is pouring over the footbed. What the heck? I am still on the search for another pair of dressier shoes for this spring – if the
Franco Sartos
weren't so tight I think they would be perfect. I may have to try them on again this weekend. The length is perfect, the heel fits great… maybe it is something my shoe dude can fix with a bit of stretching.
Hope everyone is doing well… will be posting very soon about a fantastic contest where you can win a necklace worth $198 from
Allison Dayton jewelry
! A big thanks for sticking around as this blog goes through transition!