This article may contain affiliate links; if you click on a shopping link and make a purchase I may receive a commission. As an Amazon Associate, I earn from qualifying purchases.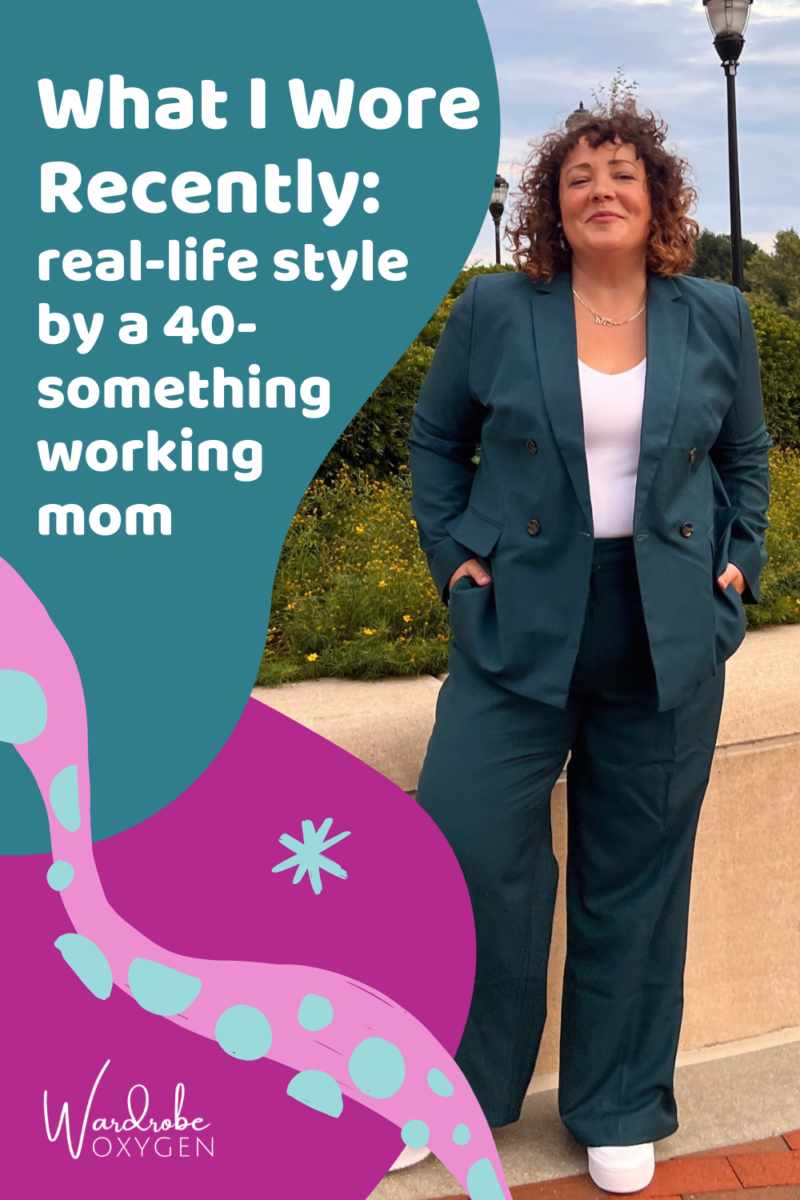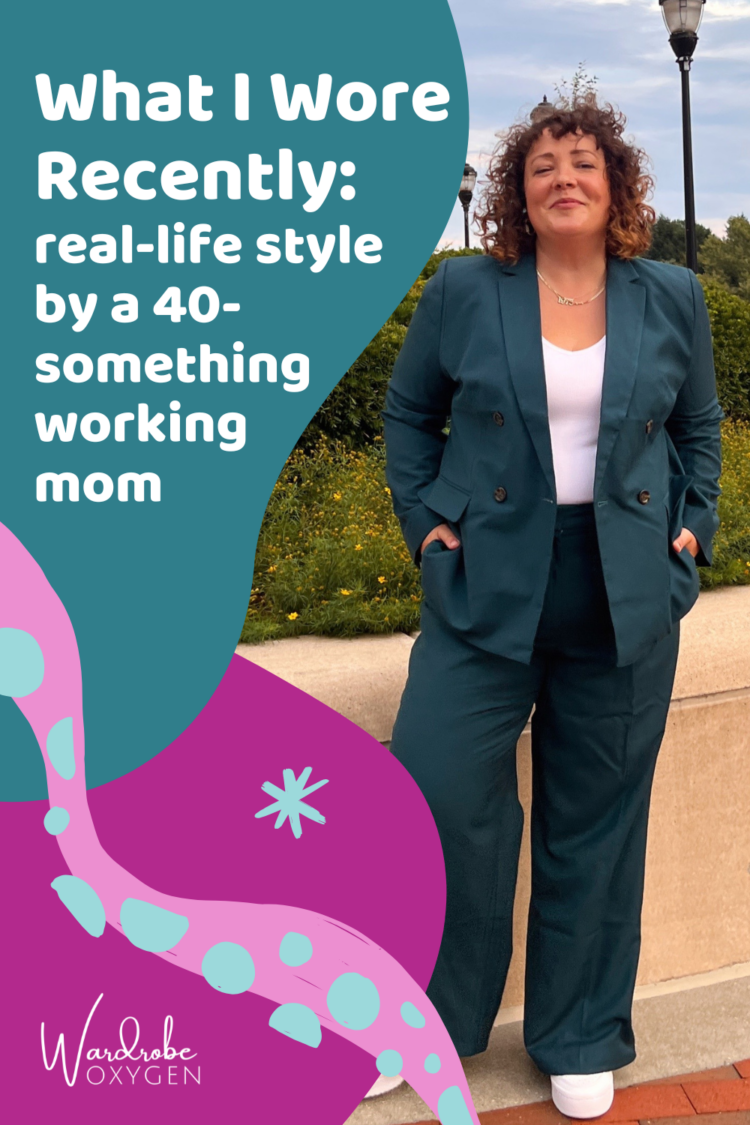 I've been on two beach vacations, did some local sightseeing, and just have been living normal life in between. I realize I haven't shared what I wore recently since the end of July so here is an abbreviated August recap: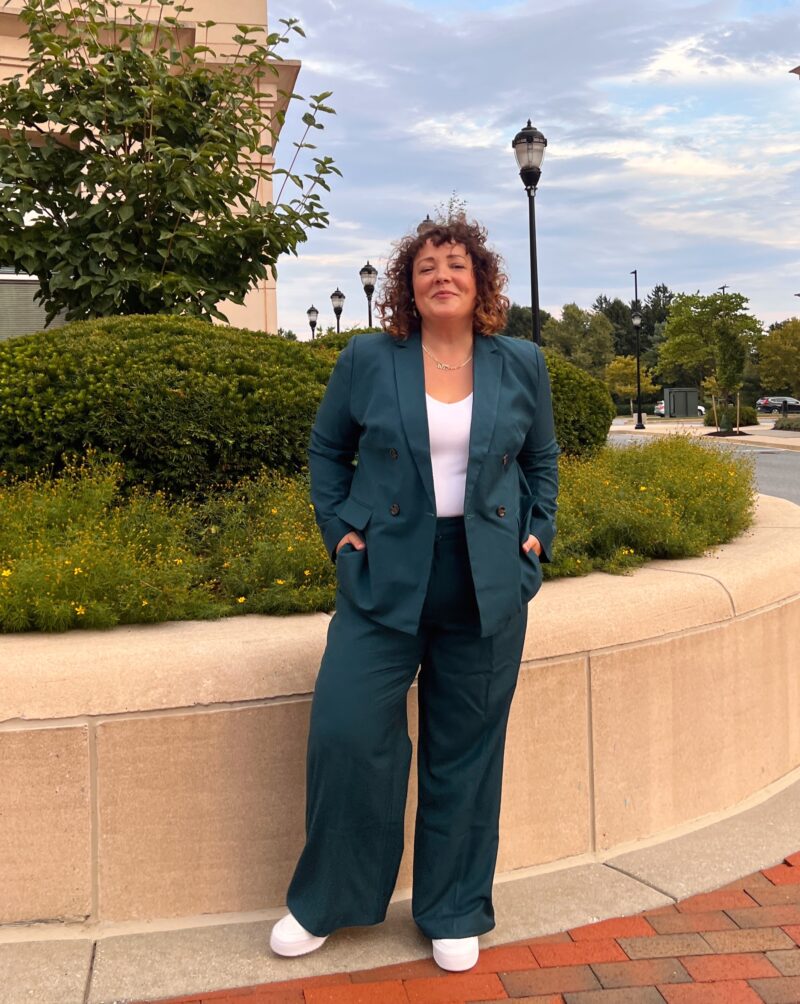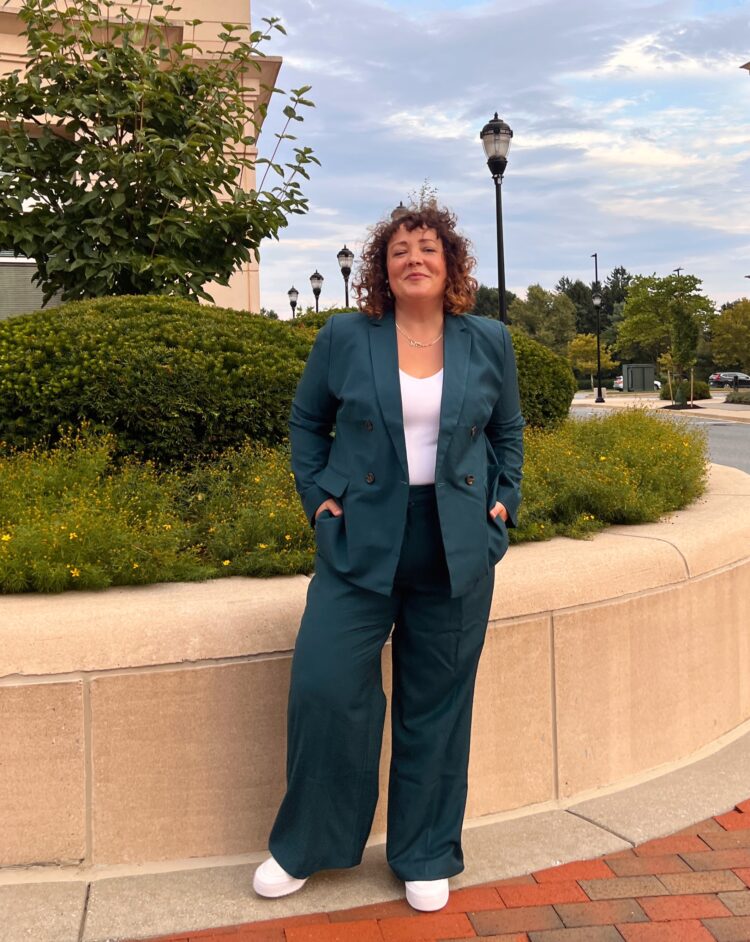 My best friend is a family law attorney and ten years ago she started her own practice. She now has a successful firm and had a chic cocktail reception to celebrate. I decided to wear the "Ominous Teal" pantsuit from Ann Taylor (link to the jacket and link to the pants) that I mentioned in this Weekend Reads. I'm wearing 16 Petite in both pieces; the pants needed to be hemmed and I didn't have enough time to hit the tailor so I used Stitch Witchery which held up relatively well. Pants are now with Mr. Kim of Mode Custom Tailors to be properly shortened to sneaker length.
Speaking of sneakers, I'm wearing these from Adidas, and they're the same sneakers I wore with this M.M.LaFleur sweater set. The tank is this one from Athleta that I mentioned in my roundup of the best white tanks for grown women. I'm wearing an XL. It is very fitted but the double layer style really feels solid and substantial and I like wearing it like a bodysuit under things like this blazer.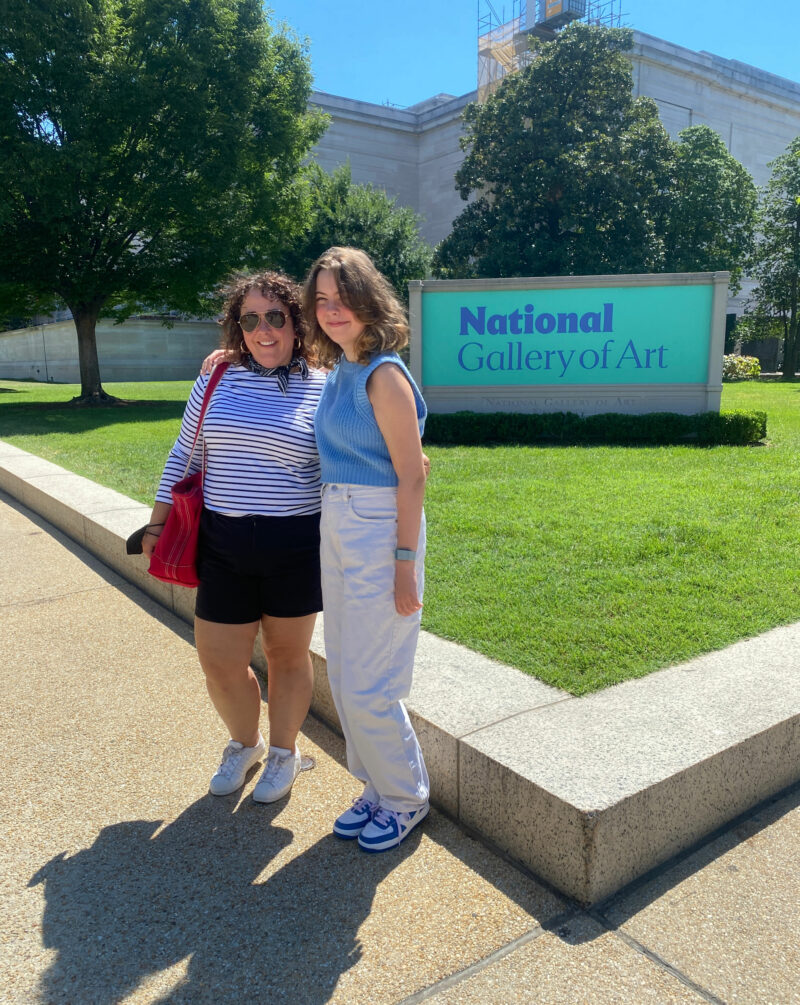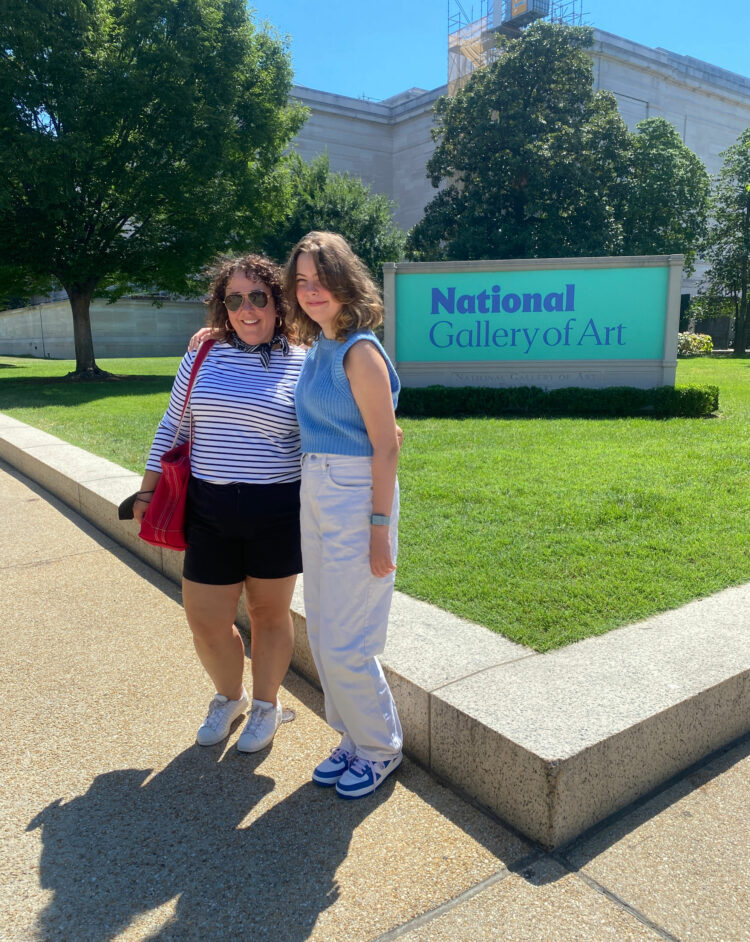 We've had a more mild August than typical for this area and we took advantage of one of these low-humidity days to take the Metro to DC and visit the National Gallery of Art. We saw the main building, took a break for lunch at Capital Grille, and then explored the East Wing. What to wear in air conditioned museums but also walking quite a lot in the 85-degree sunshine?
I decided on a long-sleeved tee and stretch twill shorts. The sleeves warded off A/C chill, but the shorts kept me from being a sweaty overheated mess getting there and back. The shirt is the same $25 Breton top I rave about in this post. It's really great; I'm wearing an XL in this shirt. I ended up untucking after lunch and liked both ways it was styled.
The shorts are these from Universal Standard in XS. FYI, these fit the same after washing and air drying. However, my husband accidentally put them in the dryer once and they shrunk a tiny bit. Still fit, but not quite as nice and they have a slight bit of fading. They are currently on sale for $35 but it's a final sale. My usual rule for shorts is go up a size; with these I'd go with the size chart and not your normal US sizing (AKA I wish I got S, not XS).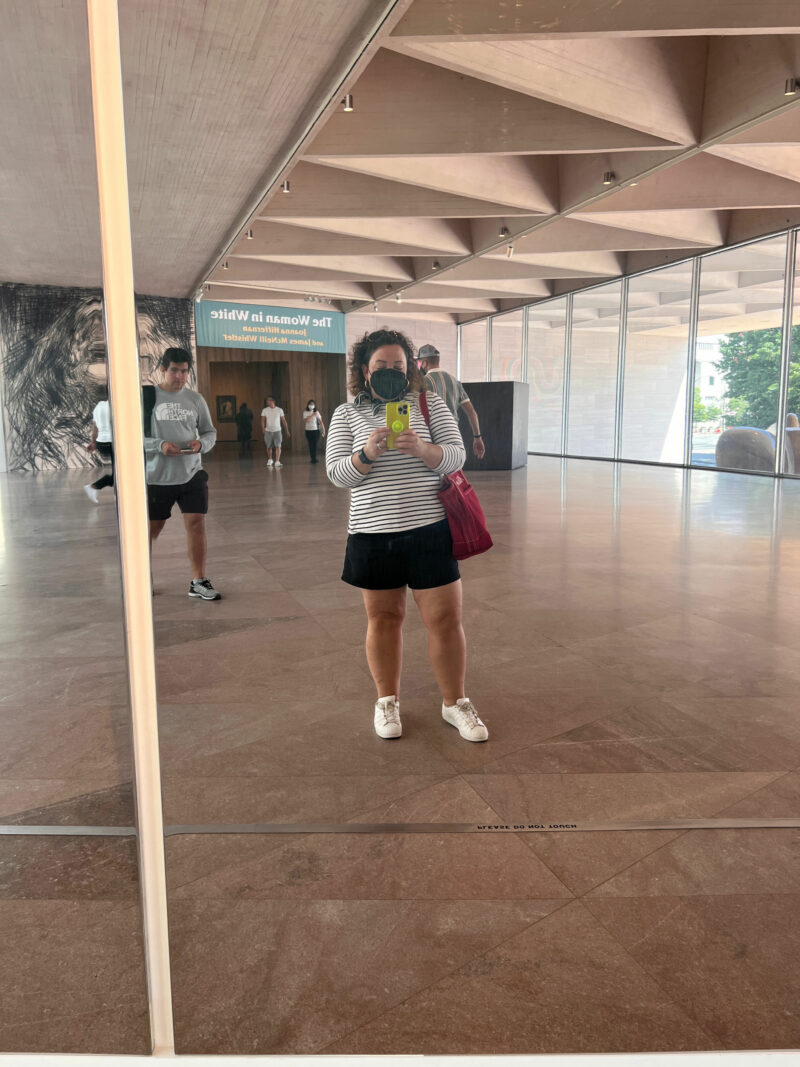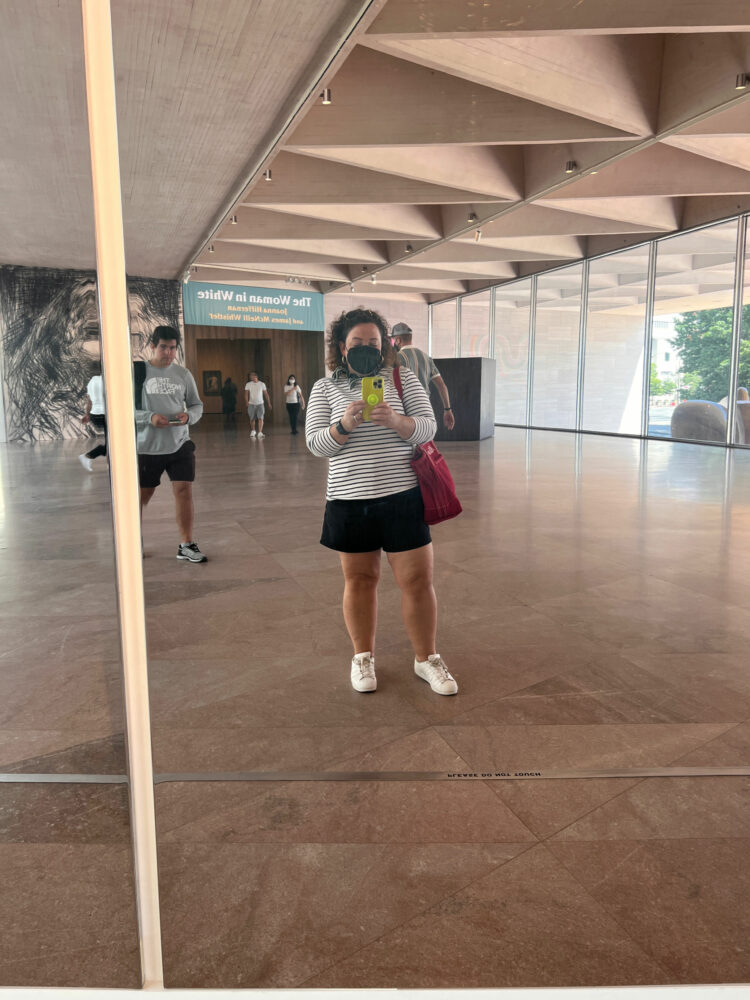 The shoes are my Adidas Superstars (on sale!) with these insoles added for extra support. I added an old silk bandana to add interest (this is similar and a nicer price). My hoops are these from Chico's and IMO pretty darn perfect. The clasp is secure, no flying earrings when taking off your mask. They aren't too big but make a statement, lightweight, and look real enough to mix with real gold as well as other costume pieces. All that and only $20!
The bag is this one from Lands' End I've had for a few years but forget about until I pack for the beach. It has "Alison" in script on it (options: long straps, zip top). The number of pockets and the size is great for sightseeing; I could carry a bottle of water, purchases from a gift shop, extra masks, etc. without issue and without it being heavy or bulky (or chosen for bag checks at the museum entrances).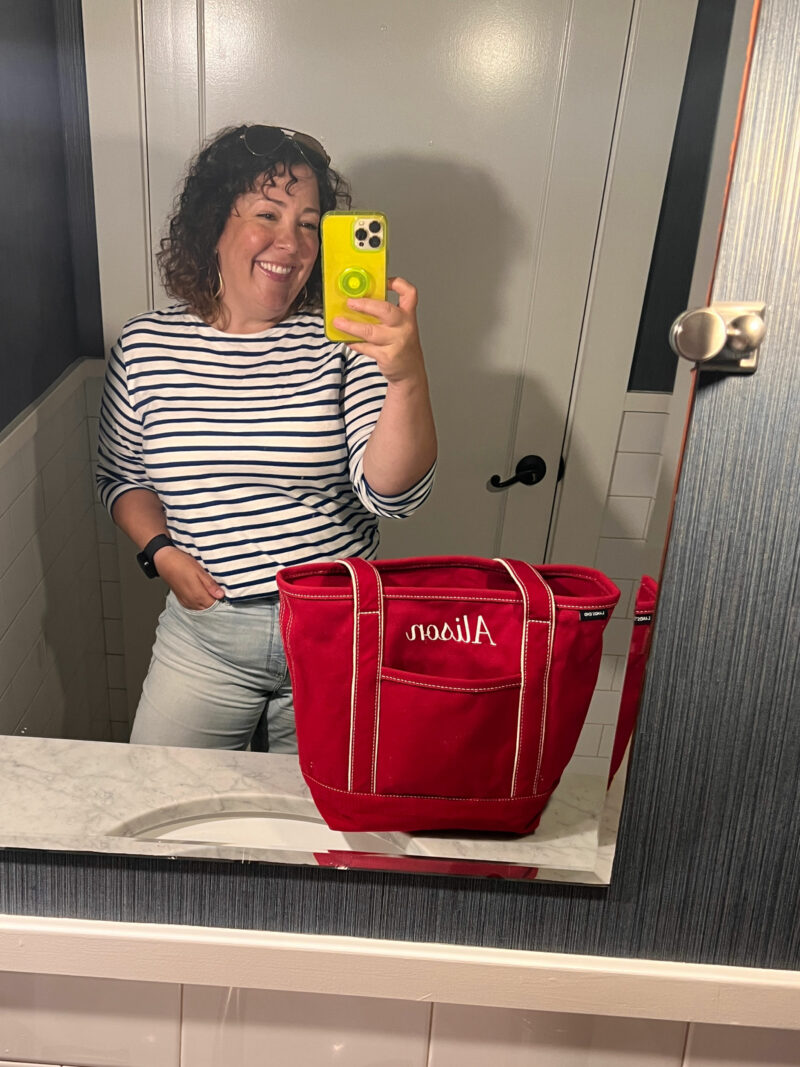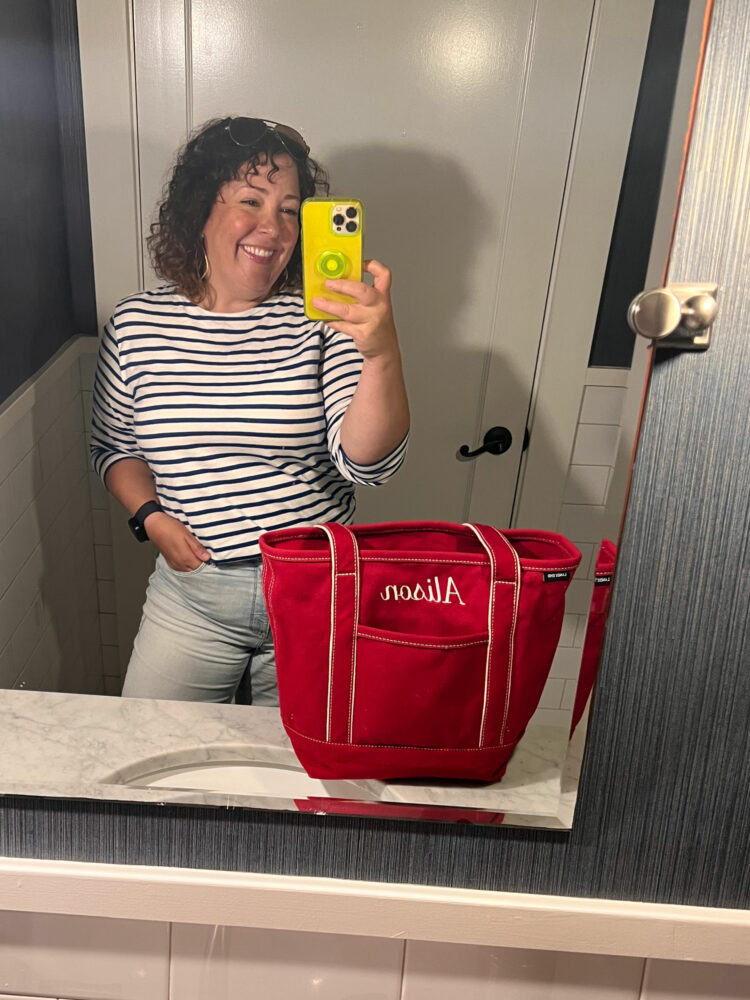 Speaking of forgetting the bag until I pack for the beach… this is what I wore to drive to Rehoboth Beach with my mom, sister, and daughter. We went a couple of weekends ago for our annual Girls Getaway. The shirt is Saint James, size XL. It is the white with royal blue stripe. This is not my first Saint James Breton; I really like the quality and fit. I've now tried Sezane, Breton Shirt Co. and I've tried before Boden and I like Saint James best! The jeans are very old Athleta (and yes, soft and comfy enough to drive in) and then the Lands' End tote.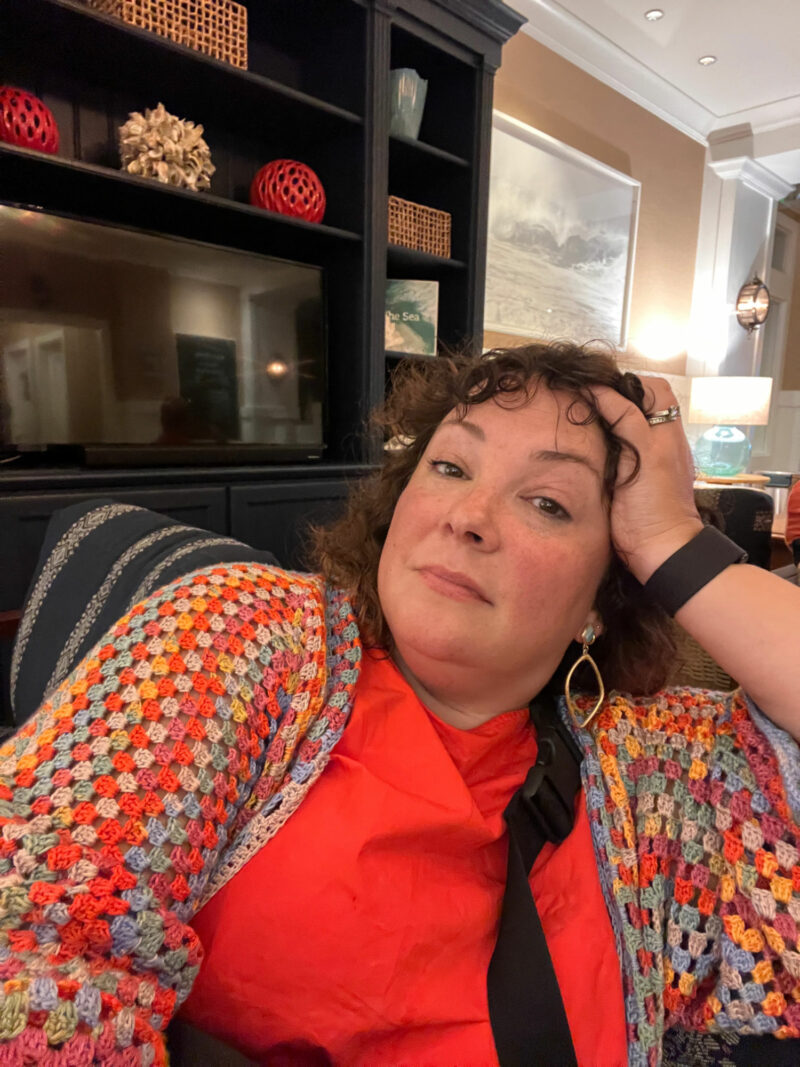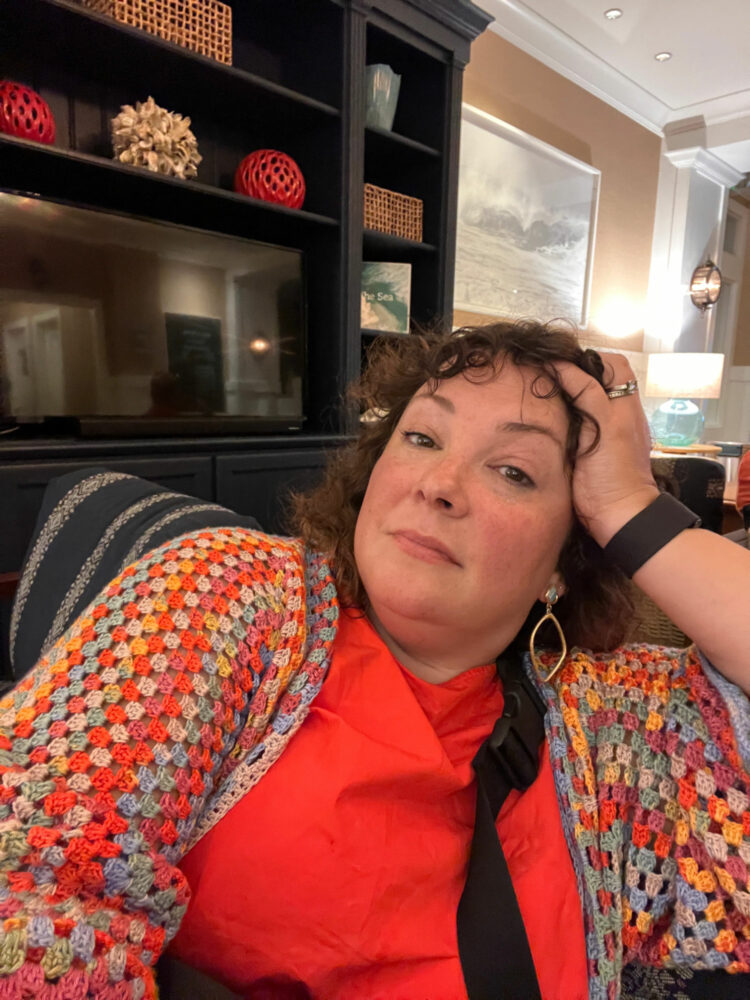 Continuing with beach outfits, I didn't capture most from the long weekend because I got a stomach bug for part of the trip and our hotel room was small and didn't have a full-length mirror. But here I am tired on the end of the last day, after going out for dinner. I am wearing my Christopher John Rogers X Target dress with my rainbow crocheted cardigan I featured before, and my Girlfriend Collective belt bag as a crossbody (sold out; I dig this one too). The earrings are from Marcia Moran (use WO2 at checkout for 10% off).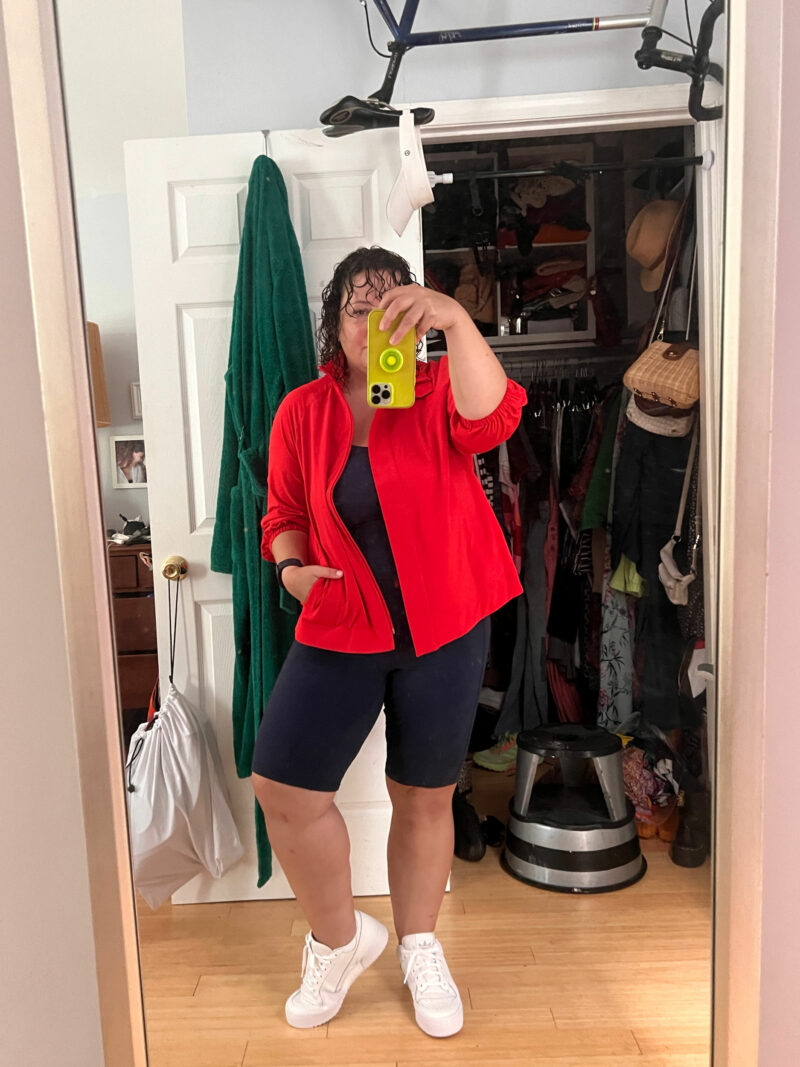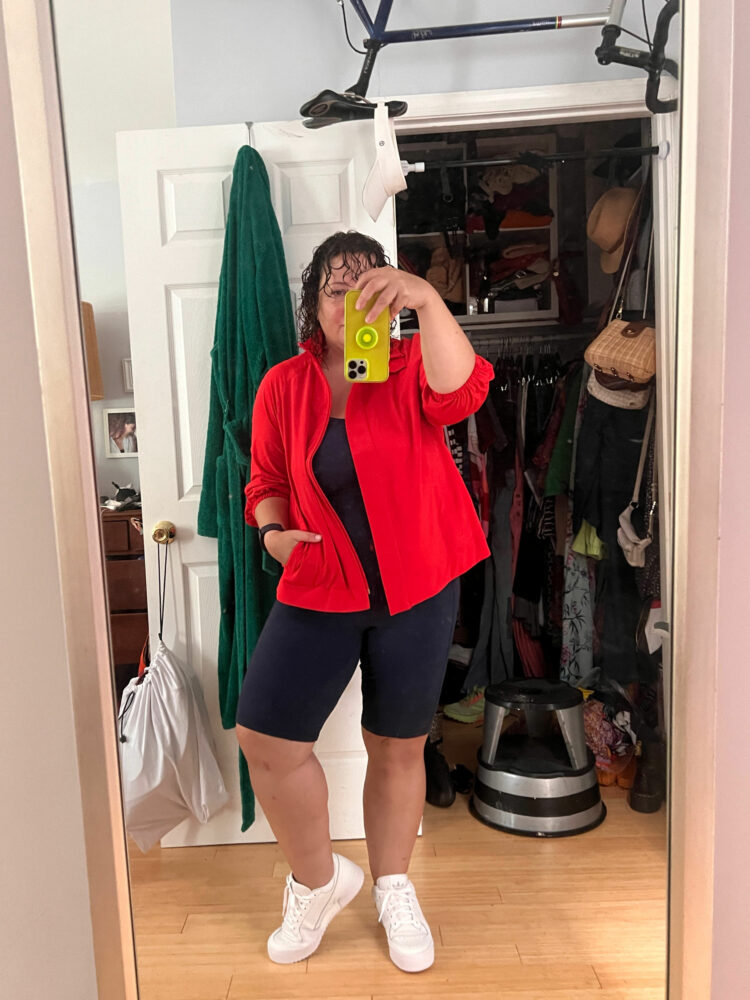 I've mentioned many times my love for the Universal Standard Next to Naked bodysuit. I've tried the copies, I think the Universal Standard one is of better fabric with better seam placement for it to make my body look great while also being hella comfortable. I wear them OFTEN when I work from home; here I am wearing the short navy one in XS with the same Adidas sneakers above and this Chico's jacket in size 2.
I got this jacket from Chico's because I requested this matching skort and this top to wear for golf (I've started lessons). And for some reason they didn't send me the skort or the top but I got the jacket. And I was like… what am I supposed to do with this jacket that matches nothing else they sent me? But I wear it ALL THE TIME.
It's super lightweight and the sleeves aren't full length or tight, the hem has no band and sort of flares out all breezy, and I throw it on over these bodysuits or over my sports bra and leggings after a Peloton ride and I don't mind it getting sweaty and it doesn't cling and washes easy and has pockets and is UPF protection if I sit outside and write and if someone comes to the door I don't look like a hot mess in my sweaty but now dried sports bra.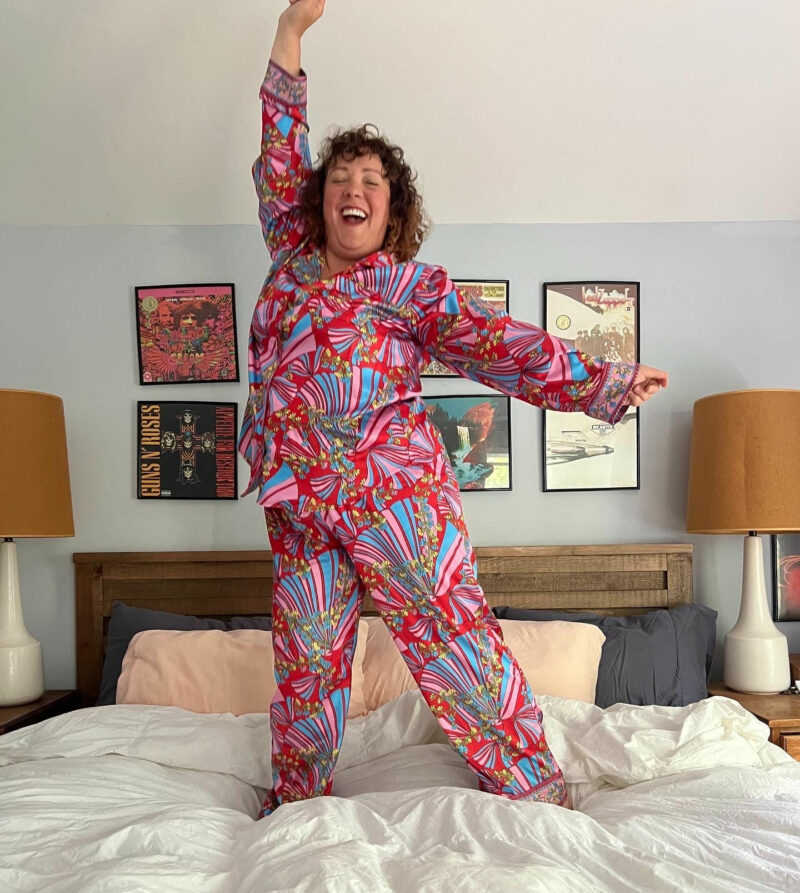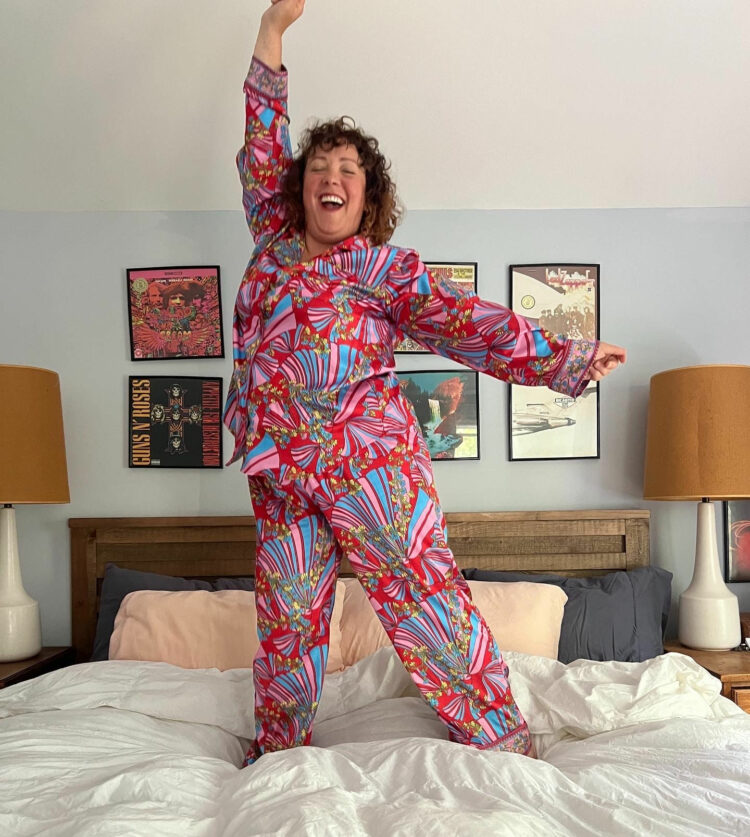 For bed, I love my Printfresh pajamas. I own shorts, camisoles, cropped and long pants and robes. I sometimes mix them with a knit camisole or Soma Cool Nights shorts depending on my mood. But what I really wanted was a pair of fah-bu-lousss silky pajamas. The kind you wear as loungewear, and maybe even out of the house with some fah-bu-lousss shoes and red lipstick, dah-link, because you can.
And I saw these on fellow influencer Ashley Dorough and I liked that they weren't larger than an XL and I ordered a pair. They arrived while I was at the beach, or else I would have taken them. They feel amazing, they're very roomy (I'm wearing XL and if I had smaller bust/arms I think an L would have worked), they have washed nicely. Only thing I don't like is the pants are pocket-free. So who is inviting me to a grown-ass woman sleepover?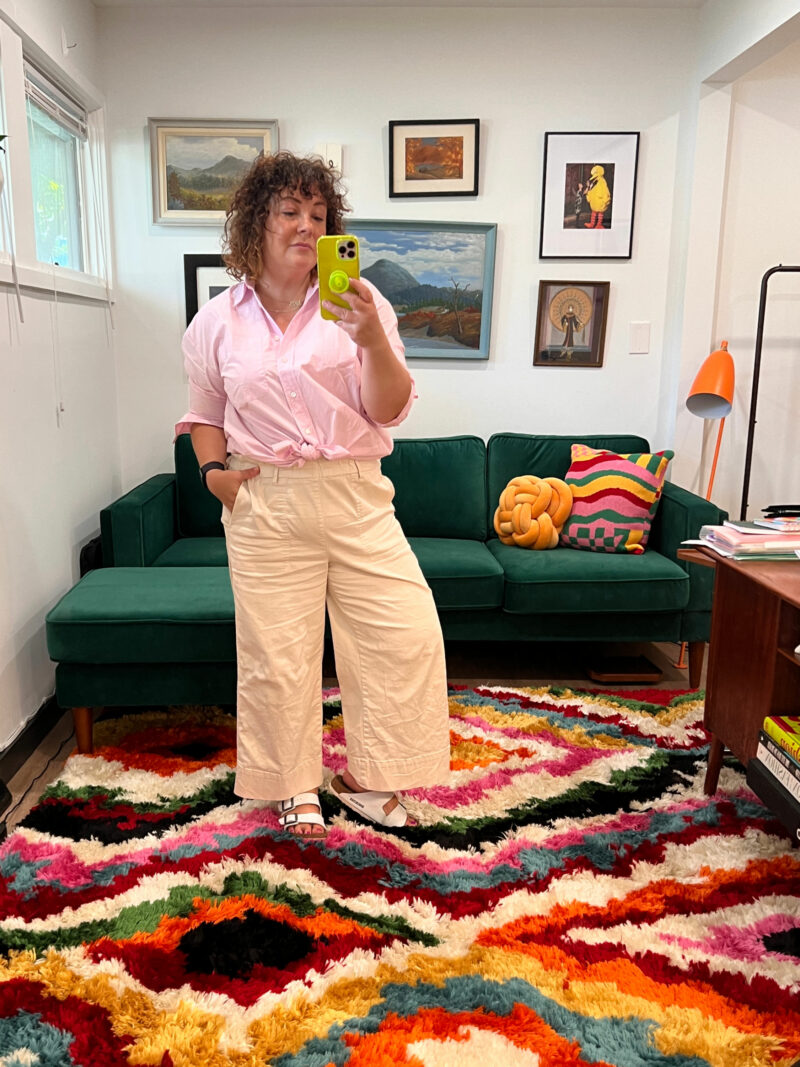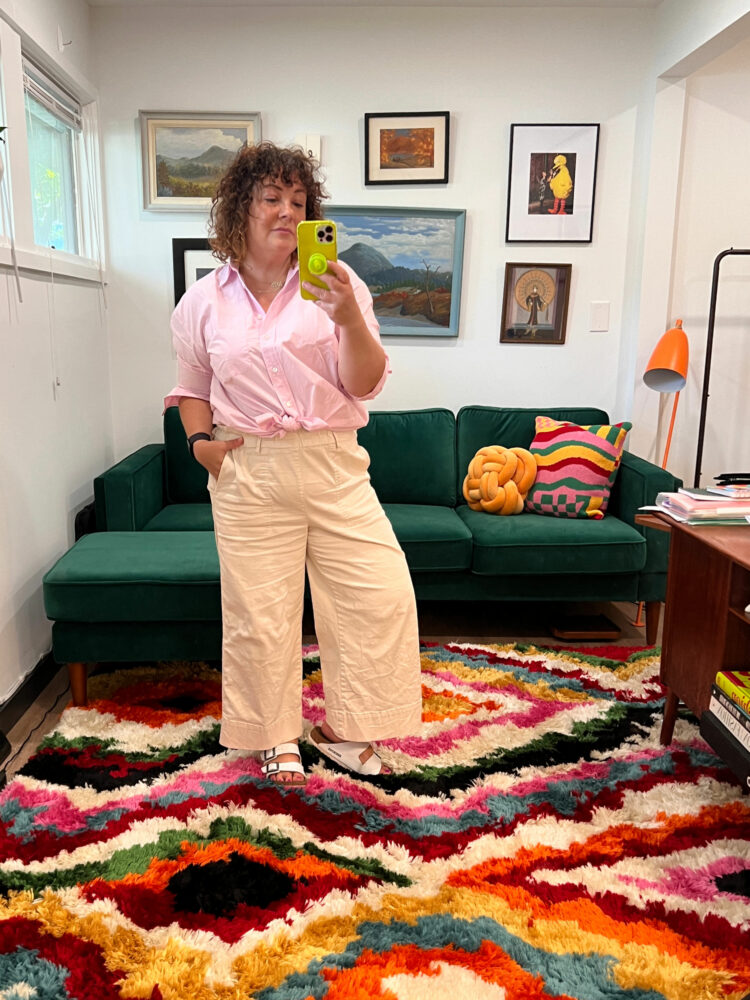 I mentioned in this piece that I was ordering the pink oversized poplin shirt from Banana Republic and here it is! I am wearing a size Large Petite and I can't imagine going any bigger for this. The fit is great, it is lightweight but not transparent, I wore it untucked over denim shorts and here tied at the waist.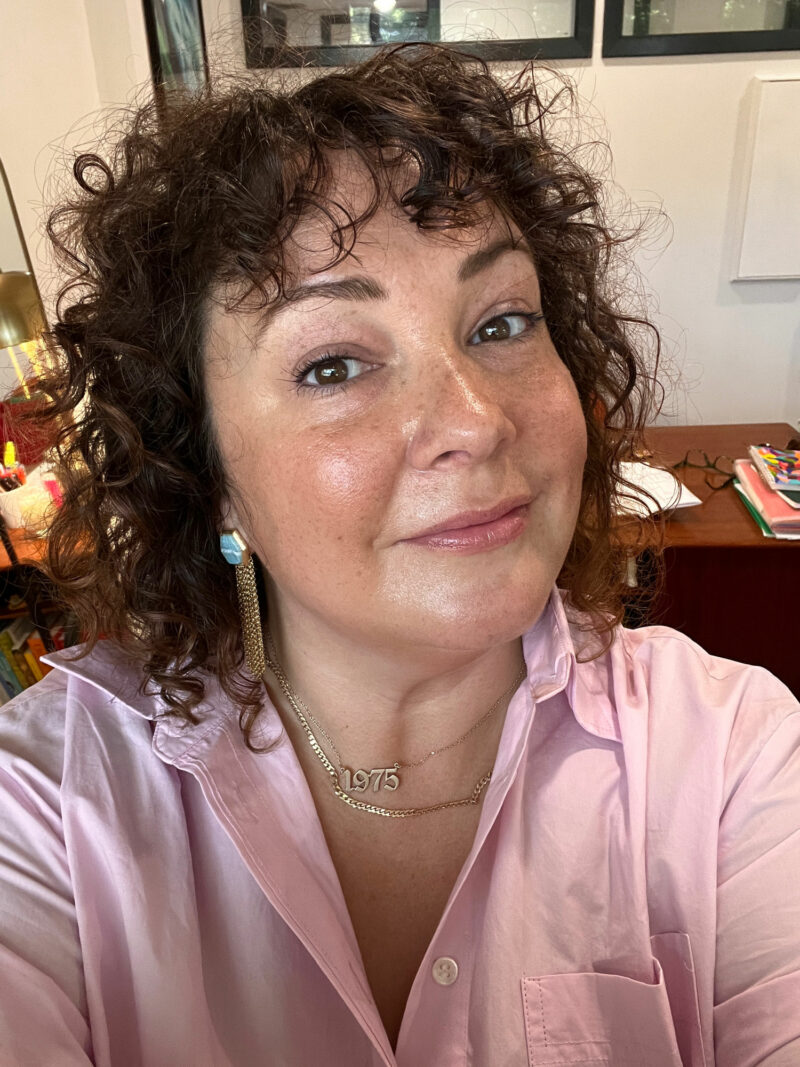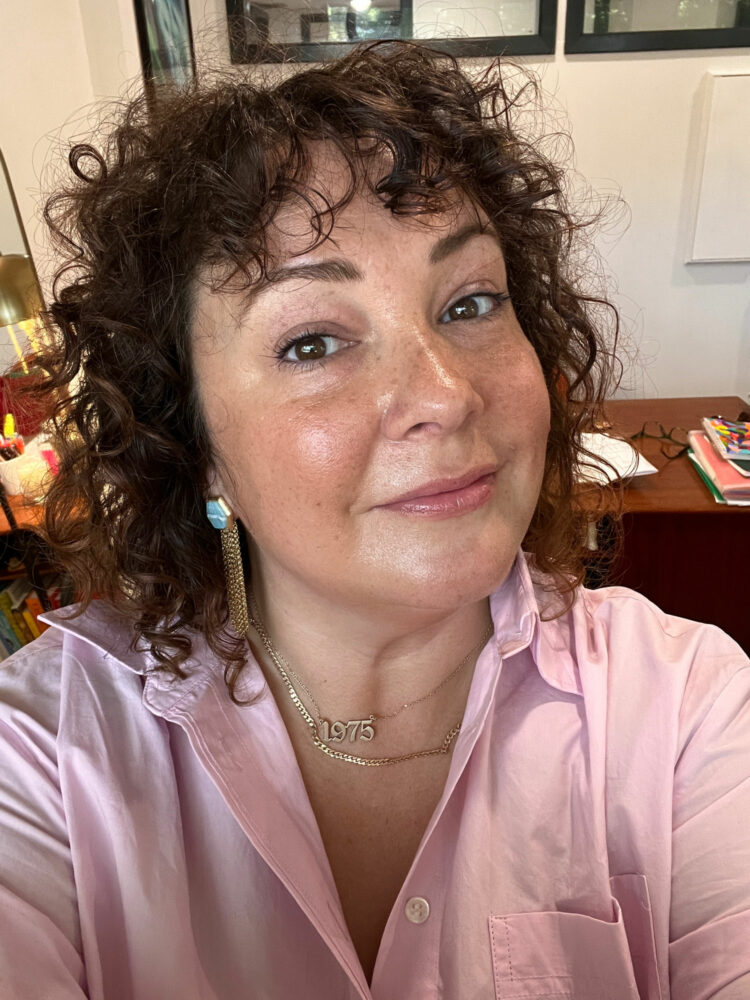 The pants are J. Crew and from last year, but these from J. Crew this year look similar. I bought a Large Petite in last year's version. White Birkenstocks and these earrings from Marcia Moran that are the perfect mix of pretty and rocker (and coincidentally I like the name). The 1975 necklace is from Etsy. The glow is from Maryland humidity!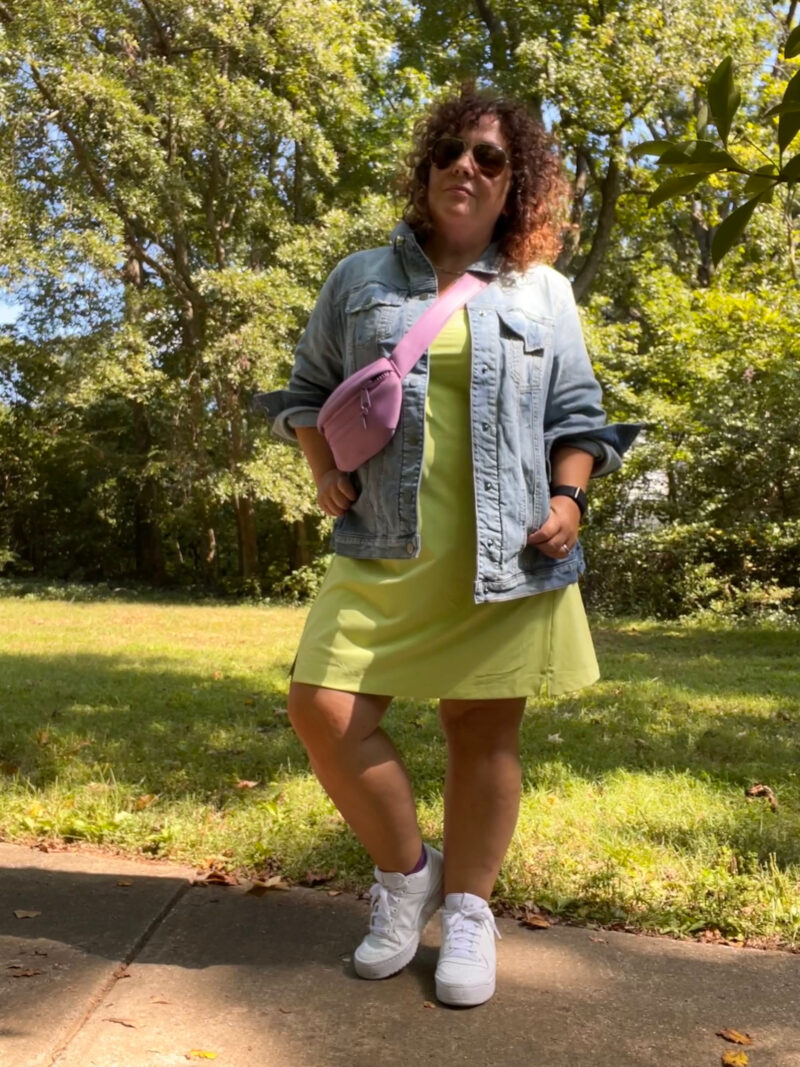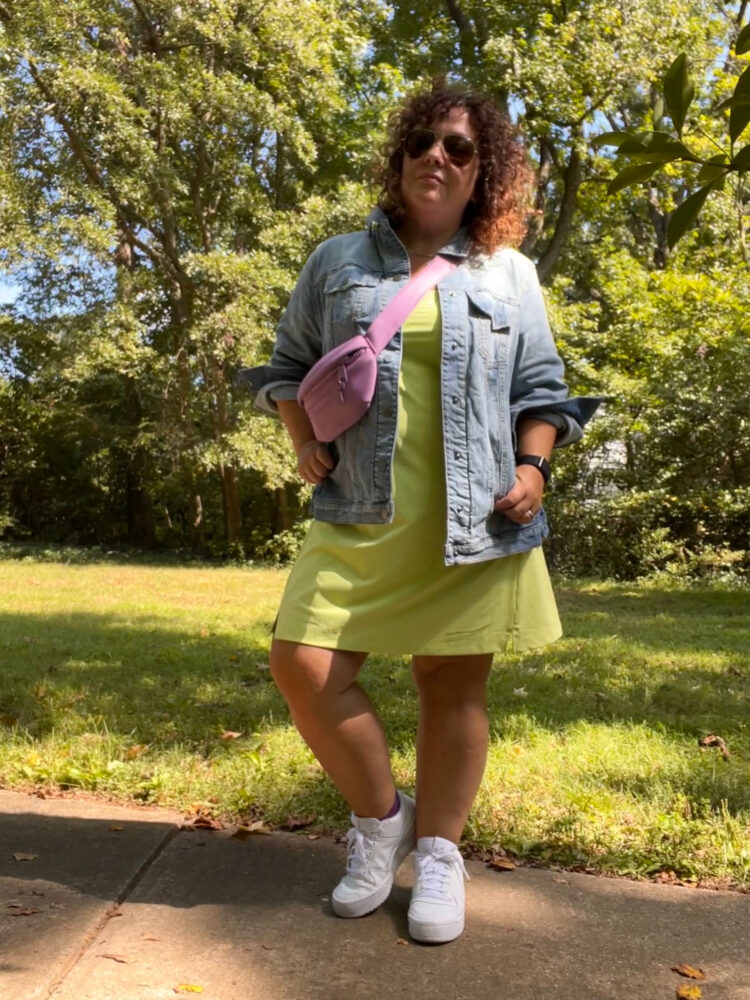 I'm going to write a whole post about this active dress with photos of it not covered up by a jacket, but this is a dress/skort/thingie from Old Navy, size XL regular. I removed the breast pads and am wearing it with a regular bra. I love that the fit of this not only covers a bra but the style of "bra" that is built in isn't a separate shelf so it can work with larger breasts and bras. I've been on quite a highlighter yellow kick lately and couldn't resist.
Since getting it, I also ordered one in Large, since the XL is loose. I like both, but the XL is more something I'll wear out and about while the Large fits more like something I'd wear for more sporty/active situations (or let's be real, around the house and yard). The shorts do ride a bit, less with the smaller size, but not so bad I wouldn't be comfortable running errands or going kayaking.
Over it is the Universal Standard Chore Jacket in XS. This jacket is super cute, but I do feel it is a lot on my frame. The denim is heavy, it's super nice, but I feel maybe I could have done XXS or would have LOVED Universal Standard to offer it in a petite version. I'll be wearing it more in the fall/winter with long pants and layers.
The belt bag is Dagne Dover (limited edition color, this belt bag is a similar color), the sneakers are my Adidas Forum Bolds, and again, I'll go into depth about the dress in an upcoming post (written, just need the photos!).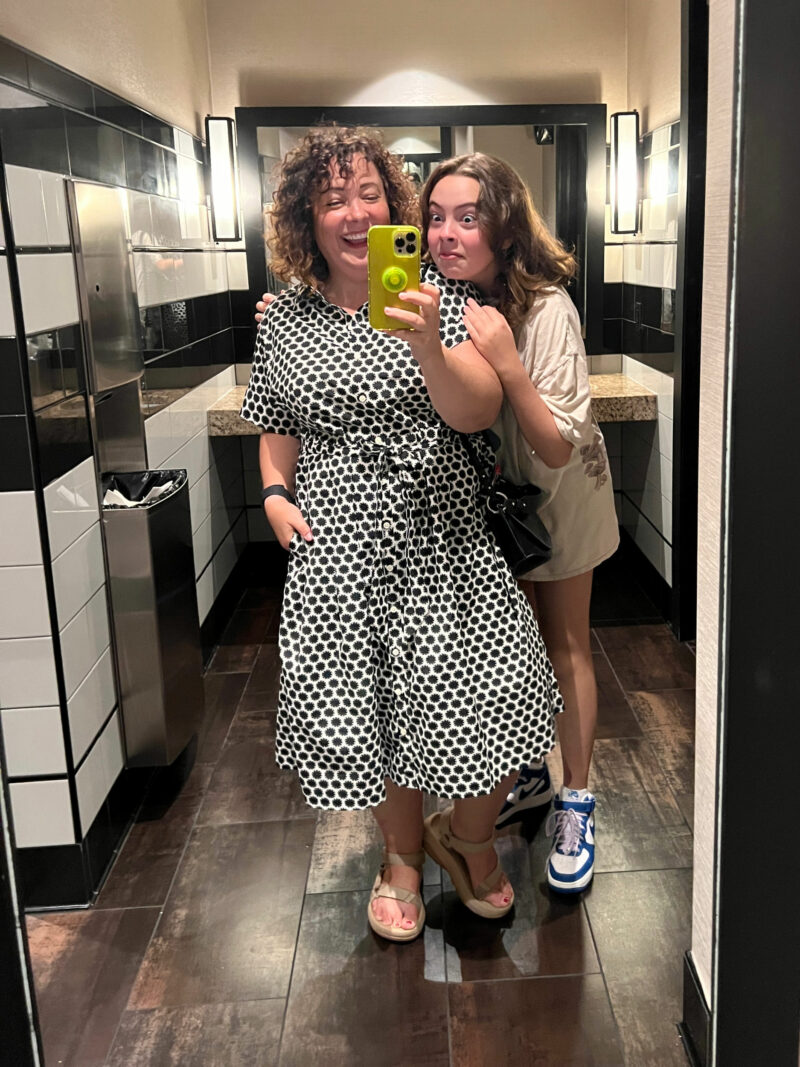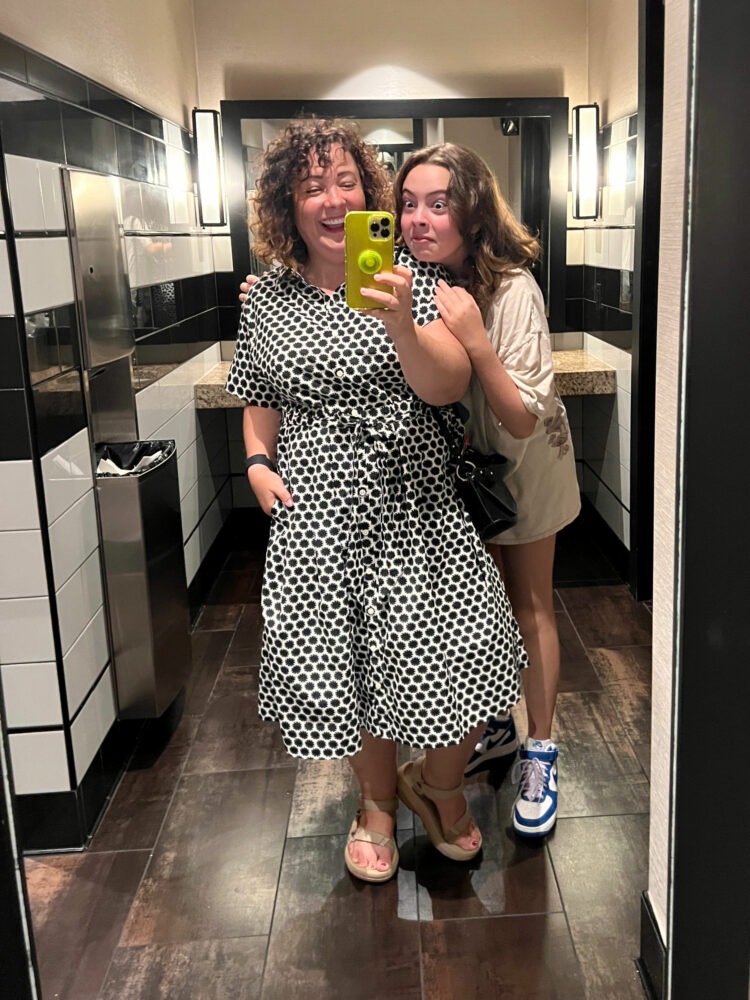 I got this shirtdress from Talbots this spring, I wore it on Easter and have liked it since for being a statement-making yet very simple and comfortable outfit. For back to school shopping with my kid, it was great with some Thigh Society slipshorts and my Teva sandals. While this exact dress isn't available any longer, above I have a carousel of other cute dresses from Talbots, and I think all or at least most are on sale. I love that they have petite and plus petite for better fit.