This article may contain affiliate links; if you click on a shopping link and make a purchase I may receive a commission. As an Amazon Associate, I earn from qualifying purchases. 
National Hanging Out Day – not a day to chill with friends (though that is nice), but a day for all Americans to choose to hang their laundry to dry instead of using an electric clothes dryer. The goal is to show how effective one tactic, such as using a clothesline, can be in cutting back our contribution to global warming.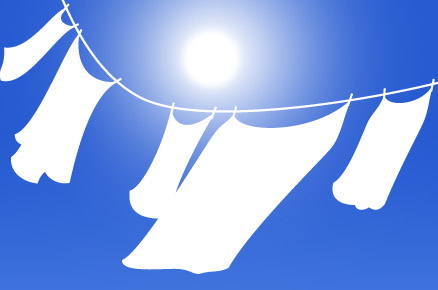 Dryers use 10 to 15% of domestic energy in the United States. There are 88 million dryers in America, and if everyone converted to lines it could reduce residential output of CO2 by 3.3%. That's pretty huge.
I love hanging my clothing to dry – not only do they smell as fresh as a spring day, but they don't shrink and they don't fade. Clothing constantly placed under heat and the tumbling of a dryer are faster to thin, wear, get holes and fall apart. Many dry clean only garments can easily be washed by hand or on the gentle cycle of your washer and dried on a rack or hanger.
Don't have a yard for a clothes line (or the weather for line drying)? Clothes don't have to be hung on a line outside to dry. Right now I have half my closet hanging off my shower curtain rod in my bathroom. Big box retailers and shops like The Container Store and IKEA offer collapsable drying racks that can fit in a corner or your bathtub and can accomodate a whole load of clothing. Retractable clotheslines and folding wall racks can hide out of sight until laundry day. I even use the towel bars in the hallway bathroom to dry dish towels and lingerie.
I encourage you to celebrate National Hanging Out Day – save energy, save money, and save your wardrobe!