This article may contain affiliate links; if you click on a shopping link and make a purchase I may receive a commission. As an Amazon Associate, I earn from qualifying purchases. 
At the end of 2017, I quit my job in Corporate America to do this blogger/influencer/content creator thing full time. I also started lifting weights with a personal trainer. A local gym slipped into my DMs and just the right moment and offered three months of training in exchange for social promotion. I continued going to that gym and weight training all the way until March 2020, Lockdown.
Weight training made me realize my body is more than what size jeans it wears and by sharing my workouts I inspired other women to see that their weight doesn't determine their worth and size doesn't determine strength.
At the beginning of Lockdown, we got a Peloton bike and that became my weight training replacement. It was fun, it was a form of escape and therapy to get through a difficult time. And it was a way I connected with people, through Facebook groups as well as DMs from Instagram followers. I began following some people because of our shared enjoyment of riding the bike.
In the words of one of my favorite Peloton instructors Christine D'Ercole, I am bigger than a smaller pair of pants and I enjoy sharing my workouts to inspire others to feel the same.
I also like to share my workouts and show myself in activewear because I want to be the change I wish to see in the world. I want all bodies normalized enjoying movement on their terms, wearing what makes them happy and comfortable. I feel that partnering with activewear brands and going to brand fitness events as a soft curvy 46-year-old mom who doesn't have decades of being active under her belt and was never athletic is important. I want to be the change I wish to see on Instagram, in brand collaborations, in the fitness world.
Trying to be the change can be a challenge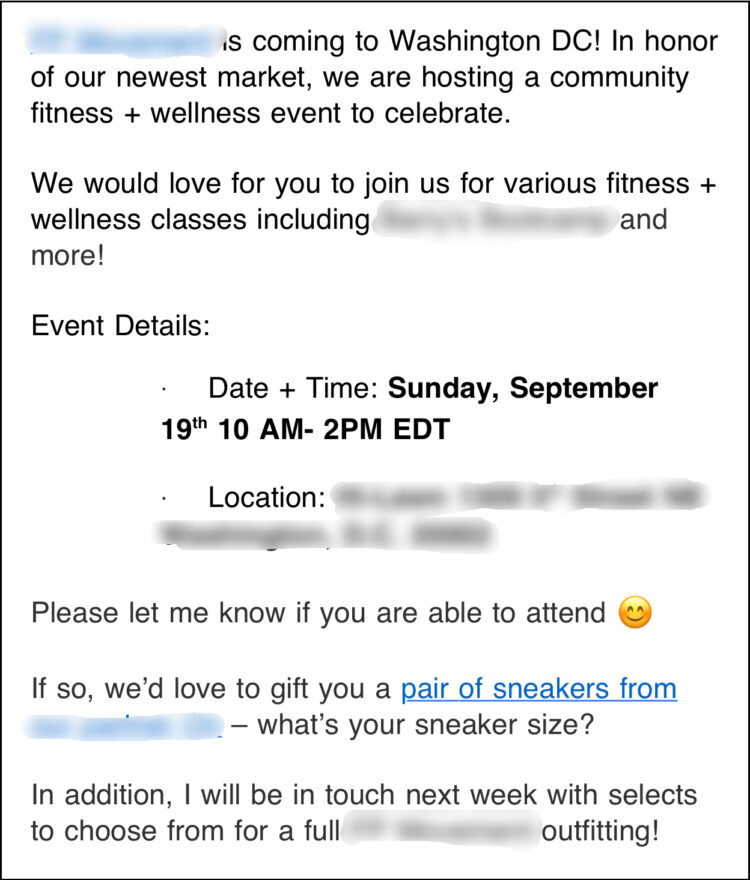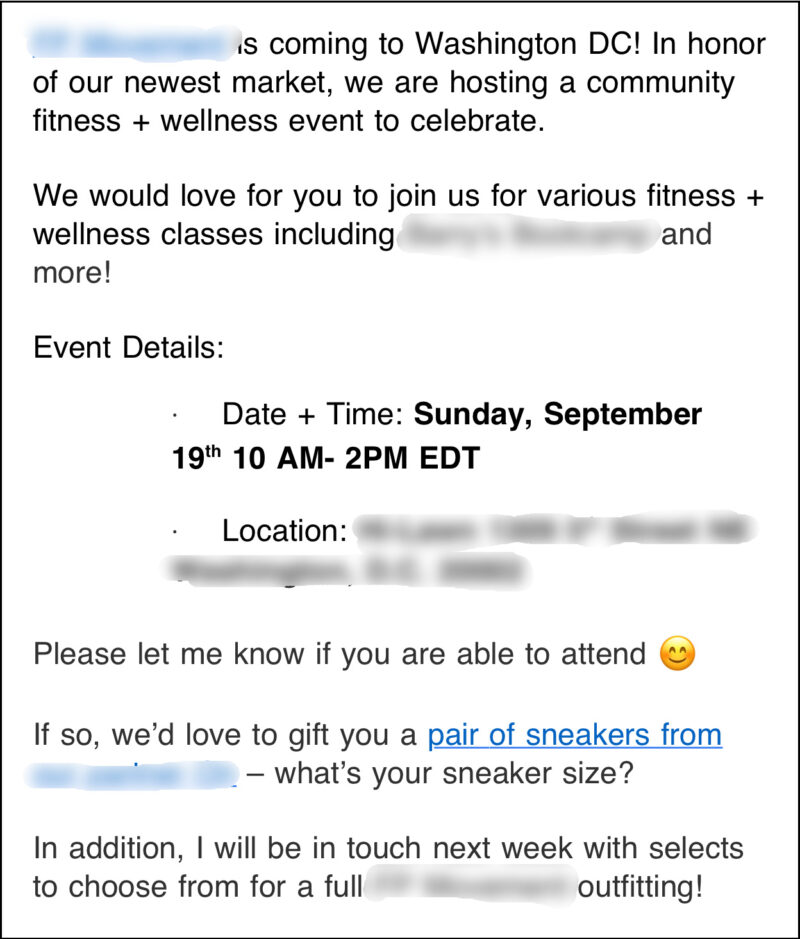 Recently, a popular apparel brand reached out to me. They were opening a store in the DC area and to celebrate was hosting a wellness and fitness event at an event space on the roof of a popular spot in the city. Would I like to come? It was from 10-2, there would be a variety of classes and activations. In exchange for my attendance, I would receive a whole outfit (four pieces) of my choice plus a pair of shoes from a popular fitness sneaker brand.
This brand has never been size-inclusive; I owned some pieces from the brand and knew I was at the top of the size range. I usually say no to partnering with brands with such a limited size range, but I wasn't trying to get some paid partnership with them, I was being the change I wish to see.
I also hadn't attended a brand event since January 2020. And while influencers don't always show this, brand events are hella intimidating. You know there will be cameras, and sometimes videographers on site. You are looked up and down, it's a bit like sorority rush where the brands are scoping out who came and who they'd like to talk to, photograph, parter with in the future. It has taken years for me to get the confidence to attend and even enjoy these events and I have gotten rusty. But haven't we all gotten rusty at being social creatures?
While the pandemic is still happening, my job as a blogger/influencer/content creator is also still happening and this felt like a good way to get back out there. It was outdoors, it was about fitness, the place had free parking and was easy to drive to, and hey, I have wanted a pair of shoes from that brand. I said yes… and almost immediately regretted it.
The entire process of picking an outfit with this brand was demoralizing. It took an hour to find four pieces that coordinated and were available in their my size AKA their largest size. It took just 15 minutes for them to reply to my email stating my selects were now out of stock. I tried again, and it was all sold out. By the third try, I just gave multiple options for each piece and ended up with separates that didn't all match, but I hoped I could make cute with some items already in my activewear drawer.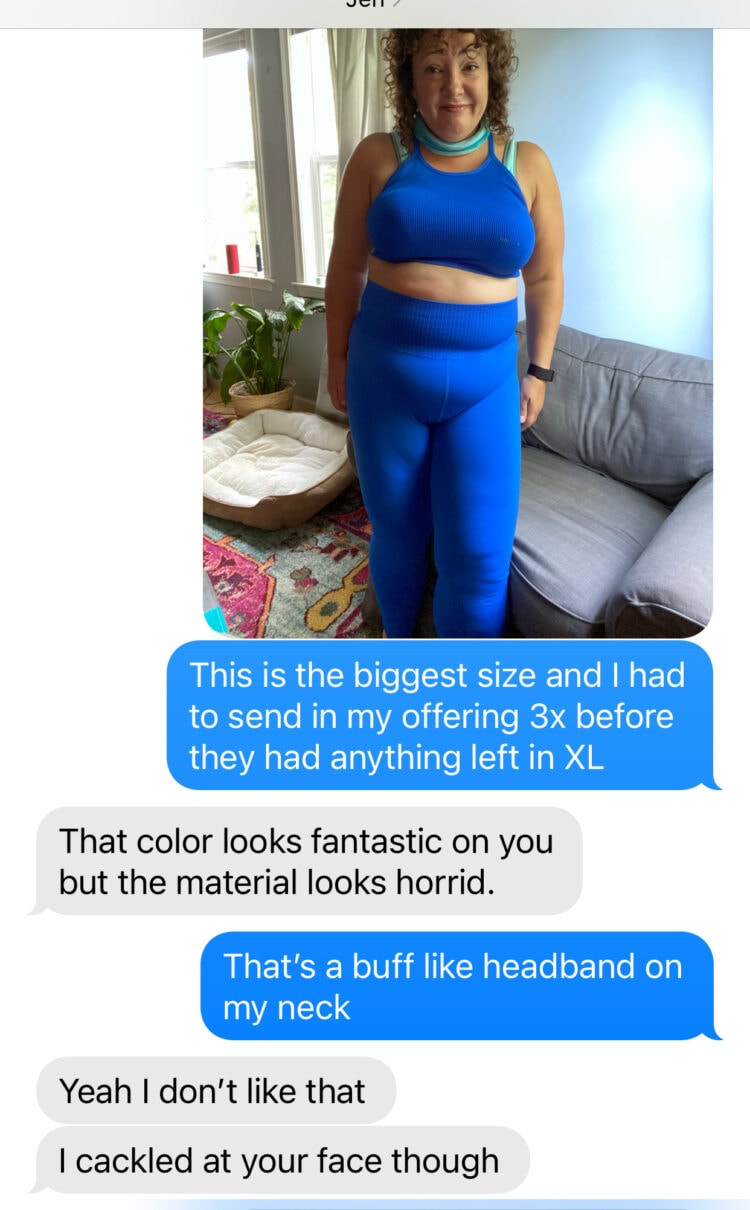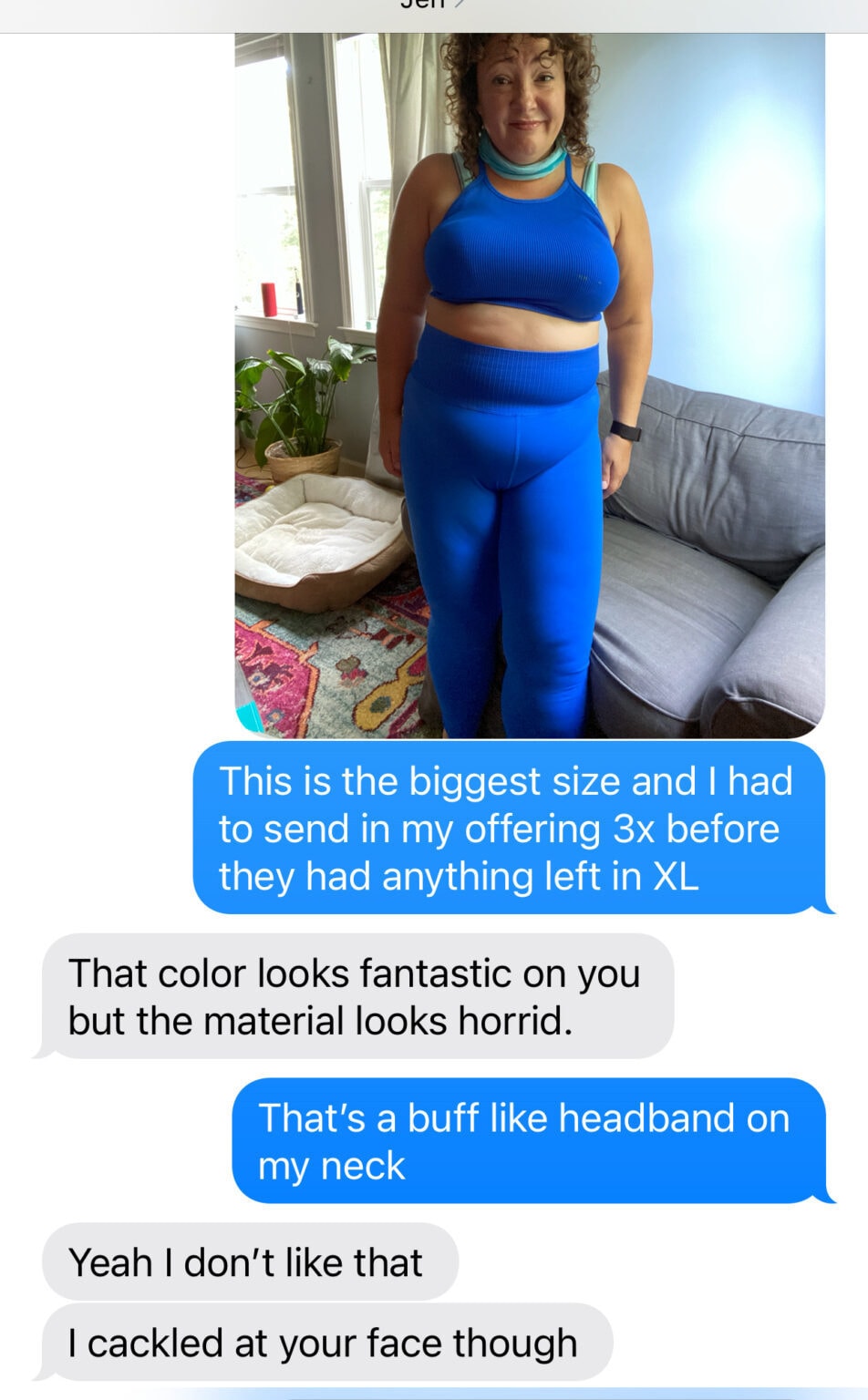 I reached out to a few influencer friends to see if they too were going to this event. No one I knew was invited or even heard about it. Fuck. Fuck fuck fuck. Who in the world is going to be at this event? If none of them were invited and they hadn't heard about it from any of their other influencer friends, then they must have invited a whole different crowd.
I've been blogging for so long, we're not called bloggers anymore. And I've been blogging for so long there is a new crop of influencers; they're Gen Z. They're young and full of energy and creativity and their skin is all firm and they are amazing and oh God no I do not want to wear this mismatched ill-fitting activewear and be the token older person and likely one of a handful of token bigger bodies at this event. What the hell did I get myself into?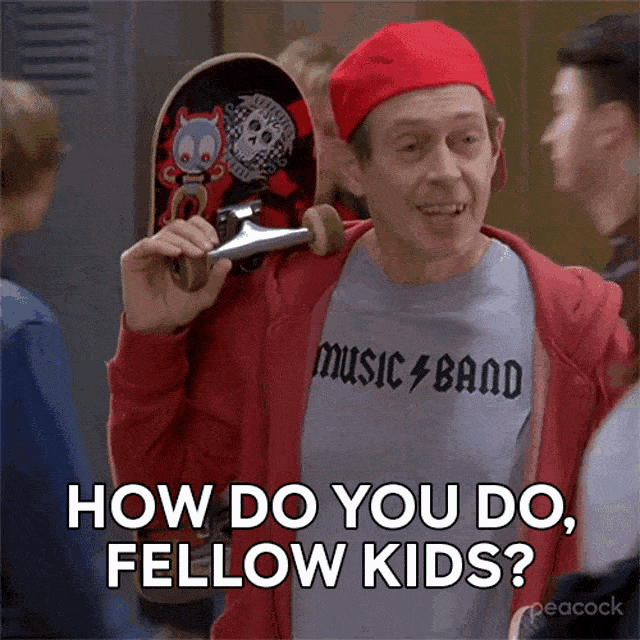 I started blaming myself. Why would I be so stupid to say yes to this brand? Why didn't I ask who else was invited? Why the hell would I think that this brand would create activewear that could fit my body? I'm not going to be the change, I am just going to be Steve Buscemi undercover at a high school.
You're being ridiculous Alison. You're a badass. Dude, just a month earlier you rode 50 miles in one day on that Peloton and felt great afterward. You may be soft, and you may be older, but you're a fucking badass. Your weight does not determine your worth. Your size doesn't determine your strength. You're a stealth badass, the best kind. That workout is going to be hella fun. You're going.
I did a short ride on the Peloton bike before I went to get myself feeling powerful. I got dressed… and I had a panic attack. I have worked so hard to create a relationship with my body. It may not be deemed conventionally attractive, but I think it is a good body and over these years of lifting and spinning I have come to respect it and see not just the flaws, but those moments of power and beauty.
And this outfit was causing that relationship to crumble. I don't know how it did it, but a shitty pair of blue leggings and a sports bra that couldn't even contain one of my breasts was getting the best of me.
A seam created the appearance of love handles. A thick band disguised the curve of my waist. I bent over to see how bad the back view was and I could see my tattoo through them. I could even see a freckle. When I stood up, the leggings didn't bounce back and I had sagging in front and the waistband was stretched out and folded over. I went to hike the leggings up and the rise extended an inch and stayed there.
The bra was of the same fabric as the waistband of the leggings and because of that, had absolutely no support. I had no choice but to wear one of my Freya sports bras underneath, which was on full display because the "bra" didn't cover my breasts from areola to armpit. I picked one that seemed to coordinate best.
The event was 10-2. The email said multiple classes and activities. I wasn't being paid, so I sure as hell wasn't going to be there for four hours. I decided to show up around noon, which is what I usually do for brand events. Don't be the first one, don't be the last one, arrive when there is likely the largest crowd.
I put on my waterproof blue eyeliner and my 1975 birth year necklace along with literally my big girl panties: Soma Vanishing Edge Microfiber Retro Brief in Warm Amber which made all my bits vanish under the worst leggings I had ever worn. I am going to fake it until I make it. I am going to rock this.
I sauntered up to the door in my sunglasses… and the door was locked. A sign on the door said, "Closed for a private event until noon." Well, it was noon and I was invited to this private event. So, I went around the side of the building and found a stairwell and walked up it. At the top the door said, "Exit Only. If you enter, we will make you turn around and leave."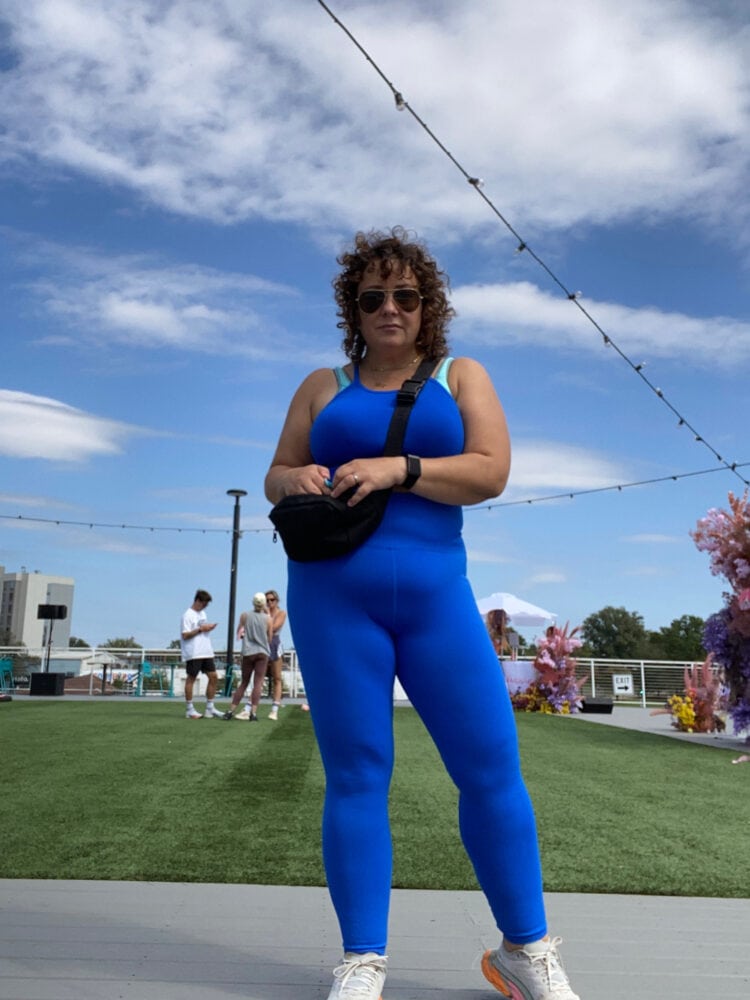 I opened it anyway and reached the rooftop event space. It was gorgeous… and pretty empty. There was a DJ at a booth playing Top 40 dance hits. A wall with the brand name in neon lights set up for selfies. A few folks were rolling up yoga mats on a field of Astroturf. I saw a woman in the same leggings I was wearing. "I thought this event was from 10 to 2, did I miss it?" I asked her. She had on sunglasses, but she looked for a while at me, mouth slightly agape. Then she looked at the Astroturf, then back at me. "Yeah. I'd say you missed it," she said and walked off.
I walked to the other end of the space, where picnic tables were set up. As I got closer, I saw a buffet set up and everyone at the tables was dressed in the brand's activewear. There was a mix of body sizes there; I was not the largest, but I was just one of a few over a size 10. However, as far as those who remained for the lunch, I was absolutely the oldest person on that rooftop. Scratch that, there was a male photographer with silver hair. We were the only two on that roof who were over 35.
I saw a stand offering cocktails. I don't drink very often these days but I sure as hell needed a drink right then. I got in line behind a woman who was likely half my age but was probably around the same clothing size. I said I missed the class, was it good?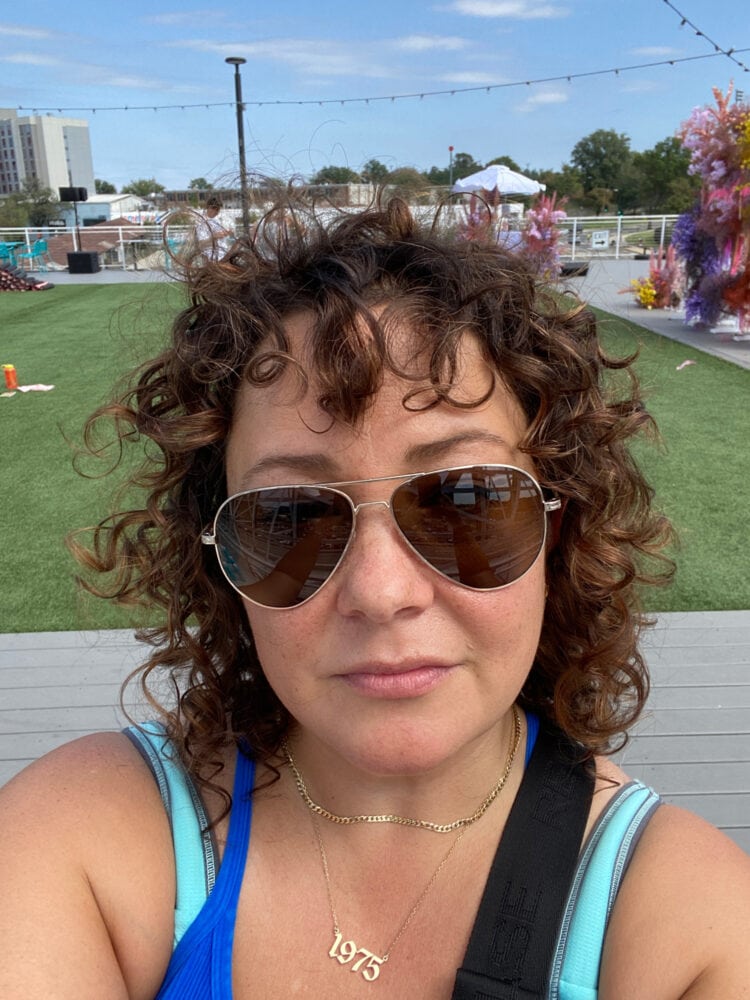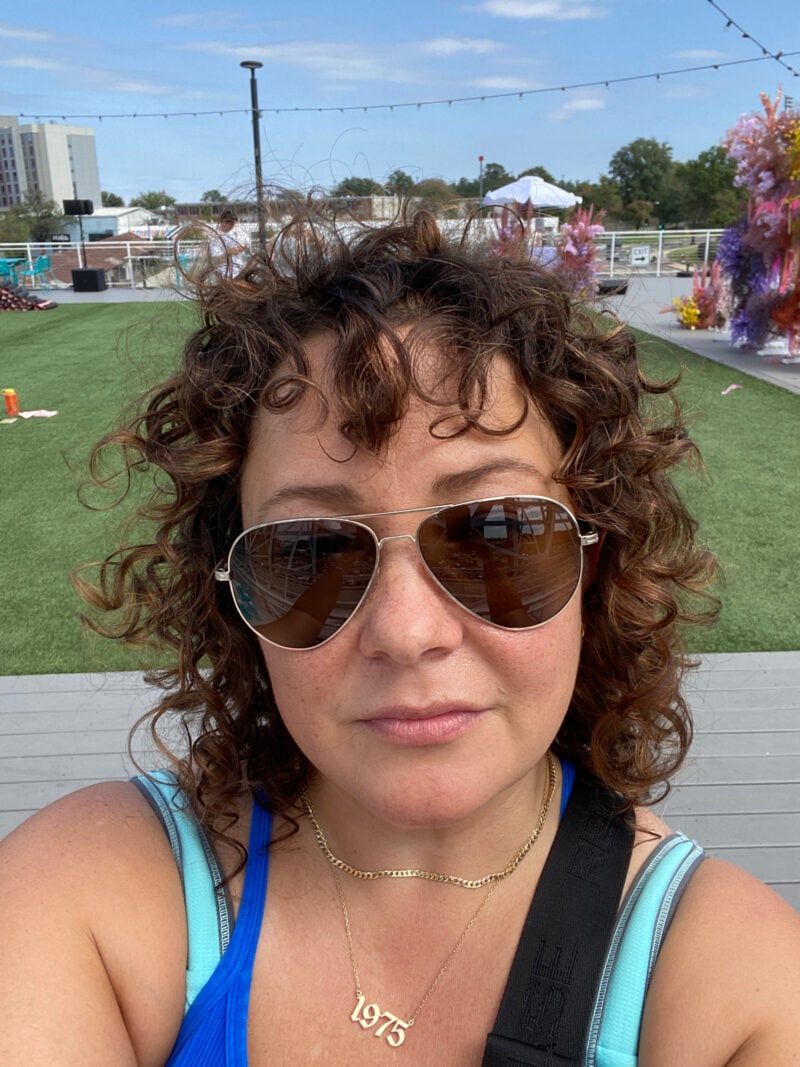 She said, "Yeah I guess…" and I opened my mouth to say something else and she turned around and gave me her back. I was being… a 40-something mom at an event full of people who were young enough to be my daughter's older sister. That may be me, but to these youngins, I was Steve Buscemi.
I figured if I was there, I might as well get something from it, so I took my cocktail over to the buffet to grab a free lunch. A woman was in line before me. She apologized for taking so long to get her food, I told her no stress I wasn't in a rush. I checked out the food. Cut up veggies with hummus and tzatziki, field greens with some Craisins and olives sprinkled in, pita, and dry little mushroom and chicken sandwiches. I felt like I was back in Corporate America having our workshop catered by Panera.
I wore these shittastic leggings for this? At least the tzatziki was full of feta. I grabbed some food, scoped out the tables, and felt transported back to high school. Everyone was in pairs and foursomes, every table was taken except one over near the air conditioner. I saw the woman who was ahead of me in line at the buffet, she was sitting alone.
I asked if I could share her table. She was hesitant but agreed. We ended up having a nice conversation. She shared what I missed and how her invite instructions were drastically different from mine. She went as a non-influencer fan of the brand. On the brand's Instagram, they offered a select number of folks a code that would also get them the free outfit and sneakers. In exchange, they had to attend a single class that started at 9:45am.
After we finished eating, we said goodbye and went our separate ways. I took a last walk around the event. I looked around to see if anyone would take my photo in front of the selfie wall that had the brand's name in neon but no one was there. And I thought… why? Am I really going to promote this brand's non-inclusive poor quality activewear? Am I going to feign excitement for attending an event that I really didn't attend due to no fault of my own?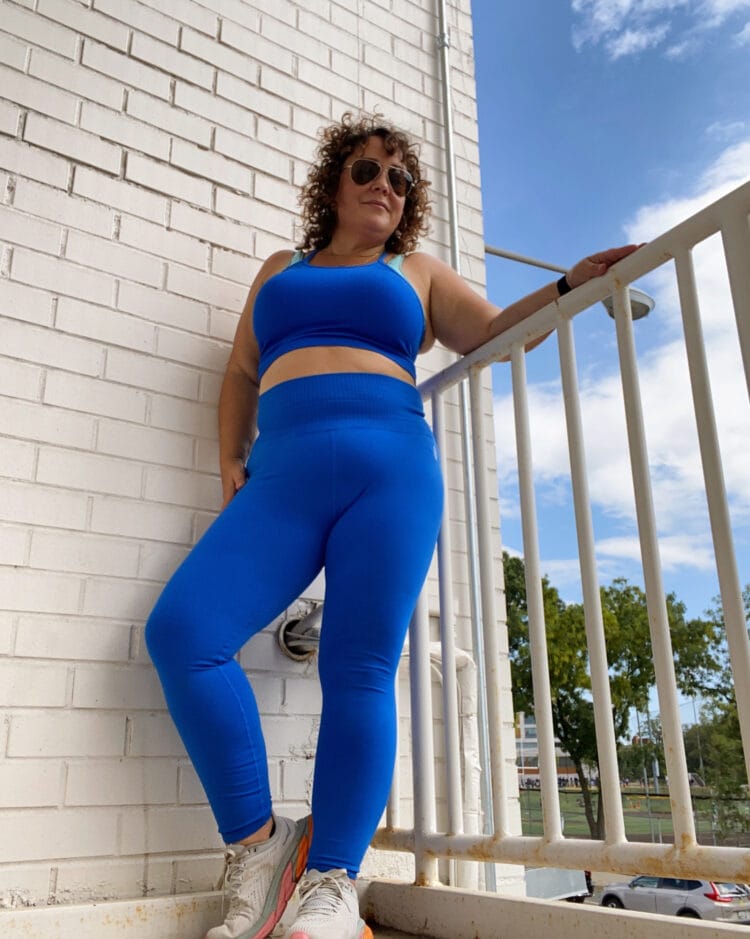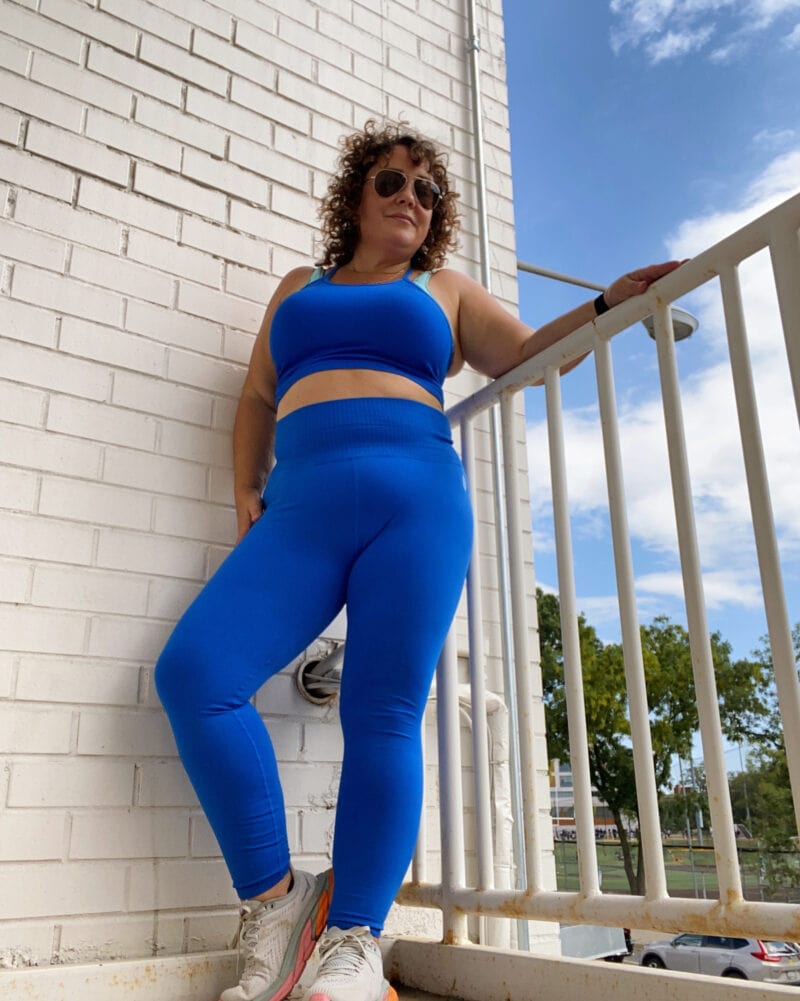 I grabbed one of the swag bags and headed out. I walked back down that stairwell, and halfway down, propped up my phone and took a few photos with the selfie camera, not sure exactly what I was going to do with them. I took myself out to lunch and then headed home. By the time I got home, I was glad I attended. It was an accomplishment.
Sure, I missed the event. Sure, the clothing was terrible. Sure I got myself all into a panic over nothing. But I did it. I did something challenging and scary, even if most of that scariness was all in my mind.
So what's your point, alison?
Maybe I was meant to go to this event not to be the change I wish to see in fitness and influencer marketing, but because I needed to show that we all are going through a difficult time, and getting back out there isn't as easy as it looks on the 'gram. Several of you followed me sharing this event in real-time when it happened last month; you shared it was heartening to see even I can feel awkward AF at social events. Maybe by being vulnerable I am also being the change. This was the challenge I needed, and I needed to share it just like my fitness accomplishments.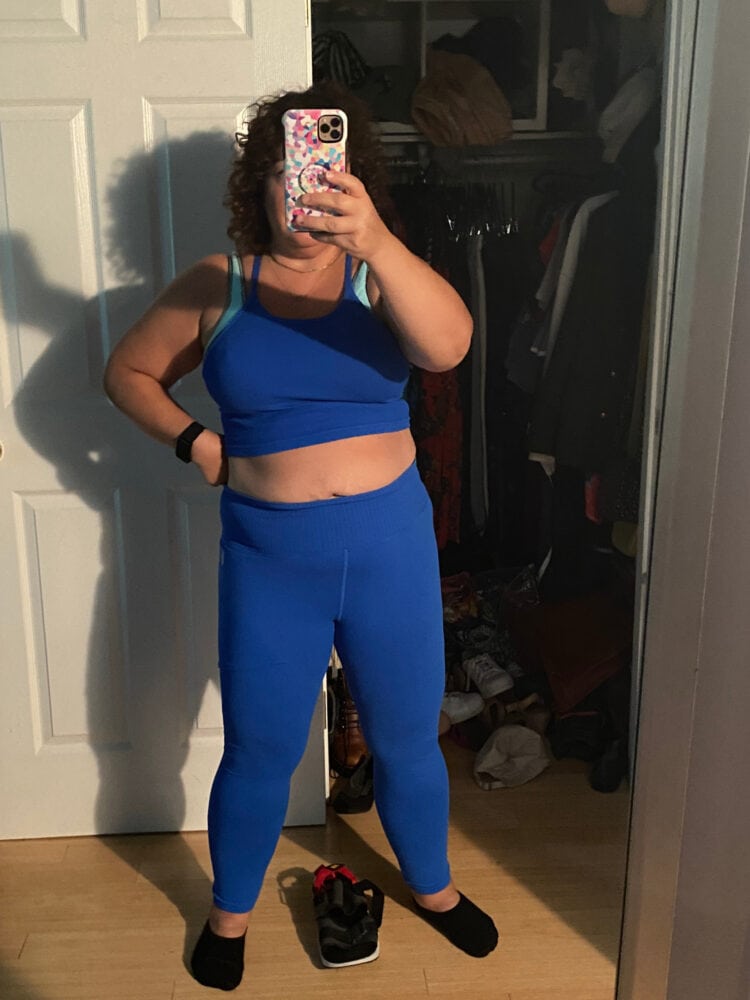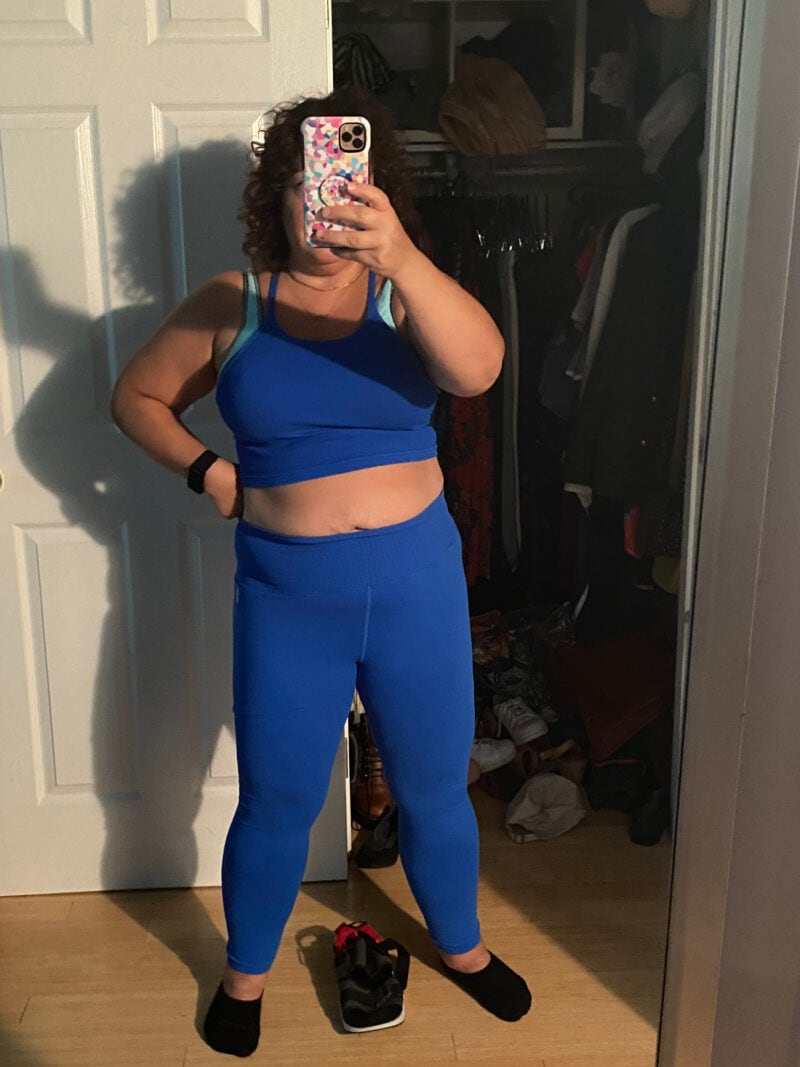 Every so often, we have to do challenging things so we can be reminded of how amazing we are. PeloFondo, when I rode 50 miles in one day, was one of those challenges, and the power of accomplishing it buoyed me for weeks after. But challenges don't have to be feats of physical strength. Putting on these shitty leggings, leaving my house after almost two years of being primarily at home, going to an event where I knew no one… those are also feats of strength.
These challenges don't have to be shared on the 'gram, you don't have to receive a medal or participation trophy. These can be private challenges that are accepted and accomplished for just yourself. But especially as we get older, we need to seek them out on a regular basis.
I was able to have the confidence to go to this event because of previous challenges I survived. And now I have survived this different kind of challenge which will give me the confidence for the next challenge presented to me.
Strength is not determined by size. You are stronger than you know, and sure as hell stronger than anyone around you recognizes. It's easy to forget how strong you are when life is sapping all your reserves. This has been a hell of a year+ and it's not ending anytime soon.
We need to protect our hearts, we need to rest, we need to care for ourselves. But we also need challenges to remind ourselves of how far we have come and how much further we can go. Because we are badasses. We may be stealth about it, but truthfully the only person who needs to know is you.