This article may contain affiliate links; if you click on a shopping link and make a purchase I may receive a commission. As an Amazon Associate, I earn from qualifying purchases. 
I got a new bag! After buying that stupidly overpriced Isabel Marant bag and returning it, I knew I wanted a more upscale belt bag for fall and winter. This is the Brandon Blackwood belt bag called the "Braulio." It comes in several colors, I liked the idea of the white color being a contrast with the darker colors often worn for fall and winter. Also as I mentioned in this blog post, white bags make it easy to style with any color of shoe or other leather accessories.
Below I review my Brandon Blackwood belt bag, but I also delve into this actual outfit, what I'm wearing, why I put them together, and all that jazz.
Brandon Blackwood Belt Bag Review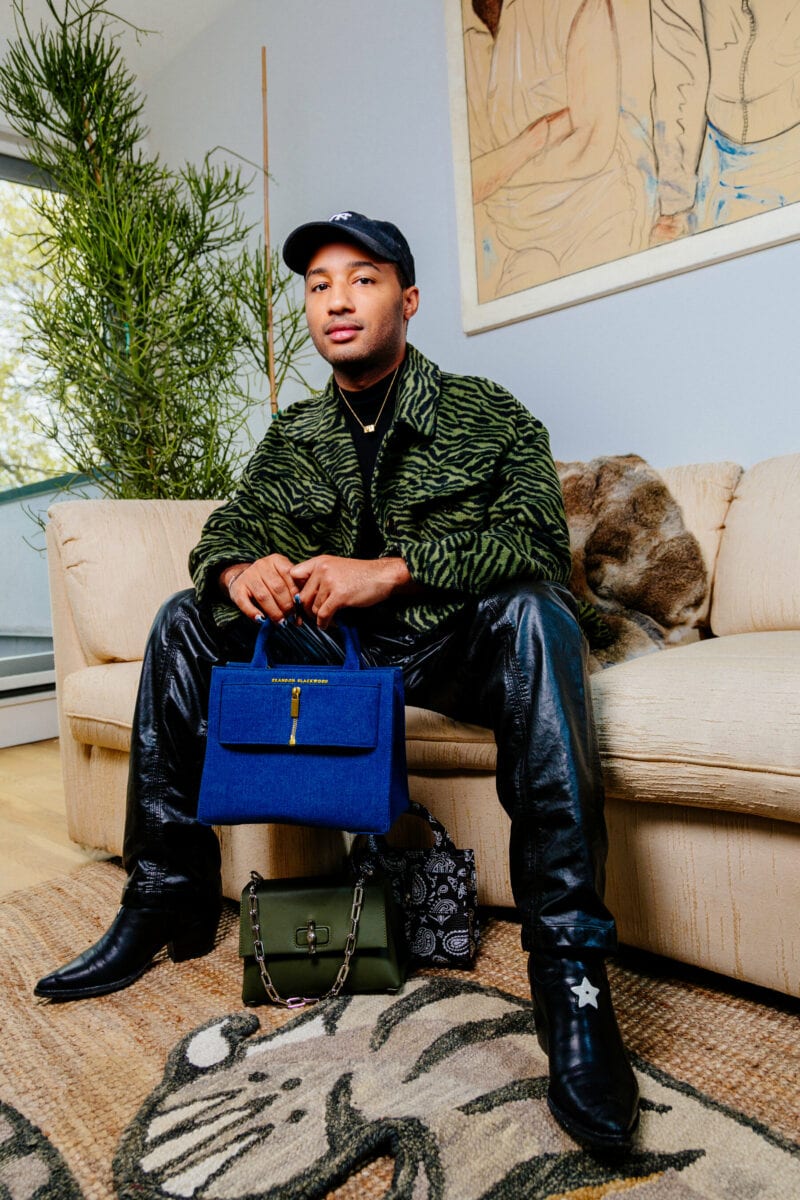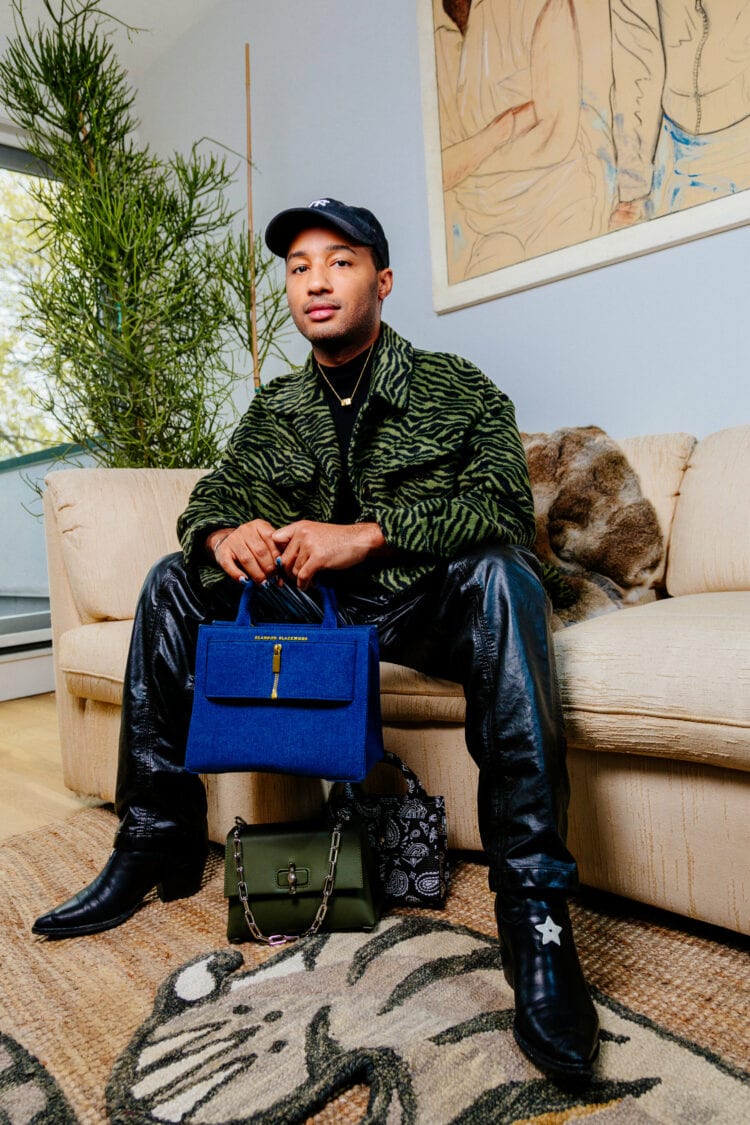 Brandon Blackwood is a Brooklyn, NY bag designer of Jamaican and Chinese descent. Prior to becoming a designer, Blackwood studied neuroscience at Bard College (though he ended up with a degree in American Studies and wrote his thesis on the DVF wrap dress). After college, he got a job with Crossroads Trading as a buyer and that was his introduction to the fashion world and those who worked in it.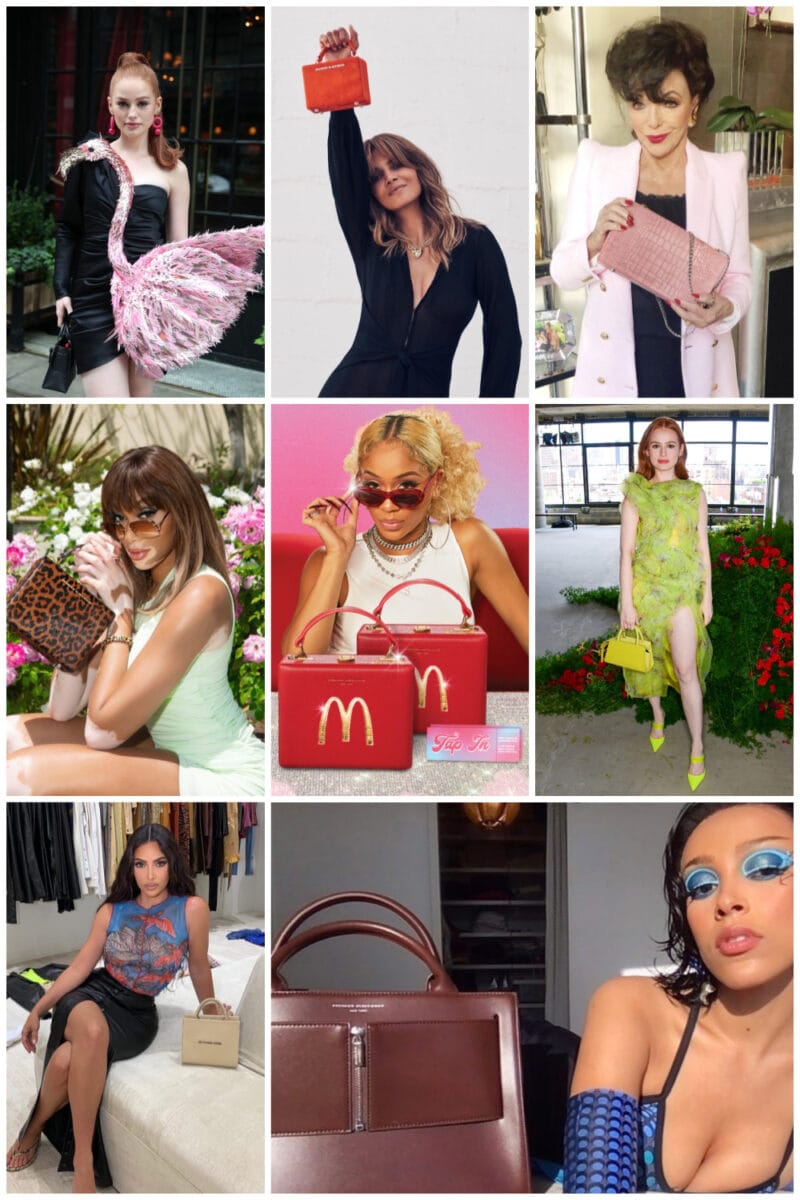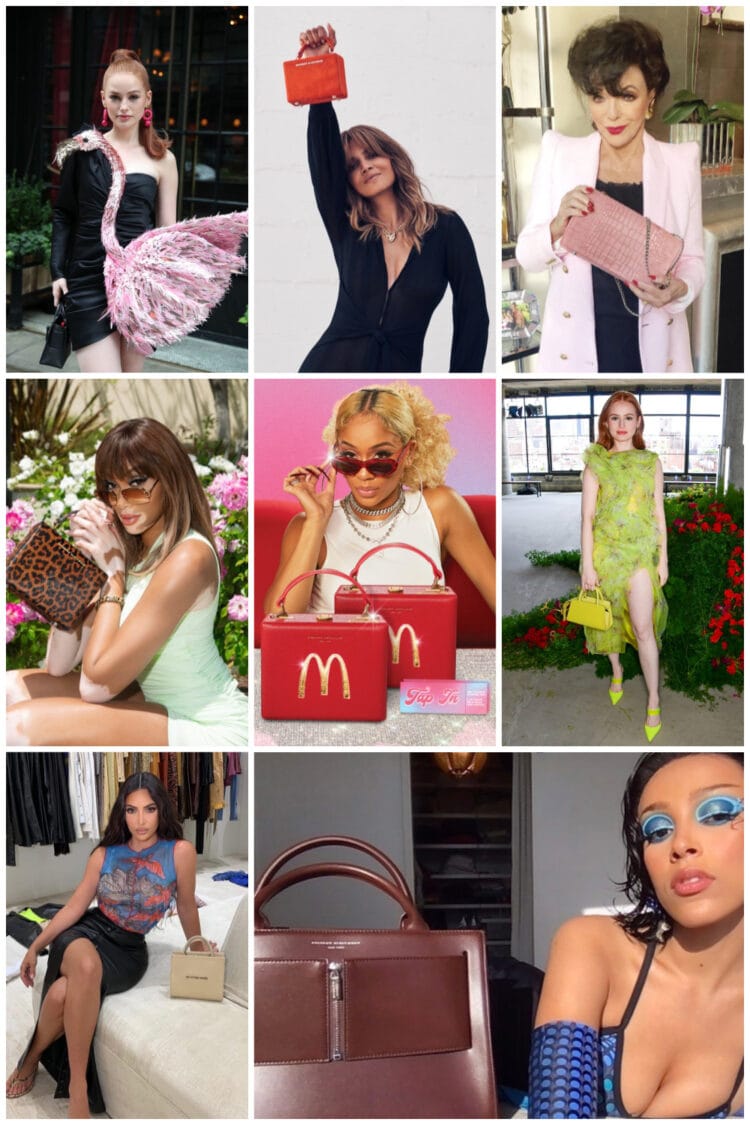 Blackwood began selling bags in 2015 and now he sells up to 8,000 bags a month from his website. He became famous/went viral for his ESR/end systemic racism tote (which is no longer available on his site but you can find a few on StockX and eBay) but has expanded his line to have stylish bags in a range of styles seen on celebs such as Halle Berry, Saweetie, Kim Kardashian, Joan Collins, and Doja Cat.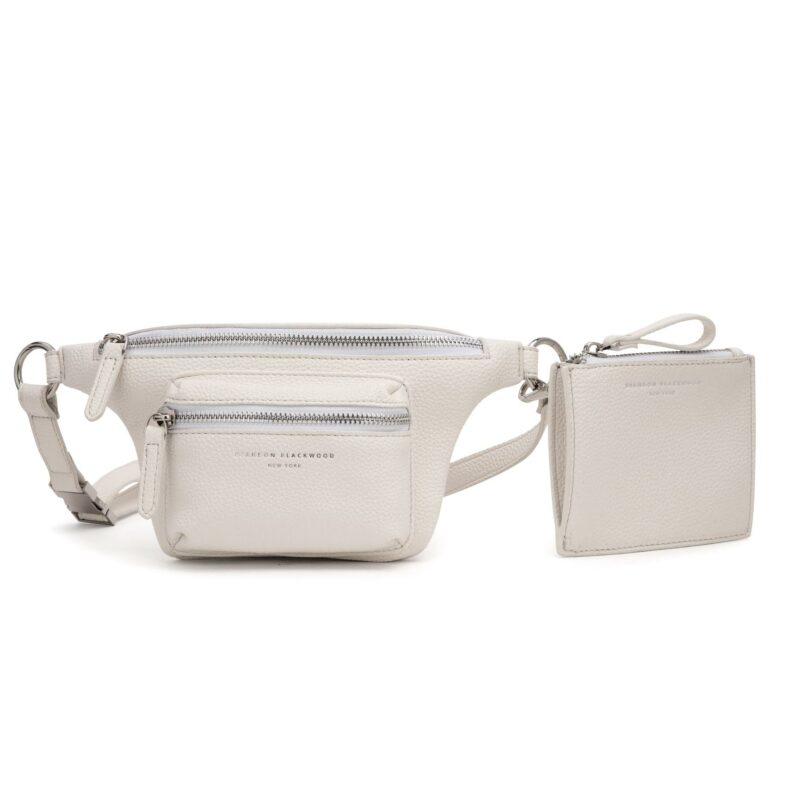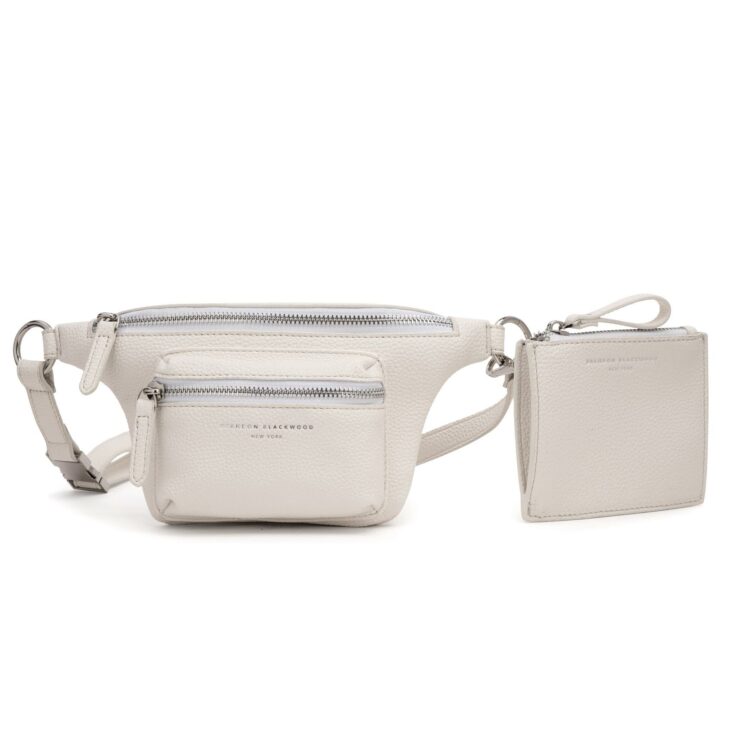 This bag is made from vegan leather with nylon tonal stitching and shiny silver hardware. "BRANDON BLACKWOOD NEW YORK" is embossed in silver on both the belt bag and the detachable change purse. The bag is 10″ wide, 5″ tall, and 3″ deep.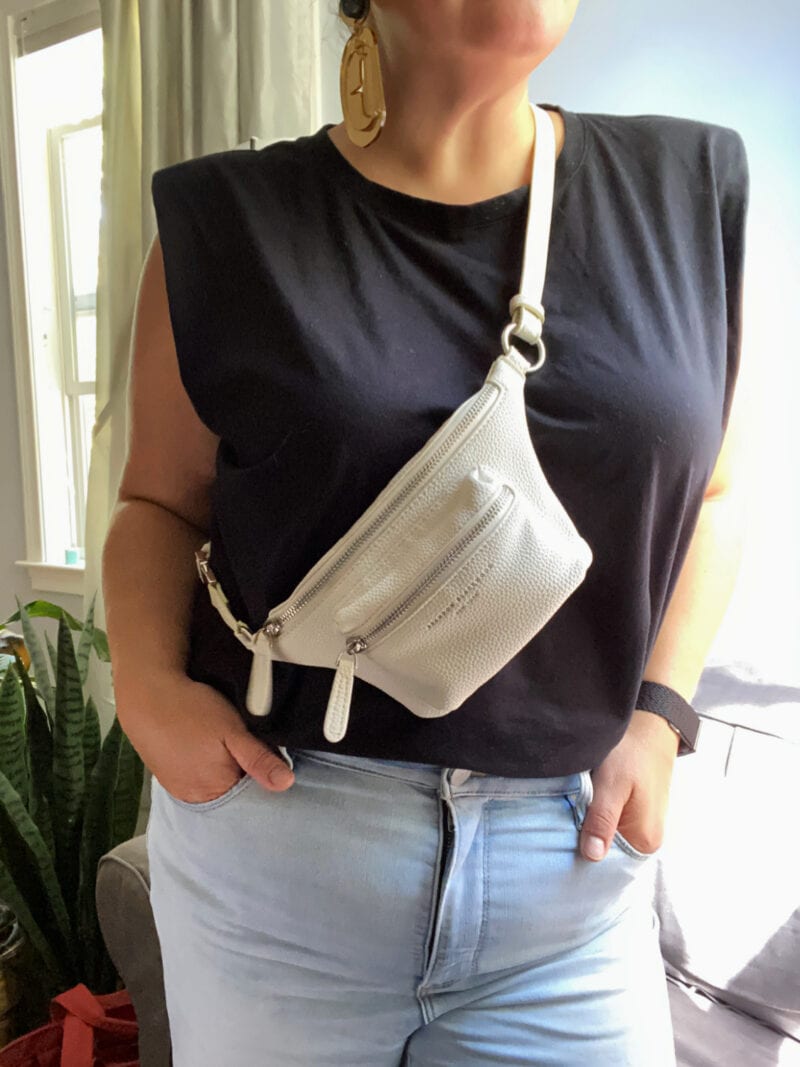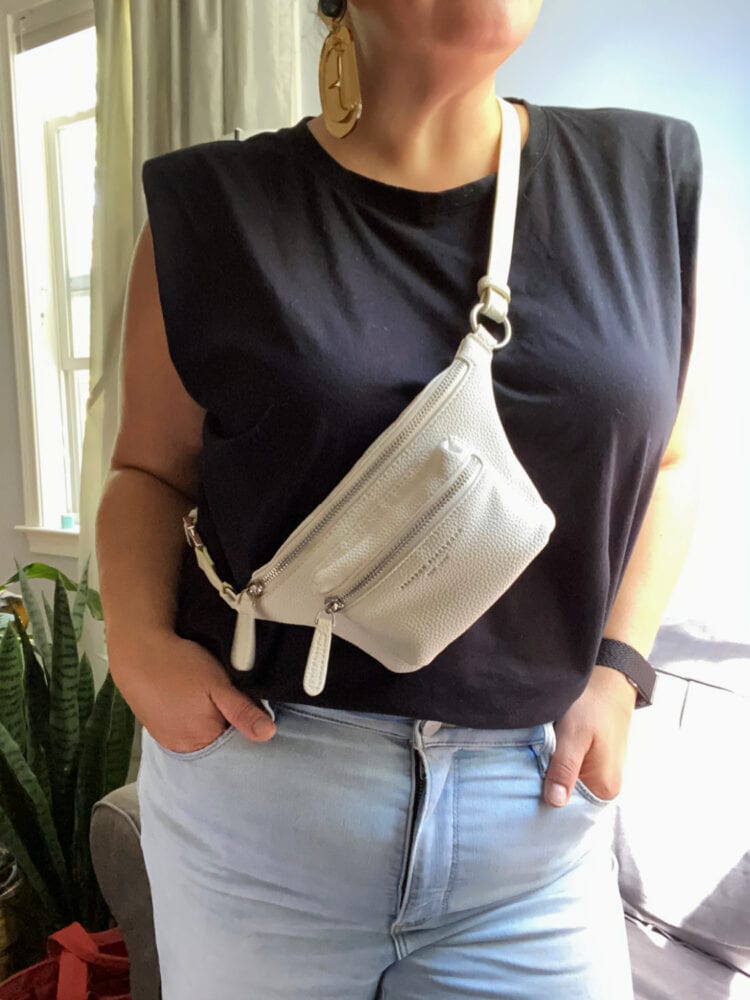 The belt bag has an adjustable strap that is far more size-inclusive than the one I tried from Isabel Marant. I am able to get it to 48″ long without ruining the style or functionality and it stays in place and doesn't slide bigger or smaller. I am wearing it around 45″ as a crossbody.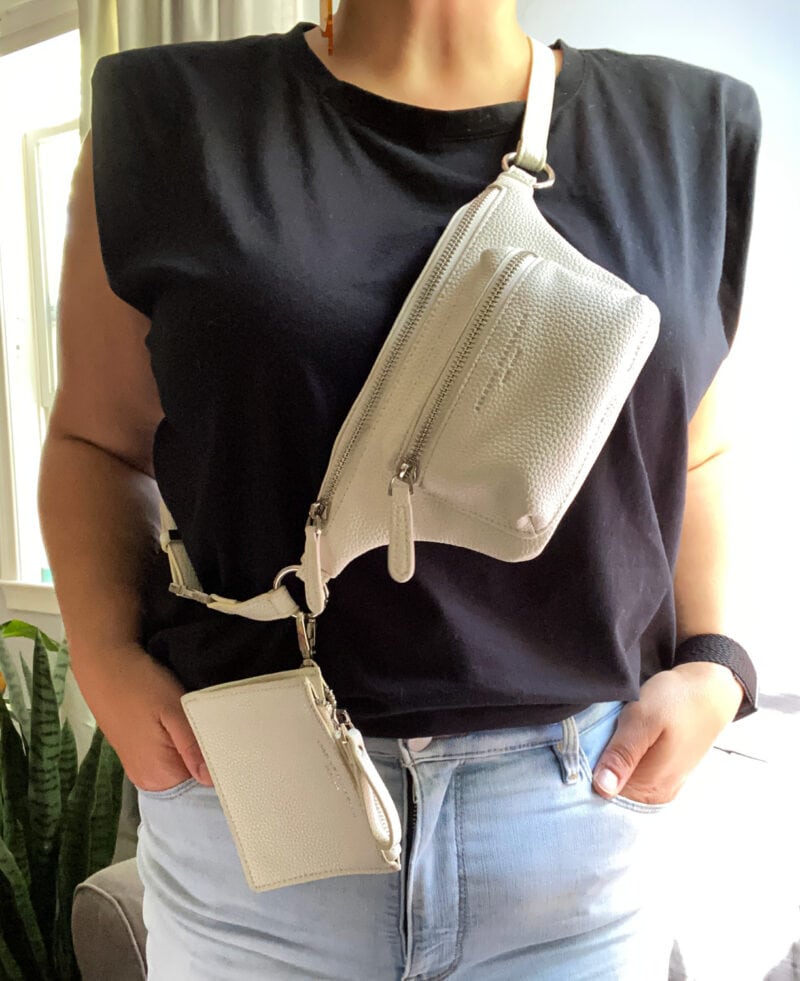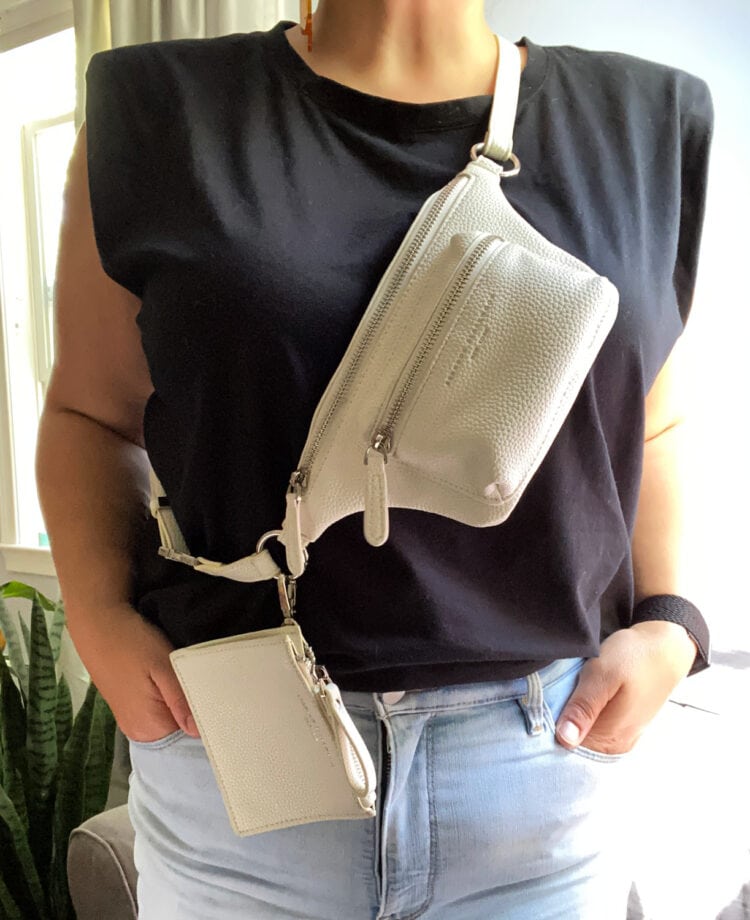 This Brandon Blackwood belt bag is small; if I put my iPhone Max with a thick case in it I can fit very little else. But on this day in these photos, I kept my phone in my pocket and in the belt bag I had my mask, my card holder wallet, lip balm, sunglasses, and my keys. It also comes with a small change purse you can carry inside as a mini wallet or clip to one of the rings.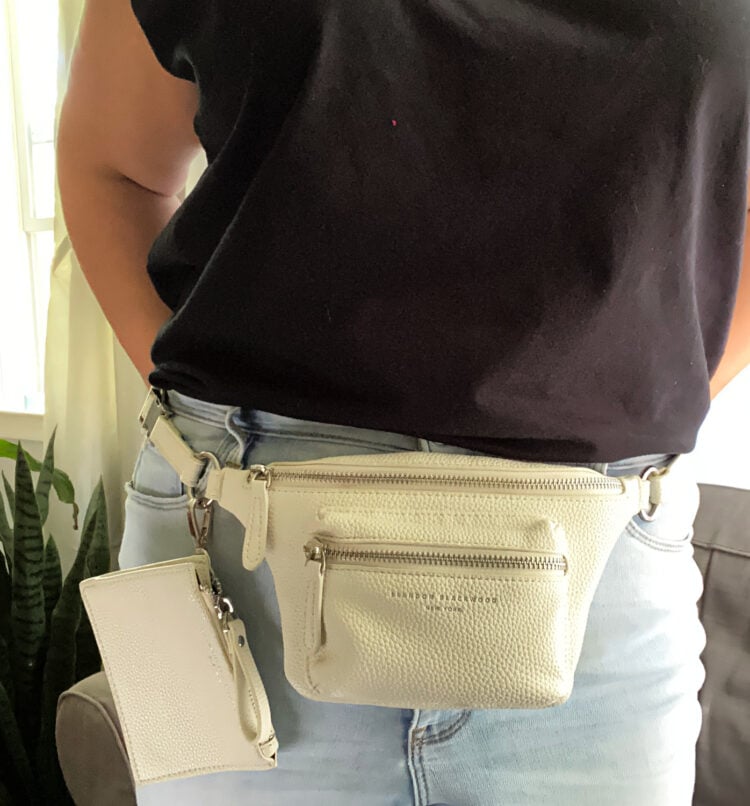 The photos on the site made me think maybe the little extra bag with the clip would possibly hang in the same direction as the pouch, but it hangs in a weird way that I think takes away from the design of the bag. It's not as bad when worn as a crossbody, but I still feel it ruins the design a bit. I haven't worn it out of the house with the smaller bag clipped on.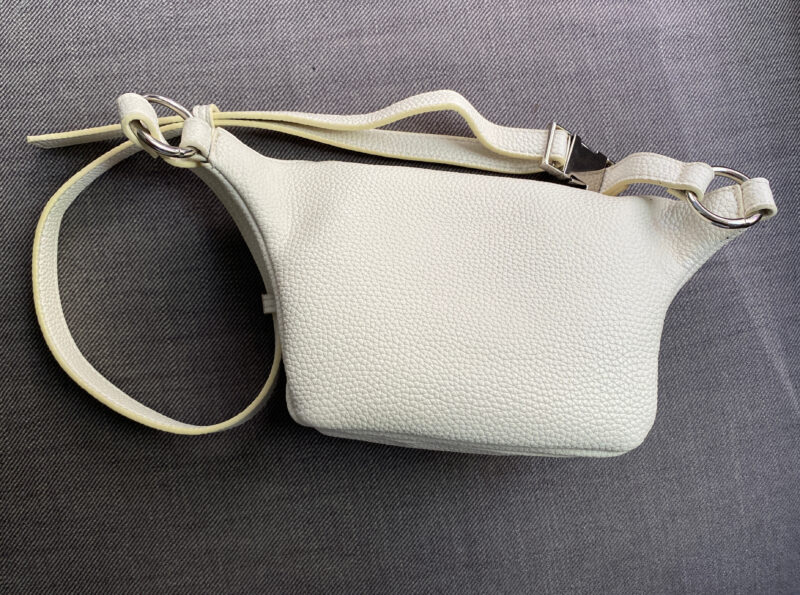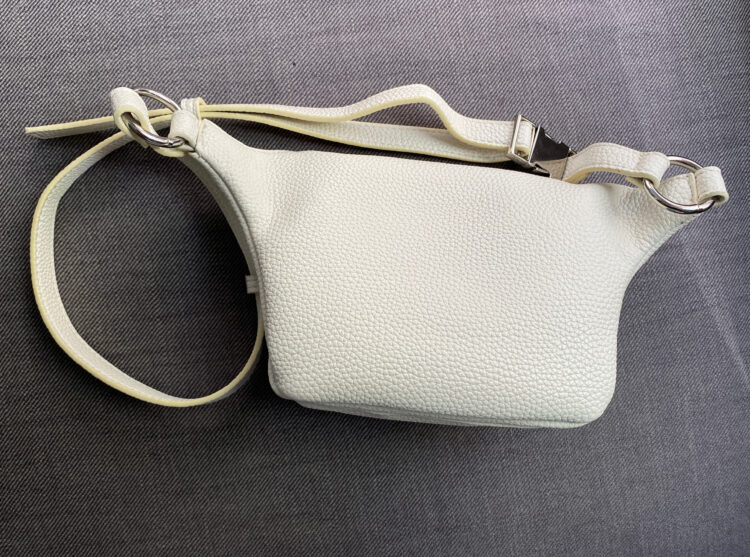 That doesn't mean I don't like the bag. I like it very much and its size is what I desired for a fashion, not just function bag. I have my Girlfriend Collective belt bag which holds a ton; my desire was something very different from it and I found it!
As for the Rest of the Outfit…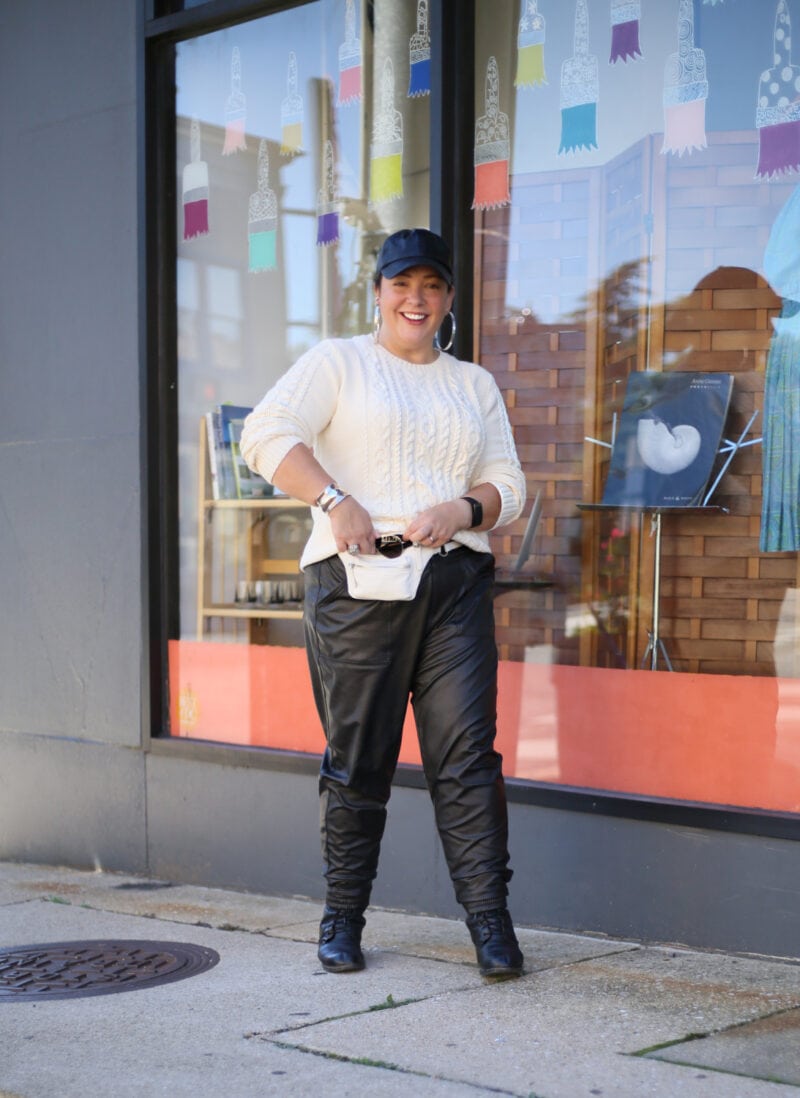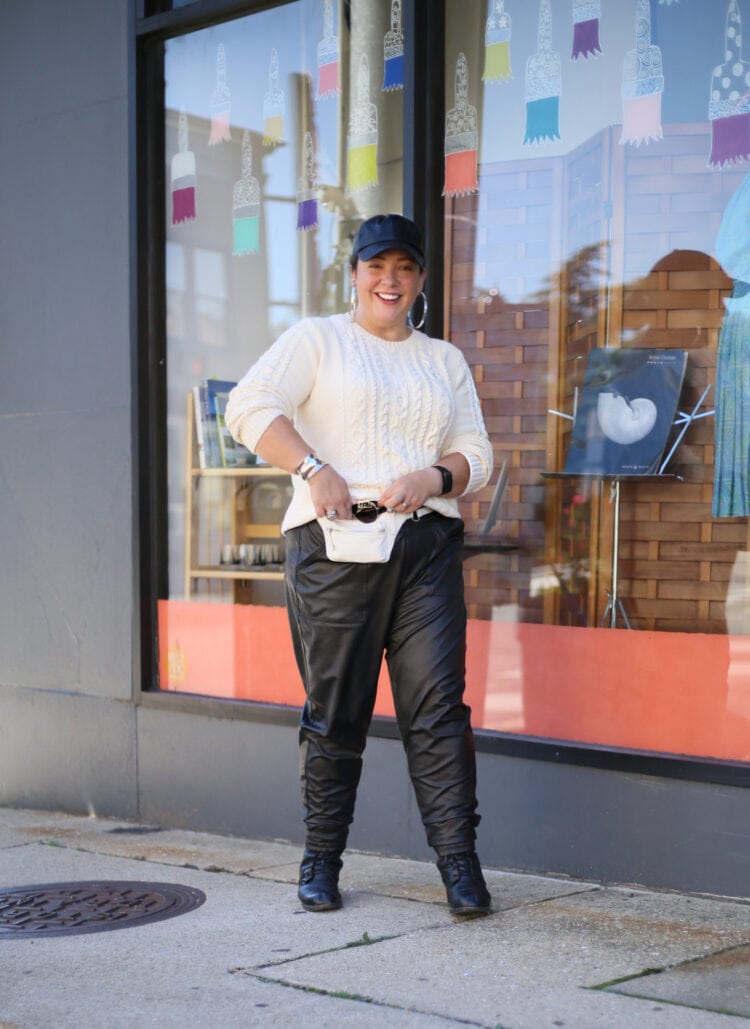 I bought these faux leather joggers last year but they're still available and come in sizes XS-3X. I recently updated my Spanx faux leather joggers review and shared how I find these pants to be comfy, stylish, and great quality. Finally, the temps are low enough that I can start styling them again for fall and winter! Here I style them with a few pieces you've seen before (and a new bag).
This is the L.L.Bean mixed-cable sweater you recently saw in this outfit post. Actually, this is a new version of the same sweater. I wanted to go up a size to have it more slouchy, so this one is an XL while the one in the last post is an L. I passed down my old one to my daughter and it's the perfect oversized wear with leggings and Doc Martens fit for her.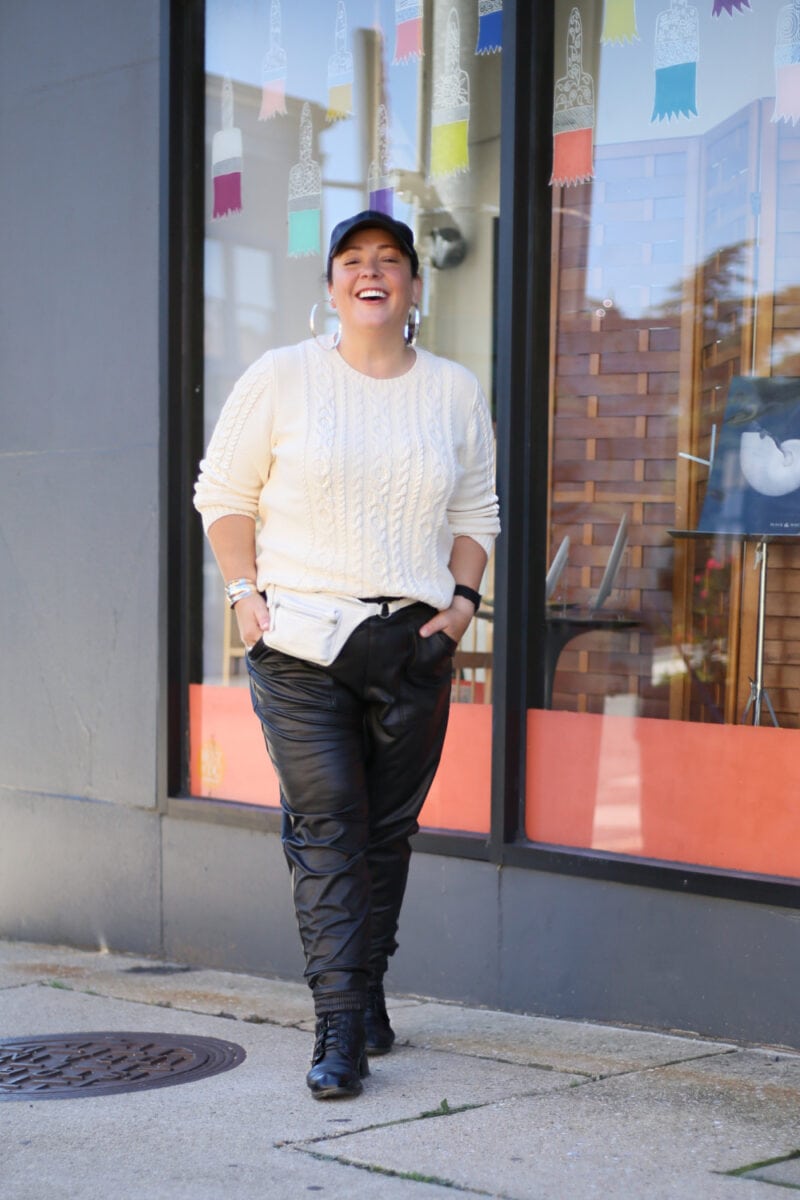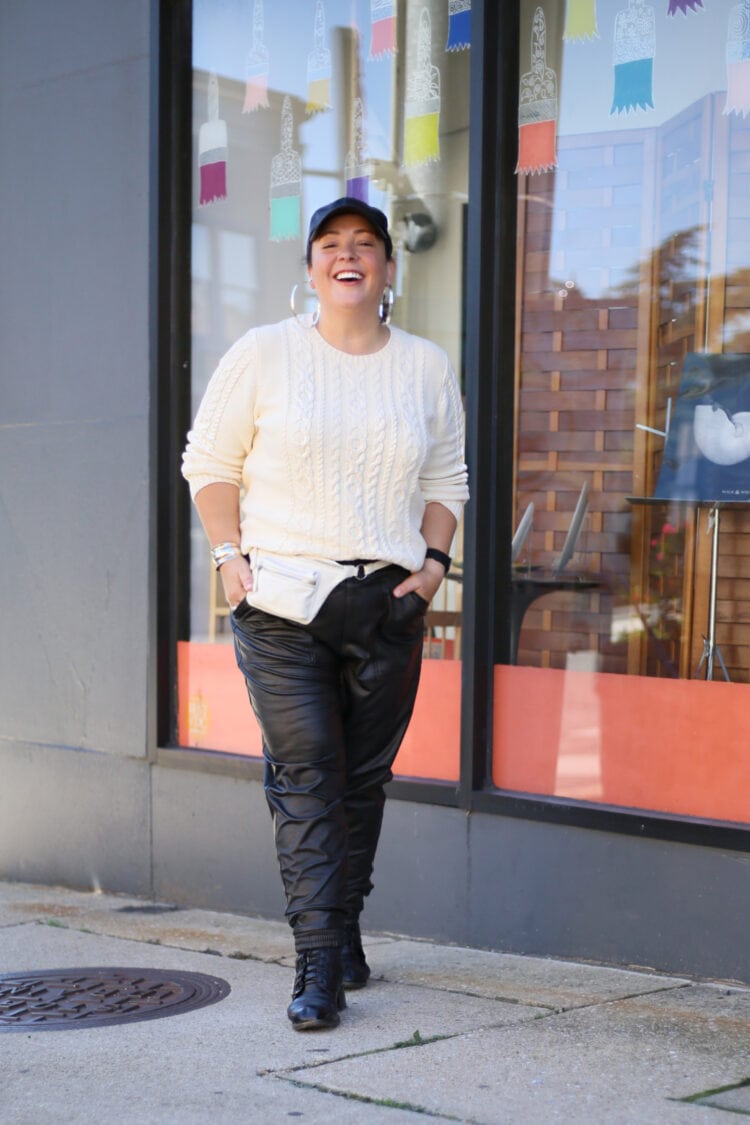 The joggers have been washed at least a dozen times and still look and perform great. I wore them a LOT last year and know I will be wearing them a LOT this year too! The boots are these from La Canadienne. This is my third year with them. I need to take them to get resoled and polished up but they still continue to be a great buy. I added these insoles which makes them super comfortable while being waterproof and versatile!
The hat I picked up at Target when I went to Fire Island in August. When the hurricane was heading to the island, we headed to the mainland to a hotel. I stopped in a Target for some provisions and since I left my hat at the beach house, picked up this faux leather one to cover bedhead. I liked that the faux leather would offer a bit of rain protection while also looking like nothing else back home in my closet. It's dressier than a standard ballcap and works with weekend looks like this one!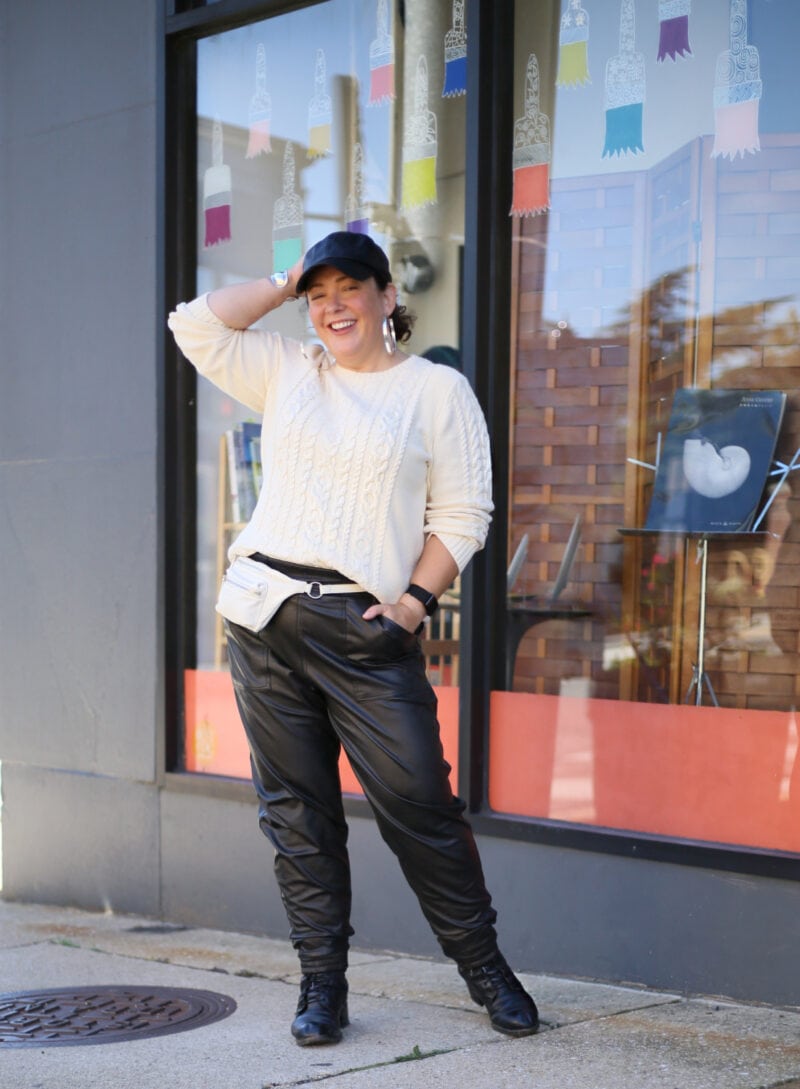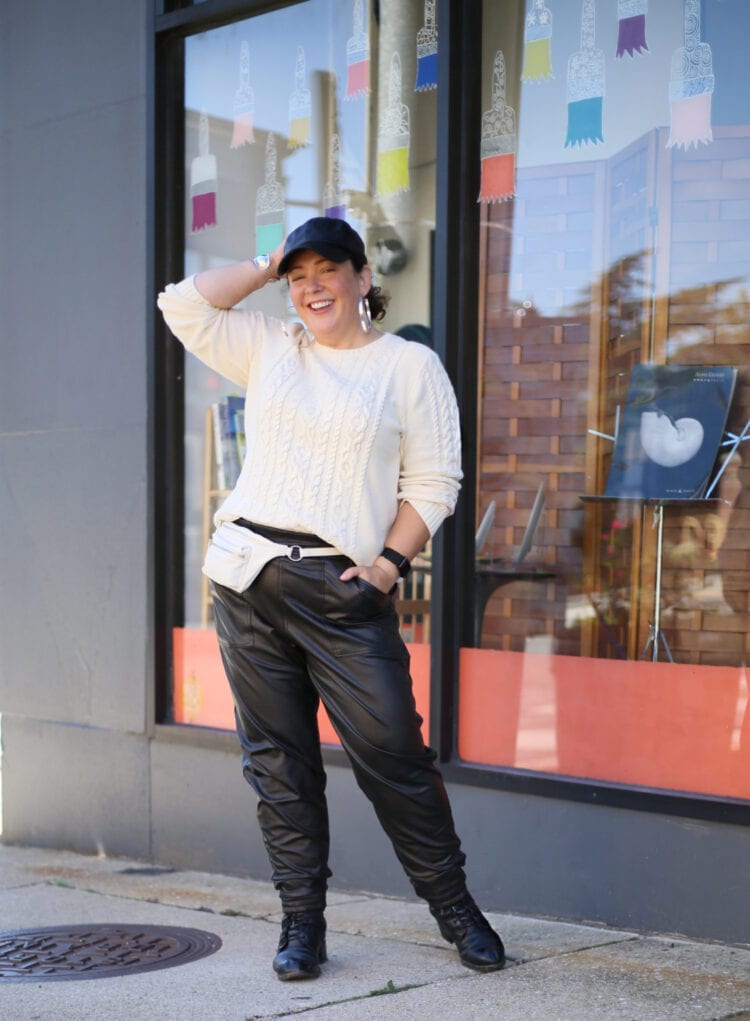 The earrings are Jenny Bird and several years old. The brand seems to be going in a more… delicate direction but I found a similar style of hoops on Etsy. The cuff I bought back in 1997; this one is similar.
Shop the Look: