This article may contain affiliate links; if you click on a shopping link and make a purchase I may receive a commission. As an Amazon Associate, I earn from qualifying purchases.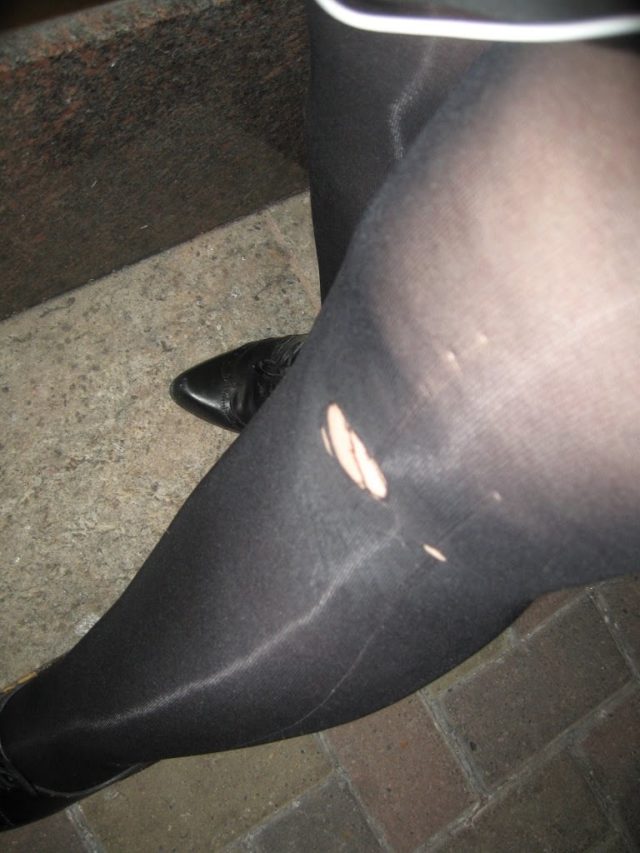 I guess it was inevitable. I have gone through tights season thus far without a snag, a pull, a tear. I wear them with slippery pumps, sky-high heels and walk proud, feeling that I have overcome my clumsiness and will enter spring with a perfect pair of legwear.
Ha! Said the tights gods, as I busted my ass on 18th Street.
Luckily, no shoe damage, just to my pride as several people gasped and ran to help me up and pull me to safety (I was running to beat a light at a crosswalk). Yeah, I'm chic. I hobbled to the Metro with my dinged-up tights on display for all.
Then today. It was warm in the office yesterday, so I feel safe in pulling out the short sleeves.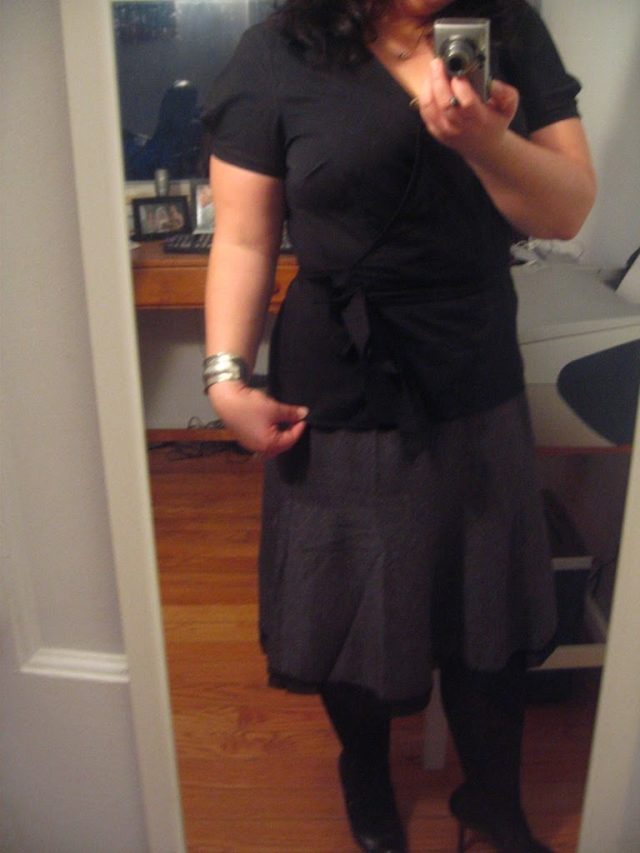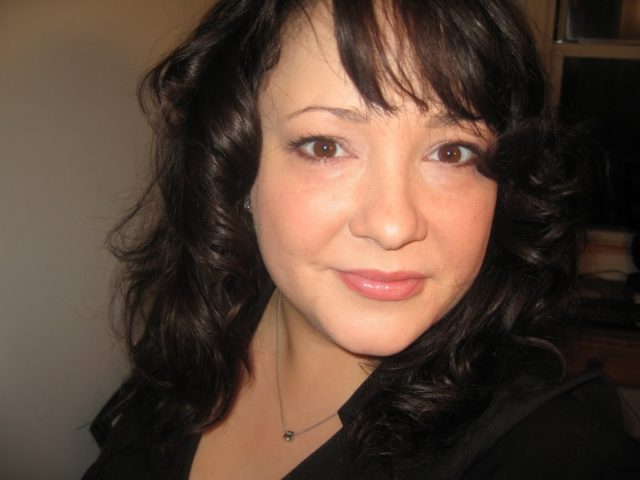 Black cotton wrap shirt from Ann Taylor, black and ivory tweedy bias skirt with chiffon trim thanks to Silhouettes (freebie), black tights from DKNY, black "Henri" round-toe pumps from Jessica Simpson, silver cuff, white gold and diamond posts and necklace from the hubby back before we were even engaged. Would like this skirt far better with bare legs, but it is around 30 degrees out so I slipped on the tights.
The tights were hand washed and hung over a plastic hanger to dry after their first wear. Pulled them over one leg just fine, the second one… tiny runs everywhere around the leg, stemming from where the leg connects to the control top. WTF? I dig through my drawer but the only other tights clean are plum or argyle. I grab the clear nailpolish and do damage control, figuring the skirt is long enough to cover the runs.
Oh, hair is second day, gently brushed and then a curling iron to a few large sections and then finger combed.
Makeup is Napoleon Perdis primer, L'Oreal True Match concealer in W1-3, philosophy The Supernatural in Beige (compare my skin here to yesterday and see why I swear by this stuff!), Cargo Matte BeachBlush in Tenerife, a light dusting of Smashbox Soft Lights in Tint on cheekbones, Body Shop's Shimmer Cubes in Warmth – peach over lid, chocolate in crease and along lash lines. Lashes curled and two coats of Cover Girl Lash Blast in black and on lips is Revlon Super Lustrous Lip Gloss in Glossy Rose. Lipgloss is not going outside the lines, hives came back this morning and have one on my lipline as well as a few on the jawline. Lovely.
So anyhoo, put on my aqua pashmina and black quilted coat and headed out the door. Scraped the ice off the windshield, got in my car and felt a run now on the left (run-free) leg head toward my knee. Lick my finger and dab on the run, somehow thinking my saliva is a stiff and sticky as nailpolish (um, no) and say "screw it!" and head to the Metro. Walking to the station, I look down and don't see any runs and feel pretty good, but realize my tights are starting to sag, and my shoes feel too big with the smoothness of legwear and are slipping around. I scrunch my toes to keep my pumps on and slowly walk to the station.
All is good, get my train, transfer fine without busting my butt on the escalator, get to my station, go up the escalator and suddenly I feel a run going down my right leg. My shoes are stretching out, heels slipping all over and my right pinky toe is crying in pain. I slowly walk/hobble to work and take the elevator to my floor, fearing an accident on the concrete stairs.
Think I will be doing some shopping on my lunch break… I am down to only one pair of black tights now and they already have repairs from last year with nailpolish.
Happy Friday everyone! I am happy that I sit at a desk with my legs covered, have no meetings today, and have a date this evening with my husband! Tights, shmights!