This article may contain affiliate links; if you click on a shopping link and make a purchase I may receive a commission. As an Amazon Associate, I earn from qualifying purchases.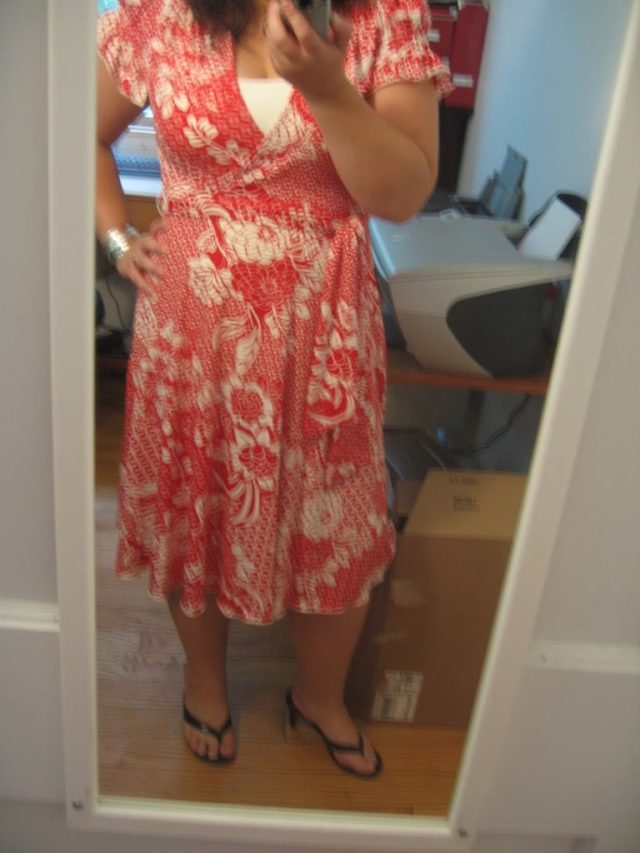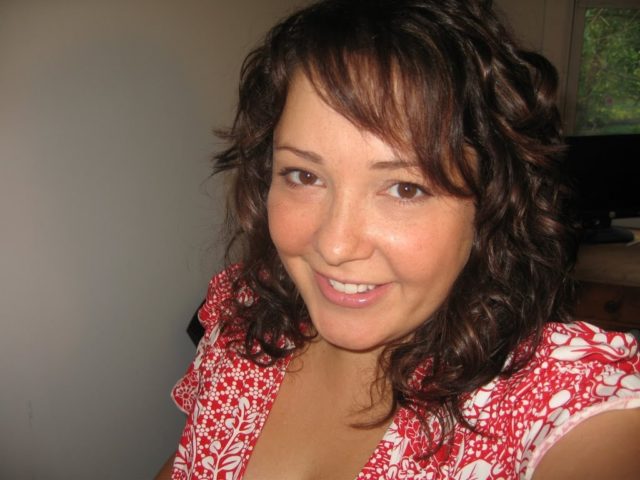 Ivory and red print synthetic jersey dress from eci. Faux wrap with separate self-belt. Ivory synthetic camisole from New York & Company. Black leather thong heels from Mossimo, silver cuff bracelet.
Hair is washed and conditioned, then a pea-sized amount of Jonathan Silky Dirt applied while wet. I then twisted sections and tucked into the diffuser on my hair dryer to let dry about 90% and then let it air dry the rest of the way. Used a curling iron on a few unruly pieces and to even out the bangs. Should have used a bit more Silky Dirt when dry but was running late – think it would have tamed the frizziness and added definition to the bangs.
Makeup is L'Oreal True Match concealer in W4-5 under eyes, around nose and mouth. Chanel pressed powder in Nautral lightly applied to set the face. On cheeks is Cargo Matte Beach blush in Tenerife. Eyes is Pop Beauty Eye Class for brown eyes – neutral apricot over entire lid, russet rose sheen along lower lash line and in crease, cranberry along top lash line. Lashes curled, two coats of Max Factor Lash Perfection in black. On lips is Body Shop Liquid Lip Color in Sparkling Pink.
New makeup! I went to Sephora with the beautiful and talented Toya. She gave me the grand tour of the shop, telling me which products and brands she really likes. I bought things I normally would not purchase (such as this shadow duo) and actually like it. The Pop Beauty shadow collection is NOT my normal cup of tea – would never think I could wear such colors but they are surprisingly flattering (though think the cranberry would probably be better farther from my actual eye – a bit too red for my skintone and for daytime. But the other colors are pretty and they seem to last quite well.
New clothing! This is why I do NOT go into malls on a regular basis any more. Nordstrom was having their Anniversary Sale and I went into the petites section because I had a few minutes before I met Toya (and her utterly charming daughter). Found this dress on sale and thought it was tres cute and girly. Then did some damage at Sephora as you can see (yes, also got the Silky Dirt… I believe it was Shell who recommended it? Well the salesperson also raved about it so decided to try it and like it very much thus far!). I then planned on leaving the mall, but stopped by to visit my friend who works for Ann Taylor and left with two shirts (you shall see them probably next week). Had a 15% coupon so not as awful, but I still felt guilty for spending so much. Finally I stopped off in New York & Company for a cami to go under the dress for work (for play I think it will be fine with a strategically placed safety pin) and found this cami on sale over 50% off and other insane sales. Was strong and left with just this one item, but if you are looking for some staples (less than $10 for this heavyweight, shelf-bra cami with adjustable straps – a few other basic colors available) or fun stuff (lady in line in front of me bought a pair of nice looking jeans for $5.99!) you should stop by your closest location.