This article may contain affiliate links; if you click on a shopping link and make a purchase I may receive a commission. As an Amazon Associate, I earn from qualifying purchases.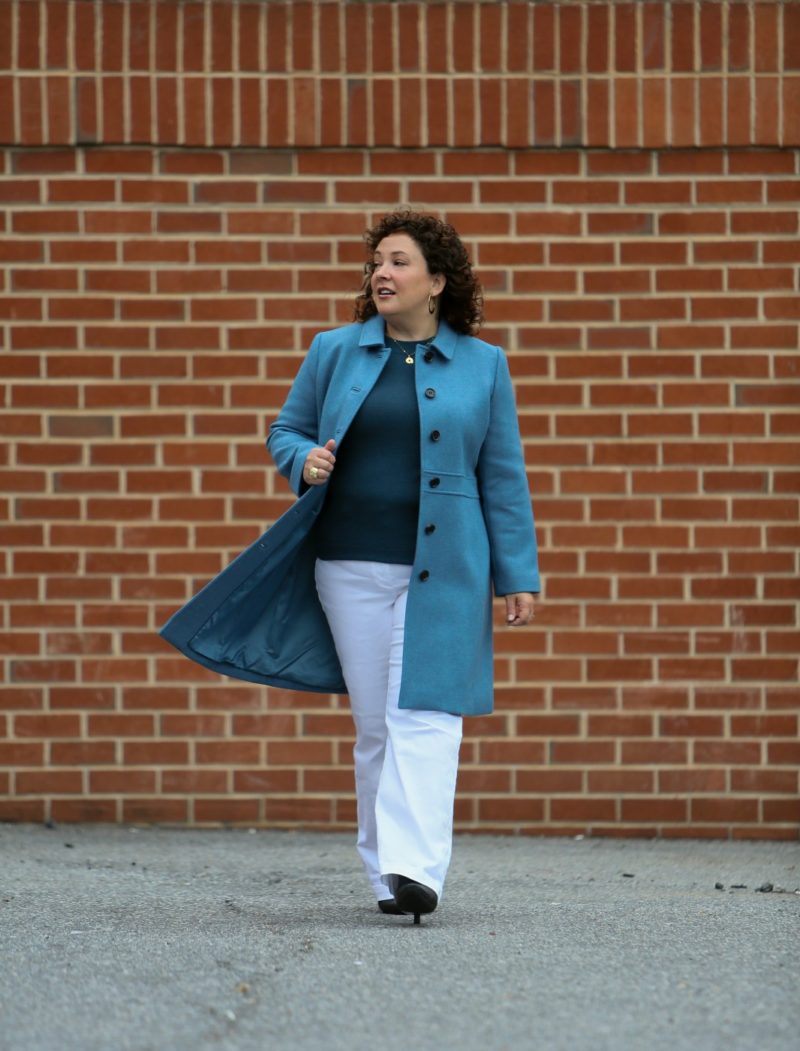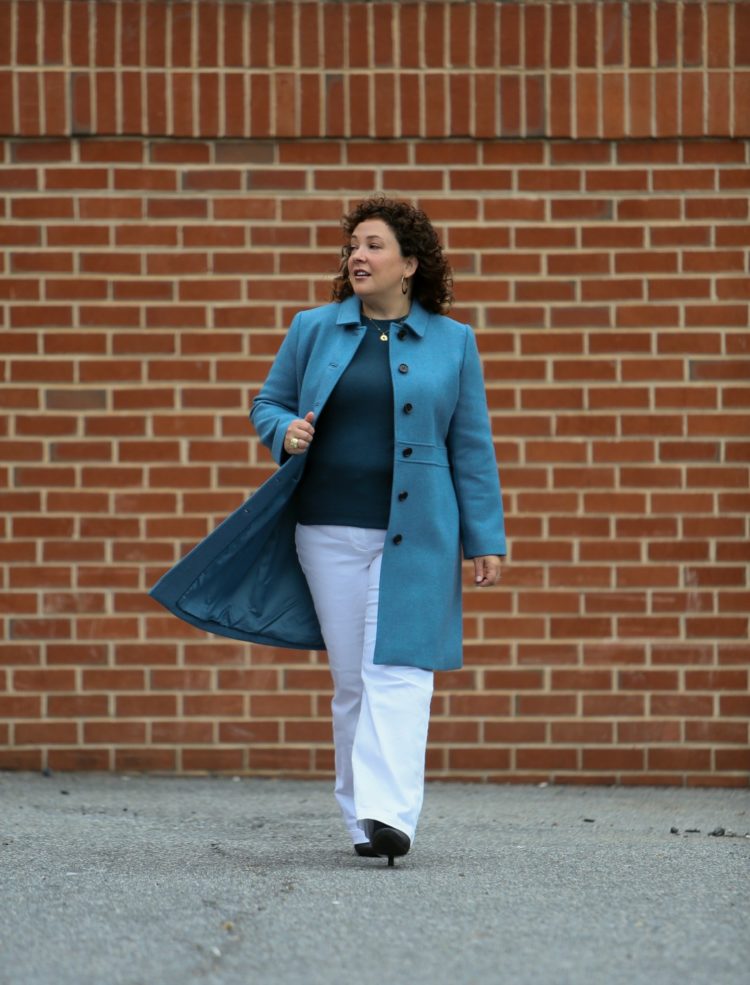 Friday was amazing.  It felt like camping weather.  I pulled out a hoodie to wear to yoga.  A hoodie!  I call these kinds of days faux fall. So when I received a box in the mail from Talbots that included a wool coat and cashmere sweater I felt Mother Nature was giving me permission to style them.  But since it is just a week after Labor Day, I wanted it to feel seasonally appropriate, AKA transitional dressing.  My favorite way of accomplishing that?  Pairing wintry fabrics with summery white, in this case, these white denim trouser from Talbots, previously seen in this blog post.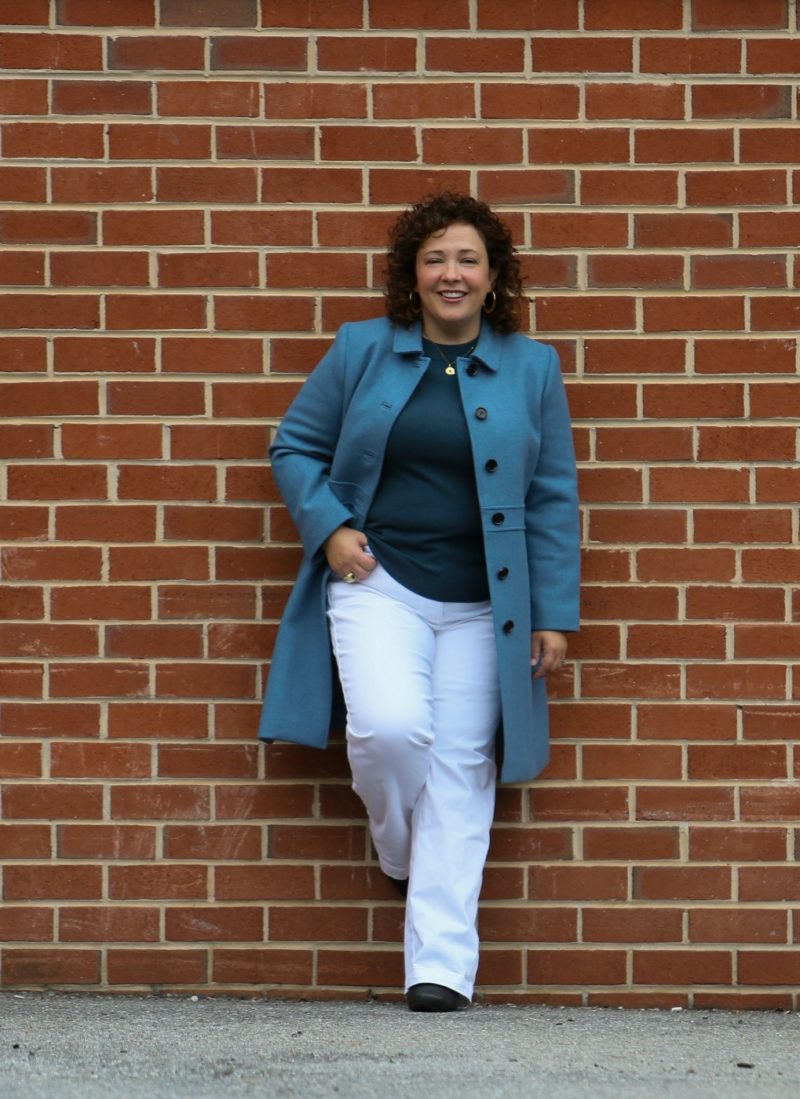 sweater | pants | shoes | coat | earrings | necklace | ring | bag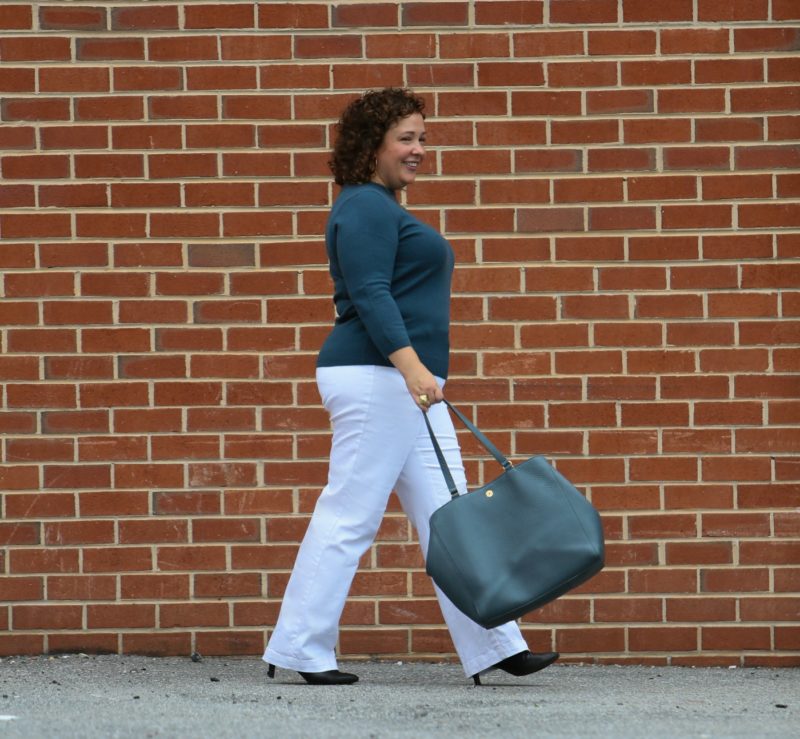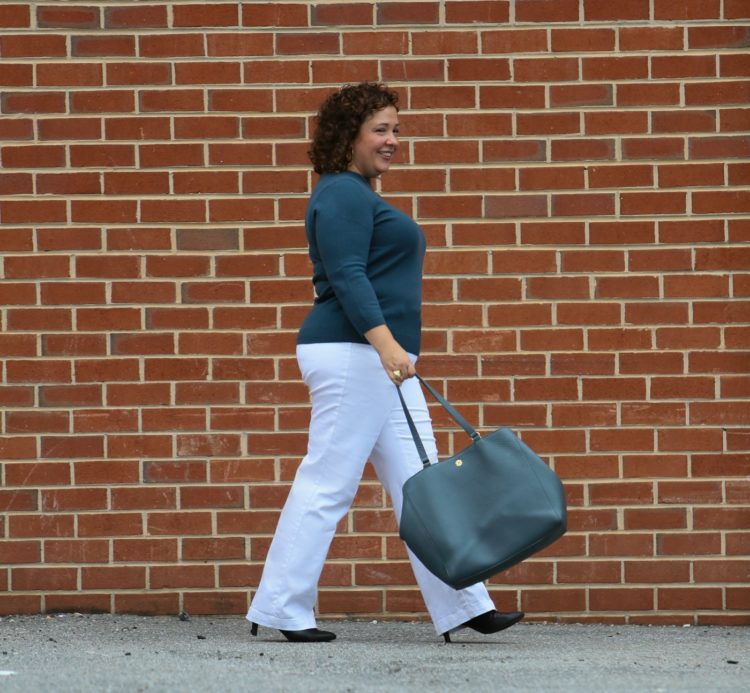 Sweater: Audrey Sweater c/o Talbots (L) | Coat: Italian Wool Lady Coat c/o Talbots (14 Petite) | Jeans: Denim High Waist Trousers c/o Talbots (12 Regular) | Shoes: Clarks | Bag: Large Allyn Tote c/o Dagne Dover | Necklace: Monogram Necklace c/o Jenny Bird | Earrings: Medium Quinn Hoops c/o Jenny Bird | Ring: Insignia Empress Luxe Ring c/o REALM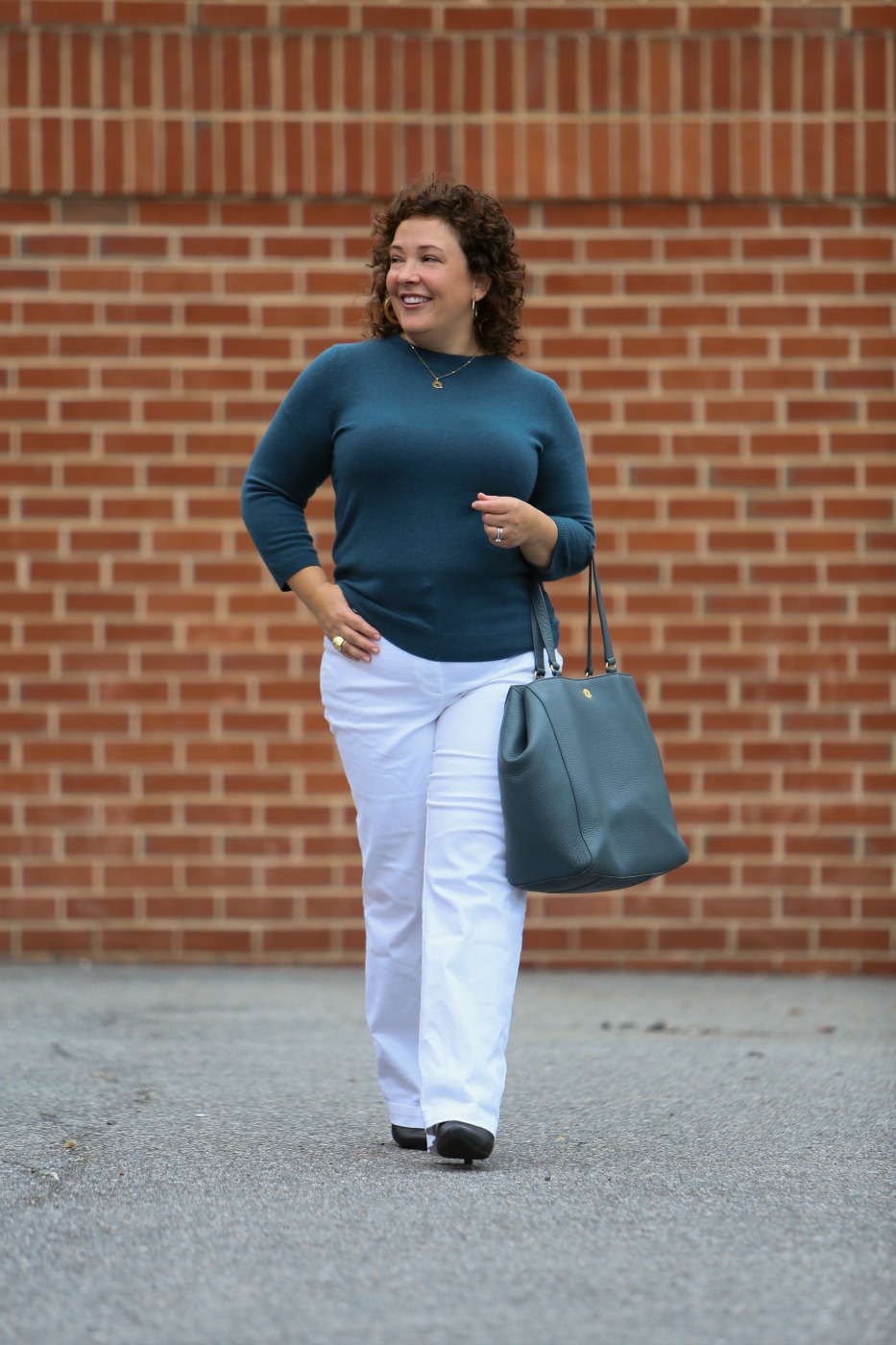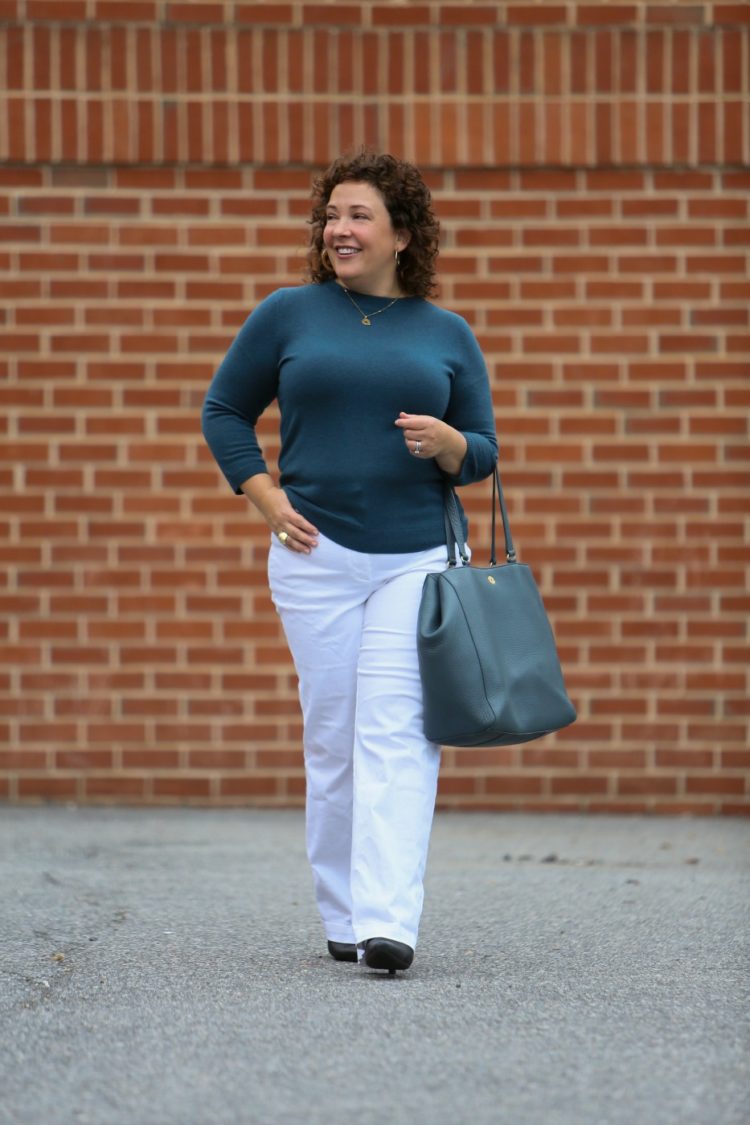 Styling this look made me realize I'm feeling some non-black shoes for fall.  Not necessarily brown, but maybe cognac or a dark taupey gray.  Something a bit softer, I think this look would have benefitted from it.  But I'm not going to buy just to buy so I wore my Clarks booties from last year which get the job done.  Black has always been my go-to and while it's still one of my favorite colors for my wardrobe… I think it's something about this new curly shorter hair that makes me want things a bit softer, more relaxed.  Even these shades of blue are different from my usual style; I liked the soft feel of them, it almost feels vintage.  These blues would look so chic with a dark wash of jeans (I'll likely wear again later this season with these jeans), or a gray or camel solid, tweed, or plaid trouser.  Ivory and cream too. But then, watch me wear this with a black leather pencil skirt and bold silver jewelry!  Maybe it's faux fall that has me feeling all soft and cozy; come the truly cold weather I'll be all about black again!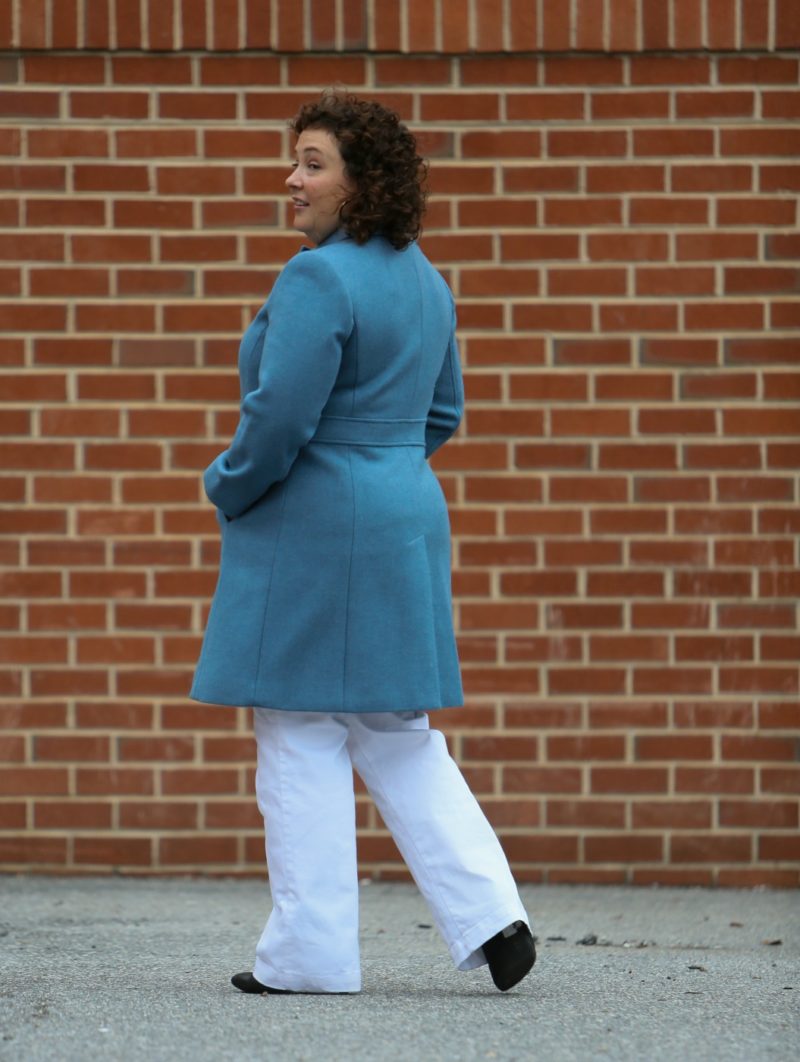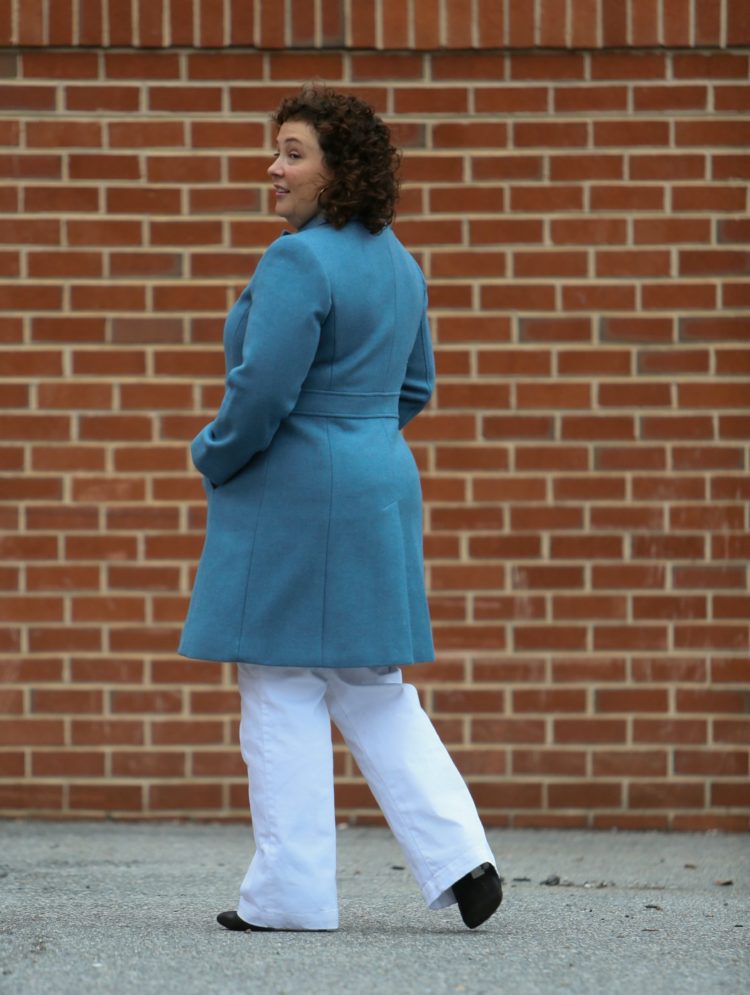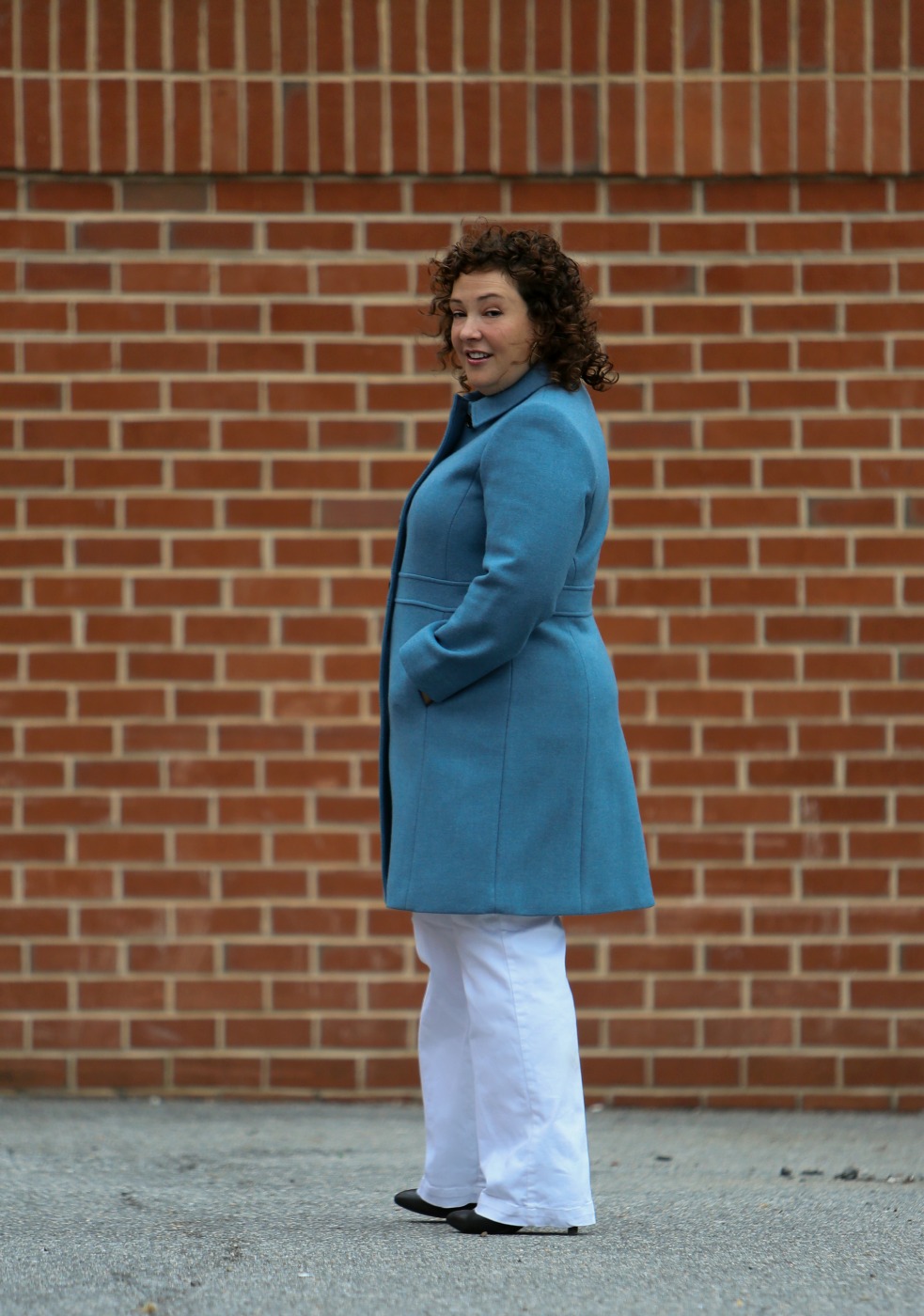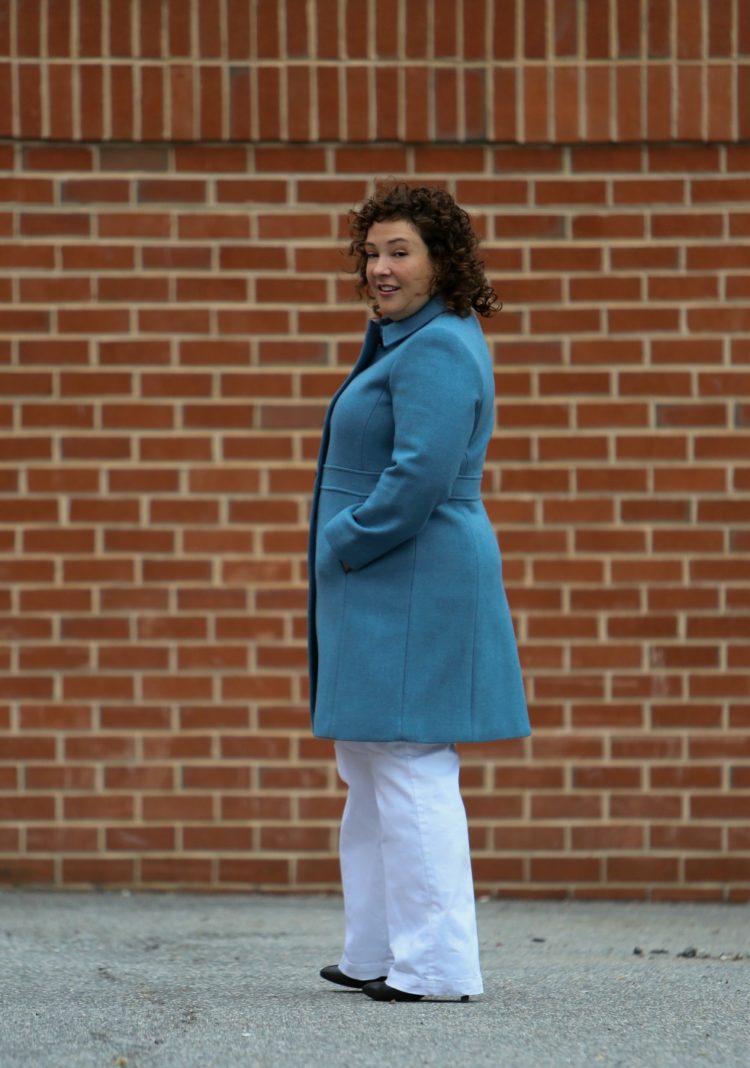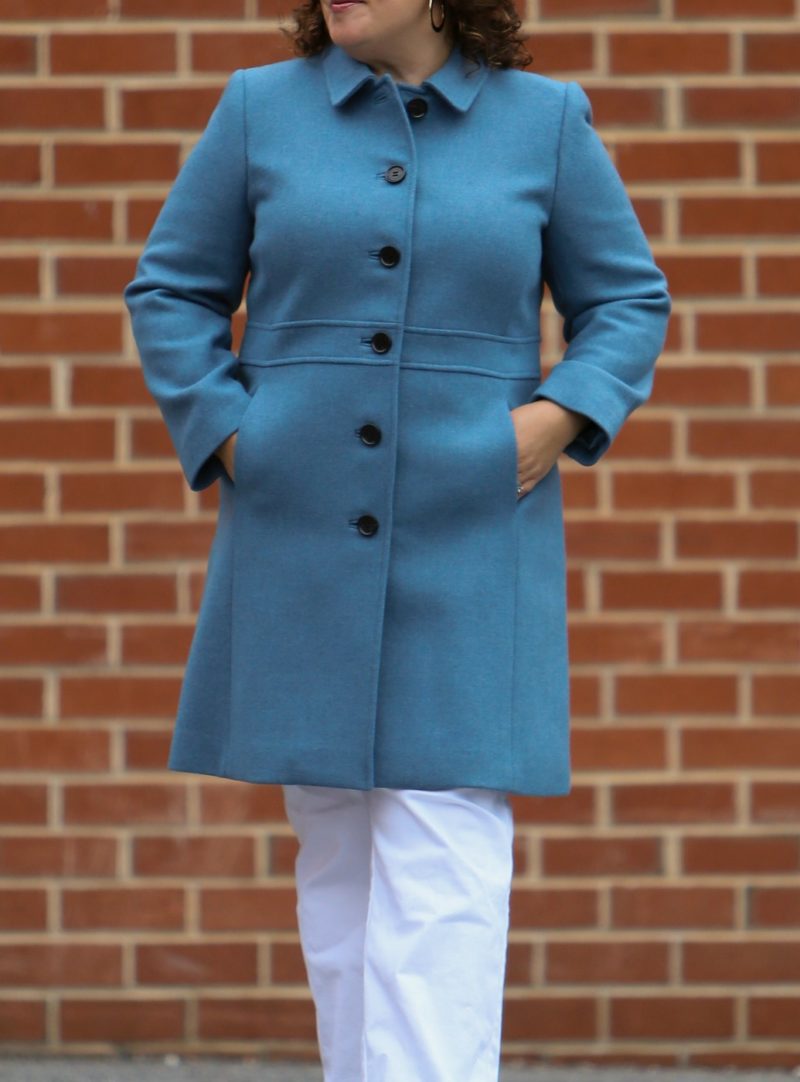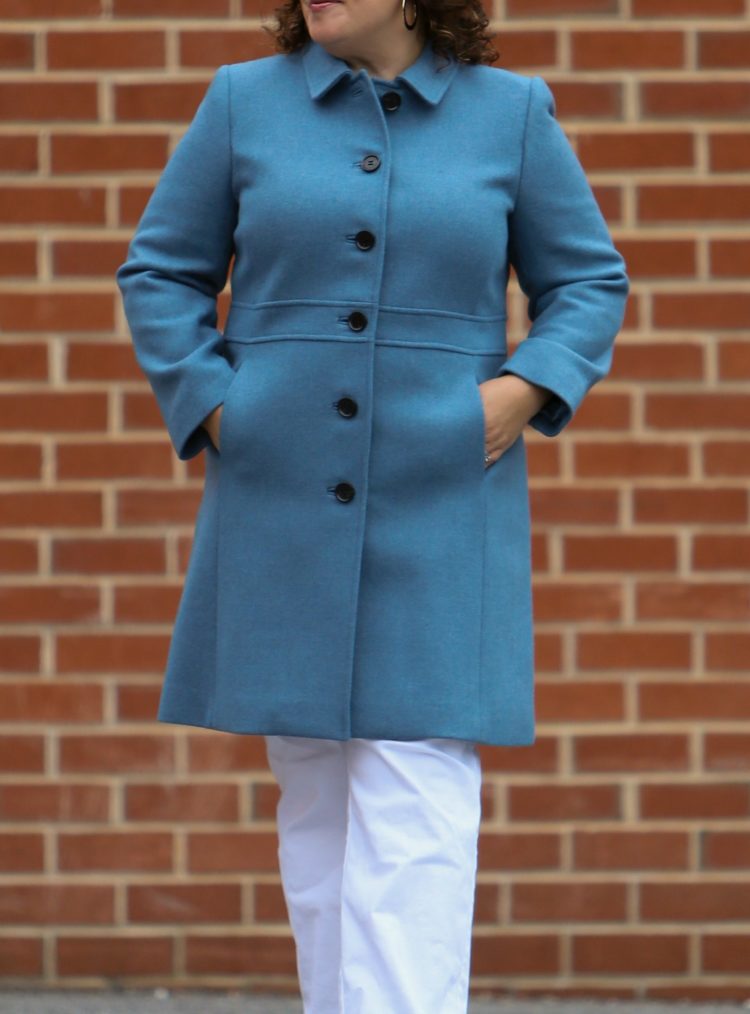 I know it seems too early to think about coats, but I think this one is good enough to get on your radar early. It comes in Misses, Petite, Plus, and Plus Petite; this is a 14 petite. It's a wool blend (75% wool) with a poly lining, no additional lining for warmth.  This is the kind of coat in the DC area you would wear through early December and then pack up until March.  It's a length that works with pants as well as skirts.  I really like the seaming at the waist and the black buttons, it's a vintage nod while still looking modern. I totally got this scarf too and it's gorgeous paired with the coat and sweater… but it's not quite cold enough yet for that kind of accessory!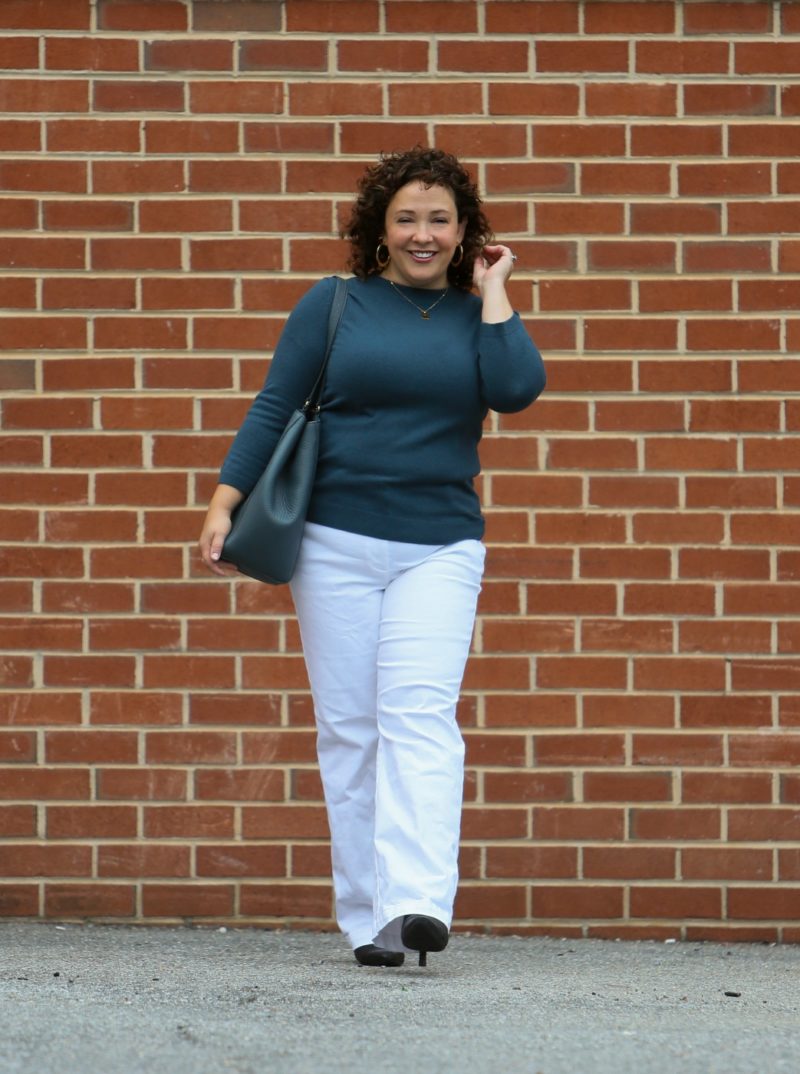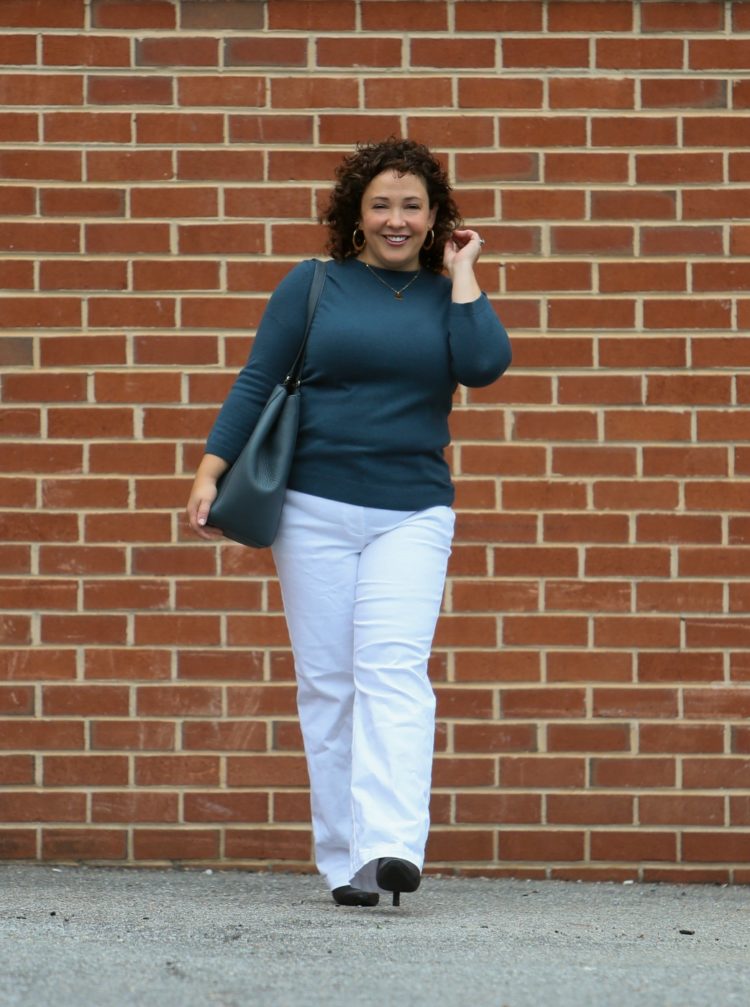 The sweater is a favorite, in fact I still have a navy one from last year (seen in this blog post).  I like the higher neckline and the weight of this cashmere is utterly decadent.  I like them fitted, I think it looks more polished but if you prefer a straighter fit, consider going up one size.  Since it has three-quarter sleeves and a high-hip length, petites may wish to size up to regular for a bit more length as well.  This sweater also comes in Misses, Petite, Plus, and Petite Plus and there are 11 colors to choose from (this is the Twilight Teal).  Inspired by the fall color trends, I mixed blues together that aren't exactly the same but I really like the effect.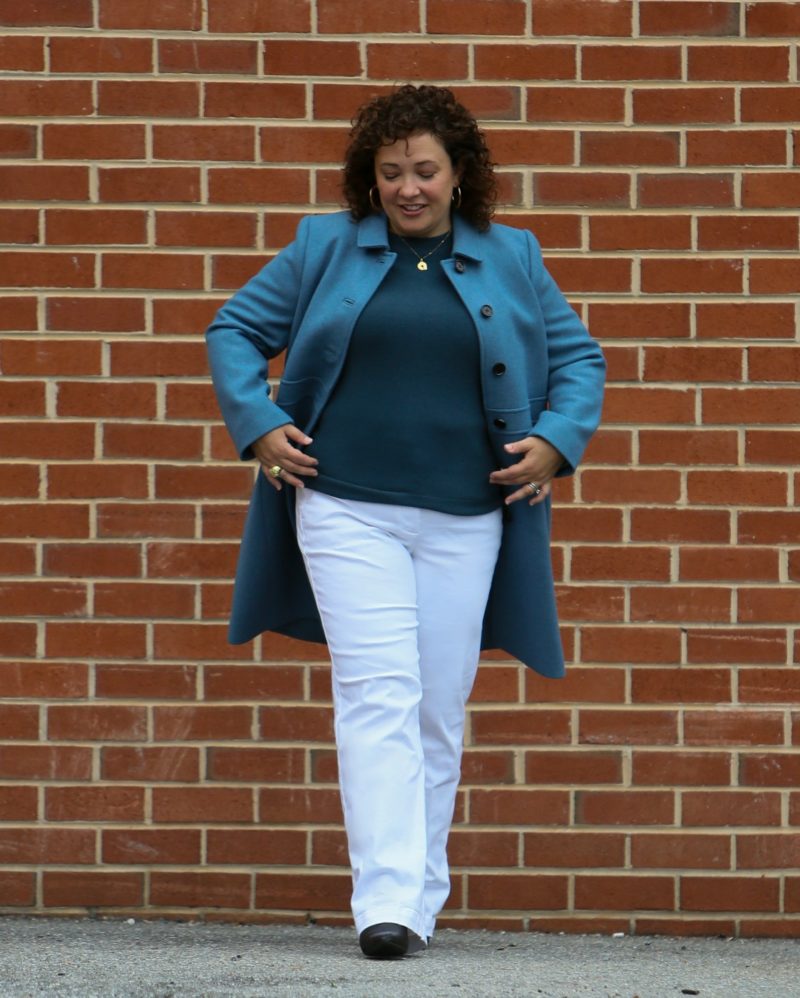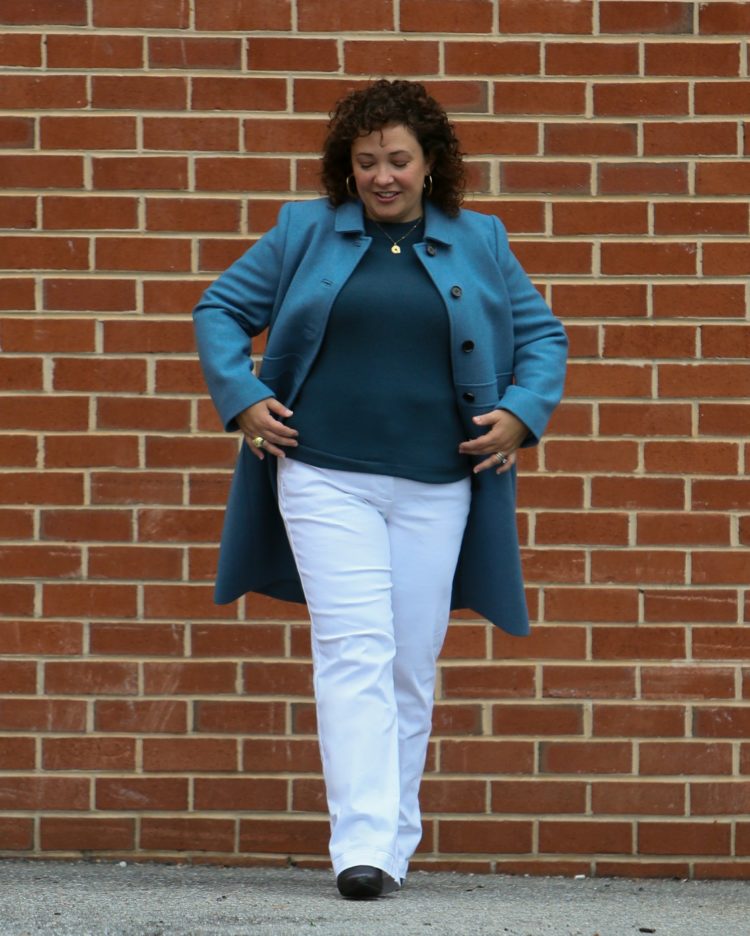 These pants are a hair too long for comfort.  I feared the petite would be too short for heels, but a petite would have been better for both length and rise.  I tried shrinking them in a hot wash and dryer but they didn't budge – darn Talbots quality! If the pants were shorter, I would have likely replaced the black boot with a suede loafer like these which I own. I like how clean these pants are – wide waistband, smaller coin pockets, they look chic with a tucked-in top or an untucked one and the effect is polished enough for business casual.  FYI, Talbots also has them in a dark denim.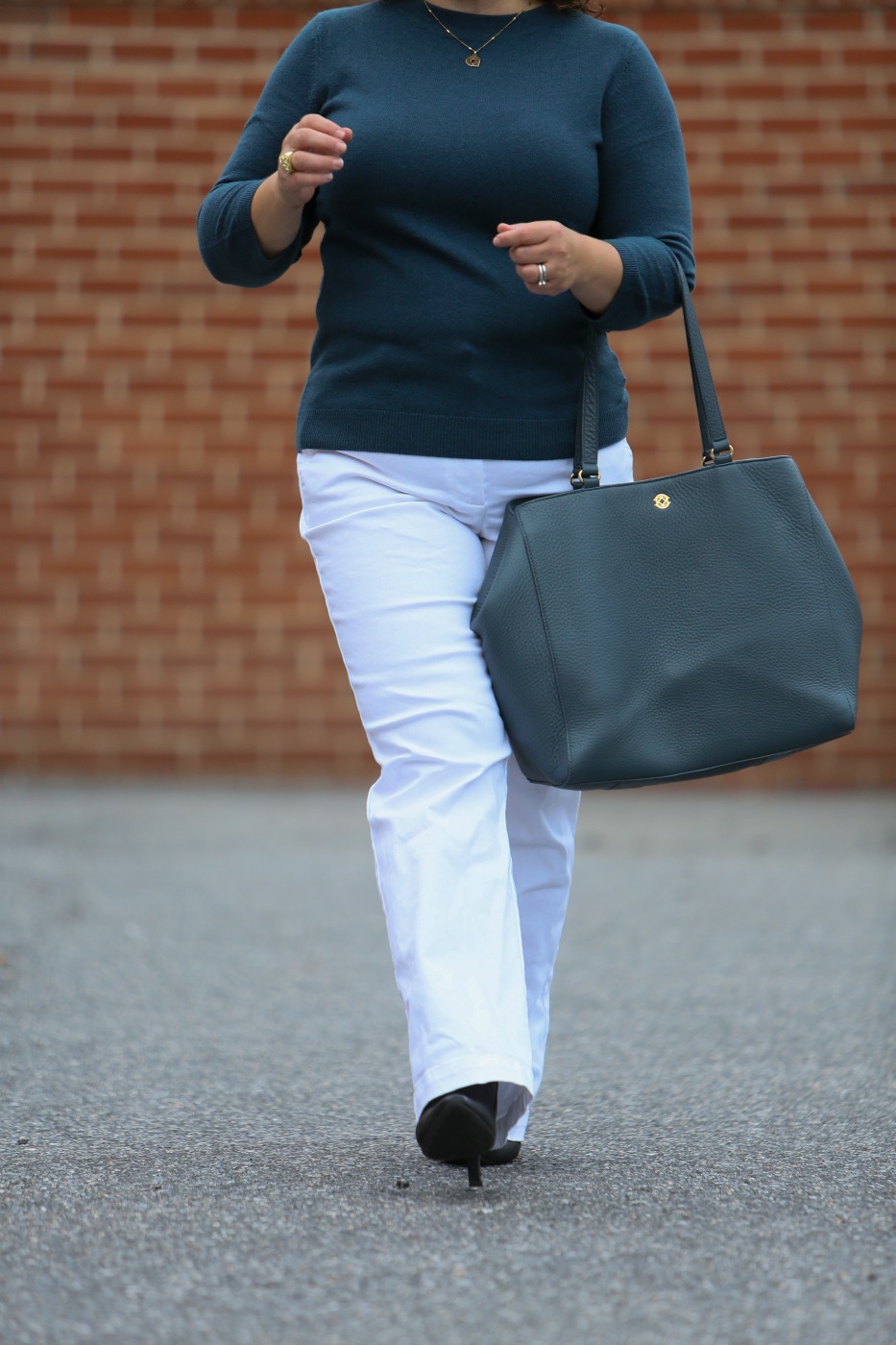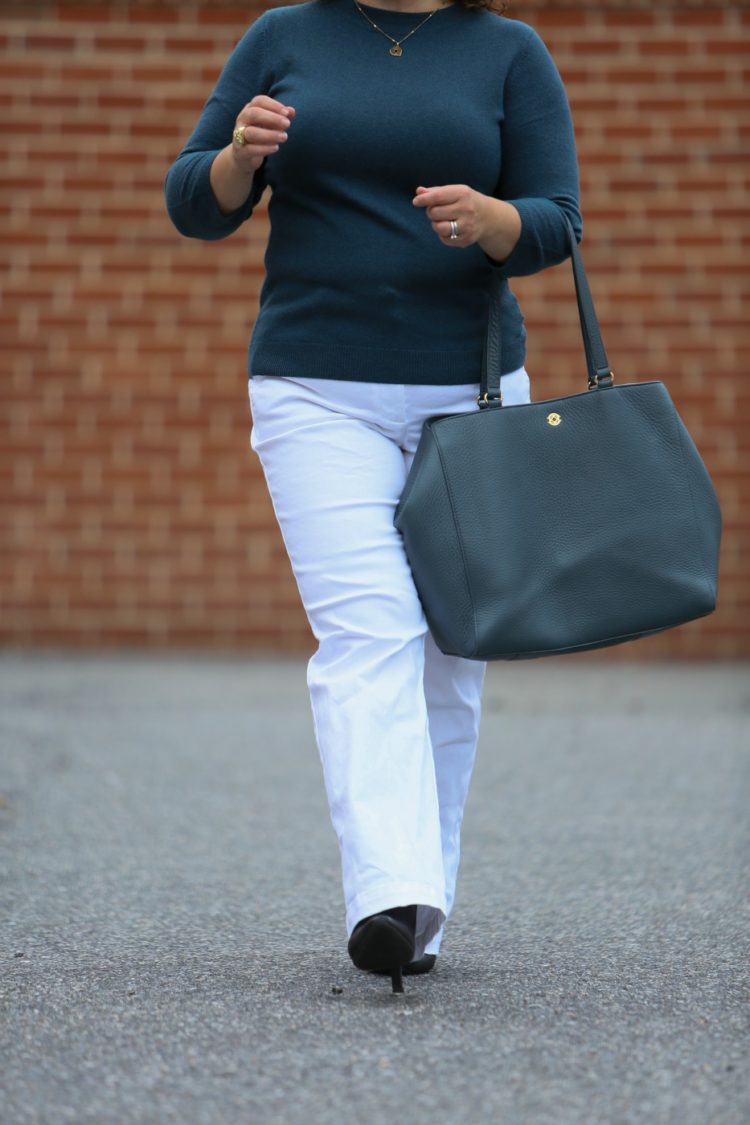 The bag I have had for a while; click here to read my Dagne Dover Allyn Tote review.  This is the Large size and this color is no longer available, though if I didn't have this one I'd totally getting the Graphite or the Ash Blue. In the bag are my laptop and cord, wallet, a cosmetic bag, notebook, phone, sunglasses, and a small water bottle.  This is a fabulous work tote that doesn't scream work tote, and the leather I have found to be very durable.  I got this bag in… I think the summer of 2017 and I am not kind to bags yet it still looks great.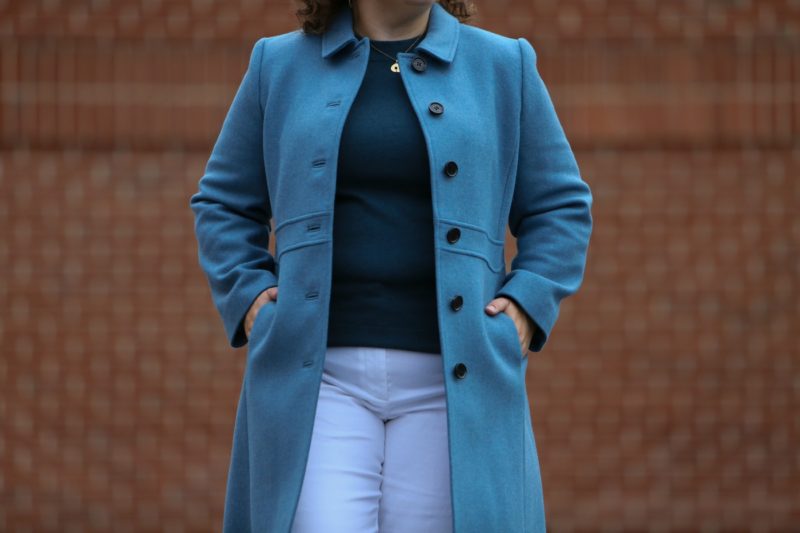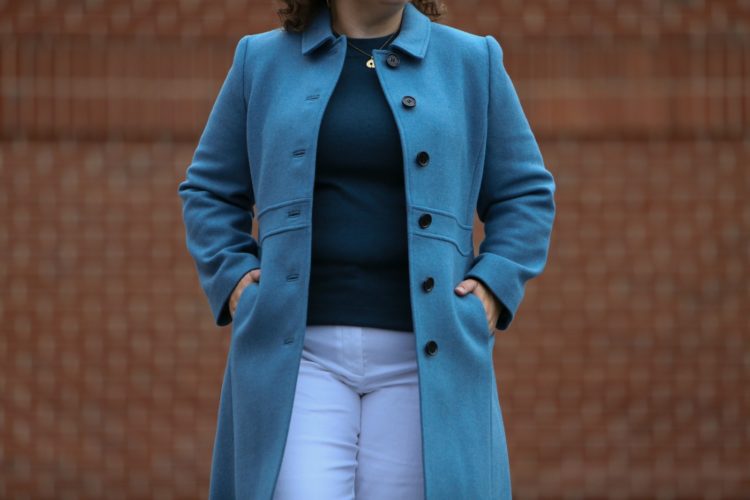 I seriously received these items from Talbots and an hour later my husband and I were parked behind the local grocery store taking these photos super quick before he had to go to teach yoga.  I just couldn't wait, I'm so excited to be able to wear fabulous fall clothing like this, I had to take advantage of this quick faux fall we're experiencing!
Shop the Look: