This article may contain affiliate links; if you click on a shopping link and make a purchase I may receive a commission. As an Amazon Associate, I earn from qualifying purchases.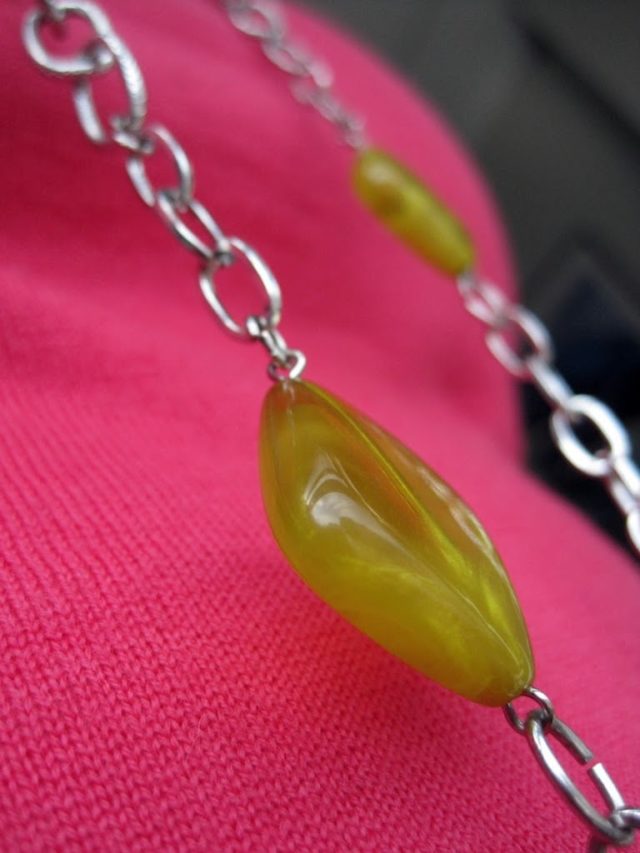 Strawberry-colored sweater – Ann Taylor
Gray trousers – Gap Perfect Trouser Pants
Gray shoes – Miz Mooz (no longer available – similar
)
Silver and yellow necklace – NY&Co (no longer available)
Silver and green ring – Maryland Renaissance Festival
Silver cuff
Well as you can tell from the circa 1962 lavatory background, it was a very early morning and I didn't get a chance to take proper set of outfit shots. That is also why I was outfit MIA on yesterday. Duty calls!
So for those who follow me on Facebook or Twitter, you know I had quite the whirlwind shopping spree in my local Ann Taylor last night. I was walking to the Metro and saw that they had 40% off all sale merchandise. I only had 10 minutes so I ran in, went straight to the Large and 12/12 Petite sections and grabbed. I ended up grabbing the following items:
The white shirt and the sweater I am wearing are final sales, which are why they are so insanely cheap. Glad they both worked out (figured if they didn't I could sell on eBay or my shop my closet blog). The boyfriend cardigan – not my typical color or silhouette, but I dig it. Tried it with my J. Crew navy and white striped scoop tee and dark denim and loved it as a weekend look; also tried another combo that I hope to wear later this week.
The leopard skirt is pretty fantastic, but I need a 12 petite (btw it may be silk but feels like a cotton sateen and is fully lined so has good weight). Will look today for a petite version, if I can find I will exchange, otherwise will return (though made a pretty awesome outfit with it). The rest are fails. Nothing bad about them, just wrong for me.
People often comment that I shop at expensive stores, but I really believe that if you love a brand, be loyal to it, visit it often and you can often find pieces at incredible prices. I used to stalk the sale racks at Banana Republic; these days I am an Ann Taylor stalker. I am lucky because this store is only a block from my office, but really… I know Ann Taylor fits, I know their quality is good and consistent. If there wasn't a store so close to me, I believe I would still be an Ann Taylor sale rack stalker. I don't have a lot of free time, it's easier for my to be brand-loyal than travel all over town in hopes for a great bargain. And with the prices above, you can see it's possible to get great quality and style for the prices you'd find at a discount big box retailer!
And some Emerson photos (since I am on a roll after yesterday's post), here she is with one of her favorite foods – cream cheese!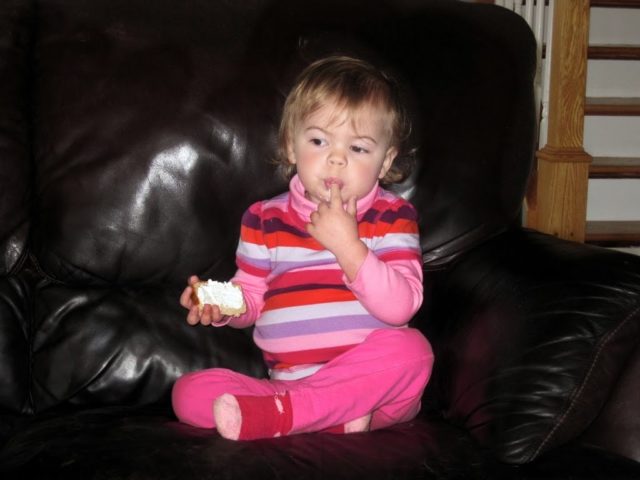 Follow Me | Twitter | Facebook