This article may contain affiliate links; if you click on a shopping link and make a purchase I may receive a commission. As an Amazon Associate, I earn from qualifying purchases.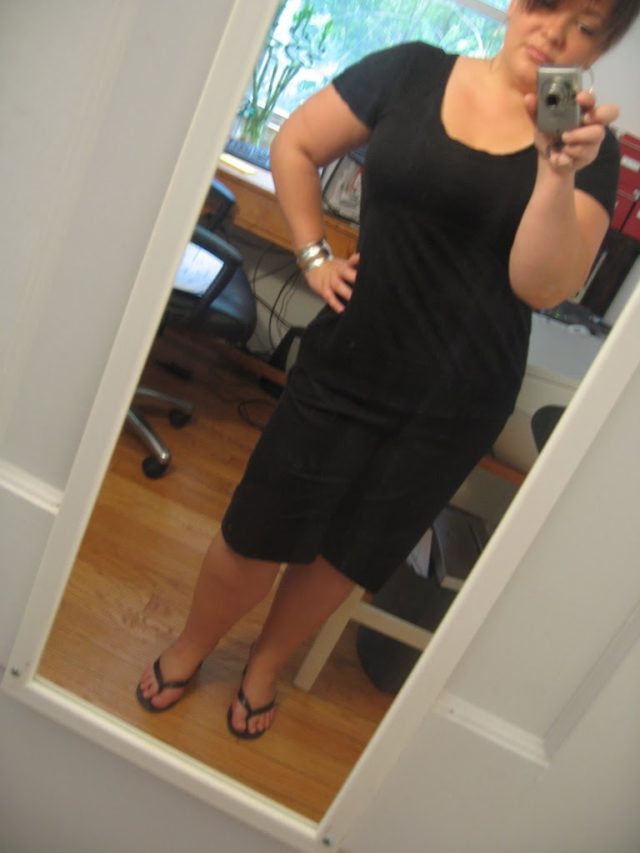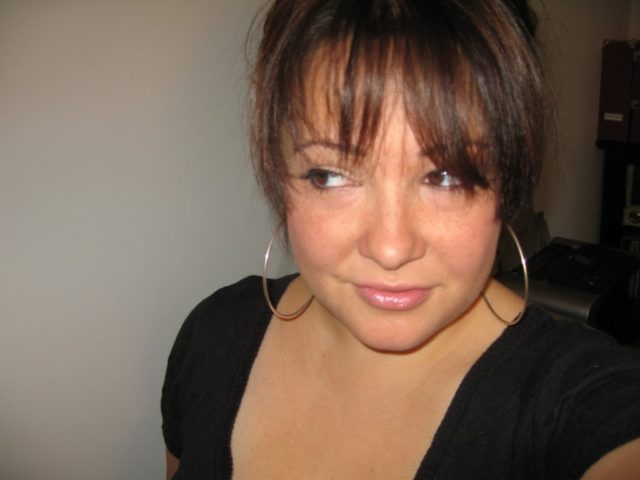 Black scoop necked cotton short-sleeved sweater with empire waist from Old Navy, black twill cuffed walking shorts from Gap Outlet, black leather thong heels from Mossimo, silver hoops from The Icing, silver cuff.
Hair is second day, I tried straightening it with the iron, but then didn't have time to fiddle much with it so I threw it up in a messy ponytail with a black covered elastic and a few clips. Didn't capture it in the picture, but the hair leaves a spiky waterfall of sorts at the top of my head.
Makeup is L'Oreal true Match concealer in W4-5, Body Shop bronzing powder in Light on whole face, Smashbox Soft Lights in Tint on cheekbones. Body Shop eye definer pencil in black on rims and outside of both lash lines, and Maybelline Ultra Liner in black on top lash line. Lashes curled, two coats of Max Factor's Lash Perfection in black. On lips is Body Shop Liquid Lip Color in Sparkling Pink.
Yesssss, I am wearing shorts to work. I hate hate hate shorts, but this season's variety of Bermuda and walkers are making me change my mind. It doesn't hurt that these were only $20. When i tried them on, I was wearing my red peep toe pumps from Enzo and I imagined them with a white wrap shirt, looking tres hip. However, I do not own a white wrap shirt, and with knits, the red shoes (and my black peep toes from yesterday) looked a bit wrong (okay, a lot wrong) with the outfit. These shoes were the worst offenders for work. Now I can so see me wearing these with my pink blouson tube top from Victoria's Secret and a pair of stacked black flops when I go back to the beach next month, but for work I needed to be a little more appropriate and conservative. So far one person complimented me on looking cute (whassup K!) and one person said "you look dressed for warm weather!" and the passive-aggressive coworker who always says something sweet yet snarky said "I never would have thought shorts for work!" to which I happily said "I know, I love current fashion!" and kept walking.
And there is a chick in another department who is wearing white cargo shorts today and wore denim cuffed shorts the other week, so I look far more appropriate. As long as the president doesn't make a comment like he did with my Pat Benetar look, I am dandy!