This article may contain affiliate links; if you click on a shopping link and make a purchase I may receive a commission. As an Amazon Associate, I earn from qualifying purchases.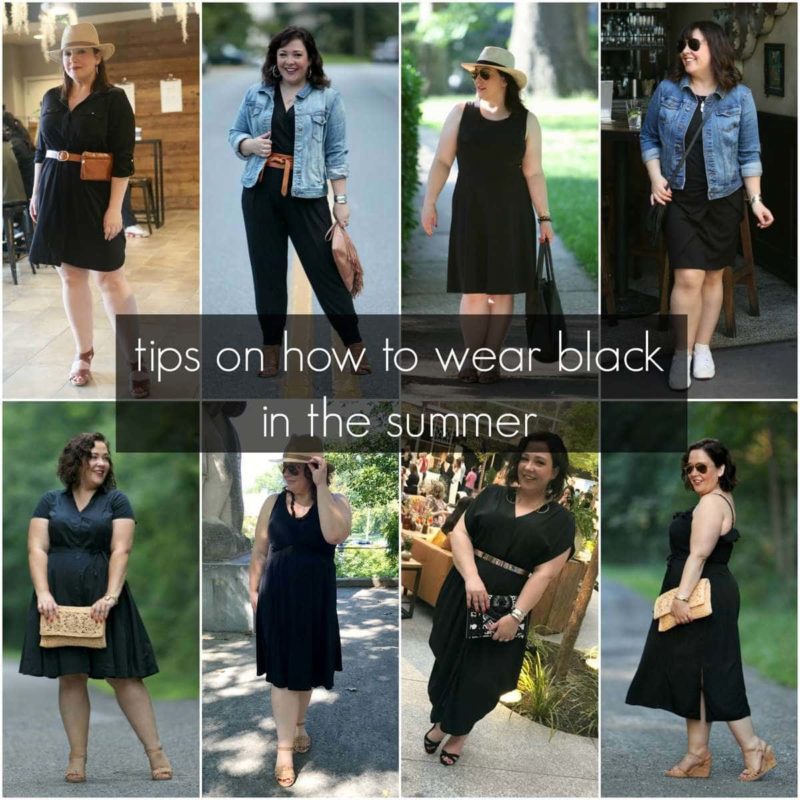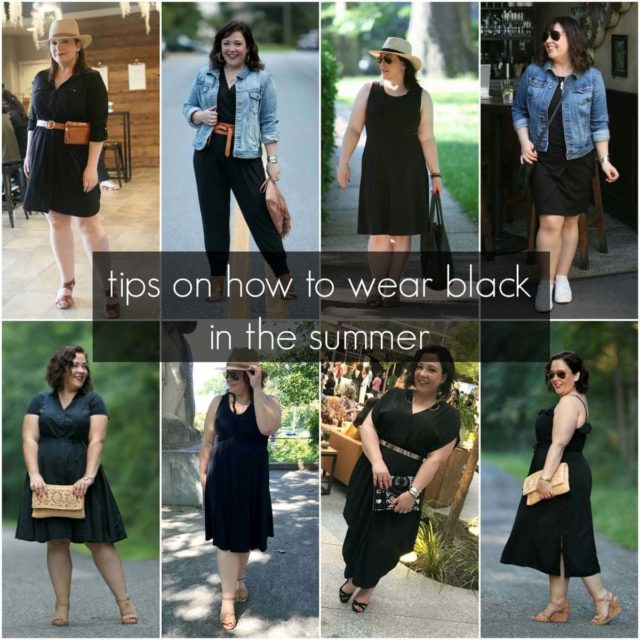 Being Comfortable When You Wear Black in the Summer:
Many of you have shared with me that you are uncomfortable when you wear black in the summer. A dark color usually connected to the colder months, black clothing can seem hot and heavy when the temps rise. I'm a fan of the color black all year round, and regularly wear it in summer. Some advice on how to wear black in the summer without looking out of season or being uncomfortable: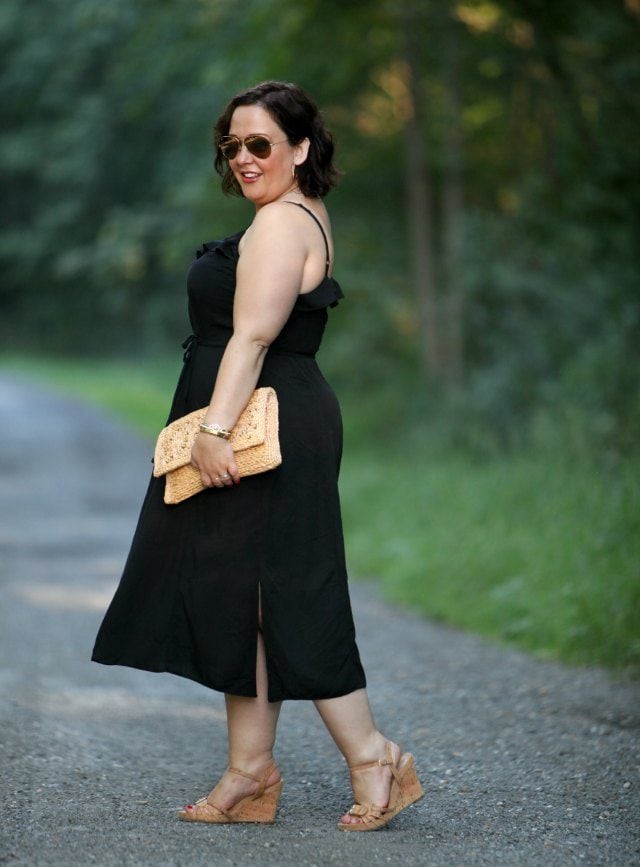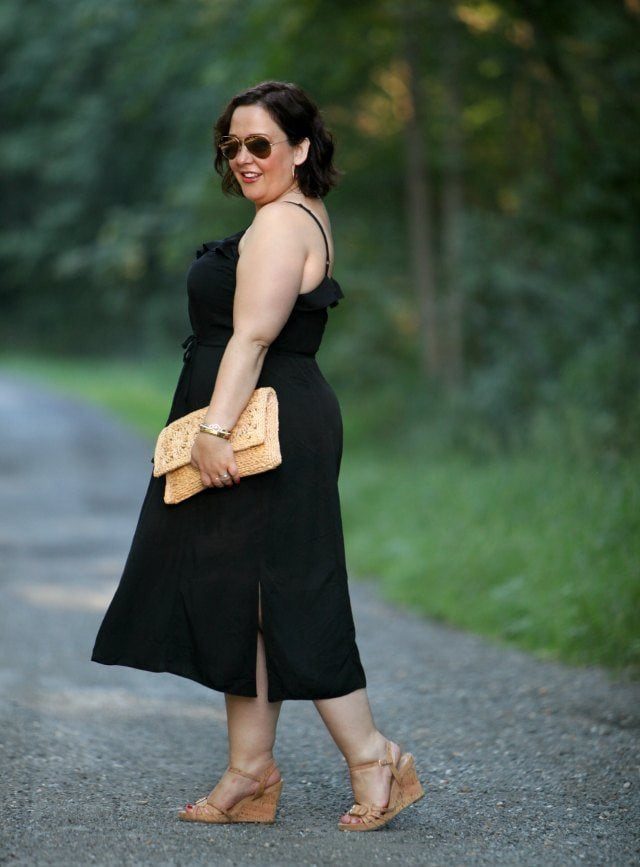 Pairing a black sundress with a straw bag and cork wedge sandals.
See the whole look at this link. Shop similar: dress | bag | sunglasses | shoes
More Black, Less Fabric
Black absorbs the sun, so it can make you warmer even faster. I find the best way to wear black in the summer is keep it for the smaller pieces in your wardrobe. Camisoles and tanks, shorts that are 5" or shorter, sleeveless dresses that are around the knee. A black maxi dress, capri pants, or lightweight jacket may seem practical but they scream cooler months (and may make you scream with how hot you will feel in it!).
Balance Black with a Lighter Color
My favorite color pairing for summer is black with tan. Pair a black sundress with tan or nude-to-you sandals, a tan straw hat or bag, tan or light brown leather belt or purse. Tan is a summer color, and it lightens the feeling of black while still keeping the look polished.
Black also looks very smart with white. A black top with white shorts or jeans and nude-to-you shoes, a black cami topped with a white blazer, a black shirtdress with a white belt. The look is clean and crisp, and the white makes the combination definitely summery.
I recommend with a black and white outfit to try to have the white be the primary color (white pants with a black tank, white skirt with a black blouse). If the primary color is black, choose a summer fabric (cotton, linen, eyelet) and be sure the shoes are summery (open toe, sandal, etc.) so the look is seasonally appropriate.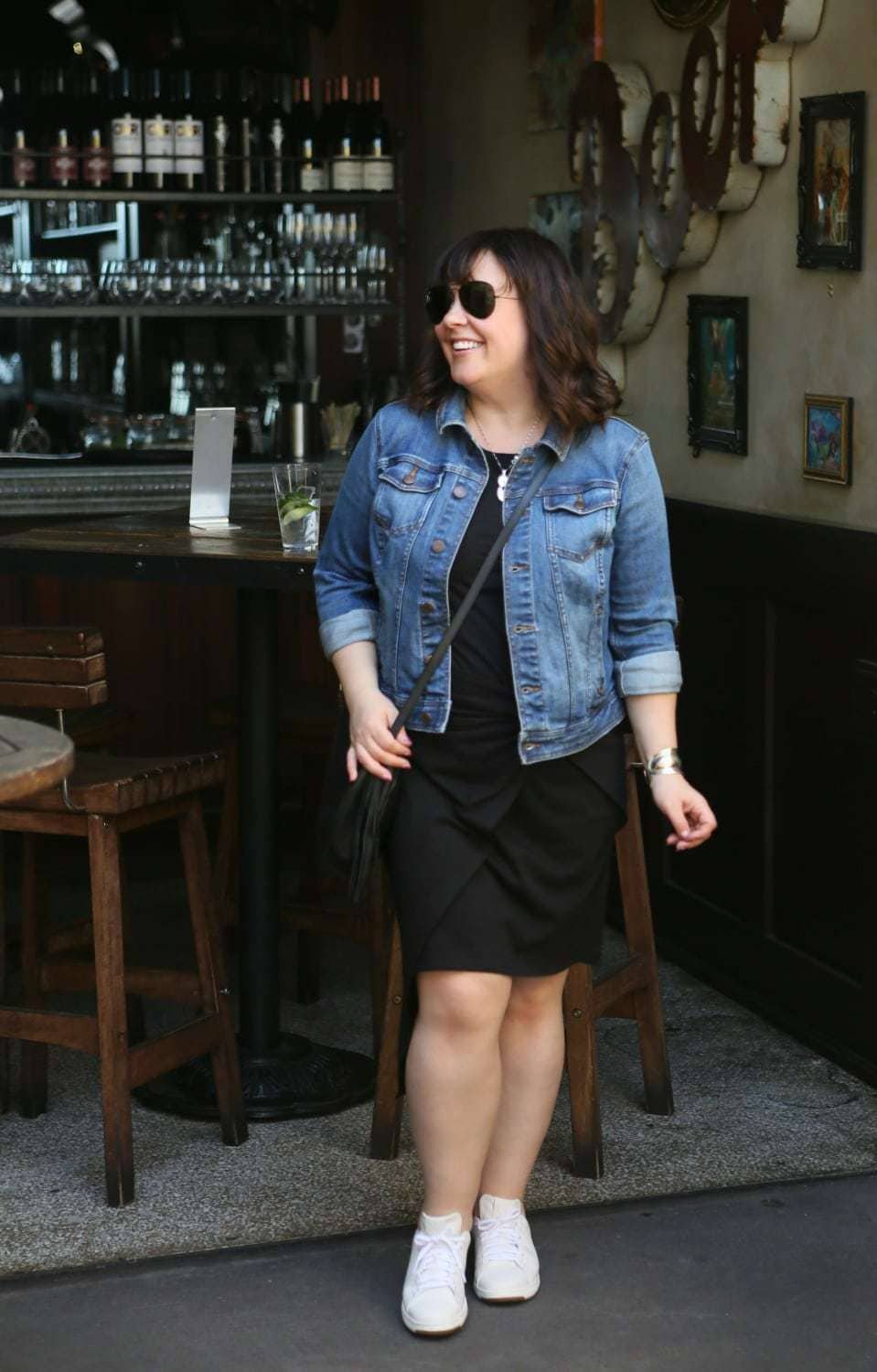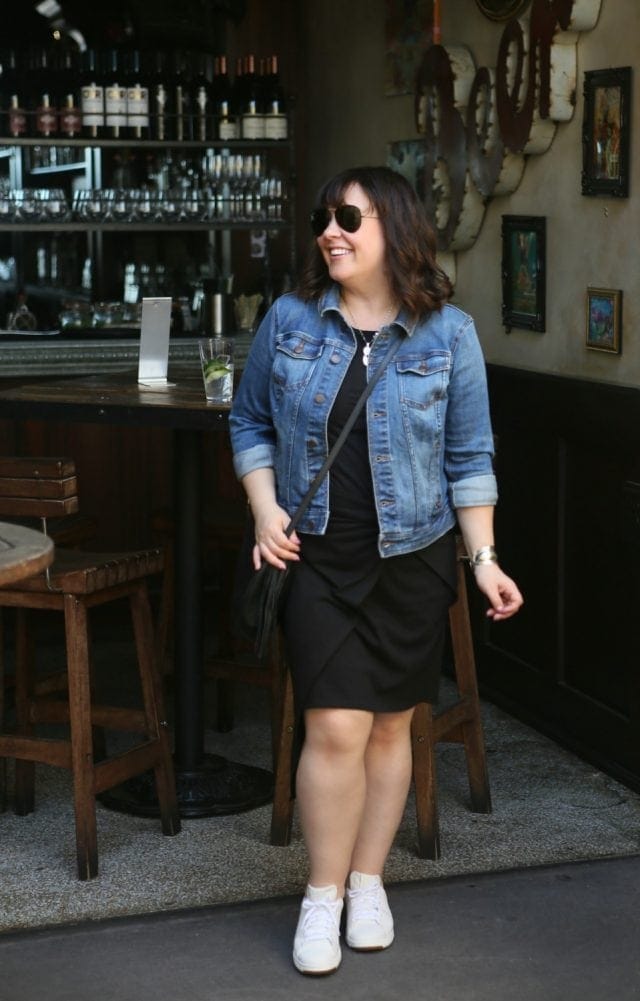 Pair black with a pair of low-profile trendy sneakers in a light color.
See the whole look at this link. Shop similar: jacket | dress | sunglasses | sneakers
Keep Black on Top
Black pants and skirts scream fall and winter. Consider black tops with bottoms in light neutrals (tan, khaki, white, cream, chambray, olive) or watercolor brights (yellow, turquoise, orchid, candy pink, Kelly green) to give a summery feel. Again, if the largest part of the look is the summery color, the black will look seasonally appropriate.
Steer Clear of [Most] Black Shoes
Unless they're delicate, I don't recommend black shoes in summer. The effect is very heavy and even if it's a pair of sandals, the look can skew fall. I highly recommend a tan or nude-to-you color of sandal, which elongates the leg and goes with most everything. For dressy occasions, switch out your black heels for a pair in a metallic. This tip is extra important when wearing a black outfit as a black shoe can make the entire look very heavy and wintry.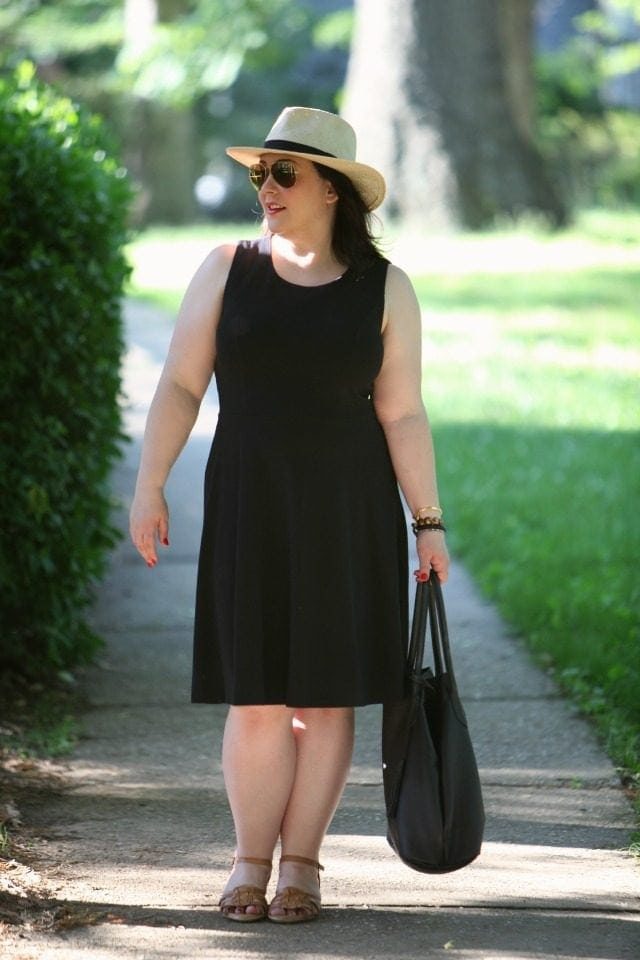 A pair of nude-to-you sandals will summer-ize black dresses, shorts, and cropped pants.
See the whole look at this link. Shop similar: hat | dress | sunglasses | tote | sandals
Choose Lightweight Fabrics
While white jeans will look summery, black jeans scream winter. Same fabric, but the color makes a major difference. When wearing black in the summer, try to stick to lighter-weight fabrics that will balance the darker color. Linen, cotton, voile, gauze, and silk all catch summer breezes and give a summery vibe even in a dark color.