This article may contain affiliate links; if you click on a shopping link and make a purchase I may receive a commission. As an Amazon Associate, I earn from qualifying purchases.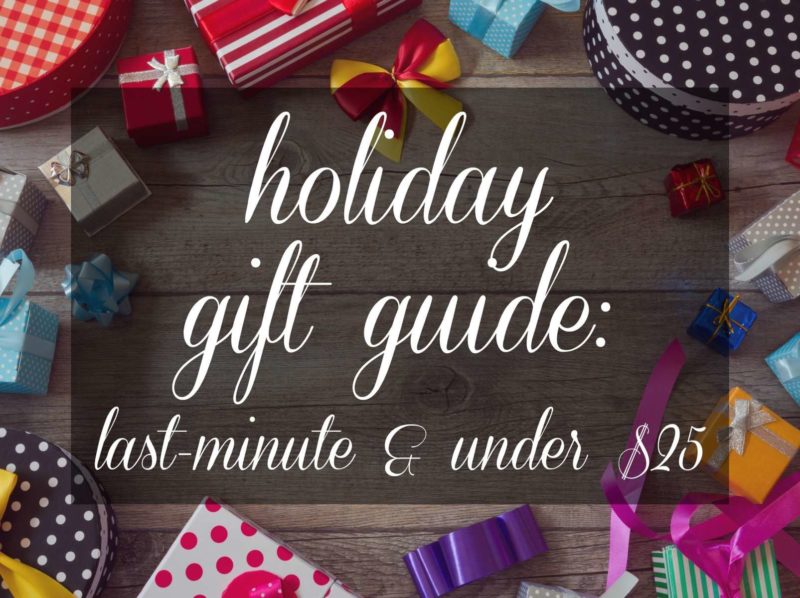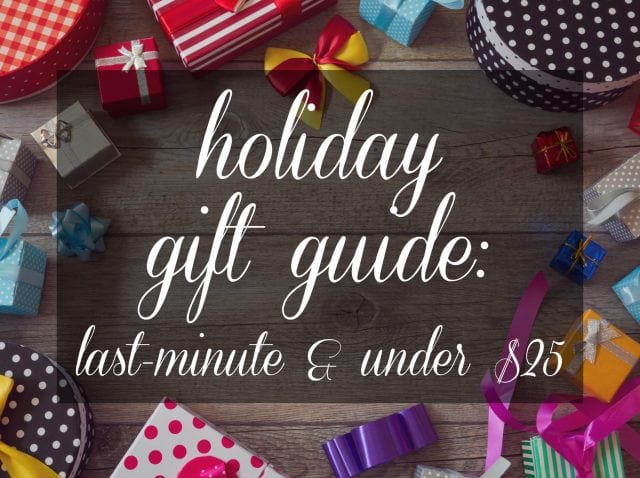 So it's the week before Christmas and you haven't finished your shopping? You're not alone, and retailers know this by having really awesome shipping policies. All of the items in this gift guide are $25 and less, have free shipping AND will arrive before Christmas Eve!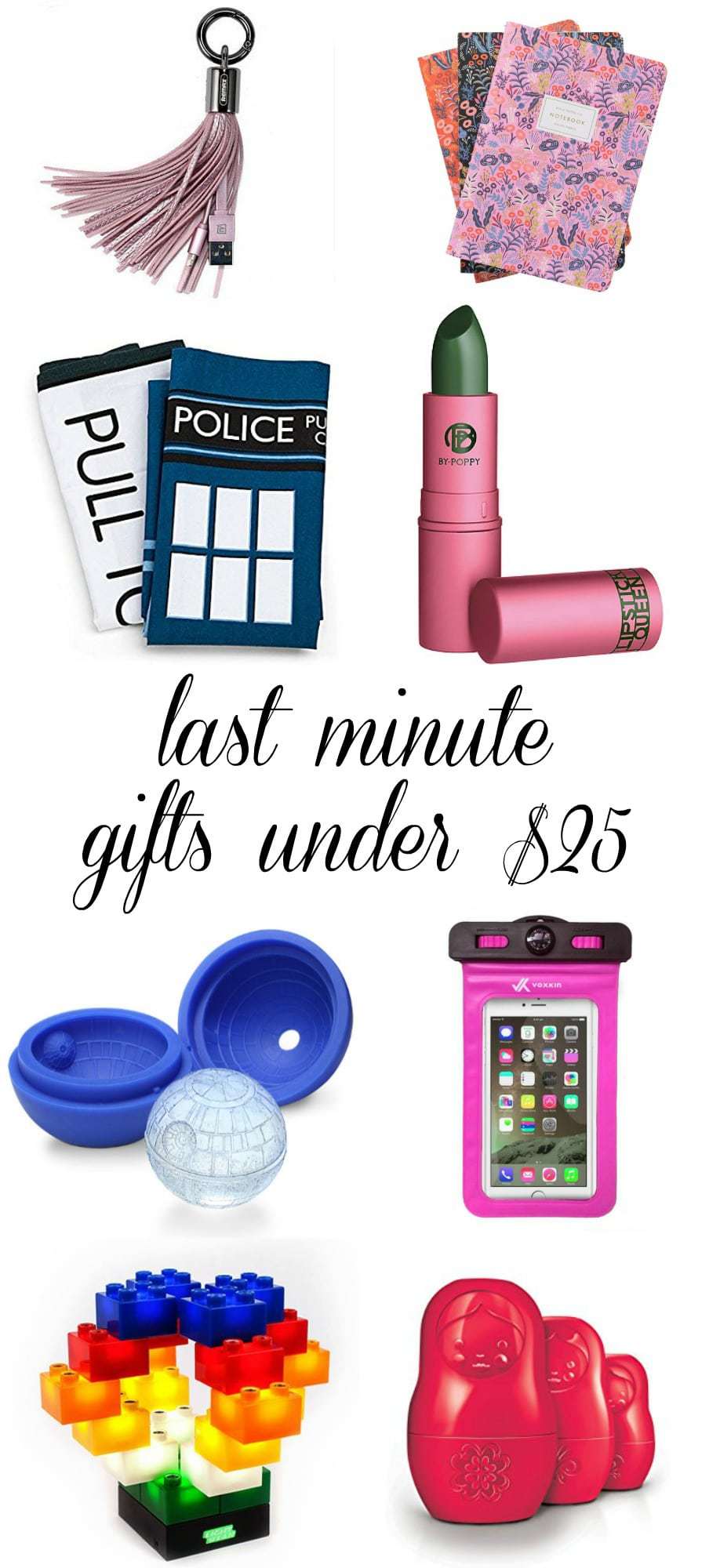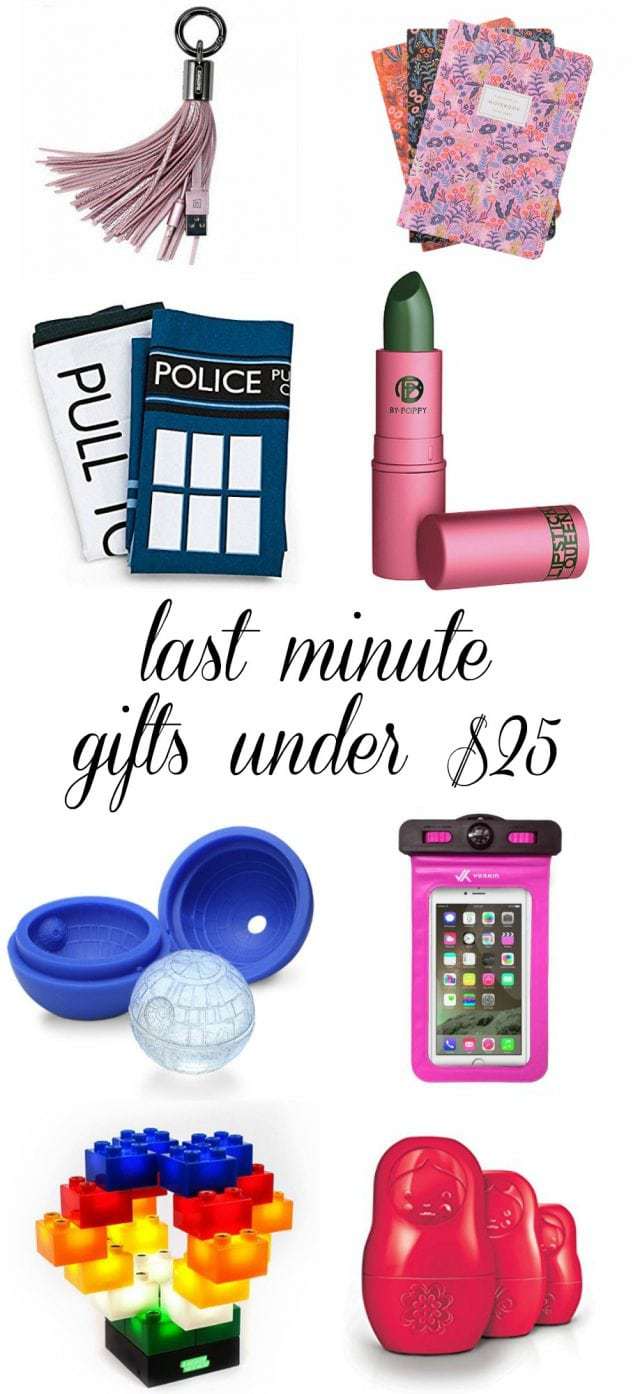 USB Tassel Keychain – A hot trend right now is adornments for your bags. Furry poufs, charms, and tassels are all on trend. What if a trend could also be practical? This one is, and it's under $10! This leather tassel can be a chic keychain or bag accessory, and it hides a USB to charge your Apple or Android device! This link has blue, gold, and pink tassels just for Apple; this link has camel, black, brown, and red leather tassels and options for both types of devices. $9.99 and free Amazon Prime shipping.
Tapestry Notebooks – This set of three sewn notebooks from Rifle Paper Company have colorful tapestry designs and gold foil detail. They are beautiful, stylish, and a practical gift for the note-taker, student, or writer on your list. $15.00 and free Amazon Prime shipping.
Tardis Tea Towels – For the Whovian on your list, this set of two tea 100% cotton towels will be well received. One is the front of the TARDIS; the other is the telephone panel sign. $21.24 and free Amazon Prime shipping.
Lipstick Queen Frog Prince Lipstick – While this lipstick is a dark green in the tube, the formula reacts with the warmth of your lips transforming it to a pretty rose color. Moisturizing shea butter and anti-oxidant vitamin E soothe and protect lips while making them look pretty in pink. $25.00 via Ulta, which has free shipping in time for Christmas if you spend $50… though there's a good chance you have an Ulta within driving distance from your home.
Death Star Ice Cube Mold – Even your friend who isn't a Star Wars fanatic may find this a pretty awesome gift. The BPA-free silicone mold makes a 2.4" sphere for ice cubes with style… or the most badass Jello mold in town! $22.99 and free Amazon Prime shipping.
Waterproof SmartPhone Case – This case fits most popular phones up to 6" and get great reviews. The bag style allows both cameras to be used, the touchscreen works, and you have a lanyard you can tie to your wrist or put around your neck. This link is for the case in white, this link is for the case in hot pink. $9.99 and free Amazon Prime One Day shipping.
Light Stax LED Building Blocks – Christmas toys are great for kids of all ages! This starter set has 12 blocks in 6 different colors, a power base and a USB cable to create a variety of light-up structures. If your gift-recipient loves it, there's more kits available to make an even larger structure in the future! $18.14 and free Amazon Prime shipping.
Matryoshka Measuring Cups – This set of 6 dry-measure cups nests neatly just like traditional Russian matryoshkas and accurately measure .5, 1/3, .5, 2/3, 3/4 and 1 full cup. Available in white or red. $11.00 and free Amazon Prime shipping.