This article may contain affiliate links; if you click on a shopping link and make a purchase I may receive a commission. As an Amazon Associate, I earn from qualifying purchases. 
Last night I walked almost two miles in pouring rain (and 4" heels) for this:
"Please excuse my dampness, it is such a pleasure to meet you!"
Glenda Bailey, Editor-in-Chief of Harper's Bazaar was at the Coach store in Georgetown, signing copies of her book, Harper's Bazaar Greatest Hits. And you know, Bazaar is by far my favorite fashion magazine. I had plans to leave work around 4:30, take the bus from Dupont to Georgetown, meet up with my sister who works there, go together to Coach and have a book signed by the wonderful Ms. Bailey.
And then it decided to rain. Rain so much that there were flood warnings. And then there was Occupy DC who shut down many streets near my office. Unable to get a bus, cabs scarce due to the rain and lack of buses, I started walking towards Georgetown hoping to hail a cab. Halfway there, I called my sister and said, "Screw it, I don't really need that book that bad. Let's go get dinner and some drinks instead." She offered to drive towards me and find a warm cozy restaurant where I could dry my feet and get a nice buzz off a couple glasses of wine.
And then I thought, why? So I am wet, it's not as though I will melt. It was a surprisingly warm evening, and I was wearing my Miss Sixty booties which kept my feet high above the puddles and pretty comfortable. I felt pretty blessed to work in such a beautiful city, and if it weren't raining the walk down M Street would be very romantic. So instead of cursing the rain and lack of cabs, I enjoyed my walk. And I walked all the way to Coach, where I met my sister.
Of course along the way my feet got drenched, a car splashed a puddle all down my left side, my mascara was down to my cheekbones, and my previously-wavy hair with bangs became a wet matted mess. But I arrived in one piece and with plenty of time to say hello to my fellow bloggers, have a sip of champagne, and meet Glenda Bailey.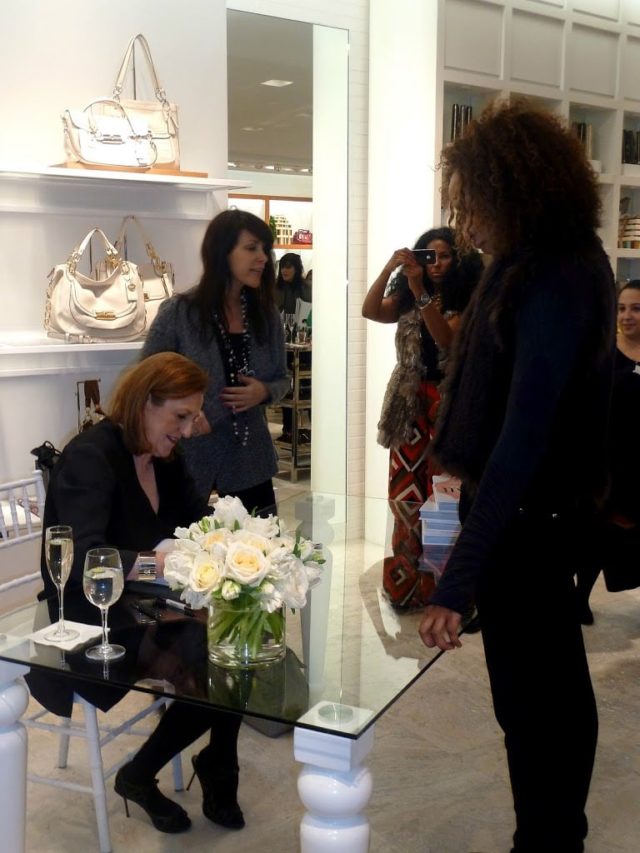 For you RHODC viewers (and local yokels who watch the CW) you'll recognize Paul Wharton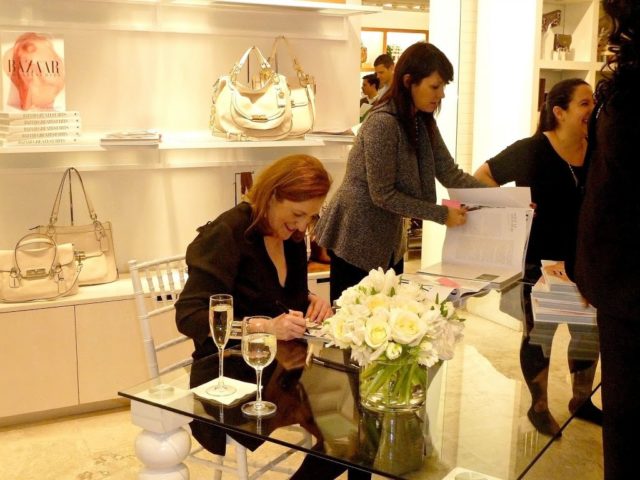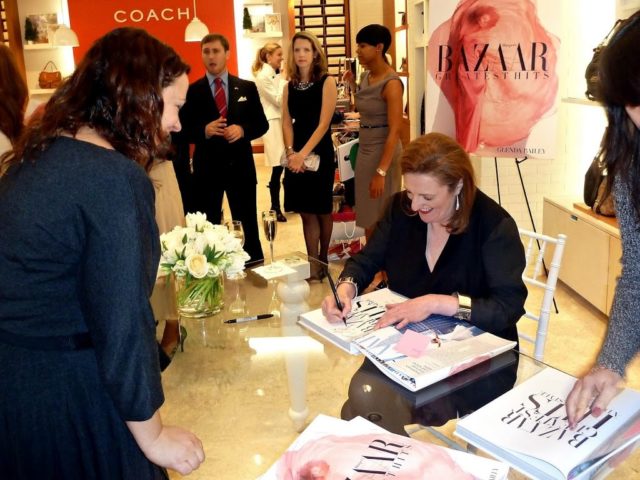 Thanks to my sister for snapping these pictures!
As luck would have it, my camera was near the end of the battery, so my pictures aren't that fabulous. However, my beloved blogging buddies Comme Coco and So Much to Smile About were there with their DSLRs and captured many excellent images.  A few shots from Comme Coco: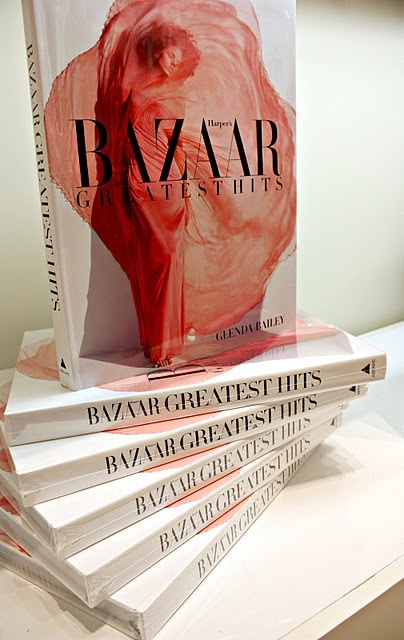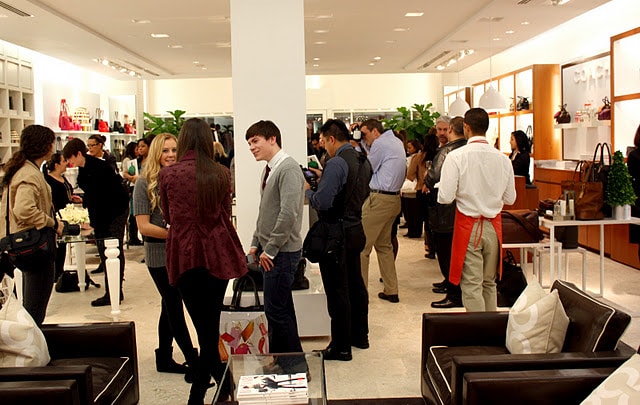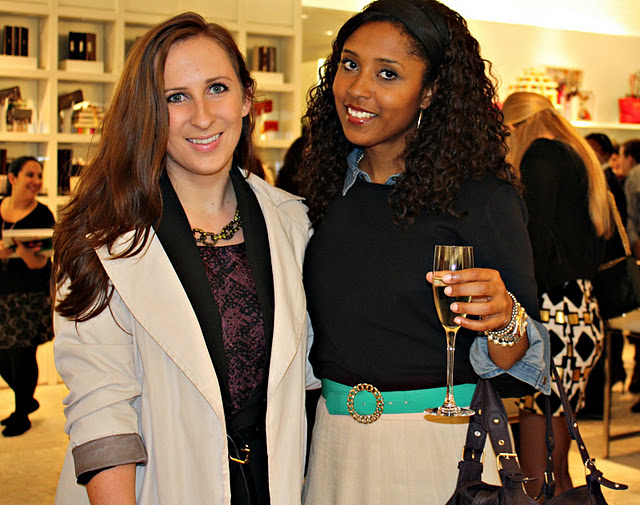 The event was wonderful – once I arrived they checked my soaking trench and umbrella and offered me a glass of champagne. Waiters walked around the store offering petit fours and mini whoopee pies. All of DC's fashion elite were there (made me feel self-conscious being a drowned rat but I got over it). My sister and I each bought a copy of the book and stood in line. Glenda was so gracious, looked each person in the eye and wrote a unique and personal message in each book. My inscription?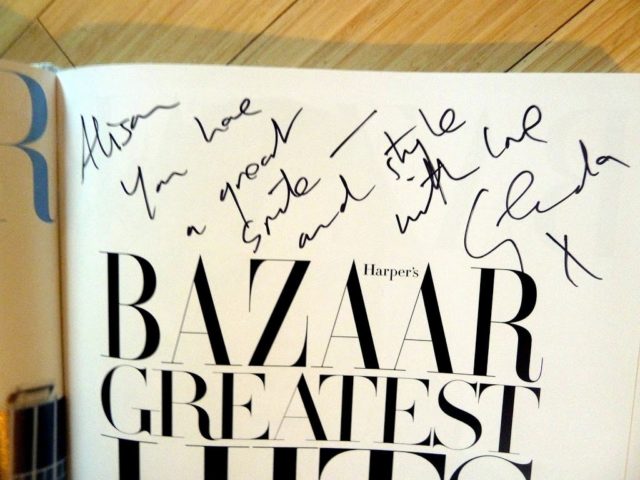 Alison you have a great smile – and style. With love Glenda
Totally made the whole evening worthwhile!
A big thanks to Coach for organizing this book signing, and thanks for Glenda Bailey and Harper's Bazaar for visiting our city. Washington DC is full of those who are passionate about fashion, and it was a pleasure to have such an event in our hometown!