This article may contain affiliate links; if you click on a shopping link and make a purchase I may receive a commission. As an Amazon Associate, I earn from qualifying purchases. 
By Lexa Lemieux
The past several months I have drastically revamped my makeup routine. I had been doing the same things for years. Unfortunately, the same old was not working for my changing face. At 33-years-old, I know I am far from old (my nose stud tends to agree!), but with the appearance of fine lines and some duller skin, I knew something needed to change. Allie was one of the first bloggers that I ever got "hooked" on years ago and I am so happy to call her a friend. Of course, being my friend, she has had to hear about my revitalized makeup obsession. When she asked if I would like to write an article for her blog, I knew exactly what I was going to write about: my drugstore makeup faves.
My Drugstore Makeup Faves
Money doesn't grow on trees and bourbon doesn't pay for itself, so I have really come to love drugstore cosmetics. They have changed so much over the past ten years and they are just as good as their high end cousins. I hope my obsession can keep a few extra bills in your pocket. Below I share my drugstore makeup faves.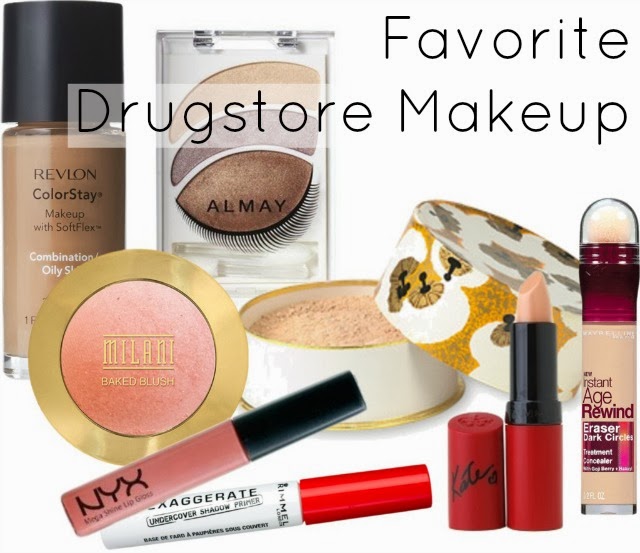 Primer: Rimmel Fix and Perfect Pro Primer keeps the slip sliding at bay and costs a fraction of the price of high-end brands…and even some of its drugstore counterparts. Just make sure to grab the "Pro" version in Rimmel's offering. It makes a difference. Trust me.
Eye Shadow Primer: I need to go with Rimmel again here. Their Exaggerate Undercover Shadow Primer gets the job done. All smooth, no slippage.
Foundation: Revlon ColorStay has true staying power and does not oxidize. No one wants the dreaded orange face hours after applying what looked like the perfect base.
Under Eye Concealer: Maybelline's Instant Age Rewind Eraser Dark Circles Concealer and Treatment is the best drugstore under eye concealer out there. With minimal creasing in fine lines and a brightening effect, I like it more than most of my high-end options.
Concealer: Cover Girl & Olay Concealer Balm is great for breakouts, redness around the nose and other skin imperfections. Creamy without being sticky, it is suited for the job.
Setting Powder: Coty Airspun Loose Face Powder will likely kick your nostalgia into high gear, but the stuff has been around forever for a reason. I adore it. For best effect, I find applying it with a velour puff is a better option.
Brows: I prefer filling in lightly with a shadow instead of a pencil; Wet 'n Wild (a really underrated brand that is not the junk of your teen years) is a good choice here. Just grab a matte shade that is a few shades lighter than your brow shade if you are a brunette or a few shades darker if you are fair-haired. I then set my brows with Maybelline Great Lash Clear Mascara.
Liquid Eye Liner: I have been wearing black eyeliner since I was 13 years old. (Sorry, Mom.) Hands down, my most beloved brand at the drugstore is the L'Oreal Lineur Intense Felt Tip Liner in Black Mica. I was a Lancome disciple for years, but honestly? This may be better. The pen doesn't try out as fast and the flow of the liquid is incredibly smooth.
Eyeliner Pencil: The NYX Retractable Eye Liner in Black doesn't smudge, glides easily on the waterline and doesn't rub off on your lids. I am sold.
Mascara: The Maybelline Great Lash Lots of Lashes in Black is a new obsession. The key here is the get the "Lots of Lashes" version of this iconic product; the funky wand really helps volumize.
Eye Shadow: I have to admit that this is one area where I really find it pays to spend a little extra cash. I love to layer color and want highly blendable pigment. That being said, the Almay Intense I-Color Bold Nudes Kit is very, very good. Also, you don't need to follow the suggestions of what one to use depending on your eye color like it is gospel. That is just a smart marketing gimmick.
Blush: Milani Baked Blush in Luminoso is ah-ma-zing. And…shhh…it is a perfect dupe for NARS Orgasm that may be a little better. It has a touch less shimmer so it is easier to avoid disco ball face.
Bronzer: The NYC Smooth Skin Bronzing Face Powder in Sunny is impossibly cheap and I was a real skeptic. I kept hearing over and over again that it was the way to go, though. Alas, this is the way to go. Warming, not orangey. Just a great product.
Highlight: I like to hit the apples of my cheeks and the bridge of my nose with a quick highlight for a glow; it tricks people into thinking I am not ready to drop over from exhaustion. I am a huge fan of the Revlon Highlighting Palette in Rose Glow.
Lipstick: I tend to do a more dramatic eye, so I go fairly understated and sheer on lipstick. I love the Rimmel by Kate Lasting Finish Matte Lipstick in 113 (a lightish nude color) a perfect shade.
Lipgloss: NYX. NYX. NYX. I am such a NYX lip gloss junkie. The NYX Mega Shine Lip Gloss in Beige (it is a pink color, which makes no sense) is a holy grail item for me.
Lexa Lemieux is a leather wearing, make up loving feminist living in Washington, DC. Her apartment and her life are equally messy but things are never boring. And yes, she did just say what you were thinking. You can find her on twitter, instagram and her neglected, but still loved by her, blog.