This article may contain affiliate links; if you click on a shopping link and make a purchase I may receive a commission. As an Amazon Associate, I earn from qualifying purchases. 
I believe in having a core wardrobe of closet staples and adding fun and interest to it with seasonal trends. No I am not going to, nor am I going to recommend you switch out all your skinny jeans for flares, toss your flats for sneakers, or teach a DIY on how to turn all your tee shirts into the hottest runway trend. You can keep the styles and silhouettes you love but still update your look for the current season by adding a couple trends that appeal to you. None of the current trends jive with your personal style? That doesn't mean you can't be chic; nothing is more chic than know yourself and dressing for your soul! But for those who want some ideas, here's my favorite ways to easily update your wardrobe for this spring and summer!
Off the Shoulder or Cold Shoulder Top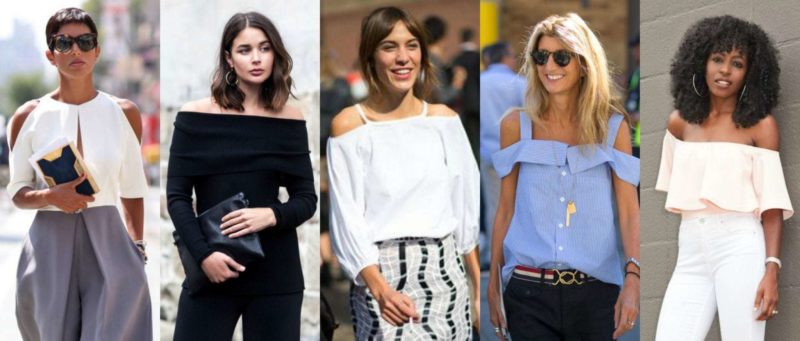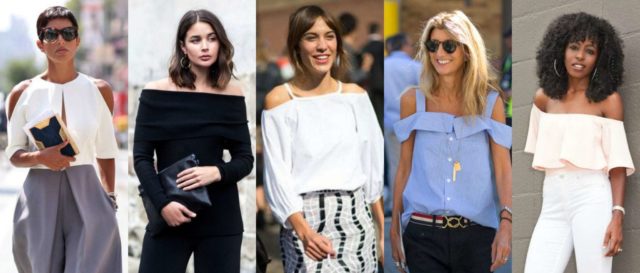 As I mentioned in this post, I was anti-cold shoulder for a very long time. It seemed like a hokey way to show skin while still being able to wear a standard bra or not show too much skin. But the trend has grown on me, and for the very reasons I found it hokey. A flash of shoulder can be quire sexy without being revealing; it can add a dressiness to a simple knit, and add drama to a basic sweater.
This is a trend that can go south quite quickly. It's important to wear what you think works on your figure, not grab a cold shoulder top just because it's the current trend. As a curvy woman, I expected a looser top with the cold shoulder detail would be more flattering but it looked sloppy and oversized. I've found a thicker knit and a more tailored shape is more flattering. Since this is a trend that can look slouchy, I recommend going with a more saturated color and substantial fabric so the effect is purposeful and polished.
Shop Cold Shoulder and Off the Shoulder Tops:


If you're comfortable with a strapless bra, the off the shoulder trend (with or without spaghetti straps for a bit of stability) is also quite stylish this summer. Again, it's a way to show some skin without exposing too much and is a great trend for those who aren't comfortable showing their arms but want some summer ventilation. This trend is great in breezy fabrics like cotton, linen, and voile. Style such a top with a slimmer pant to balance the volume; with dresses a longer necklace and flat sandals will balance the look .  Also check out 'Bardot' tops which are more fitted knit off the shoulder pieces that beautifully update last summer's midi skirts and make a pair of basic chino shorts look fashionable.
Shop Cold Shoulder and Off the Shoulder Dresses:


Gladiator Sandal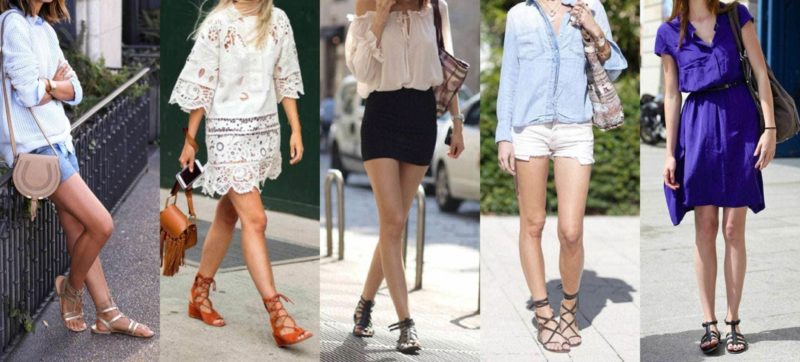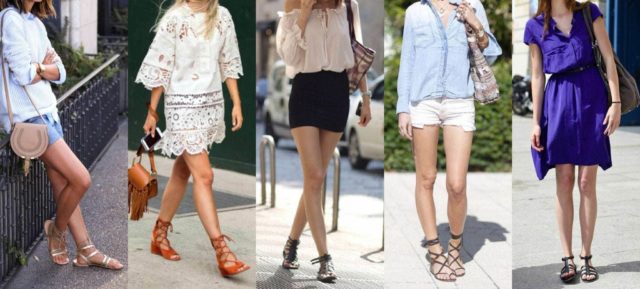 Looking for a flat sandal that doesn't look frumpy? The gladiator is still rocking it this spring and summer, but it's far more wearable than the styles from previous seasons that laced up your legs.  These have the multiple straps which provide more support than a slide or flip flop, but still offer air flow and a lightweight feel that's perfect for everything from floaty sundresses to ankle jeans.
For versatility and figure flattery, look for one that is close to your skintone, or consider a metallic which goes with most everything.  This is also a style where you can carry off a funky print or material which will mix with other patterns quite nicely.  This is a great shoe style for wide and narrow feet alike since the shoe can be adjusted by the center lace, and many comfort brands have made versions in a variety of widths.  I purchased these in gold, but below are some other styles that have caught my eye.
Shop My Picks for Gladiator Sandals:


Sneakers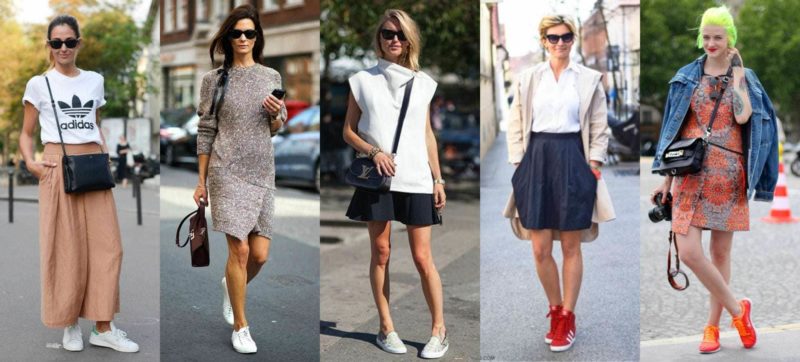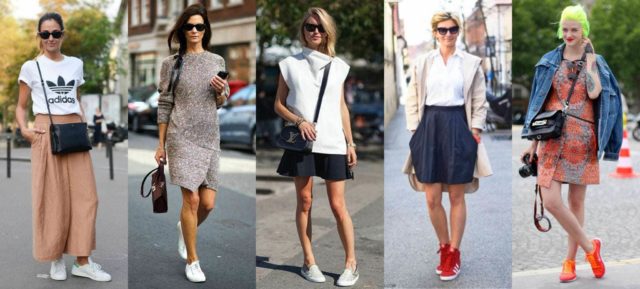 Oh it is so lovely when trends incorporate comfort!  For another spring and summer, switching out sandals and flats for a pair of athletic-inspired shoes is fashionable!  While the slip-on style has continued its popularity, this season is about classic athletic shoes coming back en vogue – The Nike Cortez, Adidas Stan Smiths and Superstars, classic Vans hi– and low-top lace-ups, hi– and low-top Converse One Stars (AKA 'Chucks'), and Jack Purcells.
My Picks for Athletic Shoes for Everyday:


Also on the scene are luxe sneakers – classic styles in soft leather, metallics, or part of designer and artist collaborations.  These are not only comfortable but steal the spotlight and make an outfit.
My Picks for Luxe Athletic Shoes:


With these shoes, don't be afraid to style them with the unexpected.  Sure they look great with jeans and shorts, but sneakers also look great with shift dresses, pencil skirts, feminine midi skirts, and crisp slim ankle pants.  Be sure to wear no-see-um socks (I'm a fan of these from Smartwool) to keep the look clean and modern.  And unlike how it was cool to rock well worn and weathered sneakers back in the '90s, now it's chic to keep them fresh and pristine.
Scarves and Bandanas


Scarves are a perennially chic way to complete a look, but this year the look is less classic and more… dare I say rock star?  Classic silk squares folded and tied into a choker, either with the knot hidden in back or double looped with a tiny knot in front.  Bandanas worn cowboy style, choker style, or tied loosely at the throat.  Skinny long scarves replicating ties loosened at the end of a long day, hanging under shirt collars or glamming up tees.  Sure, your paisley silk squares, oversized voile oblongs, and tasseled shawl-like scarves are still in style, but consider going a bit more casual, disheveled… a bit more rock star this season.  Pair with everything from tees and jeans to shirtdresses, off the shoulder shifts, and crisp white button-fronts.
My Picks for Casual Scarves:


Delicate Jewelry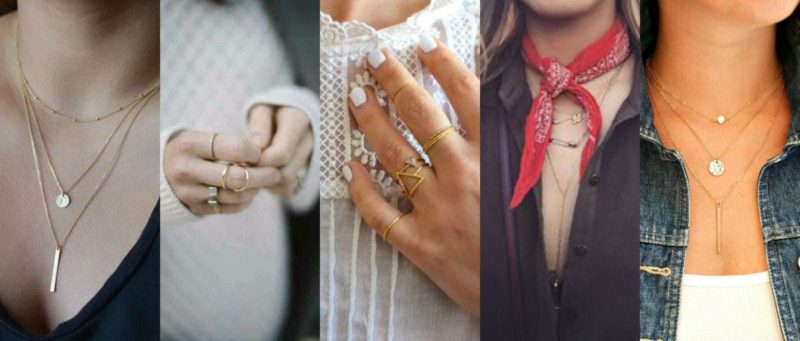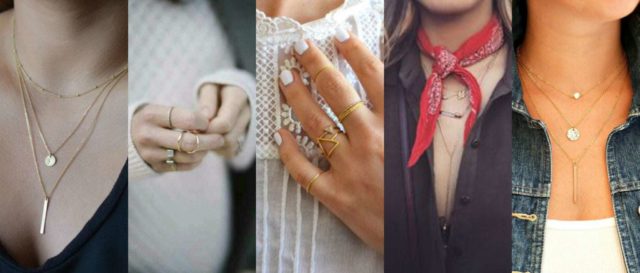 While a statement necklace is always a fun way to add color and interest to a look, the past few seasons jewelery has gotten smaller, more personal, and layered.  Instead of one chunky necklace, consider two or three gold chains of varying lengths with small charms  on them that mean something to you.   Many retailers are offering personalized charms and icons like elephants, wishbones, horseshoes, and shapes of your state so these necklaces can be totems or better represent your life and personality.  As I mentioned in this post, Etsy is a great place to find such necklaces with shorter or longer chains to flatter your specific figure and personal style.
Shop My Picks for Delicate Necklaces:


Along with this, other jewelry has taken this trend.  Small delicate earrings… but in multiple holes and little cuffs.  Small delicate rings… but on multiple fingers and even multiple knuckles.  Delicate bracelets, but instead of the intense 'arm party' of a couple years ago, choose three or four that mix a skinny bangle with a lightweight chain with small beads or braided floss.  For those looking for gifts, these bracelets and necklaces make wonderful presents and come in a broad variety of pricepoints.
Shop My Picks for Delicate Rings, Earrings, and Bracelets:


Chambray and Denim with Denim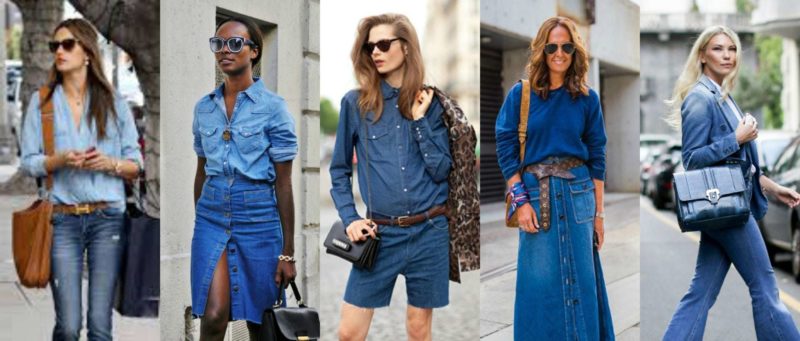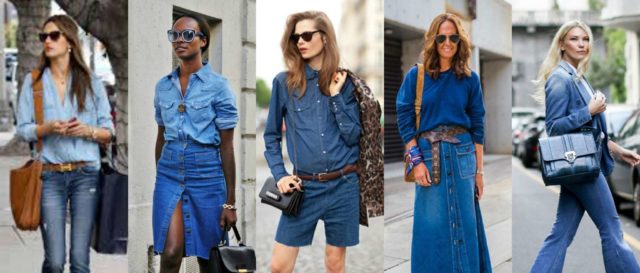 Denim on denim is not going away, if anything it's gaining momentum and brands are have better offerings to achieve this look with style and polish. The key to not looking dated is to have the denims contrast. White denim is a perfect choice this season as it looks great with anything from dark rinse to super faded and distressed denim. Consider a white jean in any silhouette (skinnies are still stylish, bootcuts are back, a straight cut is always on trend, flares and wide legs are back on the scene, and we haven't yet tired of the boyfriend/girlfriend trend) and pair with a denim or chambray shirt, shell, or vest. Denim skirts are back; pair a dark wash with a lighter chambray shirt or a distressed pencil with a darker denim shirt (these skirts also look great with everything from band tees to Breton tops, boho-inspired tanks to collar-popped polos).
Denim doesn't have to be just 100% cotton dungarees; tencel, linen, and modal make lightweight and drapey dupes for denim. Chambray is also chic and is a breezy alternative that works well for shirtdresses, wide-leg pants, and tunics.
Let the denim take the spotlight and keep your accessories neutral with tan, camel, or your shade of nude shoes, bags, and belts. While it's tempting to go Southwest with silver and turquoise jewelry, consider switching it up with some delicate gold necklaces and thin bracelets and rings.
The Nude(ish) Lip


This season's lipstick trend may be giving you flashbacks to the '90s. That decade is inspiration this season, with the return of bodysuits, choker necklaces, and matte lips in shades closer to brown than pink.
Unlike the '90s where Revlon's Toast of New York and Chanel's Vamp reigned supreme, 2016 is about a lip that is more mauve than berry, more taupe than tan. Like the desaturated minimalistic looks taking over your Instagram feed, this season's lip is cool, neutral, and slightly unnatural looking.  This look is great come summer with a bit of a (faux) tan, some bronzer, a touch of mascara and little else.
Liquid lipsticks are hot right now, and give that matte finish without drying out your lips. However, for those of us who find an ultra-matte finish aging or unflattering, a semi-matte lipstick or crayon can offer a similar yet softer effect. For a subtle version of this trend, I have been wearing Bite Beauty's lipstick in Chai. The Estée Edit by Estée Lauder has a series of lipsticks called The Barest Lip Color which is a balm and lipstick hybrid and comes in six wearable nude shades. Maybelline New York Lip Studio Color Blur Lip Color in Plum Please is a cream matte pencil with a built-in smudger for a chic stain look; tarte's Tarteist Creamy Matte Lip Paint in TBT is a brownish-mauve long-wearing liquid lipstick that won't turn your lips to chalk; HOURGLASS has a line of crayons called Femme Nude Lip Stylo that are anti-feathering and give the nude trend without drying or being too in your face.
Shop My Picks for Nude-ish Lipcolors:


The Orange Pout


If a bold lip is your signature, consider switching from red or pink to a warmer shade. Orange lips have been a summer trend for a few years now and it doesn't seem to be going anywhere. From sheer glosses to high-pigment matte lipsticks, there's a formula and level of intensity for everyone. For those who rock the red, you may like a vermilion shade like NARS Heat Wave; for pink lovers consider a warm coral like Revlon Super Lustrous Lipstick in Lovers Coral. For those who are ready take the juicy leap, try Yves Saint Laurent Vernis À Lèvres Glossy Stain in Orange de Chien or Revlon Super Lustrous Lipstick in Carnival Spirit.
Shop My Picks for Orange Lipcolors: