This article may contain affiliate links; if you click on a shopping link and make a purchase I may receive a commission. As an Amazon Associate, I earn from qualifying purchases. 
Living in the DC Metro area all my life, I am no stranger to sweltering temperatures and mega-high humidity. Over time, I have learned ways to work with crazy summer weather and not have it wreak havoc on my style. Many of you have been asking what I do to not be a sopping, frizzy, grody mess each summer day, here's my favorite beauty products and tips to look cool even when the temps are up: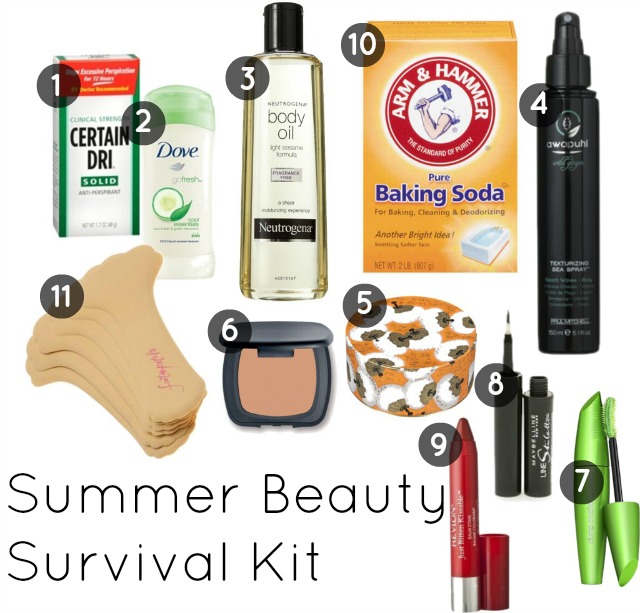 1. Certain Dri
I apply the roll-on version of Certain Dri every evening before bed. I keep it on my nightstand next to my lipbalm, hand cream, and water so I do not forget. This is NOT a product to apply to freshly-shaved pits, even when my skin is calm it can still sting a bit. I tried the stick formula, but I couldn't handle the smell (very powdery, might not be as problematic for others). Certain Dri has been a summer go-to of mine for over a decade. I don't wear it in the cooler months because I don't think it's terribly healthy to stop sweating, but it keeps me from being a sopping wet stinkpot during the hottest time of the year.

2. Dove go fresh Cool Essentials Deodorant
I find it's best for me to switch up deodorants every few months, it seems my body becomes accustomed to them and they stop working. During the fall and winter I often try out new deodorants to see if I can find a new favorite, but for the past three summers as soon as June hits I go back to Dove Cool Essentials. It's one of the few deodorants that doesn't have a smell that nauseates me (and the last smell I can handle on a hot day is the "unscented" smell). That plus Certain Dri keeps me funk-free for at least 24 hours, and Dove doesn't irritate, even when applied right after shaving.

3. Neutrogena Body Oil
I've written about Neutrogena Body Oil before, it has been a beauty staple of mine for years. Now that I am older, it's not enough on its own come winter, but in summer, it's the perfect light moisturizer that gives my skin a soft healthy sheen. Not only that, the scent is quite lovely, even when my body heats up. Most summer days, this is the only fragrance I wear. I lightly towel after showering and apply it from neck to toes, concentrating on elbows and knees. then I usually stand in front of an air-conditioning vent and mutter about the humidity and check my email (TMI?) until it has dried and then get dressed.

4. Awapuhi Wild Ginger by Paul Mitchell Texturizing Sea Spray
This is a new product for me this summer, but it's now a staple. With my last Drugstore.com purchase I ordered three bottles of it, since I ran out mid-trip to NYC and almost cried in my hotel room. While I'm mentioning this product (which I also raved about on The Average Girl's Guide), I might as well share my summer hair routine:
Wash hair with shampoo maybe once a week, twice if I get really sweaty. In the summer, I water down shampoo before I put it on my head, and concentrate on my scalp, especially the hair line where I get greasy.
Condition like crazy. Once a week I do a hair mask, maybe Neutrogena because it rinses easily and can be done in the shower, maybe coconut oil if I have an hour to myself (rare). Every other shower, I "wash" my hair with conditioner. I switch between Biolage which is light, and Aveda which is thick and smells strange but gives my hair lots of body and control.
Dry hair with an old tee shirt, or a quick-dry towel to reduce frizz.
Add seven drops of Frizz-Ease Sheer, a tiny amount of argan oil (like a quarter of a pea and concentrated on ends), and a thousand sprays of Sea Spray to damp hair and scrunch.
Stand in front of A/C, mutter about the weather and check my email.
Get dressed, do makeup, eat breakfast.
Come back and use the curling iron on any pieces that look less beachy and more Kip Winger, using TRESemme Heat Protectant Spray before each curl.
Finger comb, and occasionally use a bit more argan oil to smooth.
Day 2 or if I have plans that evening, I can usually revive my look with a few spritzes of Sea Spray with some scrunching, maybe a couple curls of the iron, if it's really bad, a bit more argan oil. My hair is bigger and crazier on Day 2.
If I can survive until Day 3 or have somewhere to go Day 2, I may use some Psssssst on the roots for lift and to suck up the sweat and grease.
So yeah, Paul Mitchell Sea Spray is my jam. It totally gives me the crazy beachy waves I crave without weighing them down or making them look dirty or greasy (which happens with many other surf sprays). I like the dry look in summer, it makes frizz seem more purposeful and I can better get away with dry shampoo and going without washing. Glossy hair will return when the humidity drops!

5. Coty Airspun Face Powder – Translucent
My mom had this when I was little, and I can remember the iconic floral container on the dressing tables of most women I knew when I was a child. I picked it up earlier this year on a whim, and I am glad I did. It's an awesome summer powder. It has a very strong scent, and by smelling it you may realize that your aunt or grandmother or elementary school teacher wore it, the scent is very memorable. If you can get past the scent and crappy powder puff (use a brush, sponge, or a higher quality puff to apply), this is a powder that can set your makeup (or bare face) almost all day.
During the week, I do my normal face of primer, foundation, and concealer and then set with Airspun. On weekends, I often just do a bit of Dr. Brandt Pores No More and then the powder just to give a bit of an airbrushed but natural look. Since Airspun comes in a pretty big and messy container, I do touch-ups through the day with Bare Minerals Tinted Touch Up Veil.
6. Bare Minerals Tinted Touch Up Veil
Few powders work on sweaty skin. Often they create weird little beige globules, or look really obvious. With this compact, I can pat skin dry, swipe on Touch Up Veil and look pretty decent. As I sweat more, it doesn't get strange, it seems to take my sweat and diffuse it so I just look glowy in an almost purposeful way. I wrote about Bare Minerals Touch Up Veil before, still a big fan.

7. Waterproof/Water Resistant Mascara
I don't wear waterproof mascara often, but come summer it's sort of a necessity when it's a long day or an outdoor event. I was using Mary Kay Lash Love Waterproof because I received a free tube and I do like it a LOT – it makes my lashes long, separated, and just plain lovely. However I am using Clump Crusher right now in the regular formula and am totally loving it and when my Mary Kay runs out I am thinking of getting the water resistant version of Clump Crusher. Before I put on my mascara, I always curl my lashes.

8. Maybelline Line Stiletto
Best liquid liner ever. Loved it then, love it now. It's a good day liner because it's not shiny, it's not super thick, and you can get a really thin line right against your lash line. It's great for summer because it won't drip or fade with sweat and humidity, but it washes away easily with most any cleanser.

9. Revlon Just Bitten Kissable Balm Stain in Romantic
This chubby pencil (that doesn't need a separate sharpener!) is the best beauty product I have purchased in eons. I am on my fifth, and I have one in my purse, one in my desk, and one in my dressing table. It gives a pretty soft red color on the lips that looks great even as it wears away. I can apply it without a mirror, and it's matte enough that it doesn't smear or get on my teeth but shiny enough that it looks right with a sweaty… I mean glistening face. I have this pencil in a few other colors and while I like them, I LOVE Romantic. Oh, and in a pinch you can rub a bit on your cheeks for a natural flush!
10. Baking Soda
My face often feels disgusting at the end of the day – dirt from the city, sweat, makeup put over makeup… it's tempting to scrub my face with a hardcore cleanser to clean out the pores but I know it will stress out my skin. Instead, I shake a bit of baking soda into my CeraVe cleanser. It is the perfect amount of grit to really clean the skin without stripping it. Best thing, keep the box in the bathroom and add it to a bit of cleaner (we're a Dr. Bronner's family) and it's also a fabulous tub scrub!

11. Footpetals Killer Kushionz
I have these in most every pair of shoes I own. I put a new set in at the beginning of the summer, and replace them once the temps cool. They soak up sweat, keep my feet from sliding around, and protect my shoes from being grody. They come in several colors, so you can slip them in peeptoes or even sandals and have them practically invisible. There's special styles of Footpetals for sandals and thongs and such, but I'm a fan of the full-size Killer Kushionz because they absorb more moisture and also cushion the heels. By the way, I find these cheapest on Amazon (the link in this post is to what I buy but know it's an affiliate link. If you don't want to click, search Footpetals, and there's a three-pack that is free shipping if you have Prime).

I'd love to hear from you! I always learn about the best beauty products from the comments. What are your favorite products for beating the heat and humidity?