This article may contain affiliate links; if you click on a shopping link and make a purchase I may receive a commission. As an Amazon Associate, I earn from qualifying purchases.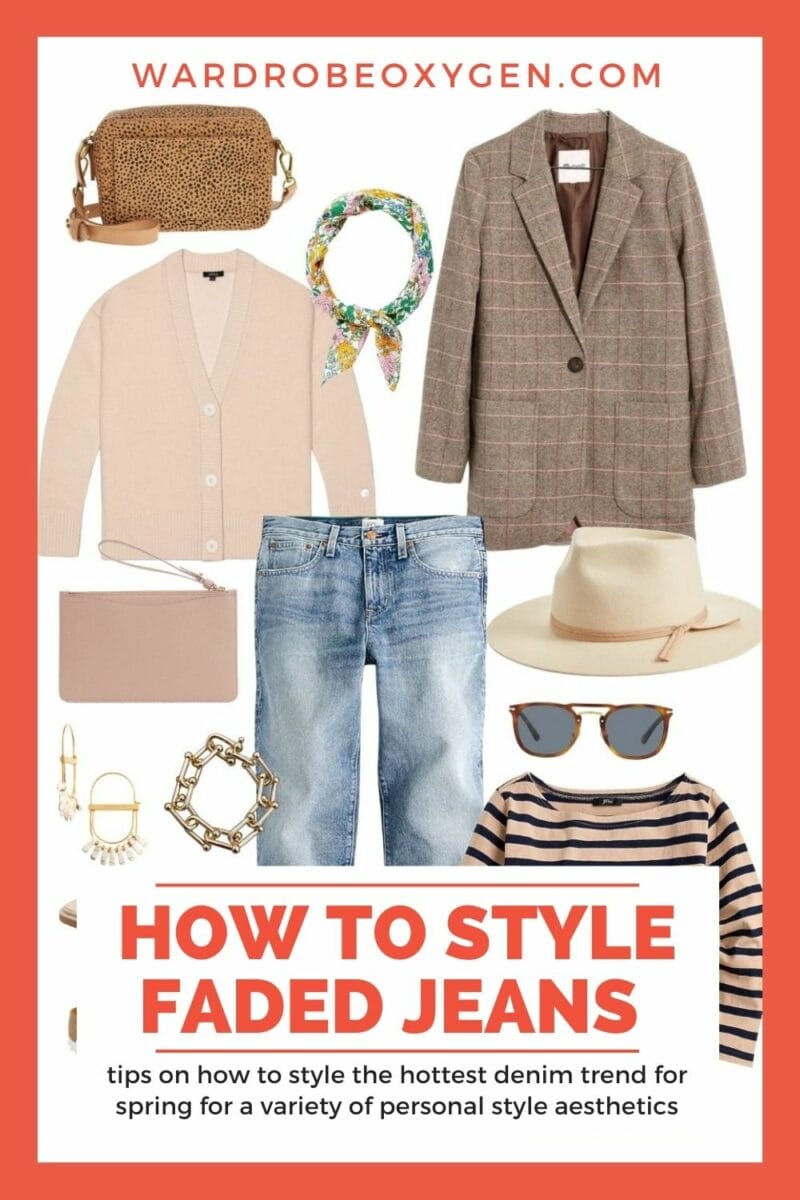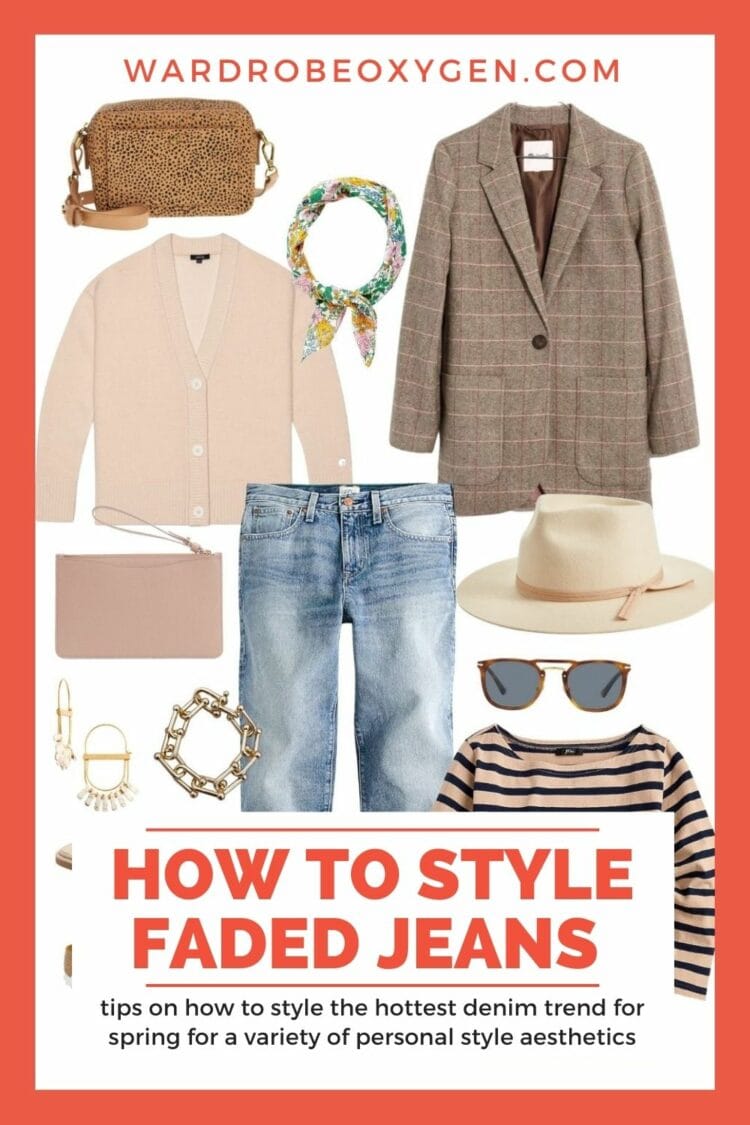 After sharing my article on the top three denim trends for 2021, many felt they couldn't see faded jeans on themselves or in their wardrobe and wanted tips on how to style faded jeans for spring.
I have a faded jeans review coming soon with me modeling a few styles, but in the meantime, I hope these collages will inspire you to see how a different wash of denim can actually fit into a variety of personal style aesthetics!
As always, the majority of the items featured are available in extended sizes (at least to size 18, though many are available up to 22+) and a range of price points. Below each collage are links to the exact items and a gallery of the items with their non-sale prices (prices may be lower if a retailer is having a promotion).
I wanted this to be… realistic. Items that would be worn now, with our more casual lifestyle, pieces that can transition from now into warmer months, but still be stylish next fall. Shoes that are comfortable and accessories that add interest to wardrobe staples.
Choosing simpler pieces, I hope these looks can be created with items already existing in your closet, pieces purchased from resale sites, or from thrift and consignment shops.
Inspiration for How to Style Faded Jeans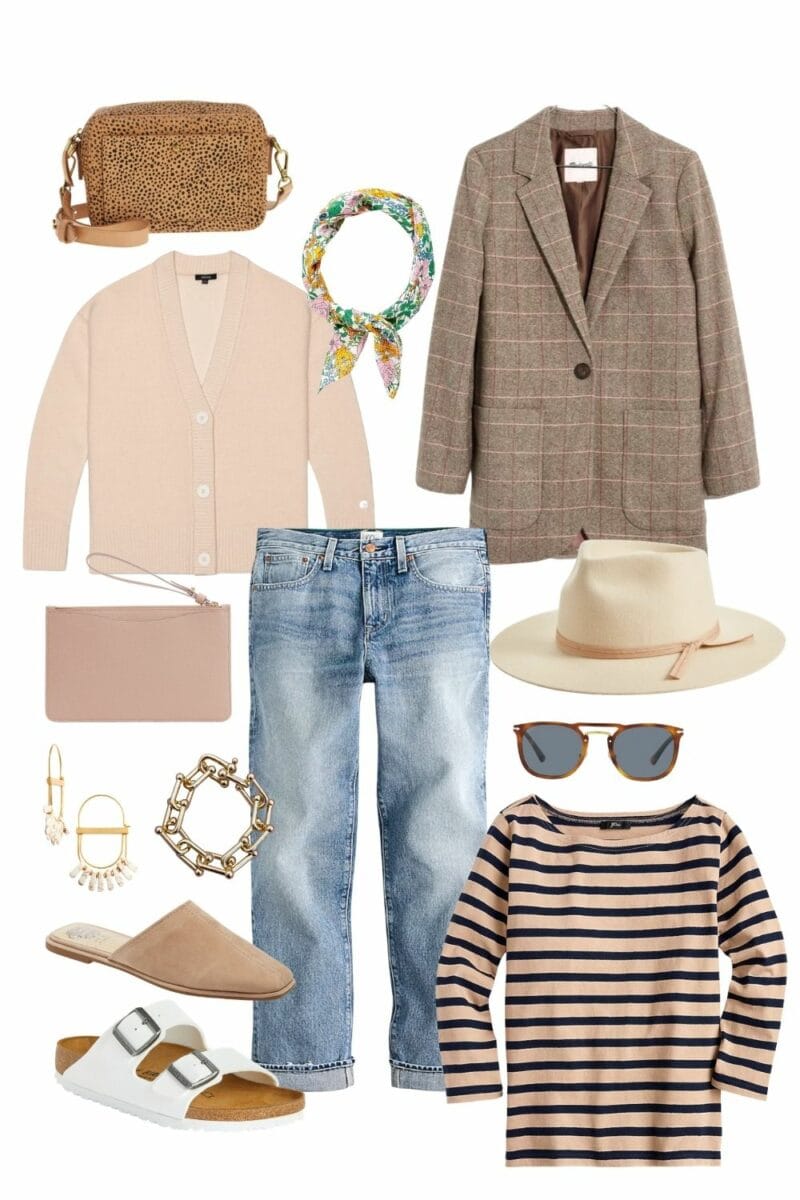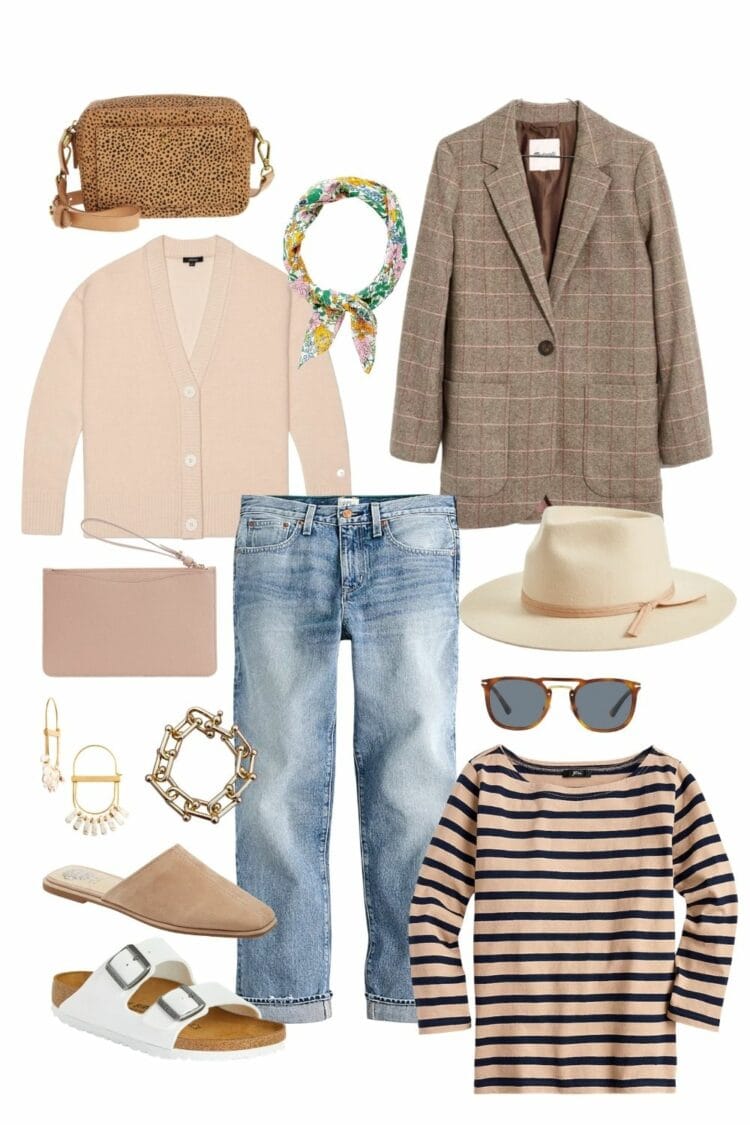 Spring Neutrals:
spotted camera bag | cardigan sweater | floral bandana | plaid boyfriend blazer | wristlet | jeans | hat | earrings | bracelet | sunglasses | suede mules | white sandals | tan stripe shirt
Keeping it classic and neutral, this collection takes wardrobe staples like Breton stripes and plaid blazers and gives it a weekend getaway vibe with relaxed faded jeans, Birkenstock sandals, and light neutral shoes and accessories.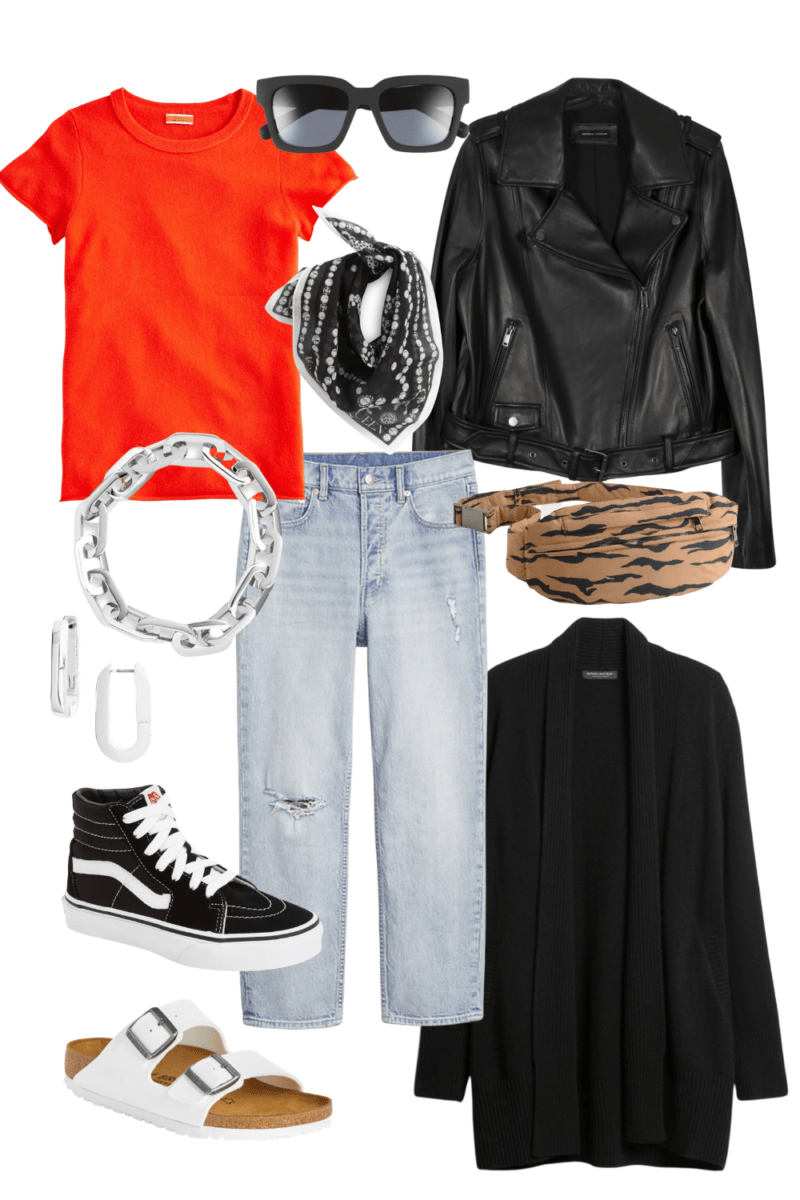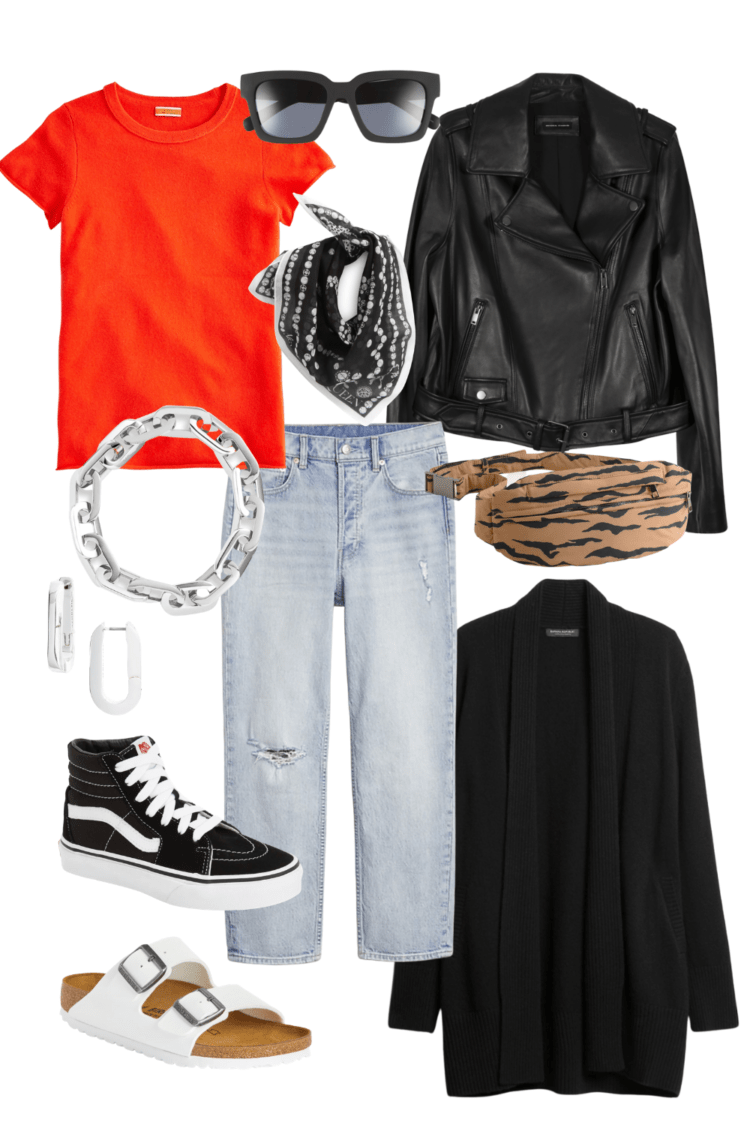 Black with Bold for Spring:
cashmere t-shirt | sunglasses | bandana | leather jacket | silver link necklace | silver earrings | jeans | belt bag | sneakers | white sandals | long cardigan
No need to stray from your favorite black pieces in your closet, faded jeans look great with black and bold colors. The key is to keep things relaxed and light so it doesn't feel '80s Lita Ford. Switch out the boots for a pair of Birks or even some old-school Vans. Add texture and pattern with accessories… keep your hands free with a belt bag big enough to hold your essentials and a bandana-style scarf can add mega style to wardrobe staples.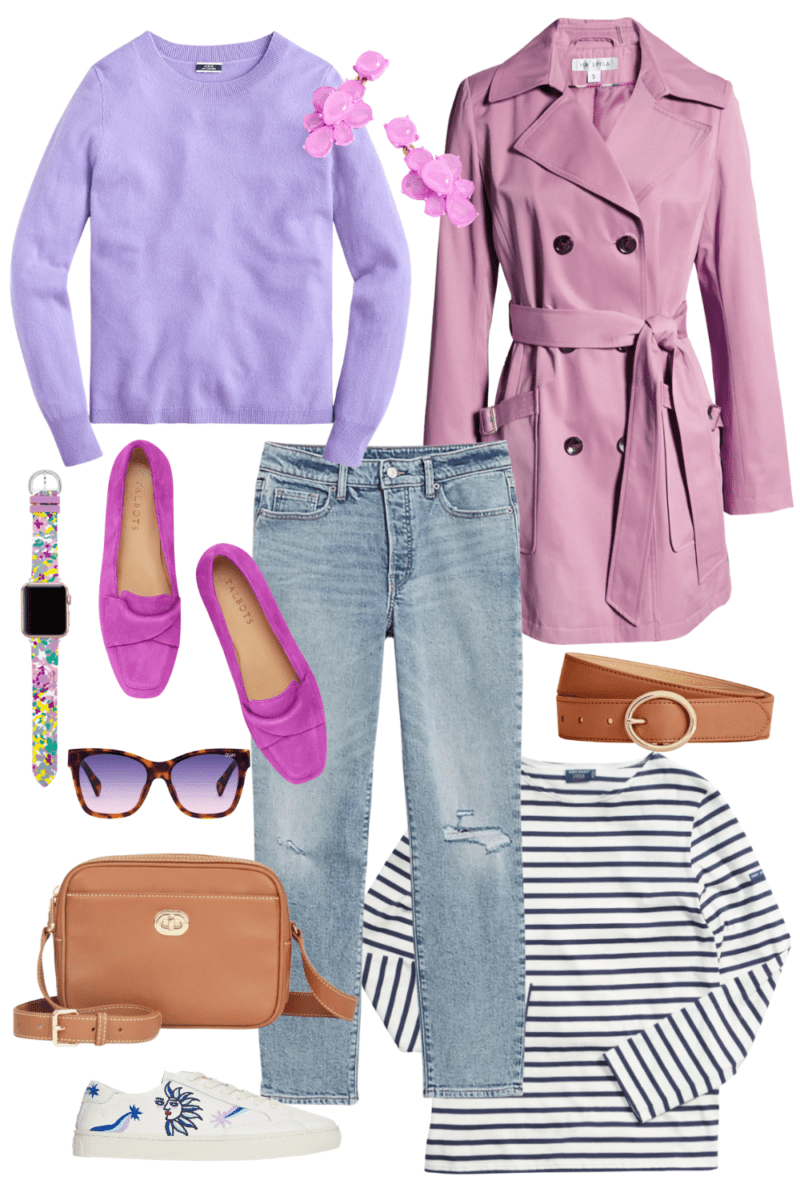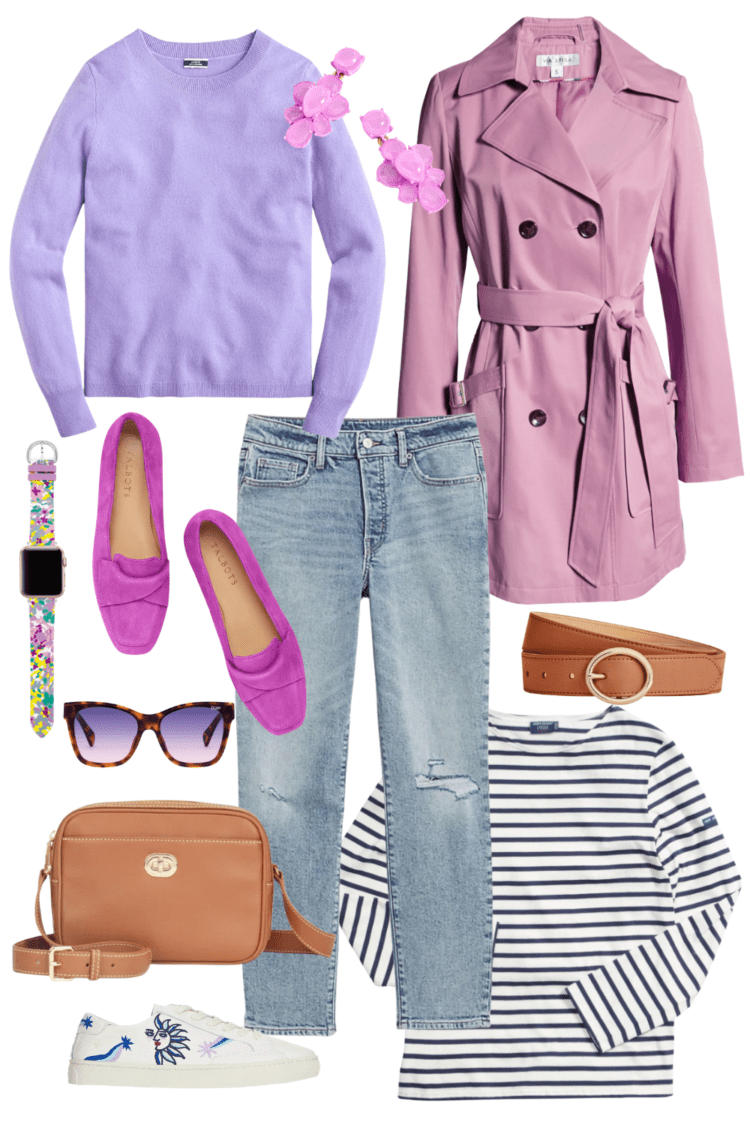 Watercolor Brights for Spring:
cashmere sweater | jeans | sunglasses | bag | suede loafers |sneakers | striped top | trench coat | earrings | belt | Apple watch strap
If your style leans more classic, a pair of faded jeans in a straight cut with a bit of distressing will give a modern touch to your wardrobe. While you may be used to crisp denim, a pair of vintage, even with a hole, will actually look more stylish than a pristine pair of faded jeans. The lighter wash will make watercolor brights like orchid, lime, and mango pop.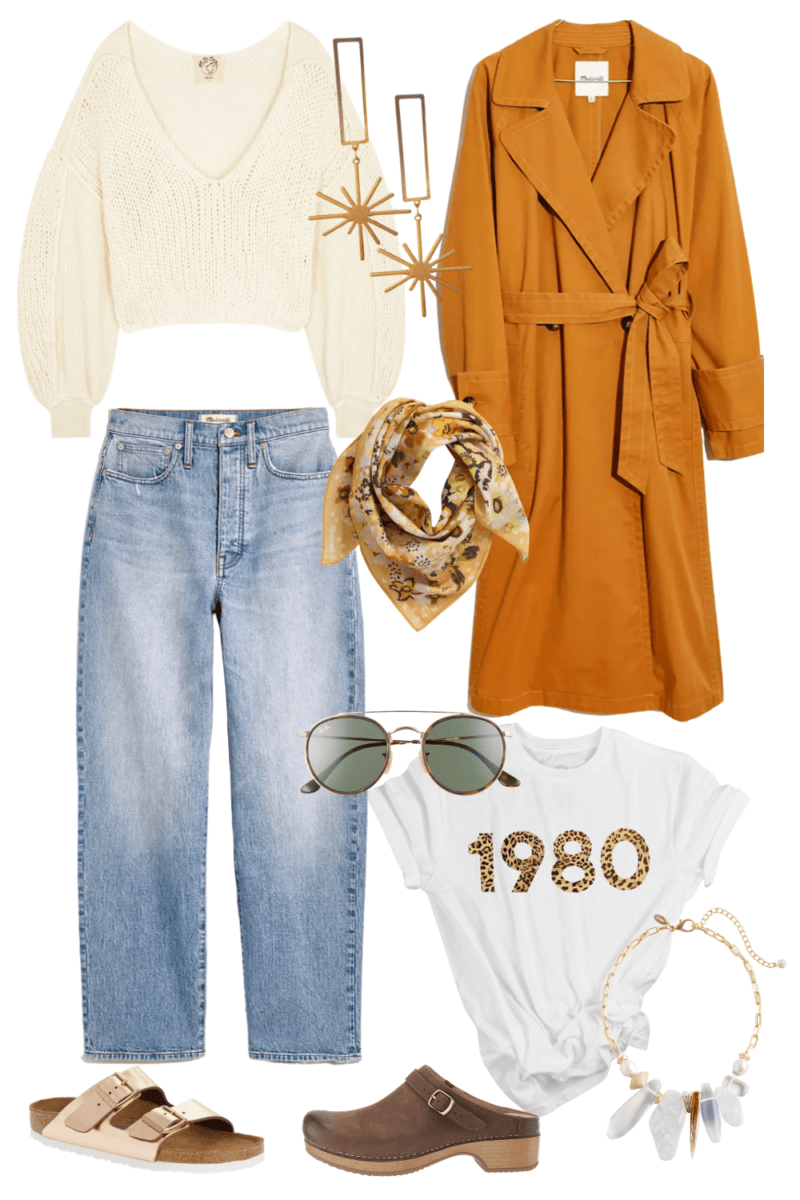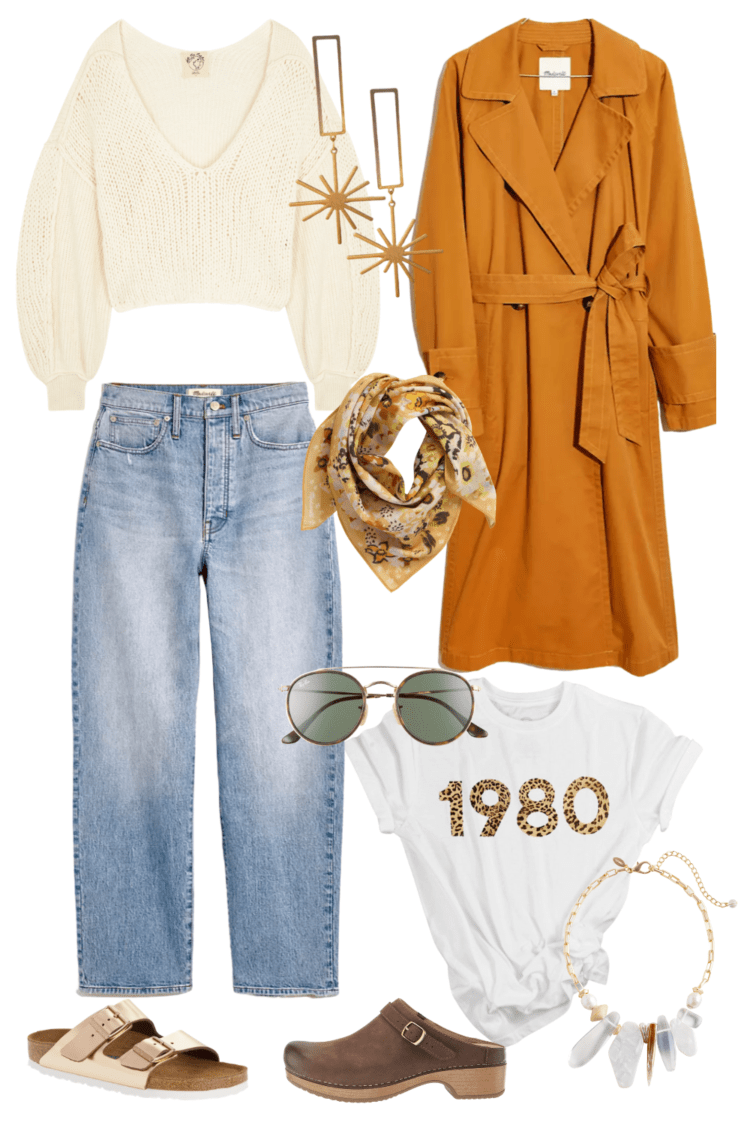 Sporty Boho for Spring:
birth year t-shirt | sweater | jeans | clogs | scarf | rose gold sandals | necklace | trench coat | sunglasses | earrings
When wearing baggy jeans, ensure the waist fits properly. Balance the volume with tucked in and shorter tops, but continue that volume in details such as sleeves and sturdier footwear. Soft neutrals and brushed gold will add elegance to faded denim.