This article may contain affiliate links; if you click on a shopping link and make a purchase I may receive a commission. As an Amazon Associate, I earn from qualifying purchases.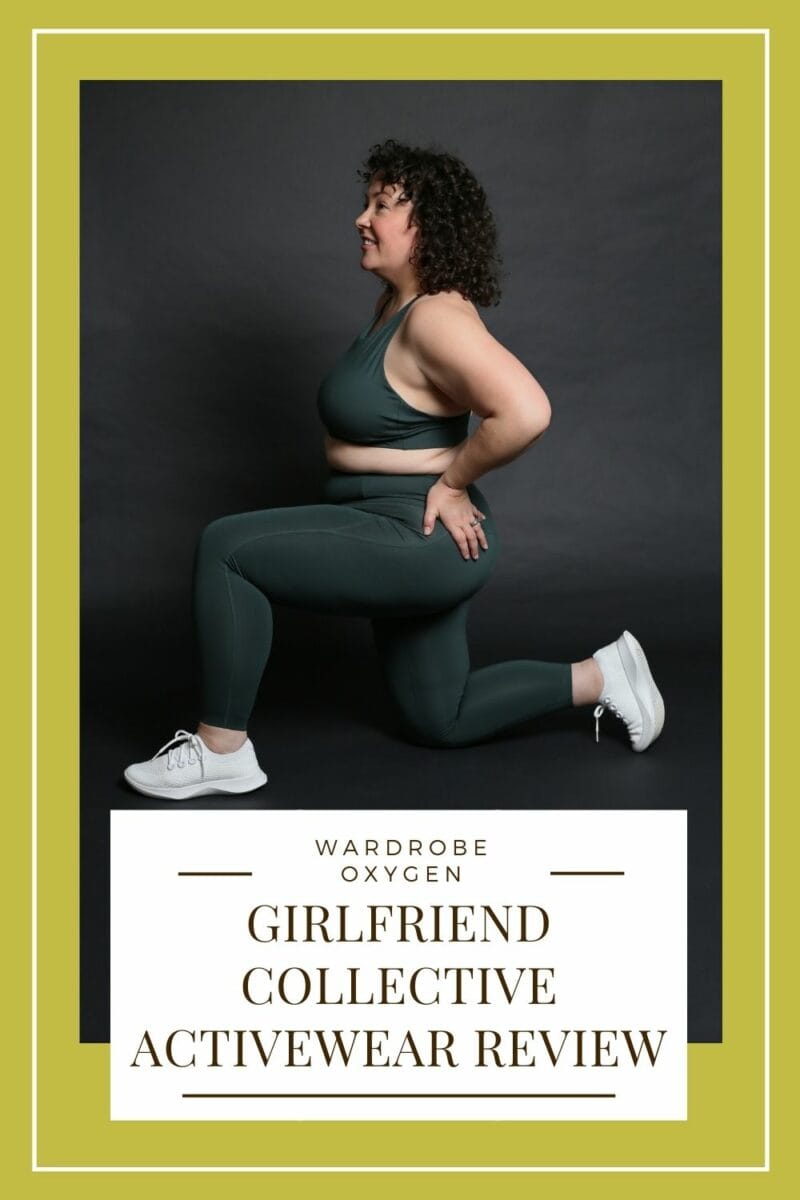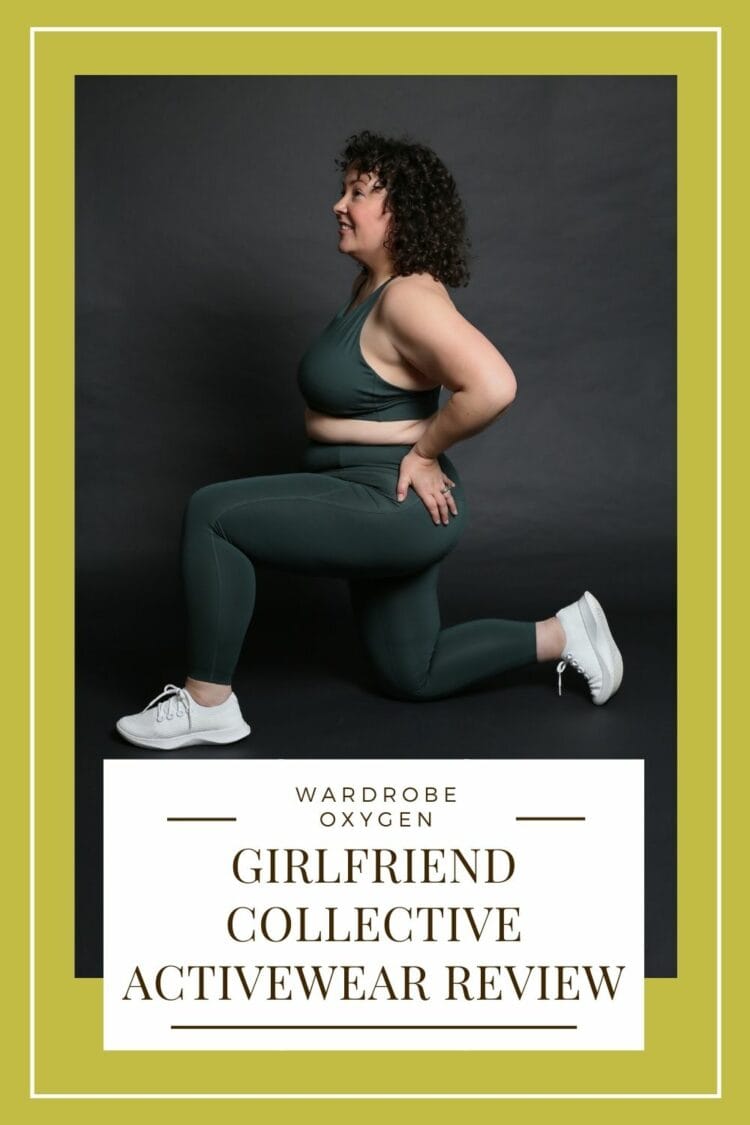 It seems every other week a Wardrobe Oxygen reader is asking if I have tried Girlfriend Collective, a sustainable and ethical, size-inclusive activewear brand. I have tried Girlfriend Collective and own a few pieces, but realize I never consolidated my Girlfriend Collective reviews into a single post.
I am a fan of Girlfriend Collective, from their materials to their manufacturing, their marketing, you name it. They market to a younger audience than I am, but most brands do. However, when it comes to activewear, does Girlfriend Collective work for the needs of an over-40 body with soft curves?
What is Girlfriend Collective?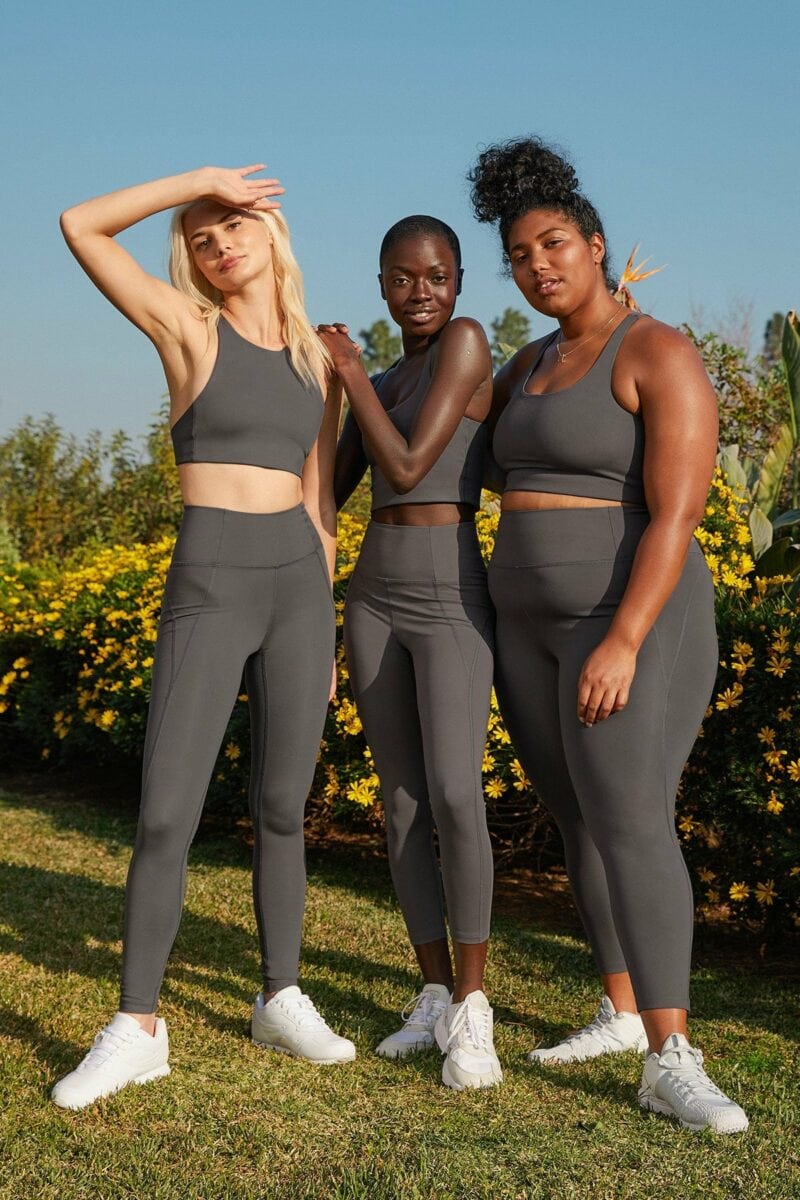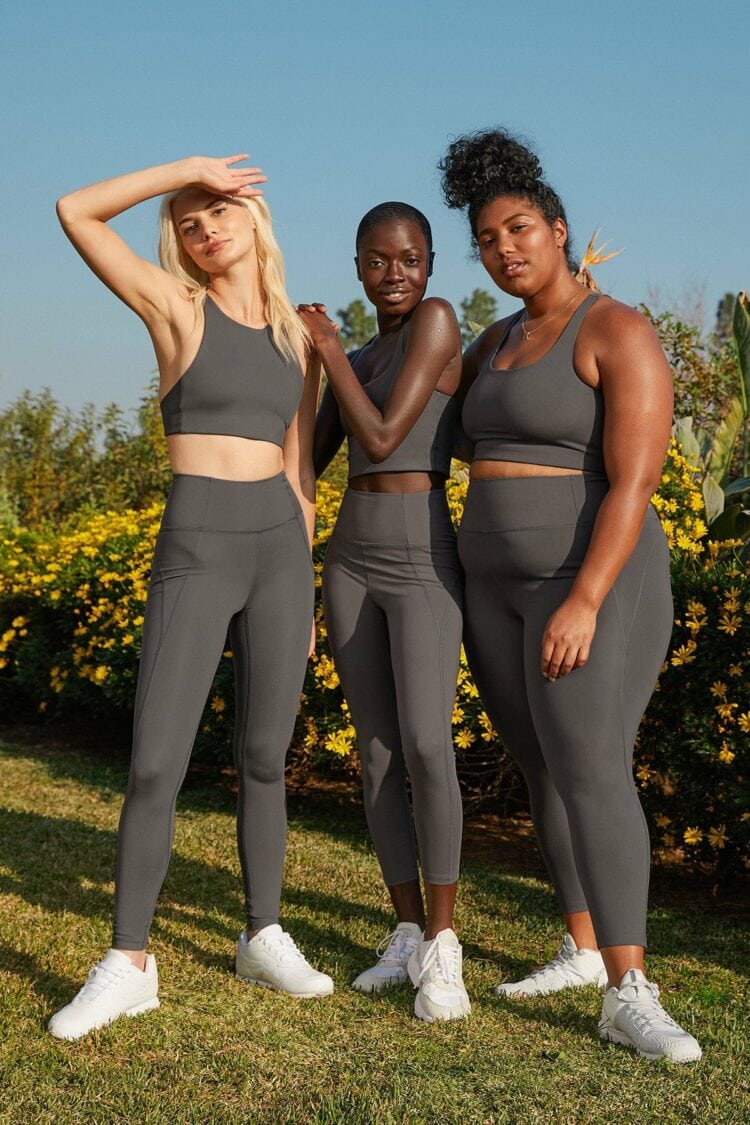 Girlfriend Collective was founded by Seattle-based husband and wife team Ellie and Quang Dinh. Ellie wasn't finding the kind of activewear she desired, and at the same time, her husband Quang had found a way to make polyester entirely from recycled water bottles. Together, they created an ethical and sustainable activewear brand that is also fashionable.
Girlfriend Collective is extremely transparent with their sourcing, manufacturing, and labor. You can read it all on their website, but some of the aspects of their business that stood out to me:
Girlfriend Collective's textiles are made from recycled materials in their facility in Taiwan that specializes in eco-friendly and high-quality textiles. Garments are then cut-and-sewn in one of their partner facilities carefully chosen for their values and ethics. Their core factory is in Hanoi, Vietnam. The factory is SA8000 certified, guarantees fair wages, safe and healthy conditions, and zero forced or child labor.
Their packaging is 100% recycled and recyclable.
As for their materials:

Girlfriend Collective Compressive Leggings + Bras are made from 79% recycled polyester (or RPET) and 21% spandex. The leggings are made from 25 recycled post-consumer bottles; the bras are made from 11.
Their LITE Leggings are made from recycled fishing nets and other waste using ECONYL® yarn. Girlfriend Collective's LITE fabric is made up of 83% recycled nylon and 17% spandex.
Girlfriend Collective's tees and tanks are 100% cupro, a delicate fiber made from waste the cotton industry leaves behind. Their cupro yarn is made in a zero-waste, zero-emission facility in Japan, then constructed at their SA8000-certified factory in Hanoi.
Girlfriend Collective orders come in a Reusable Pouch that is made with the same RPET as their bras and leggings.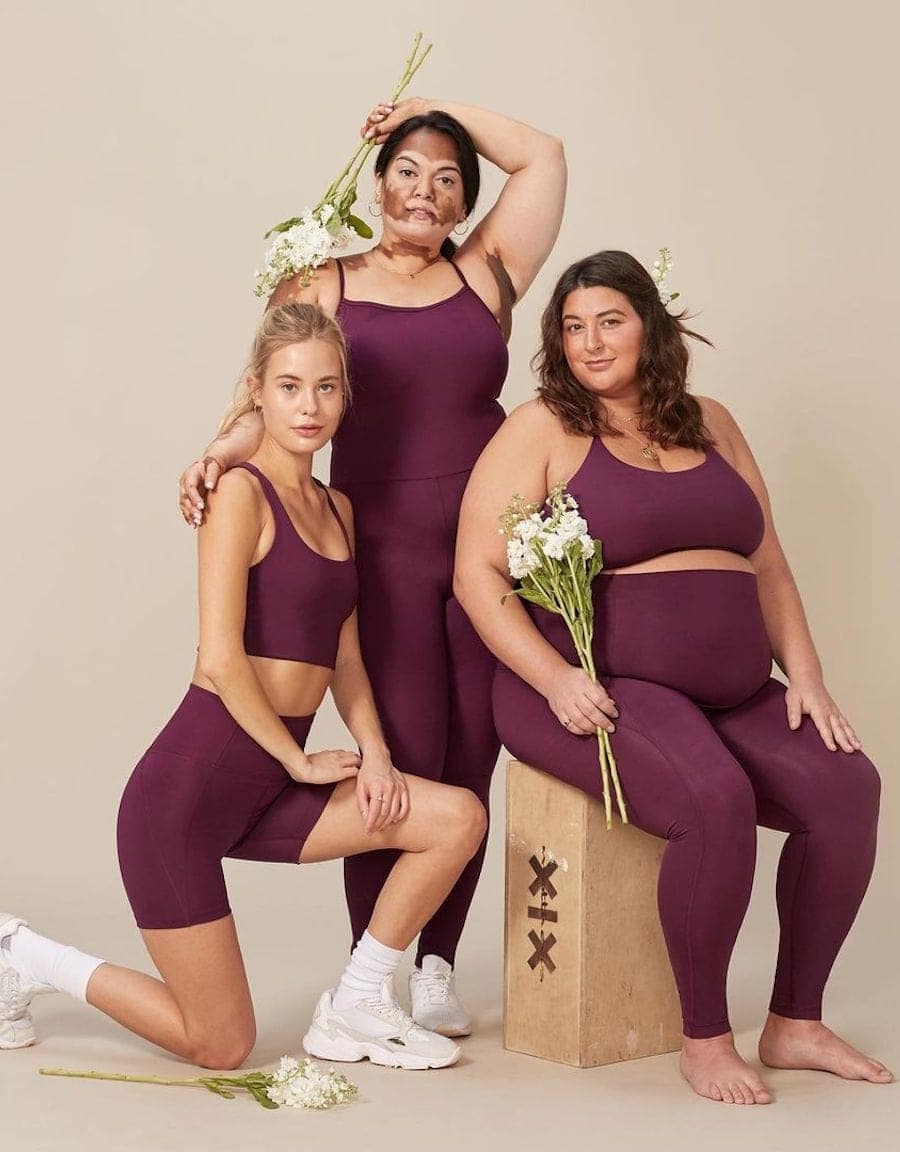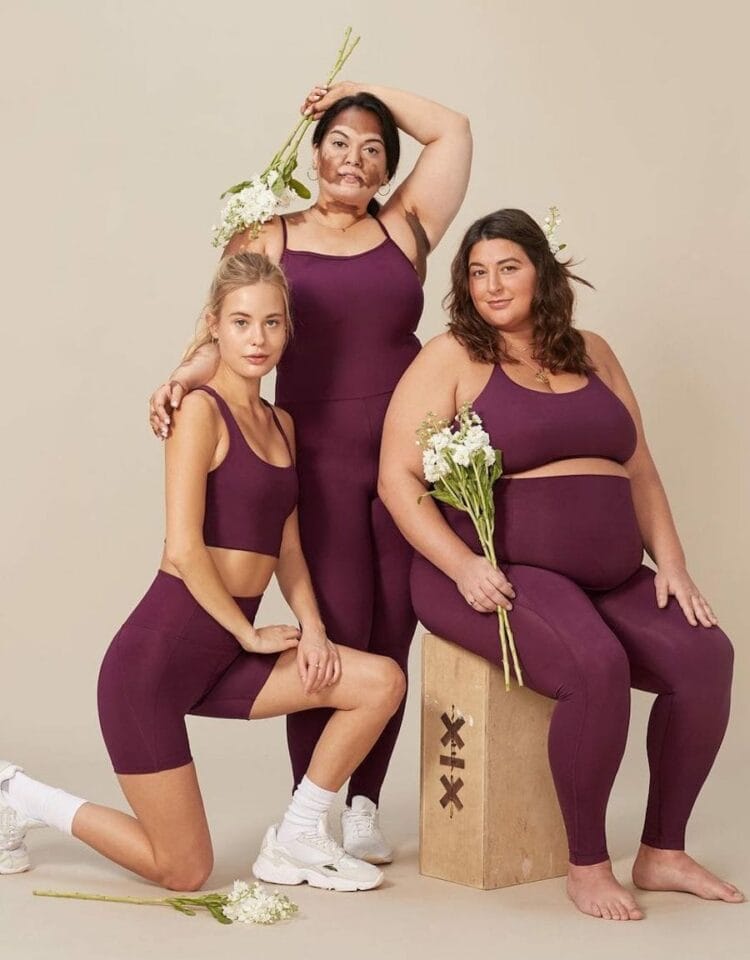 Girlfriend Collective offers their apparel in sizes XXS-6XL; but they also have For Everyone Size. For Everyone Size is numbered 1-12 and matches up to men and women standard sizing to make the clothing for all, regardless of gender. Even Girlfriend Collective's bags and outerwear are gender-neutral and size-inclusive.
Girlfriend Collective has a beautiful range of models of all sizes, skintones, and genders. Not only is this beautiful and empowering, but it makes it far easier to envision how their apparel will work on your specific shape and size. Girlfriend Collective never touches up their photos.
Girlfriend Collective Activewear Review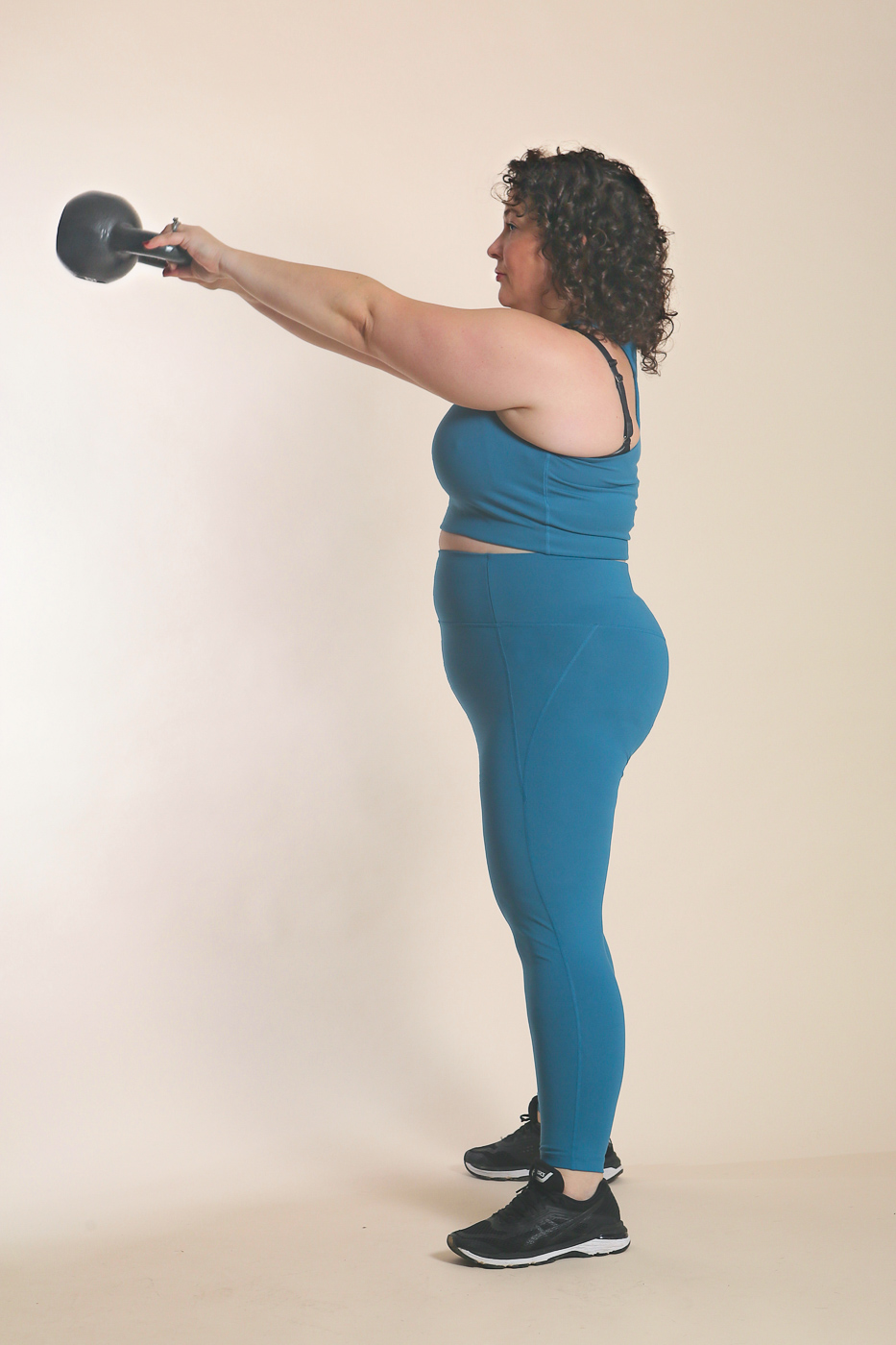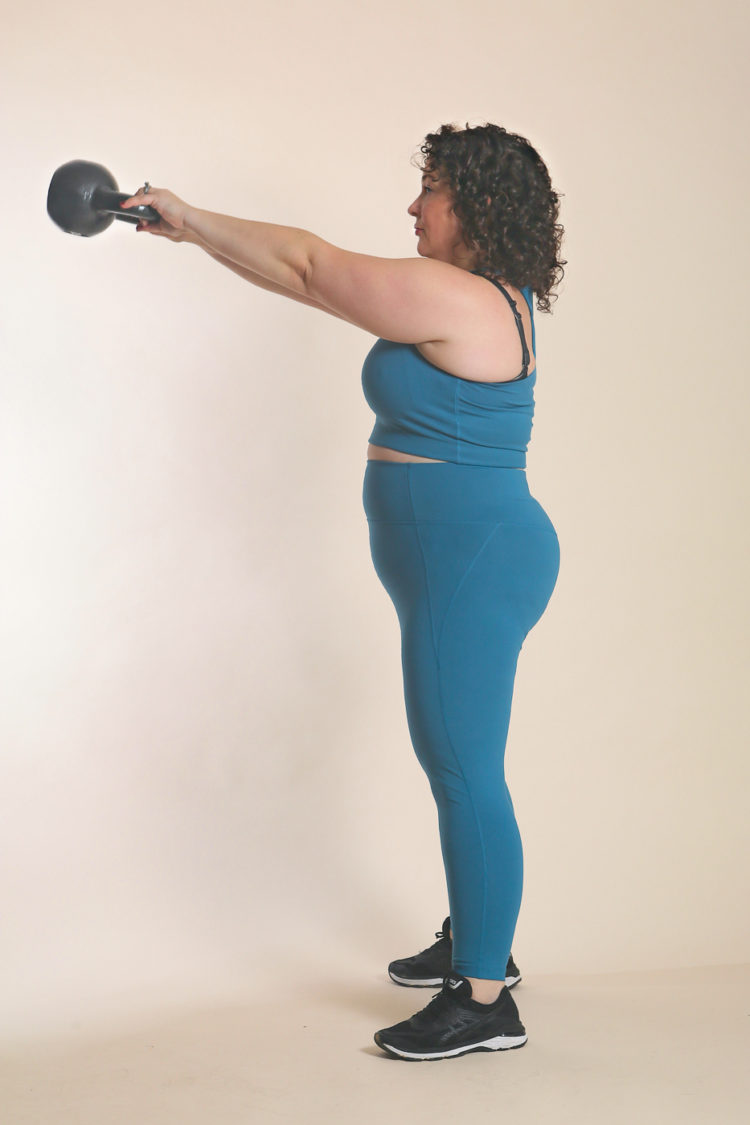 When my fitness routine consisted of weight training, the occasional jog on an elliptical at the gym, and walks around the neighborhood, my priorities were far different for activewear than now, when my primary methods of working out are riding my Peloton bike and doing on-demand yoga classes in my living room.
For weight training, walks, and occasional cardio activities, I really like Girlfriend Collective activewear. Opaque even for squats, just the right amount of compression, thick enough to blur bumps but a beautiful amount of stretch, I loved the selection of colors offered by Girlfriend Collective and would wear a pair of their leggings with a different brand top, or wear one of their bras over a more supportive sports bra.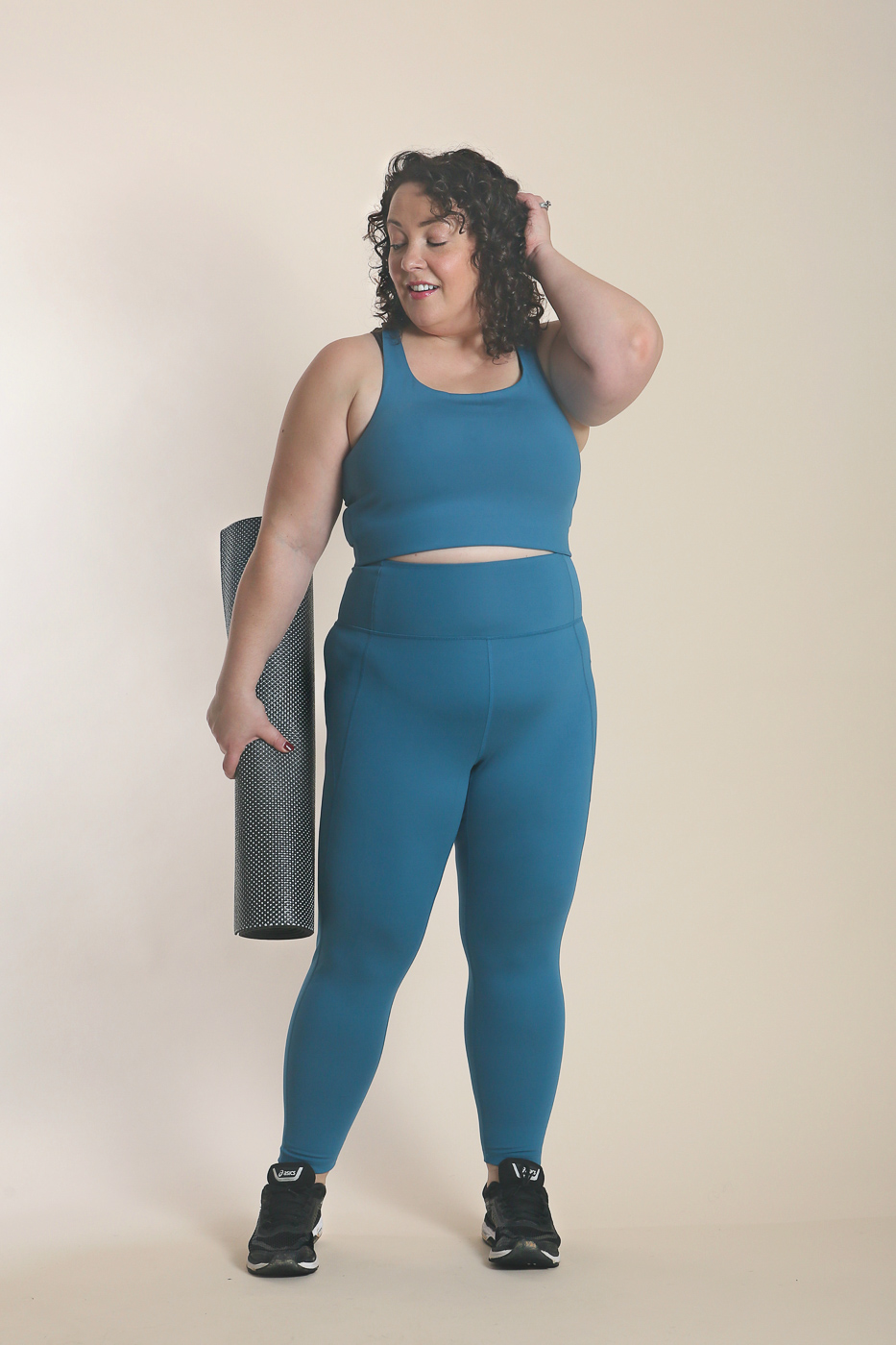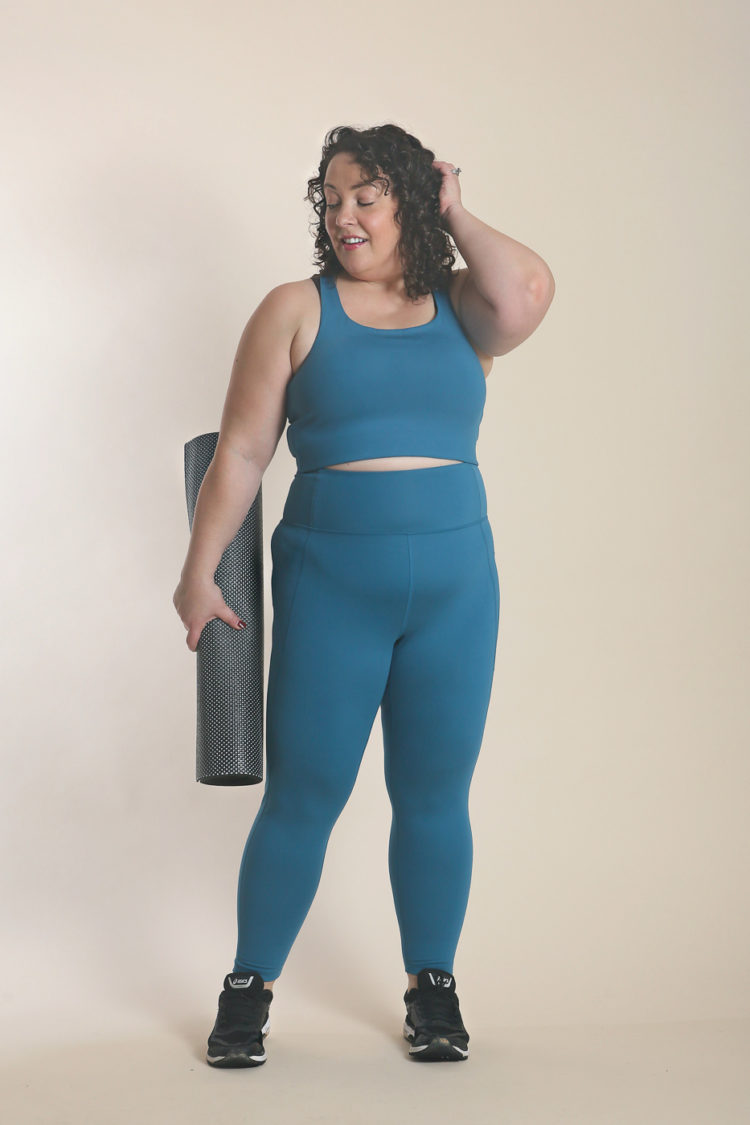 But now, I don't prefer Girlfriend Collective for my 'demic activities. I find it too tight of a weave, not giving where I need it when on the bike. Also, I get hot so easily when riding, and have come to prefer a lighter-weight legging for the Peloton.
The thing is, with my new activities, I also find my Zella leggings and some of my Athleta leggings to be just as thick and restrictive. We all have different activities we enjoy, and different activities require different activewear. Girlfriend Collective activewear is high quality, it's just not the best for my current exercise activities.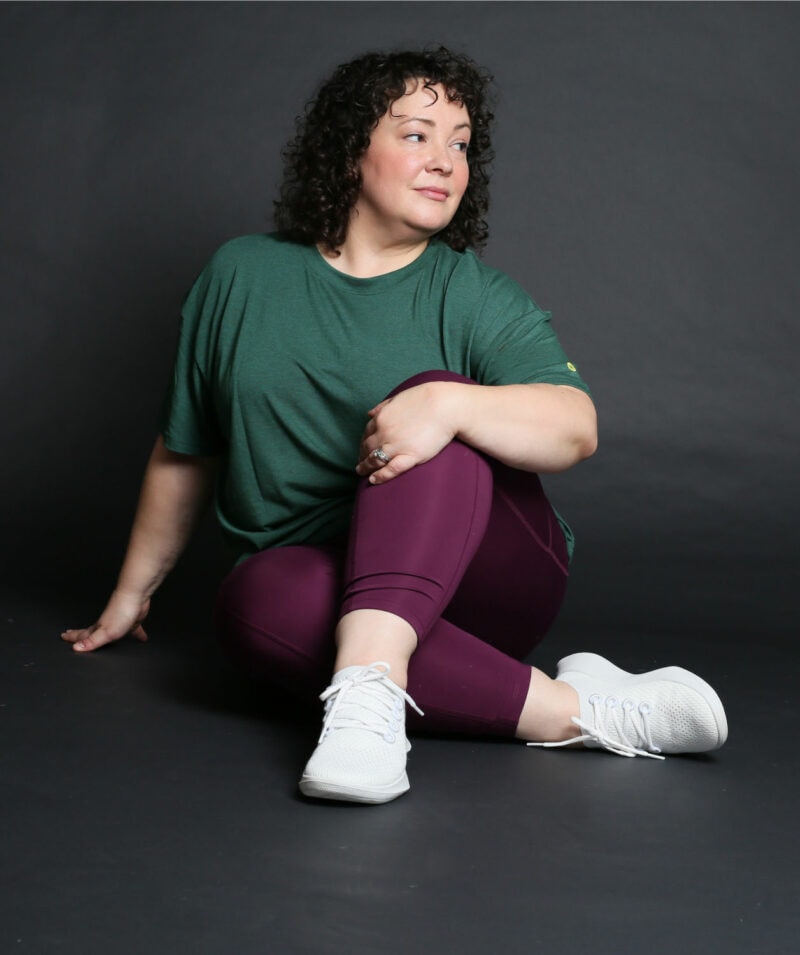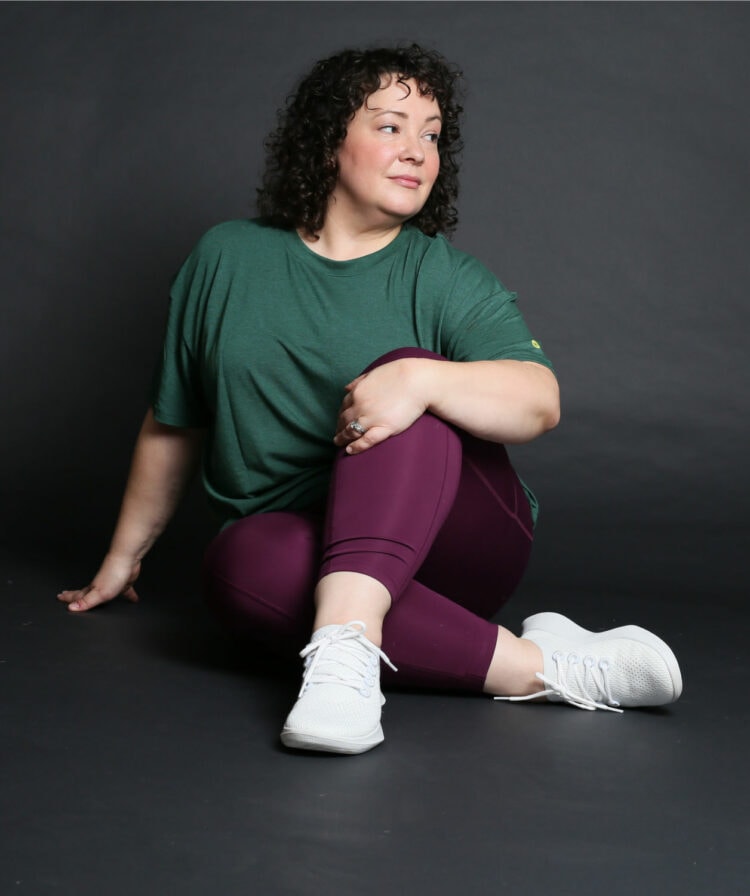 Girlfriend Collective Leggings Review
That being said, my favorite activewear from Girlfriend Collective is the leggings. If you're like me, someone with soft curves who has a lot of that curvature in her lower belly and bum, you may find that a lot of leggings slide down, roll down, or just do the kind of things leggings do when they're not made to accommodate a body like mine.
It's not my problem, there is nothing wrong with my body, and Girlfriend Collective gets that by making leggings that work with, not against, a body with curves. But what makes Girlfriend Collective leggings so great is they also fit well on those with fewer curves, or curves in different places.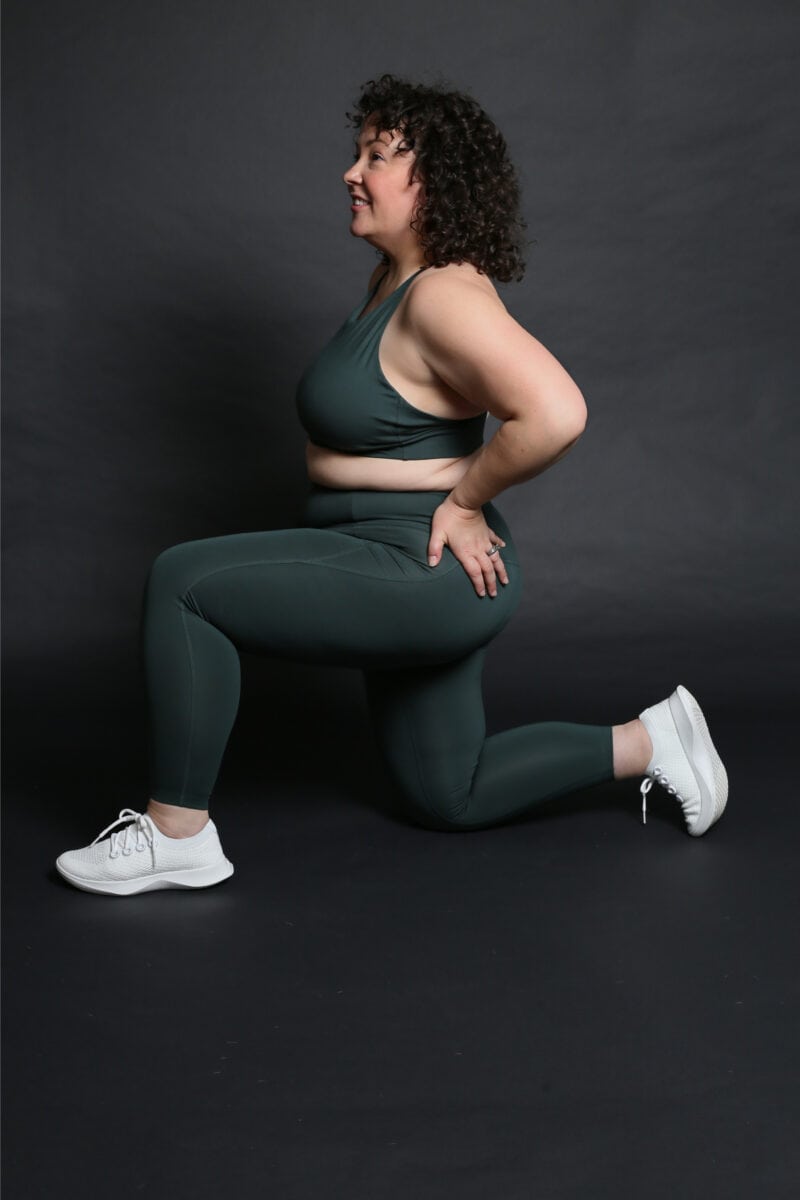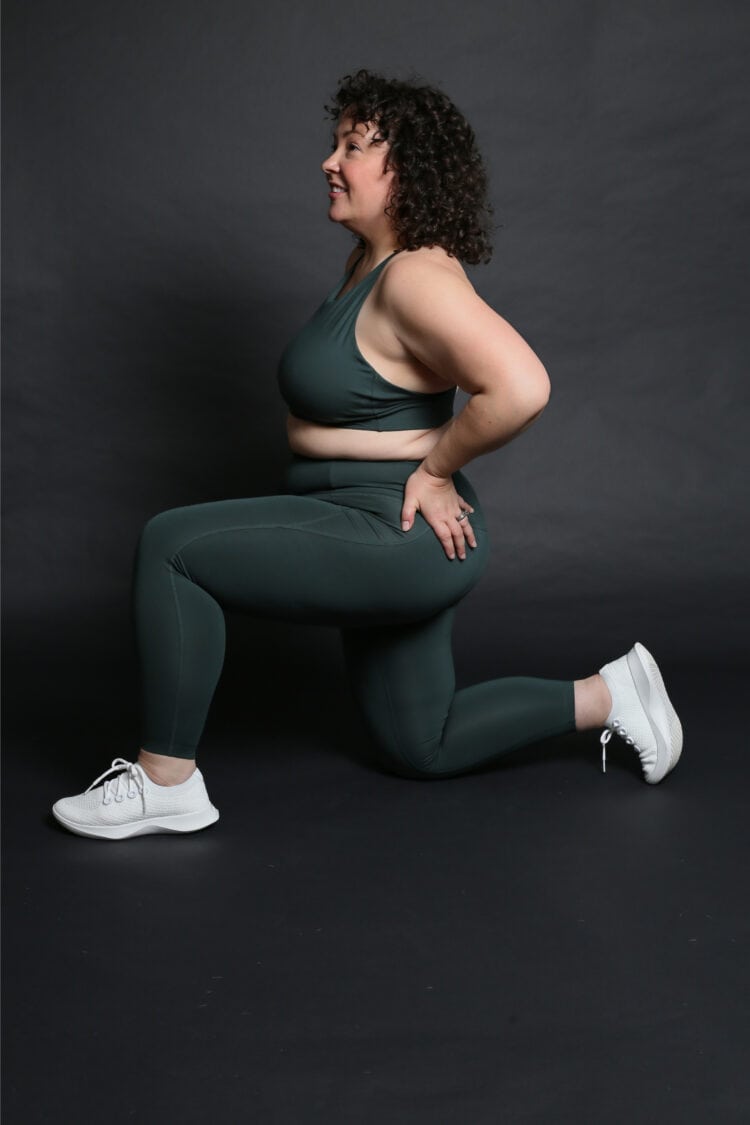 They're durable, they pass the squat test, they're high rise on me but not so high rise that I can tuck them into my sports bra. Do note that while Girlfriend Collective offers their leggings in three lengths, they do not offer petite or tall cuts. As a 5'3″ woman I find the 23 3/4″ length a great full-length legging on me, but the waist is at a not-quite-perfect height which causes them to sometimes roll down a bit.
Girlfriend Collective Sports Bra Review
The models for Girlfriend Collective are so good. Girlfriend Collective does a great job of showing diversity, with models in a range of sizes, heights, genders, races, and abilities. This makes me feel like this 40-something mom can also look fabulous in their apparel… and it makes me think I can rock one of their bras.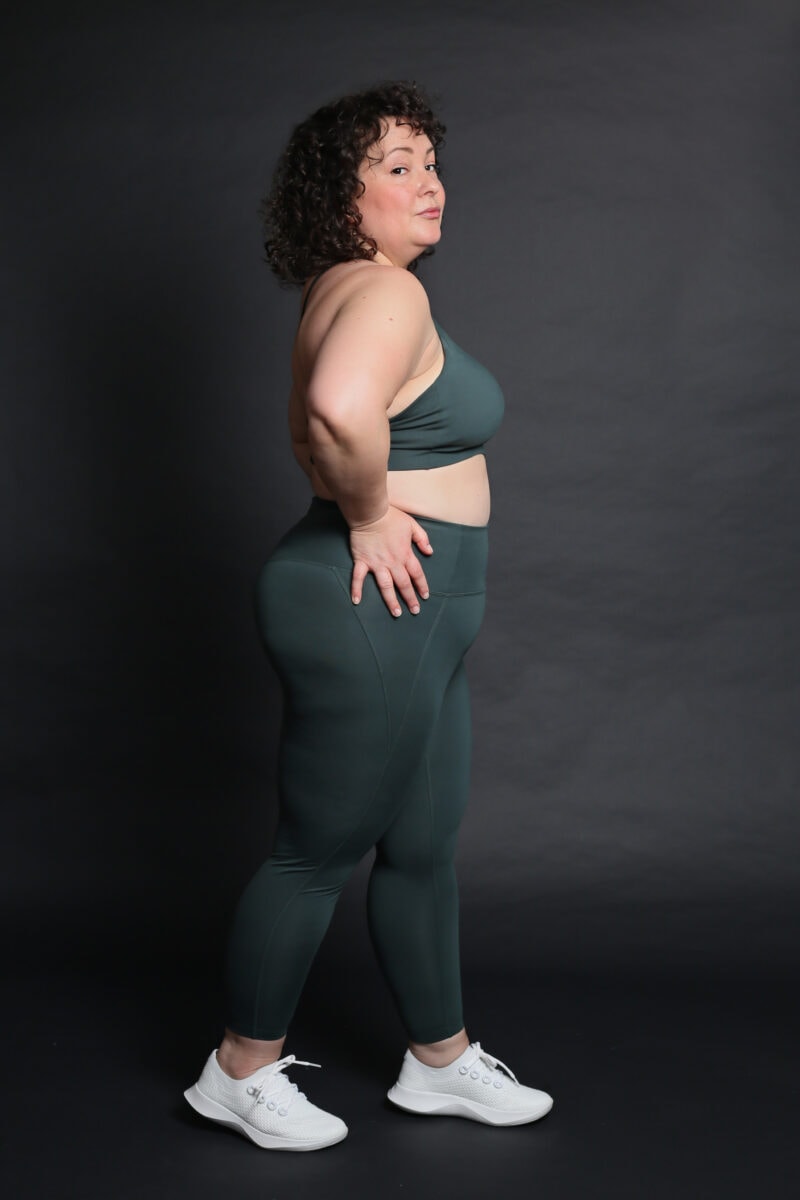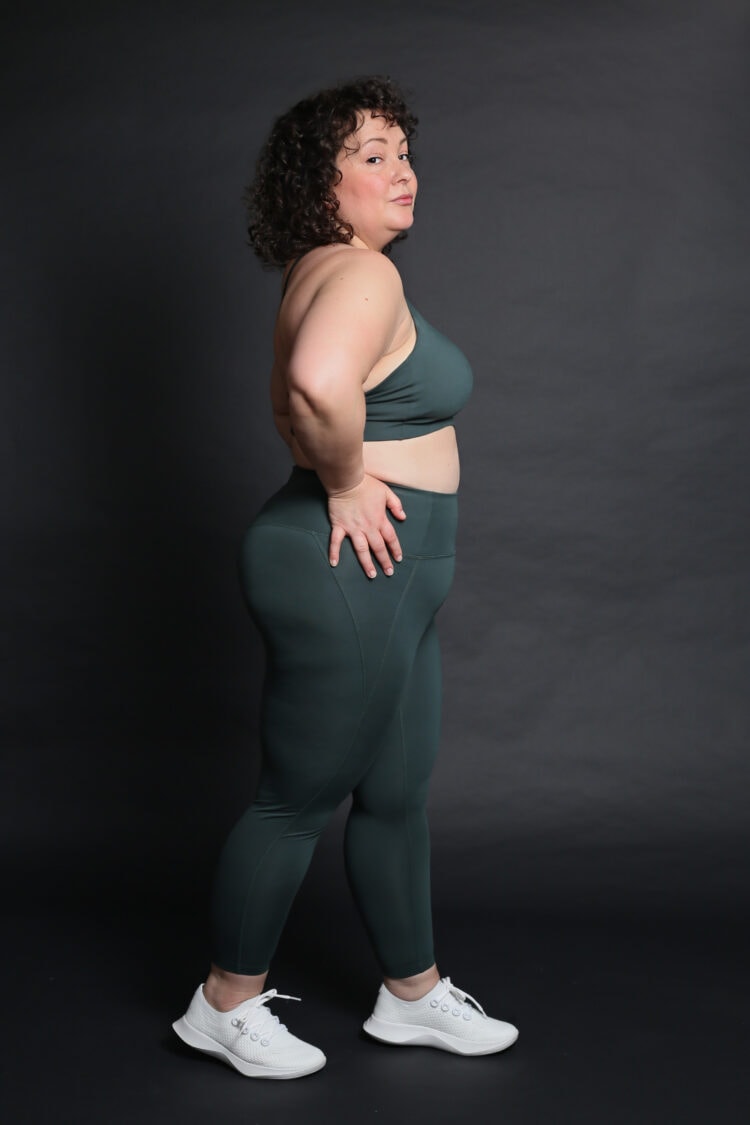 Nope. The difference between me and a Girlfriend Collective model is about 20 years and that age difference, in my opinion, is most seen in the bust.
I am a 36 F. I have been a size 2 and a size 16 as an adult and continue to fluctuate, I nursed my child for over two years, and I am 46 years old. And I went from doing no fitness to weight training five days a week for two years and then switching to cycling and yoga. Put all that together and the elasticity on my breasts and other parts of my torso has declined.
My sports bra doesn't need to have my breasts to my chin, but without enough support and coverage, I will have breasts spilling into my armpits, out of a neckline, and the whole bra will be stretched down to almost my belly button after one jumping jack.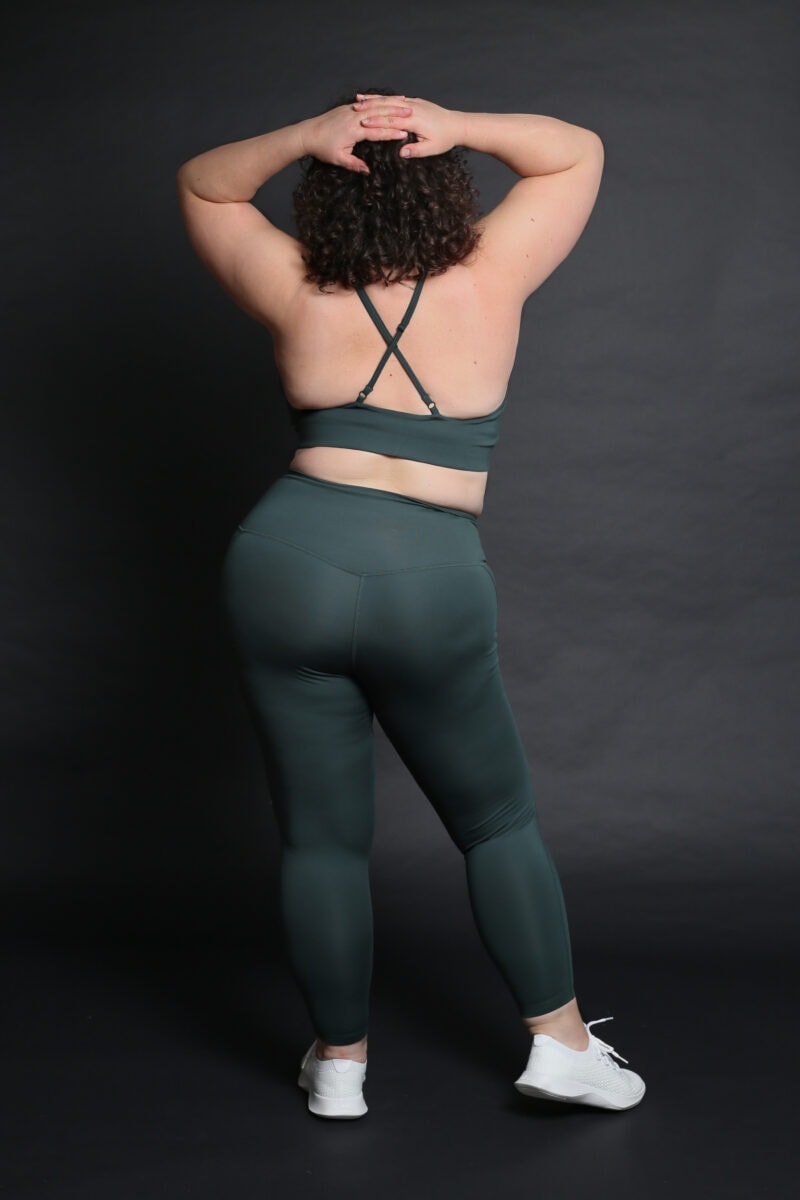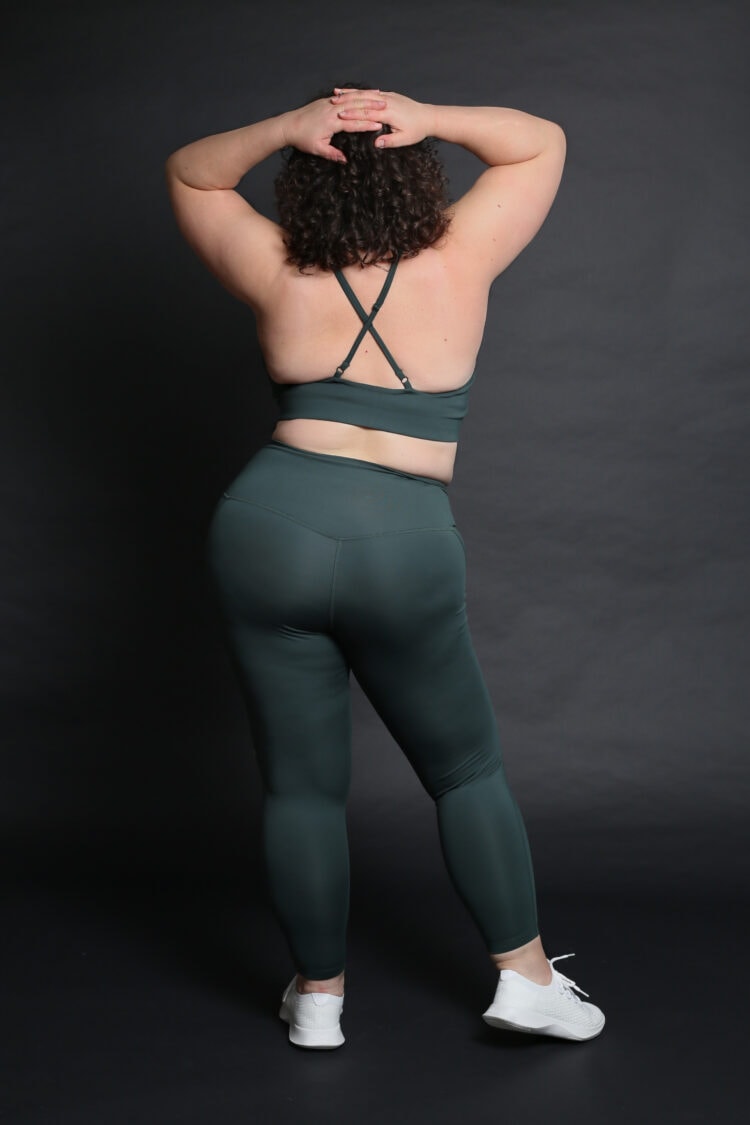 I considered shooting this bra with another bra underneath, as I did with the photos of me in teal (the teal look above is from a 2020 shoot). But I wanted to show what this bra really does on its own so you can get a better gauge for your body and needs.
The bras are made of multiple layers so you get support and compression just from that fact, but I have now tried every style of bra from Girlfriend Collective and none of them are made for my body. They may be for you, and they do look beautiful paired with matching Girlfriend Collective bottoms, whether alone or over another sports bra.
Girlfriend Collective Activewear Color Range
Girlfriend carries an amazing range of apparel – shorts, skorts, unitards, sweats, fleeces, outerwear, and more. I have a feeling I'd like them… but I just can't deal with the colors currently available.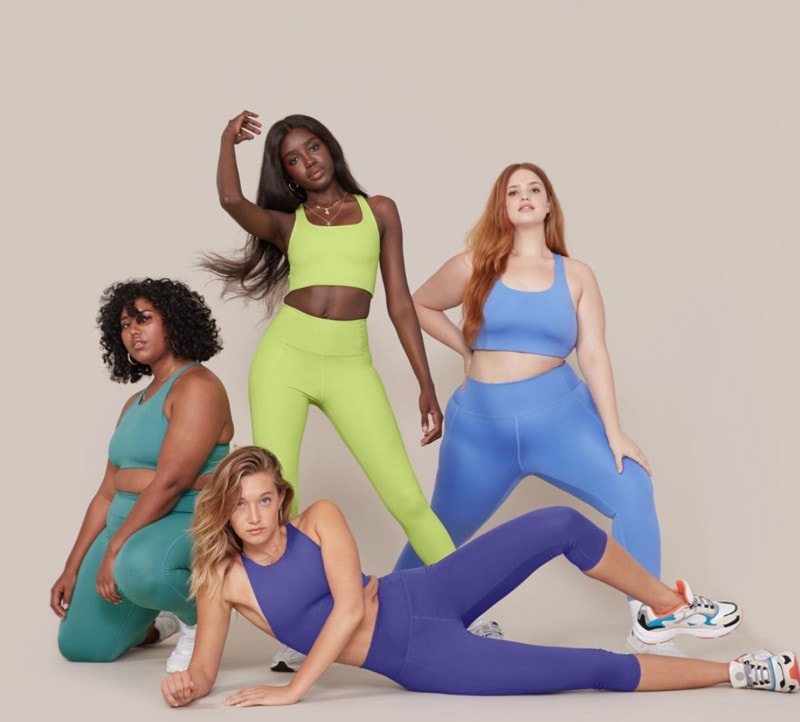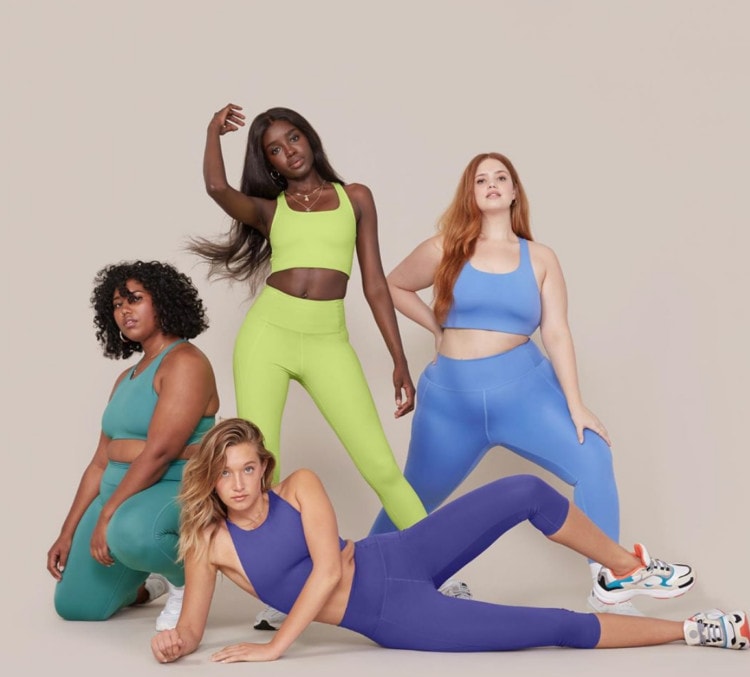 Girlfriend Collective initially caught my eye because they had such gorgeous colors which aren't readily available in quality plus-size activewear. However, in the past year, Girlfriend Collective's color selection has changed and was one of the inspirations for my blog post about all the bland colors featured at retailers.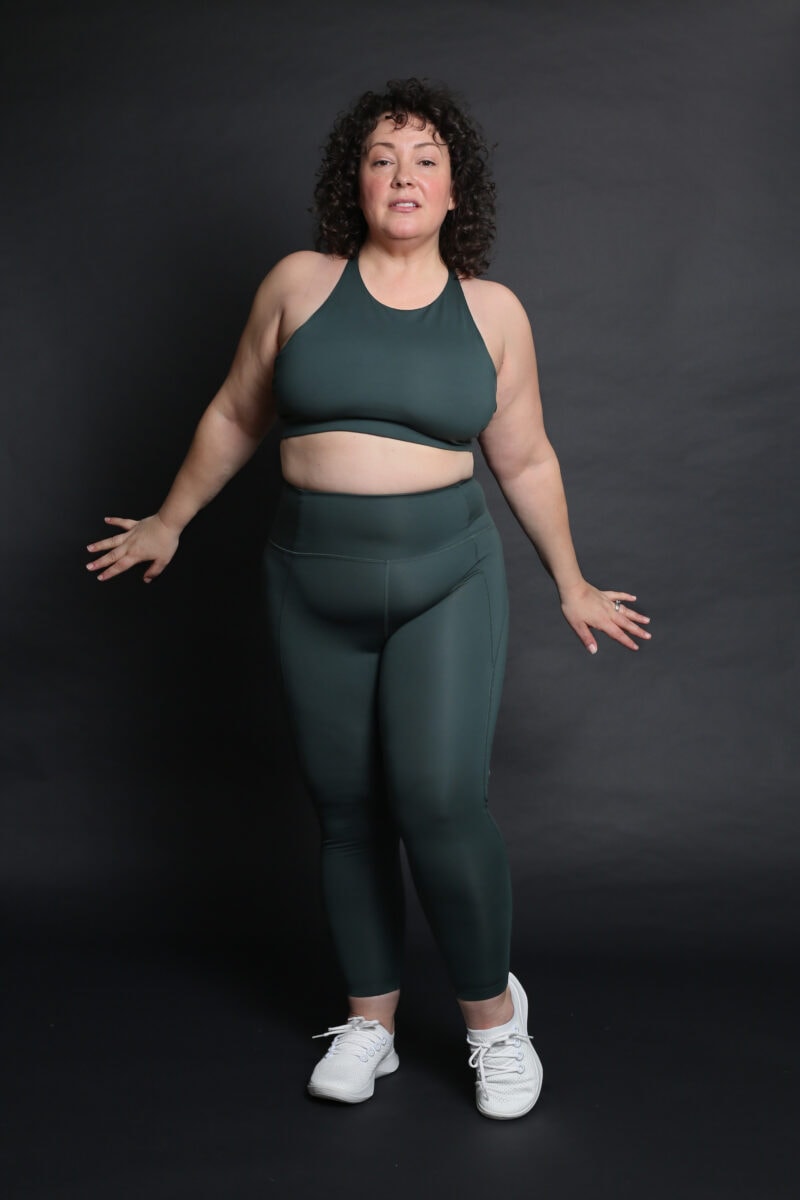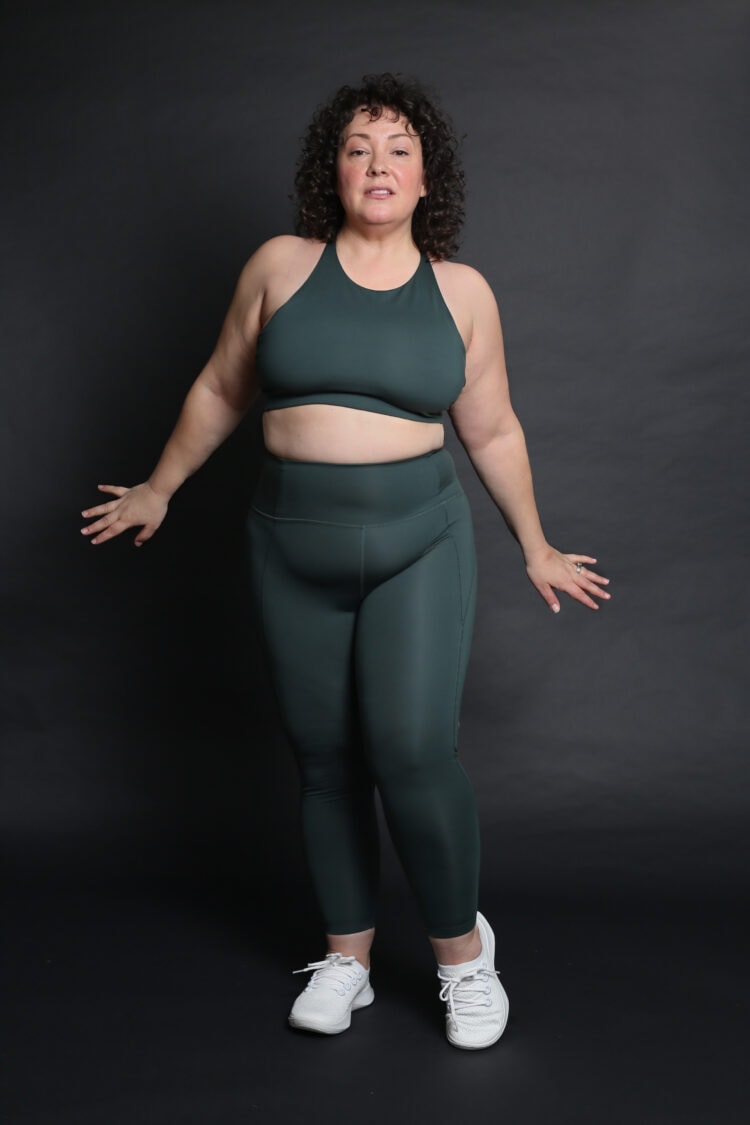 When looking for a new set of Girlfriend Collective this year, I struggled with the colors available. The most cheerful colors I could find were Moss and Plum (see my Allbirds review to see Girlfriend Collective leggings in Plum). They are dreamy and very on-trend, but for a color lover, not the energy I desire for my fitness routine or my wardrobe.
Girlfriend Collective Belt Bag
While I have belt bags from other brands, I find with a 33″/size 14 waist I don't have a lot of strap leftover. I was happy to see that Girlfriend Collective added a belt bag to their collection.
Available in five colors, the Girlfriend Collective belt bag has a 56 1/2″ long adjustable strap so it will work for more bodies, while also making the bag more versatile (can be a crossbody or shoulder bag).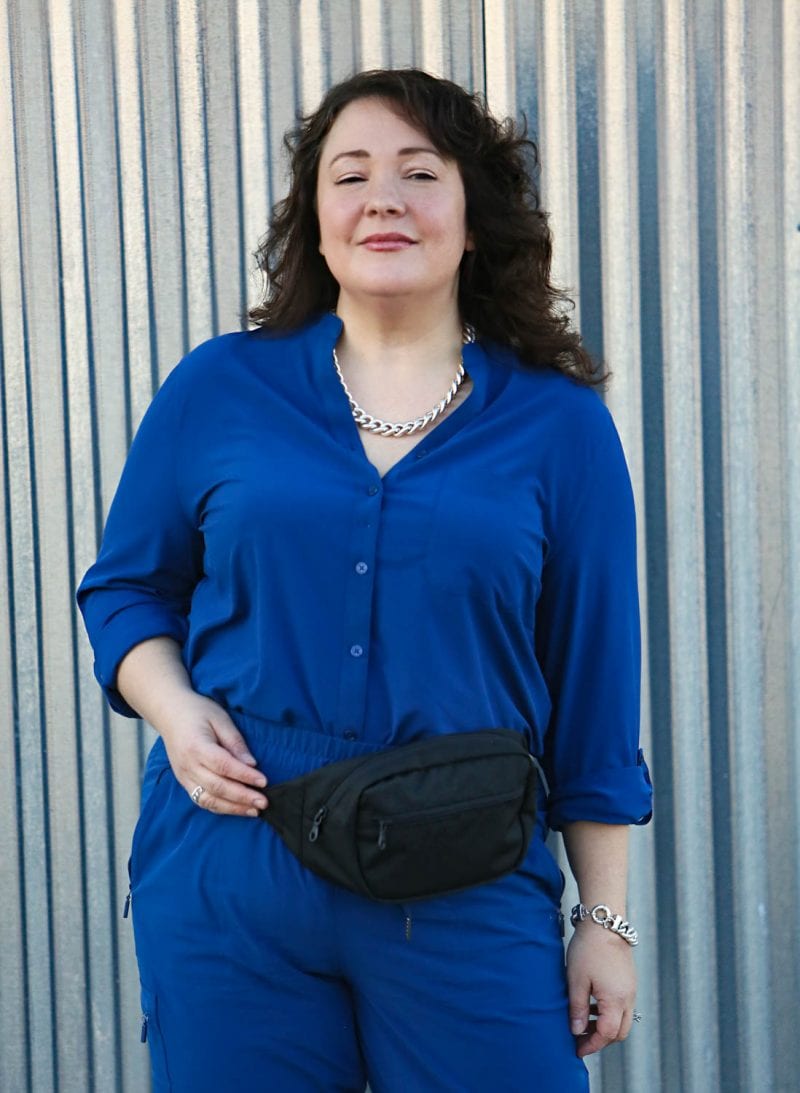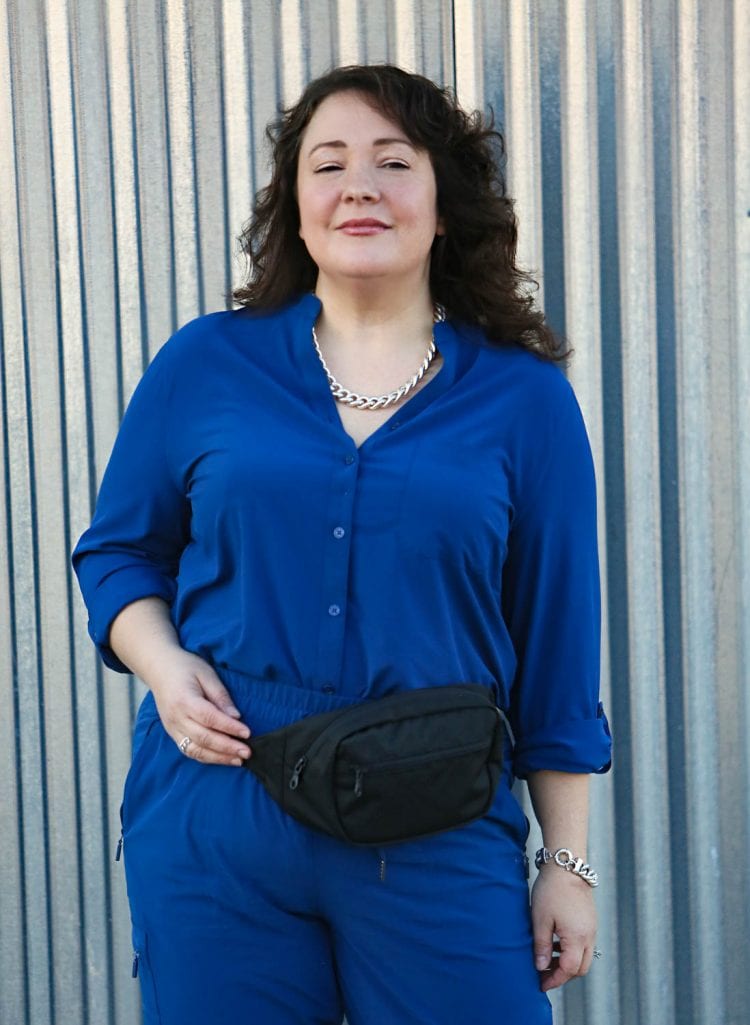 The bag is nice. While it's not a stylized and polished as others I own, it is subtle, a good size, and well designed with plenty of pockets. It is also water-resistant and made from recycled plastic bottles!
The zippers are sturdy, the pocket placement makes it easy to access anything even with one hand. The only issue is the loop that holds the excess strap against the waistband is a little loose and IMO a bit too narrow so the excess moves around and sometimes hangs out/down like a tail. However, for the size, strap length, design, and sustainability aspect it's not a dealbreaker and this bag is used regularly by me.
Is Girlfriend Collective Activewear for Women over 40?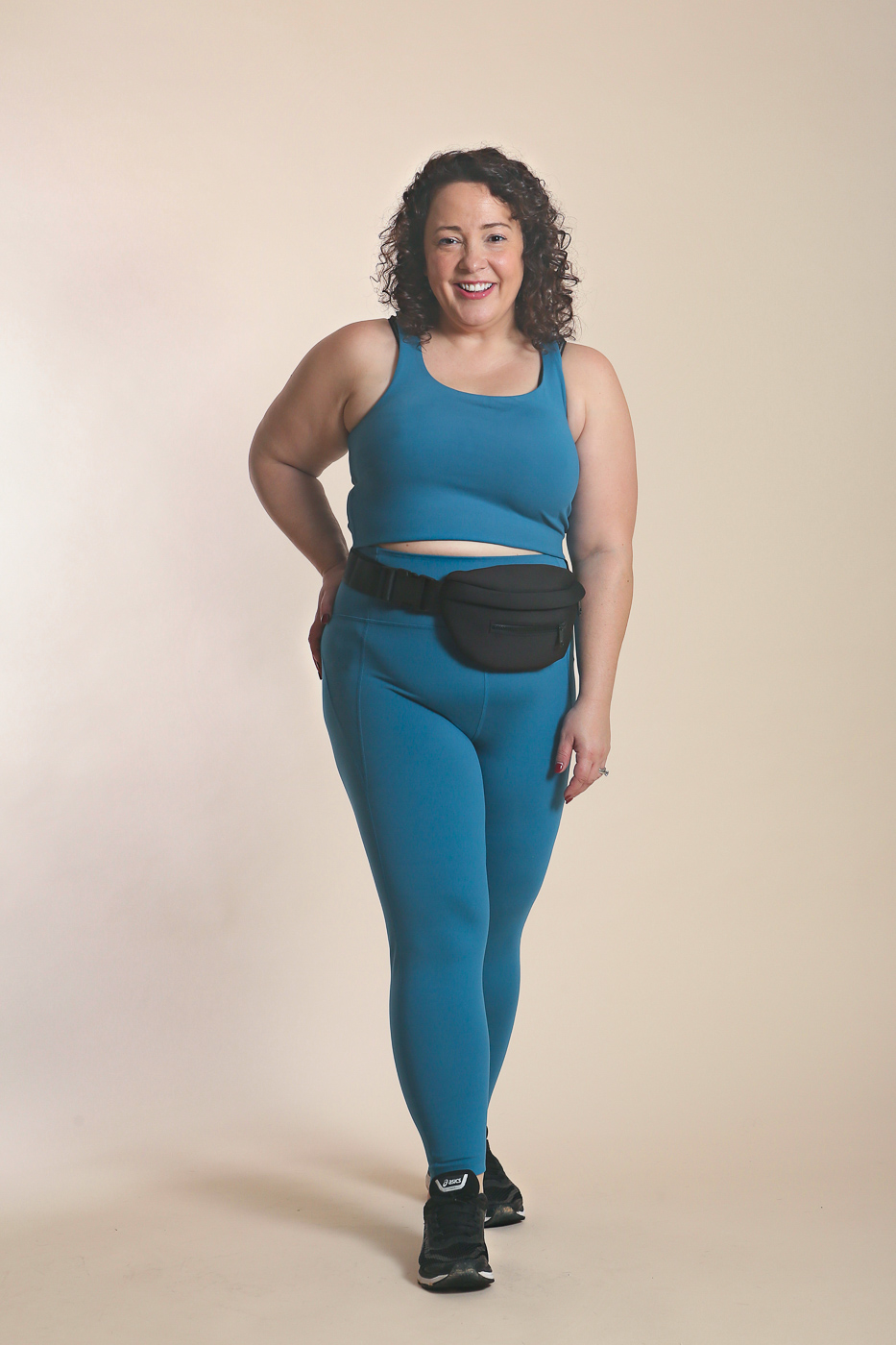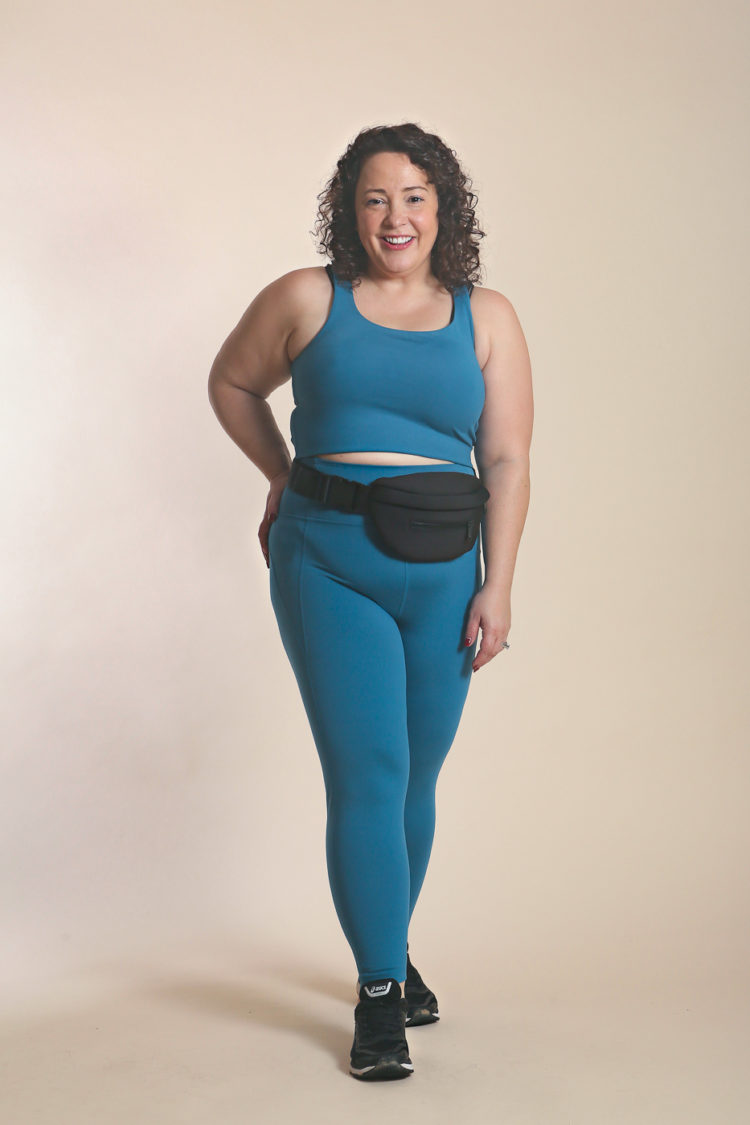 If you have been curious about Girlfriend Collective they're worth a try, no matter your size and no matter your age. Just be aware that they are on the thicker side, and their bras, especially if you have a C or larger bust, are for fashion, not for function. Also keep in mind that while their leggings come in lengths, they are not cut petite or tall.
Their collection is well made, sustainable, and of-the-moment colors and silhouettes. I am a fan, Girlfriend Collective, and I hope next season you add a few pops of cheer to your current color palette!