This article may contain affiliate links; if you click on a shopping link and make a purchase I may receive a commission. As an Amazon Associate, I earn from qualifying purchases. 
I recently purchased this Tahari red ponte long sleeve sheath and it fits like a glove. I am trying to incorporate more Project 333 rules into my wardrobe collection and I'd like to make use of it in every season (maybe not dead of summer). Could you offer some styling tips for every season on this classic yet bold piece?
This is a gorgeous dress – a versatile piece with a touch of something unique to keep it from being too basic or boring (reminds me a bit of my black Dobbin clothing dress!). And red is a great color because it works so well with different colors and with a switch of accessories can dress up or down quite well. Since the dress has long sleeves, I doubt it will be comfortable in the middle of August, but below I have created six looks with the red ponte sheath dress: three for cooler weather, and three for warmer weather.  Please know this advice would work for a dress of most any color, and with different necklines and sleeve lengths.
This group is warmer weather looks. Push up the sleeves for a bracelet length which will help you transition better into late spring or early fall, but also lighten up on accessories to balance out the heavier knit and color of the dress.
The first look is a classic – nude pumps are the perfect way to transition a fall or winter dress into warmer months. Continue the light classic feel with pearls; choosing a cluster necklace will give a more modern look than a classic strand of pearls and add more lightness to the top of the dress. A simple cuff and gold watch add shine but aren't too over the top.


A great way to transition a jewel tone or primary bright into spring is to colorblock. Red with black feels wintry; red with pink or orange or turquoise feels fun and fresh. This dress has a seam waist which makes it perfect for switching up the silhouette with a skinny belt. I chose hot pink, but you could switch this out with aqua, coral, lilac, or French blue. The same holds true for the shoes – I picked orange because I'm an orange fan, but you could switch out for most any color or even a print that incorporates red or even just the color of the belt. With such a strong color mix, keep the accessories clean. A bracelet is all you need – I chose an enamel bracelet to continue the color combo but it could also be something smaller, simpler, and in just gold or silver.


Adding an oblong scarf changes the whole look of a simple dress and is quite versatile. Loop once around the throat and let the ends hang down your torso, tie the ends together to create an infinity scarf, or double loop and tie at the throat. While I paired this with camel shoes and wood beads, you could also pair with tall brown boots, brown croco or snakeskin pumps, or a brown heeled sandal.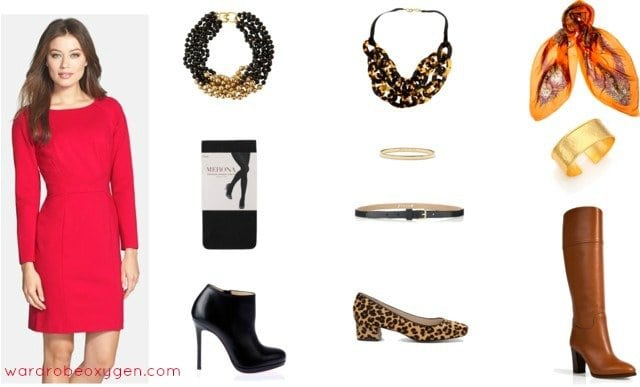 This group is cooler weather looks and shows how the switch of accessories can provide a completely different effect for a different season.


The first look is a classic; come winter so many of us live in opaque black tights. I paired with a high heeled bootie, but you could easily switch out for a lower heel, a Chelsea boot, or a knee-high boot with a sleek silhouette. I chose a primarily black necklace to balance the dark black bottom half, but you could switch out for a chunky gold or silver necklace or a scarf.


I love red with leopard and this is a great way to style a red dress with leopard shoes. I chose a low block heel, but you could switch out for classic pumps or even ankle booties. Again, I added a skinny belt to switch up the silhouette; the addition of black also makes the look more wintry even though the legs are bare. This look could be switched with black shoes and a leopard belt. A tortoiseshell necklace complements the leopard without looking too matchy-matchy; you could switch out with gold or even go without a necklace.


A square scarf can also look great with a dress of this style. Tie "cowboy style" and have it drape in front or fold on the diagonal and tie at the throat. With a warm toned scarf, a pair of brown or cognac boots look great with the bright red. A bit of gold at the wrist ties the look together.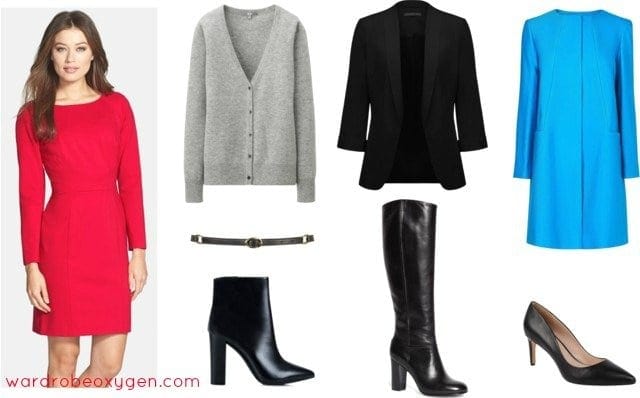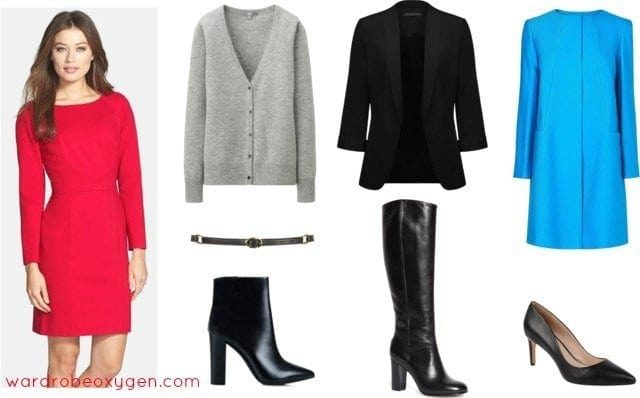 Adding a layer is a great way to change the look of a dress, and is also a way to stay extra warm in winter. A ponte dress has stretch and isn't too bulky, making it possible to slip under sweaters and jackets.


Dress down your sheath dress by wearing a longer v-neck cardigan over it. Cinch with a skinny belt to highlight the waist. While I choose classic gray and black, most any color would work (and a leopard belt would be a fun touch). I styled with ankle boots, but this look could work with tall boots, pumps, and anything from a kitten heel to stilettos.


A blazer with some stretch works well with ponte; if you find a ponte jacket in the same material all the better! Again, I chose a basic color but you can switch out for another neutral or your favorite hue. A pair of tall boots complete the look for a chic winter office outfit.


I have a collarless jacket like this and love how it looks over a sheath, either as lightweight outerwear or to create an atypical suit. Classic pumps keeps the look elegant and streamlined.