This article may contain affiliate links; if you click on a shopping link and make a purchase I may receive a commission. As an Amazon Associate, I earn from qualifying purchases. 
My friend Lisa has recently become a CAbi Consultant and offered me the chance to come to her house and check out the Spring 2011 line. For those who haven't heard of CAbi, it stands for Carol Anderson By Invitation. It is a line of sportswear that is only sold by independent consultants (think Pampered Chef for fashion).
I jumped at this chance; for years I have had readers and fellow bloggers rave about CAbi clothing – the great fit, great quality, the ability to mix and match. Many of you readers have suggested CAbi clothing to me saying it fits with my style and beliefs that clothes should be stylish, but also versatile. I didn't attend a CAbi party; instead Lisa had me over and gave me full rein to try on anything I wished and get a real feel for the collection.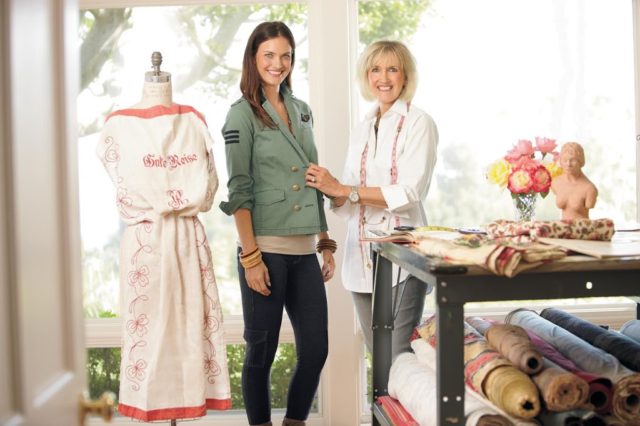 Carol Anderson at Work
Carol Anderson has been a fashion designer for over 28 years, with her first sale to Nordstrom in 1977. Anderson eventually left the traditional retail industry and decided to cut out the middle-man and sell her fashion directly to her consumers.
CAbi – Carol Anderson by Invitation prides itself on great quality and even more amazing service. By attending an at-home event, you get the experience of a personal shopper – great attention, a salesperson highly educated on the line and how it works for different women, a collection of clothes that work together.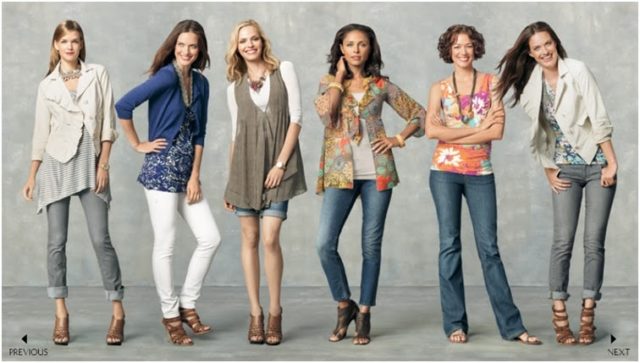 The "Blogger" Collection
CAbi changes up their line each season, but does seem to stick to silhouettes and fabrics that are best-sellers. They create mini-collections within each season – pieces that can work alone, but also coordinate with one another with ease. This spring they had nine collections, all named after professions (Art Teacher, Apprentice, Shop Keep, Photojournalist, Musician, Designer, Domestic CEO and even Blogger). The clothing comes in sizes XS-XL or 0-16 and from what I found, many pieces are stretchy and most seem to run large.
Lisa had a large portion of the collection available to try on, I must have been running from the bathroom to the dining room for two hours straight, doing mini-fashion shows for her and my sister. I was impressed with the quality – the attention to detail, the consistency in sizing and fit.
What I Liked:
CAbi does a great job of interpreting the trends without making pieces seem passé in a season. No one will look like a fashion victim in CAbi clothing, and no woman will look unstylish or outdated. I really feared finding a collection that would be full of stretchy polyester flowing separates and overly-embellished jackets; instead I found a great line of pieces that could work for a woman who usually shops at The Limited and Ann Taylor LOFT, or a woman who usually shops at Chico's or J. Jill.
The collection isn't specific to one age of customer – I tried on pieces that I liked, but also knew my mother would like and wear beautifully. I also tried on pieces that flattered my figure, but also flattered my friend Lisa's slim athletic frame. I really felt as though these pieces were made thinking of a variety of women's bodies, not a fit model.
The pieces really were versatile – knits that could be paired with jeans or dressy trousers, tunics that also looked great tucked in, and unexpected combinations like gathered knit tops under cardigans that didn't leave a lumpy mess. Everything was color-coordinated – not just within mini collections, but within the entire line. You could easily take a top from the Designer line and have it coordinate with pants from the Blogger line. There were also pieces that could really dress up nicely – a knit jacket and skirt from the Apprentice line could easily be corporate chic with a simple shell, be a more sophisticated look with a silky cami, the pieces as separates would look great for stylish yet comfortable weekend wear. The Hook Back tunic from the Shop Keep collection would be adorable with skinny jeans for a concert, could be worn as a dress on a shorter woman, and Lisa told me she knew a woman who purchased it to be a beach coverup. It also would have a completely different silhouette with a belt or topped with a shrunken jacket.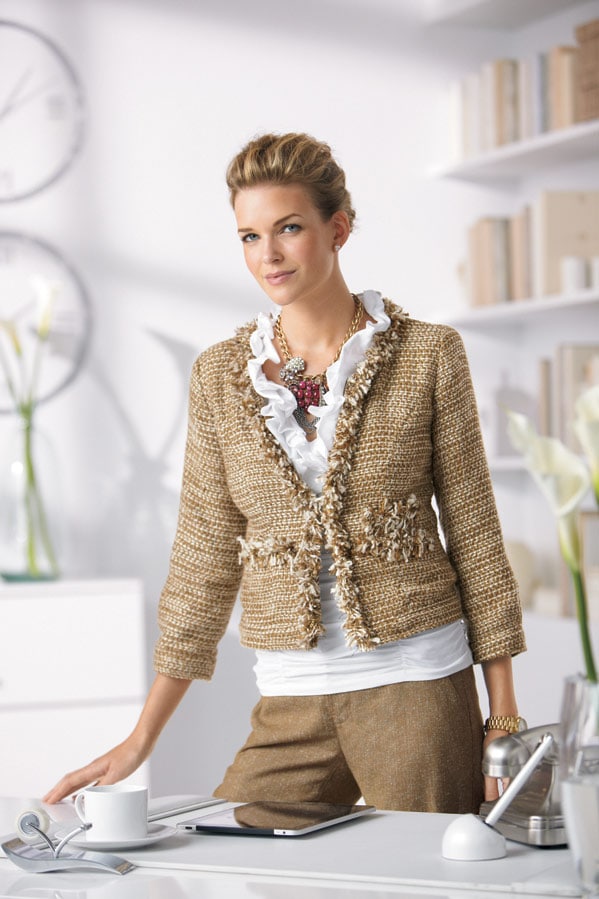 The Phoebe Coat
The line is crisp, the prints aren't overly-fussy, the details make sense. I was in love with many of their jackets – the Gabrielle Cardigan is Chanel-esque with its quilted knit, ruffle trim, and black stone accents; the Daisy Jacket looked far more expensive than its pricetag and could look professional with a pencil skirt, but also be a great downtown look with jeans and a tank. I almost purchased the Phoebe Coat, which is a collarless tweed jacket with a frayed edge also had a Chanel vibe and would look great with the CAbi Transition Trouser, as well as denim or over a simple sheath dress.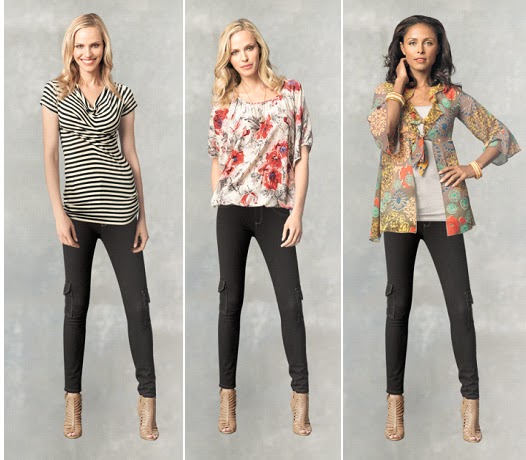 Unexpectedly Awesome Tops – Drape Striped Tee, Gypsy Top, Shakespeare Tunic
The fabric and color choices are brilliant. The Draped Stripe Tee from far away looks like a simple Breton-striped top. However upon closer inspection, you find this is an unusual stretchy and almost spongy textured fabric with an unsual neckline. It has the most unusual cut – it looks to have a drape neck but the fabric is actually on their weird bias which creates this wrap look in the front, really whittling the waist and tricking the eye into seeing the wearer's torso as longer and leaner than it actually is. This top could be a simple sailor tee to wear with jeans, but can also be dressed up, rouched to the waist, pulled down like a tunic, and easily tucked into a skirt or pants without showing bulk. The Gypsy Top from the Domestic CEO line is something I would normally not even take off the rack at a store – girly floral, blousy tunic of a shiny fabric. However once on I saw it was incredibly flattering – though it was blousy it wasn't overly so, it skimmed where it needed to so not to look maternity, the sleeves flowed without being tent-like, the neckline the perfect level of scoop to be feminine and flattering yet modest. It made me almost a floral blousy-top convert.  The Shakespeare Tunic was another piece that amazed me – it was something I would never ever EVER wear – a bold floral print, colors of brown and orange, sheer layered cardigan-like top.  However Lisa pressed me to try it on and even my sister was amazed at how incredibly flattering it was.  The sleeves made my arms look long and slim, the slightly curved back gave my body an amazing shape and really made my rear look fab.  I could really see myself wearing it with a pair of dark jeans, some big hoops and heeled boots to a concert or date night with my husband.
Real Women in CAbi 
(BTW that dress is actually the Sigourney Skirt)
I was impressed with the catalog I received – at the back it dedicates six whole pages of real-life CAbi consultants wearing the clothes.  It showed how the clothes really can fit and flatter a variety of sizes, ages, and personal styles of women.  In fact all of CAbi's marketing, branding, website and materials are brilliant – polished, sophisticated, easy to read and navigate, prices and sizing always clear and available.
Many complain that CAbi clothing is expensive. Well it's not cheap, but I think the prices are equal to higher-end department store brands and retailers like Talbots and Ann Taylor. I feel the quality is equal to these brands as well. This isn't disposable fashion – Cabi clothes could easily be flattering and stylish a year from now, and many pieces would still be on trend a decade from now.
What I Didn't Like:
No petite, no tall, no plus sizes. In this day and age I can't believe that any brand of clothing wouldn't at least carry their best selling pants in lengths, and at least a couple pieces in larger sizes. The average American woman is a size 14 – this means there are plenty of women in this country who are over a size 16. To really tap into at-home sales, you would think a line would try to cater to women who hate shopping at malls. I can often wear regular length trousers at many retailers, but found every single pair of pants from CAbi to be at LEAST six inches too long for me.
No real basics. I did like their camis, which had brilliant adjustable straps and the perfect amount of Lycra to keep shape, hold you in, be comfortable and not roll up. However I was looking for the straight skirt, simple tees, maybe a collection of heavyweight knit/ponte pieces you could mix and match (skirt, one or two jackets, sheath dress, capris, pants). The closest was the previously mentioned Delicious Blazer and Skirt, which was begging to be joined by some other pieces in that fabulous refined knit.
No dresses (at least this season), and hardly any skirts. Again, untapped opportunity. As a curvy woman, I find skirts to often be more flattering and forgiving than trousers, and a garment that can work for a larger variety of female shapes. On top of that, many women in this country choose to wear skirts instead of pants for modesty and religious reasons. I would think a couple bias-cut shifts and/or simple sheaths in heavyweight fabric with stretch (twill, ponte) would work really well with the current CAbi look and style.
***
My friend Lisa was fresh from the CAbi conference where she was loaded up with product information, tips on how to fit women, and excitement and passion for the brand. With the terrible customer service found in many shops these days, a CAbi party is a breath of fresh air – a consultant who really cares about your needs, knows her product, taking time to help you find the right clothes. She may want you to spend money, but she wants you to be a happy, loyal and repeat customer and knows a hard sell may make a fast buck, but will not make you return the next season. As someone who loves fashion, I would think a CAbi party would be a heck of a lot more fun to attend than other at-home products.  Imagine sipping wine and chatting with your friends while trying on clothes in the comfort of your own home, with a personal shopper at your beck and call?  Brilliant!
CAbi is geared towards the woman who wears many hats – she may be a full-time office worker, but also a 24/7 mom, a community volunteer, an artist, a social butterfly. The clothing is made to be versatile, wearable, flattering. It's not cheap in price, but it's also not cheap in quality or style. It's simple pieces to make a woman's life more stylish, but not more complicated. If you're at least 5'5" and under a size 16, it's worth checking out.  Hopefully in the future, CAbi will extend their line to accommodate those of us who do not fit that specific mold.
Note: All opinions are completely my own.  I was not asked by anyone to do this review, and did not receive any compensation for it.
Follow Me | Twitter | Facebook
Save