This article may contain affiliate links; if you click on a shopping link and make a purchase I may receive a commission. As an Amazon Associate, I earn from qualifying purchases. 
I'm wondering if you have any resources or suggestions for someone who is trying to minimize their closet. I'm moving towards capsule wardrobes and limiting my shopping, so this is leaving me with some very high-quality items (though not necessarily designer) already in my closet that I'd like to sell to get some money back, especially since a few of them have never been worn or worn only once! Over the years I've donated bags and bags of clothing, but for these purchases I thought putting a little extra time into it could get me some money back. Tips? Where to start?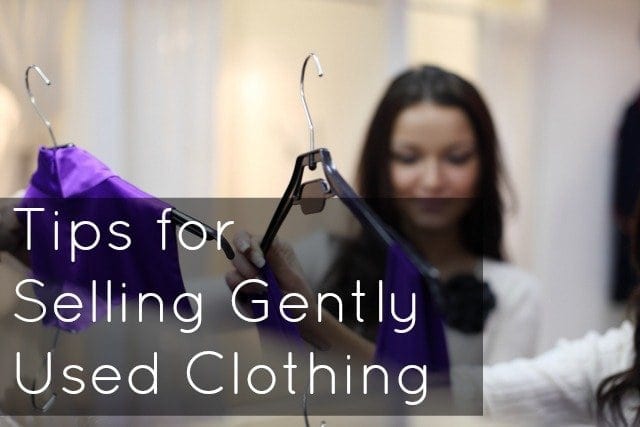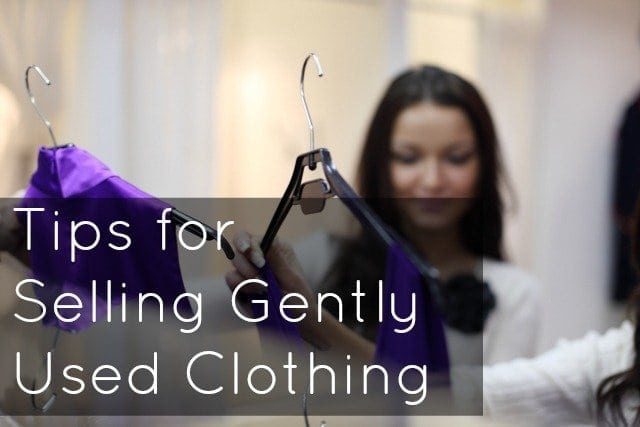 This is a post where I'd like to ask you, the readers to share your suggestions. I have my suggestions but even I am wondering if there's better ways to pare down one's wardrobe and recoup some of the original cost. Here's some suggestions:
Selling Clothes on eBay
eBay has been my most successful avenue for selling quality clothing that isn't necessarily designer or a recent season. I make sure to have multiple photos of the item in natural light without a flash – full front, full back, photo of the tag (proves the brand, proves the size, and also many brand loyalists can recognize a year or season by the style of the label), photo of any details (fly, style of buttons, cuffs, close-up of applique or fabric texture), and a photo of any flaws. When it comes to flaws, be upfront from the get-go; it's not worth it to sacrifice your rating on eBay. My description has as much detail as possible – the fabric, length of skirt in inches, size and how it fits me with my measurements, and I also offer styling suggestions (I wore it with X, it looks great with opaque tights and tall boots in winter but also with sandals in summer).
When it comes to listing price, don't assume a bidding war will happen on your piece, especially if it's a lesser known brand or more than a season or two old. Don't price it any lower than you're willing to take; nothing worse than having to go through the process to ship out an item for 99 cents, especially when you know you could have received more in a tax write-off for a charitable donation. eBay often has promotions where you can also offer Buy it Now for free; when that happens I always choose that as well and offer it for a price I hope to get but not an unrealistic one. To get an idea for prices, search eBay for similar items and brands and see what they're going for. If you see one is sold by an eBay-er with a lot of sales, click on their profile and you can see recent sales and prices likely of similar items to what you're hoping to sell.
Be firm with what you are willing to do and not to do in your listing. For example, I state no returns or exchanges and shipping only to the United States. However, I do offer other methods of shipping they can request it upon winning the auction
For shipping, I use the eBay calculator and labels; I can print the labels at home, go to USPS.com and schedule a pickup, and not have to wait in line at the post office. If you wish to ship Priority Mail, you can order shipping containers for free from USPS.com. While it's tempting to get an item out in the smallest and cheapest packaging possible, don't scrimp and sacrifice the quality of a piece. I have received leather skirts shoved into tiny boxes that are bent and creased and necklaces broken upon arrival because they were barely wrapped in newspaper and mailed in a standard envelope. You'll end up losing money if you have to return payment for an item that arrives unwearable, so take the time to pack carefully. I have a box in my closet that's full of shipping supplies I gather from online purchases. I save plastic shipping bags, tissue paper, bubble wrap, and useful sizes of nice-looking boxes just for eBay sales and in my storage box I also have a Sharpie, packing tape, and a pair of scissors so I have everything I need for an afternoon of shipping. If you wish to do this long-term, I recommend adding a little something extra to the packing – wrap in the same color tissue paper, safety pin a business card to the garment tag, show a little care and it can help your customers actually leave reviews, leave better reviews, and come back to see what else you're selling.
Selling Clothes on Poshmark
I haven't used Poshmark… yet. However, I know my friend Alyson at The Average Girl's Guide uses it often and raves about it all the time so I asked her to share her thoughts on the site:
"I'm obsessed with selling on Poshmark. There are definitely pieces you know will sell fast, and others you need to wait for the right buyer. I personally don't post anything under about $10 because I find that the time it takes to post (though just 2-3 minutes), plus any back and forth, packaging and dropping off, is not worth the eventual payment. I rather donate. That said, items from J. Crew, Lululemon, Tory Burch, Rebecca Minkoff all do really well, though I've sold everything from Gap, Target, Old Navy, TJ Maxx pieces, you name it. Think about posting the right time of year… posting a sweater and boots will probably not sell now unless you mark it really low, where going through your closet for springy pieces you're no longer into could result in extra spending money."
"If possible, take photos of yourself wearing the item — it really helps! — and be sure to label everything accurately and thoroughly. Lastly, be mindful of price. It's just like how they say people who try to sell their homes on their own always have unrealistic selling prices; I've seen the same on Poshmark. Remember, you've likely worn something or it's not brand new. If someone can go into J. Crew and buy a similar brand-new item for what you're selling your used button down (and remember, buyer pays shipping) then you're too high."
Selling Clothes on Consignment or to Resale Boutiques
Back when I worked in apparel, before the start of each new season I would take bags and bags of clothing (hello employee discount, dress codes, and the need to wear current pieces) to a shop near where I worked. They would buy on-trend pieces for half the price they'd sell it for on their salesfloor, and a bit more if I was willing to take store credit.  I've used stores like this off an on since and know many friends who visit them every season.  I know there's stores like this all over the country, from Buffalo Exchange to Plato's Closet.
Appearance matters when trying to sell your clothes at such a store. Dress stylishly, and even if you have enough clothing to put in a lawn and leaf bag, instead choose a nice tote (I used my LL Bean Boat and Tote), or shopping bags from a "cool" retailer (think Anthropologie instead of Old Navy). Make sure the clothes are clean, folded nicely, ironed if necessary, and free of stains and damage.
And seriously, no damage. A tiny bleach dot that never bothered you when you wore it will be too much damage for the store to take. The wearing on the backs of your jean hems is only cool if the rest of the jeans are distressed. All buttons should be in place, tags still in place, linings still attached.
Know the store before you bring in your clothes. There's no point in bringing in a bag of J. Crew if the store focuses on vintage fashion. Not only that, you'll know if they already have enough Jackie Cardigans and will likely refuse yours, even if it's like new.
Where To Sell Gently Worn Quality Clothing?
And now I ask you, what do you suggest to this reader? Have you used Twice, Threadflip, or Tradesy? Had any success with Craigslist or a local listserv? What do you find to be the most successful way for you to sell gently worn clothing?
If you have a storefront on Poshmark, etc. feel free to share it in the comments below, your castoff may be another's must-have!  Do know any non-fashion related shops or obvious spam links will be deleted.