This article may contain affiliate links; if you click on a shopping link and make a purchase I may receive a commission. As an Amazon Associate, I earn from qualifying purchases.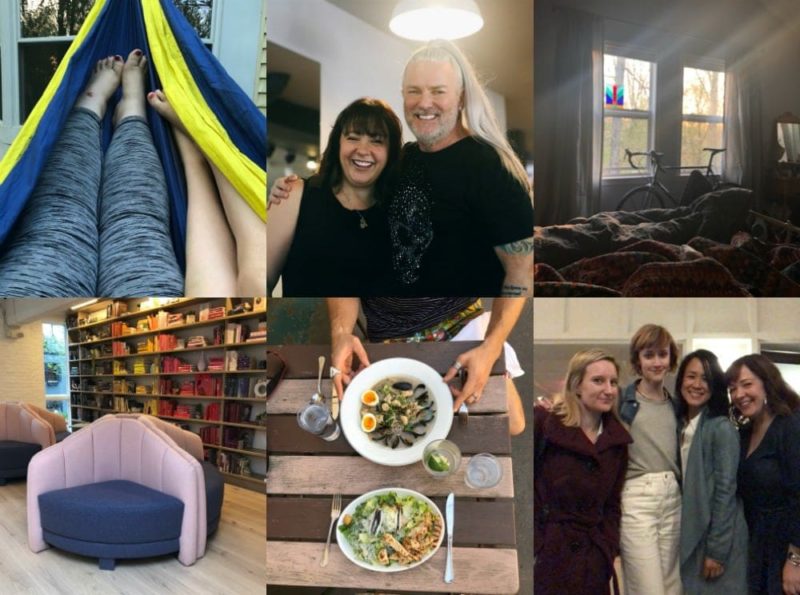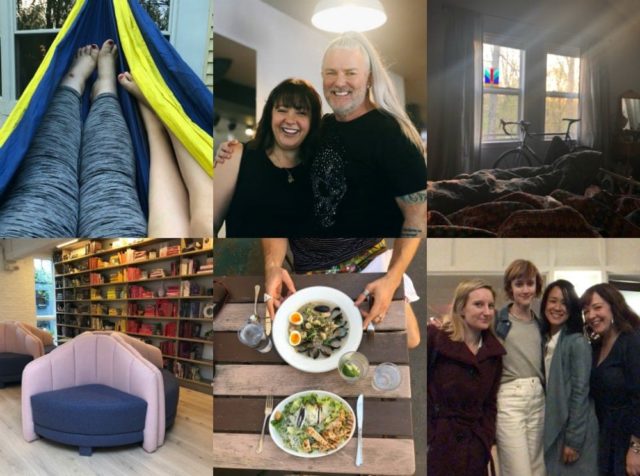 Above are photos in my phone from the past week or so – enjoying the hammock with Emerson, with my hair stylist Billy, sun streaming in our bedroom (Karl rides his bike on a trainer in there), working at The Wing, lunch at Republic, dinner with good friends. Good weather, good vibes, I'm thrilled that spring has FINALLY sprung in the DMV (District, Maryland, and Virginia)!
I find people with extreme habits or unique passions fascinating. This piece from Man Repeller interviews three women who have such passions and all three of them inspired me.
My friend Kaarin wrote about investment clothes for the Washington Post.  Want more Kaarin (who doesn't she's AWESOME) or more fashion news do check out the podcast Pop Fashion.
Can you be over 40, have big boobs and still rock a bikini? I say HECK YEAH and I plan to this summer.  I just got this top in black from Lands' End (FYI, I usually go up in a cup, but for this one I was better with a DD than DDD) and this bottom (though this one is also cute and has slimming capabilities and this swim mini is retro-dorable) and I think the effect is chic, enough coverage and support without a drop of frumpiness. For my plus sized friends, this similar bikini top from Lands' End comes in cup sizes up to G (why do so few plus sized swimsuits have good bust support?), they have the same cute swim mini, and the same shaping bottom. Once the pool opens I'll force Karl down there with his camera and I;ll try to get some photos!
Always love when Into the Gloss interviews a woman over 40. This is Jill Kargman's beauty routine… and as someone who loves Chanel No.5 but her mom wears it, I'm now interested in trying Jo Malone's Red Roses and consider trying NuFACE again.  Also a good reminder to make an appointment with my dermatologist.
LOL, working moms, can you relate to this?
I was lucky enough to see District of Chic's look in person when we went to dinner together the other week. Yes, she is that chic and effortlessly fabulous in person, while being hysterically funny and down to earth!
Judith Leiber made handbags into works of art; sadly she passed at 97 but her legacy lives on.
I know some of you LOVE your LuLaRoe, but articles like this explain why I will never promote or support the brand.
I wash my oil cleanser off with a hot washcloth, but hate how much water is wasted to get to the point of hot water. Am I crazy for thinking about getting this for my bathroom?
I met Marcus Moore in 2012 when we were both on a panel for PR News on how journalists can work with bloggers. I've followed his writing ever since.  I love this compilation of stories about "dad rock" from The Outline, including Moore's memories of music and father figures though all the pieces are awesome and worth a read.
FYI, through this weekend Nordstrom is having one of their Triple Points Events where you can earn 3X the points in stores or online at Nordstrom, Nordstrom Rack, and HauteLook. To earn them, enter your Nordstrom Rewards number at checkout or use your Nordstrom card. It's a good time to order the amazing dress I wore on the blog Thursday!
And for your listening pleasure, the latest song from Florence + The Machine: