This article may contain affiliate links; if you click on a shopping link and make a purchase I may receive a commission. As an Amazon Associate, I earn from qualifying purchases.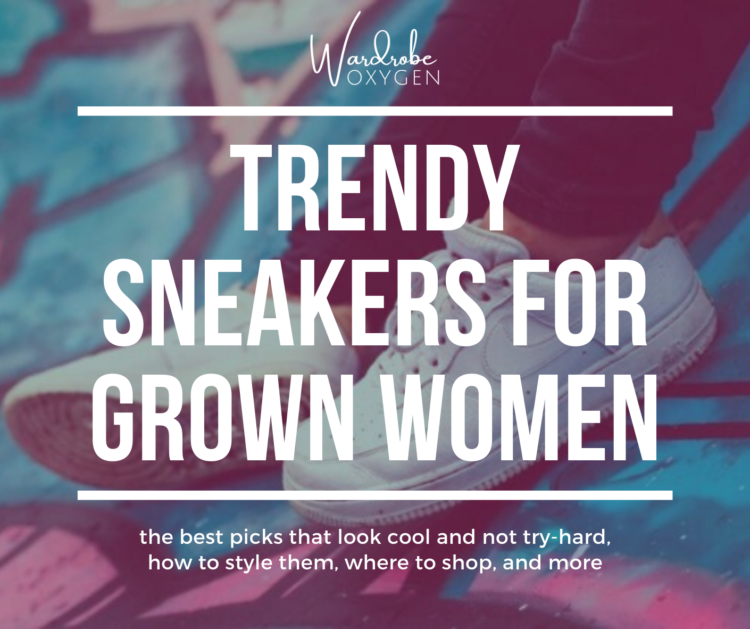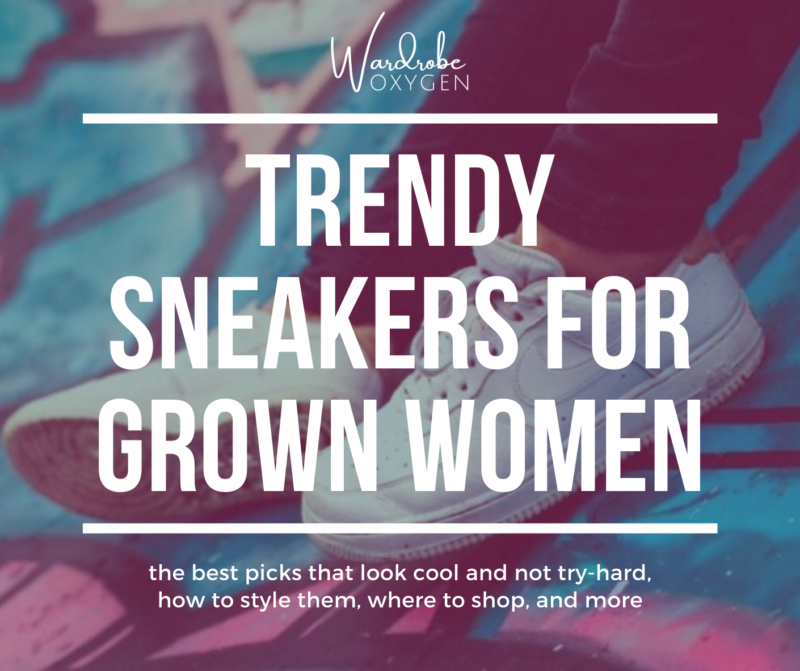 When you're over 30, it's hard to know which sneakers trends are cool and which end up looking clueless. I wrote this post in 2019 but updated it for 2020 to include current trends and the most stylish sneakers that look fashionable, purposeful, and not try-hard for grown women. Below my advice on picking out the best trendy sneakers for grown women and how to style trendy sneakers.
What Kind of Sneakers are Stylish in 2020?
Does anyone else think of this clip from "Crazy Stupid Love" when they see the sneakers that are currently popular? Thing is that movie took place in 2011 and ever since New Balance and other "old school" sneaker brands have gained popularity. Sneakers that were hot in the 1990's are back en vogue, and there are plenty of new brands on the scene that give off a retro vibe. Even so, it's hard to accept the fact that shoes we mocked less than a decade ago are now cool. What makes it harder is there are plenty of people like Steve Carell's character who never knew they went out of vogue that continued to rock them in a very un-ironic manner. How do you show you're wearing trendy sneakers because they are comfy and cool not because you stopped caring about trends once you graduated from college?
How To Choose Stylish Sneakers as a Grown Woman
Rule number one: wear what you like. If you don't like my advice, my advice isn't for you. Rock what you think looks good, makes you feel good, works with your lifestyle and unique needs. However, if you're unsure where to start in searching for trendy street sneakers, read on.
Color
When looking for street sneakers to wear with everyday clothing (denim, shorts, casual dresses, etc.) a low-contrast color may get you the most mileage. Especially if you're not confident embracing the trendy sneaker trend, choosing a shoe that isn't high contrast with your skin or your standard wardrobe is a good bet. If you plan on wearing these shoes with a lot of jeans and dark leggings, consider a pair in black, gray, or a deeper color. If you think you'll be wearing them more with shorts, dresses, and pants that expose your ankle you may want to choose a color closer to your skintone or less of a contrast (tan, camel, gold or rose gold, white, ivory, pale pink, gray, etc.).
Profile
Right now, puffy shoes like we wore in the late '80s are back in style. Air Force 1, Reebok Classic, Fila Disruptor, all the shoes we coveted as kids and teens are now en vogue. And if you like them, go ahead and rock them again with gusto. They look fantastic with slim leggings, pleated and bias-cut midi skirts of lightweight fabrics, shorter shorts and dresses with volume, and looks that balance the puffiness with softness, sleekness, or a length of bare leg.
Shop Trendy "Old School" Sneakers:

However, such shoes may not feel comfortable to you when looking at your reflection. If you're short, they can make you look more short. If you have large feet, your feet will look larger. If you have thick legs and/or ankles, they will emphasize it. If you care about such things, this kind of shoe can be hard to style effectively. You may wish for a lower-profile shoe that exposes more of the ankle and top of the foot.
I have had luck with Adidas, Puma, and Nike for finding retro-inspired sneakers that aren't like marshmallows on my feet. Brands like Veja and Cariuma have come on the scene offering low-profile cool sneakers with ethical practices and materials. Converse "Chucks" and Vans "Old Skool" are classic styles that are also low profile; Superga is a great alternative brand if you have wide feet or find Converse uncomfortable. Soludos makes low-profile canvas sneakers with colorful and boho-inspired embroidery. If your style veers towards preppy, consider a pair of Tretorns. If you're looking for comfort shoes that don't look like comfort shoes, ECCO makes really stylish pairs. For those who invest in a covetable shoe collection, Golden Goose sneakers and Comme des Garçons PLAY sneakers have been on-trend for a couple of years, are comfy, and have a low profile. Below is a carousel of shoes I found online that are stylish and low-profile:
Shop Trendy Low-Profile Sneakers:

Be Wary of OTT
OTT stands for over the top and a lot of trendy sneakers right now are going that route. A retro sneaker but with chiffon ribbons as laces. A cool sneaker… with velcro closures and platform soles. Sequins, mixed patterns, holographic fabric, studs, lights, bows, ruffles, wedge heels stacked soles… A shoe that is OTT is more likely to look dated by the end of the season. Also, an OTT shoe not styled by an OTT person who has an OTT wardrobe can look cheap and clueless far quicker than a shoe that is more subdued.
Don't Buy Dupes
High fashion brands like Gucci and Balenciaga have gotten on the trendy sneaker train and carry stylish sneakers for sky-high prices. As with all designer accessories, lower-end brands and Made in China fast fashion companies come on the scene offering "dupes" of these designer pieces for a much cheaper price. If you're not sure whether the shoe you're admiring is a dupe or counterfeit, I recommend Googling the shoe description. For example, when you Google, "white sneaker with green and red stripes" the first hit on Google is authentic Gucci sneakers for sale on eBay. When you Google, "white sneaker with jeweled straps" Gucci also comes up in the first hits, and then a "dupe" by Steve Madden. I also recommend becoming familiar with the designer styles by perusing them on the website of a department store like Bergdorf Goodman so you get a feel of the trends and the specific designers' trademark styles. Whether they are truly counterfeit and pretend to be designer sneakers or they're made by a department store brand with so much of the designer elements you can't tell they're not the real deal until you're up close, it's not stylish to wear such a shoe.
The Right Socks
The best way to wear trendy sneakers is to have your ankles exposed, no visible socks. My favorite no-show socks are the Hide and Seeks by Smartwool. They really do hide under every pair of sneakers I own, they keep your feet warm in winter and cool in summer, wick away moisture, prevent foot odor, hold up for years, and don't slip down your heel mid-day. Bombas is my second-favorite brand for no-show socks. For every pair of Bombas purchased, they donate a pair to a homeless shelter.
Shop No-Show Socks: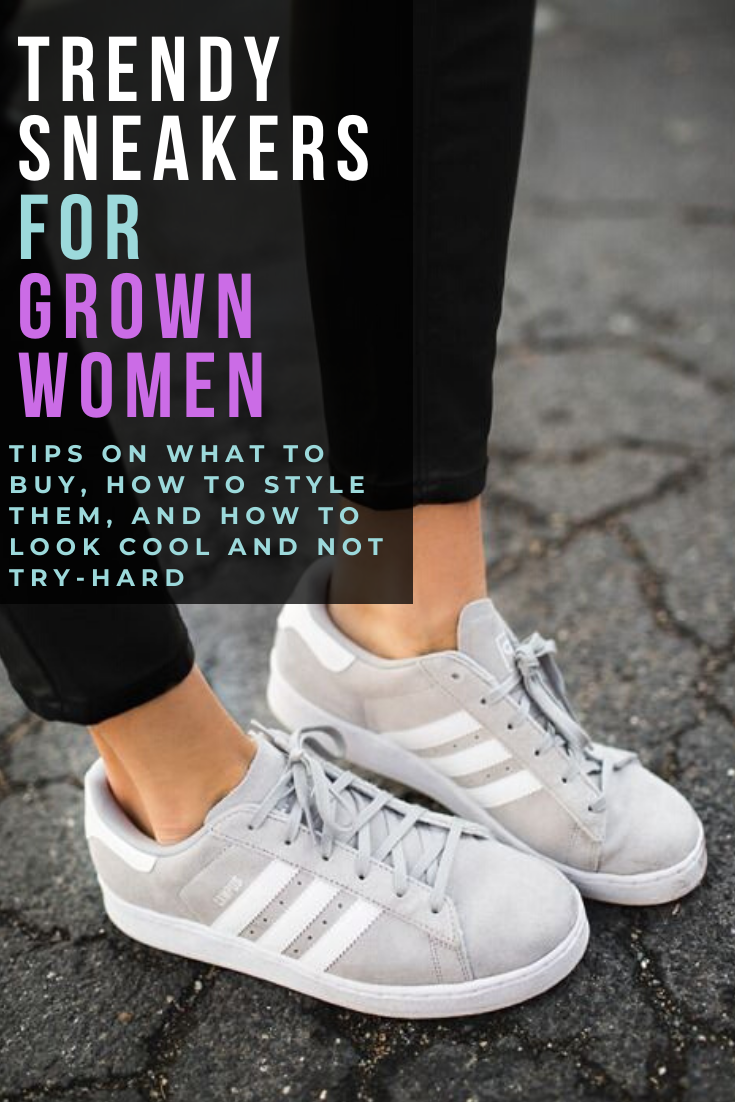 How to Style Trendy Sneakers
Okay, you found a pair of sneakers that you think look cool, feel great, and are fun to wear. Now, how the heck do you style them for every day in a cool, grown woman style? Here are a few ideas to get your sartorial juices flowing using one of my favorite sneaker classics: The Adidas Stan Smith. This sneaker is low profile, low on details, come in all white or with details in black, gold, green, and occasionally other colors. This is a sneaker that is popular across the globe; this is a sneaker you can wear sightseeing in Europe and not look obviously like an American tourist.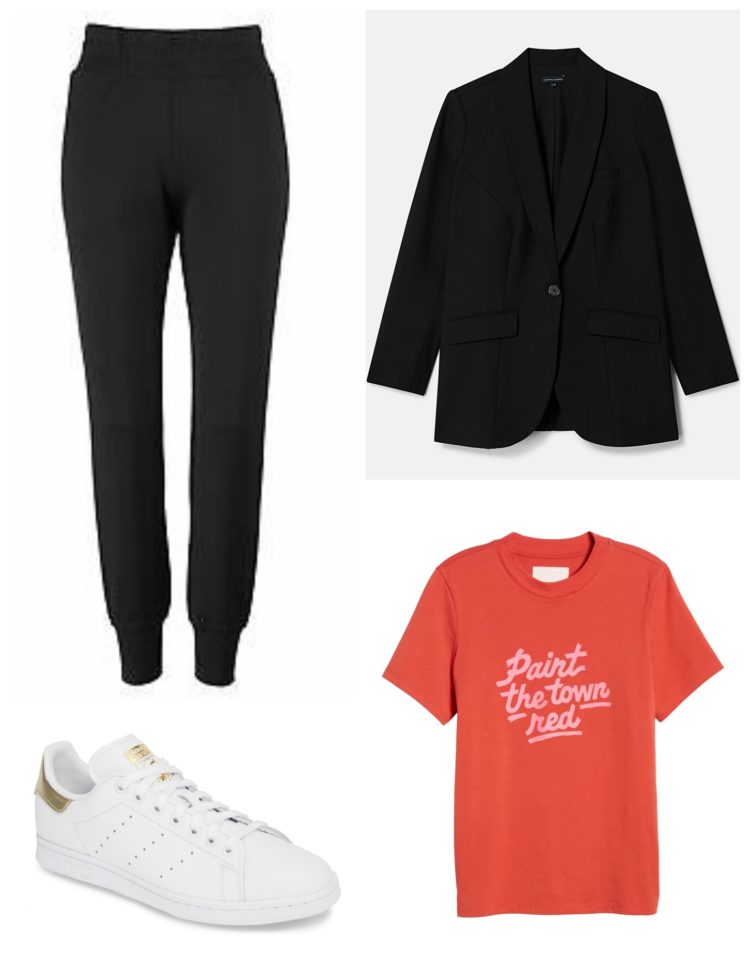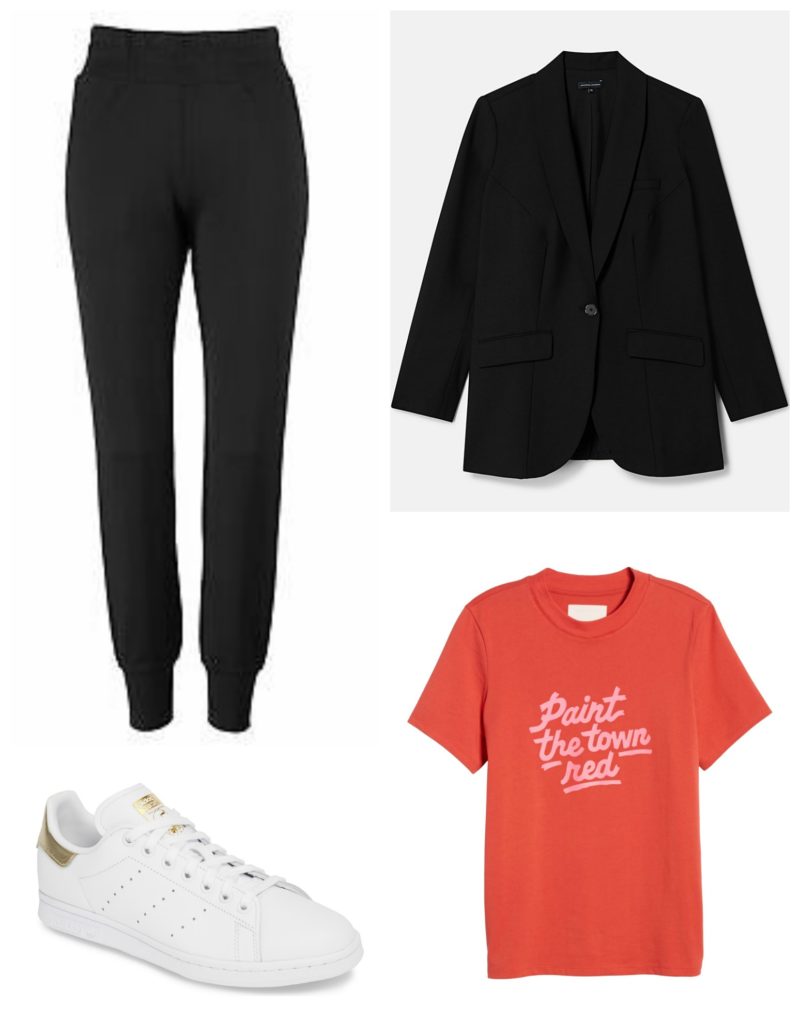 Look 1: blazer | t-shirt | knit jogger pants | sneakers
This is one of my go-to outfits, in fact I shared a version of it with boots recently but more often I do it with sneakers. When you pair comfy jogger-style knit pants with a structured blazer, it achieves a more polished effect than with a hoodie. This is a great way to also rock another trendy look, the graphic tee, without looking too young. By having the joggers and the blazer both black it looks more polished and less like activewear. Be sure to pull up the cuffs of the joggers a bit to let a hint of ankle show. The t-shirt should either be tucked in or half-tucked; this post delves in ways to get comfortable with tucking in tops.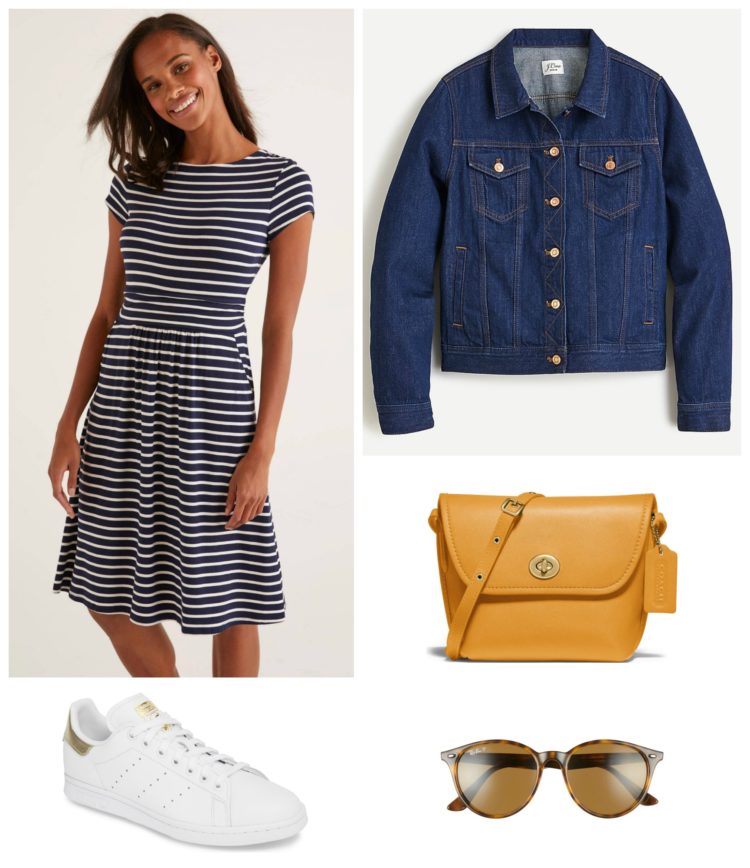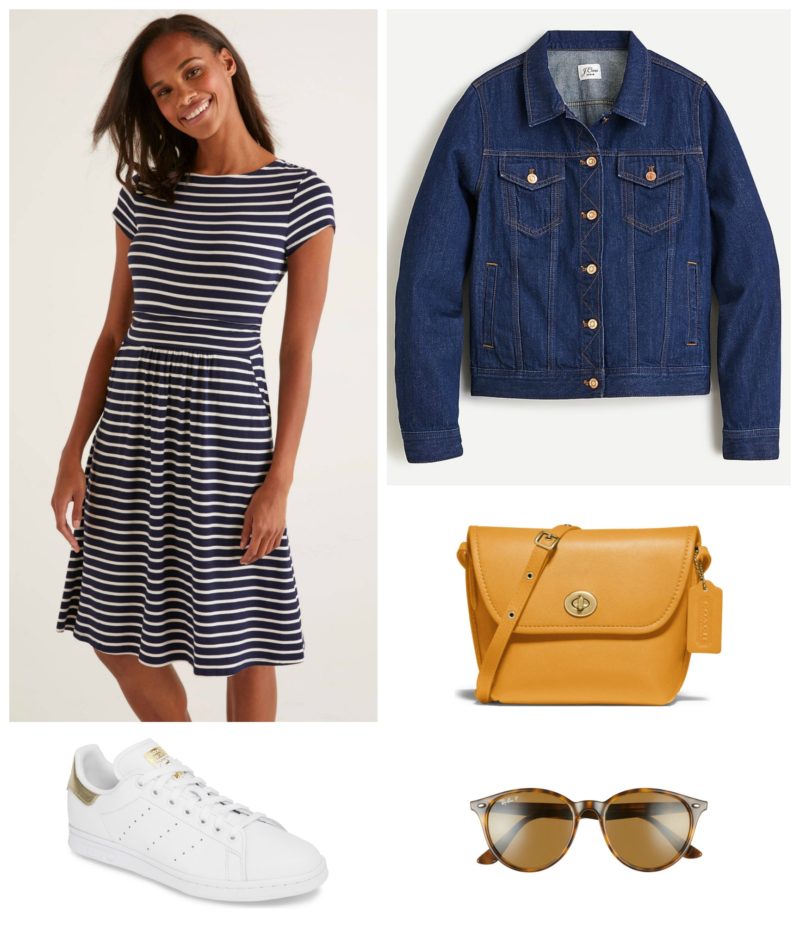 Look 2: dress | jacket | sunglasses | bag | sneakers
One of the most classic ways to rock sneakers as a grown woman; a t-shirt dress and denim jacket is great for weekends, casual activities, and sightseeing. By pairing the crisp white sneakers with rinse denim, this outfit feels modern and sophisticated.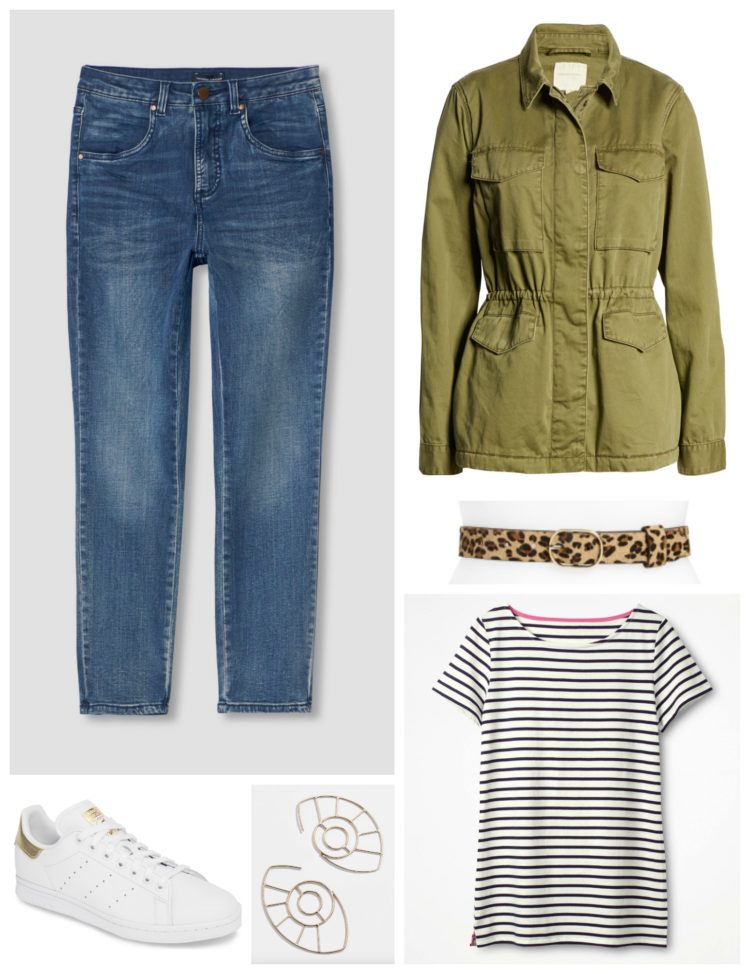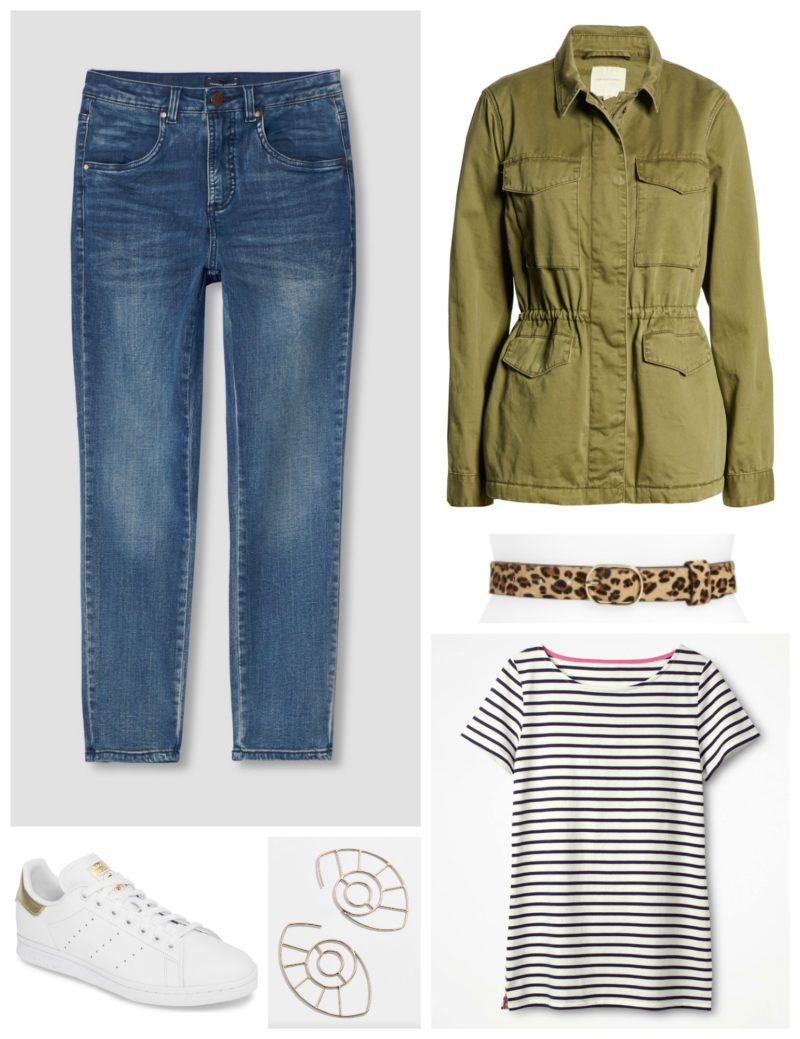 Look 3: jeans | jacket | tee | belt | earrings | sneakers
This is a pretty typical look for weekends and casual situations; the way to make it feel modern is to focus on fit and proportion. These jeans, while coming in sizes 00-40, also come in lengths. You want to choose a length (or hem your existing jeans) to a length that shows the ankle bone to have them work well with sneakers. This not only elongates the leg, it feels more modern than having the jean hit the top of the shoe. A striped tee is a classic, but this one has a more flattering neckline and slimmer silhouette than in the past. Again, tuck or half-tuck the top and add a scarf or belt for interest. The field jacket nips in at the waist and also has a slimmer silhouette so it is clearly a fashion piece and not leftover from your fishing trip or safari. Adding a pair of interesting earrings shows you know current trends and like having fun with fashion.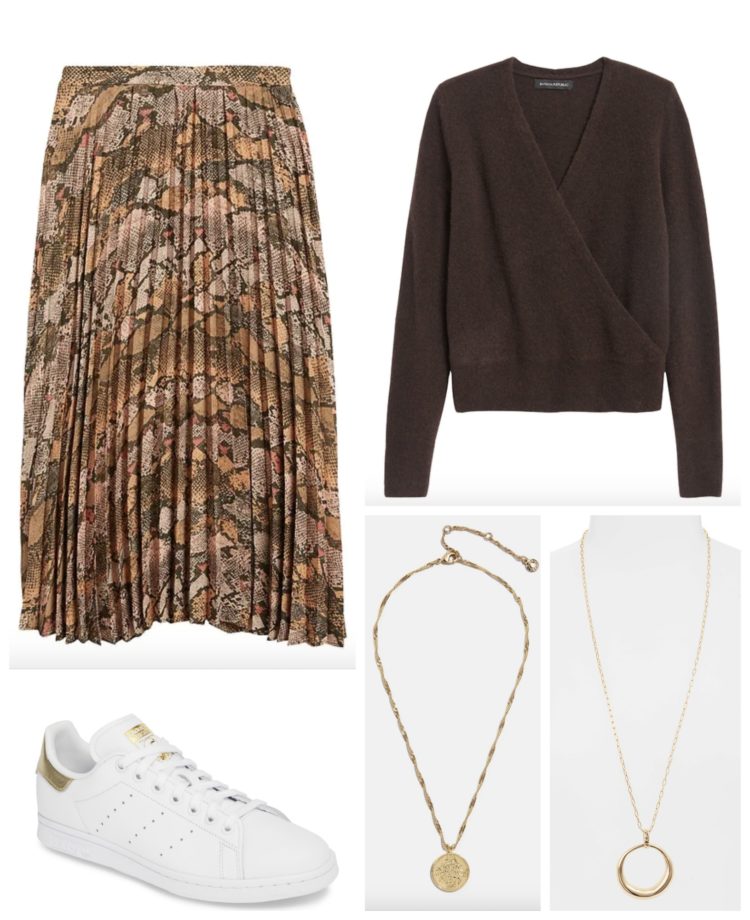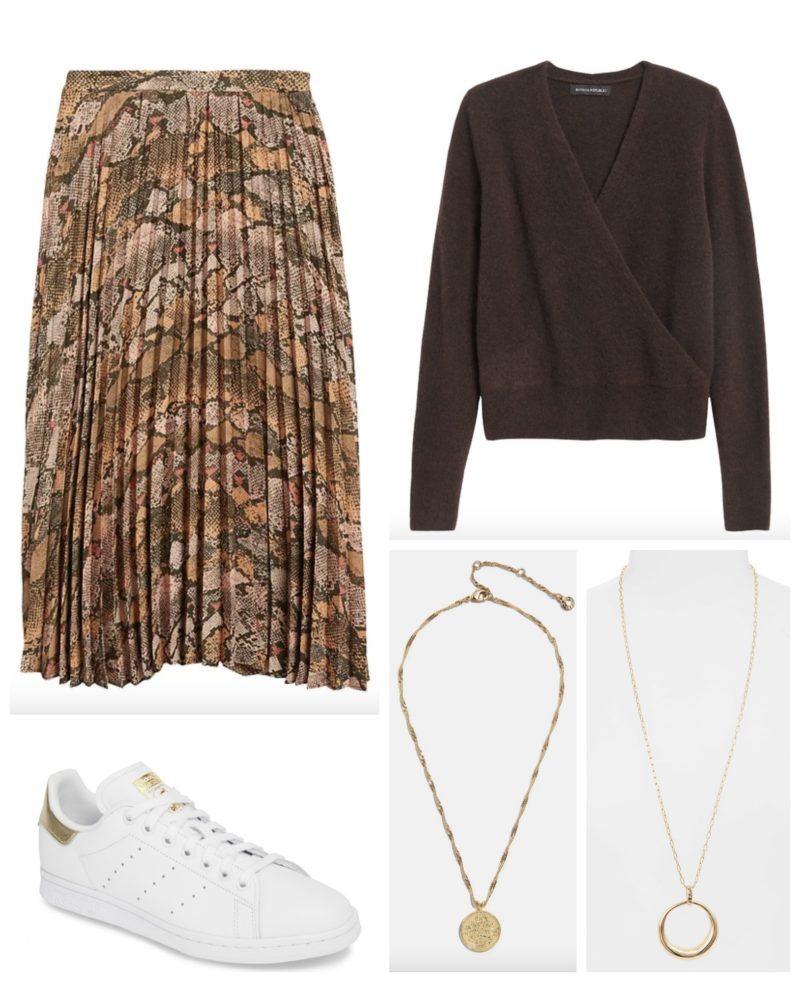 Look 4: skirt | sweater | long necklace | short necklace | sneakers
Sneakers can be worn with dressier clothing and look chic, not sloppy. Again, the key is fit and proportion. Midi skirts are very on trend with sneakers, but to keep it looking sleek, choose a skirt of a lightweight silky fabric with drape so it doesn't add bulk and pair with low-profile sneakers that expose plenty of ankle. The sweater can be switched out for a tank, tee, or even a turtleneck. The key is to choose one that skims the body, either hits at the waist or can be tucked in, and is a soft or lightweight fabric. You don't want anything stiff or thick which will look bulky with the sneakers. Adding shine, in this case with delicate gold necklaces of varying lengths, makes the look purposeful and incorporates a popular jewelry trend.
Sneaker Styling Tips
A few basic tips to help you style your trendy sneakers:
Show some ankle. The same holds true for loafers and brogues; you need to have visible space between your pants and shoes to make the look purposeful. Nine times out of ten this will require a trip to the tailor. Be sure to bring your sneakers with you to ensure the right length. A shorter pant will still work with basic flats and pumps, there is no specific length that is "in" this season or the past few seasons so feel free to shorten and even narrow your pant to the specific length that works with your body, your personal style, and your shoe wardrobe.
Balance volume. If you're rocking a pair of Nike Air Force 1, I bow down to you and your fierceness. With any shoe with a bit of volume, consider styling them with either a skinny pant and top or jacket with some volume, or a straight or a-line style dress around the knee, letting the legs show. A slim leg will let the shoes take the spotlight and give them an edgier vibe.
If new to the trend, go low contrast. A pair of shoes that are close to your skin tone will blend the best into your wardrobe and personal style. Instead of white, black, or navy try a softer neutral like cream, tan, gray, or a soft metallic.
Start with a classic. If you're new to wearing trendy sneakers, you may be more comfortable going with a popular classic. Adidas Stan Smith or Superstar, Puma Suede Classic, Tretorn Nylite, Veja V-10, Converse All Star, Nike Classic Cortez, Vans Old Skool, and Gola Coaster are a few types that have remained classic cool for a few seasons.
Shop Classic Sneakers: