This article may contain affiliate links; if you click on a shopping link and make a purchase I may receive a commission. As an Amazon Associate, I earn from qualifying purchases.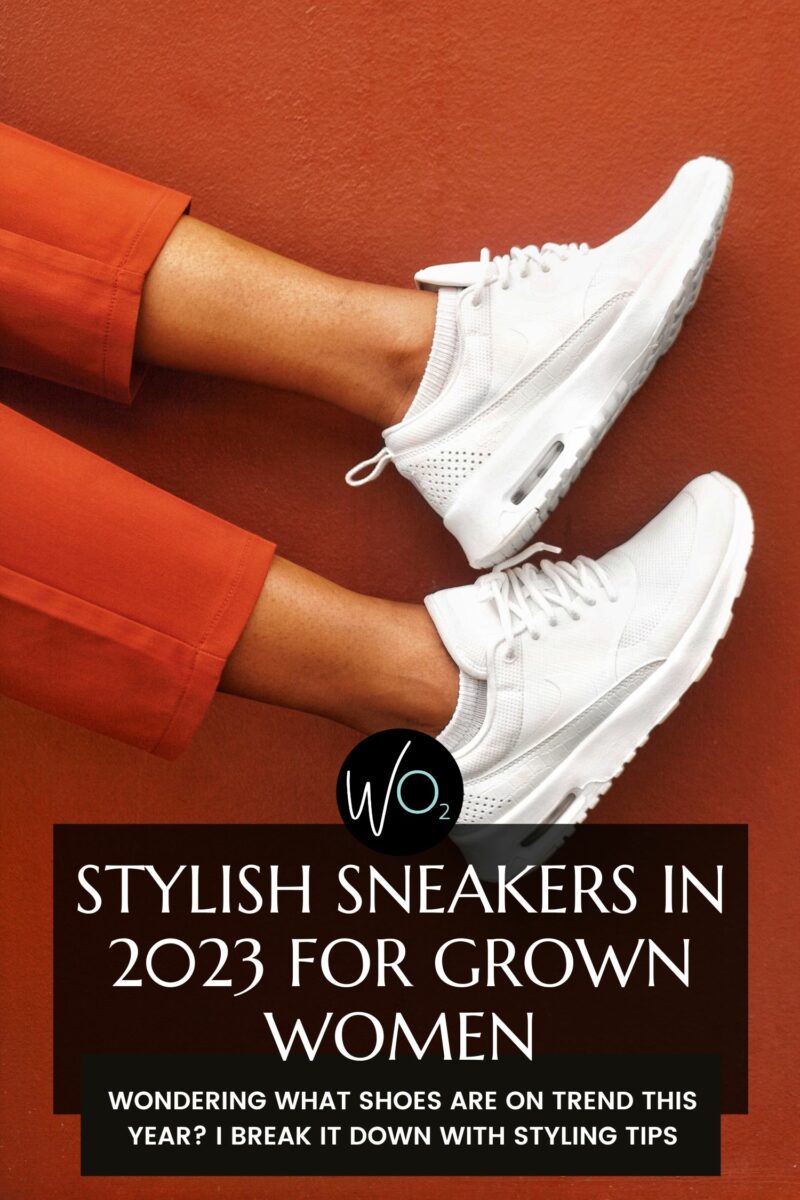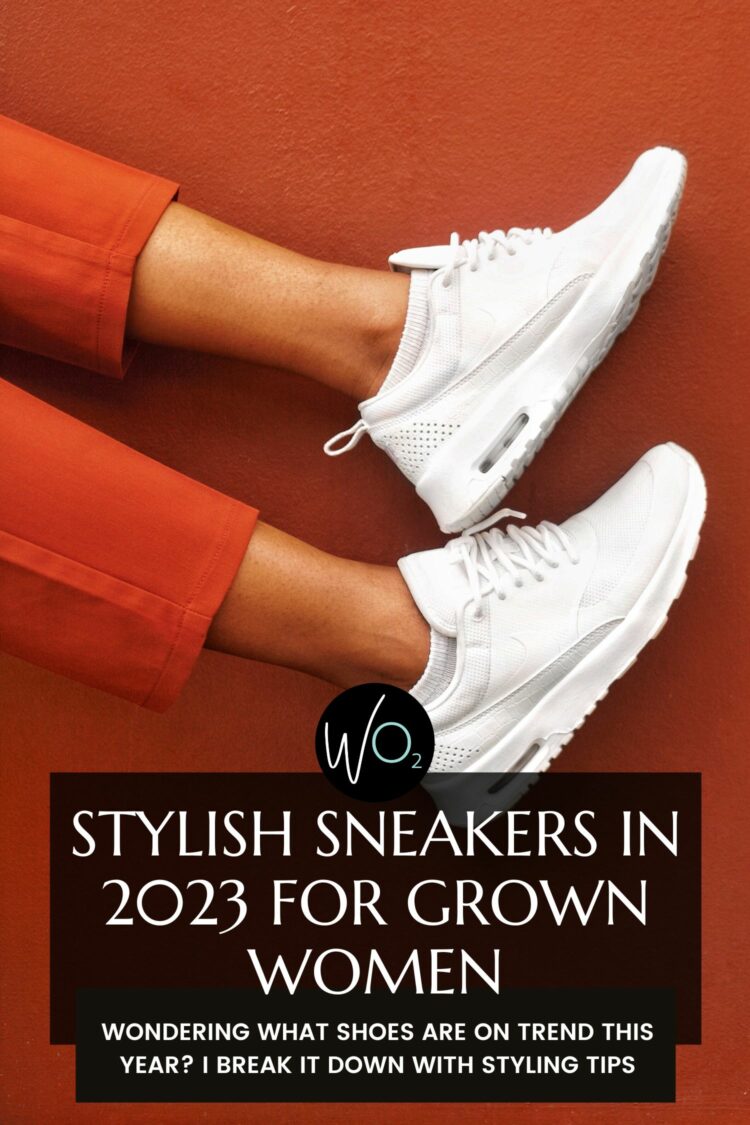 The Best Trendy Sneakers for Grown Women
When you're over 30, it's hard to know which sneakers trends are cool and which end up looking clueless. I wrote this post in 2019 but updated it for 2023 to include current trends and the most stylish sneakers that look fashionable, purposeful, and not try-hard for grown women. Below my advice on picking out the best trendy sneakers for grown women and how to style trendy sneakers.
What Kind of Sneakers are Stylish in 2023?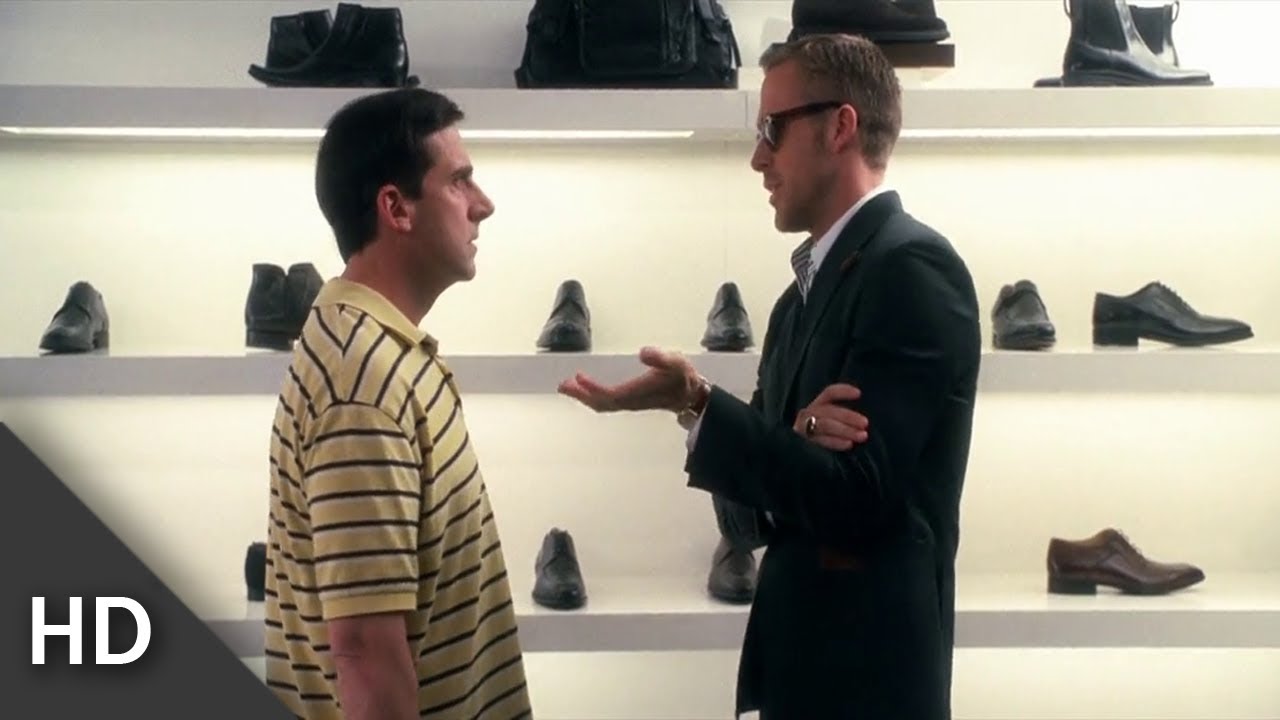 Does anyone else think of this clip from Crazy Stupid Love when they see the sneakers that are currently popular? Thing is that movie took place in 2011 and ever since New Balance and other "old school" sneaker brands have gained popularity. Sneakers that were hot in the 1990's are back en vogue, and there are plenty of new brands on the scene that give off a retro vibe.
Even so, it's hard to accept the fact that shoes we mocked less than a decade ago are now cool.  What makes it harder is there are plenty of people like Steve Carell's character who never knew they went out of vogue that continued to rock them in a very un-ironic manner.  How do you show you're wearing trendy sneakers because they are comfy and cool not because you stopped caring about trends once you graduated from college?
First, Let's Discuss What Sneaker Trends are Hot in 2023?
I will reiterate many times in this post that you do not need to wear any current trend to look stylish. And comfort always trumps trends. We're grown-ass women, we have earned the right to wear whatever the hell we want, and that means comfy shoes that have us walk and live with confidence. However, a lot of the 2023 sneaker trends are both stylish and comfortable so it's possible one of the trends I feature below may be perfect for your lifestyle, wardrobe, and feet!
Retro Classics
As I have shared in previous articles about 2023 fashion trends, the retro classic sneaker is hot hot hot in 2023. You're going to see athletic sneakers you wore in the '80s and '90s for sale at all the popular shoe retailers. Nike Air Force 1 and Nike Air Max, Reebok Classics, Adidas Samba and Adidas Gazelle… these are just a few of the shoes you likely owned at one time. These are leather and/or suede, usually black or white, and the same exact colors and looks you wore before are chic today.
Also on trend are the low-profile slim sneakers that are more reminiscent of what was worn in the '70s and '80s. Brands like Onitsuka Tiger, Tretorn, and Gola offer trim styles usually made from canvas or mesh with colorful stripes, swooshes, and soles.
Referring back to Crazy Stupid Love, New Balance sneakers have a retro vibe that has been popular for many years and continues to be trendy. Unlike other retro classic brands that are directly replicating the colors and styles from the past, in 2023 New Balance sneakers come in classic shades but also pastels and softer colors with lower contrast details. Retailers like J. Crew and Madewell carry New Balance and are a great place to look to see what colorways are on trend and most versatile with an everyday wardrobe.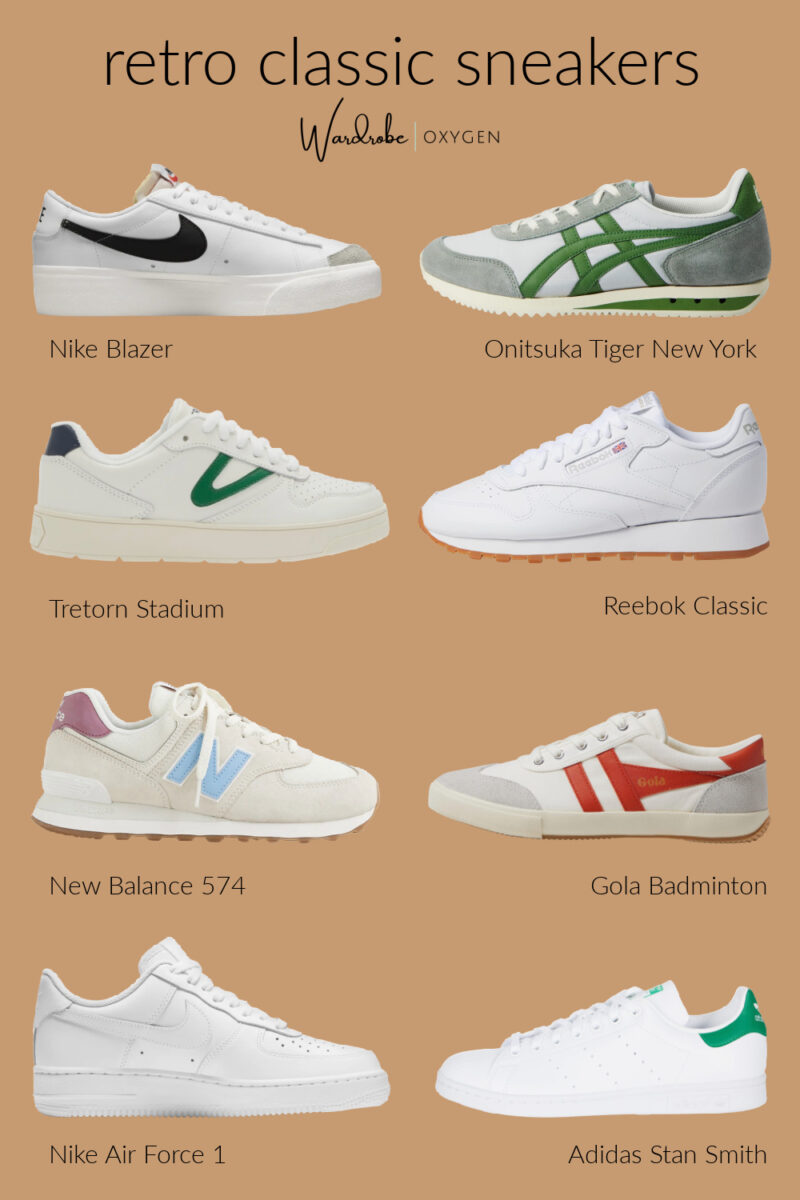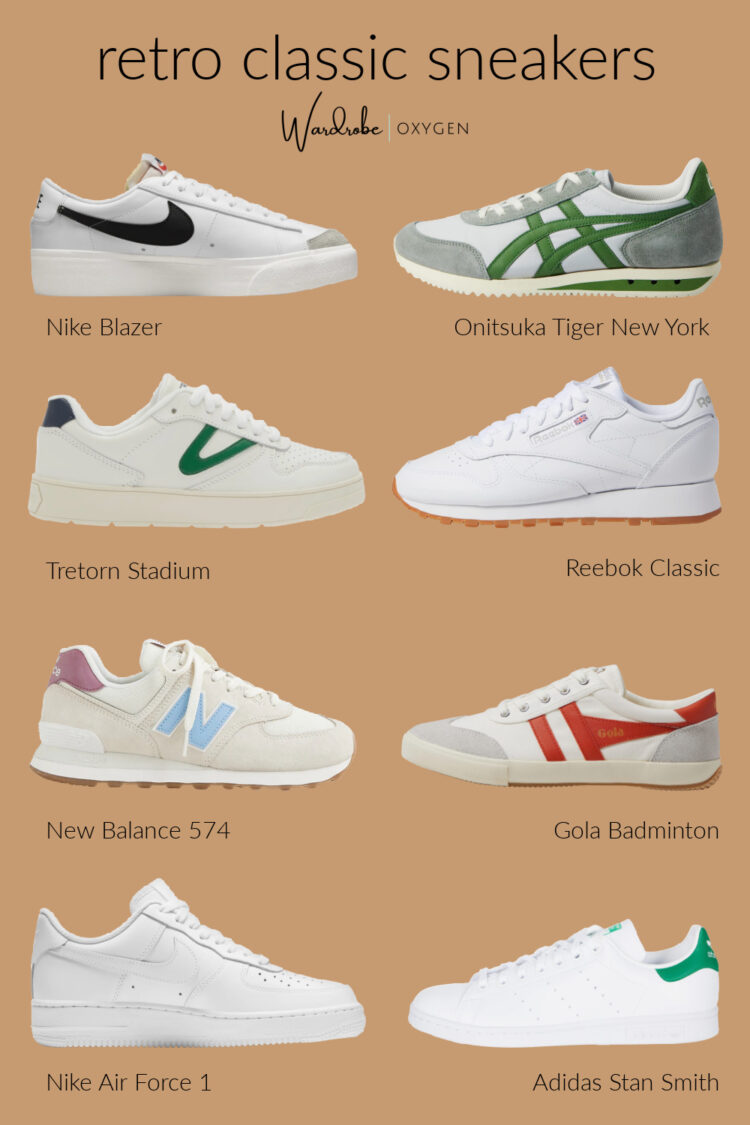 For several years the Adidas Stan Smith has been a chic white sneaker choice for women. And the Stan Smith is still a stylish choice. A wider toebox alternative is the Adidas Superstar. Both styles come in all white, or with little pops of color or metallics. The Nike Blazer is another sneaker that has been stylish for several years and is available in solids as well as with pops of color.
The Converse All Star (AKA Chucks) are still a safe choice for sneakers in 2023. While you can show your personality with color, the most on trend options are white, off-white, and black are the ones you'll see the most on style icons of all ages. Low-tops are always a good choice but this year high tops have gained popularity. The classic sole is my personal favorite, but a slightly platformed sole has also gained popularity.
Unlike past years where trendy sneakers needed to look pristine, trendy sneakers in 2023 can look worn. Especially when it comes to the slim profile '70s inspired sneakers and Adidas Sambas, get them a bit dirty, have them scuffed, let them live a bit of life. If you prefer a pristine sneaker, that is also chic but no longer do you need to baby the heck out of your sneakers to look on trend.
Retro classic sneakers of any silhouette and brand can be worn with jeans of any silhouette, wide-leg trousers (cropped and full length), and look chic with knee- to midi-length dresses and skirts. From all-white sneakers to colorful details, retro classic sneakers are a safe bet for folks of any age to feel stylish without being a fashion victim.
Athletic Sneakers with Performance Soles
While the super chunky sneaker trend from a couple of years ago isn't as popular, what has taken its place are athletic sneakers with high-tech soles. From the honeycomb styles of On Running to the curved platforms of HOKA, you will see everyone from the marathoner to the college coed wearing these sci-fi shoes.
HOKA and On Running are two really popular brands right now, and both come in a range of styles depending on your tastes but more so your sneaker needs. Whether you need a wider toebox, you're running a 5K, or just need a shoe to walk around town and wear with your favorite jeans, there is a style and you'll be best off doing a little research before clicking "buy."
If you're more the outdoorsy type, you'll be thrilled to find that hiking-inspired sneakers have also gained popularity. Salomon and Merrell are the two brands worn the most by the style setters, and the styles chosen look more like sneakers with athletic-inspired lowtop uppers and the performance soles for rocky terrain.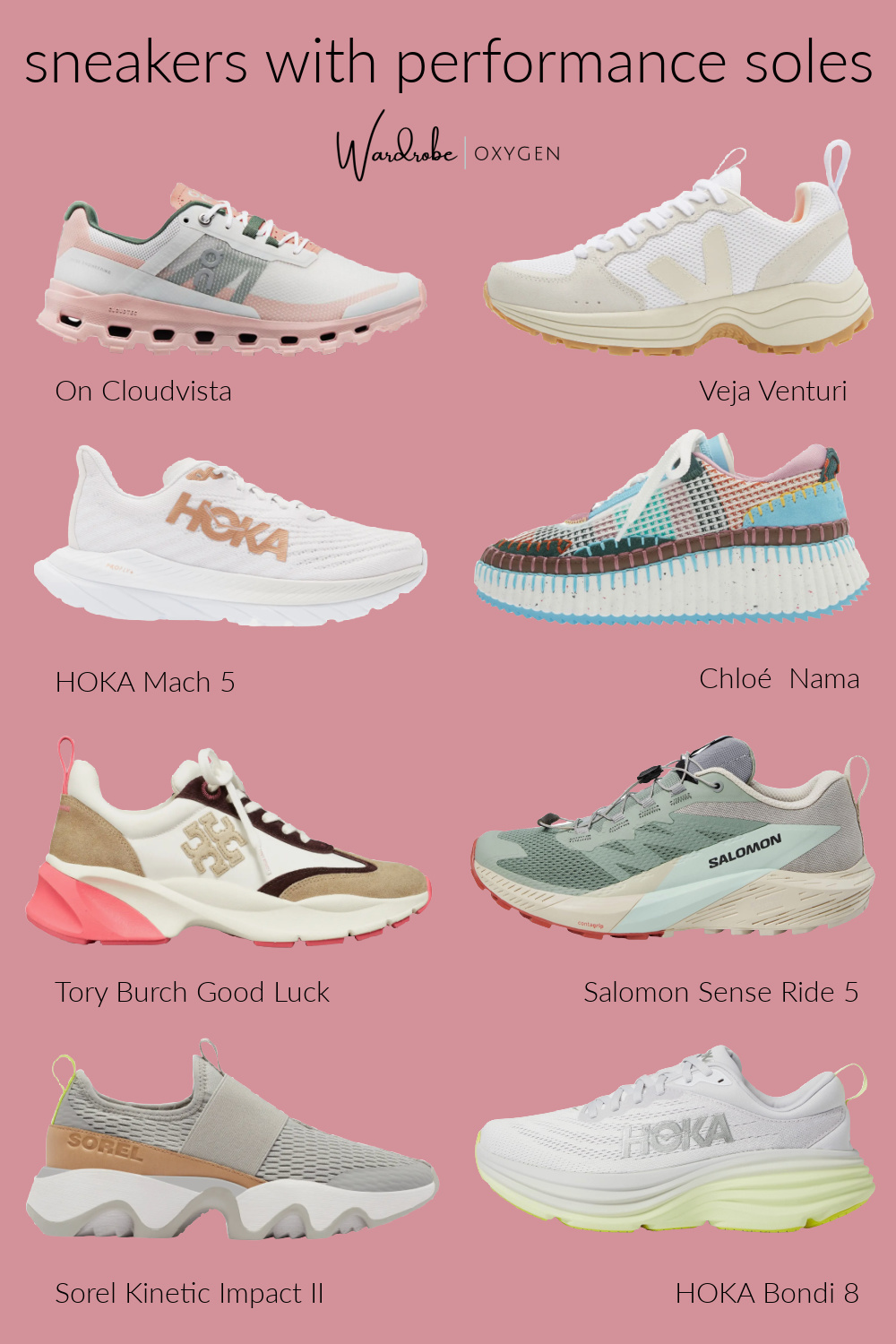 Stylish brands like Tory Burch, Veja, and Chloé, and other athletic brands like Nike and Adidas also have styles of sneakers with chunky statement soles. In 2023 high performance has become high fashion, so you can find an amazing range of styles and colors.
Such sneakers aren't as easy to style as the retro classics. I find they work best with breezy midi-length skirts and dresses that give some space between hem and shoe, and athleisure fashion that leans towards sneakers. Colors that are low contrast to your skin (browns, creams, pinks, coral) will prove more versatile and complement spring to fall looks better than strong colors.
What Women's Sneaker Styles Are Classic?
As mentioned above, the classic white leather sneaker, low on embellishment, is a classic choice for grown women. Whether it's the Adidas Stan Smith or my personal favorite comfort sneaker, the Birkenstock Bend, this is a shoe that doesn't take away from your outfit and works whether they're paired with jeans or a dress. I share my 6 favorite white sneakers for grown women at this link.
White isn't the only color that works for a classic sneaker. As I mentioned in this post, tan sneakers are a great alternative if a white sneaker isn't your jam.
With such sneakers, hardware and embellishments should be minimal. Laces should be white, as should be the soles and "walls." Soles should be relatively smooth; this is a style sneaker not a pair for hiking the trails or running around the track.
How To Choose Stylish Sneakers as a Grown Woman
Rule number one: wear what you like. If you don't like my advice, my advice isn't for you. Rock what you think looks good, makes you feel good, works with your lifestyle and unique needs. However, if you're unsure where to start in searching for trendy street sneakers, read on.
Color
When looking for street sneakers to wear with everyday clothing (denim, shorts, casual dresses, etc.) a low-contrast color may get you the most mileage. Especially if you're not confident embracing the trendy sneaker trend, choosing a shoe that isn't high contrast with your skin or your standard wardrobe is a good bet.
If you plan on wearing these shoes with a lot of jeans and dark pants, consider a pair in black, gray, or a deeper color. If you think you'll be wearing them more with shorts, dresses, and pants that expose your ankle you may want to choose a color closer to your skintone or less of a contrast (tan, camel, gold or rose gold, white, ivory, pale pink, gray, etc.).
However, in 2023 color is popular, especially when it's a pastel or a neon. Don't be afraid to add a pop of highlighter yellow, choose peach instead of cream, and let your yellow or red or purple shoe be a statement, not matching anything else in your look but somehow making the whole ensemble cohesive. Style in 2023 embraces imperfection; having one thing not match, whether it's color or style, is actually quite chic.
Profile
While chunky shoes may be popular, if you're new to fashion sneakers, I recommend going with a relatively low profile sneaker that isn't terribly chunky and is a low-top option. A less chunky style will be more versatile, looking great with shorts, pants, and skirts in a range of lengths, widths, and silhouettes.
That being said, going really streamlined with a "Keds" style sneaker can look dated, especially on us grown-ass women. While young style setters may rock the Keds, this is a shoe in 2023 that can look a bit Steve Carell in Crazy Stupid Love on those of us who remember wearing these as cheerleaders, sorority girls, or preppy teens.
Be Wary of OTT
OTT stands for over the top and a lot of trendy sneakers right now are going that route. A retro sneaker but with chiffon ribbons as laces. A cool sneaker… with velcro closures and platform soles. Sequins, mixed patterns, holographic fabric, studs, lights, bows, ruffles, wedge heels stacked soles… A shoe that is OTT is more likely to look dated by the end of the season. Also, an OTT shoe not styled by an OTT person who has an OTT wardrobe can look cheap and clueless far quicker than a shoe that is more subdued.
Don't Buy Dupes
High fashion brands like Gucci and Alexander McQueen have gotten on the trendy sneaker train and carry stylish sneakers for sky-high prices. As with all designer accessories, lower-end brands and Made in China fast fashion companies come on the scene offering "dupes" of these designer pieces for a much cheaper price.
If you're not sure whether the shoe you're admiring is a dupe or counterfeit, I recommend Googling the shoe description. For example, when you Google, "white sneaker with green and red stripes" the first hit on Google is authentic Gucci sneakers for sale on eBay. When you Google, "white sneaker with jeweled straps" Gucci also comes up in the first hits, and then a "dupe" by Steve Madden.
I also recommend becoming familiar with the designer styles by perusing them on the website of a department store like Bergdorf Goodman so you get a feel of the trends and the specific designers' trademark styles. Whether they are truly counterfeit and pretend to be designer sneakers or they're made by a department store brand with so much of the designer elements you can't tell they're not the real deal until you're up close, it's not stylish to wear such a shoe.
What Kind of Socks Are We Wearing with Sneakers in 2023?
For years, the default look for sneakers is don't have your socks show. I know I am not the only one who has tried dozens of styles of no-show socks, peds, half socks, and random products in Facebook ads that caught my eye. Some stay in place, some do not. My personal favorites are Bombas and Ondo for no-show socks. I also love this hack for keeping sneaker soles sweat-free while keeping socks hidden.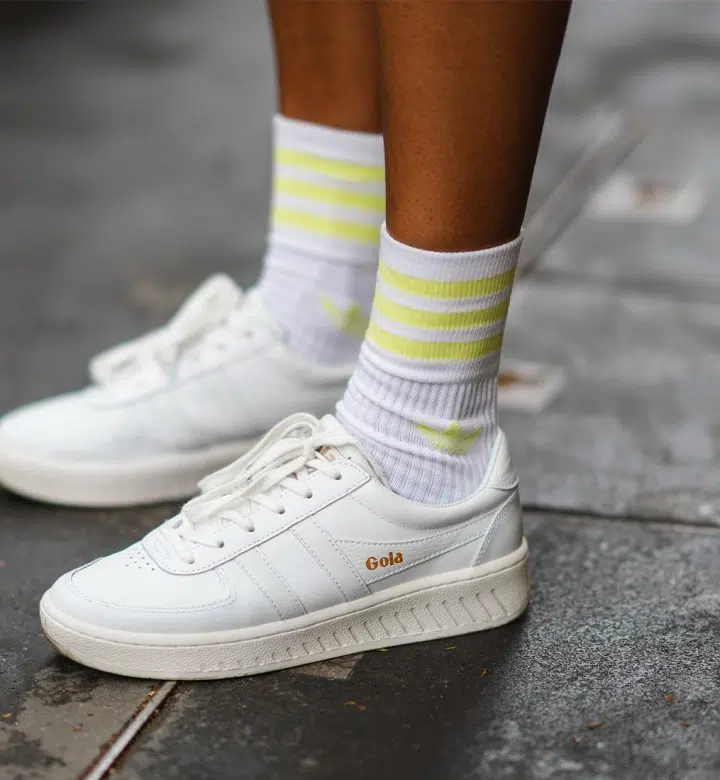 However, in 2023 the trend to have visible socks has returned. A white sock that is anywhere from ankle to mid-calf is being seen on all the style setters. the length in the photo above is by far the most popular, and this sock is either all white or white with a few retro-inspired stripes and/or an athletic brand logo. This look is comfortable and easy, but hard to wear if you're used to bare ankles.
I recommend starting small with ankle socks or quarter socks in plain white. We grown women deserve to experience comfort and joy with our attire and not having to fuss with socks and having it trendy is awesome. If you find you love this trend, feel free to get bolder with height, color, and design!