This article may contain affiliate links; if you click on a shopping link and make a purchase I may receive a commission. As an Amazon Associate, I earn from qualifying purchases. 
Next in the series of posts about our home is my favorite room in the house – the kitchen! To fully understand my love for this room, you have to see the "before" pictures of it:
When we did our home remodel at the end of 2008, not only did we add to the back of the house to create a living room and master suite upstairs, but we added five feet off the front to have a main-floor half-bath and extend the kitchen. As a reminder, the original house was just over 700 square feet so the kitchen was teensy. So teensy that the stove only had one large burner and I could never find a cookie sheet to fit in the oven. So teensy that when the refrigerator died a month after moving in, we had to custom order one small enough to fit in its place. When the old dishwasher died, we would have had to custom order it so we just used it as a dish drainer.  Not only was it teensy, it was cheap. Peeling laminate counters, pressed-wood cabinets that were sagging and pulling from the walls… I could go on and on. It all just made me love the remodel even more.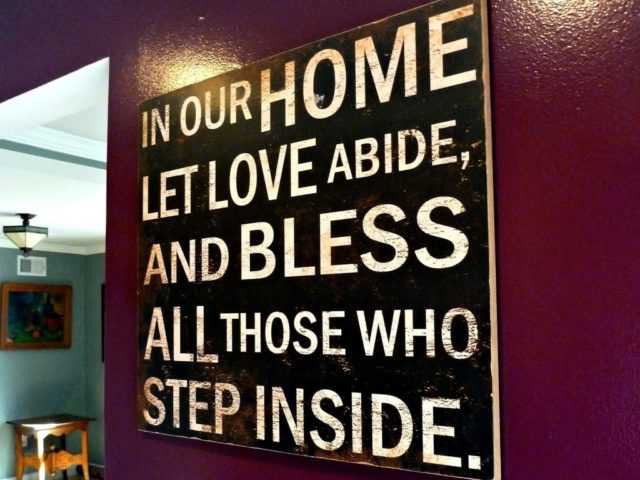 The new kitchen makes our house a home. I saw this in a boutique in Rehoboth Beach in 2009 and had to get it for our "new" home.  Little did I know that this "unique" sign was mass-produced and now every single townhouse in America has one like it, but at the time I saw this sign as a proper and unique representation of how our house had developed with our family.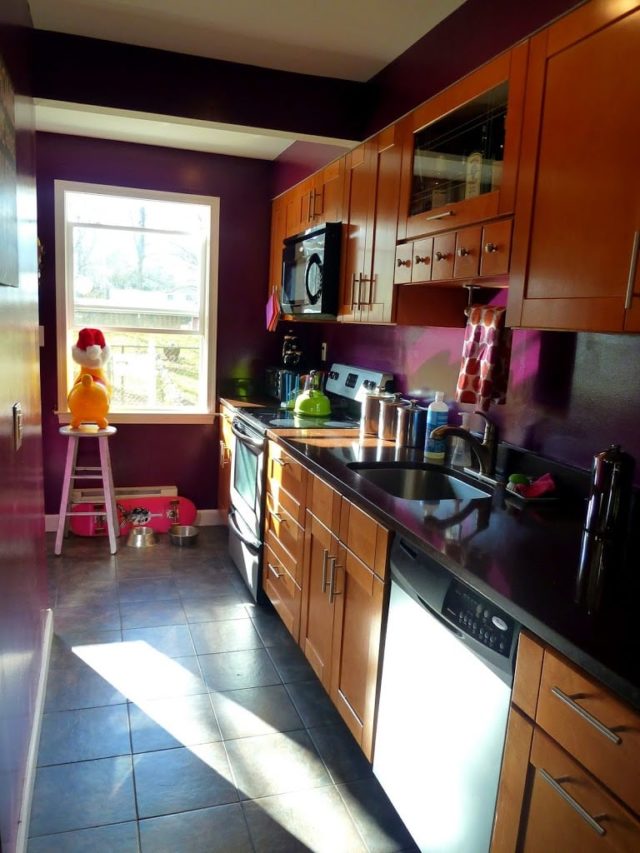 The bulkhead shows where the house used to end. Emerson's Rody keeps watch at the front window while looking tres festive.
Just five additional feet meant a full-size range, a full-size refrigerator, and a reasonable amount of counter space. We put the most thought into the kitchen – we researched appliances, cabinetry, and drafted up layouts multiple times.  The cabinets were an overstock – not our original choice but such a great deal (and now we ADORE them).  The floor was a must for me – my husband wanted to do something cheaper, we compromised, but then our contractor scored the very same tile I lusted after at a great price (it sometimes pays to have a small kitchen).  By purchasing our appliances through the company that provided the cabinetry (and the bamboo flooring we have in the bedroom and throughout the downstairs – also an overstock), we saved a lot of money.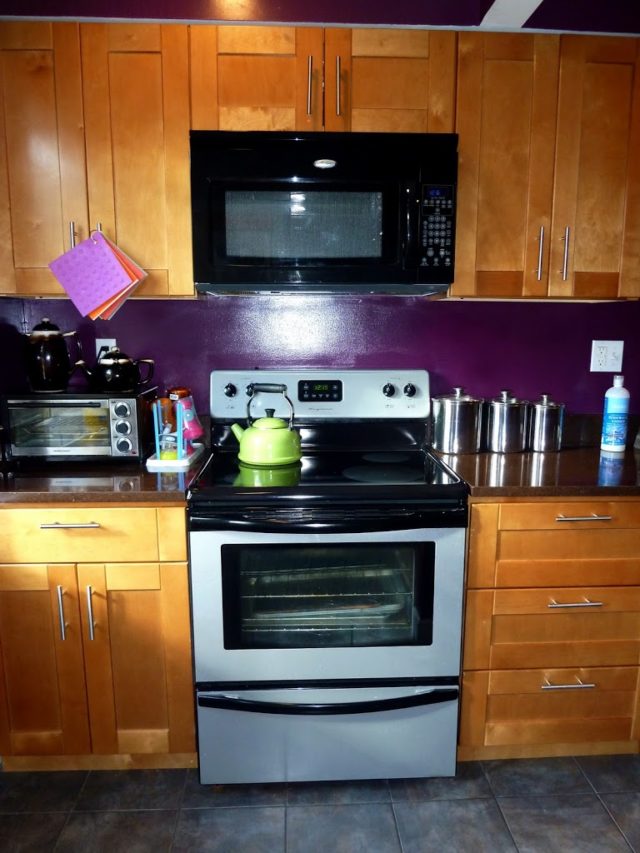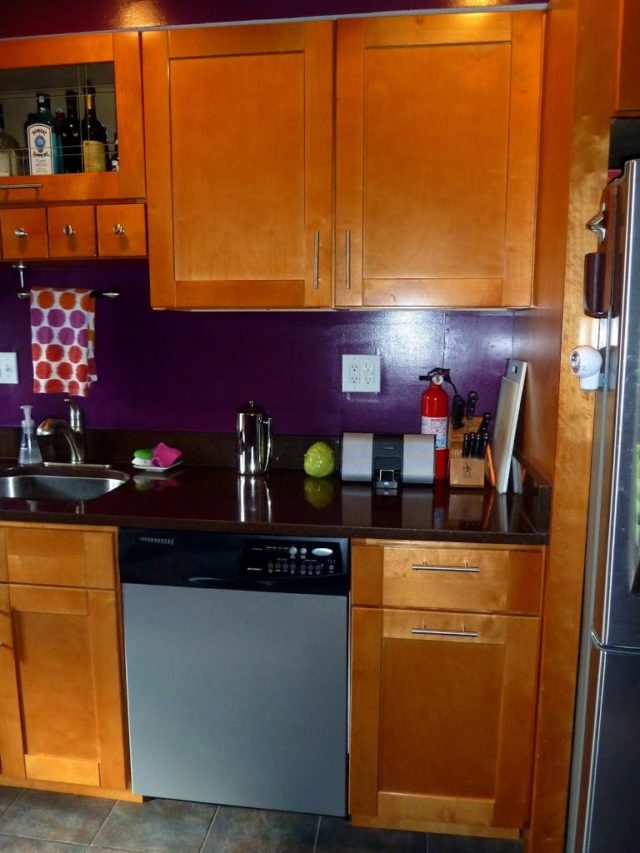 Oh to no longer deal with drip pans on electric burners, to have a dishwasher that works, and a built-in microwave so the entire counter isn't lost?  Heaven!
The paint was a sticking point for me.  I picked this color out before I was on full maternity bedrest.  We went to Home Depot and I decided I wanted a deep shade of berry, I could just imagine it with wood, brushed stainless, and the floor tile.  My husband thought it too crazy and wanted a cadet blue.  The contractor also found me crazy, and the painter found me annoying because I made them paint the room almost a dozen times to get the really deep hue I desired.  But it's totally worth it – I have yet to tire of the color, and as soon as you walk in the house you see this amazing color.  I think it really fits our personality, and yes now my husband too loves the color!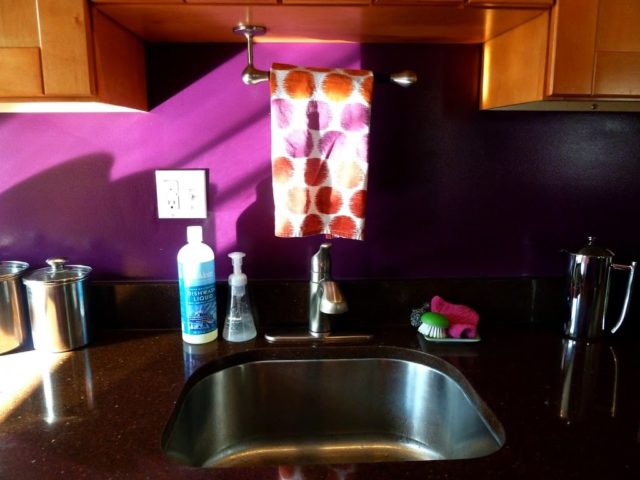 I love our extra-deep sink.  And this kitchen comes with a garbage disposal!  So very 21st century!  You can see when we finished the kitchen, we still used paper towels – the paper towel holder is now a nice towel bar for our reusable dish towels (we keep a basket in the nearby half bath/laundry room for cleaning rags).  We also use reusable sponges (can find great ones on Etsy), and make our own foaming hand wash from a combination of Dr. Bronner's and water.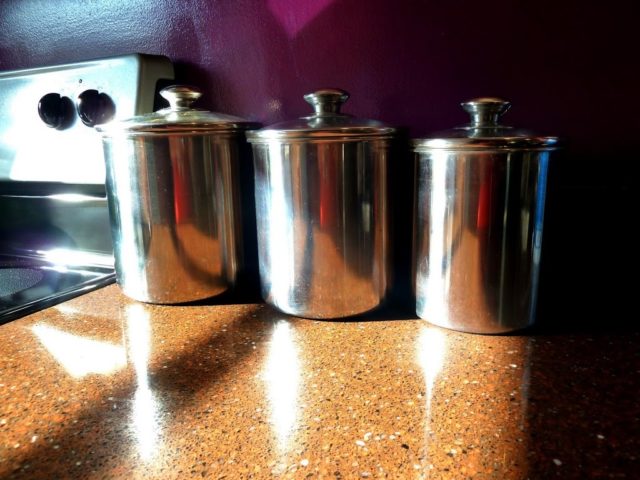 When we moved into our house in 1999, I bought these canisters from Williams-Sonoma as a housewarming present for myself.  You can see my tastes in kitchen decor haven't changed much in the past decade.  They hold regular flour, steel cut oats, and brown rice.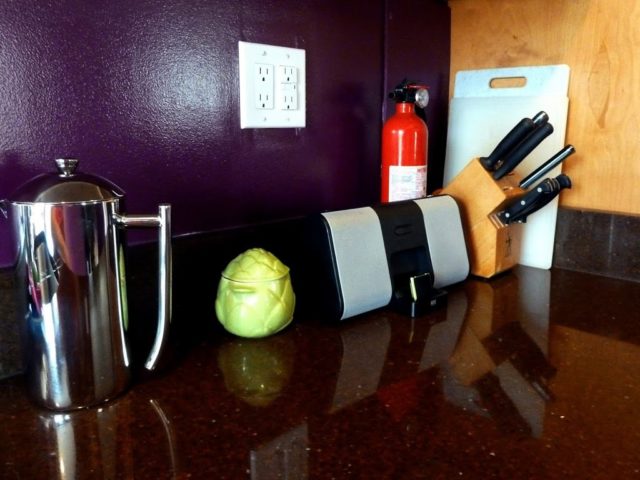 It's amazing to have this much counter space! The French press is a recent addition to the home – a Christmas gift to my husband from my mom to replace our old press which was getting wonky. The Le Creuset artichoke holds sugar. Have to have music – we have iPod speakers in many rooms of the house so we can carry our music everywhere. The knife block is Henkels for Target, but there's a real random variety of knives now residing in it. Most of our cutting boards were in the dishwasher at the time of this photo – the ones we use most often are bright colors like lime, orange, and turquoise.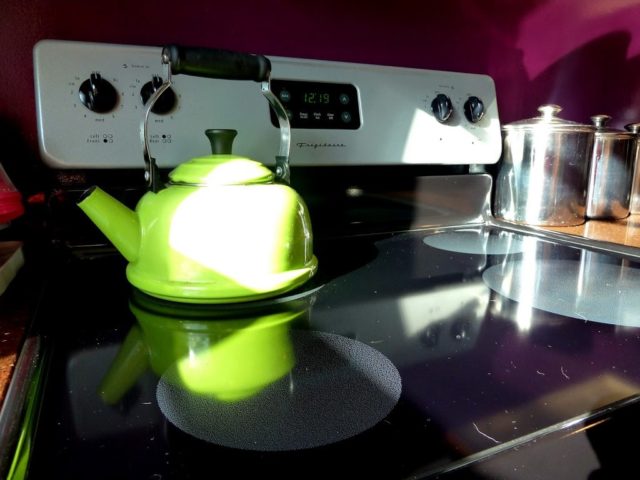 The other housewarming gift I bought myself back in '99 was this same Le Creuset teakettle in yellow.  Back then, I wanted a sunny yellow, blue and white kitchen and slowly collected a lot of yellow accessories.  That teakettle had an untimely death – I forgot about it, it boiled all the water out and melted the bottom.  By then, I was on a green kick (pretty clear from the kitchen I am still on that kick) and got a lime replacement.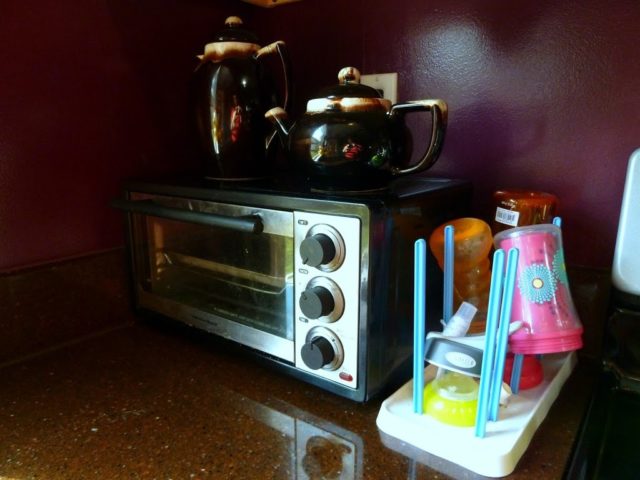 Two years ago, our toaster kicked the bucket and I got this toaster oven for only $25 on Overstock.  We love it – we use it a lot so we don't have to use a ton of energy to heat up the full-sized oven.  The coffee and tea pots belonged to my husband's paternal grandparents – we use the teapot regularly.  And you can see Emerson's bottle drying rack hasn't gone to waste once she stopped drinking milk – we use it to dry her sippy cups and our travel mugs and Camelbaks.
Okay, finished with the pretty pictures – now to the nitty gritty and not so pretty.  We love our kitchen, and we use it a lot.  Here's how we organize it (or attempt to organize it).  Starting with the cabinets closet to the window (the ones above and below the toaster oven):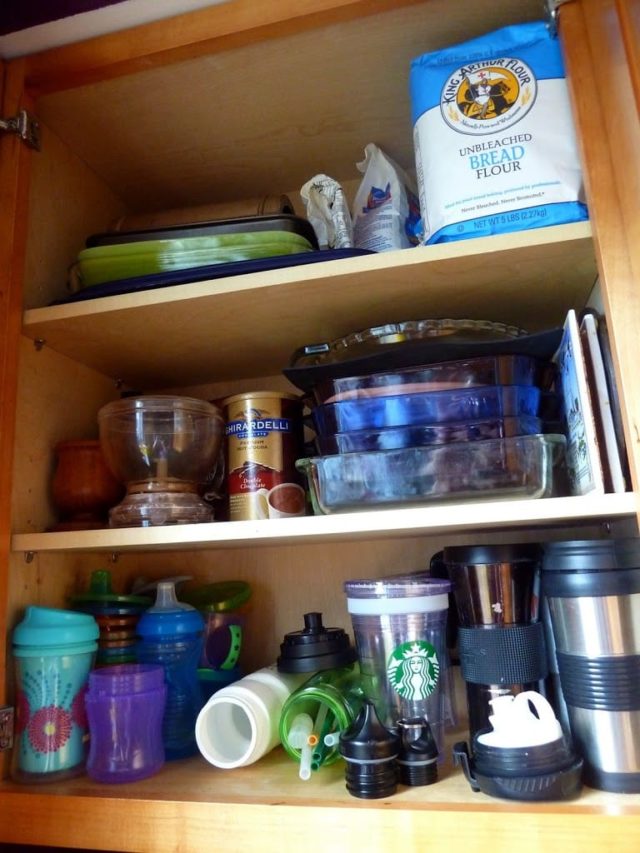 The top cabinet.  You'll soon see a pattern – things I use are on the bottom shelf, things my husband uses or I rarely use are higher up.  Bottom shelf are sippy cups and travel mugs, higher up are baking tools.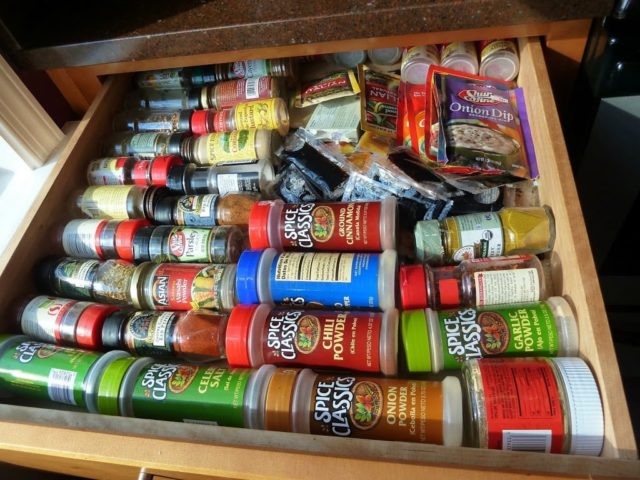 The drawer below the counter keeps a hodgepodge of spices, powder mixes, and leftover sauces from Chinese take-out. Probably not the best place (right next to and below a heating element) but we're working with limited space.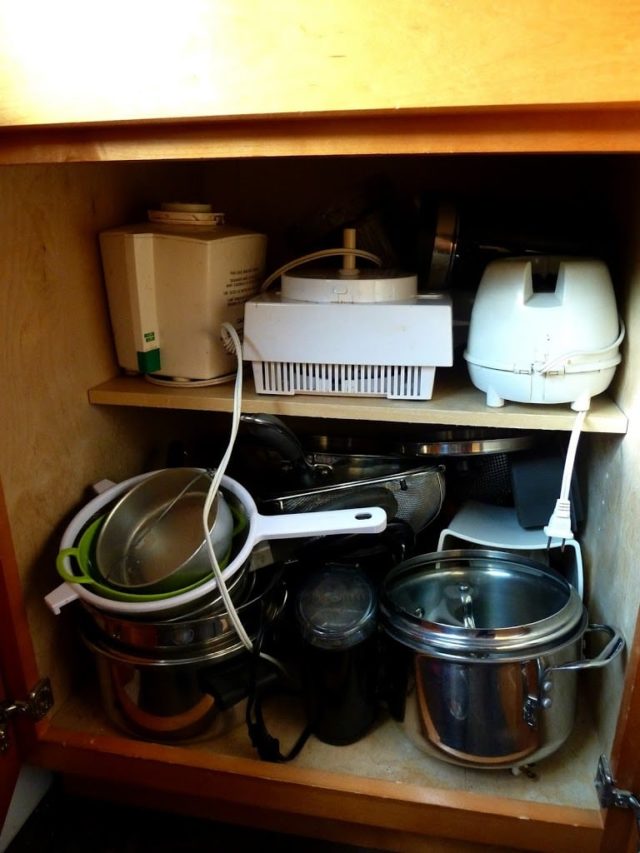 The bottom cabinet holds our appliances and most of our cookware (we store cookie sheets in the oven, and the really large cookware in the drawer below the oven).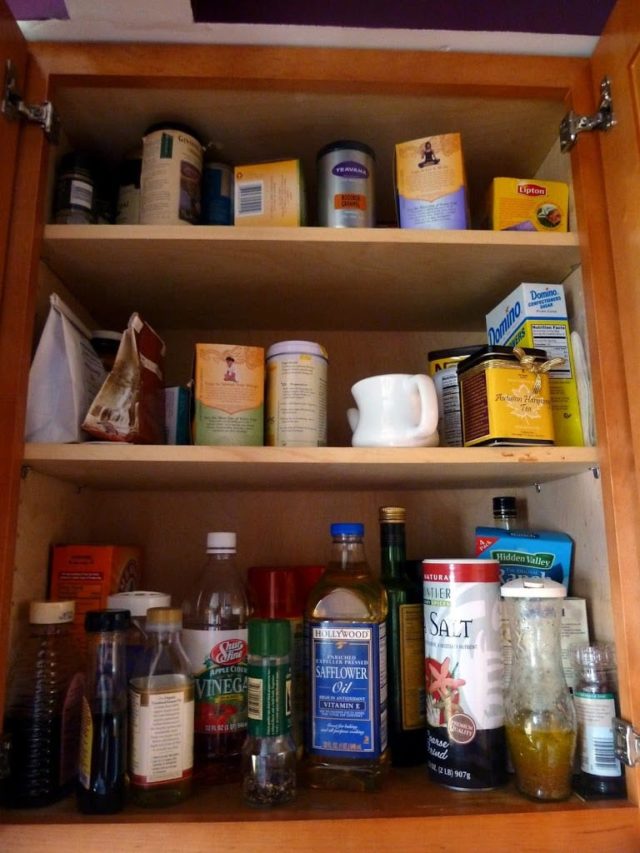 This cabinet is directly to the right of the microwave.  Bottom shelf holds our cooking essentials, while the top shelves hold baking supplies, coffee and tea.
First drawer below the counter holds our silverware and most-used utensils.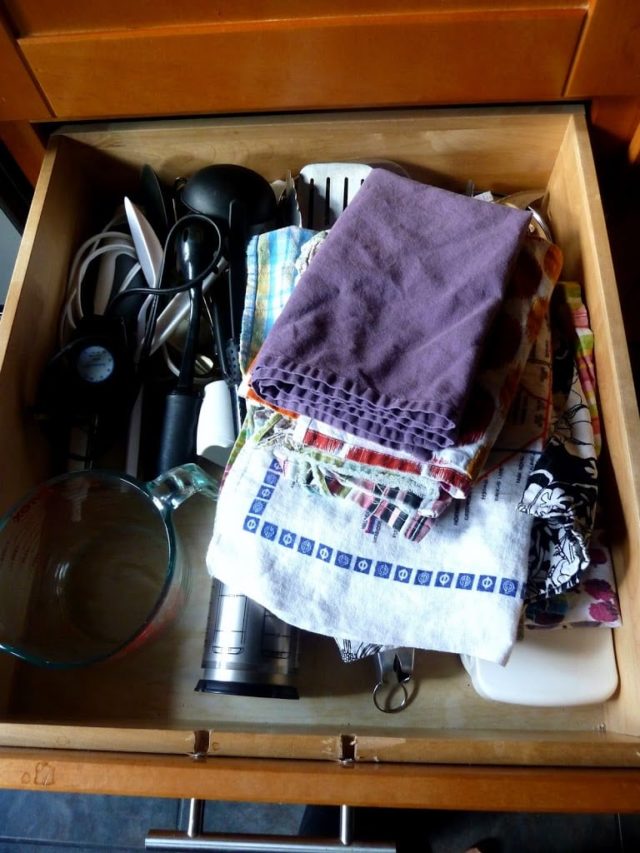 The next drawer holds bulkier utensils, tools we don't use as often, measuring cups, and most of our dish towel collection.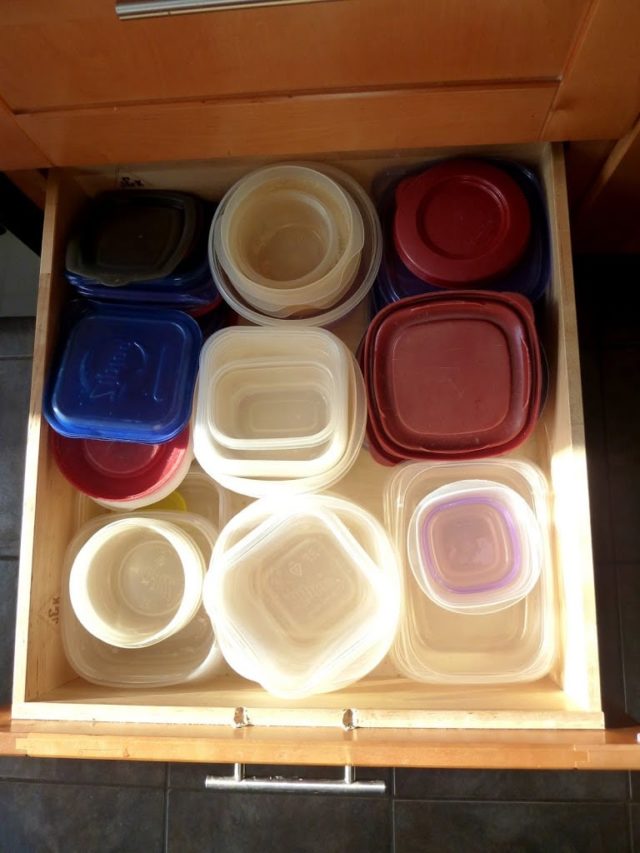 The bottom drawer holds our reusable food storage containers.  We'd like to switch to glass, but it's pretty pricey and not in our budget.  I found the idea of containers in a drawer so strange, but my husband was raised with a drawer for them and we have never had enough cabinet space to stack them on shelves.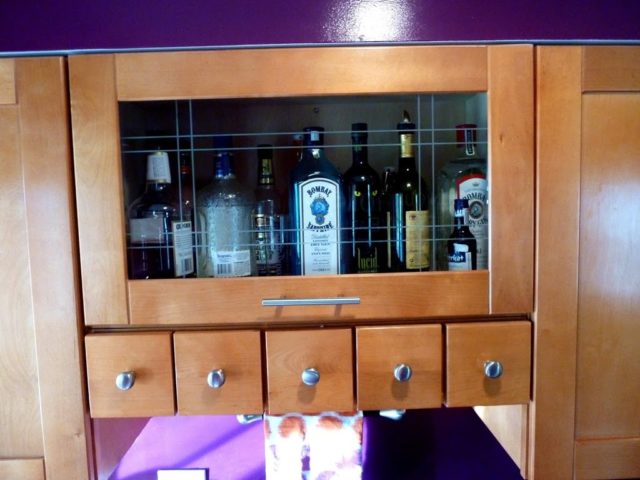 Under the sink is typical under the sink stuff.  Above the sink are these five little drawers and a glass door that opens up.  My husband chose these details for the kitchen and I thought they were both really goofy; now I love them.  Obviously we use the glass cabinet as our liquor cabinet (also stores our olive oil which is too tall for the other cabinet); the little drawers hold things like beer cozies, toothpicks, drinking straws, and wine stoppers.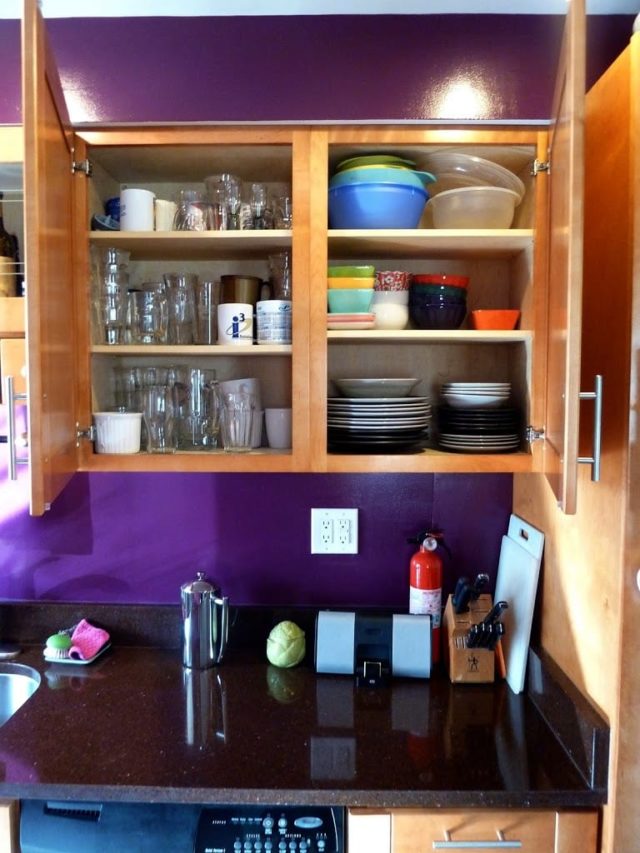 And here is where we keep all our plates and glasses.  Again, a few are in the dishwasher.  Our glasses are these from Williams-Sonoma – my cousin got them for us for our wedding.  The small square bowls are Crate and Barrel, the round ones are Anthropologie.  The plates are a mix – the dark ones are these from Crate and Barrel – they were on our wedding registry and while they are beautiful we hate them.  We recently inherited a gray stoneware set from my husband's paternal grandparents that are far more our style – they have a navy brushwork pattern on them.  I think I'll sell the C&B plates on Craigslist – I know many people love them and may need a few cheaply-priced plates or bowls to finish their collections.
The drawer below the counter is our junk drawer – pens, scissors, business cards, rubber bands, that sort of thing.  Below that is our trash can – this was a biggie for us with the remodel.  Ruckus used to be able to knock over and open any sort of trash can we ever got and this "trash drawer" is completely Ruckus-proof.  We use regular grocery bags for our trash – we compost so we really don't have a ton of trash – maybe two or three bags max per week.  The grocery bags fit perfectly in the plastic can in the drawer.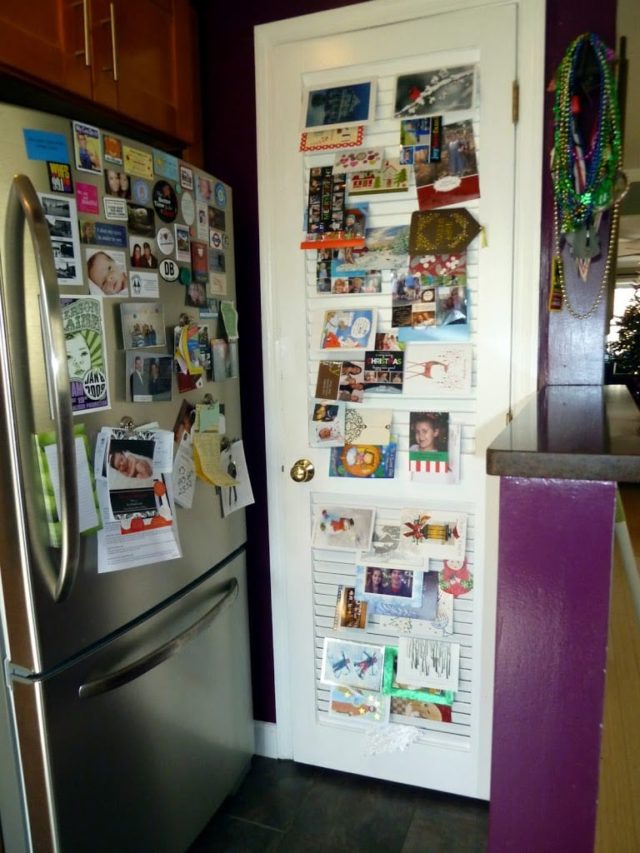 And then we have the refrigerator.  The cabinet above it holds things like serving bowls and vases and lunch bags.  I was so happy to be able to get a brushed stainless fridge that was able to hold magnets – we have a pretty big collection of them and it makes our kitchen look more like us and less like a model home.  Your typical collection of baby announcements, family photographs, and receipts.  The white door is our pantry.  The pantry opening is very shallow and just has shallow shelves holding canned goods and pasta; below the shelves we store dog food and unopened bottles of wine.  The pantry then leads to a deep short space below the stairs – in there we store cans of paint, gardening tools, camping equipment, and a bin to collect cardboard and paper for recycling.  We use the slatted door to display birthday and holiday cards – usually I display Christmas cards in the living room but this year I was lazy so they ended up here!
That mishmosh to the right of the pantry has been part of our kitchen from the get-go.  It's a dinner bell that my husband inherited.  After his first marathon, he slung his medal around it and the rest is history.  The "bar" is pretty much a catchall for keys, wallets, baby monitors and the day's mail.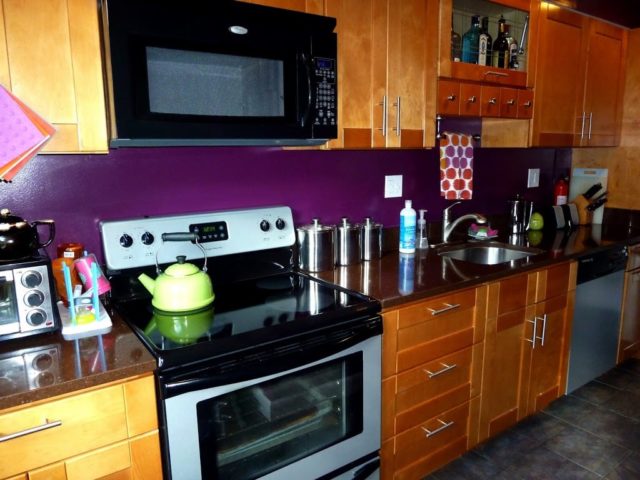 And that, my friends, is my kitchen!  All the nooks and crannies, the less-than-exciting parts (which I personally love to see myself which is why I shared), and the fun parts.  My happy purple and green favorite room in our home!
Follow Me | Twitter | Facebook