This article may contain affiliate links; if you click on a shopping link and make a purchase I may receive a commission. As an Amazon Associate, I earn from qualifying purchases.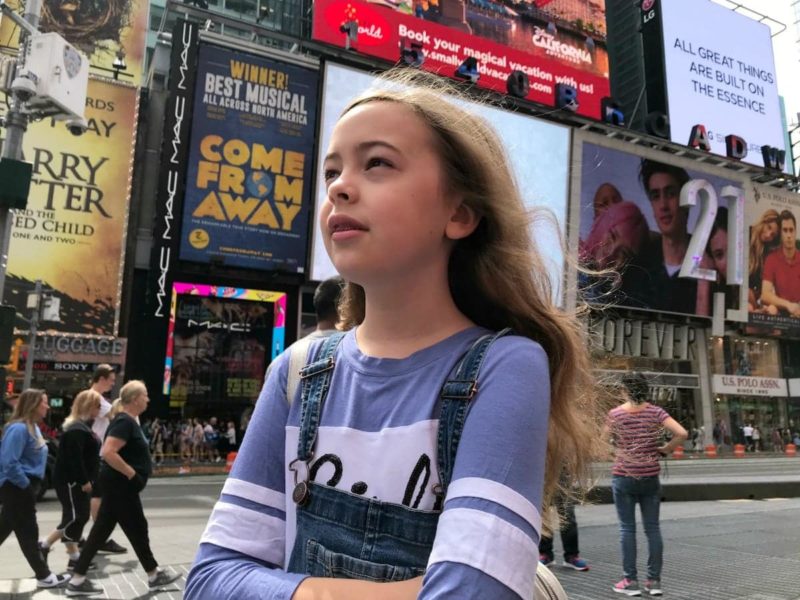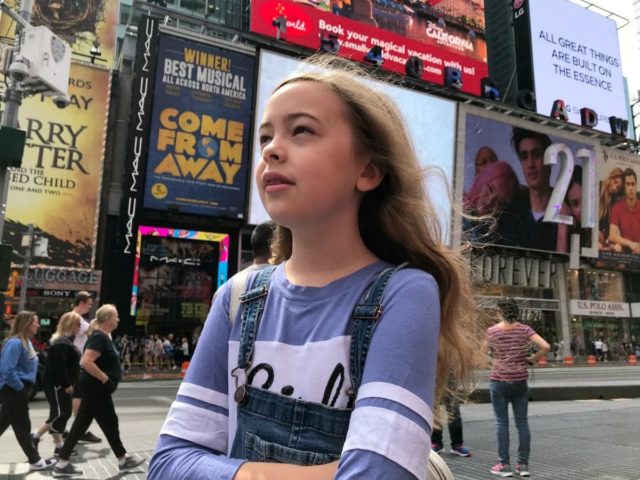 My husband, 9-year-old daughter, and I took a quick trip to New York City a couple weeks ago. I was invited to attend a one-day blogging conference for free on a Friday. We decided to all go up together and stick around in the Big Apple through Tuesday afternoon. We hadn't visited NYC as a family since 2015. This wasn't a sponsored trip, just a regular old family vacation from DC to NYC.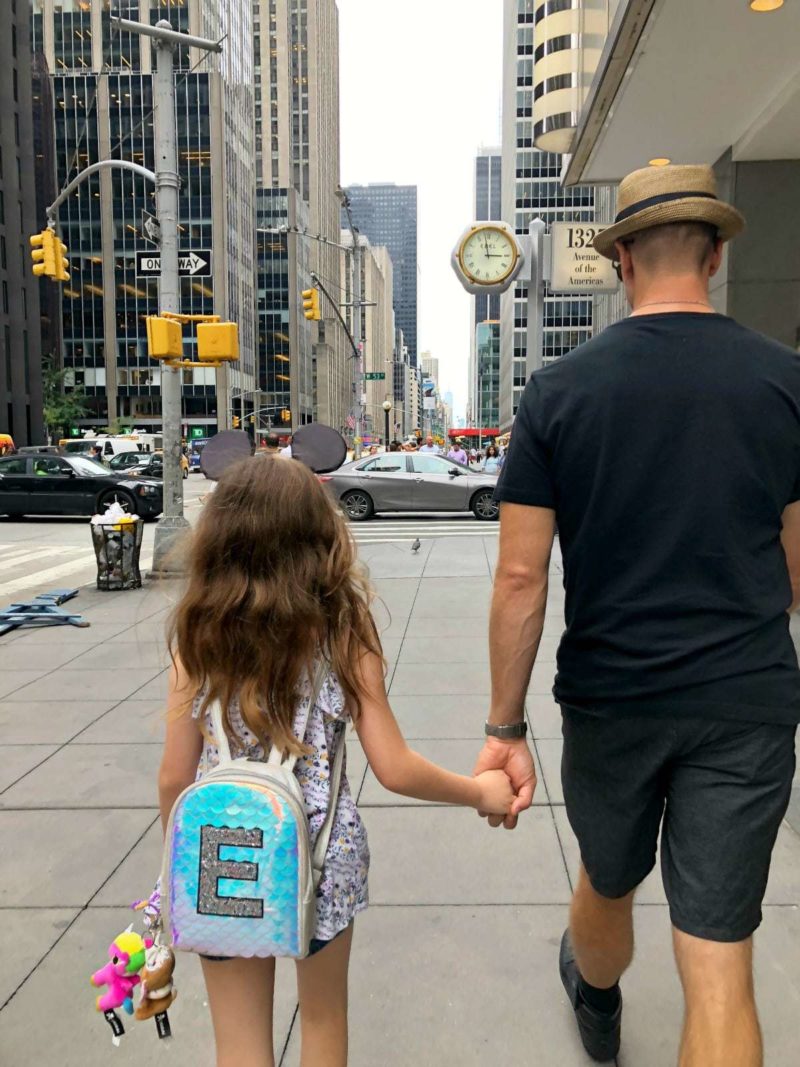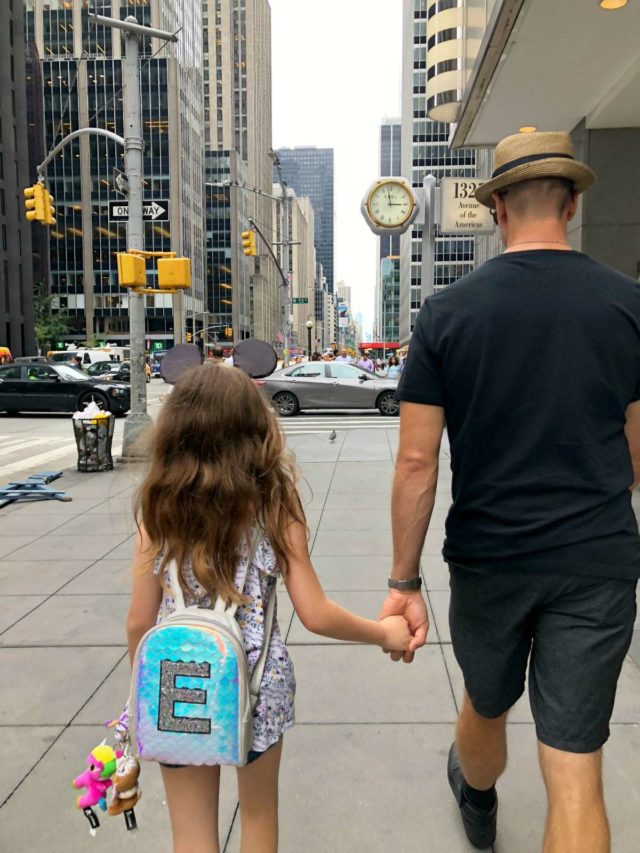 Traveling to NYC on Amtrak
We live only a few hours from New York, and living in DC we have access to three airports, bus stations, major highways, and train stations to get us there. My favorite way to travel to NYC from DC is via Amtrak.
When you travel by train, you don't have to wait in line at TSA. There are no baggage restrictions, and you can bring your own food and drink. The seats are big and roomy, there's electric outlets, free WiFi, and if you want to concentrate you can choose to sit in a Quiet Car. The bathrooms are bigger and usually less gross than on a plane, and the price is often cheaper than flying or even driving and paying for parking once in the city.
Travel Tip: If you book your Amtrak train trip 14 days in advance you will find MUCH lower prices than if you wait. I was able to score $45 tickets for me and my husband, and children under 12 ride for half price.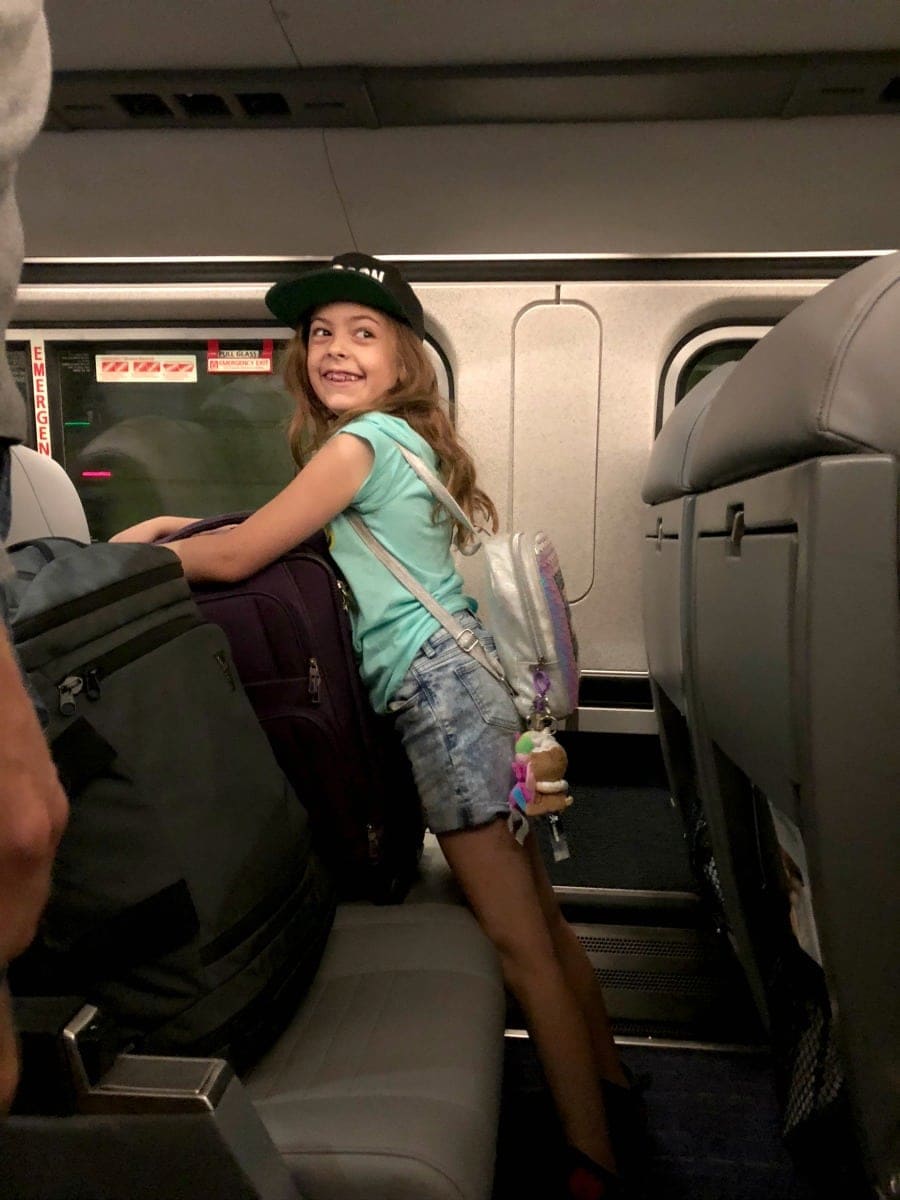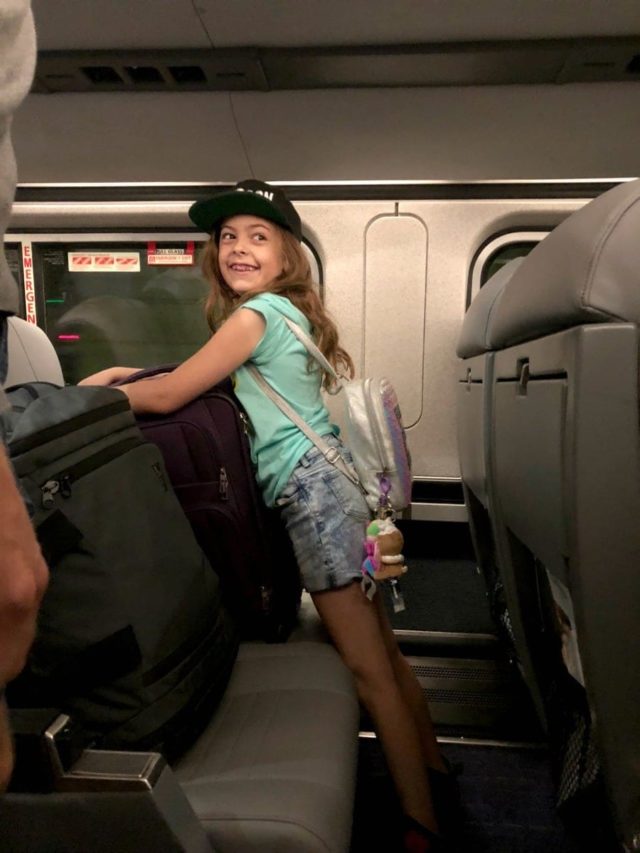 This was Emerson's first time on a train, and she enjoyed it. This photo is from when we were pulling into Penn Station, you can see her excitement. It's nice to be able to stretch out on Amtrak with kids, switch seats when people get off to sit with a different parent, and even at one point she had two seats to herself to take a quick cat nap. Since there's WiFi, she was able to play with her tablet (Bluetooth headphones FTW), and while she gets motion sickness reading in a car, she didn't have the issue on the train.
The Kimpton Muse New York
My conference was in Chelsea, we were arriving at Penn Station, so I factored these two locations when trying to find a hotel. I wanted a place that was kid friendly, had room service, and rooms with not two double, but two queen beds. I have always had a great experience with Kimpton and the Kimpton Muse was walking distance from Penn Station, right near Times Square, got great reviews especially for their rooms so I booked with them.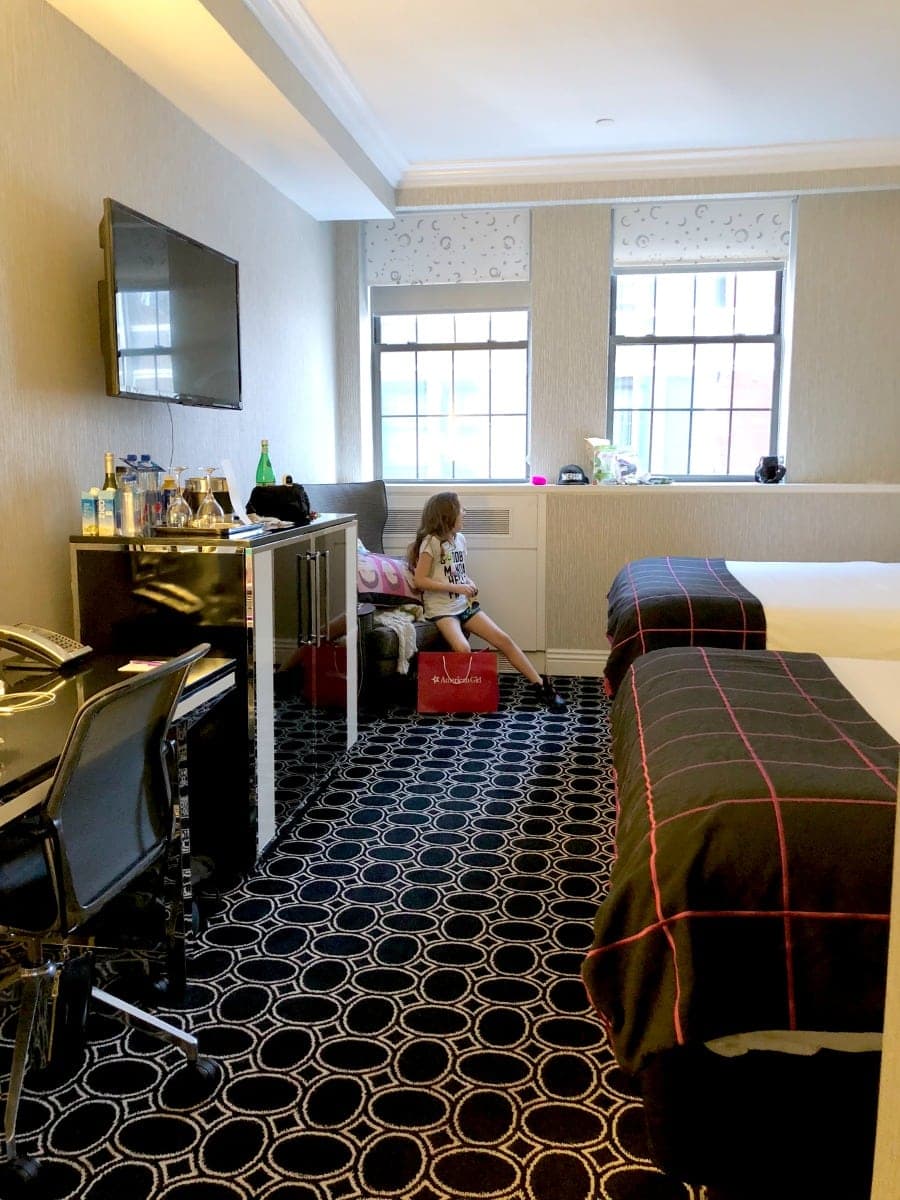 Travel Tip: join free hotel programs. That and booking through the hotel can often get you not only a cheaper room but the actual room and hotel you truly want. Also, free hotel programs will let you do things like request an early check-in, late check-out, arrive to a room with feather-free pillows or extra towels, and you often get little perks like a bottle of wine or snacks in your room or free high-speed internet. As you use the program more you get additional perks like free room upgrades and free nights. Kimpton is part of IHG, this is the link to join this free rewards program.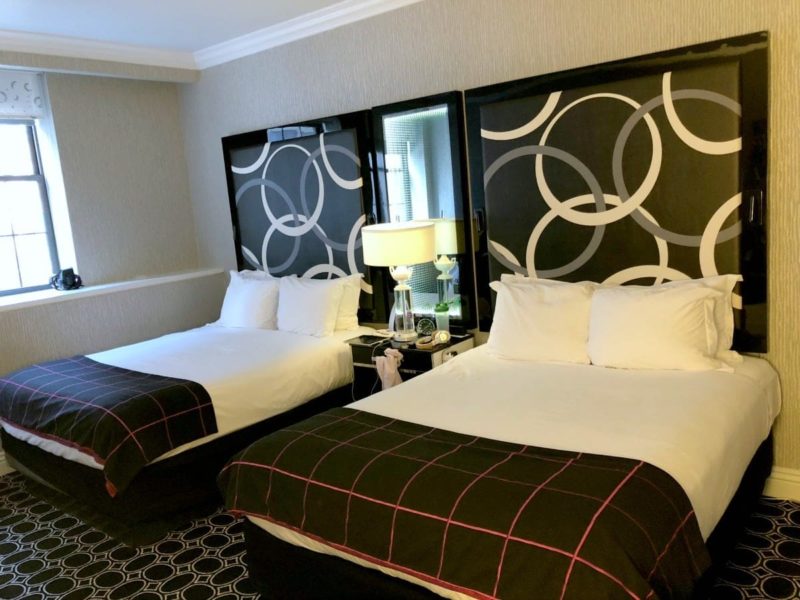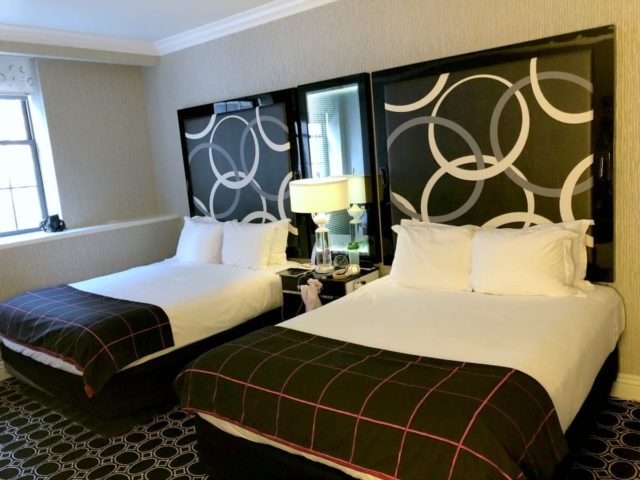 The Kimpton Muse has an Art Deco theme, and the rooms are quite beautiful and for NYC, quite spacious. We had two queen beds, plenty of room between the beds and furniture, lots of mirrors, a big bathroom with a fabulous shower with the best water pressure, and of course Kimpton's signature bathrobes in the closet. Staff was wonderful; we were able to get a late check-out, we worked with them when we found out we had a dated room service menu in our room, they quickly brought up an extra blanket, and the whole place from lobby to room was very clean. The fitness center is a small room filled to the brim with treadmills, ellipticals, a bench and some free weights and can feel claustrophobic when all the machines are in use, but they have apples and cold filtered water available 24/7 and it too was clean. For those who like to travel with their fur babies, Kimpton hotels are pet-friendly. They had a wine reception happy hour each evening in the lobby, coffee in the morning, and chilled fruit water all hours of the day. You can rent bikes, and they have a service where you can book in-room spa services like a massage.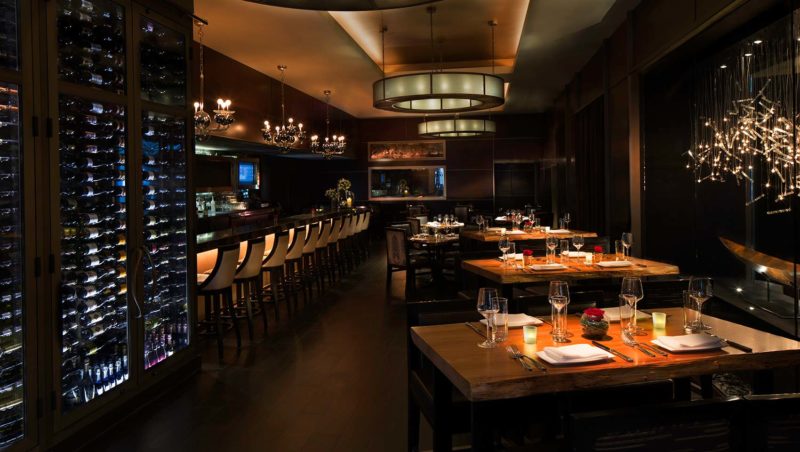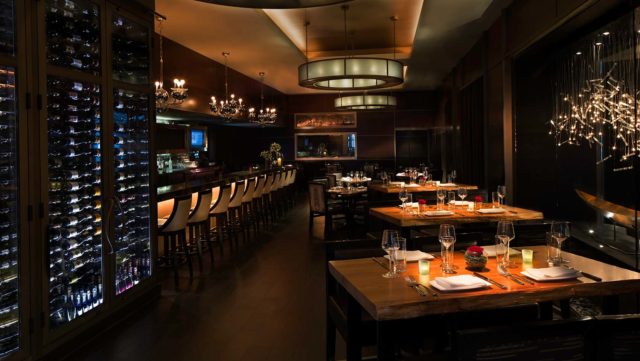 In the Kimpton Muse lobby is NIOS, a restaurant that offers breakfast, dinner, and a bar scene. We only visited NIOS once for breakfast and found it quite delicious and the service great. Kimpton Muse also offers room service which we enjoyed once; there isn't a huge menu, but enough options that all three of us found something we looked forward to and ended up finding quite delicious.
Where to Eat in New York City
I'm not going to tell you where to eat because the best part of visiting the city is trying new things. Get pizza from a hole in the wall, it likely will be the best slice you have ever consumed. Try a food truck or a booth at a street festival, it may be the best meal of your trip. The best breakfast we had was from a 24-hour deli/liquor store down the street from our hotel where the pancakes were perfection and the bagel sandwiches cost only a few bucks. Download Yelp and TripAdvisor apps to get reviews while you're out and about, but don't be afraid to go off the beaten path.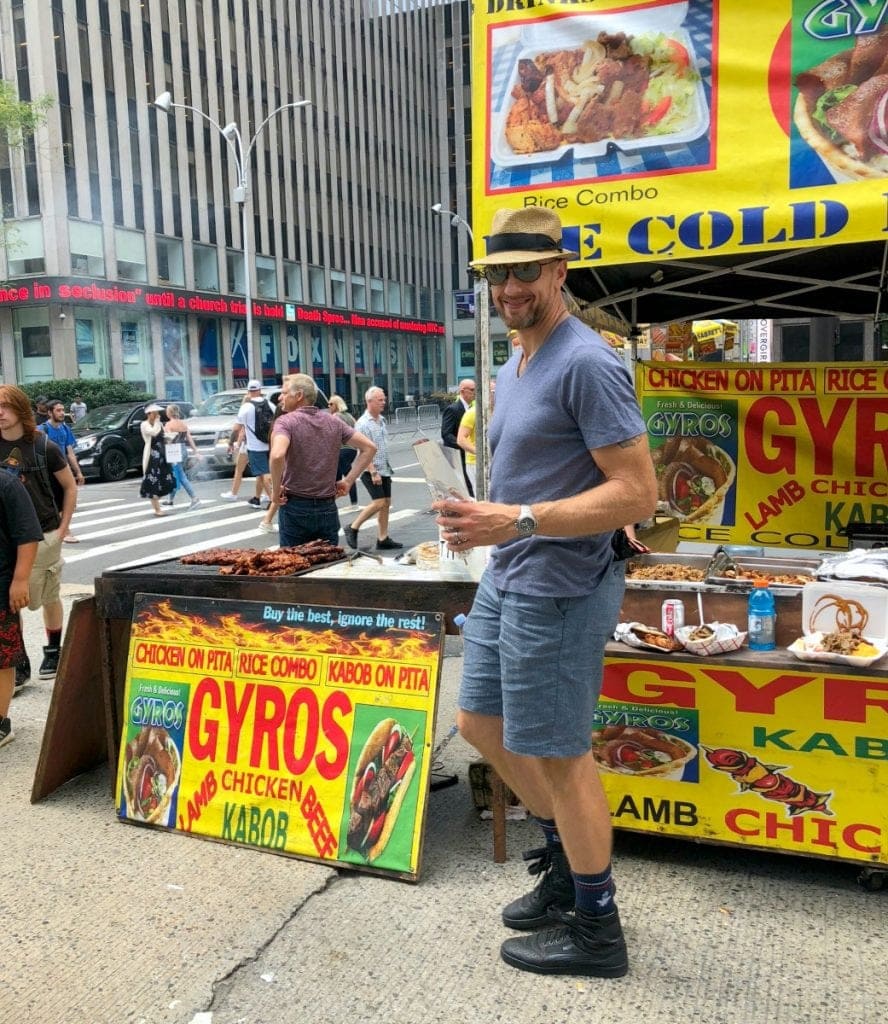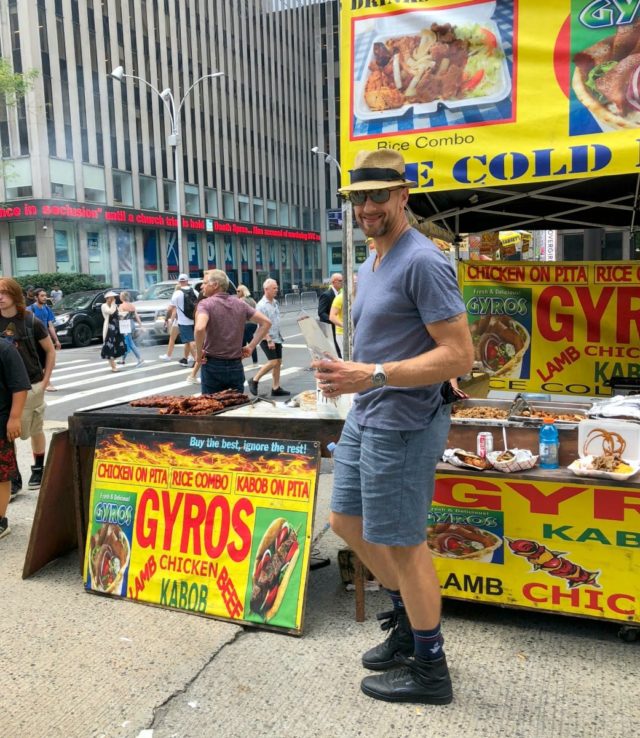 To save money, bring food with you and know not every meal needs to be of the sit-down variety. Only one breakfast was in a restaurant, which saved us time and money. We brought a huge tote of beverages and snacks, reusable water bottles, and even Emerson had her own mini backpack so we could carry sustenance with us and not resort to spending extra money on drinks or snacks.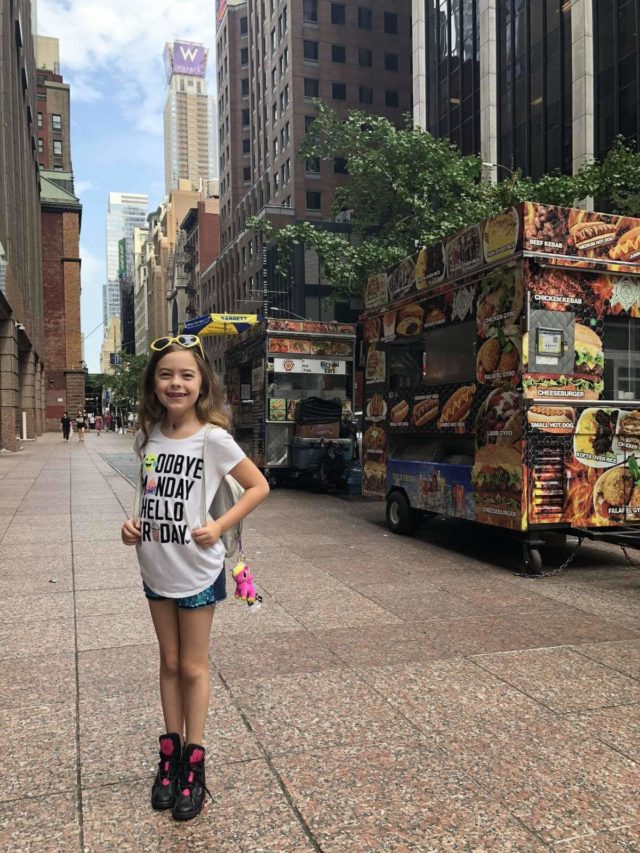 I do recommend having one fun or fancy-for-you dinner. One time when everyone puts on their nicest clothes and enjoys homemade pasta, sushi, a big steak dinner, something out of the ordinary for back home but within your budget. Even if all you get is tap water and appetizers, it's fun as a family to do something that feels special and helps celebrate a vacation in the Big Apple.
Where to Go in New York City as a Family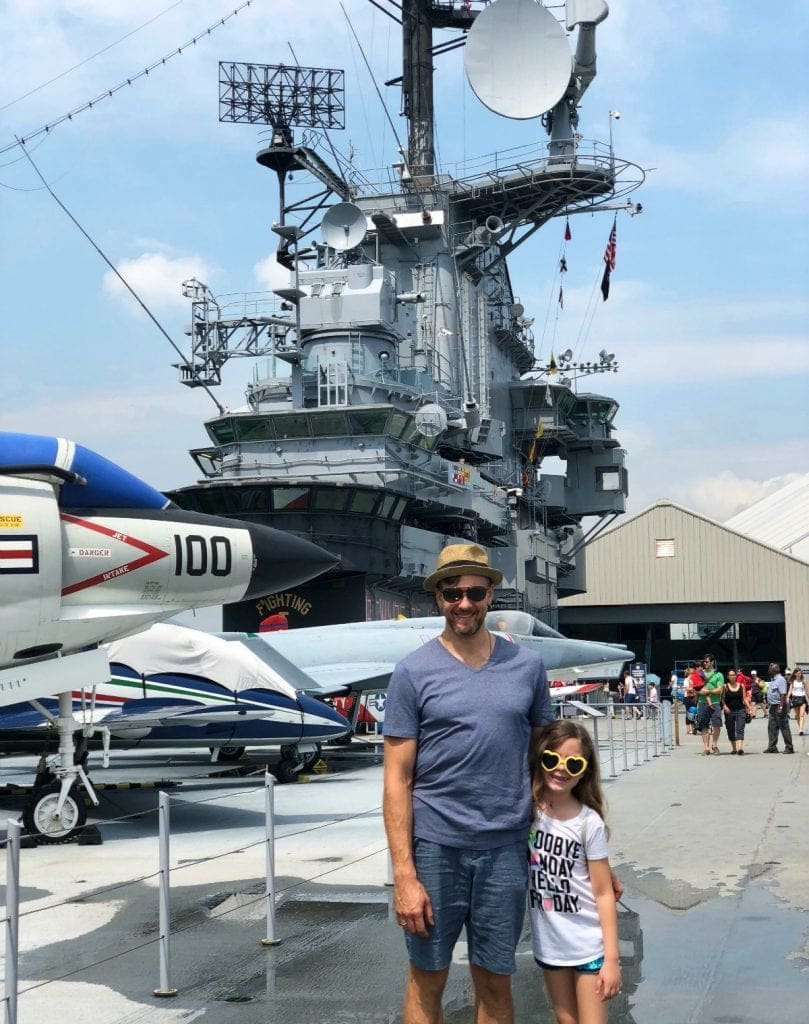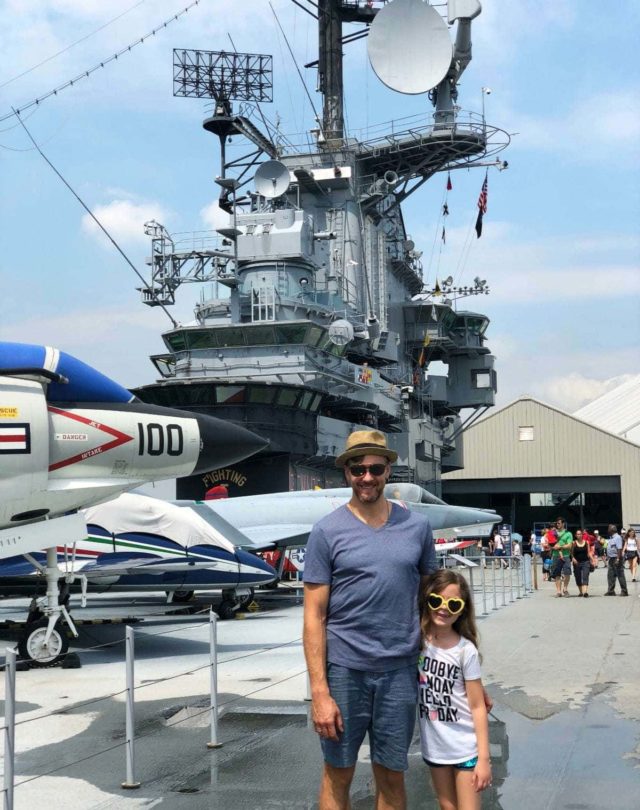 Again, I'm not going to tell you what to do, but I will tell you what NOT to do. Don't plan your trip down to every minute. The best part of New York City is the actual city. Walking down the sidewalks, being part of the sea of people, seeing the mix of tourists and locals, embracing a different way of life even if for a few days. New York has a completely different energy from any other city I've visited and you can't experience it dashing from museum to activity to restaurant and back.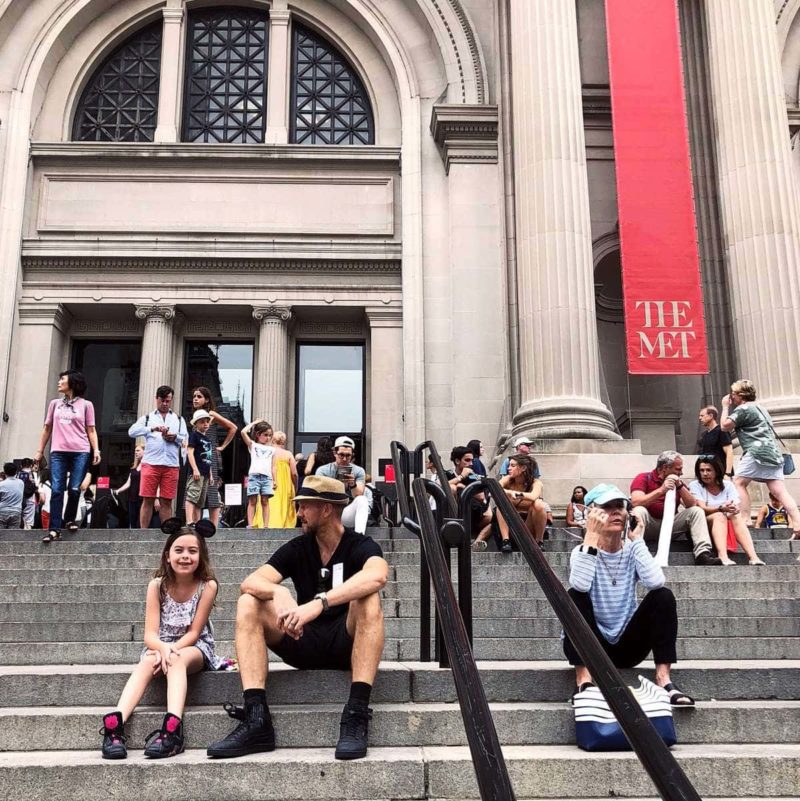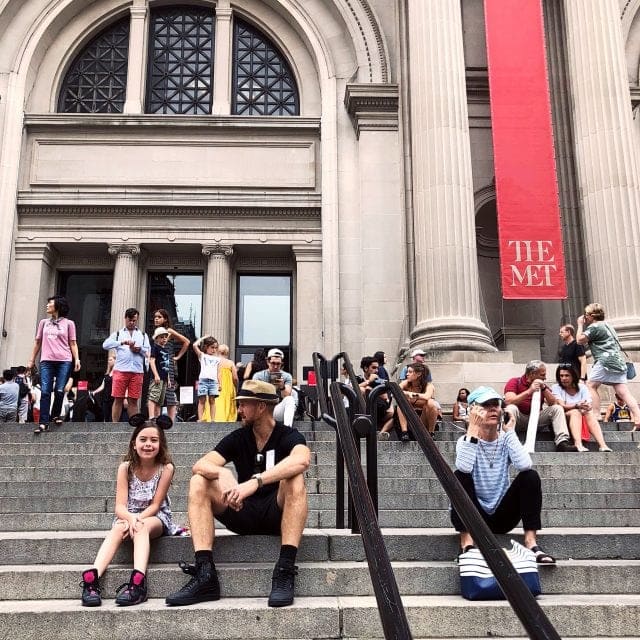 Before you go, poll each family member on what they want to do most when they visit New York. My husband wanted to do a tour of the Intrepid as he was on an aircraft carrier during his time in the Navy (he was on the Kennedy) and wanted us to experience that time in his life. No shock, my daughter wanted to visit the American Girl Doll store and get an outfit for her doll Maryellen. I wanted to see the Heavenly Bodies exhibit at the Met. We respected everyone's wishes so everyone had something to look forward to, and felt a valuable part of the planning process.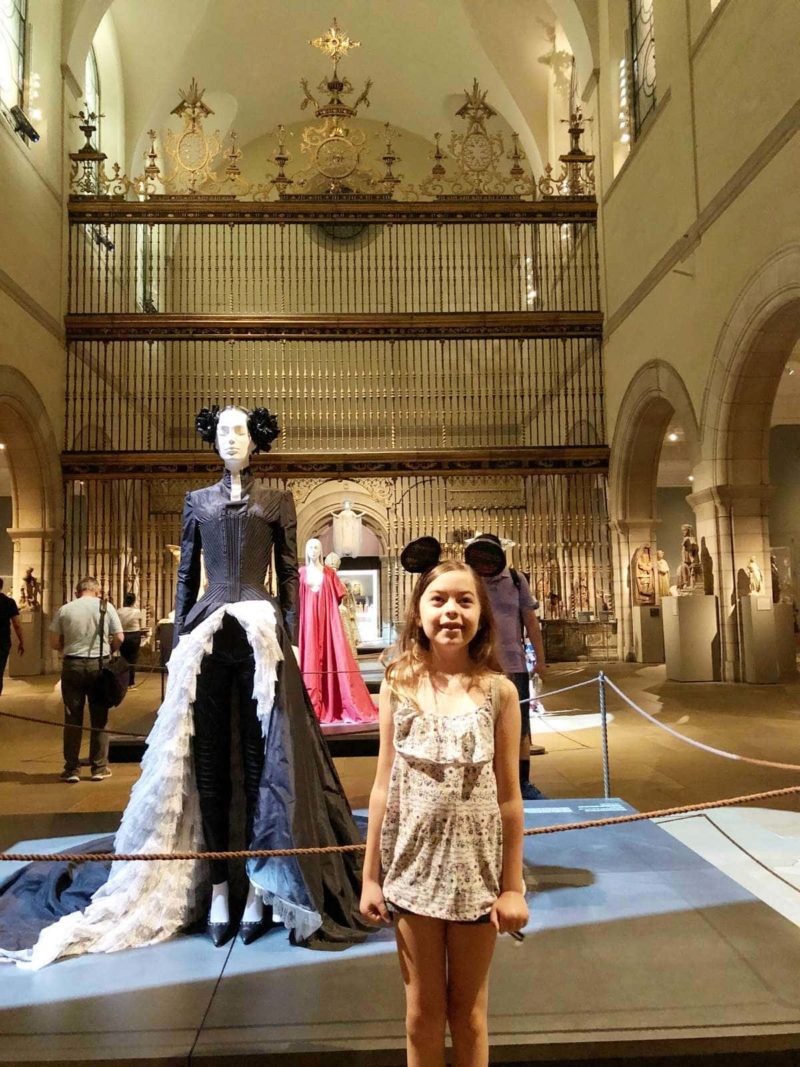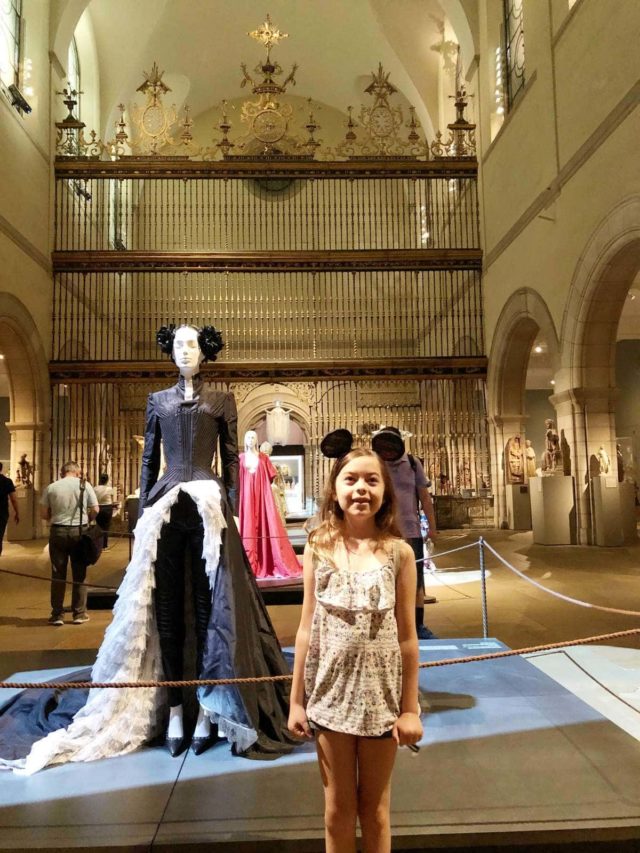 Travel Tip: Buy your tickets to the Met ahead of time online. Kids under 12 are free, and your passes work for all three buildings of the museum and also work for three days in a row. We chose to visit the museum on a weekday and got there 10 minutes before it opened and found the line went quickly. Since we already bought tickets, I could go to a kiosk, scan the QR code in my email confirmation and we were able to go straight into the museum.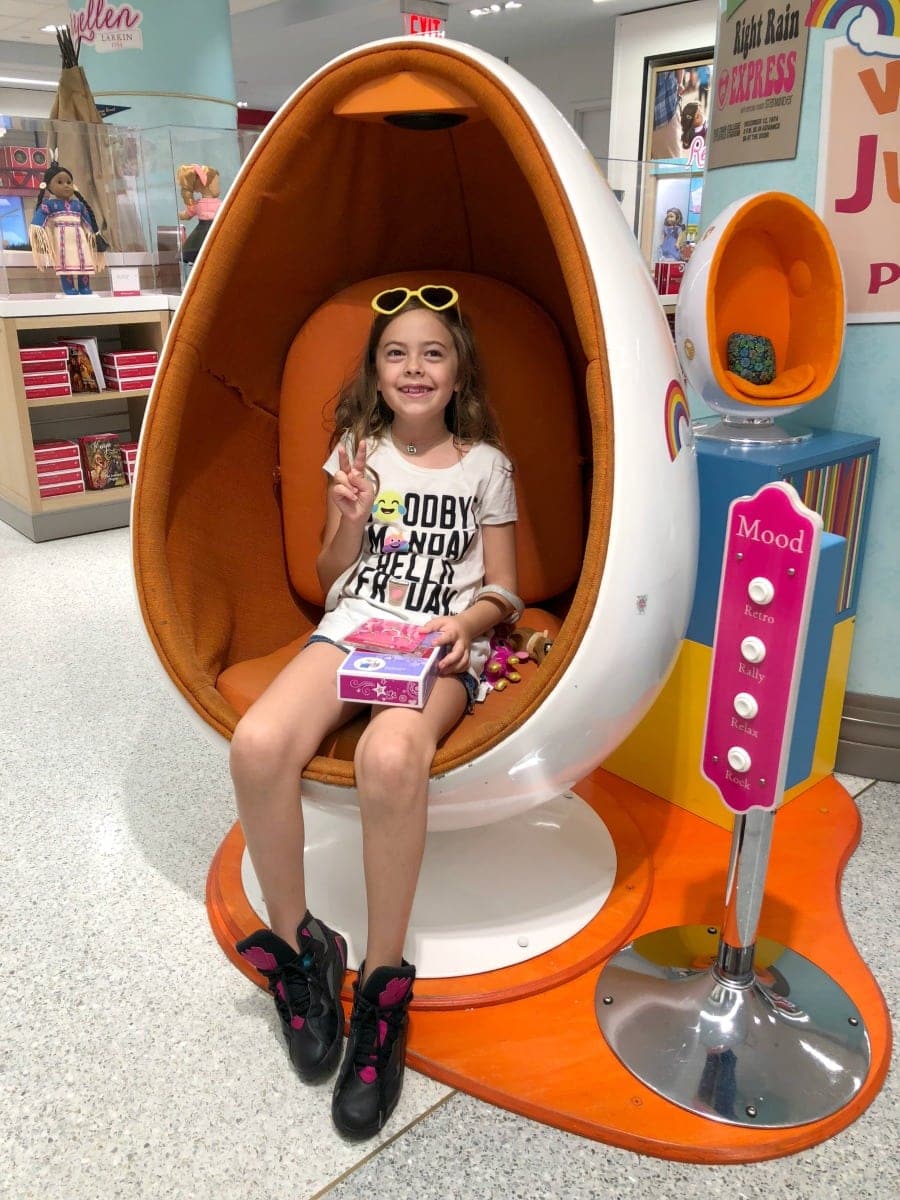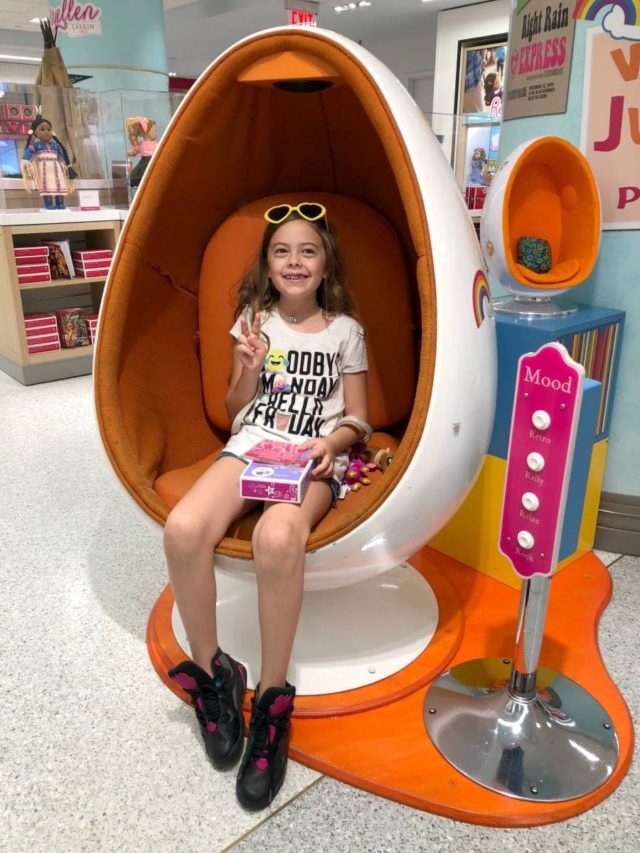 Prepare especially your younger family members for situations where you may get conned into spending money. Do not hug Elmo in Times Square, do not stop to pet the snake around that guy's neck in Central Park. They aren't just being friendly, they are looking to have you give them money for a forced photo op.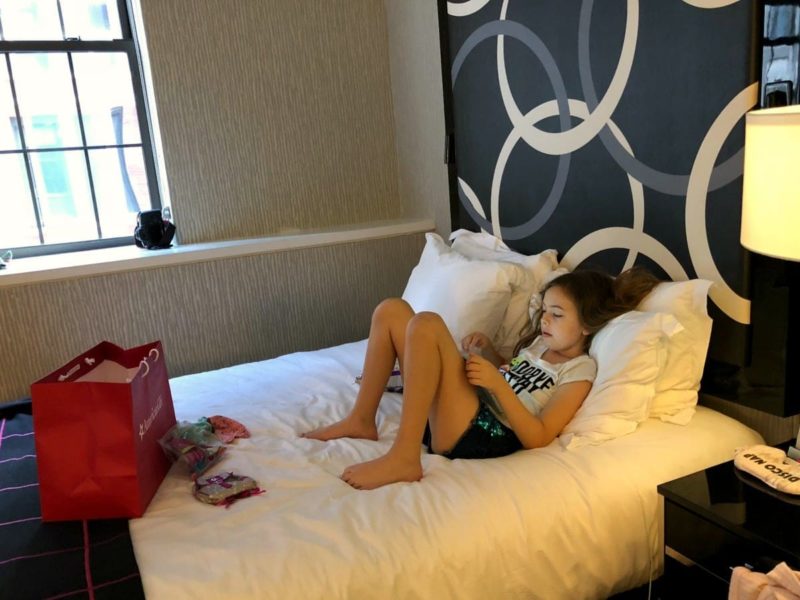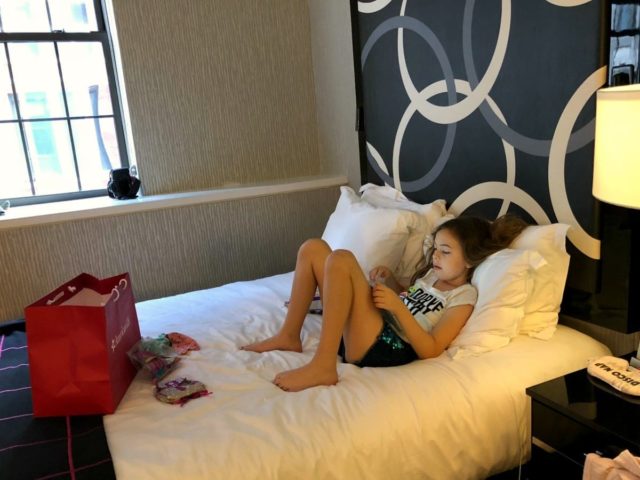 Don't over-fill each day. The energy of NYC alone can be exhausting, especially if you live in a drastically different environment. Especially the first day it's smart to fit in an afternoon nap/chill point back in the climate-controlled hotel room. A quick shower, a 20-minute doze, a chapter or two in your novel or even staring at the TV for one episode on Cartoon Network can be enough to revive your family to keep exploring the city.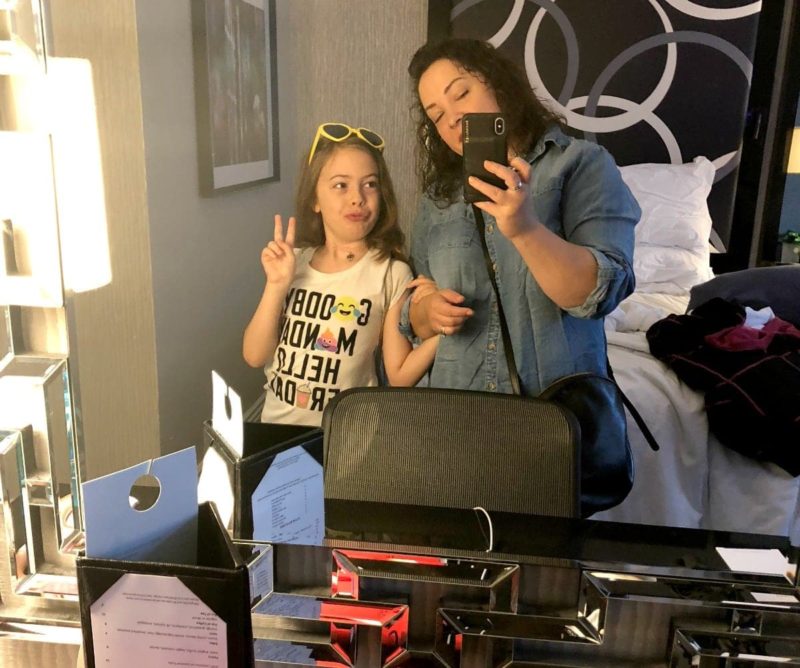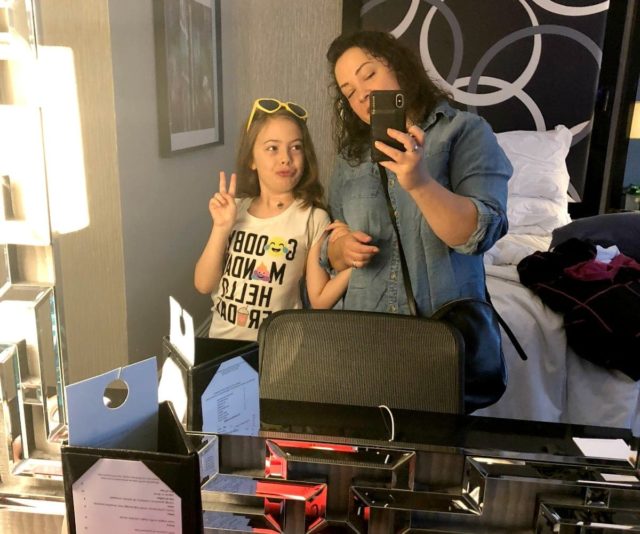 Along with this, consider trying your best to maintain a similar bedtime and bedtime routine for your kids. With so much stimulation, exercise, and excitement they may not realize how tired they really are. Having routine to end the day can help them calm down, feel secure, and be more refreshed for tomorrow. Sure, you may miss out on some NYC nightlife, but it's not worth it to end up with cranky kids the next day.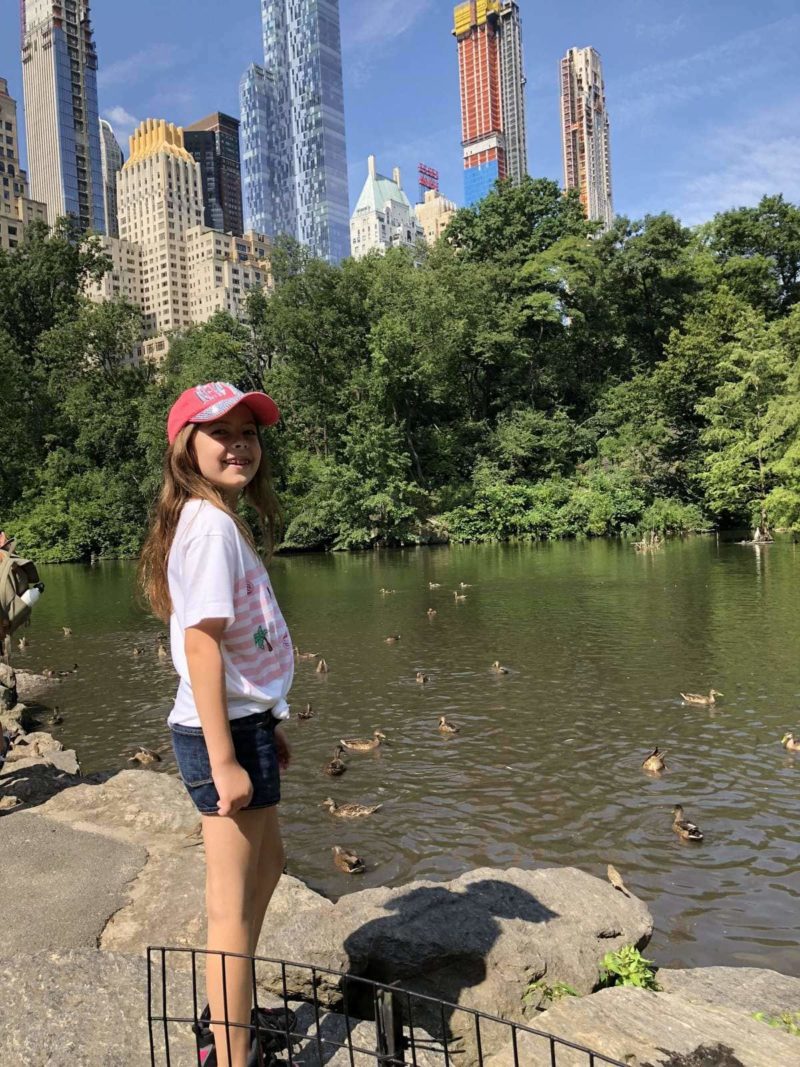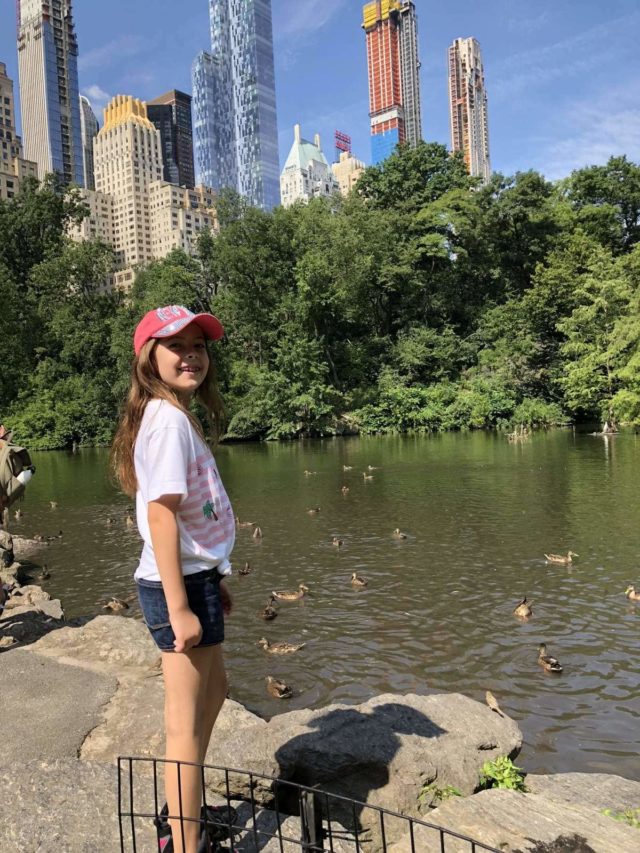 What to Wear as a Tourist in New York City
Sorry, but no matter how hard you try or how much money you spend, locals can smell a tourist a mile away. That doesn't mean you need to wear an I Love NY t-shirt with a New York visor, a fanny pack, and a camera around your neck. What would you wear for a day seeing an historic site near your home? What would you wear to a wine festival? What would you wear for a day shopping at the mall? Wear something you can walk six miles in, but also wear into a cute little French restaurant where you order half a dozen oysters and drink lemonade with your pinkies up in the air, cooling off before you finish the walk back to your hotel.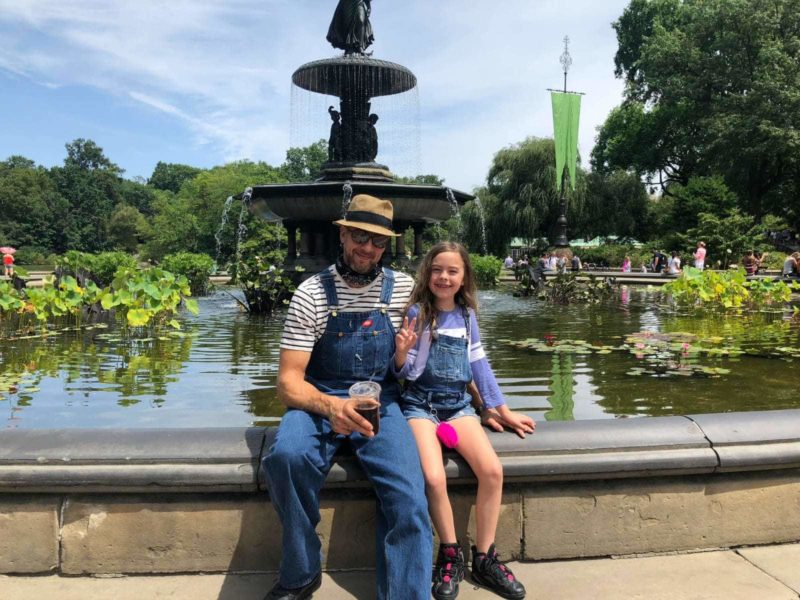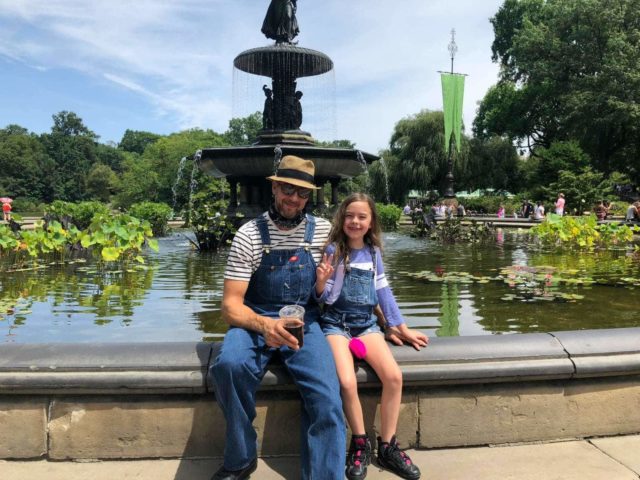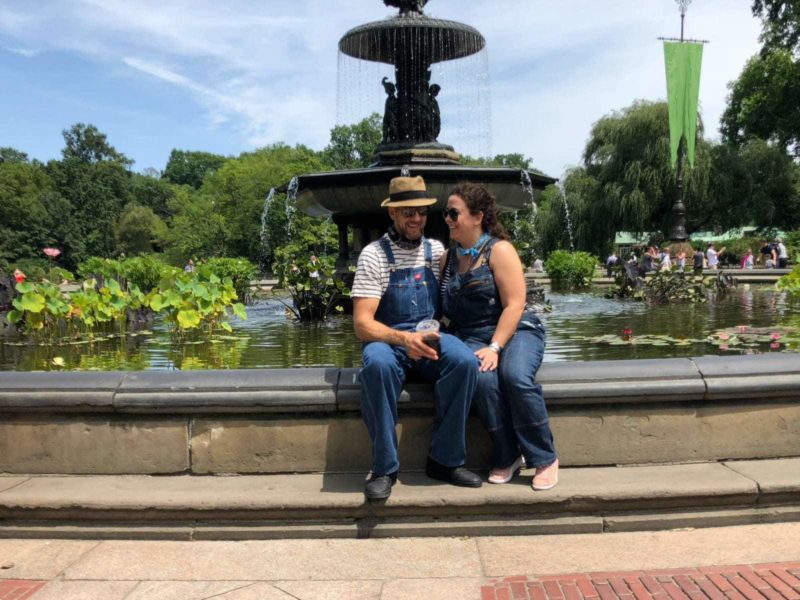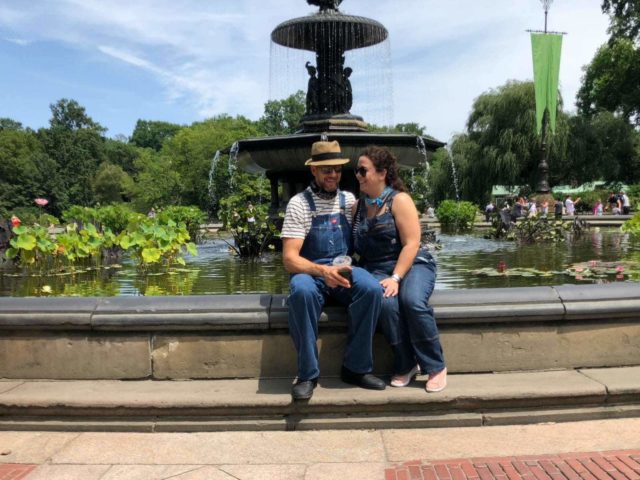 However, don't be afraid to be you. Our daughter asked one day if we could all wear our overalls so we did. We TOTES looked like tourists, but we had fun, and that is more important than impressing a bunch of strangers.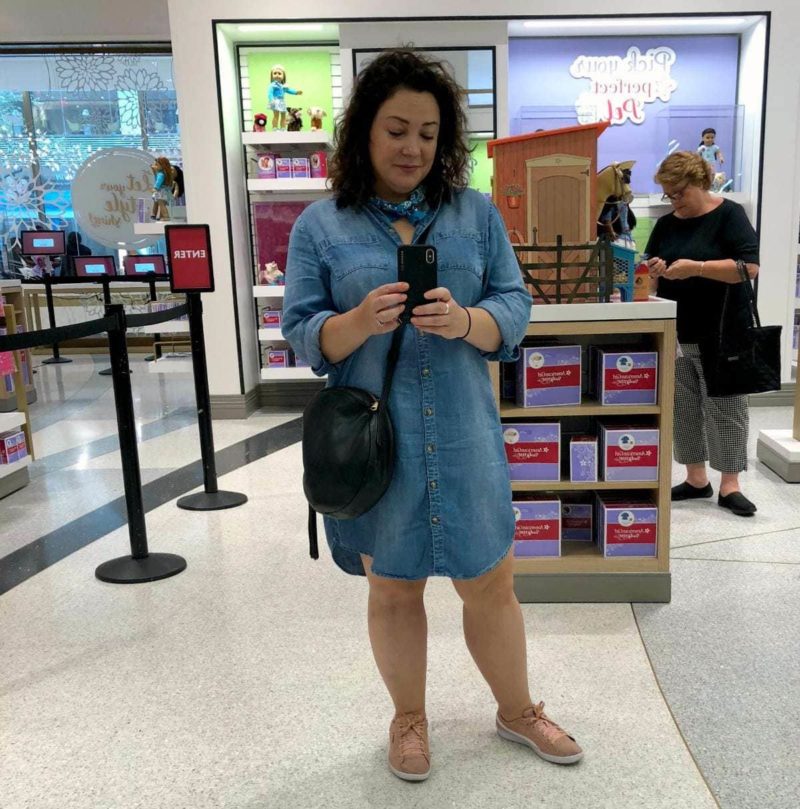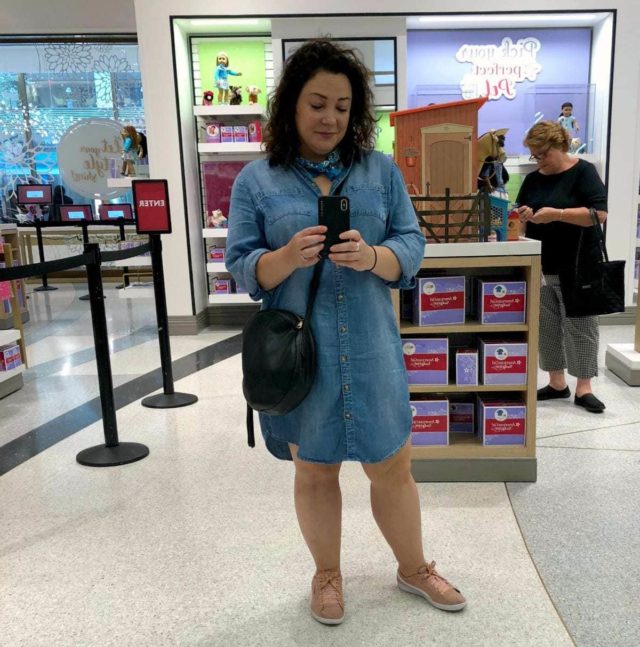 Don't expect to be able to wear things more than once unless you're willing to do some laundry. By the end of each day our clothes, especially our shirts, were soaking wet with sweat. Along with this, consider the sweat when packing and look for outfits that can handle it, and won't chafe. For example, under the chambray shirtdress I'm wearing above in the American Girl Doll store, I have a pair of Jockey Skimmies. We had our daughter pack two full outfits for each day and almost all of those clothes were worn.
Do bring a dress or something nicer, even if you only wear it one night to get slices of pizza to eat in the middle of Times Square.
Do carry a bag that is comfortable. A crossbody is smart because it's close to your body, but you're still free to carry a cold brew and your child's hand when crossing the street. Above I have this bag from Hobo, but I also brought this bag. If your child is old enough, have them carry their own bag. Our daughter brought her favorite mini backpack which was big enough for a bottle of water, snack, her sunglasses, a travel umbrella for the days that looked stormy, and any mementos.
Do wear comfortable shoes. Comfortable shoes don't have to be big puffy sneakers. I wore these sandals from SAS and they were awesome. I also just wore my Puma sneakers, but added these slim insoles for a bit more arch support (as an FYI these insoles also fit in my Rothy's flats). Our daughter brought two pairs of athletic sneakers so she would have a backup if one pair got wet or damaged.
Don't forget sun protection. You'll likely be doing a lot of walking, maybe standing in lines for tickets or for museums to open. Put on sunscreen before you leave for the day, consider wearing a hat. I saw so many tourists around the city with lobster-red necks and shoulders because they forgot to slather up before heading out.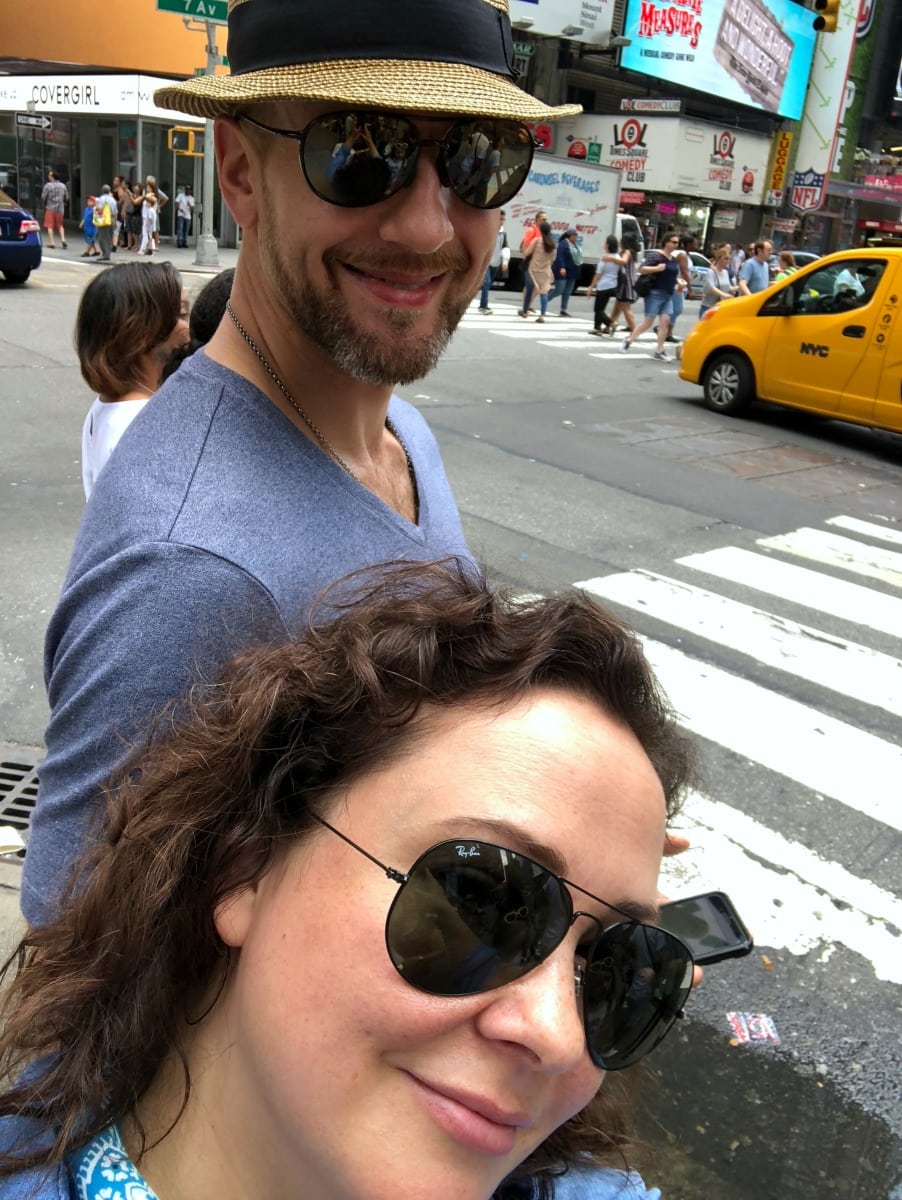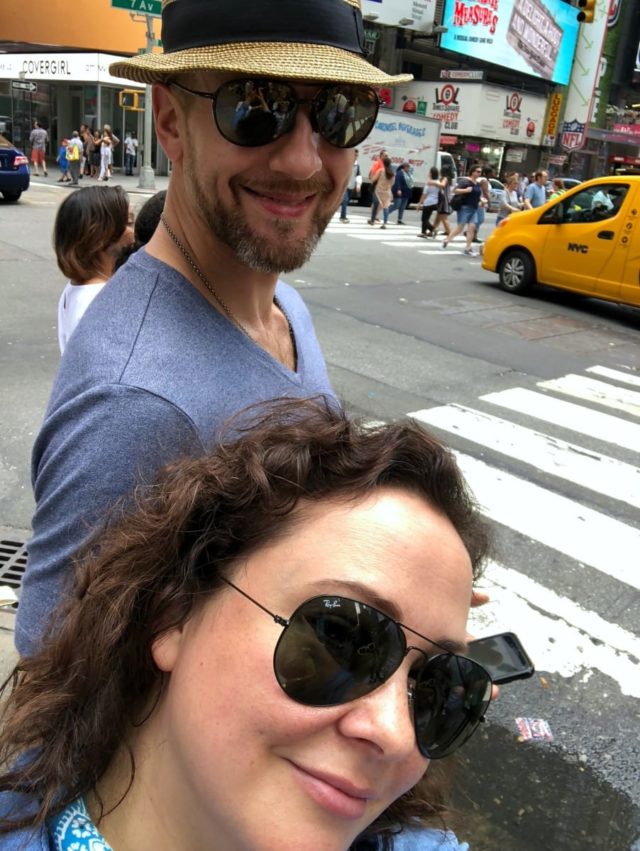 Have you visited New York City as a family? What tips do you recommend to others to ensure a fun vacation for all?