This article may contain affiliate links; if you click on a shopping link and make a purchase I may receive a commission. As an Amazon Associate, I earn from qualifying purchases. 
Last night Popsugar had free screenings of the new movie Something Borrowed in six different cities in the US. DC was one of them, and I had the opportunity to attend. The last time I saw a movie in the theater, I was pregnant. I think it was the first Sex in the City movie. I just never have the time or opportunity to go.
My husband and I have Netflix and usually put movies on our queue as soon as we see the trailers for the theater opening, but we try to choose movies that we would both enjoy, and I KNEW he wouldn't be interested in Something Borrowed. I on the other hand, was really excited to see it.
I love to read, and I am not picky with my choices. Nonfiction, biographies, crime novels, self-help, cook books, psychological thrillers, poetry collections, Oprah's book club; I am known for picking a book from my office's communal library solely on the color of the spine. If the book sucks, I just trade it for a new one. I feel one can get pleasure and benefit from any reading material. And that includes chick lit. Sometimes you just need a good chick lit book.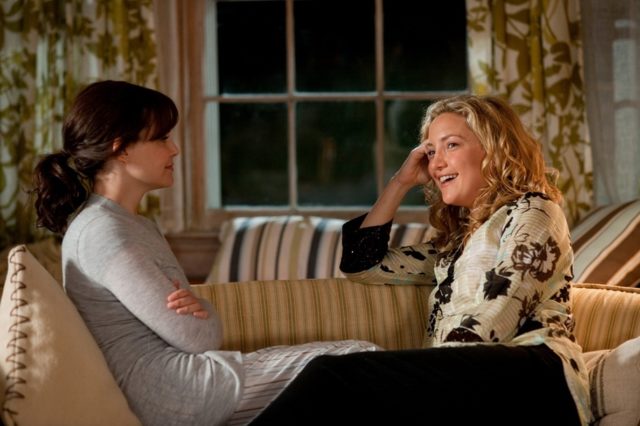 Ginnifer Goodwin as Rachel & Kate Hudson as Darcy in Something Borrowed
A few months ago I read Something Borrowed
by Emily Giffin, not even knowing that the movie was coming out. My sister had cleaned out her library when moving into her new house and donated books to my work library; Something Borrowed was one of them. I read it, and enjoyed it. Not too fluffy, enjoyable characters, pretty well-written for chick lit. I liked it so much I read the second book in the series, Something Blue.
Anyway, Something Borrowed
was still fresh in my mind when I heard the movie was coming out. Then when I heard the cast (hello Kate Hudson, Ginnifer Goodwin, John Krasinski) I knew I would have to plan a girl's trip to the theater. Just as I was considering plans, I got an email from Popsugar notifying me of this free screening in DC! Fate!
I met my sister around 6:30 at Mazza Gallerie. By this time there was already about 50 women in line. I was expecting to be one of the oldest women there, but it seemed the average age was 30, and lots of them were busy Tweeting and emailing about the event. At 7:15 or so they started filing us in; I then was able to see the line and how many folks were behind us. It snaked all over the lobby of the theater! In that line I saw fellow blogger Marta and her friend; it was great to run into her!
When we got into the theater, the only rows that had two seats together were the ones in the very front where you have to strain your neck to see the screen, and the very last row against the back wall. My sister and I got seats in the center of the back row.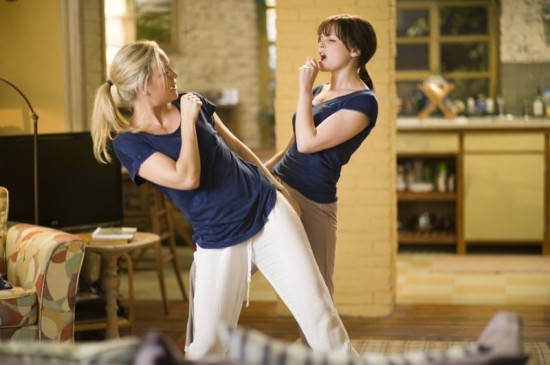 How can you not love two chicks dancing to Salt-n-Pepa's Push It?
And now on to the movie. It was good. Like really good. Like one of the best romantic comedies I have seen in a very long time. Like it should be ranked up there with Bridget Jones's Diary. Maybe I liked it so much because I hadn't seen a romantic comedy in a long time. Maybe I liked it because I read the book so recently and know the backstory. Many reviews online give this movie lukewarm ratings; my sister however agreed with me and thought it was utterly delightful. One has to keep in mind this isn't the type of movie that is made to win an Oscar; this is a movie to see with your girl friends after margaritas and fish tacos or to rent on a rainy Sunday, bundled up in your bathrobe.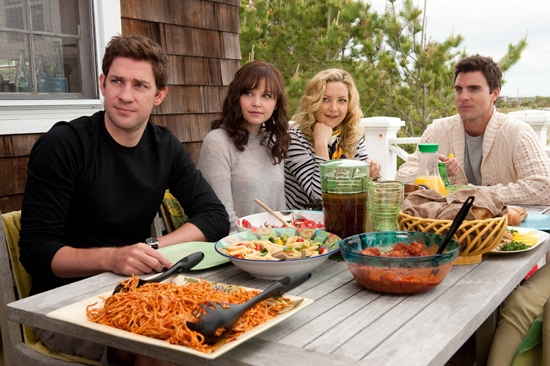 The four main characters of the movie – Spaghetti dinner in the Hamptons
Ginnifer Goodwin was adorable – charming, relatable, real. Kate Hudson was a great Darcy – she was over the top, overly confident, in your face and self-absorbed in a charming way. Colin Egglesfield was a great Dex, but really that character doesn't have much depth. He was good looking, seemed smart and real. John Krasinski totally stole the show – he was so witty and endearing. Goodwin and Krasinski were the true stars of this film.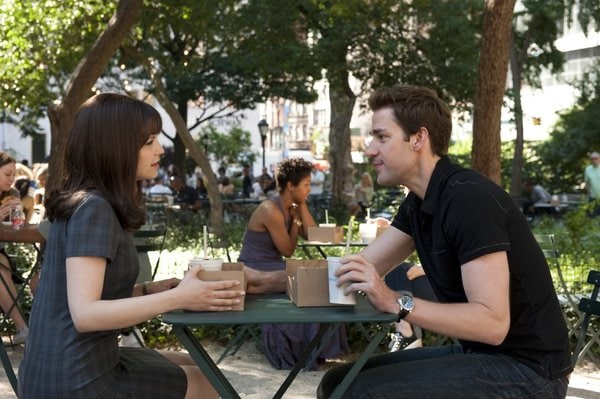 The stars of the film – Ginnifer Goodwin & John Krasinski
Recent trailers and online reviews can give you the summary of the movie; I have to say they did a fantastic job of adapting the book. Some portions changed (for example, Krasinski's character was not in New York in the book), but those changes helped the plot move properly in film format and didn't take away from the story. I really liked how real these people were – though they live in New York and lead different lives from me, I could see myself being friends with them, knowing people like them, acting in the manner in which they did. Often when movies are that "real," it ends up being boring or not as entertaining. This movie was still fun to watch and easy to get wrapped up in the story (I have to admit I teared up once or twice and was tempted to clap at the end).
If you do go to see Something Borrowed, be sure to stay until the very end of the credits. As my sister and I were walking out of the theater, suddenly the credits stopped and the film continued. They have a little clip that hints at a sequel, and adaptation of Giffin's Something Blue
.


Have you seen the movie and/or read the book? What do you think?
Follow Me | Twitter | Facebook