This article may contain affiliate links; if you click on a shopping link and make a purchase I may receive a commission. As an Amazon Associate, I earn from qualifying purchases. 
This was our fourth Bonnaroo and going in, I planned it to be our last. Last year I just felt very fat, very old, very tired by Bonnaroo. I told my husband the only way I would go back is if I lost the baby weight and we went VIP. Well I lost the baby weight and we decided to splurge on VIP; my sister and our friend Sarah did as well!
Wednesday outfit: Navy/white striped tank from H&M, denim cutoffs from Old Navy, chambray shirt from Merona, black Reef flip flops.
Wednesday morning the four of us set off from my town in two cars. We got to Knoxville, Tennessee around 6pm. My sister had reserved us two hotel rooms ahead of time. Though Bonnaroo is about 12 hours away, each year we stay overnight so we're well rested for our first day of the festival. Previously we have stayed in Bristol – the first year our friend's relatives lived there so we had a free place to crash; since then we found it to be a great halfway point. This year my sister suggested driving a couple extra hours to Knoxville for a cheaper hotel and a shorter drive the next day.
It was a smart choice. We got ourselves settled in our rooms and then headed to the Walmart a couple miles away for provisions. At Walmart we'll pick up the things that should remain cold and add them to our cooler in the car that has been housing a case and two gallon jugs of frozen water. After Walmart we headed to Outback Steak House which was near our hotel. We ended up with a brand spanking new waiter who was utterly adorable. I said he was a blonde Scotty McCreery because he was so polite, humble, sweet, going above and beyond the call of duty and constantly apologizing. My husband swore it was an act for big tips, but the three of us women were utterly smitten.
Thursday travel outfit: Black "Make Art Not War" tee, denim cutoffs from Old Navy, black Reef flip flops.
The next morning we all planned to meet in the lobby at 8am but we all woke earlier than that (guess that happens when you fall asleep around 9:30pm) and go ourselves some free hotel breakfast. Soon we were back on the road.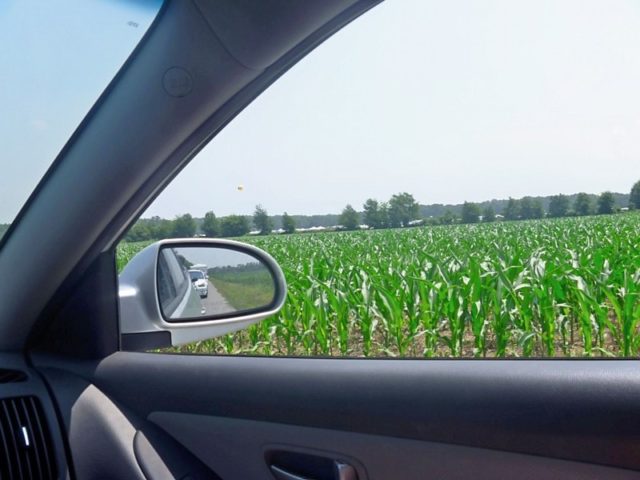 See that speck in the sky past the corn fields?  That's one of the pod balloons for Bonnaroo campsites!  Almost there!
When you go GA there are two ways of getting into Bonnaroo; when you do VIP you only have one way of getting into the Farm, and it's ONLY for VIP. They give you the directions with your wristbands and it's on the back of the window placard you have for VIP camping. The traffic to get in was pretty bad because there were quite a few cars of folks who were not VIP trying to slip in and being forced to turn around.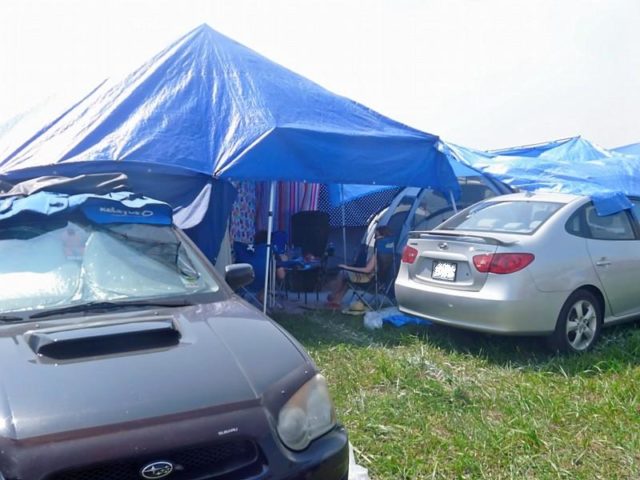 View of our almost finished campsite – you can see how our car (black) ended up jutted out all weird due to the parking confusion.
Parking at our campsite was a bit confusing. With GA, they line you in, cars parked to one another and you camp behind your car. We pulled in and cars were parking vertically, horizontally, some were skipping spaces. We tried to follow suit with the cars in front of us and skip a space but the parking folks wouldn't let us. However all the other cars had started parking so we ended up having to park vertically while the other cars were horizontal, which meant our tent was butted right up against our car, and we seemed to have less space than we ever did in GA.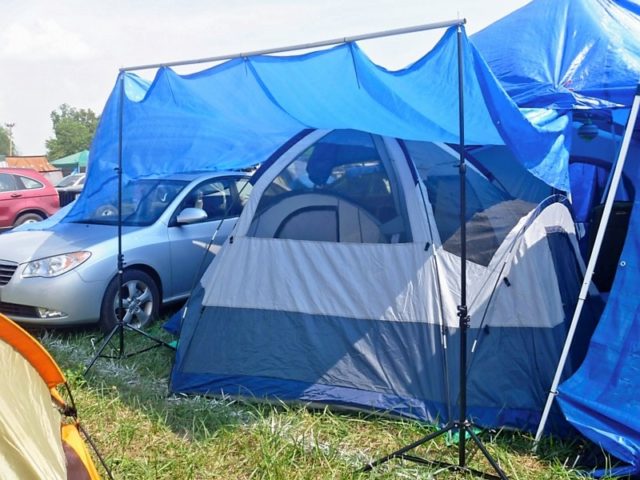 Getting all MacGruber with photography equipment…
In GA, you park and rush to yank out your tents and such to claim your space. In VIP it's far calmer. Folks are stopping to greet one another, grab a beer, head to the bathroom, stretch after their ride. A We set up our tent behind our car, my sister and Sarah had their own individual tents that were across from ours, and we put one EZ-Up shelter
between our and Sarah's tent, another
behind our tent and in front of my sister's. My husband then took a ginormous tarp
, had it raise up for airflow thanks to a telescoping pole
, and clamped it to each side so we had even shade and rain protection. A couple additional tarps and tapestries were hung up for sun shade. To make an awning over Sarah, we stretched a tarp over her tent using my husband's photography equipment. He has two telescoping poles that support a metal bar that holds a roll of background paper (think high school yearbook photo backgrounds). We left the paper at home, but found the poles and bar made a great support for the tarp. Clamped it to the ground with a couple tent stakes.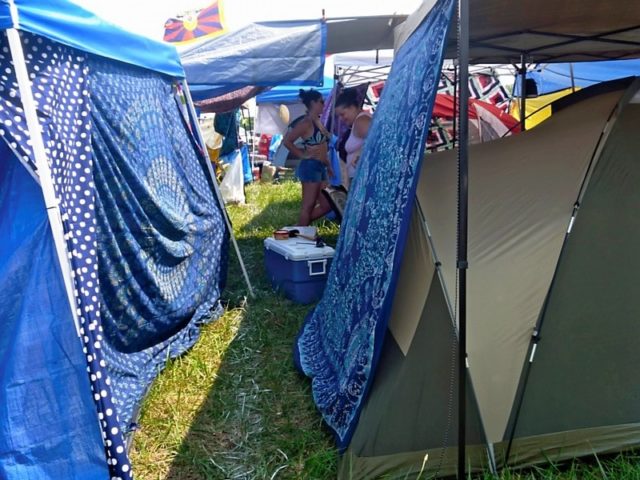 To the left is my sister's tent, to the right is our neighbor's tent; this was one of our two entrances to our campsite. You can see how we connected our tarps for a mega campsite.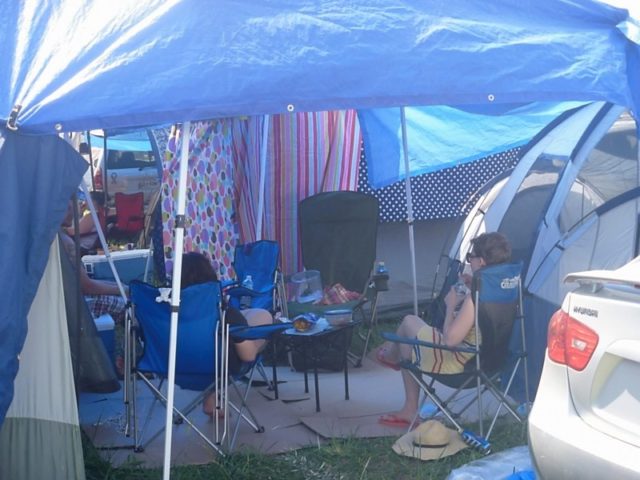 Taking a break after camp setup – we eventually moved our "living room" to the space past our tent closer to our neighbors; we also ended up taping down the cardboard to make a very lovely "rug" for our campsite.
We saw that our neighbors had a bit of a gap in their camp, which could end up shining very intense Tennessee sun on them each morning. My husband offered them some zip ties and to connect our giant tarp to their structure. They agreed and we were all happy to create a giant communal campsite. They seemed like really nice people – it was a guy, his wife, and four other women who seemed to be friends. One seemed a bit older than the rest, and one of the gals informed me that she was "The step-mom Amy" (more on our neighbors later).
Thursday evening outfit: Black floral sleeveless empire waist dress from H&M, turquoise bandanna as headband, black Reef flip flops, silver Ray-Ban aviators, silver hoops, wrist of thread bracelets and my silver cuff.
Forgot my camera charger so only took a couple pics each day – this is my husband and I Thursday at Karen Elson – look how CLEAN we are!
Once set up, we headed to Centeroo to check out the action. We heard most of Karen Elson's set (we were in the field to the left of the stage so we didn't see much though we were able to catch a glance of Jack White backstage), and stayed for a bit of Best Coast but wasn't too impressed so we headed back to VIP.
On Thursday night, a party takes place for VIP. There is all you can drink beer, a food buffet, and a private concert (this year by the New Orleans All Stars). We headed to the party, got some free beer and a plate of what was like wedding food (chicken in a sauce and a tofu variation, veggies, starches, rolls, salad, brownies). We didn't stay for the VIP concert because my husband and I really wanted to see Band of Skulls.
My poor sister dropped an EZ-up on her foot when setting up camp so she was a bit handicapped the whole weekend. She went with us to Band of Skulls, though sat on a blanket outside the tent while my husband and I went in. As usual, I couldn't see crap but loved the energy of being so close. My husband being 6'5" could see the whole stage and would report to me as to what was going on. The band sounded amazing, the crowd was pumped (lots of crowd surfing) and it was an excellent start to the festival!
After Band of Skulls, we never saw another entire show on Thursday night. We caught a slip of this here and there, but were pretty fried from the drive and camp setup so we headed back to the tent to rest up for Friday.
Next Bonnaroo Post – Friday at the Farm!
Follow Me | Twitter | Facebook