This article may contain affiliate links; if you click on a shopping link and make a purchase I may receive a commission. As an Amazon Associate, I earn from qualifying purchases. 
This was a year where I was finding myself again. I turned 40, I was coming back from a tough year with health and personal issues, and my body changes faster than the seasons. However, I do feel I found my groove again and redefined my personal style. Some of my favorite outfits from 2015 that I shared on the blog:
Winter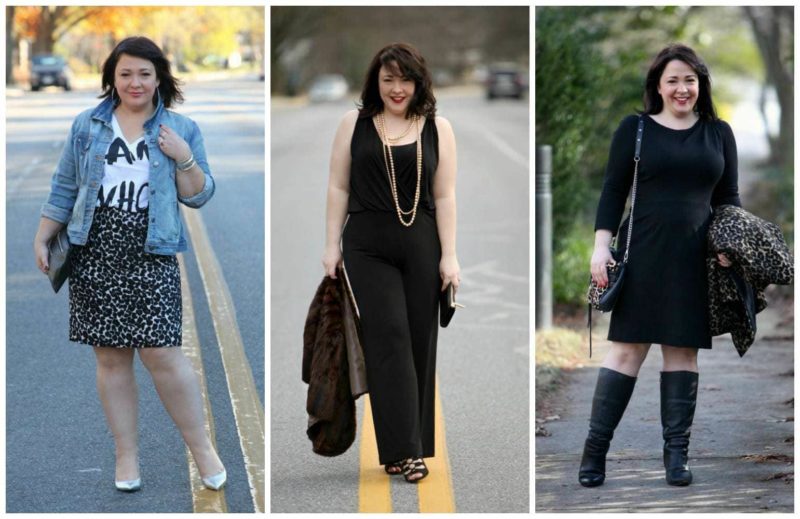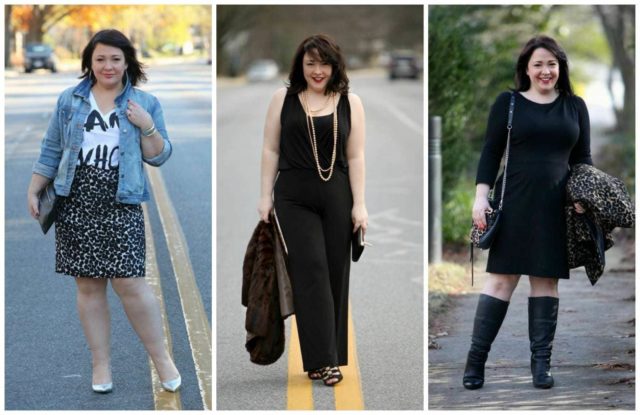 Winter begins and ends 2015, so it's a combo of old and new.  This first look was only a few weeks ago and encompasses many pieces I recently purchased, pieces I've had and loved for years, all blended together to make a whole look full of favorites.  The J. Crew Factory denim jacket was a smart purchase this year; I have worn in quite a lot as a blazer replacement and also a lightweight jacket for this surprisingly mild winter.  The skirt is also from J. Crew Factory and has a texture as well as being of one of my favorite prints – leopard!  The second look is from the beginning of the year; I got this jumpsuit from Karen Kane a couple years ago and love how it's stretchy, machine washable but gives a glam look.  I paired with my Great Aunt's fur stole and a few strands of costume pearls from Nordstrom for a great night out ensemble.  The third look is what I wore when Karl and I went out to dinner for my 40th birthday and also encompasses so many favorites.  I've learned a not-so little black dress in ponte knit is a wardrobe workhorse; I've had this one for years and it's so versatile.  The coat is from Talbots and is a fave, and the boots are older than Emerson.
Spring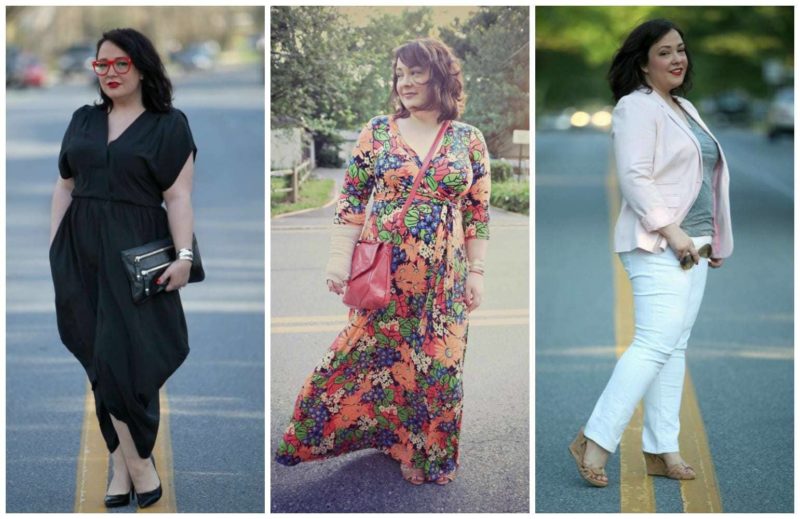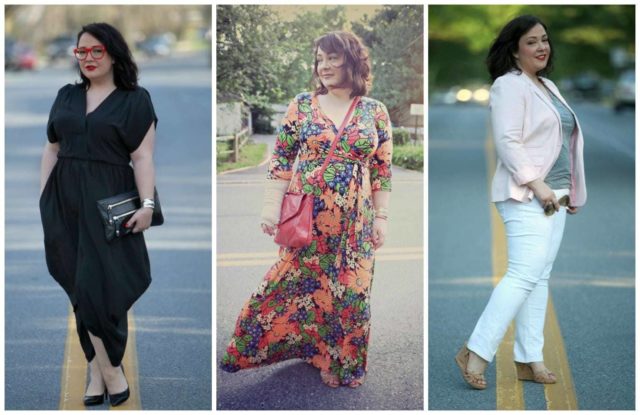 I spent a portion of spring recovering from my final arm surgery and wearing a splint, but it didn't stop me from having fun with fashion.  The first look shows my most expensive dress purchase to date; I never have spent over $300 (I don't even think over $200) on a dress before but I've had it for a year and I don't regret it at all.  I wore this dress from Myne LA for my blog party, to a fancy dinner date with Karl, to my friend's book launch, to a couple parties and even to the office and know I will wear it a lot in the future.  The second look showcases my 'happy dress.'  I must wear this dress at least once a month; it's stretchy, machine washable, and such a fun pattern.  It's perfect for parties and blog events and I often throw it on even to go to dinner in town because it lifts my spirits.  This exact print is no longer available but you can find this same dress in a multitude of patterns on Etsy.  BTW if you like that bag, I am selling it on Poshmark (no need for multiple red bags in my life!).  The third look has become my uniform.  I never thought I'd be a pink gal, but I have gotten a lot of wear out of this and all my Vince Camuto blazers.  Here I paired it with an Old Navy tee and JAG Jeans.  Speaking of JAG Jeans I've worn them for years but this year I partnered with them, was able to try more styles and became a mega fan (wearing a pair as I type this!).
Summer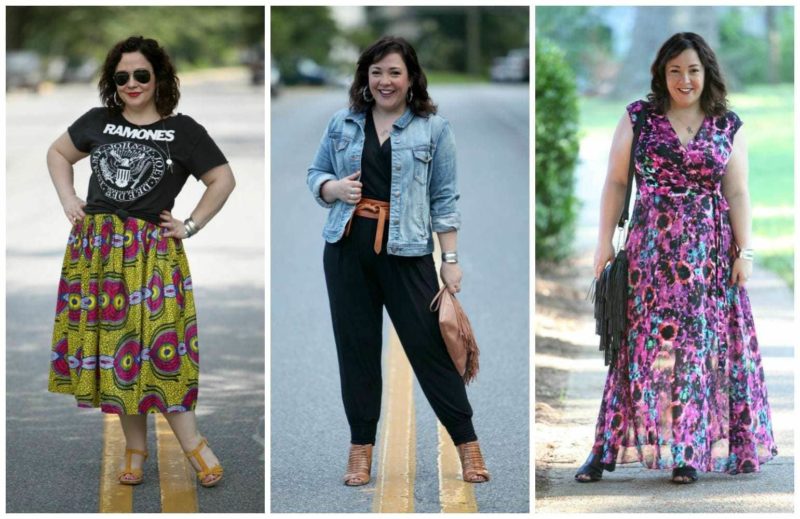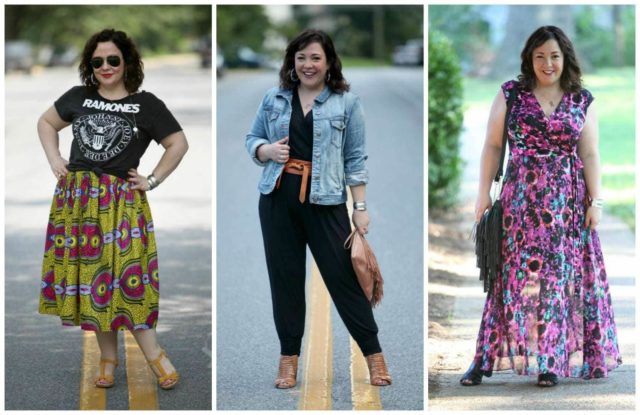 I spent most of my summer in bold prints and realized that while I may be drawn to clean minimalist looks I am the most "me" in a flowing dress or skirt in a bold pattern. The first look was my summer weekend staple; a band tee and a crisp cotton skirt that doesn't cling in DC humidity.  I bought this Ankara skirt a couple years ago and still love it.  If you follow me on Instagram you know I wore this jumpsuit quite a lot during the summer.  In this second look I paired the jumpsuit with tan leather and a denim jacket, but I often just wore it loose with a bold necklace and my silver Birks.  The final look was my most worn dress of the summer; I rented it from Gwynnie Bee and loved it so much I kept it (I love how you can buy items you rent and fall in love with!).
Autumn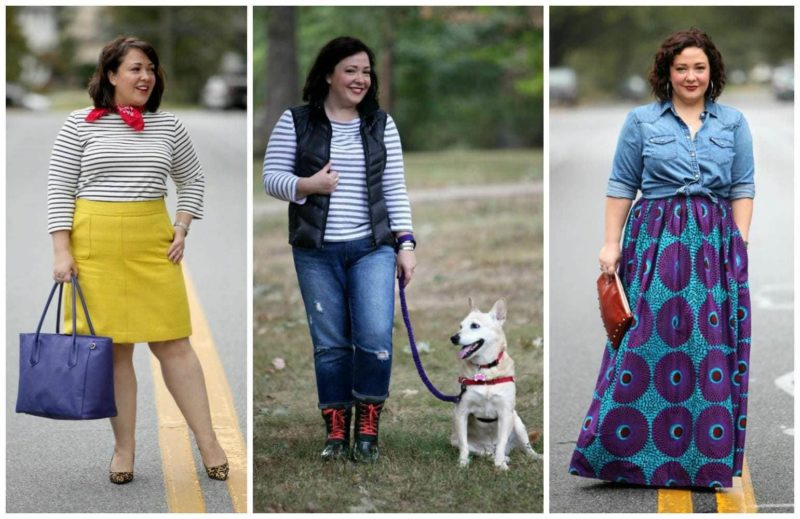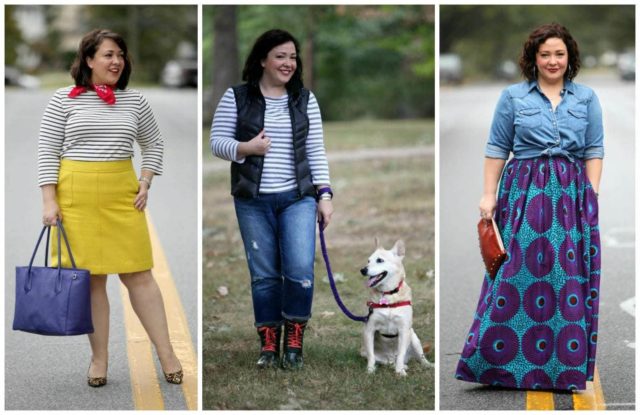 I started really purging my wardrobe this fall, and by doing it I found a lot of pieces I really loved that weren't getting enough wear.  This first look is a typical workday ensemble; I've had this Lands' End top for at least a decade and paired it with a citron wool skirt from Talbots, bright blue Dagne Dover tote, and a red bandanna.  I believe leopard is a neutral and wore a pair of pumps in that print to finish off the look.  I was so honored when Beth at Style at a Certain Age said she was inspired by this look (one of my favorite blogs!).  The second look isn't my favorite in regards to the outfit but for the costar.  Our dog Cindy is an amazing lady and a warrior.  She had a stroke a couple weeks ago and we were terrified it was the end.  She couldn't walk straight, had her head cocked strangely, couldn't drink water and couldn't get down the deck stairs into the yard.  However within 24 hours she was able to bunny hop down the steps and drink and the next day she was walking relatively straight.  While she is resting more than before, she has regained all her functionality and her amazing sense of humor.  We're so glad, this world is a better place with Cindy in it!  And the last look has become a go-to when I want to feel festive.  I've worn it to a couple events, a concert, and even to the office.  I've had this Gap denim shirt for a couple years, but just picked up this maxi Ankara skirt this year.  It was custom made so no need to hem, and there's pockets!  I felt a black bag would be too typical so switched it up with this awesome brown leather clutch from Brynn Capella; while it hasn't been on the blog a lot the bag gets a lot of use and has quickly become a favorite in my wardrobe!
I find having a fashion blog and doing this year-end recaps is a good way to really see my wardrobe and how my personal style is evolving.  Journaling your style evolution is a great way to get a grasp on your wardrobe; seeing it in black and white (or full color in your phone's album) helps you see patterns, pieces that truly are worn the most, how things fit and flatter.  I know it has really helped me decide what I don't really need in my closet too!
Dagne Dover Promo Code
Use ALISON10 at checkout to get 10% off your order at Dagne