This article may contain affiliate links; if you click on a shopping link and make a purchase I may receive a commission. As an Amazon Associate, I earn from qualifying purchases.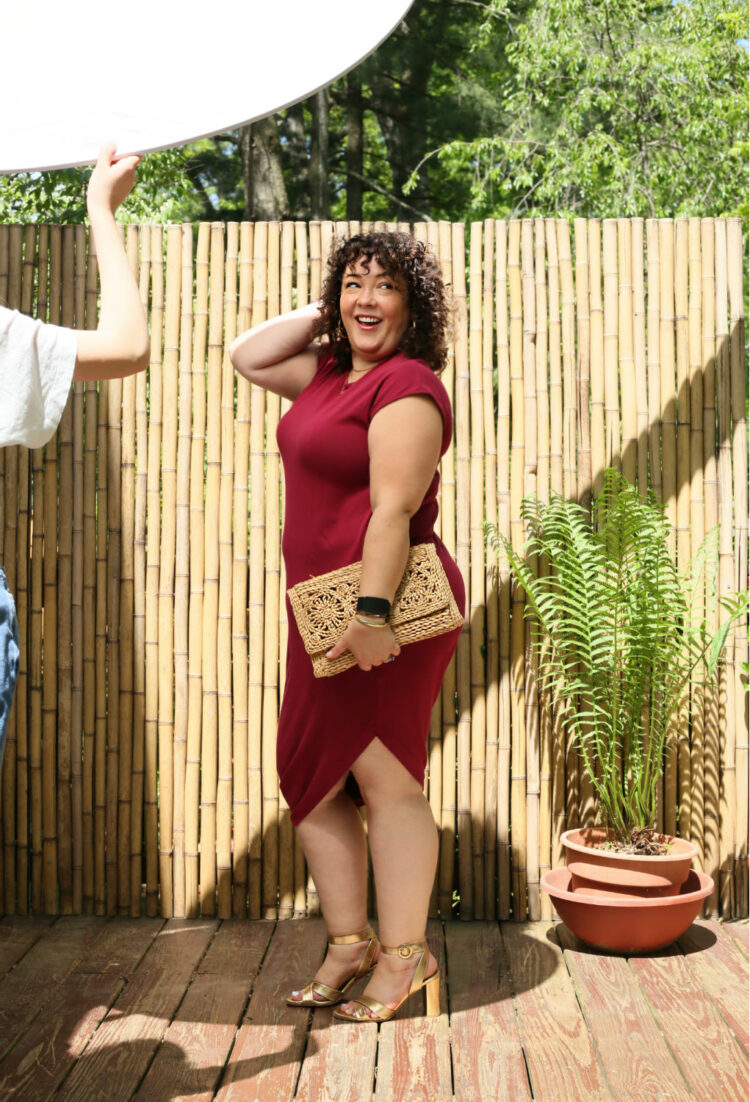 As the world begins to open, I think many of us are trying to figure out what to wear. Our clothes from Before Times may not fit our body, and may not fit our new lives. Change in the workplace, change in social life, and change in priorities and desires for what we put on our bodies; it's normal to feel you need a change in your closet but don't want to buy a lot of new things. This is the Universal Standard Geneva Dress; I own three of them and love them for their versatility.
Universal Standard Geneva Dress
The Universal Standard Geneva dress is one of the first pieces Universal Standard offered. Here is me wearing one way back in 2017. I thought the Geneva dress was so cool but I was clearly too short for it. I was thrilled that in 2018, Universal Standard began offering the Geneva in petite. Here I am in the petite Universal Standard Geneva dress back when petites launched.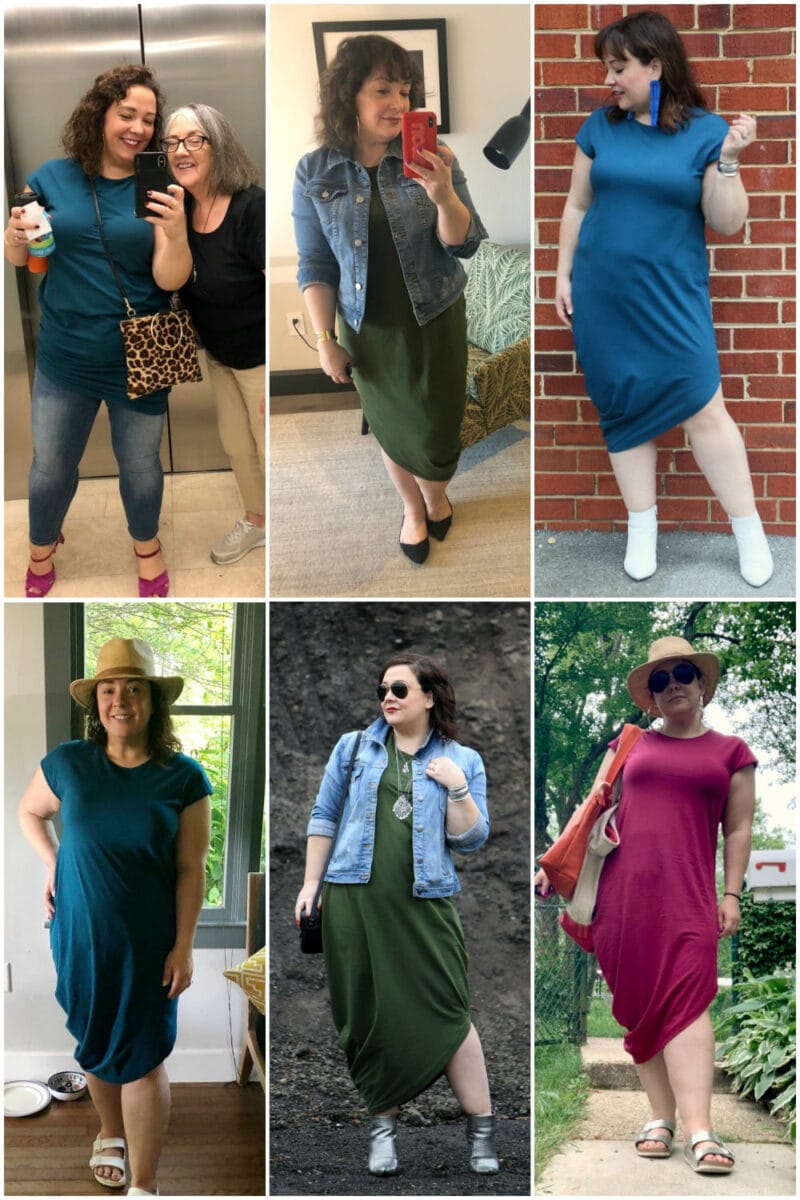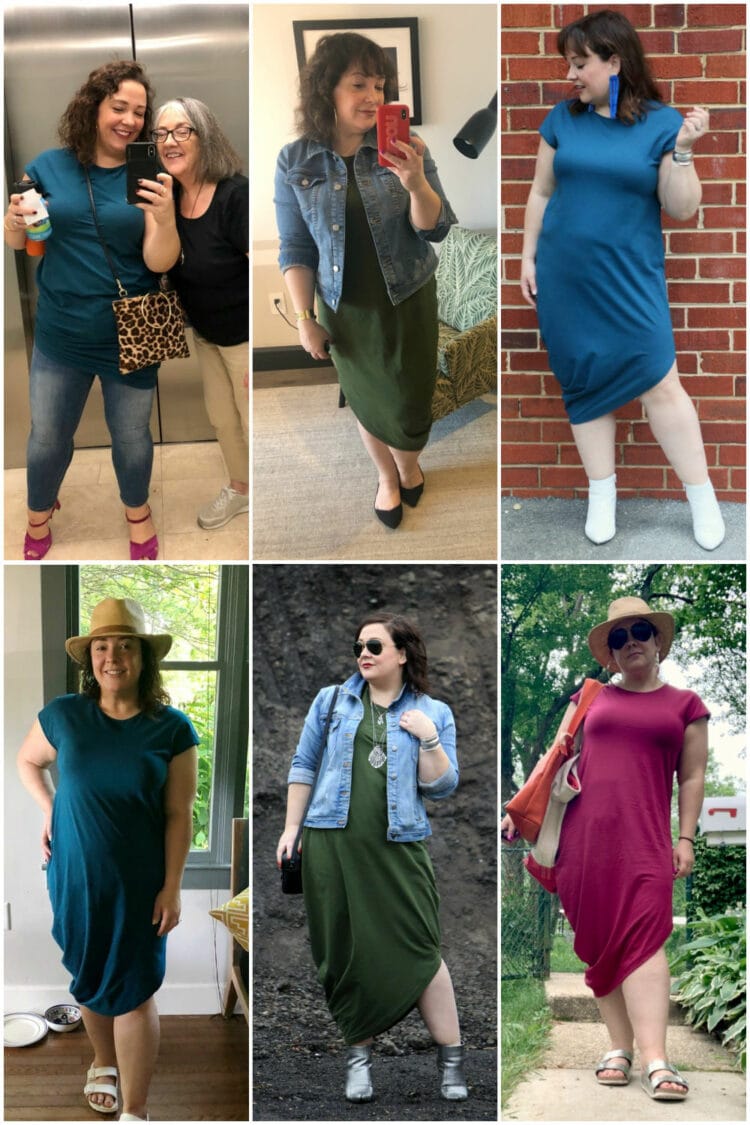 While this dress is made from Peruvian cotton knit, the asymmetrical hemline and cap sleeves elevate it from being a standard t-shirt dress and make it more versatile and easier to dress up and down. It comes in a variety of colors, Universal Standard even offers a long-sleeved version.
Go through my archives, and you'll see that I take a Universal Standard Geneva dress on most of my travels. To the beach, on a blogger trip to Palm Springs… it's the kind of piece I can glam up or down with a change of shoes and accessories and always seems to flatter, even when I'm not feeling well or I'm bloated.
In the Wardrobe Oxygen Community, someone shared this article at Huffington Post about going out tops and the discussion went into what in the world do we wear now as grown-ass women when going out? I realized often when I am in situations where I am going out and not sure what to wear… I grab one of my Geneva dresses. So I decided to share how I style the Geneva dress for day and night.
Styling the Universal Standard Geneva for Daytime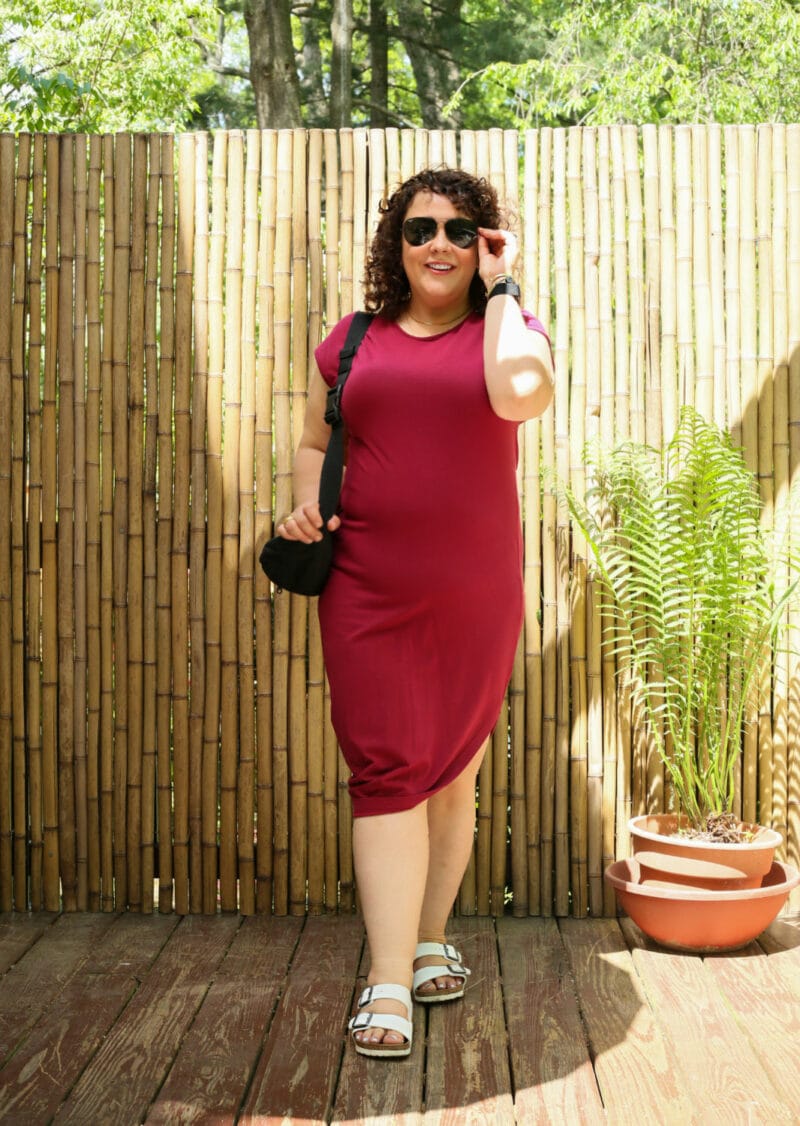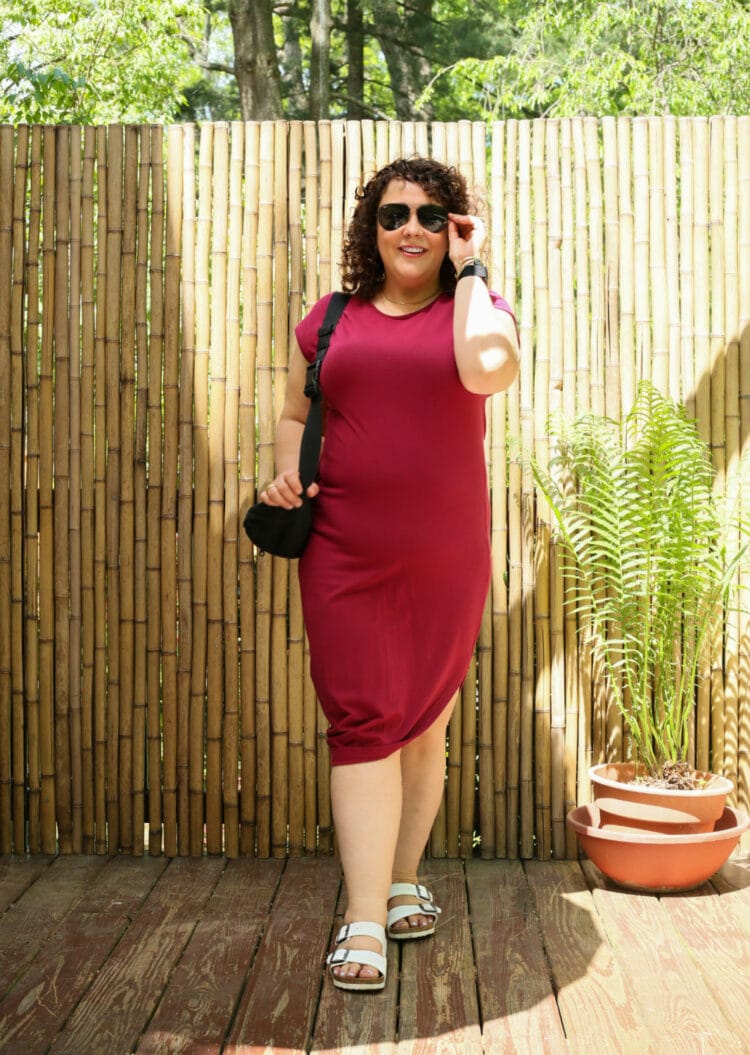 Let's start with the daytime. This is the exact look is wore this weekend to drop my kid off at an outdoor Girl Scout event, to run errands, and to visit my friend in her backyard for a late lunch. With my belt bag as a crossbody and my white Birkenstocks, the look is casual, functional, but not boring.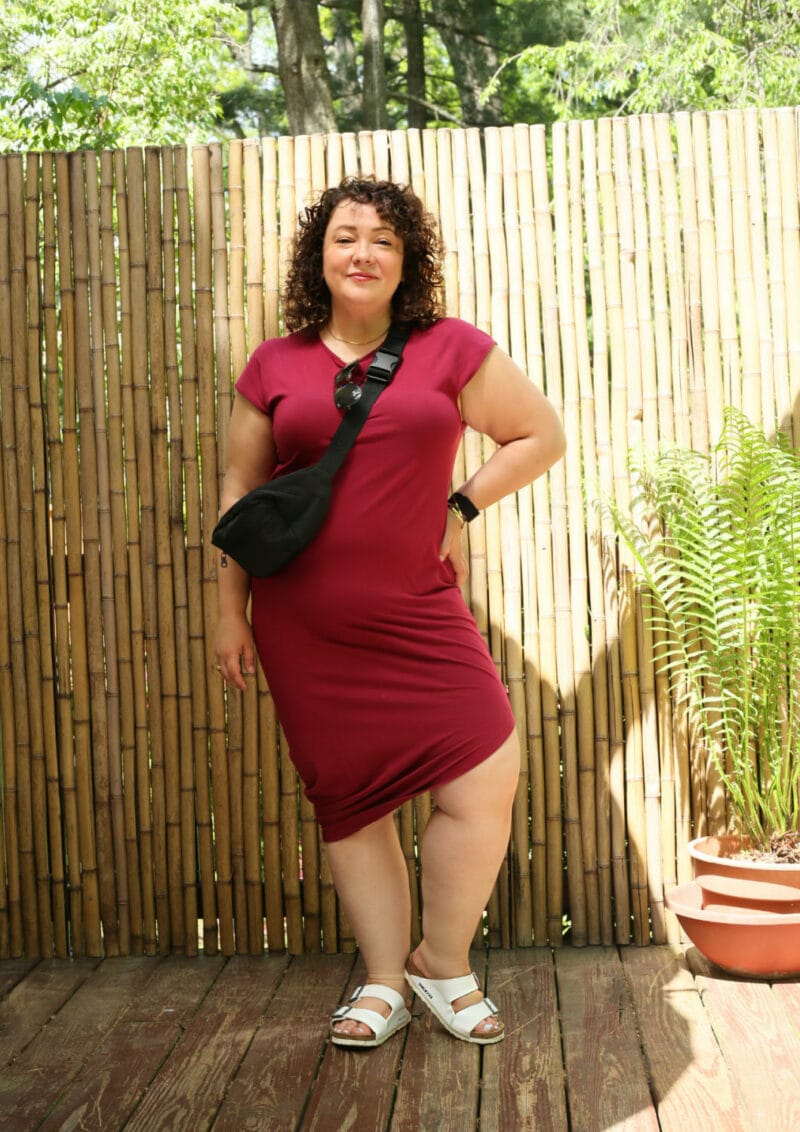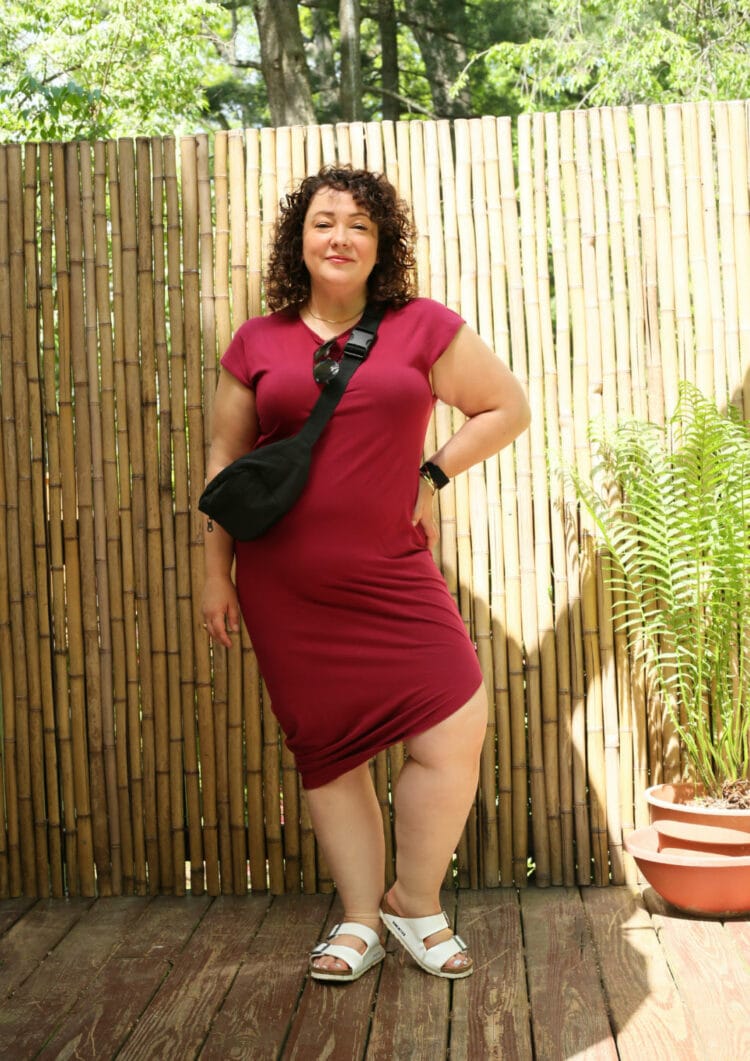 In the collage above, you see this is a popular way for me to wear the Universal Standard Geneva. I like using a crossbody to keep it looking casual and to mimic the asymmetrical hemline. I have dressed up this look slightly with brown sandals or flats and a brown leather crossbody bag, and have made it feel more sporty with a pair of sneakers.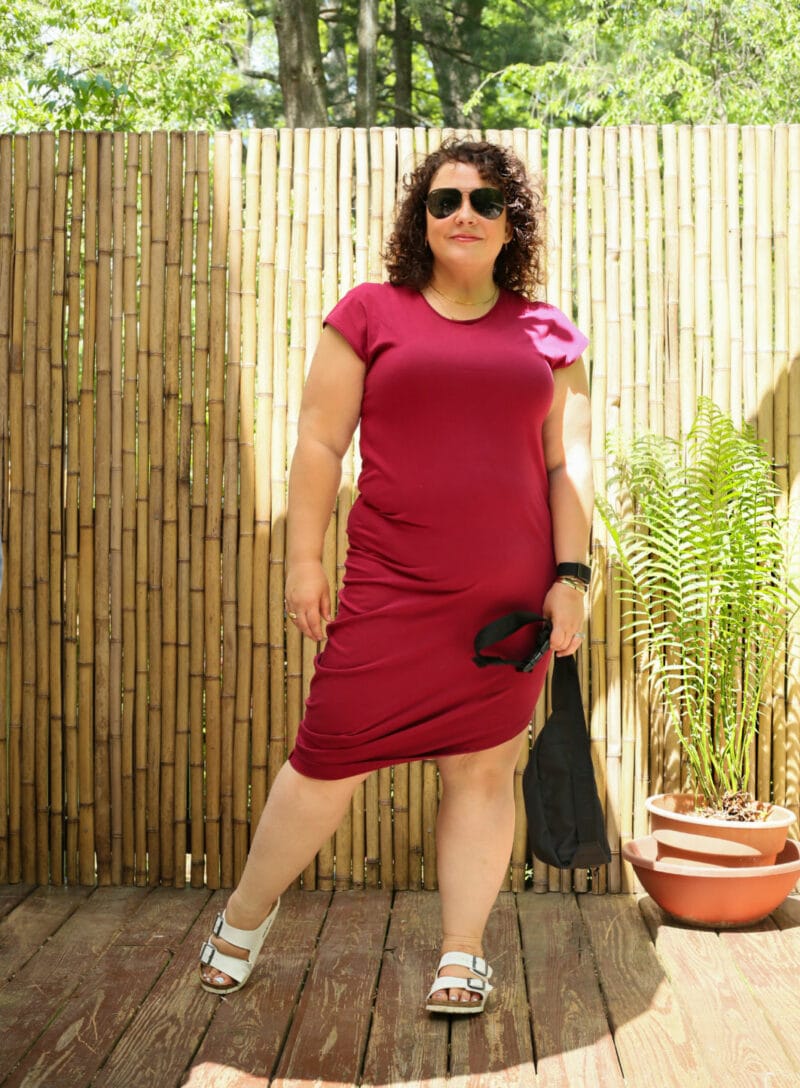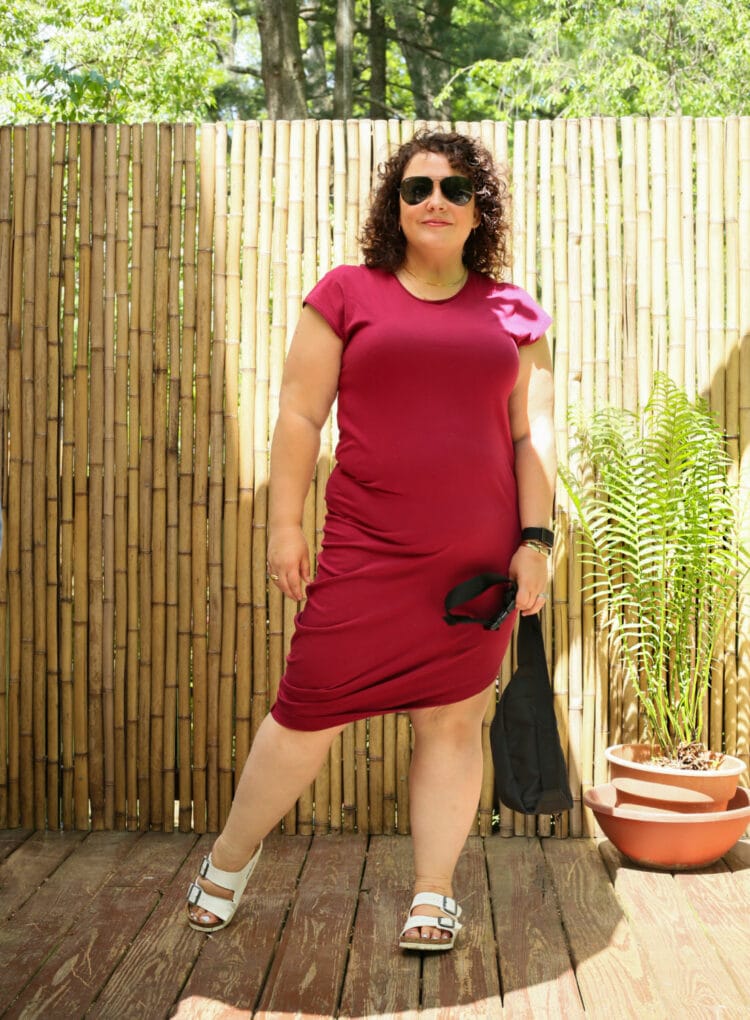 This dress works well with a topper; a denim jacket is a given but it also works with safari-inspired jackets that cinch at the waist as well as bomber jackets.
Styling the Universal Standard Geneva for Night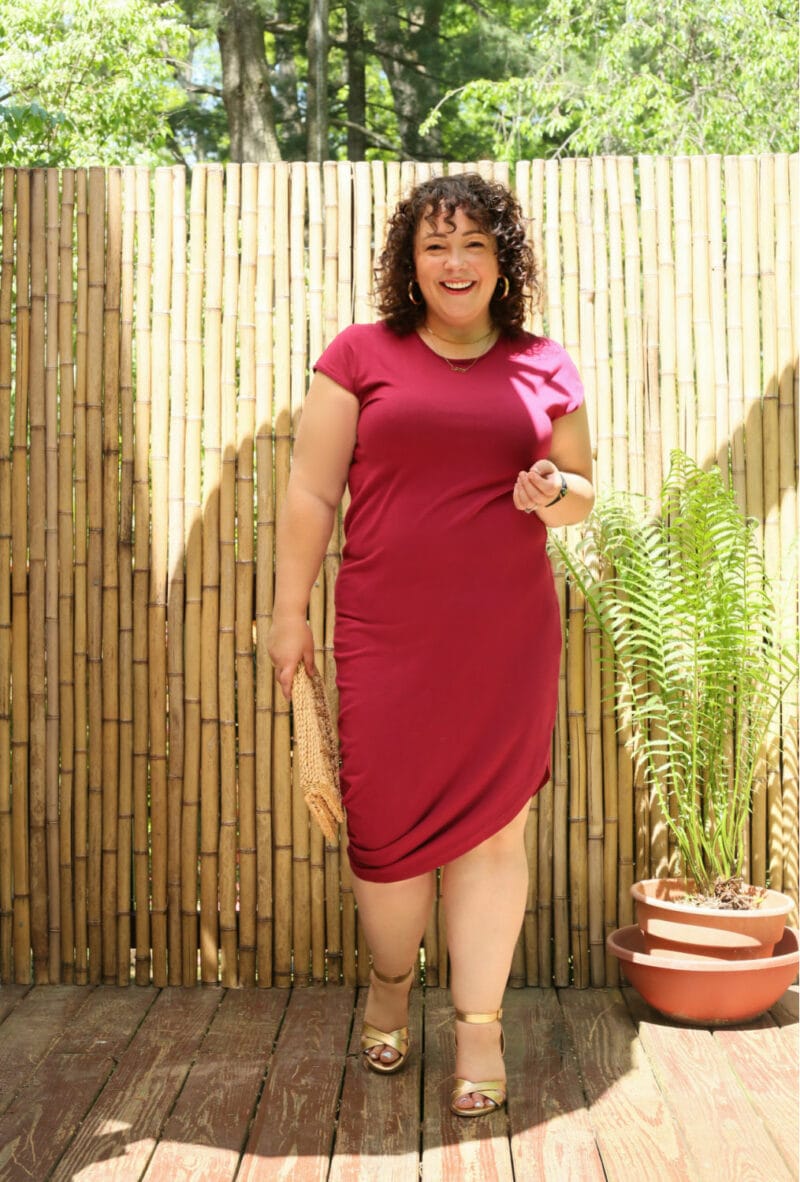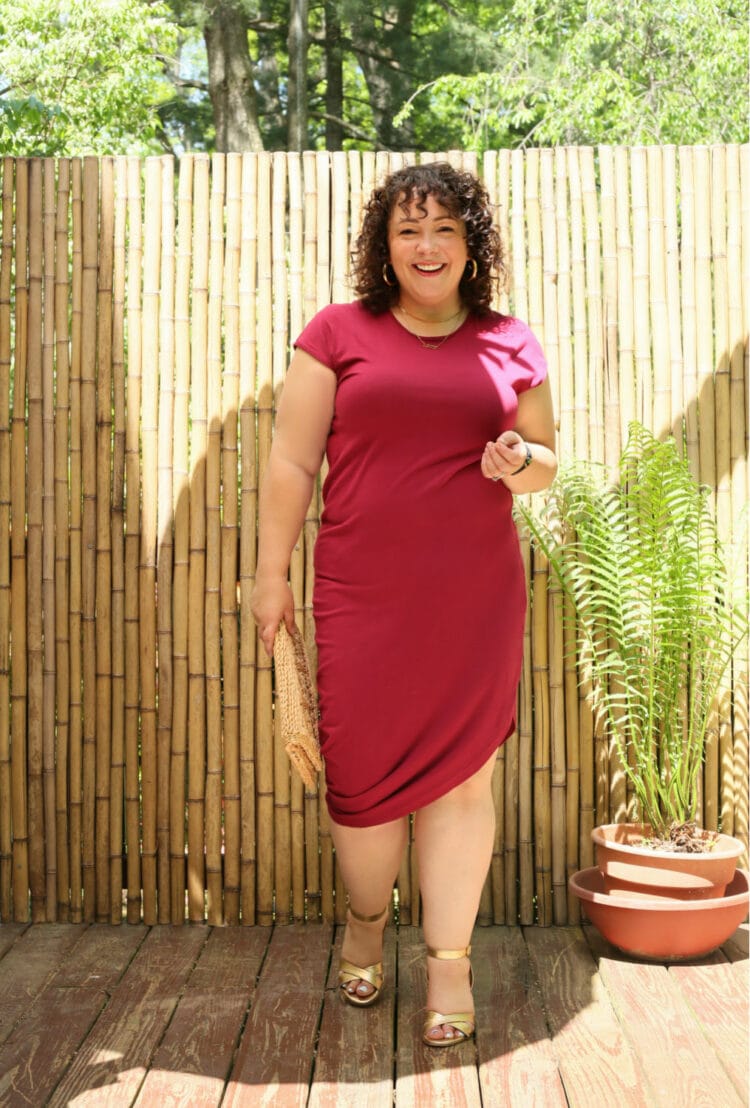 Now, I wouldn't be wearing a Geneva to a cocktail party or a wedding, but it's a great dress for Date Night or an evening with your friends. The quickest way to dress up a look is with a change of shoes.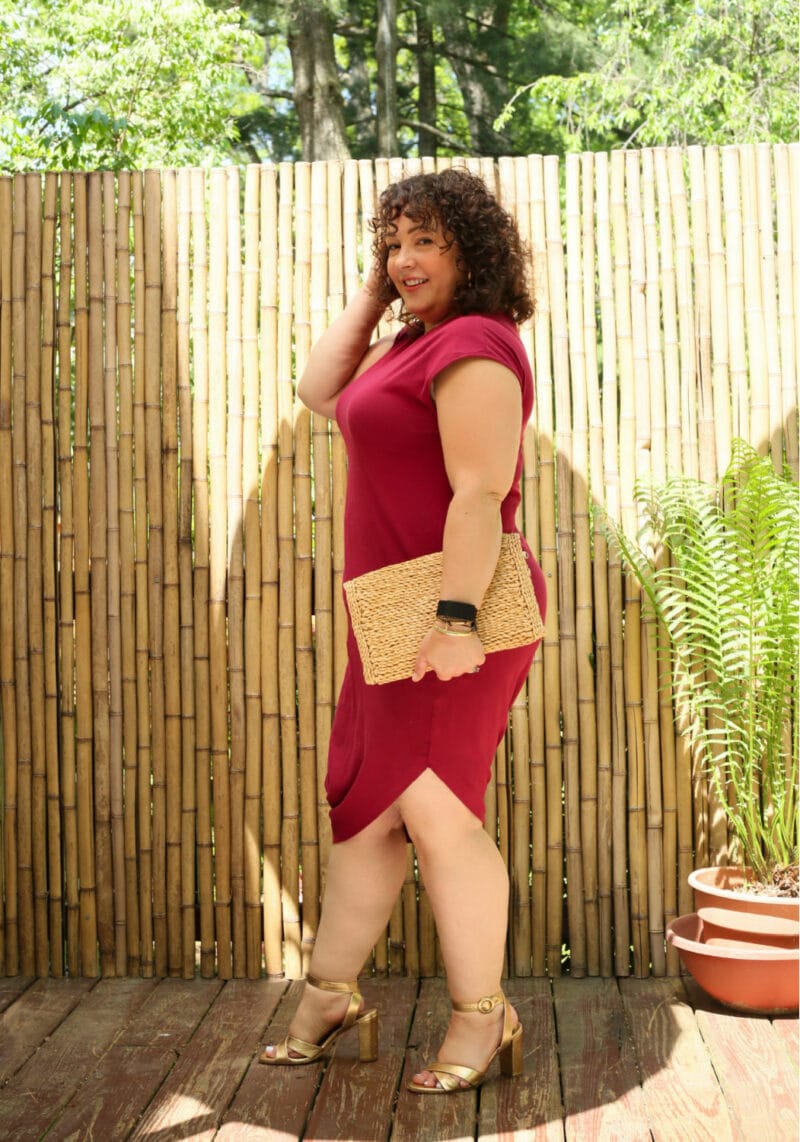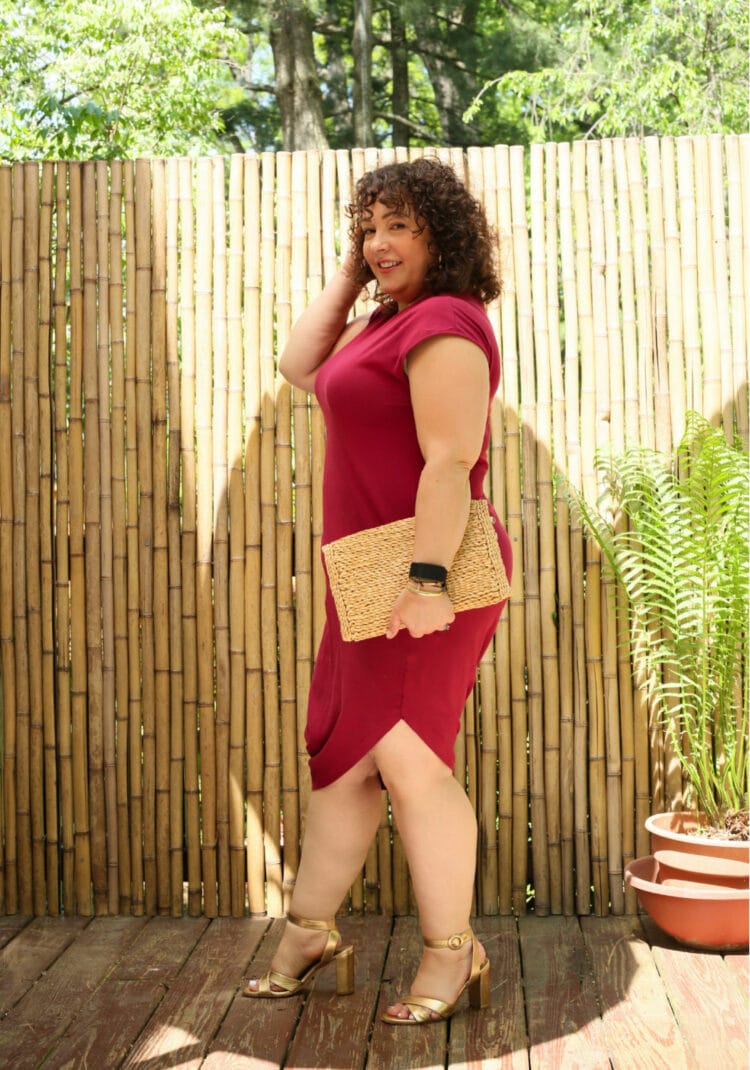 Here I am wearing my Margaux Uptown Sandals which I have reviewed before; the slight platform and solid block heel aren't as precious and work with the jersey fabric. The soft muted metallic isn't too dressy and works as a low-contrast neutral letting the dress still take the spotlight. I know not everyone likes a heel this high; Margaux has the same shoe in a lower heel at this link; I've also shared some alternatives with lower heels below:
Shop Soft Muted Metallic Shoes for Summer: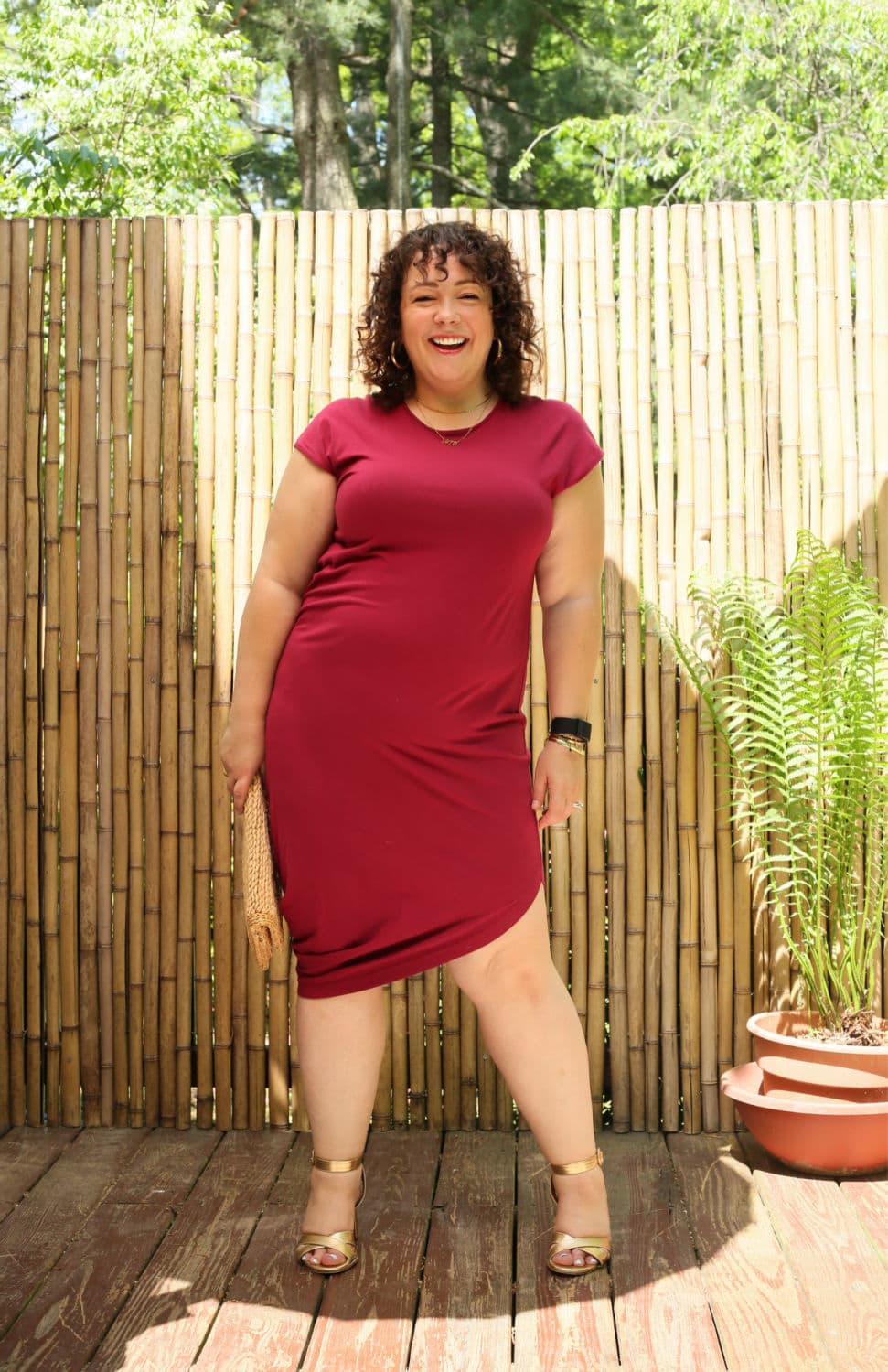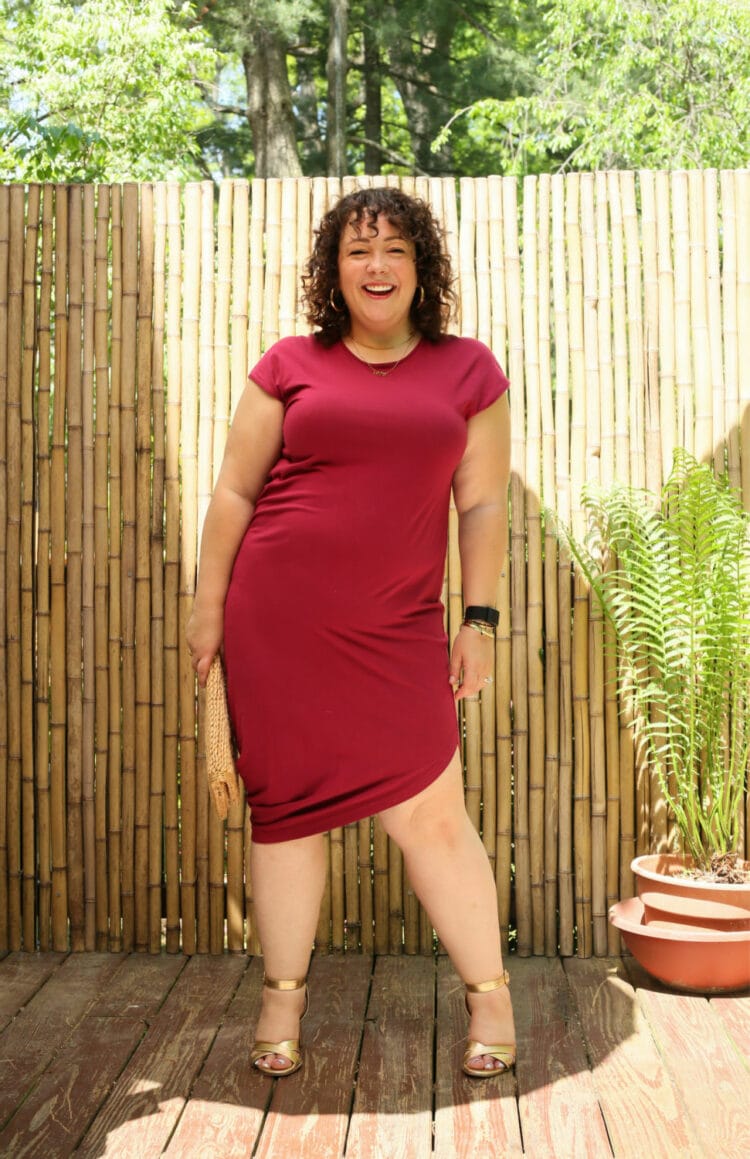 A switch from a bag with a strap to a clutch is also a quick way to elevate a look for the evening. I bought this raffia tote at a beachside boutique many many summers ago; it may be older than my child. I love it because it feels so summery and is also a neutral, working with so many different things in my wardrobe. While this bag is no longer available, I found similar ones online and share them below:
Shop Straw, Raffia, and Wicker Clutches for Summer:

Shopping for Our Future
I hope we learn from this past year, and take those lessons with us into the future. And one is that we all own a lot of clothes, and a lot of those clothes we own are unnecessary.
I am not sharing myself in the Universal Standard Geneva dress to say you need one for yourself (though I am not the only one to be obsessed with this dress), but to show the concept of versatility that goes beyond some capsule wardrobe or a social media ad about a garment that transitions from skirt to dress to top to jumpsuit to cape to backpack to tent. Versatility is personal, and versatility may already be in your closet.
You don't need a new dress for every occasion. You don't need 50 pairs of shoes or 50 pairs of jeans. And you likely already own enough right now to get by. Instead of "revenge shopping" to celebrate the opening of things, consider "mindful shopping" as you make wardrobe updates. Some of my tips for mindful shopping to buy less but have more style:
Three or More: If you are buying something new, are there three or more ways for you to wear that piece? If you can't envision honestly wearing it three different ways for three different situations, it's not versatile enough to enter your wardrobe. Let's take the Universal Standard Geneva for example. I styled it here two different ways, but I also wear it with sneakers and a denim jacket in spring and fall, and I love wearing it with my brown saddle bag and brown Ally flats when I have client meetings or daytime work functions.
Super Special: This is a dangerous category, because it's easy for us to convince ourselves of it when it's not true. But sometimes, there is something that is so special that it will add that necessary impact to your wardrobe. Staples are great, but sometimes a statement blouse or sequined skirt is the super special thing that elevates everything in our closet.
Works With, Not Against: Do you still have a bag in the trunk of your car of things you needed to take to the dry cleaner from before lockdown? Do you own heels collecting dust because even when you're heading to a formal evening event you wear flats? Would you need to buy new Spanx/shoes/a minimizer bra/etc. to make that new item work? Are you convincing yourself that by time you wear the item you will be five pounds thinner or have a new job or a new beau or something that isn't existing now? Then you don't need it. These are items that are working again, not with you. And especially after this past year we had, we need to live in the now and dress for the now.
Fits You and Your Lifestyle: This is essentially the third tip, but I have to reiterate it, and I have to add ethics. If you love a brand but you find it problematic, don't give it your money until it changes its ways. Instead of buying that dress, use that time and money to write the company, question them on social media, share what you know with friends, and find a retailer that fits not just your style but your beliefs. This can be how they treat Black employees, their feelings about unions, their lack of social justice, their lack of manufacturing transparency, where they make their clothes, what celeb is their spokesperson, their size range, their fabric usage, what politicians they support, what influencers they partner with, what brands they sell in their stores… we have so many options now on where to shop, we can truly vote with our wallets.
Budget: Let's all agree to never go in debt for clothes ever again, okay? Exceptions are unexpected purchases for major events, and those major events aren't first dates or first girls' night in a year. We're talking funerals, job interviews, and elopement. No dress will change your life, and buying what you can't afford will only make you feel worse in the long run.
Go Slow: Remember, you're not naked. You have enough right now, even if you hate it all. To prevent yourself to be in a situation a year from now where you again hate it all or have nothing to wear or nothing fits you or your lifestyle… shop slow. Make a list of what you need so you don't go off course. Buy items you think are a good choice, keep the tags on and try them on with all the other pieces in your closet you'd wear them with. And then hang them up carefully, sleep on it, and do it again with fresh eyes. Only then, can you truly get an idea that this item deserves to remain in your closet.
Shop the Post: