This article may contain affiliate links; if you click on a shopping link and make a purchase I may receive a commission. As an Amazon Associate, I earn from qualifying purchases. 
I usually purchase a new bag a year.  Most of the time I get them on eBay so I can get thye style and quality I desire at a price I can stomach.  My last purse was this baby from Junior Drake.  The two prior were from Banana Republic.
The Junior Drake purse got paint on it from the remodel (argh!) and I could never get it off without ruining the finish.  It also doesn't have a long strap so I can't put it over my shoulder along with another bag or when I am wearing a coat.  Not too good if you are also carrying a baby.  I was using my chalk-colored purse from Banana Republic but it was getting dingy and really… chalk is a fancy word for white and I hated carrying a white purse this late in the season.  My previous Banana Rpeublic bag was a tumbled brown leather and a wonderful shape, but one of my bottles of milk that I had pumped at work exploded in it during a commute home and now it is destroyed.
So it was time for a new bag.
I wanted something that would go with brown as well as black, something that had specific pockets where I could store my cell, my SmartTrip card for the Metro, hang my keys so they could easily be reached.  I wanted a bag that I could carry in my hand, in the crook of my elbow or over my arm even with a bulky winter coat.  I wanted a bag that was not from an obvious designer or brand, but didn't look cheap and hokey.  It also had to be less than $200.
This is what I decided on: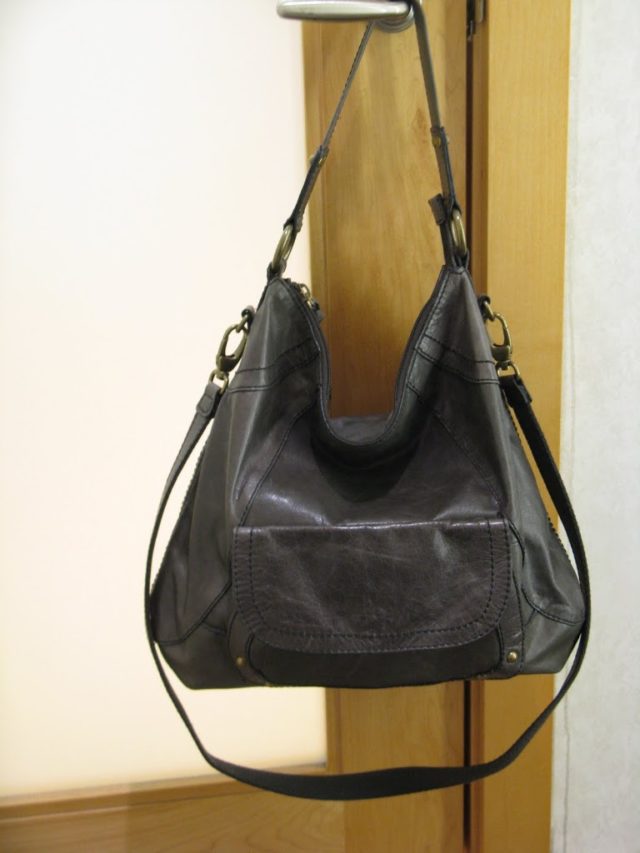 (yes this picture was taken in a fitting room at Ann Taylor)
This is the
large foldover hobo from Fossil
in grey leather.  My sister says that it is a brown-tinged grey, and it may be but it is definitely not brown and not black.  The hardware is brass, but very subtle so it doesn't clash with silver.  There is the front pocket which has a magnetic closure, a back slash pocket and an interior pocket with a zipper (from which I clip my keys).  Big enough that this bag looks sloughy while holding two full cosmetic bags, a wallet, a camera, a cell, and a book; yet not so big it looks like a bed pillow under my arm.  I don't usually use the long strap, but I find it useful when carrying Emerson.  When put across the body I can still easily access the pockets with one hand.
So this is what I am currently wearing.  I didn't like it at first but it has really grown on me and I love how it is very subtle and not an obvious style, trend or season.
Next purchase… a winter coat.  I still have my long quilted black coat but I would really like a wool coat this season and will get one if the price and fit is right…  any suggestions?