This article may contain affiliate links; if you click on a shopping link and make a purchase I may receive a commission. As an Amazon Associate, I earn from qualifying purchases.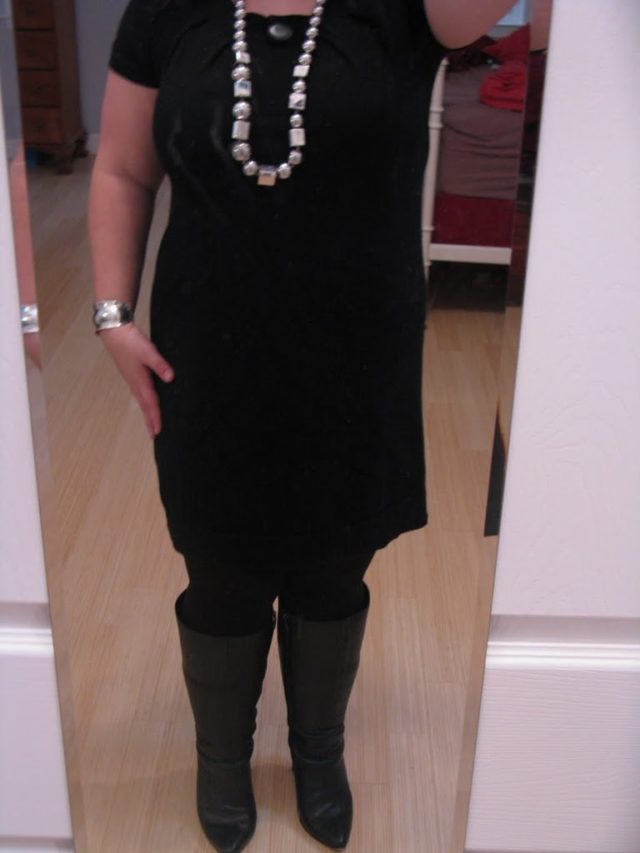 Anyone recognize this dress???
Yeah baby, it's true what they say – nine months on, nine months off! Granted, I am not exactly back to my pre-baby weight and the body is no where the same shape it was, but many of my pre-pregnancy clothes are fitting again! I remember putting on this dress a couple weeks after Emerson was born. I knew it would be tighter, but was thinking I could maybe sport it with jeans like I did back when I was in my second trimester. It was so tight, it was cutting off the circulation on my arms and was super snug around the neck. I put it on, and I cried. There was no point in trying Spanx with it – the body looked ridiculous.
This weekend I went up in the attic to get Emerson's 12-18 month clothes and I saw the box that had these dresses (also have in dark red) and figured, hey might as well bring it down, maybe now I could sport it with jeans or something. I washed it, hung it to dry and put it on this morning and eureka, it fits!
So anyway I am wearing a black merino dress from Banana Republic, black tights from Spanx (Tight End Tights), black tall boots from Ros Hamerson, silver necklace from Ann Taylor, silver cuff bracelet.
There is no picture of my face because… I forgot. And now I have an office mate so I can't very easily shoot a picture of myself at my desk and not look like a crazy woman. But believe me when I say that my hair is next day, large sections in a curling iron and made fluffy with some Elnett. I did a smoky eye with a soft pink lip and I think I look pretty fab.
Wish the old pants fit, but hey… I'll take what I can get from the stash in the attic!