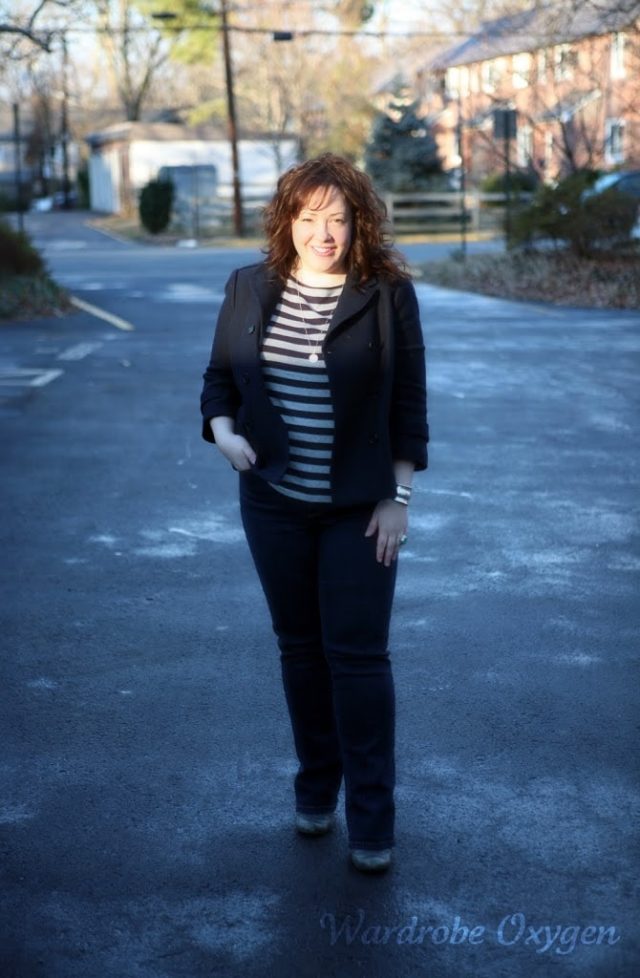 Navy wool-blend cropped peacoat – Ann Taylor (no longer available)
Navy and gray striped tee – Lands End Canvas (no longer available)
Straight jeans – Not Your Daughter's Jeans

Gray Mary Janes – Miz Mooz "Soho"

Silver necklace – Tags-n-Stones
Silver and green stone ring – Vendor at the Maryland Renaissance Festival
Silver Cuff
I am astounded to have found that my outfit pictures have been stolen and used on other sites. Really folks? You can't find better outfits, more model-like individuals? Anyway, I'll be toying with watermarks and such and such over the next week or so. I don't want anything to affect your experience, but it doesn't make me happy when other bloggers or Web sites steal my content. So if you find me doing anything that impedes your ability to read, access, or enjoy Wardrobe Oxygen – please let me know!
Okay, back to the fashion!
Yep, I wore this same jacket last Friday. But as my coworker said when I realized this, she couldn't tell because everything else about the outfit is different. I just got these shoes back from the repair shop and am so excited. I usually stick to black shoes because my wardrobe is black and I already own black shoe polish. However, these shoes called out to me a while ago and I HAD to have them. The thing is, it's a PITA to maintain gray shoes – hard to polish, easy to look scuffed. Well one of the heel caps fell off so I took them in to be reheeled and my fabuloso shoe repair woman polished them up beautifully without ruining the distressed finish, smoothed down scuffed leather on the heels and made them look almost like new. I swear, best $11 I have spent in a long time!
So I tried my hair casually wavy – in this morning's wind it looks a bit more casually disheveled. Anyway, I have yet to master non-curly bangs with curly hair and not look circa 1991. Think the thing is my hair is either curly or straight, not really in-between. Have to keep playing with products and tools!
So what are your plans for this weekend? The two things I am looking forward to most this weekend is my women's circle is meeting tonight, and tomorrow night my sister is having a party to celebrate her birthday. Lots of fun with fabulous people – and I will be sure to take pictures Saturday night! Hope you all have a wonderful weekend and I'll see you later!