This article may contain affiliate links; if you click on a shopping link and make a purchase I may receive a commission. As an Amazon Associate, I earn from qualifying purchases.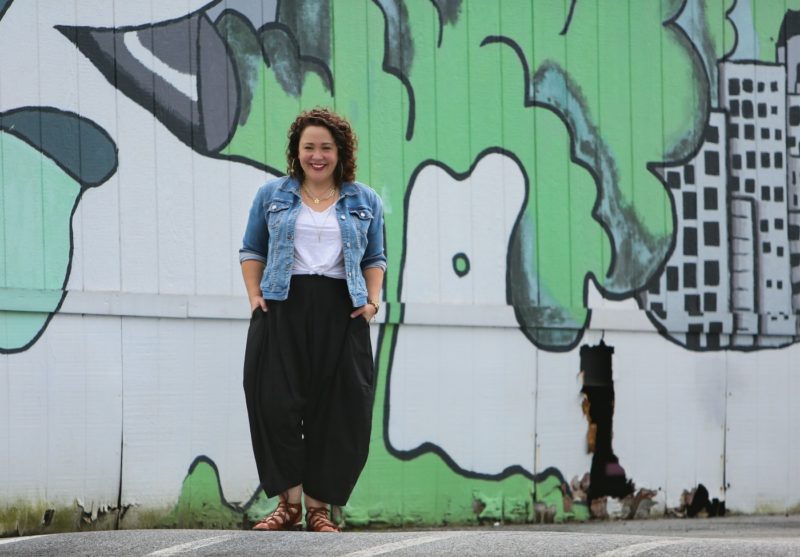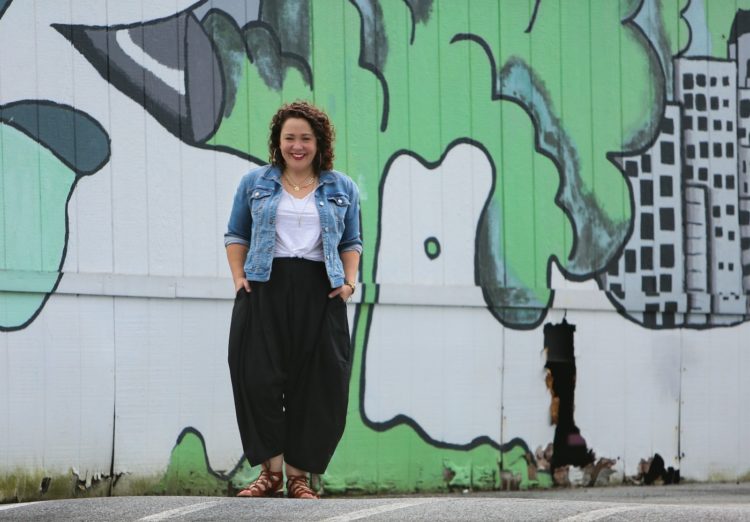 I shared these pants from the Black woman-owned fashion brand Evryday Jane in my Friday Shop post. These are the kind of pants you buy not because you're trying to whittle your waist or "flatter your figure" but because they are unique and fun and architectural while also being super comfy. Oh, and I have washed and dried them twice and they held up beautifully! I have worn them many times with a variety of things, but decided to show them with what is my standard go-to look with these pants – a t-shirt tied at the waist, flat sandals, an optional layering piece, and jewelry to add interest and shine.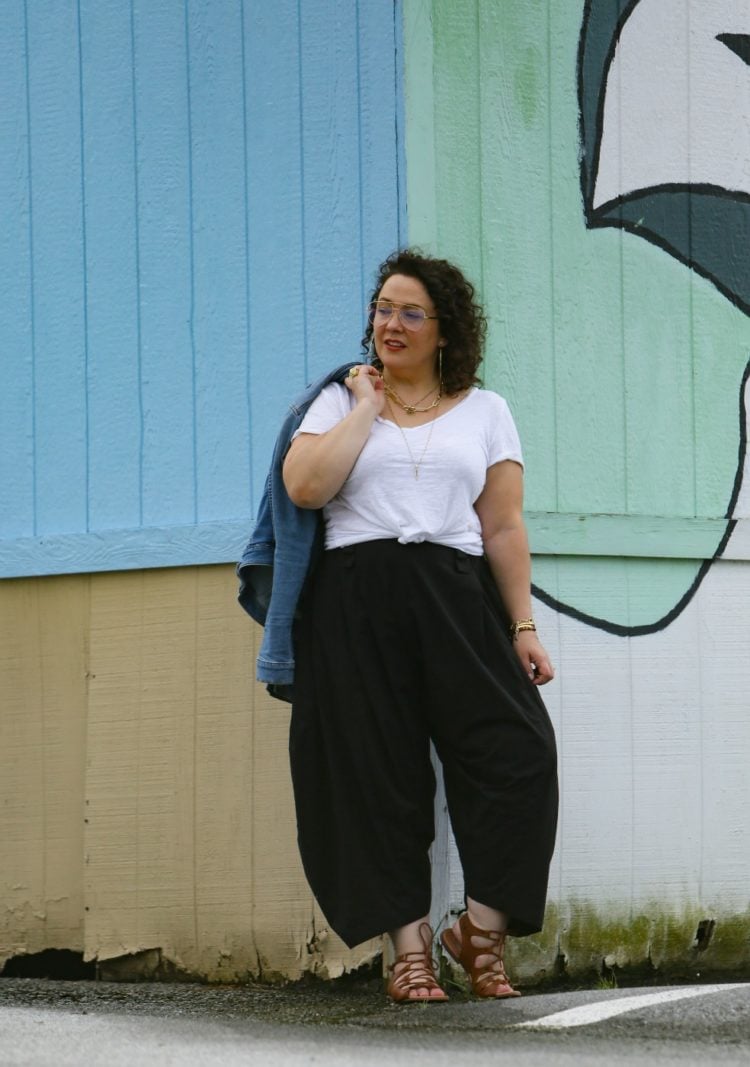 Pants: Evryday Jane (large) | T-shirt: J. Crew (large) | Denim Jacket: c/o Soma (no longer available but this one from Banana Republic and this one from J. Crew Factory look like the same length and color) | Shoes: Bella Vita (no longer available; similar) | Earrings: Jenny Bird | Link Necklace: Baublebar | Initial Necklace: Jenny Bird | Pendant: Stiletto Pendant c/o REALM | Ring: Insignia Empress Ring c/o REALM (available up to size 11) | Blue Light Glasses: QUAY Australia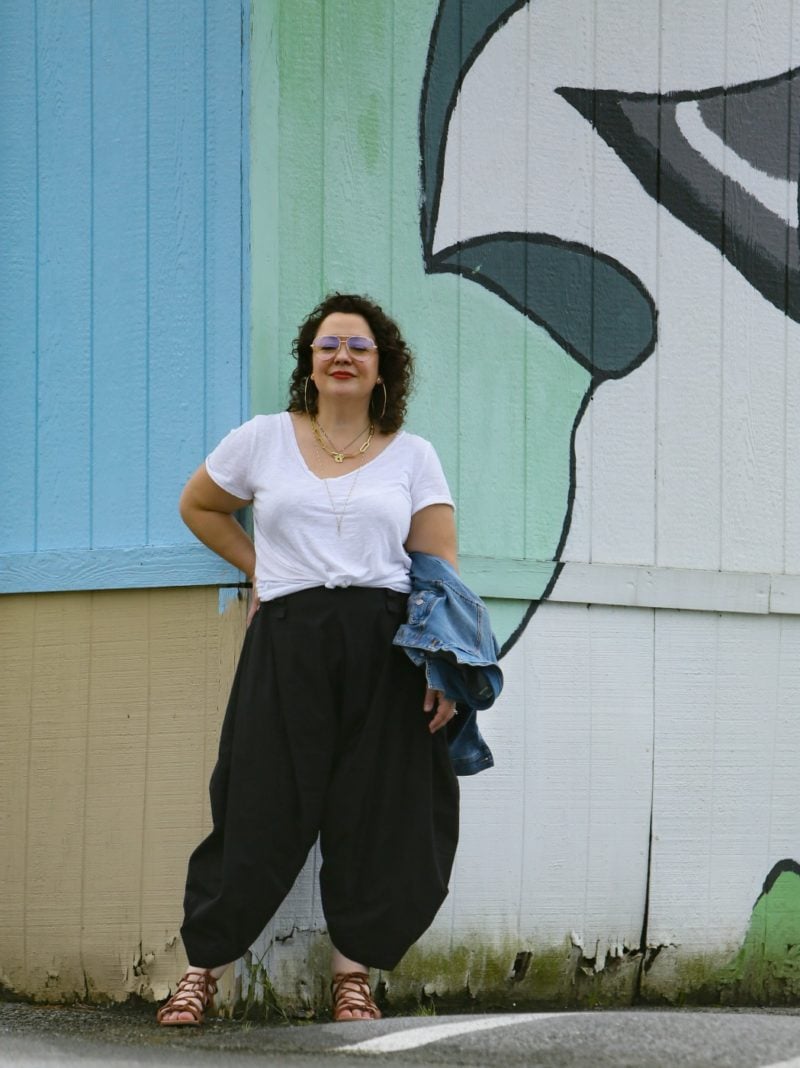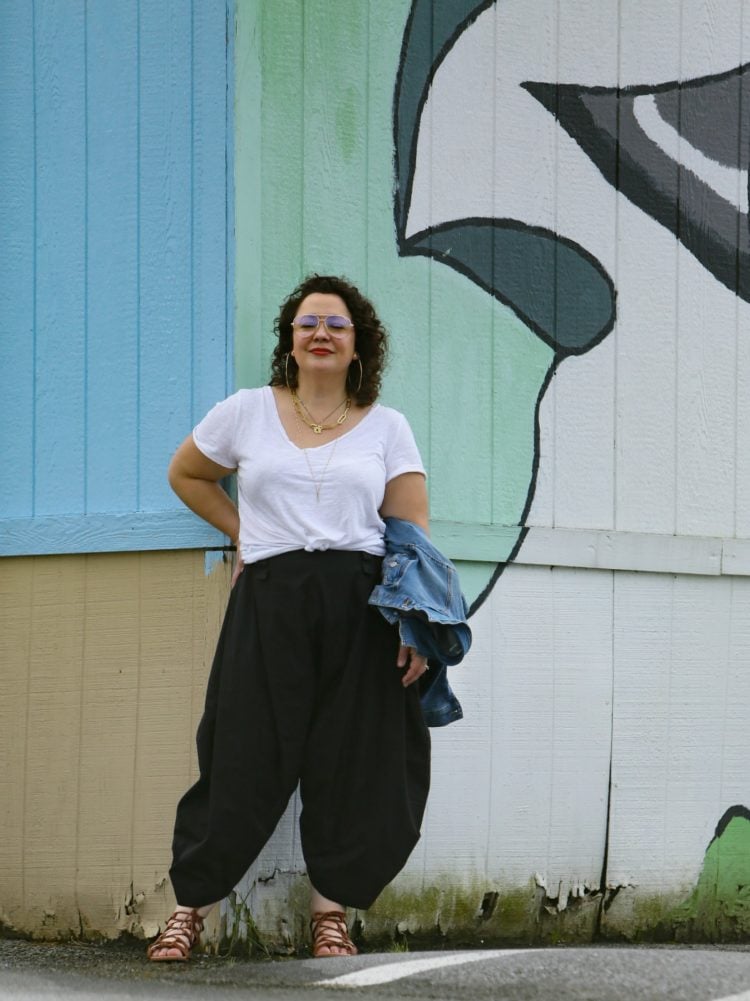 The Evryday Jane site shares more about the company and Rakia Reynolds, the woman behind the brand. However, the line is exclusively available at HSN. It is available up to size 3XL. While HSN offers extensive detailed customer reviews, the photos, IMO, suck. The Evryday Jane site has way better photos of the collection and if you go to the "tagged" photos on the brand's Instagram you can see the line styled in a variety of ways on a range of people. But let's get back to these pants.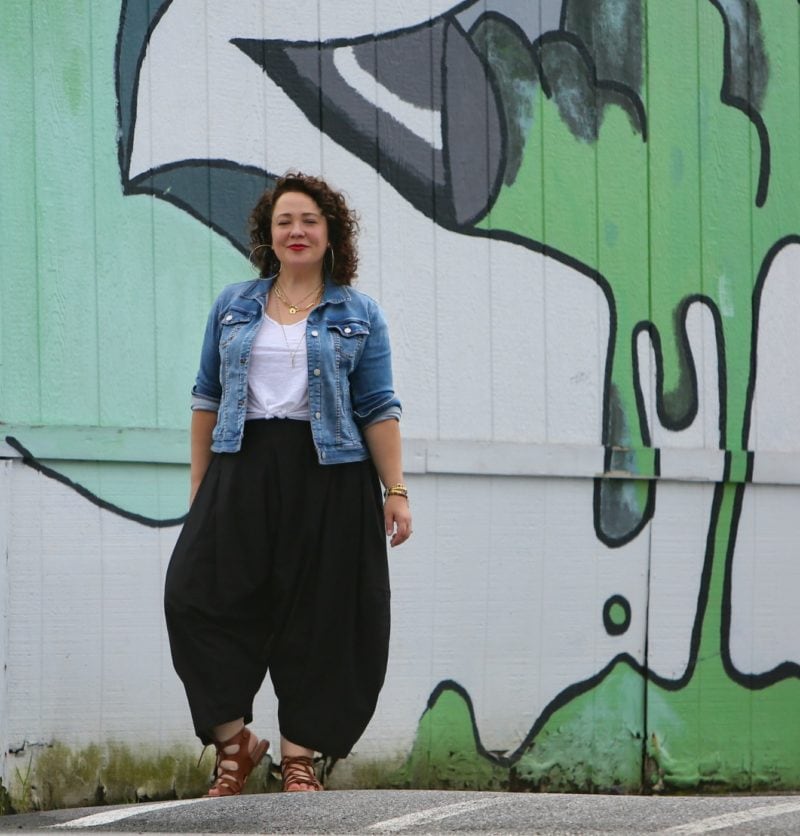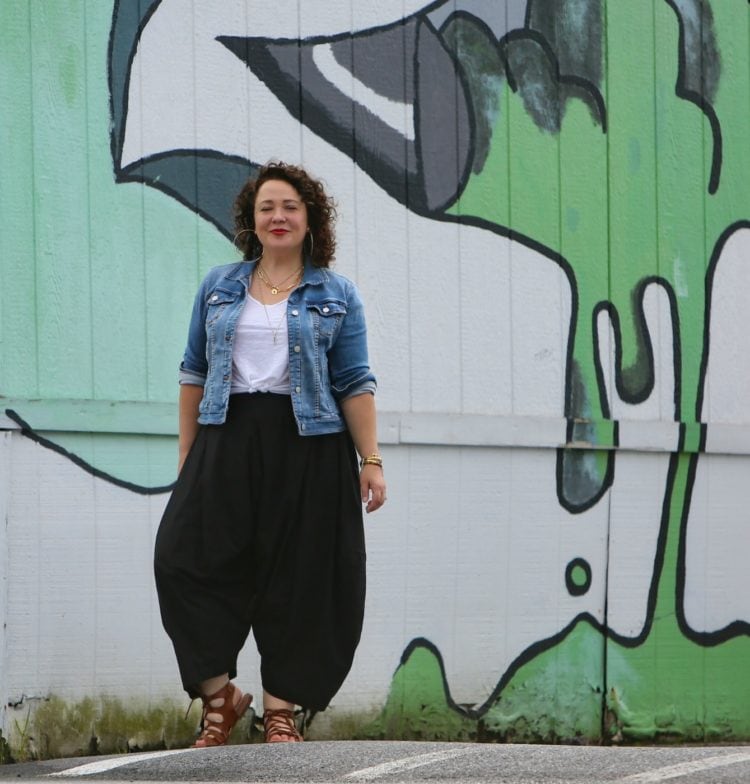 The pants are elasticized in the back, have belt loops that are decorative enough that nothing looks missing if you don't wear a belt, super deep pockets, and are a lightweight stretchy poplin. They aren't as crisp out of the dryer, but not a crumpled paper bag; I didn't iron or steam after laundering but you may wish to. The only issue I have with these pants is I wish the elastic in the waistband was wider so it wouldn't fold over; isn't really visible but something that I don't love. A few ways I've styled these:
With a black camisole tucked in and the same sandals
With a black and white striped fitted t-shirt tucked in and white low-profile sneakers
With a cropped/waist-length sweater and oxfords/brogues
With a short-sleeved sweater sorta ruched at the waist with blush-colored suede loafers
With a linen shirt tied at the waist with Birkenstocks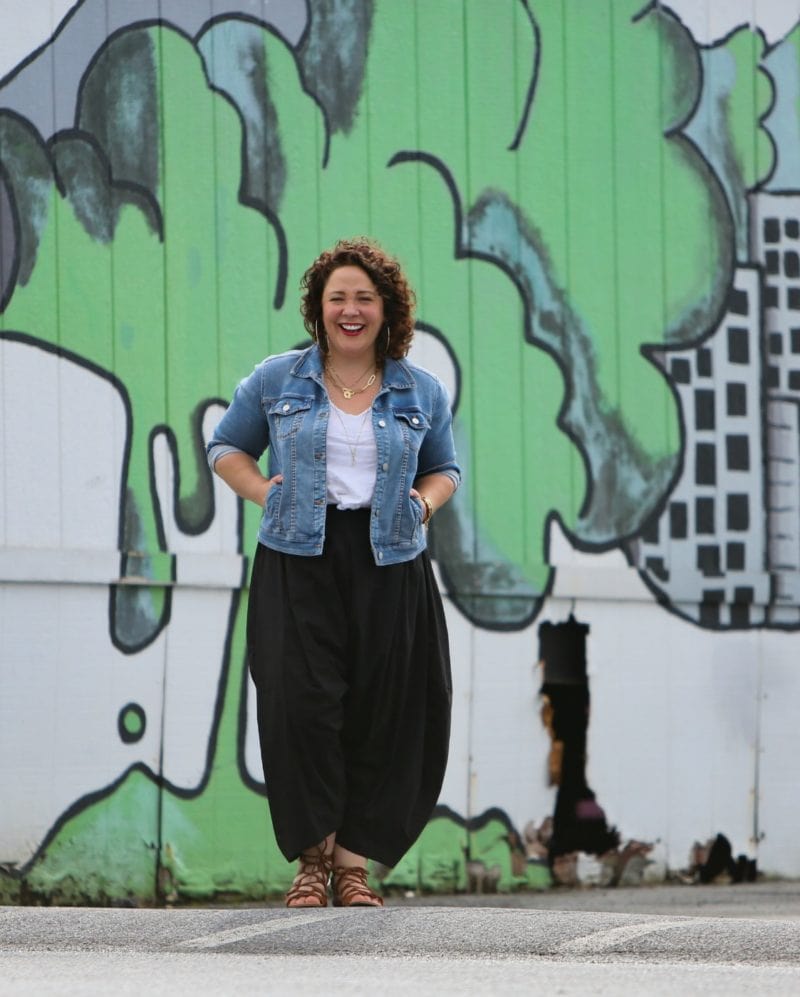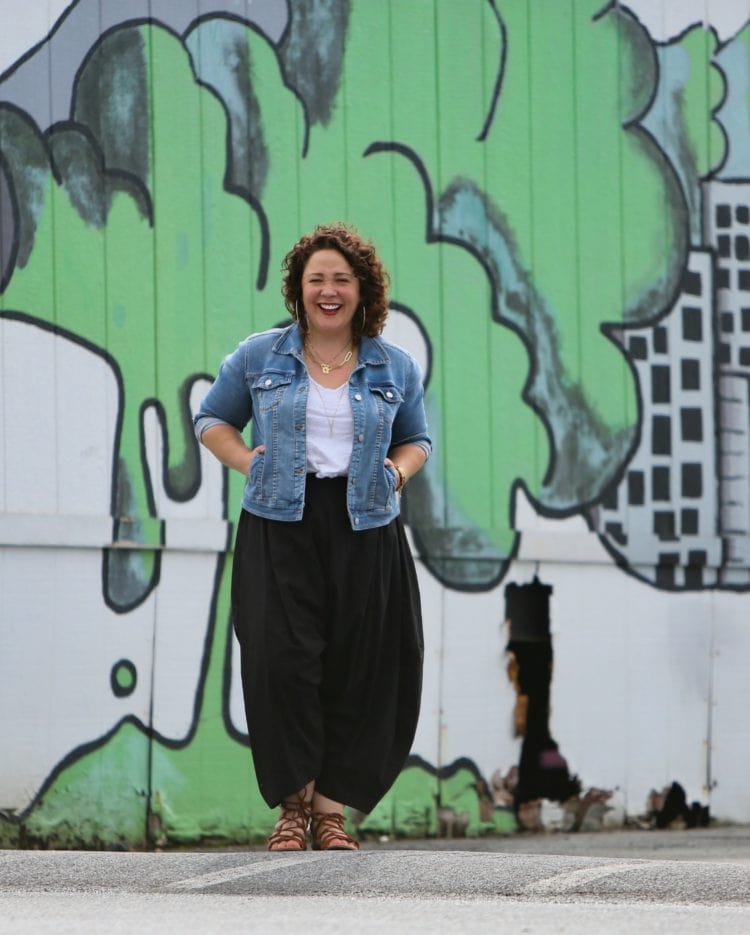 Sure they're a bit like MC Hammer pants, but that's what makes them fun. And I can't think of a better time to find some joy with what we wear than right now. These pants also come in blue gingham and black gingham, which my friend Jen has and wore on Instagram. I know the selection is low right now, but that's true for most any small brand right now during the pandemic; even more so for Black-owned businesses that had an unexpected surge of sales the past couple of months. I look forward to this brand's continued success and to see what they have in store for future collections!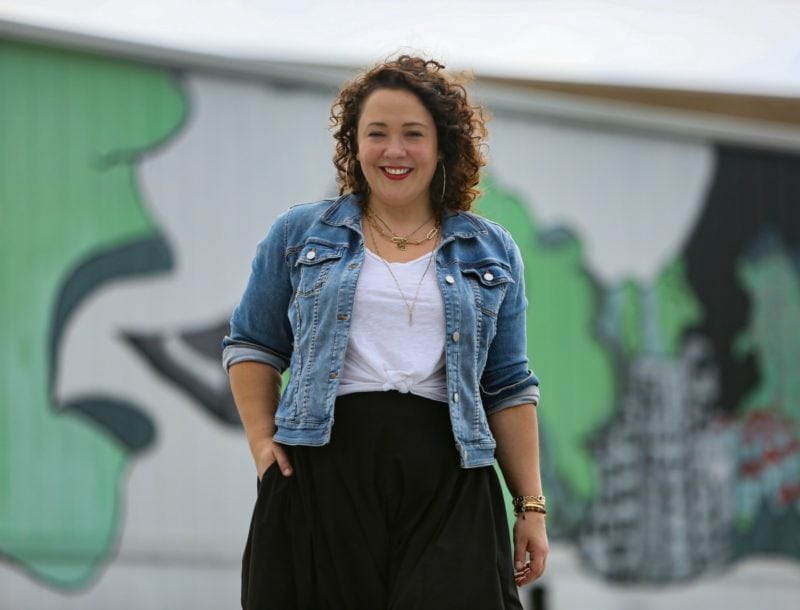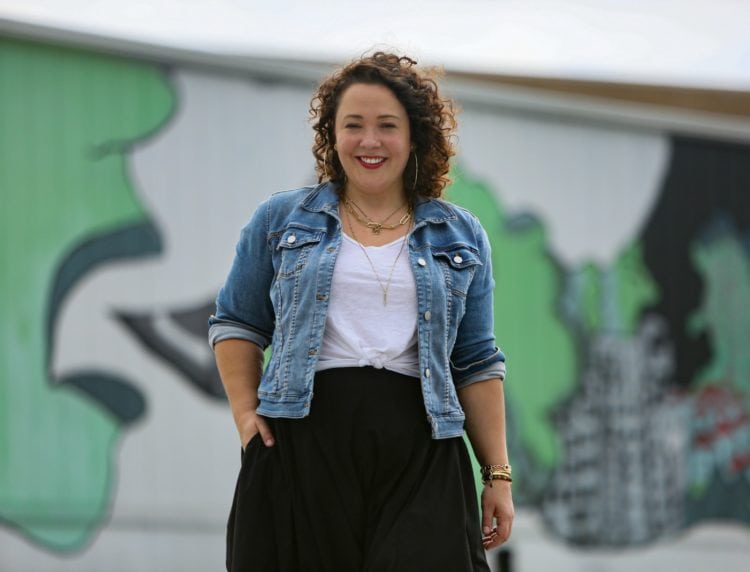 So… this isn't the same denim jacket I wore the other Monday. And it's not the same denim jacket in this blog post. And yes, I have all three in my wardrobe because all three serve different purposes. I first put on the Chico's jacket from Monday and it was too long for these pants, so I switched to this one from Soma. Not all denim jackets are the same, and if you love denim jackets it's not ridiculous to own more than one. Some have stretch, they come in different washes, some are distressed. But the silhouette can really transform a look. My Chico's denim jacket is fantastic to wear with jeans, pants, and low-volume skirts and dresses but because it's a trimmer fit and hits lower on the body, it can look weird with a higher-volume bottom piece. My Levi's denim jacket is about the same length as the Chico's one, but it's very oversized, creating fuller shoulders and torso, making it better with slim pants or a slouchier ensemble. I guess I see denim jackets like I do striped shirts – a wardrobe staple, but valuable to own more than one because they all serve different purposes. I wish Soma would come back with this denim jacket, it's pretty fabulous, though the Chico's one is almost the same denim with just a different silhouette.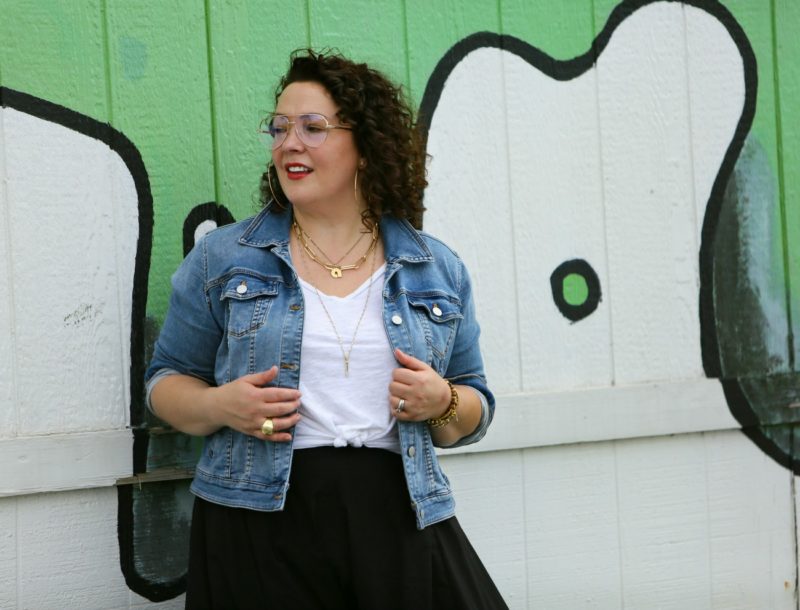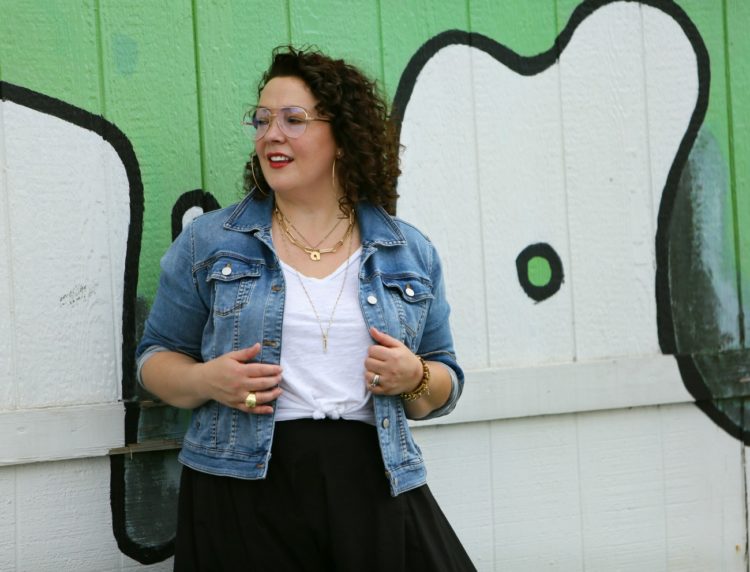 I totally thought I grabbed my sunglasses but in haste to do this shoot after virtual school ended and before I had a client call, I picked up the wrong ones. And while it was a cloudy day it was one of those super bright ones where you strain to see, which was evident in all the photos. Seriously, these are the ones where I look the least like my eyes aren't squeezed shut! Keeping it real… anyway these are the same blue-light-blocking glasses from Quay that I shared in the Friday Shop. They're so comfortable I forget they're on, and they haven't yet gotten cloudy like my cheaper blue-light glasses.
Shop the Post: