This article may contain affiliate links; if you click on a shopping link and make a purchase I may receive a commission. As an Amazon Associate, I earn from qualifying purchases.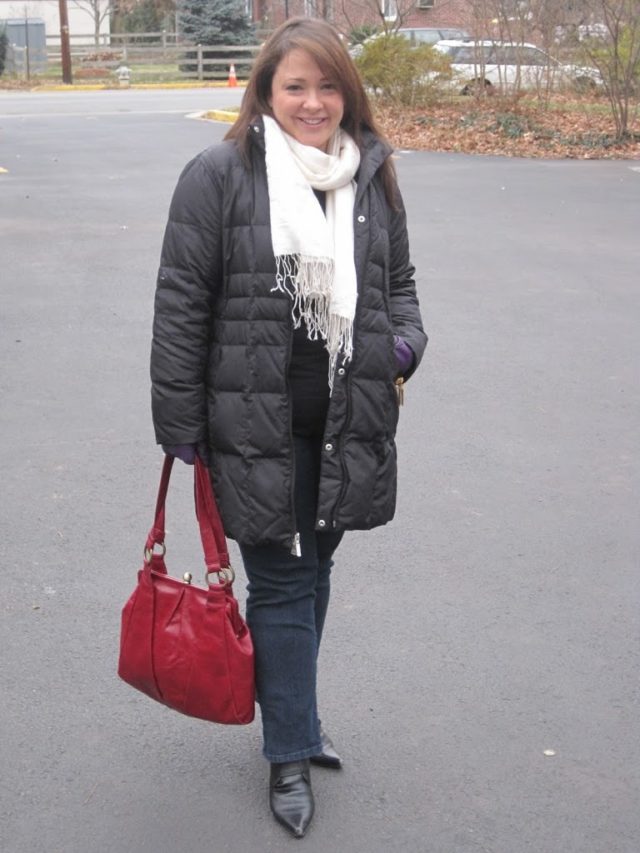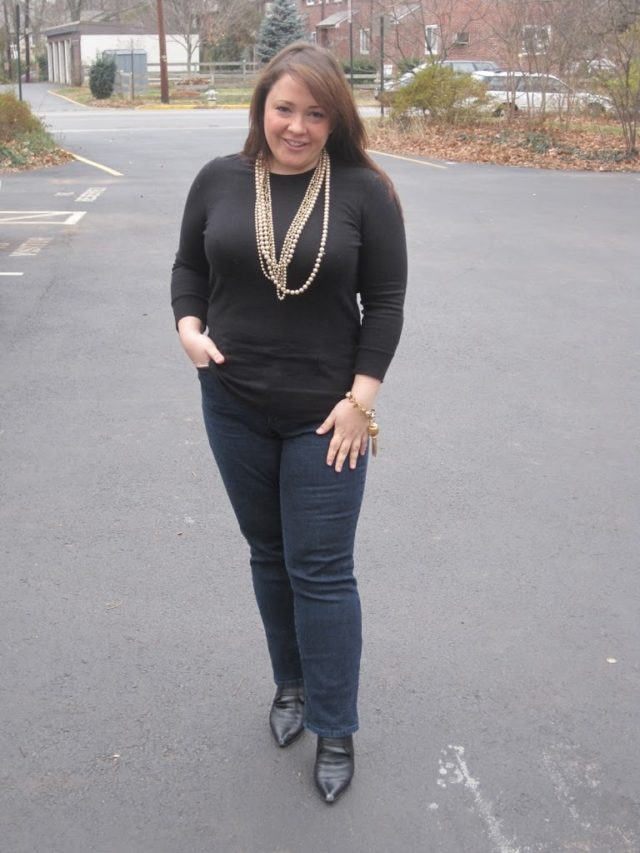 Coat – Lands End
Pashmina – Pashmina International
Black Stretch Merino Sweater – Banana Republic (several years old)
Pearl Necklaces – Nordstrom
Gold Necklace and Bracelet – J. Crew (no longer available)
Jeans – NYDJ "Marilyn"
Boots – Fitzwell "Andrea"
Bag – Hobo International "Penelope"
Gloves – Nordstrom (Christmas gift last year)
My jeans shrunk. I am so sad about this. I have had two pairs of Not Your Daughter's Jeans and I keep telling my husband to NOT put them in the dryer. The first pair I had (just a straight leg, no specific name) was PERFECT – great color, great length. However after TONS of wear and some hits in the dryer they have completely worn through at the inner thighs. Not worn, but a big awful threadbare spot with a hole. Wah. My other pair are these – the Marilyn style. Don't like as much, and always were a hair shorter than I liked (they are petite). I kept washing them cold and line dried to keep the length, but they got mixed up in the laundry and went in the dryer. So sad.
I can't afford new jeans right now – all has gone towards Christmas presents, but have these jeans
(and the Levi's 512
) in my cart on Amazon to consider one or more with next paycheck or after the holidays. But right now the jeans I own are these above, my Sevens which are too big (by end of day I can take them off without unbuttoning), and an old ratty pair of Gap Essential jeans with the hem unstitched that are really only appropriate for being in the house or the garden. So though this goes against what feels right in my heart, I am wearing jeans shorter than what makes me happy or comfortable. I know other people wear jeans (especially skinny jeans) this length, but on my petite curvy self I think it's not the best look.
So what crazy things are you folks doing to stay warm this season? I see many bloggers double up the tights, some upping the layers, others succumbing to Uggs
and fleece. For me, it's all about knee socks. I think three Christmases ago, my sister bought me a TON of knee socks. Rainbow stripes, polka-dots, cashmere, you name it. It was a fantastic gift, especially for someone who loves to wear tall boots! I couldn't wear most last Winter because my legs were still large from having Emerson (and the Christmas before? Yeah, witht he high blood pressure from pregnancy my legs were tree trunks). This year, they fit and just in time for this very cold DC winter. Yesterday I wore brown, teal, and purple striped cashmere knee socks under my black trousers – the cashmere works well with lined pants – doesn't create static or cling.
Yea, you think YOU have thick ankles? Check out these babies!
Today I am the cheery Witch of the Mid Atlantic with my orange and pink striped socks. I think my sister chose these because orange is one of my favorite colors, and my wedding colors were pink and orange. Anyway, keeps my legs warm AND is a bit of whimsy and fun on a cold and gray Friday!
So what are your weekend plans? December is Holiday Photo Month for us, so Sunday I will be Photographer's Assistant with several shoots that my husband has. Tomorrow we hope to finish decorating for the holidays and start wrapping gifts!