This article may contain affiliate links; if you click on a shopping link and make a purchase I may receive a commission. As an Amazon Associate, I earn from qualifying purchases.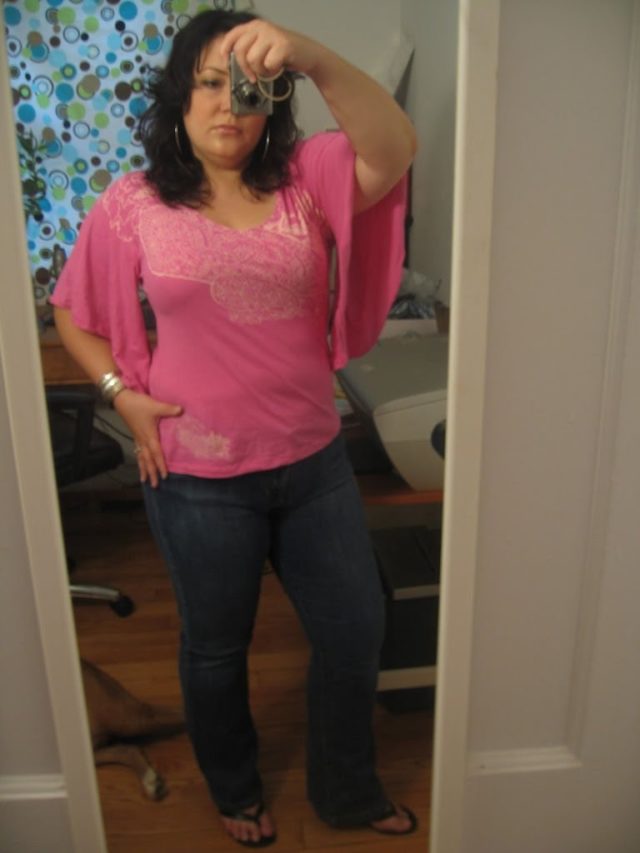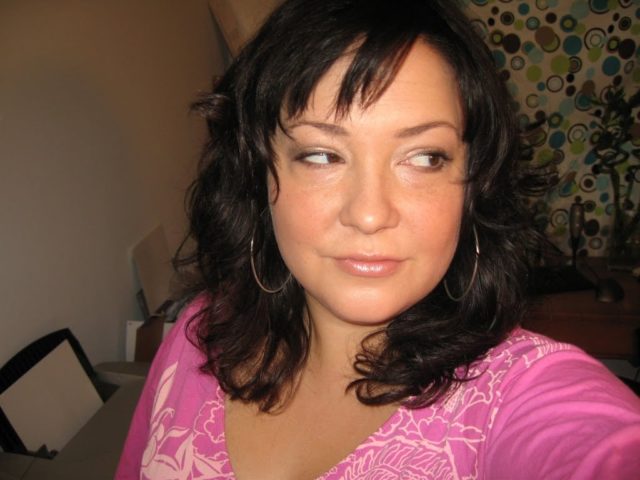 You do not understand the joy I felt this morning when I realized it was already Friday! It has been a terribly busy week and I am looking forward to the weekend – a wedding on tomorrow and a baseball game on Sunday.
I tried to capture decent pictures today but failed miserably. I am LOVING the new 'do – went to the bathroom at work and am SURE I am channeling the ever-gorgeous Sara Ramirez with this cut and color, though these pictures do not capture it very well. I should have some decent pictures taken by someone other than myself this weekend and maybe they'll show it off better.
Anyhoo… pink patterned jersey top from Express – I bought this like in 2002 or something and it has always been a bit tight. In the past year it has been too tight to wear decently but today it seemed to fit well. The hubby and I have been taking advantage of this gorgeous weather and walking every evening and I have been back on track with my mindful eating so I am getting back to the weight I was before. Yeah, a bit of a roll showing, but I think in person and when moving it's not so obvious. I usually HATE showing that sort of thing, but today I think it's not too bad… it's all about the hair I think. On bottom are my Joe's Jeans ("Provacateur"), black leather thong heels from Mossimo, silver hoops and cuff bracelet.
Hair is second day, it woke up looking awesome. All I did was hit the bangs with the curling iron, using it like a straightening iron to smooth them out. Hit some frizzy bedhead with the same curling iron, then used BioSilk to smooth bangs and twirl around pieces. The bangs seemed to calm after this picture on the commute to work and look fabu now.
Makeup is L'oreal True Match concealer in W4-5, philosophy The Supernatural in Beige, Benefit's that Gal, Cargo Matte BeachBlush in Tenerife, Body Shop Warm Shimmer Cubes – the peach over the lid, the chocolate in the crease and along the lash lines. Lashes curled, Imju Fiberwig in black, and then on lips is Victoria's Secret Lip Gloss in French Kiss.